David Castello Expands His Music Industry Footprint With New Publishing Company and First Artist Signee
If you follow this column regularly you know that Domain Hall of Fame member David Castello, of Castello Cities Internet Network, made a major return to his music industry roots in 2011 (see our December 2006 Cover Story on David and his brother Michael for more on their music career). Last summer David moved to Nashville (CCIN owns Nashville.com) to manage red hot up and coming singer/songwriter BREE (as well as to play drums in her band).
Near the end of the year David launched his own music publishing company - Werewolf Publishing - and today he officially signed his first staff writer in a deal announced at the Nashville office of music rights management giant BMI. It won't surprise you to hear that Werewolf's first signing was the writer David wanted most - BMI writer BREE!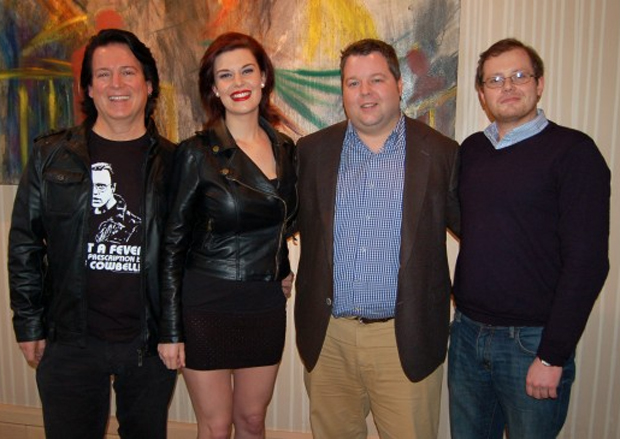 (Left to right): David Castello, BREE, BMI's Bradley Collins and Almon Law's Noah C. McPike
after the Werewolf Publishing announcement of BREE's signing at the BMI office in Nashville.
(Photo courtesy of Drew Maynard)
BREE and David were in the studio last month working with Bob Ezrin's crack engineer, Justin Cortelyou (Ezrin is one of the top producers in music industry history having produced albums by Pink Floyd, Kiss, Alice Cooper, Rod Stewart and dozens of other heavyweights). Justin is finishing up the mixes on a new album by The Darkness, then he will start mixing the tracks he did with BREE and her band. David is expecting those final mixes to be aural dynamite, so don't be surprised if you see BREE breaking big before this year is out.
A couple of other notes today - domain industry veterans Mike Robertson and Jen Sale at DomainGuardians.com have launched a new monthly domain brokerage newsletter. If you are interested in aftermarket domains, either as a buyer or seller, you will want to sign up to receive their list. Mike and Jen have an endless list of friends and contacts in the domain business, so they are very well positioned to facilitate domain sales - something they proved when they brokered the $150,000 sale of eSignature.com in 2011.

In case you missed it, I also want to call your attention to an important article by Internet Commerce Association Legal Counsel Phil Corwin that was posted on the ICA website Friday. Corwin called on ICANN to launch an immediate investigation into the UDRP arbitration practices of the National Arbitration Forum (NAF). This comes in the wake of two egregiously unfair NAF decisions that resulted in domain names being taken away from their rightful owners. Noted attorney Paul Keating has also blasted these incredibly unjustified decisions. Corwin's article includes the letter he sent to ICANN to bring this situation to light. Now we will see whether or not the oversight body is going to let this kind of malfeasance at NAF stand.
(Posted Feb. 27, 2012) To refer others to the post above only you can use this URL:
http://www.dnjournal.com/archive/lowdown/2012/dailyposts/20120227.htm
With 7 Weeks Left in the New gTLD Application Window Activity is Heating Up at Consulting Companies

Those who want to run their own new gTLD registry have to get their applications in before ICANN closes the door on the current application period April 12, 2012 - exactly seven weeks from today. With the deadline looming activity is heating up on several fronts. Architelos, one

of several consulting companies that are providing advice and helping applicants get their paperwork completed and in on time, announced today that the firm has earned more than $1 million in consulting and software services fees in its just concluded first year of operation.

Yesterday, ARI Registry Services announced that the governments of Australian states New South Wales and Victoria have contracted them to help secure three new TLDs; .sydney, .melbourne and .victoria. To handle the load, ARI said they have "engaged professional services firm Ernst & Young and digital brand

management services provider Melbourne IT to assist its consultancy work in developing applications for those three TLDs that will adhere to ICANN's strict requirements."

On Tuesday the Directors of Top Level Domain Holdings Limited (TLDH), the only publicly traded company focused exclusively on acquiring and operating new generic top-level domains, reported that the company will soon be purchasing a second batch of 20 application slots for new gTLDs which will increase the total application slots purchased by the company to date (on behalf of itself and clients of its subsidiary, Minds + Machines) to 40.

Under ICANN's rules, applicants for new gTLDs must first purchase a slot for each application at a cost of $5,000 which will then be deducted from the full $185,000 per gTLD application fee. Last week ICANN said it had received 100 applications to date.

TLDH Chairman Peter Dengate Thrush said, "We are delighted with the progress the Company is making and the quality of the applications on which we are working. The criteria ICANN has set are demanding and we therefore have to ensure we only support the most likely to be successful."

TLDH Ltd. Chairman Peter Dengate Thrush

While these and other consulting companies are busy now, it is likely to be nothing compared to a frenzy that is expected to build with each passing week leading up to the April 12 deadline. It will likely be a long time before ICANN opens a second application window, so those interested in operating a new registry are determined to be on the first boat when it sails seven weeks from now.

(Posted Feb. 23, 2012) To refer others to the post above only you can use this URL:
http://www.dnjournal.com/archive/lowdown/2012/dailyposts/20120223.htm
Picture Perfect: Ron Sheridan's New Venture - Pixt.com - Aims to Revolutionize Photo Sharing + Lana del Rey Wins Major Brit Award

While covering the DOMAINfest Global conference in Santa Monica, California earlier this month I bumped into serial entrepreneur Ron Sheridan (the former Business Development Director at Oversee.net who was the subject of our February 2009 Cover Story). When I asked Ron what he was working on now, he had something really cool to show me.

That something is called Pixt.com - a new platform, currently in beta, that pulls all of your photos from multiple sources (including Facebook) into one central location with features I've never seen before. You can spread the photos out on your wall and, like real snapshots, each one can be moved around (by you or visitors to your Pixt page), flipped over to see notes about the photo and filed into photo drawers you create to keep all of your photos neatly organized.

Sheridan is always looking at new web-related opportunities and when he saw this technology that had been created by four partners, he quickly invested in the project, taking significant equity in the enterprise. Since Pixt.com is a free platform, the first thing that popped into my mind is "how are you going to monetize this?" Sheridan promptly showed me real businesses that were already incorporating the Pixt technology. For example a vineyard licensed it and is letting their customers post their own wine related photos on the vineyard website's Pixt-powered page. This kind of fresh, appealing user-generated content will almost certainly increase a business site's traffic and keep people coming back for more.

I also liked what Pixt does for online shopping. Let's say you are interested in buying some new neckties. Pixt will pull in photos from all of the silk ties offered on Amazon, for instance, allowing you to then easily pick your favorites,

Ron Sheridan

click on any you want to order (which takes you right to Amazon for fulfillment) or file them in a necktie drawer you create for future reference. The more I looked at the platform the more I realized how many possibilities it opens up. Given the massive reach of Facebook, another cool thing about Pixt is that you can access and use all of its features from within your Facebook account, without ever leaving.

One thing Ron asked me to pass along to his many friends in the domain community is that he would like your help during the platform's beta period. You can do that by requesting an invite through the site (you can also select a "Just Try It Out" option without signing up), playing around with Pixt and letting them know of any issues that need to be resolved or improvements you would like to see. It is a very impressive platform - one we all may be hearing a lot more about in the future.

One more note - I just got word that tonight in London, the friend and young singer I have been raving about for several years, Lana Del Rey, was named winner of the International Breakthrough Award at the annual Brit Awards show (the UK equivalent of the Grammys). To show you how big this award is - last year's winner was Justin Bieber. Big congrats to Lana and her family, including proud parents Rob & Pat Grant!

(Posted Feb. 21, 2012) To refer others to the post above only you can use this URL:
http://www.dnjournal.com/archive/lowdown/2012/dailyposts/20120221.htm
Presentations and Videos from the DOMAINfest Global Conference Now Available to All Online

If you weren't able to attend the 2012 DOMAINfest Global conference that ran January 31 - February 2 at the Fairmont Miramar Hotel in Santa, Monica, California, here's the next best thing to being there. Show organizers have posted presentations and videos from the various conference sessions online for all to see.

You can now view everything from Oversee.net Co-CEO Debra Domeyer's welcoming remarks to the must see Fireside Chat with Twitter Co-Founder Biz Stone conducted by Oversee Co-CEO Scott Morrow.

A scene from the DOMAINfest Global Fireside Chat with Twitter Co-Founder Biz Stone (left)
conducted by Oversee.net Co-CEO Scott Morrow can now be seen online.

There is also a video of the PITCHfest Contest with a particularly valuable closing segment in which the panel of judges offered tips on how to give a winning elevator pitch. You'll also want to check out the PDF presentations from sessions on Landing Page Optimization, Local/Mobile Trends, Advanced PPC Practices, Affiliate LeadGen, SEO for 2012, Keyword Modeling, new TLDs, Domain Valuation and Public Policies Impacting Domain Investors.

The session videos are available here: http://domainfest.com/mediaarchive/V9 and the speaker presentation files are available here. Also, if you haven't already read it, our comprehensive wire to wire conference review article is available here.

(Posted Feb. 16, 2012) To refer others to the post above only you can use this URL:
http://www.dnjournal.com/archive/lowdown/2012/dailyposts/20120216.htm
.ORG Continues High Rate of Growth - 2011 Marked the 3rd Straight Year of 9-10% Gains

The Public Interest Registry (PIR), the administrator of the popular .ORG extension, enjoyed another growth spurt in 2011. According to the registry's latest bi-annual report, known as The Dashboard (.pdf file), .ORG registrations grew 9.9% in 2011, reaching 9.6 million total domains under management at the end of the year - a net gain of 411,002 for the second half of the 2011.

Some other interesting bits of information from The Dashboard:

The renewal rate of existing .ORG websites for the second half of 2011 was 75.4%.

.ORG has maintained consistent growth between 9-10% annually for the past three years.

.ORG domains under management rose from 3.9 million in 2005 to 9.6 million in 2011—an increase of 146% in seven years.

North America and Europe continue to represent the regions with the most .ORG registrations, with Australia, China and Japan also making the top 10 country list for the second half of 2011. .ORG is especially popular (though not limited to) non-profit organizations and that association has made it a TLD that enjoys an especially high level of trust with web users. Brian Cute, CEO of The Public Interest Registry, noted "With Internet usage continuing to surge worldwide, and individuals and organizations alike placing even greater importance on doing good and promoting their passions online, it's no surprise that .ORG continued to see consistent and substantial growth during the second half of 2011."

Another interesting note from The Dashboard is PIR's announcement of its intention to pursue a new domain extension, .NGO. The report said, "This initiative is a major opportunity for non-governmental organizations (NGOs), a community that depends on those three letters to set itself apart from commercial or governmental bodies. PIR believes that NGOs worldwide would benefit from .NGO as an exclusive signature online where they can effectively differentiate themselves and advance their missions."

For more information on The Dashboard or to download a copy, you can visit http://pir.org/news.

(Posted Feb. 15, 2012) To refer others to the post above only you can use this URL:
http://www.dnjournal.com/archive/lowdown/2012/dailyposts/20120215.htm
The Afternic DLS Expands Into Russia, Germany's Biggest Domain Conference Gets Underway & WaterShave.org Debuts!

The AfternicDLS announced its latest expansion today - one that opens up the rapidly growing Russian market for domain sellers. The AfternicDLS did it by bringing RU-CENTER, Russia's first and largest domain registrar and hosting company into Afternic's Premium Reseller

Network. Through the partnership RU-CENTER will add Afternic's premium domains to search results on nic.ru. RU-CENTER will also utilize Afternic's Instant Transfer technology on these listings, giving buyers instant access to their purchased premium domains. Afternic's integration with RU-CENTER is to be completed by the end of next month (March 2012), when premium listings will start appearing on nic.ru.

Andrey Vorobyev, RU-CENTER Director of

Public and Government Relations, said ""Afternic has the largest portfolio of instant transfer domains in the world. This was a big factor in our decision to partner with them. Along with the ease and speed of their Instant Transfer technology, the quality of Afternic's domain listings will add much value to our users' experience and give our customers a greater range of choices in their domain research and selection process."

Jason Miner, Senior Vice President of Sales and General Manager of Afternic, added, "This is a very exciting partnership for us. The success of the domain aftermarket depends on bringing the biggest and best registrars around the world into the Afternic network. Now domain sellers listing their names on Afternic will have an expanded buying audience and RU-CENTER will have an expanded offering for its customers. It's a win-win."

Elsewhere, the 2012 DOMAINfest Global conference just concluded in California (our comprehensive show review was published Sunday with many new photos and show details)

but across the ocean the biggest German-speaking event in the industry - DomainPulse - just got underway today in Hamburg, Germany with an estimated 350 participants on hand for the 9th annual meeting at the Hotel Grand Elysee. The two-day event concludes tomorrow (Tue., Feb. 14).

This event is hosted by DENIC (Germany's .de registry), NIC.at (Austria's .at registry) and SWITCH. The focus of this year's conference is the increasing importance of the Internet in all areas of life, a topic exemplified by a session this afternoon titled Internet Addiction: The Inability to Live without the Computer. Domain legal issues will be among the subjects in the spotlight tomorrow with one of the Tuesday afternoon sessions titled Obligations, Liabilities, Blockings: The Risks all around Domains.

One other note today - as reported in our new complete review of the just concluded DOMAINfest Global conference, three well- known industry heads (belonging to DomainAdvisors.com President Jeff Gabriel, InternetTraffic.com's Vern Jurovich and domain investor Bill Lozada) were shaved (by PPX International Chairman Gregg McNair) during the event in an impromptu fund raising effort for the Water School.

(Left to right) Jeff Gabriel, Vern Jurovich & Bill Lozada
sporting their new close-cropped looks!

The Water School is a registered charitable organization in Canada and the U.S. that is literally saving lives in Africa through education on clean water practices. The domain industry has practically adopted the Water School as its unofficial charity and two leading industry figures, Mr. McNair and Richard Lau now serve on the organization's Board of Directors.

| | |
| --- | --- |
| | More than $30,000 was pledged for the three scalps McNair collected during DOMAINfest Global in Santa Monica and more shavings are planned going forward (with the victims volunteers still to be selected)! Pledge invoices from DOMAINfest Global are being distributed now but if your invoice does not arrive you are requested to simply go online to the initiative's new website at WaterShave.org and complete your contribution. |

Its a great cause that is 100% sustainable with 100% going to the actual work in Africa and it is 100% tax deductible. So even if you have not pledged, consider going online to help lift the value of those DOMAINfest scalps so that those curly locks will not have died in vain!

(Posted Feb. 13, 2012) To refer others to the post above only you can use this URL:
http://www.dnjournal.com/archive/lowdown/2012/dailyposts/20120213.htm
What Could Be Better Than Spring Time in Spain? Join Us in Valencia For Domaining 2012 in April

Last fall I told you that Inverdom.com CEO Dietmar Stefitz, who has staged the biggest annual domain conference in Spain for the past three years, was planning to take the event to a new level in 2012. His first step in that direction was adding veteran show producer Jodi Chamberlain (who is one of the 15 experts featured in our current Cover Story) to his team. Together they are producing Europe's Domaining2012 conference April 26-28, 2012 at the Sorolla Palace Hotel in historic and beautiful Valenica, Spain.

Dietmar Stefitz and Jodi Chamberlain
are producing the Domaining 2012 conference
coming up in Valencia, Spain April 26-28

I have heard much praise of Dietmar's previous shows, none higher than I heard just last week from Michael Castello of Castello Cities Internet Network while we were having lunch after the DOMAINfest Global conference in Santa Monica, California. Michael and his brother David were keynote speakers at Dietmar's last conference in Valencia and Michael told me it was one of the most enjoyable shows he had ever attended. He said the way the show was run, the beauty of the city of Valencia and the friendliness of the Spanish people were all incomparable.

With Michael's words ringing in my ears and a personal invitation from Jodi for Diana and I to attend the April 2012 show, I'm happy to say that we have made plans to be there and are looking forward to meeting and making many new friends on that side of the ocean. It will also be exciting for us to be able cover the event for DN Journal readers.

I can already see that we are going to be in good company. A peek at the very early agenda already shows a great line up of veteran domain investors, brokers, developers, attorneys and company executives on the program, including Jeff Gabriel (DomainAdvisors.com), Braden Pollock (who was featured in our December 2011 Cover Story), Troy Rushton (Protrada.com), Morgan Linton (MorganLinton.com), Toby Clements (TobyClements.com), Tommy Butler (Glasgow.com), Kathy Nielsen (Sedo.com), Frederick Schiwek (DomainInvest.lu), Paul Keating (RenovaLtd.com) and many many more.

Valencia itself will also be a star attraction. The historic port city on the Mediterranean Sea is Spain's 3rd largest city with a population of over 800,000. About 2.3 million people live in the Valencia metropolitan area. In addition to its fabulous monuments, Valencia known as the birthplace of paella, a world famous staple of Spanish cuisine. Domaining2012 is shaping up to be something special and with an early bird registration fee of just €600, it also looks like one of the best values in the conference business. We look forward to seeing many of you there!

Diana and I hope to see you at Domaining2012 in Valencia, Spain April 26-28, 2012

(Posted Feb. 10, 2012) To refer others to the post above only you can use this URL:
http://www.dnjournal.com/archive/lowdown/2012/dailyposts/20120210.htm
Who Is The Single Woman David Sams Has Gotten Involved With?

You might think that National Enquirer like headline was meant to trick you into clicking through to this article but it's true - David Sams (one of the original producers of the Oprah Winfrey Show and the subject of our September 2011 Cover Story) has entered a new relationship with a single woman.

I know some of you who know David are thinking, "Oh no, David couldn't be dumb enough to split up with the love of his live - the lovely Michelle Bekeza!" Well, you would be right, he's not. David's new relationship with Mandy Hale is strictly business. Like many other domain investors who have diversified into new enterprises, Sams has other irons in the fire. His latest is a new partnership with Ms. Hale, the author of a hot new book called The Single Woman's Sassy Survival Guide to Letting Go & Moving On.

David Sams and Michelle Bekeza
Michelle is OK with David's involvement with Mandy

Sams and Hale formed a new company, The Single Woman, LLC, to launch a strategic plan for the brand, of which publishing is just the first part (David told us many more books are to follow). If you read our story about David, you know he is a marketing genius with a long track record of success. The duo's work promoting Mandy's book, her website at TheSingleWoman.com and The Single Woman brand has helped make the new book (that has a perfect five-star review rating from buyers at Amazon.com) a breakout success. This despite the fact that it was given only limited pre-release distribution starting Feb. 1 with full distribution on all platforms coming on Valentine's Day, February 14.

After just 24 hours in pre-release mode The Single Woman's Sassy Survival Guide had shot up to #3 in the Kindle Store Women's Health category, #7 in Women's Books and #49 in Self

Help. In the week since then it has soared even higher and it just cracked Amazon's Top 100 in the massive Non-Fiction category. It is also #1 on Amazon's Hot List for Personal Health, #6 on that list for Self Help and and #26 on the Hot List for all Non-Fiction books.

David and Mandy, who are both based in Nashville, are giving buyers of the Kindle version of the book a big incentive to buy before the big Valentine's Day push on all platforms. It is currently priced at just $2.99 for the Kindle edition (if you don't have a Kindle you can still download the book and read it on your laptop or PC.) David said he and Mandy decided to cut out the middleman by self publishing so they could make the book affordable for the millions of singles who need the information most.

To tell you a little more about Mandy, her bio reveals that in October 2009 she ended a year and a half long toxic relationship and was looking for an inspiring "single lady" role model to look up to for encouragement and motivation. Her site notes "The word "single" seemed to carry a stigma with it; of being unwanted, unlovable, and undesired. Looking around at all the fabulous, rockin' single ladies around her, Mandy knew something must be done. It was time for a Single Woman Revolution. Mandy launched a Nashville Examiner column and shortly thereafter, her Twitter page – both of which became an instant success."

In one year Mandy has amassed over 427,000 Twitter followers (@TheSingleWoman) from across the globe. Over the weekend she got endorsements on Twitter from ABC's Sherri Shepherd and author Nicholas Sparks (The Notebook). Mandy, who has drawn a crowd with her inspirational, witty and often wildly humorous take on love and life, was recently voted a 2011 "Woman of

Author Mandy Hale

Influence" by the Nashville Business Journal under the category of Inspiration/Mentor. She has also been featured on several radio and TV shows across the country and she is just getting started. With David in her corner the sky's the limit and if you don't believe that, just ask Oprah!

(Posted Feb. 8, 2012) To refer others to the post above only you can use this URL:
http://www.dnjournal.com/archive/lowdown/2012/dailyposts/20120208.htm
With a Little Help From Albert Einstein, Warren Royal Once Again Demonstrates the Power of a Category Defining Domain Name

Domain investors have always preached the value of a category defining .com domain name. Such a name provides instant credibility and web surfers often believe that a site built on an exact match .com term is the leading authority in the category they are searching. Many wise business people have taken advantage of that phenomenon and few have done it better than Warren Royal, who was the subject of our December 2008 Cover Story.

Even though he had zero experience in the bobbleheads space, Royal paid $30,000 for Bobbleheads.com back in 2007. He then set about learning everything he could about that business and today he stand as one of the world's leading custom manufacturers and sellers of bobblehead dolls!

His Georgia-based company, Royal Bobbles, LLC, has become especially well known for exquisite bobbleheads representing historic figures. Many of those are featured in such prestigious locations as the White House Gift Store, the Library of Congress, Arlington National Cemetery and the Gettysburg Museum Store. Warren's products have also been featured on national TV shows including Meet the Press, The Today Show and Glenn Beck and in magazines such as Kiplinger's and Fast Company.

With their unparalleled quality, craftsmanship, and attention to detail, Royal Bobbles has been chosen to execute high-profile official licenses to produce bobbleheads of John Wayne, Alfred Hitchcock, Martin Luther King Jr., General George S. Patton and many others.

In the company's latest coup, the Hebrew University of Jerusalem, which was co-founded by Albert Einstein (and which holds all IP rights to the likeness of the legendary inventor who bequeathed those rights to university upon his death in 1955), chose Royal Bobbles to produce an oversized, limited-edition model of the Father of Modern Physics.

Royal said, "We are honored that the Hebrew University of Jerusalem has granted us the opportunity to produce the Albert Einstein

The Albert Einstein bobblehead doll
produced by Royal Bobbles

Bobblehead. The University is rightly very selective about the products which they authorize, and the outstanding quality of our product line was a major factor in their decision to work with us on this exciting new venture."

Congratulations to Warren on his continuing success. If you want an example of how a category defining domain name can supercharge a business, what he has accomplished with Bobbleheads.com is a perfect example.

Incidentally, Warren has produced and sells two bobblehead dolls representing figures from the domain industry - Domain King Rick Schwartz and DN Journal's Ron Jackson. Knowing that Rick's hero is Albert Einstein, I suspect he will be among the first in line for Warren's latest creation.

Rick Schwartz at work in the home office of his Fort Lauderdale Beach condo with a portrait
of his idol, Albert Einstein, looking on. If you looking closely at the front center of Rick's
desk you will also see the Rick Schwartz bobblehead doll produced by Bobbleheads.com.

(Posted Feb. 7, 2012) To refer others to the post above only you can use this URL:
http://www.dnjournal.com/archive/lowdown/2012/dailyposts/20120207.htm
CEO Switch at Sedo Was Among the Major Events at DOMAINfest Global Last Week

Sedo Co-Founder Tim Schumacher
in Santa Monica Thursday (Feb. 2)

Tobias Flaitz
New CEO at Sedo.com

One of the most significant events at DOMAINfest his year was a changing of the guard at one of the industry's premier companies, Sedo. When they hosted a networking dinner party at the Monsoon restaurant in Santa Monica Tuesday night (Jan. 31), it was company Co-Founder Tim Schumacher's final official appearance as Sedo's CEO. Tim will remain on the Sedo Supervisory Board but after ten years of non-stop work he is ready to take a break (including an upcoming family vacation in New Zealand) and then look into broadening his business interests beyond the domain space.

I sat down with Tim for a long private interview Thursday, just a couple of hours before he boarded a plane for his return trip to Sedo's home base in Cologne, Germany. We talked about his entire history with the pioneering domain monetization and sales company, dating back to when he and college pals, Ulrich Priesner, Ulrich Essmann and Marius Wuerzner, launched the business while Tim was still in school. That discussion will be the basis for an upcoming home page feature article looking back at the career of one of the industry's key figures over the past decade.

New Sedo CEO Tobias Flaitz was also in Santa Monica and I had the pleasure of spending some time with him Tuesday night, before he officially became CEO, and again Wednesday night after he had assumed his new role. I was immediately impressed by both his openness and intelligence and though he has some big shoes to fill with Tim stepping down, I think Tobias is going to fit in very well with Sedo, their clients and the industry at large.

Tobias holds a degree in engineering and an MBA from the Universities of St. Gallen (Switzerland) and UC-Berkeley (USA). He spent several successful years as a consultant for Accenture as well as Booz & Co. and since 2007 has held a management position in strategy and business development with Hubert Burda Media in Munich.

While the domain industry is new territory for Tobias, he is a quick study and he was already getting up to speed just hours into his new position. As he guides one of the most influential companies in the business, we will all be hearing a lot more from him in the future.

Speaking of Sedo, while DOMAINfest was underway, the company released their 2011 Annual Domain Market Study including a 4Q-2011 Review (.pdf file). This report is always loaded with insight into the domain aftermarket, including which extensions are selling best and what kinds of prices they are bringing. If you haven't seen it yet, be sure to check it out.

(Posted Feb. 6, 2012) To refer others to the post above only you can use this URL:
http://www.dnjournal.com/archive/lowdown/2012/dailyposts/20120206.htm
Closing Day Photos & Highlights from DOMAINfest Global in Santa Monica
DOMAINfest Global 2012 is now history. The 6th annual show concluded at the Fairmont Miramar Hotel in Santa Monica, California with a farewell breakfast this morning (Friday, Feb. 3) that followed last night's grand finale at the House of Blues in Hollywood. Before we get to Thursday's closing day photos and highlights, let's pick up where we left off in my last post - near the end of day 2 Wednesday.
The Pitchfest Contest was just ending after ten entrepreneurs had pitched their business ideas to a panel for four distinguished judges. The judges wound up chossing Elliot Labreche of Akashic, a cloud file storage startup, as their winner based on creativity, viability, originality and revenue potential.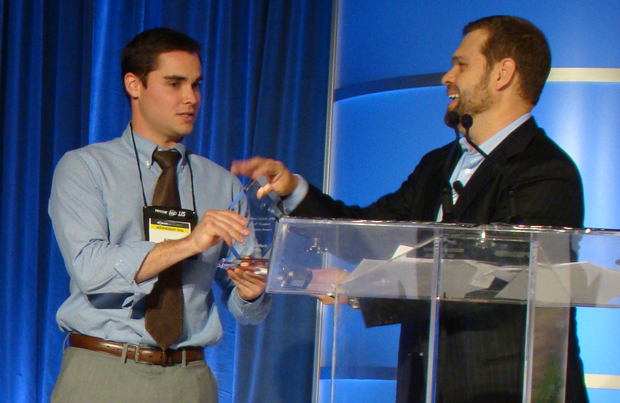 Elliot Labreche of Akashic (left) collects the Judge's Award from Oversee.net
Co-CEO and President Scott Morrow after Wednesday's Pitchfest Contest.
The audience also given an opportunity to vote to for the business plan they liked best. Sometimes they agree with the judges and sometimes not. This time not - as John Karavas of Babafoo, described as a "Linked In" for high school athletes, won the Pitchfest Audience Choice Award.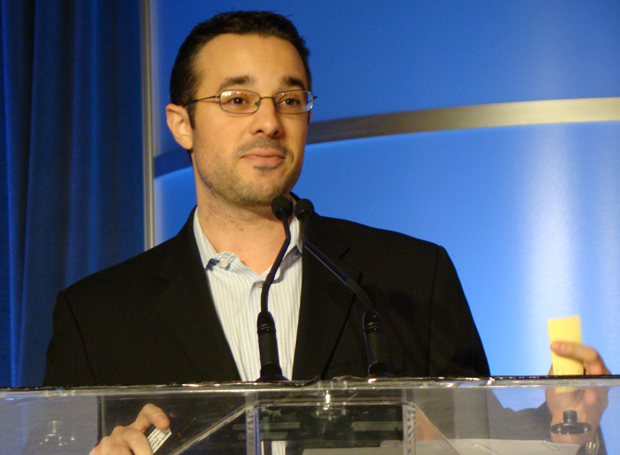 John Karavas of Babafoo making the Pitchfest presentation
that won the Audience Award for best online business idea.
The Wednesday business day closed with a discussion of Public Policies Impacting Domain Investors. Internet Commerce Association Legal Counsel Phil Corwin gave a comprehensive presentation outlining legal and policy issues domain investors need to stay of abreast of in order to protect their interests. After his talk, Phil was joined by Sedo General Counsel Jeremiah Johnston and Oversee.net Senior VP and Legal Counsel Todd Greene to answer questions from the audience.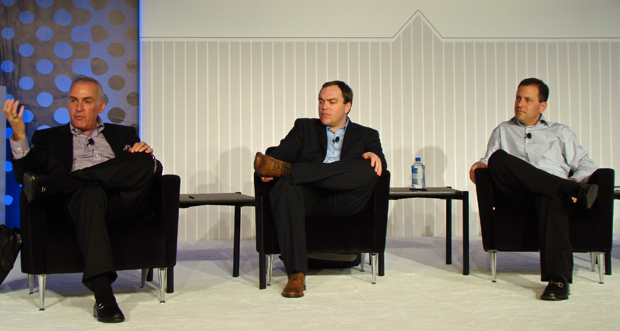 (L to R): Phil Corwin, Jeremiah Johnston and Todd Greene answering audience questions
about legal and public policy issues on Wednesday (Feb. 1, 2012) at DOMAINfest Global.
Wednesday night's big social event was a crowd favorite - a trip to the world reknowned Petersen Automotive Museum for a Dinner Networking Party sponsored by the .CO Registry.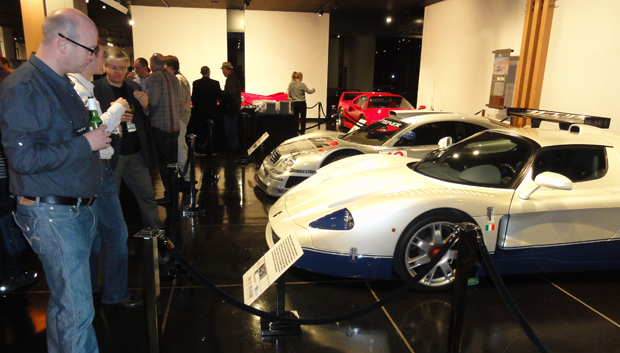 DOMAINfest Global guests ogle some of the dozens of rare, exotic and famous cars
at the Petersen Automotive Museum in Los Angeles Wednesday night (Feb. 1, 2012).
A highlight of the evening was a preview of the Go Daddy/.CO Super Bowl ad that will be aired during Sunday's Super Bowl Game between the New England Patriots and New York Giants.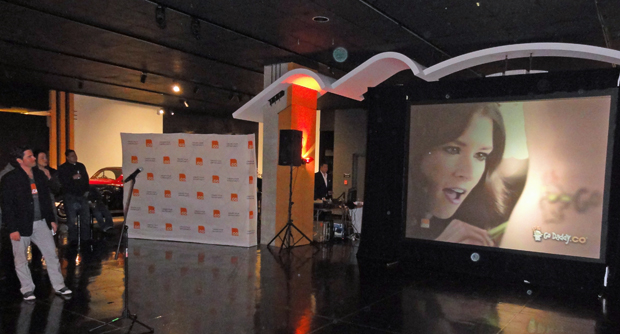 .CO Registry (.CO Internet S.A.S.) CEO Juan Diego Calle (at far left)
treats guests to a preview screening of this year's Go Daddy/.CO Super Bowl ad.

In a special treat for DOMAINfest Global guests, the star of the Go Daddy/.CO Super Bowl commercial, Colombian model Natalia Velez, showed up in person to meet and greet attendees and have her picture taken with everyone who asked. In addition to obviously being beautiful, Natalia was very personable and it was clear that she thoroughly enjoyed interacting with fans.

The 30-second Super Bowl ad, that cost over $3 million, is expected to be seen by approximately 120 million views worldwide. Go Daddy and .CO also ran a successful ad in last year's Super Bowl game as part of a .CO marketing effort that set a new standard for promoting a new or re-launched TLD.

Juan Diego Calle with Natalia Velez,
star of the Go Daddy/.CO Super Bowl ad.
Gregg McNair gives Vern Jurovich a "trim"

One other note before we moved on to Thursday's closing day highlights. As I mentioned in my last post from Santa Monica, three conference attendees, InternetTraffic.com's Vern Jurovich, DomainAdvisors.com President Jeff Gabriel and domain investor Bill Lozada, generously permitted PPX International Chairman Gregg McNair, to shave their heads in exchange for over $30,000 in pledges made to a great charity, The Water School.

The deed was done at a late night party Tuesday night after I had left (expecting that it wasn't going to happen). I noted that I had photos coming and now here they are. At left (in a wonderful shot courtesy of Dan Adamson), Vern's hair is transferred to Gregg's hand!
Below, "after" shots of Vern's fellow "snipees", Jeff and Bill. I think it's a great look for both guys and just think of how much money they will save on hair care products!

Jeff Gabriel sports his new "do'

Bill Lozada looking good sans locks
Moving on to the closing day (Thursday, Feb. 3) highlights from DOMAINfest, the day began with a 9:30am session on Domain Valuation Techniques for Buying and Selling.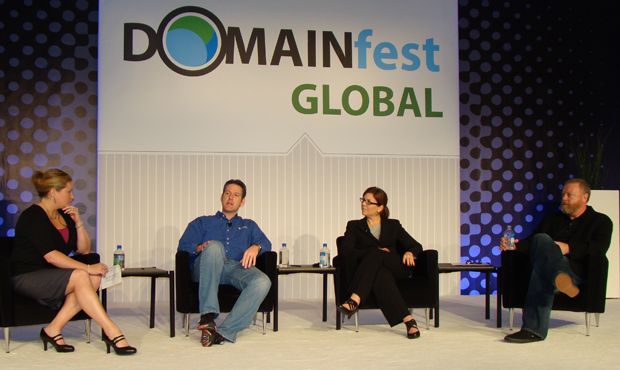 The Domain Valuation panel featured (left to right) moderator Lisa Box (Oversee.net),
Paul Nicks (Go Daddy), Liesbeth Mac-de Boer (Sedo) and Ken Taylor (Marksmen Inc.).
After that experienced group provided advice on setting domain prices, as well as buying and selling strategies, it was time for one of the week's main events - a Keynote Fireside Chat with Twitter Co-Founder Biz Stone. There have been a lot of great keynoters at DOMAINfest Global over the years and I hesitate to single one out of the group because so many were excellent, but I have to say Biz was my favorite to date.
Stone served up one hilarious anecdote after another about growing up and his various business ventures in a funny, yet informaton-packed and inspirational interview adroitly conducted by Oversee leader Scott Morrow. Stone's sense of humor and wit is just stellar. I'll have some specifics from the talk in our full show review article that will be coming out in a week or so - right now I'm just thankful I recorded the talk because it is one I will listen to again. I'm already on Twitter (@dnjournal) but after hearing Biz I've gone from being a mere user to a major fan of the man who helped create it.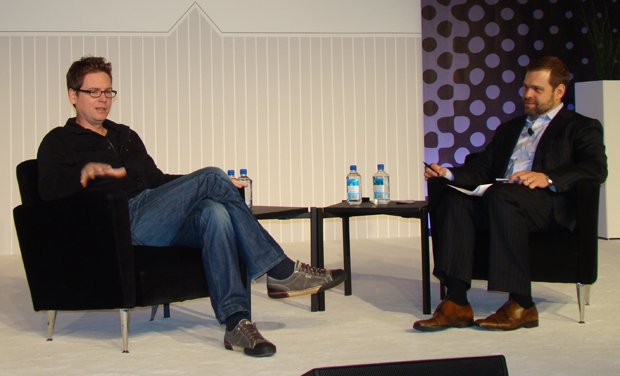 Twitter Co-Founder Biz Stone (left) being interviewed by
Oversee's Scott Morrow Thursday (Feb. 2, 2012) at DOMAINfest Global.
After Biz and a lunch break it was time for the final DOMAINfest panel discussion, one covering SEO Tips and Best Practices.
The SEO Tips session featured (left to right) Bruce Clay, moderator Scott Morrow,
Andy Atkins-Krueger (WebCertain Group) and Danny Sullivan (Search Engine Land).
This group of well-known experts talked about the importance of quality content and website arhitecture and provided advice on the latest SEO techniques and tools.
The final business event of DOMAINfest Global, the Moniker Live Domain Auction, followed at 4:30pm. The auction wound up producing more than $392,000 in sales led by Empire.com at $135,000. QE.com added $89,000, CatFood.com went for $61,000 and Marriages.com for $36,000. It was originally reported that QR.com sold for $325,000 but that winning bid was later rescinded because the buyer thought they were bidding on a different domain (12.com).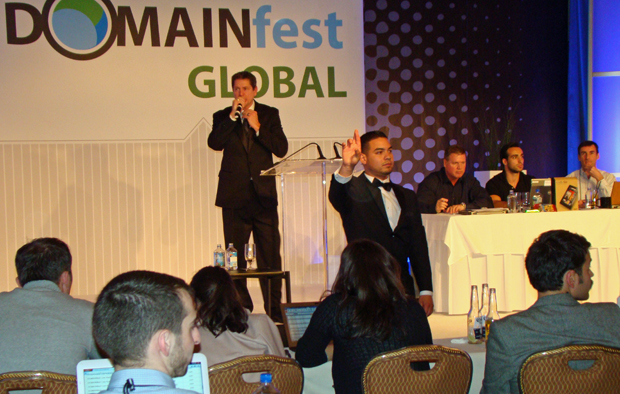 Auctioneer extraordinaire Wayne Wheat (at the podium)
conducting Moniker's Live Domain Aucton Thursday (Feb. 2).
After the auction it was time for a final night of fun. The ladies got a head start on that with a 6:30pm Women in Domaining reception at the Fairmont. Soon after, motor coaches began ferrying guests across town to Hollywood's House of Blues for an evening of networking, good food and fine performances from Lucent Dossier, a performance artist group that combines a dash of Cirque du Soleil style acrobatics with creatively attired models and modern dance.

Faces in the crowd included the nine guys in the photo below. The line up is kind of a domain industry version of the 1927 New York Yankees line up known as Murderer's Row because of the heavy hitters in every position. Left to right they are Ammar Kubba, Page Howe, Roy Messer, Steven Kaziyev, Ari Goldberger, Michael Lindsey, John Yeomans, Andrew Rosener and Bill Lozada.

Performance artist group Lucent Dossier entertaining
DOMAINfest Global guests at Hollywood's
House of Blues Thursday night (Feb. 2, 2012).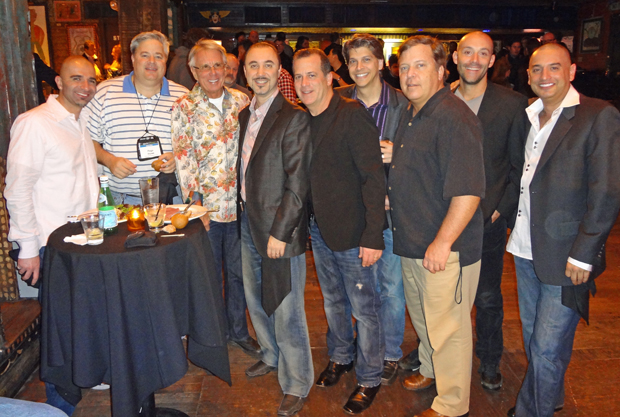 The visit to the House of Blues was a fine way to cap a wonderful conference week (with fabulous weather) in Southern California. This morning people started heading back home after a very nice farewell breakfast at the Fairmont. Diana and I had the good fortune of having our flight home cancelled by a winter storm in Denver where we were supposed to connect to Tampa). There were no other available flights out today, so we are enjoying an unexpected bonus day and night in Santa Monica. Our day was made especially delightful when Michael Castello brought his family down from their home in Moor Park to have a long, leisurely lunch with us at the Fairmont this afternoon.
Several others stayed over in the Los Angeles area for a weekend-long Domain Boardroom Funfest at Dana Point. Domain Boardroom is a private forum operated by veteran domain investor (and one of the finest people you will ever meet), Donna Mahony, that has attracted many of the industry's leading experts and investors.
A couple of other house keeping notes to wrap up these closing day highlights. For the second year in a row the winner of DOMAINfest's Fantasy Domaining Contest was Edwin Sherman who picked up a great prize package that included free DOMAINfest admission, four free nights at the hotel and a $1,000 travel stipend.

The winner of the Passport Drawing (attendees got their passports stamped by visiting each exhbitor's booth, then dropped the completed passport in the drawing bin) was Adam Young who won a $500 Amazon gift code. The $250 second prize went to Daniel Eisenhut and Enrico Schaefer received a $150 American Express gift card as third prize.

View of the Pacific Ocean from our 9th floor balcony
at the Fairmont Miramar in Santa Monica, California
where the DOMAINfest Global 2012 conference
was staged this week. You can see why we didn't
mind having our flight home cancelled today.

While I've covered a lot of ground in this week's daily Lowdown reports from Santa Monica, there are a lot more photos and details to share than could be fitted into these posts that have to be made on the run while the show was underway. I'll tend to those in a comprehensive show review that will bring everything together in one place for posterity a week or so after we get back home and clear the decks there.
(Posted Feb. 3, 2012) To refer others to the post above only you can use this URL:
http://www.dnjournal.com/archive/lowdown/2012/dailyposts/20120203.htm
Editor's Note: Since today is the final day of the DOMAINfest Global conference in Santa Monica, California we are goint to wait until we have photos from tonight's closing event before posting our Day 3 Photos & Highlights. We expect to publish those Friday (Feb. 3).
(Posted Feb. 2, 2012)
Day 2 Photos & Highlights From DOMAINFest Global - Oversee.Net Sells Moniker & SnapNames to KeyDrive
The DOMAINFest Global conference continued today at the oceanfront Fairmont Miramar Hotel in Santa Monica, California. In my opening day highlights post yesterday I left off just before a late afternoon panel discussion on Affiliate Lead Generation Best Practices got underway. The photo below is from that session that featured HasOffers.com CMO Peter Hamilton (standing) and (seated left to right behind him) Brook Schaaf (CEO, Schaaf-PartnerCentric), Jay Weintraub (CEO, NextCustomer Inc.) and Eoin Matthews (VP of Business Development at VigLink).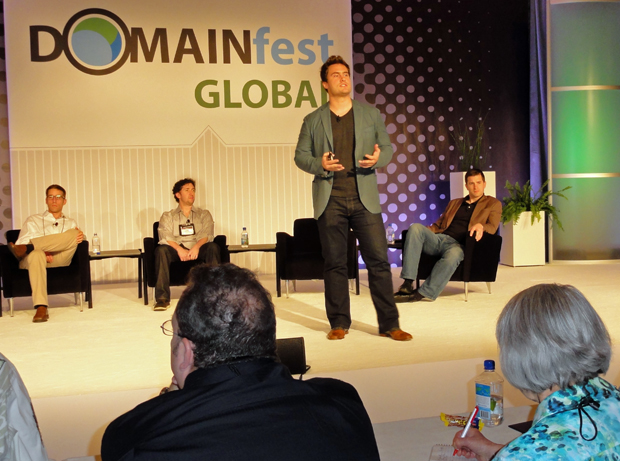 The last business session Tuesday (Jan. 31) was a one-hour Sponsor Showcase in which representatives from the top DOMAINfest Global sponsors each had five minutes to talk about their services.
Then it was off to the show's first official evening social function, a Dinner Networking Reception, sponsored by Sedo at Monsoon, a nearby Balinese restaurant in Santa Monica. Sedo CEO Tim Schumacher made his last appearance in that capacity, telling the crowd about the partnership deal the SedoMLS and GoDaddy announced this week. Tobias Flaitz took over as Sedo's CEO today (Shumacher, one of the three company co-founders, will continue to serve on the Sedo Board).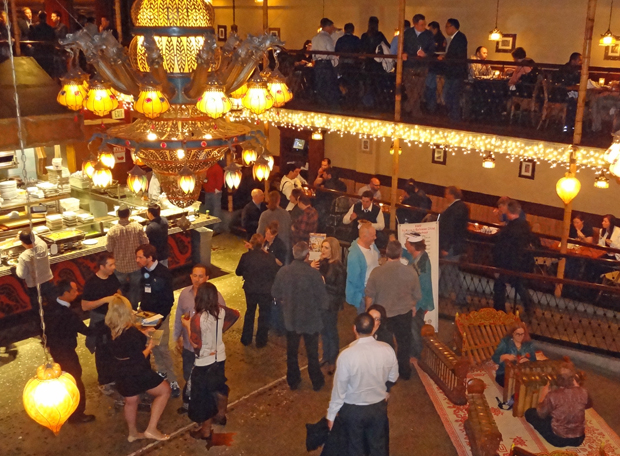 A scene from Sedo's Opening Night Dinner Networking Reception at Monsoon
After Sedo's event, PPX International hosted a late night party at the Shangri-La Hotel, a block south of the Fairmont Miramar. As I mentioned in yesterday's post, there were rumors going into the party that InternetTraffic.com's Vern Jurovich (one of the nicest guys in this or any other industry) might consent to having his hair shaved off in an effort to raise funds for The Water School.

DOMAINfest guests jammed the Shangri-La to see if that would happen and, in fact it did. Not only did Vern lose his locks, he convinced DomainAdvisors President Jeff Gabriel to make the sacrifice too and later in the evening, a third domainer with an ultra big heart (and now an extremely short haircut), Bill Lozada, faced the guillotine for a good cause.

Unfortunately, this all happened in the wee hours of this morning, after I left the party, so I don't yet have the "after" photos to show you, though I'm told they will be coming my way soon. Nor have I seen any of our three new heroes around the hotel today (of course, they could be in disguise - a local wig shop reported a run on their inventory today). At right you can see what Vern looked like "before" his run-in with the shears. It is not official yet, but I heard over $30,000 was pledged to the The Water School in support of their sacrifice.

Vern Jurovich, InternetTraffic.com
before last night's "haircut"
In my book that makes Vern, Jeff and Bill beautiful (not that they weren't already) whether or not their new hairstyle is in vogue. The money they raised will actually help save lives. Each is a man among men.
Before Day Two of DOMAINfest Global got underway this morning (Feb. 1), the Co-CEOs and Co-Presidents of Oversee.net (who organizes the annual conference), Debra Domeyer and Scott Morrow, hosted a Q&A breakfast for industry media representatives. I'll have more on the ground covered during that interesting session in our full conference review article after DOMAINfest. One bit of big news that was breaking while we were with them was Oversee's sale of Moniker.com and SnapNames.com that was officially announced later in the morning.
Bill Hunt, President
Black Azimuth Consulting

In today's first business session Black Azimuth Consulting President Bill Hunt, in a solo presentation, provided advice on Analyzing Keywords to Find Revenue Opportunities. Hunt discussed how to use updated keyword research and modeling techniques to compenstate for the latest changes at Google, Bing and Yahoo.

The second morning session featured a panel that covered Advanced PPC Best Practices and Campaign Management Tools. The experts on the said offered tips that they say could help you double your conversions, lower your costs and save time in the process.

Below: Advanced PPC Panel participants (left to right) were moderator Dwayne Walker (Oversee.net), Joanna Lord (SEOmoz.org), Jeff Ferguson (CEO, Fang Digital Marketing) and David Rodnitzky (CEO, PPC Associates).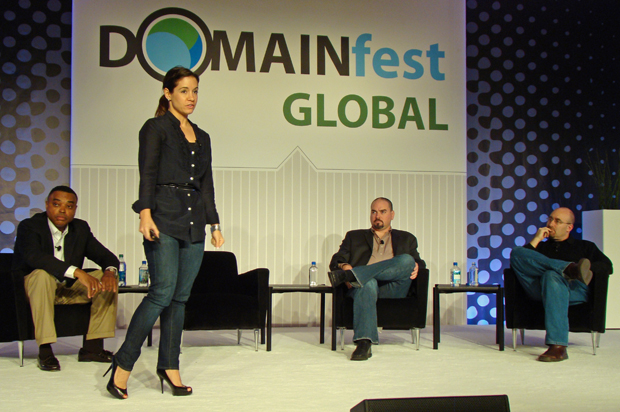 CEO Tim Ash, SiteTuners

After another beautiful outdoor luncheon at the Fairmont, the Wednesday afternoon schedule began with Tim Ash, the author of Landing Page Optimization, speaking about - you guessed it - landing page optimization - specifically Landing Page Optimization Best Practices and Conversion Tools. Ash offered specific landng page adjustments that he said will dramatically improve anyone's conversions.

As I write this, the final business session of day two, the highly anticipated Pitchfest Contest, is just wrapping up. Ten entrepreneurs pitched their business ideas to a panel for four distinguished judges. The judges wound up picking Elliot Labreche of Akashic, a cloud file storage startup as their winner based on four criteria. The audience also had an opportunity to vote and they wound up picking a different winner, Babafoo, described as a "Linked In" for high school athletes. I'll have more on the Pitchfest contest for you in tomorrow's post

(including photos of the winners), as well as photos and highlights from tonight's big social event, a Dinner Networking Party at the Peterson Automotive Museum - one of the world's best.
(Posted Feb. 1, 2012) To refer others to the post above only you can use this URL:
http://www.dnjournal.com/archive/lowdown/2012/dailyposts/20120201.htm