The Lowdown
January 2014 Archive
Subscribe to our RSS Feed

Here's the The Lowdown from DN Journal,
updated daily to fill you in on the latest buzz going around the domain name industry.

The Lowdown is compiled by DN Journal Editor & Publisher Ron Jackson.
First Domains From Donuts Start Coming Out of the Oven Wednesday When Open Registration Begins
A lot of money is riding on new gTLDs and no one has placed a bigger bet on them than Donuts. The new registry operator raised over $100 million to apply for more than 300 new domain extensions and finally Donuts delivery day has arrived. Starting tomorrow (Wednesday, January 29, 2014) the general public can start registering domains in the first seven Donuts TLDs to hit the open market - .BIKE, .CLOTHING, .GURU, .HOLDINGS, .PLUMBING, .SINGLES and .VENTURES. The names will be available through dozens of registrars around the world.

Though this will be a landmark release for Donuts, it will be just the first of almost weekly waves of new gTLDs they plan to release throughout 2014. The next batch - another group of seven (they must believe in lucky numbers) - will hit shore a

week from tomorrow (Feb. 5) when .CAMERA, .EQUIPMENT, .ESTATE, .GALLERY, .GRAPHICS, .LIGHTING and .PHOTOGRAPHY all open for business.
Donuts has already signed final contracts with ICANN to operate 105 new gTLDs and they expect to add many more to their portfolio in the weeks and months ahead. Donuts Co-Founder and CEO Paul Stahura (an industry veteran who built one of the world's biggest domain registrars, eNom, before selling that company to Demand Media) said, "Starting this week, new, relevant and specific Internet naming options will be available on a scale never before seen. This is a unique opportunity for businesses, brands, organizations, and individuals to find an online identity that speaks precisely to their products, services and interests."

Another Donuts Co-Founder, Executive Vice President Jonathon Nevett added, "We have ambitious goals as part of our commitment to leading the development and innovation of the new gTLD marketplace. Reaching 105 gTLDs under contract is a good landmark, but we won't be satisfied until all of our remaining contracts are completed and all our gTLDs are fully available to the public."

Paul Stahura
Donuts Co-Founder & CEO
(Posted January 28, 2014) To refer others to the post above only you can use this URL: http://www.dnjournal.com/archive/lowdown/2014/dailyposts/20140128.htm
I'd Rather Go Blinds! Marc Ostrofsky Gives Us the Inside Story on Home Depot's Big Purchase of Blinds.com
Near the end of last week long time industry friend Richard Meyer sent me a link to a story in the Wall Street Journal about Home Depot acquiring Blinds.com, the world's largest online window coverings retailer. Richard thought this example of a giant retailer recognizing the value and massive growth potential of a successful ecommerce site built on a category defining domain name would be an interesting story for our readers.

It is certainly that, especially since I immediately recognized Blinds.com as a domain and business that another friend, domain investing pioneer and best selling author Marc Ostrofsky, had been an early investor in (an investment Marc noted in a 2011 DN Journal Cover Story profile about him). So, over the weekend I caught up with Marc to get the inside story on how he and his partners turned a local Houston based blinds store into a global ecommerce juggernaut that Home Depot spent big to get (exactly how big is subject to a non disclosure agreement, but considering that Blinds.com did over $100 million in sales in 2013, you know Home Depot's check had to have a lot of zeros in it).

Marc Ostrofsky
Ostrofsky said the story began back in 2002 when he first met Jay Steinfeld. "Jay was running a retail blinds biz called Laures Blinds and Drapes in Houston and was running a small website called NoBrainerBlinds.com," Ostrofsky recalled. Marc also remembered that the company was doing $1 million a year in sales. "The numbers online REALLY impressed me a LOT!," Ostrofsky exclaimed. Steinfeld was looking for investors to help grow the business. Ostrofsky decided this was a venture he wanted to be part of so he became the first outside investor and an active board member, and also brought in two other investors who were friends of his.
"When I saw the bottom line profits for online sales was much better that retail and all of the "moving parts" that retail comes with, I demanded a few things when I invested...eliminate the two physical retail stores, buy the domain Blinds.com and concentrate on building the online brand...less moving parts and larger profits," Ostrofsky said.
Blinds image from Bigstock

"We agreed to buy the Blinds.com domain with payments to be made over a few years...but when we saw sales skyrocket, we move quickly to buy the name outright. We asked the seller if he would discount the price if we bought the asset outright and gave him the rest of his cash all at once....and yes, he gave us an even better price," Ostrofsky recalled.

"We had the two websites (NoBrainersBlinds.com and Blinds.com) running at the same time for a few years then decided to spend most our funds to build up the Blinds.com brand. The marketing and statistics team was led by a brilliant guy named Daniel Cotlar (who was and is THE most amazing guy I have ever met in that job). Together, Steinfeld and Cotlar were and are an incredibly impressive team and with the Blinds.com sale, both now work for Home Depot."
In an anecdote that underlined just how successful the company's online strategy has been, Ostrofsky noted, "For a few years, we sold Hunter Douglas blinds on the site but we were SO incredibly efficient at it and the prices were so low that the Hunter Douglas owners pulled their brand from all online sources because their retailers complained that they were losing sales to us. It was true...our online model was and is so INCREDIBLY efficient that their retailers could not compete efficiently."
"That said, and speaking just as a private observer who has no relationship with Home Depot, I bet that Hunter Douglas comes back online when the owners figure out what an incredibly short sighted move that was to pull out of the online world...as if they were being blind to the existence of the internet and the incredible power of this sales medium!" Ostrofsky said. "I can tell you this...when we dropped the Hunter Douglas line, we didn't lose a penny of sales as folks simply migrated to a similar product at a MUCH lower price. It was so funny...but true. Jay and company didn't miss a beat and the company kept on growing," Ostrofsky said.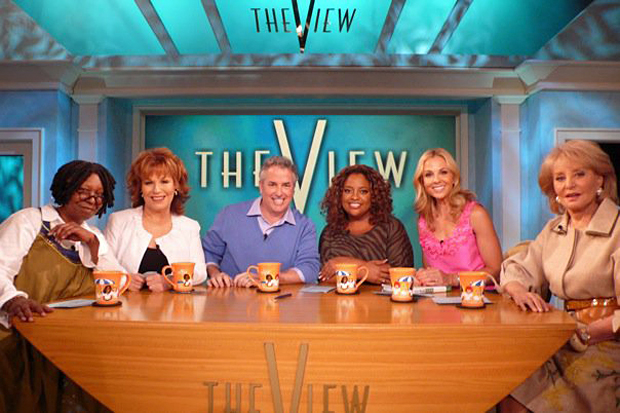 Get Rich Click! Author Marc Ostrofsky on ABC-TV's The View (June 9, 2011)
(L to R in the photo above): Whoopi Goldberg, Joy Behar, Marc Ostrofsky,
Sherri Shepherd, Elisabeth Hasselbeck and Barbara Walters. - See more at: http://www.dnjournal.com/cover/2011/june-july.htm#sthash.q2RPlShe.dpuf
Get Rich Click! Author Marc Ostrofsky on ABC-TV's The View (June 9, 2011)
(L to R in the photo above): Whoopi Goldberg, Joy Behar, Marc Ostrofsky,
Sherri Shepherd, Elisabeth Hasselbeck and Barbara Walters. - See more at: http://www.dnjournal.com/cover/2011/june-july.htm#sthash.q2RPlShe.dpuf
Get Rich Click! Author Marc Ostrofsky on ABC-TV's The View (June 9, 2011)
(L to R in the photo above): Whoopi Goldberg, Joy Behar, Marc Ostrofsky,
Sherri Shepherd, Elisabeth Hasselbeck and Barbara Walters. - See more at: http://www.dnjournal.com/cover/2011/june-july.htm#sthash.q2RPlShe.dpuf
Get Rich Click! Author Marc Ostrofsky on ABC-TV's The View (June 9, 2011)
(L to R in the photo above): Whoopi Goldberg, Joy Behar, Marc Ostrofsky,
Sherri Shepherd, Elisabeth Hasselbeck and Barbara Walters. - See more at: http://www.dnjournal.com/cover/2011/june-july.htm#sthash.q2RPlShe.dpuf
Get Rich Click! Author Marc Ostrofsky on ABC-TV's The View (June 9, 2011)
(L to R in the photo above): Whoopi Goldberg, Joy Behar, Marc Ostrofsky,
Sherri Shepherd, Elisabeth Hasselbeck and Barbara Walters. - See more at: http://www.dnjournal.com/cover/2011/june-july.htm#sthash.q2RPlShe.dpuf
Marc Ostrofksy on ABC-TV's The View in June 2011 to talk
about his New York Times best selling book Get Rich Click!
"I think my job in advising firms like Blinds.com is to constantly challenge the thinking of the day to day CEO and throw new ideas on the table while keeping that CEO accountable," Ostrofsky said. "Jay never missed the mark...which was truly impressive! Along the way, to spur growth, we allowed a large VC to invest which allowed us to buy out a few partners I personally really did not care for, take a few bucks off the table ourselves and create a world class board of directors."
That all resulted in last week's BIG payday. Perhaps it will also produce a chapter in Marc's next book (he already has two best sellers under his belt in Get Rich Click! and Word of Mouse). In any case, it's another home run for Ostrofsky, who has been making waves ever since his historic 1999 sale of Business.com in a $7.5 million deal (a domain he had purchased two years earlier for just $150,000).
(Posted January 27, 2014) To refer others to the post above only you can use this URL: http://www.dnjournal.com/archive/lowdown/2014/dailyposts/20140127.htm
Back to the Future: DomainFest Returning to Original Name and Hollywood Location for 2014 Conference Opening March 31
After much speculation about the fate of DomainSponsor's long running DomainFest conference, the company announced this afternoon that the show will return to Los Angeles March 31-April 3, 2014. The upcoming conference will have a different name, a different location and different dates than it had last year, but the name and location will still be very familiar to veteran DomainFest attendees.

After changing its name to Webfest Global in 2013 (an effort to broaden the show's focus beyond domains)

DomainSponsor has decided to revert to the better known DomainFest brand that attracted attendees to its first Hollywood show in 2007. Domainfest is also going back to the same Hollywood hotel where it ran through 2009 - known as the Renaissance Hotel then but since remodeled and renamed the Loews Hollywood Hotel. The venue is located at Hollywood & Highland in the heart of Tinseltown, where it is part of the complex that features the Dolby Theater where the annual Academy Awards (Oscars) are handed out. For the past four years, the conference has been held across town at the oceanfront Fairmont Miramar Hotel in Santa Monica.

A scene from the 2009 DomainFest conference - the last one held in Hollywood.
The show will return there in 2014.

The name and venue changes will not be the only things different about DomainFest this year. In the past the show had been held in the late January-early February time frame. When no conference had been announced for that window this year, a new conference, NamesCon, emerged to fill the void on the show calendar and they staged a very successful event in Las Vegas last week with close to 600 attendees on hand.

Now that Domainfest has settled on its new time frame in late March/early April, it is sandwiched between NamesCon and the T.R.A.F.F.I.C. Las Vegas conference coming up at the Bellagio Hotel May 28-31, 2014. The question now will be whether or not industry sponsors and attendees have room in their budgets to support three major shows in the same region that are spaced just two months apart (the 49th ICANN meeting will also be held immediately in front of DomainFest, running March 23-27, 2014 in Singapore).

Debra Domeyer
Oversee.net CEO

DomainFest organizers obviously think the answer is yes and the well run show has certainly drawn well in its previous runs in both Hollywood and Santa Monica. In February 2013 more than 600 domain name investors, registrars, hosting companies, startups, advertising providers and online marketing companies from 25 countries attended the conference.

Debra Domeyer, CEO of DomainSponsor's parent, Oversee.net, said, "We are bringing DomainFest back to Hollywood and its roots. With a tradition of networking, learning, and getting deals done, we're delighted to be back. Our goal is to once again deliver a great conference with excellent speakers, rich content, and fun entertainment."

A DomainFest press release said "Domain owners, new gTLD Name Providers, Domain Registrars, Online Marketers, Affiliates and Startups attending DomainFest

can expect an agenda packed with unique learning and networking opportunities. Industry leaders will offer insights and real-world experiences that can help improve business performance and results."

Dwayne Walker, Oversee.net's Senior Vice President of Advertising and Domain Services, added, "Once again, we are bringing together the brightest and most informed experts, attendees and investors from the Domain, Online Advertising and Online Marketing industries to explore new business opportunities, network and enjoy memorable evening entertainment."

An early bird registration fee of $695, which includes all sessions, meals and evening parties, is available now and will end Feb. 14, 2014. On Feb. 15, 2014, the regular pre-conference rate of $995 applies. This year, a special one-day pass will also be available for the first day of the conference. Priced at $295, it is expected to attract a broad range of participants involved in the Southern California technology scene.

DomainFest has also arranged for discounted hotel room rates at the Loews Hollywood hotel ( reservation details are on the Domainfest.com site).

Dwayne Walker
Sr. VP, Advertising & Domain Services
Oversee.net

You can view the preliminary three-track agenda for DomainFest here. The DomainFest team will provide updates, information and more via its Twitter handle @domainfest. DomainFest, DomainSponsor and conference attendees will also be tweeting before and during the conference using Twitter hashtag #DomainFest.
(Posted January 23, 2014) To refer others to the post above only you can use this URL: http://www.dnjournal.com/archive/lowdown/2014/dailyposts/20140123.htm
Photos & Highlights from David & bree's Rock & Roll Wedding Saturday in Las Vegas
Domain Hall of Famer and rock band musician/manager David Castello (of CCIN.com) married band mate bree Saturday afternoon (January 18, 2014) at the Graceland Wedding Chapel in Las Vegas - the place where rock star Jon Bon Jovi was also married. bree (all lower case letters) is also the name of the rapidly rising Nashville based rock trio that David both manages and plays drums for.

David and bree both wanted a rock & roll wedding and went all out to get it - recruiting one of the world's top Elvis impersonators, Brendan Paul, to officiate their ceremony. The approximately three dozen family members and close friends that attended were given Elvis style 70s sunglasses to wear during the ceremony - one in which Paul kept them thoroughly entertained by dispensing wisecracks and singing dead on snippets of Elvis classics, all in the course of orchestrating the required wedding vows.

A shot of the Graceland Wedding Chapel in Las Vegas taken Saturday afternoon (Jan. 18), just minutes before David Castello and bree were married there in a rock & roll inspired ceremony officiated by one of the world's top Elvis impersonators!

Unfortunately guests couldn't photograph inside, but a professional videographer and photographer did and you can bet David & bree are going to get some great shots from him that they should be able to share with you in the near future.

We were, however, able to start taking photos as soon as the ceremony was over and the new Mr. and Mrs. David Castello emerged from the chapel that is located just a 100 yards north of the world famous Gold & Silver Pawn Shop featured on the TV show Pawn Stars.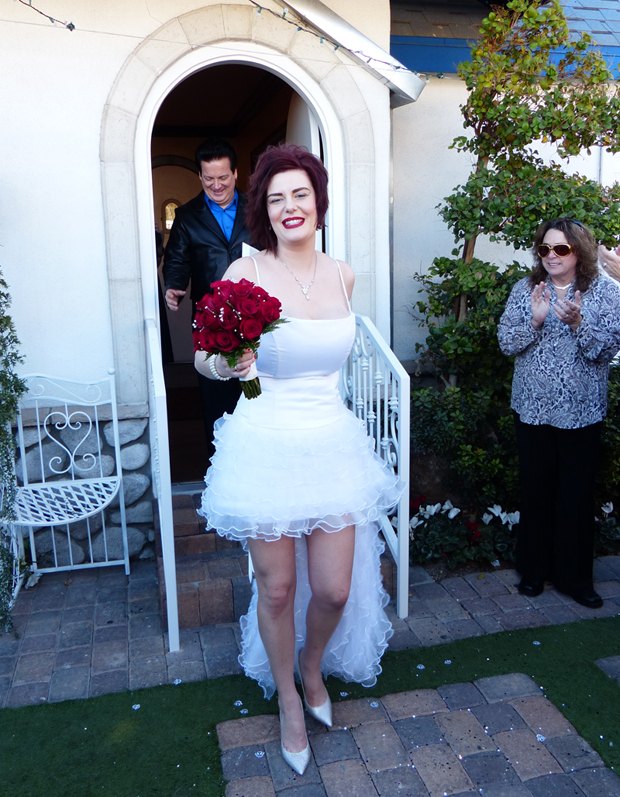 bree emerges from a side door of the Graceland Wedding Chapel with new husband
David Castello close behind, right after they were married by a world class Elvis impersonator.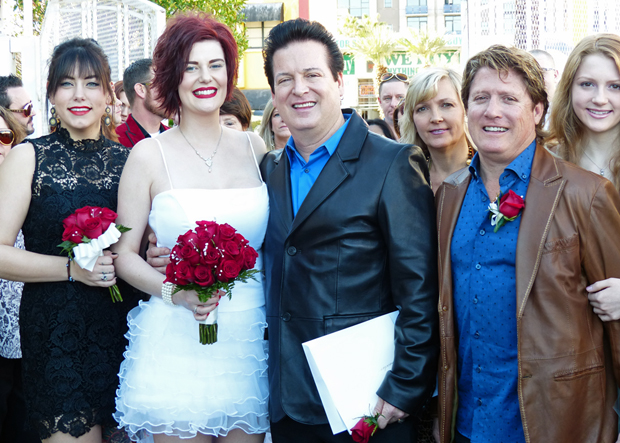 The wedding party featured L to R): bree's bridesmaid Alissa Marie, bree, David Castello and best man Michael Castello (David's brother and a fellow member of TRAFFIC's Domain Hall of Fame). Just behind Michael (to his left) is his wife Sheri and (to his right) is daughter Jessica.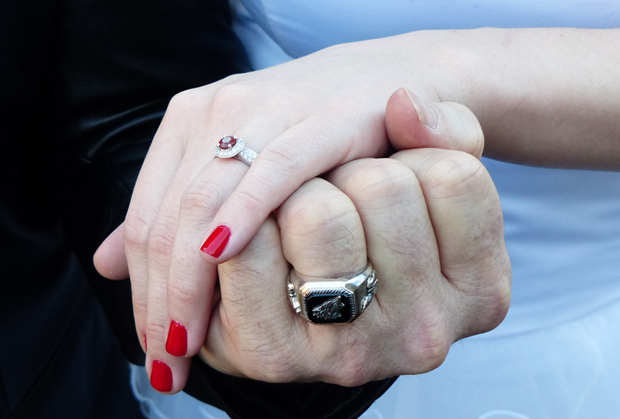 To paraphrase Beyonce, David liked it so he put ring on it!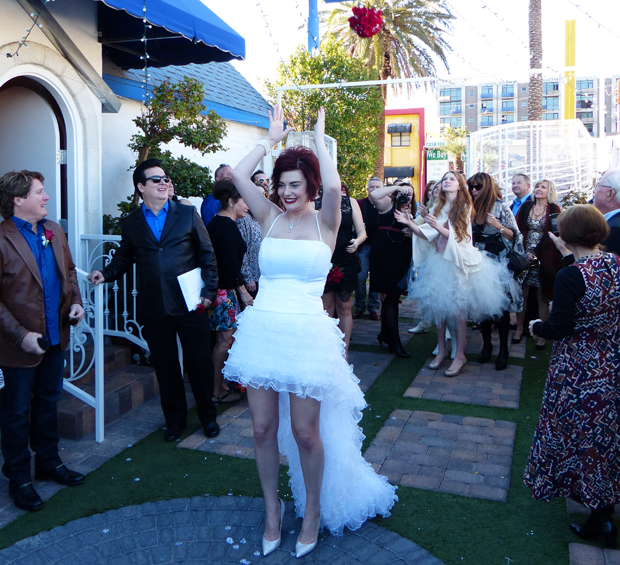 One of bree's first duties after the ceremony was the traditional throwing of her bouquet -
with the lady catching it believed to be the next one that will be married.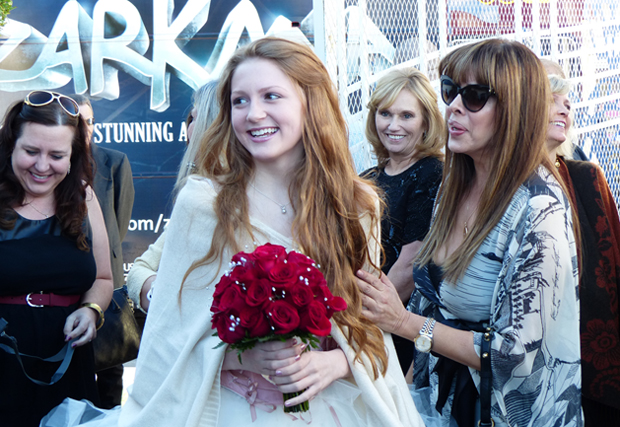 While the woman who caught the bouquet is surely beautiful, I wouldn't plan on seeing her walk down the aisle any time soon. Jessica Castello (Michael & Sheri's daughter) is a high school freshman :-)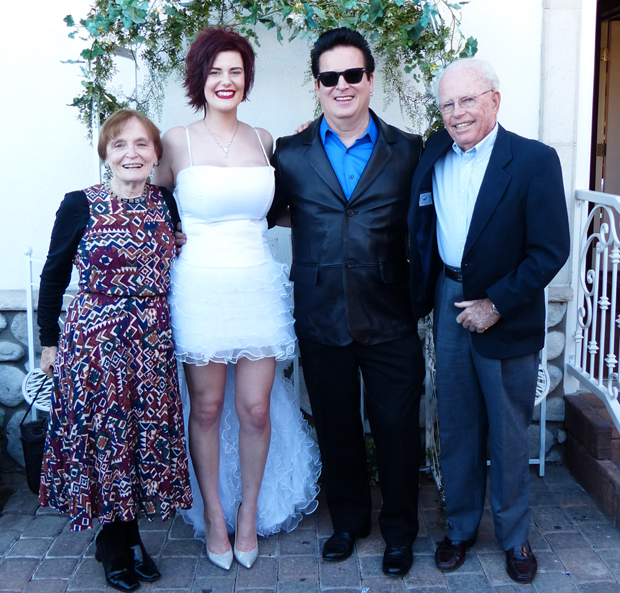 (L to R) David's mother - the vivacious Victoria Castello, bree, David Castello and Victoria's erudite and enthralling friend John O'Hare.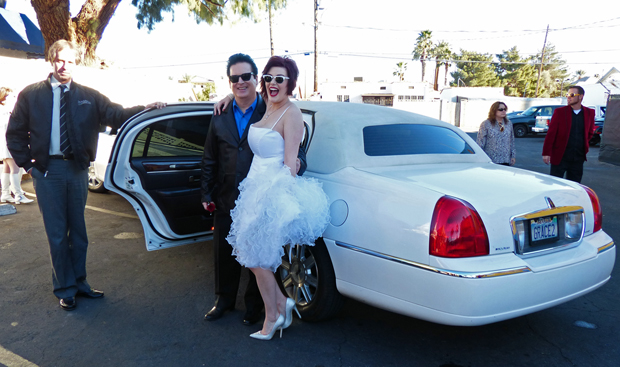 Above: With a stretch limo waiting for them, David and bree made their Graceland exit in style, but it wasn't the last we would see of them Saturday.
Below: David & bree surrounded by friends at the post wedding party they hosted at the Cosmopolitan Hotel's signature Chandelier Bar Saturday night.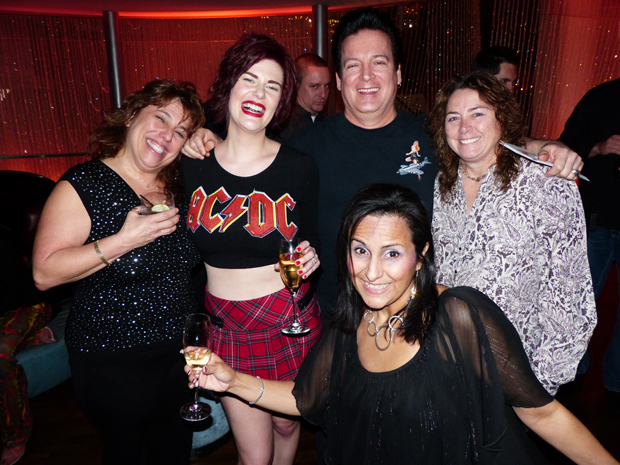 Congratulations to David & bree and thanks for letting us be a part of this very special occasion. We look forward to seeing you again when bree plays live in our hometown (Tampa, Florida) at the Tropical Heatwave Festival in May. May you make sweet music together for many years to come!
(Posted January 19, 2014) To refer others to the post above only you can use this URL: http://www.dnjournal.com/archive/lowdown/2014/dailyposts/20140119.htm
Going to the Chapel and They're Going to Get Married: David & bree's Rock & Roll Wedding Just Hours Away
My wife Diana and I went to Las Vegas this week for two reasons - one business and one personal. The business side of the coin was to cover the first NamesCon conference that
concluded Wednesday night (January 15) at the Tropicana Hotel. The personal side was to see our friends, Domain Hall of Famer David Castello and his beautiful bride and bandmate bree, get married this afternoon in what is sure to be a memorable rock & roll wedding at a well-known local chapel.

bree (all small caps) is also the name of the rapidly rising Nashville based rock band fronted by singer / songwriter / guitarist bree that David both manages and plays drums for. Bassist Maryk McNeely rounds out the electrifying trio and he is among David & bree's closest friends and family members who flew in for the big event.

Of course, David's brother (and fellow Domain Hall of Famer) Michael Castello and his family are here too and Michael will serve as David's best man today (and you would have a hard time finding a better man than Michael).

David & bree hosted a great night before the wedding dinner last night at the Sage restaurant at the Aria Hotel. Everyone was having such a good time, the party continued long after dinner in the Aria's Lobby Bar, finally winding down around 3am this morning. I know that is calling it a night early for rockers like David & bree but they had a good excuse - they have a wedding to go to today!

The ceremony gets underway at 2pm Las Vegas time (5pm Eastern). I'll have some photos for you after bree becomes Mrs. David Castello, but, as you might expect with a rock & roll wedding, there's no telling exactly when the party will end.

Our wish for David & bree is a long and wonderful life together at a party that never ends!

About to be weds David & bree last night at a pre wedding
dinner they hosted at the Aria's Sage Restaurant in Las Vegas.

Best man Michael Castello, Ron Jackson and Michael Berkens at a post-dinner party that continued until 3am this morning at the Aria.
(Posted January 18, 2014) To refer others to the post above only you can use this URL: http://www.dnjournal.com/archive/lowdown/2014/dailyposts/20140118.htm
Photos & Highlights From the Last Two Landmark Days at the Inaugural NamesCon Conference in Las Vegas
With close to 600 registrants on hand, the inaugural NamesCon Conference completed its run with 6 keynote speakers, 30 business sessions (featuring 100 speakers) and a variety of social and networking events Tuesday and Wednesday (January 14 & 15, 2014) at the Tropicana Hotel in Las Vegas. Our post on the first night festivities Monday can be found here, along with an addition below to get things started.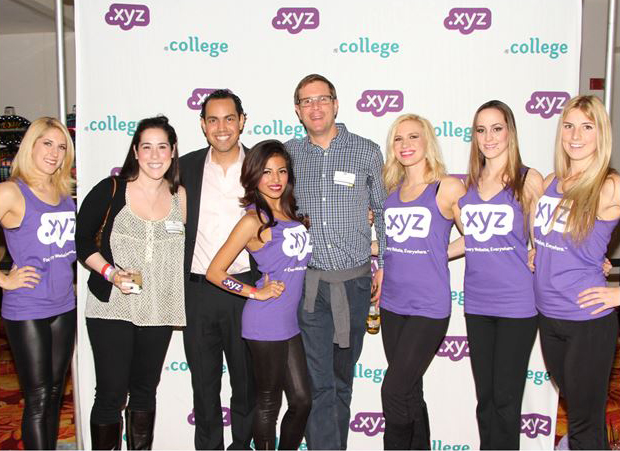 (L to R) with the .XYZ girls, Domain.com's Jessica Korn, .XYZ Founder Daniel Negari and
Domain.com's David Andrews at NamesCon's .XYZ Opening Night Party Monday night.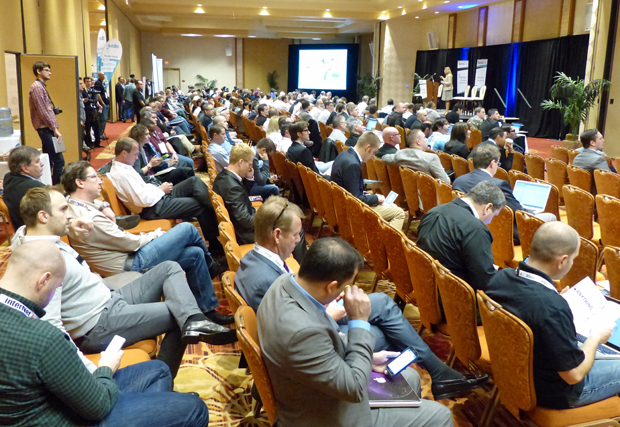 A cross section of the crowd attending Tuesday's first business session
featuring a keynote speech from author and executive Jennifer Wolfe.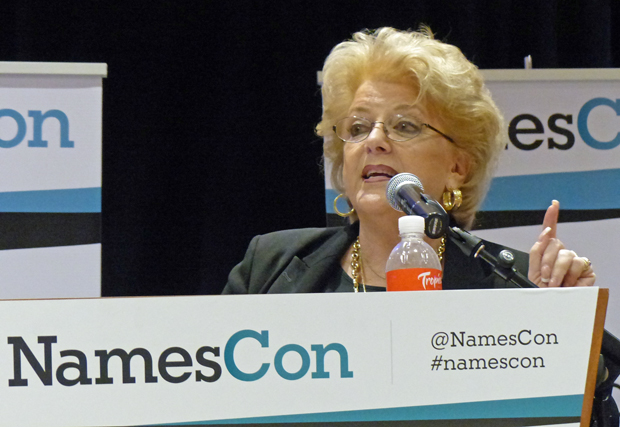 NamesCon drew a lot of attention in Las Vegas, an increasingly tech savvy city.
Mayor Carolyn Goodman swung by to talk about that Tuesday morning.
With a diverse crowd drawn from domain investment and development, registry/registrar and governance circles on hand, NamesCon employed a multi-track format that frequently had three business sessions underway at the same time. That allowed attendees to choose sessions most closely aligned with their interests. For our coverage, I most often picked sessions that I thought would give me insight into topics that are of special interest to our primary audience of domain investors and developers.
With many veteran domain investors skeptical about the prospects for the hundreds of new gTLDs that are starting to come online (the primary focus of NamesCon), they wonder why the new registry operators think they will succeed when many other TLDS released over the past decade are still struggling to make inroads against .com. An 11:15am session called Meet the New gTLDs (Panel 1), the first of several sessions that featured new gTLD registry operators, gave me a chance to hear some of them make their case.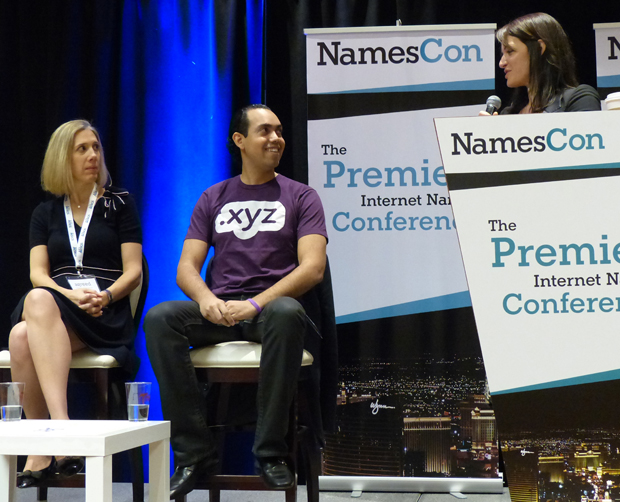 (L to R) Monica Kirchner (CEO, DotLuxury) and Daniel Negari (CEO, .XYZ) field questions from moderator Jennie-Marie Larsen. The panel also included Aaron Grego (CEO, Punto 2012), Shaul Jolles (CEO, DotLation - .uno) and Rob Rozicki (VO & Co-Founder, Starting Dot & Dot Ski).
At the same time this discussion was going on, other attendees were in adjacent rooms. Some chose to attend a panel on Navigating the Market, in whch recently launched TLD operators gave advice to new gTLD operators based on their experiences in launching new extensions. Others went to a legal session on Understanding Rights Protection Mechanisms in New TLDs & the Trademark Clearing House.
We closely follow sales in the domain aftermarket so next I went to a session titled The Secondary Market is the Primary Market that covered how sales platforms have evolved to offer customers both new regisgrations and currently registered names that are for sale, all in one location.
The Secondary Market is the Primary Market session featured (L to R): Brad Lemire (VP, Sedo), Jeff Gabriel (Uniregistry), Matt Overman (NameJet), Paul Nicks (Go Daddy) and Michael Berkens (RightOfheDot, LLC), with the panel moderated by Bill Sweetman (NameNinja.com).
In one adjacent room the subject was Doing Business in China: For New gTLDs and in another the discussion centered on Private Equity, VC, Wall Street and New gTLDs.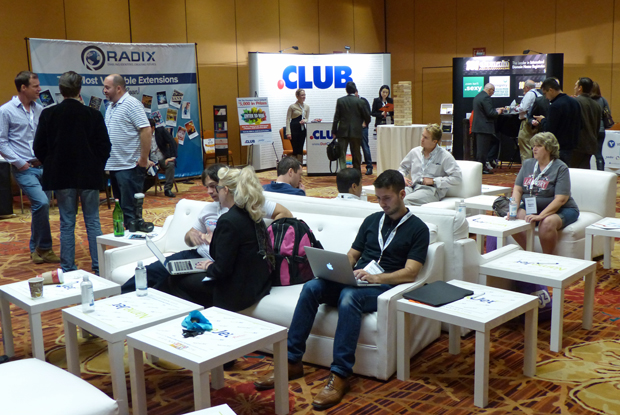 Above: One of the most popular areas at NamesCon was the Exhibit Hall where attendees could chat with representatives from the many companies that took booths, or grab a comfortable seat in the "NameJet Lounge" to relax or hold a meeting.
Below (L to R): Jeremiah Johnston and Dima Beitzke at the Sedo booth where they chatted with attendees interested in the company's services. Sedo CEO Tobias Flaitz was often there as well.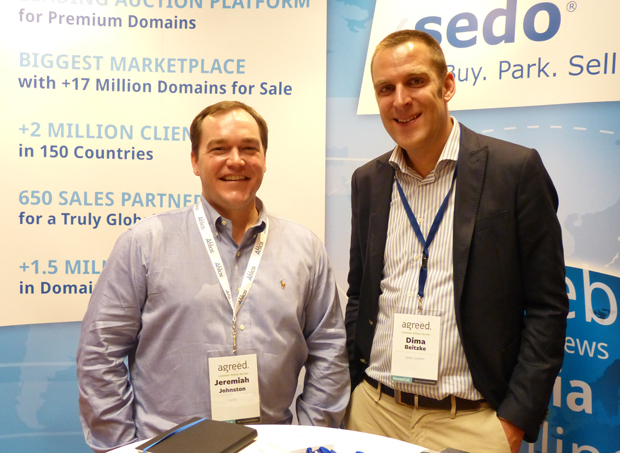 After a lunch break Tuesday (there was no food service at NamesCon so most attendees dined at o ne of the Tropicana Hotel's restaurants or in those at nearby hotels like the MGM Grand) it was time for the next round of business sessions.
I opted for New TLDs & Domainers: The Opportunities, a discussion of whether new gTLDs would be worthwhile investments.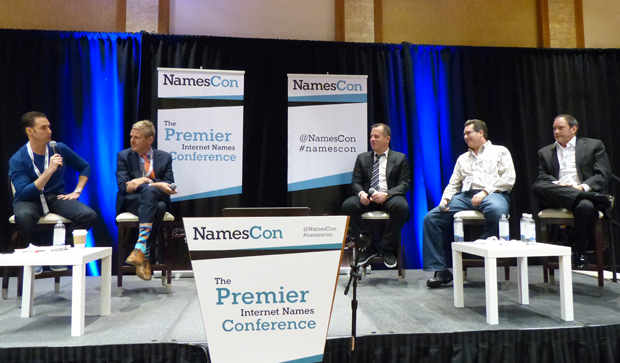 The New TLDs & Domainers panel included (L to R): moderator Braden Pollock, Fred Krueger (TLDH), Ari Goldberger (ESQwire.com), Adam Dicker (DNForum.com) and Michael Berkens (RightOTheDot, LLC).
All of the panelists but one believe .com will remain dominant for the forseeable future with new gTLDs taking several years to gain mindshare in the marketplace. The one exception was Mr. Krueger who boldly predicted .com would be dead in 10 years. Krueger also opined that is people wanted to profit from new gTLDs they needed to get into the market this year. Others advised a go slow approach and Dicker pointedly noted that Mr. Krueger was far from being an unbiased observer since he has made a $5 million investment in new gTLDs registries that he needed to recoup.
While some sparks flew at this sessions, others were attending either the Meet the New gTLDs (Panel 2) session, or one on Registrar Reseller Platforms, telling people how they could sell new gTLD registrations.
The new gTLDs vs. .Com debate continued in the next round of panel discussions with one called .COM is Dead, Long Live .Com! that I attended.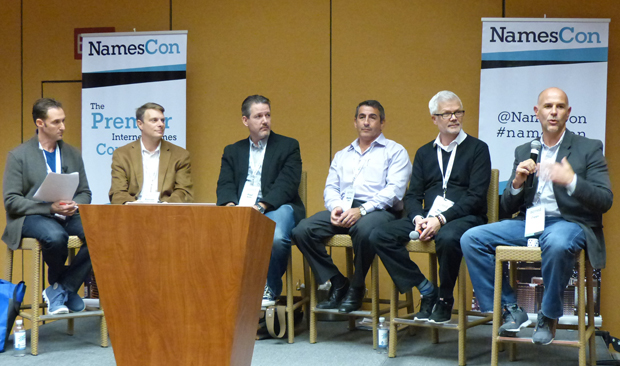 Differening opinions were again heard in the .COM is Dead, Long Live .Com! discussion that featured (L to R): moderator Braden Pollock, attorney Stevan Lieberman, Paul Nicks (Go Daddy), Monte Cahn (RightOfTheDot, LLC), Ken Hansen (CEO, .CO.COM, LLC) and Mike Zappy Zapolin.
At the same time other attendees were sitting in on a discussion of The Things a Marketing/Brand Manager Needs to Know and yet another group opted for one of How to Become a Registrar.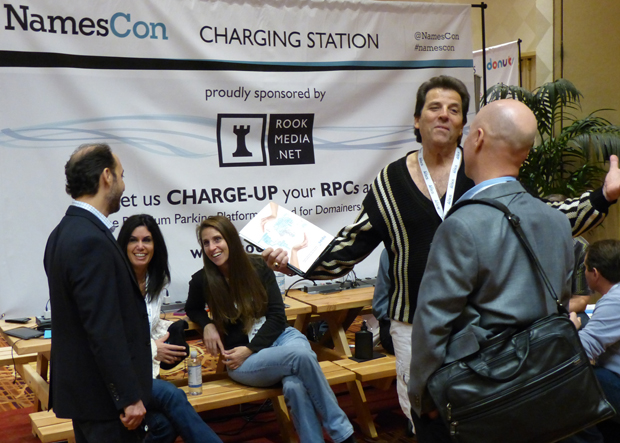 NamesCon left few stones unturned. For the convenience of mobile device dependent attendees they even had a Charging Station set up in the Exhibit Hall with dozens of electrical outlets available. (L to R) Jason Schaeffer (ESQWire.com), Tracy Fogarty (Domain Holdings) and Bari Myerson (Enom.com) waited while the electricity flowed and Scott Ross chats with a fellow attendee).
After a much appreciated afternoon Coffee and Dessert Break sponsored by Verisign, it was back to the meeting rooms at 4pm Tuesday. I headed to Parking vs. Megasites vs. Mini Sites while others sampled a panel on Buying and Selling Premium Names or Dude, Seriously? What Were You Thinking! (a session on common (and costly) mistakes in the domain investment arena).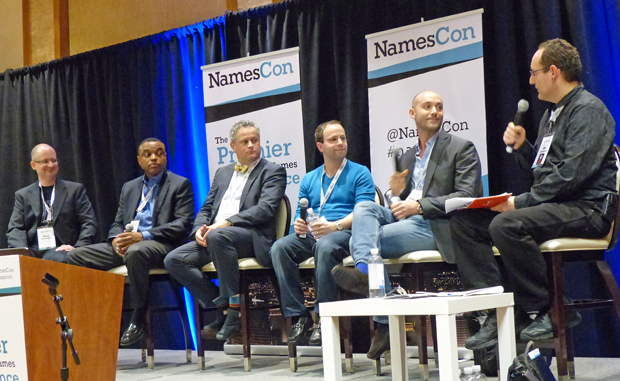 The Parking Vs. Megasites vs. Mini Sites panel featured (L to R): Theo Develegas (Acroplex.com), Dwayne Walker (Oversee.net), Yancy Naughton (HasTraffic.com), Elliot Silver (DomainInvesting.com), Andrew Rosener (MediaOptions.com) and moderator Bill Sweetman.
The first full day of business at NamesCon closed Tuesday with one of its most highly anticipated events, a keynote speech from Frank Schilling, the legendary domain investor and now service provider (at InternetTraffic.com, DomainNameSales.com and Uniregistry.com - the latter an operator of several new gTLD registries).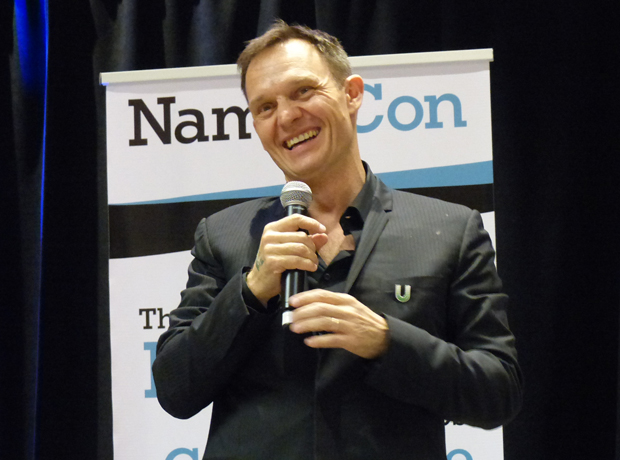 A full house returned to the Tropicana's main balroom to hear
Frank Schilling's keynote address Tuesday at NamesCon.
Schilling, who made his fortune with .coms (and believes they will remain dominant for several years to come) thinks many new gTLDs will also find success given that only 1% of the world's population is currently on the Internet. Schilling, whose Uniregistry plans to sell domain registrations in its TLDs at low prices (and without keeping all of the best terms for themselves) advised those thinking of investing in new gTLDs to take the strength of the registry into account. Will they market and support the TLD to help it gain recognition? Toward that end he said Uniregistry plans to spend $40 million on marketing in the next year.
With Tuesday's business day over it was time for some fun. It started with Andrew Rosener of MediaOptions.com taking on veteran domain investor Yoni Belousov in a $10,000 beer pong challenge.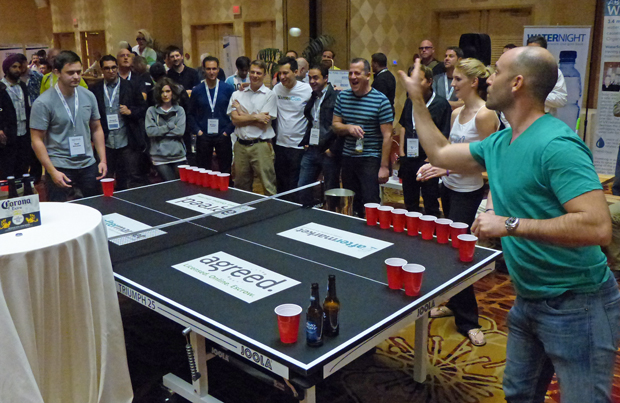 Andrew Rosener (right) battling Yoni Belousov in a $10,000 beer pong challenge.
The match came about after Andrew and Yoni were involved in a business transaction that they both wanted to complete, but they were $10,000 apart on the price. So they decided to settle the issue with the game winner getting the $10,000 concession they wanted. When the dust cleared, Rosener had won the match and a much tidier profit on their deal.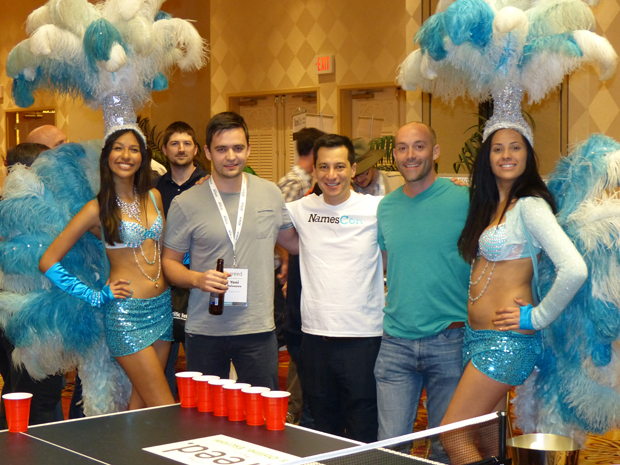 Flanked by two showgirls (after all ths is Las Vegas!) are Yoni Belousov,
NamesCon Founder Richard Lau and challenge winner Andrew Rosener.
Tuesday night was devoted to Water Night, the signature fundraising event benefitting the Water School. I wrote a separate recap about this event earlier this week, but have some additional photos to share with you here.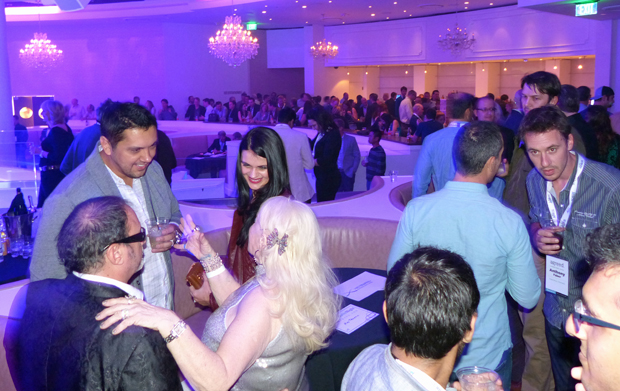 Above: Part of the crowd of 450 people who turned out for the
Water Night Party Tuesday night at the Tropicana Hotel's Havana Room.
Below: Vishal Manjalani (Skenzo.com) and Judi Berkens
were among the familiar and always friendly faces in the crowd.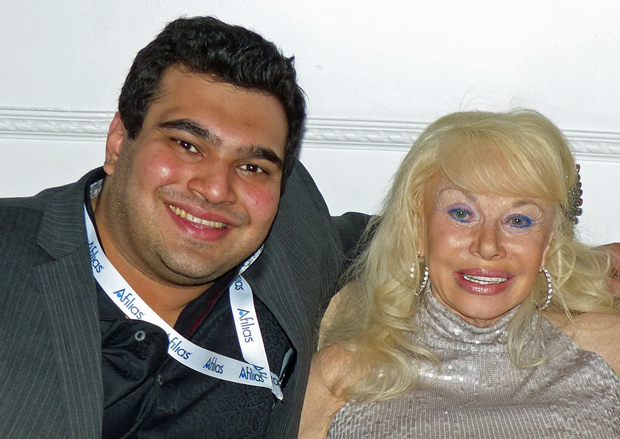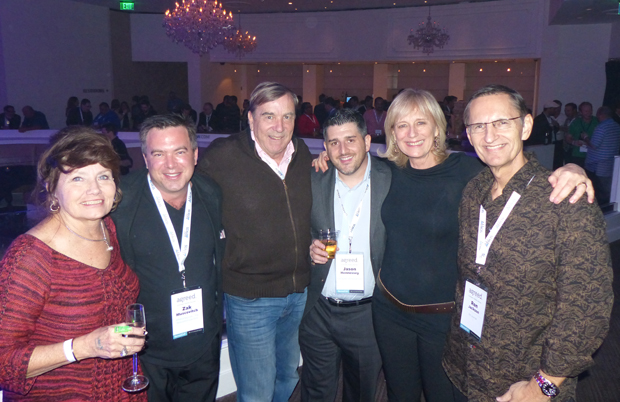 Above: Also on hand to help celebrate Water Night were (L to R): Diana Jackson, attorney Zak Muscovitch, Peter Maxymych (eMall.ca), Jason Hennessey (Everspark Interactive), Ilze Kaulins (ExcellentDomains.ca) and Ron Jackson (DNJournal.com).
Below: NamesCon co-director Jothan Frakes (left) and Yancy Naughton (HasTraffic.com) with nice full heads of hair that would disappear before the night was over!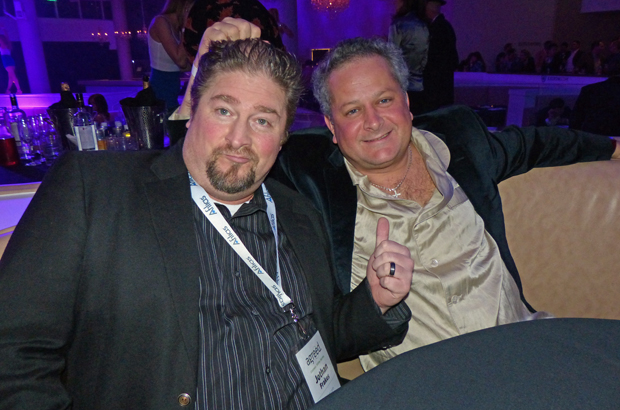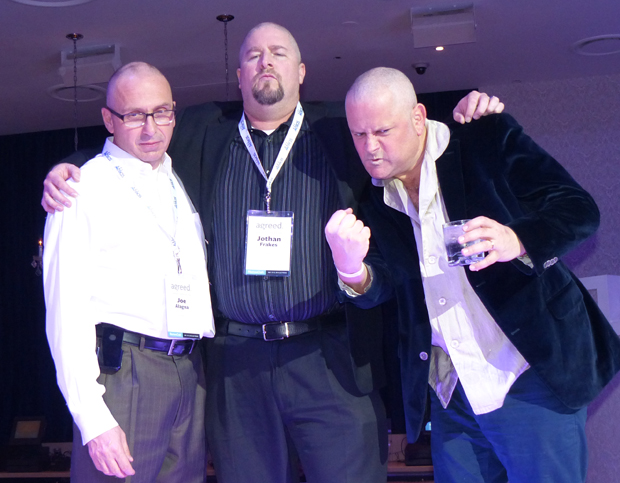 Looking more menacing after their turns in the barber chair (a brave front if there ever was one) are three good guys who allowed their heads to be shaved in exchange for donation to the Water School. (L to R) Joe Alagna (101Domain.com), Jothan Frakes and Yancy Naughton helped the charity raise over $111,000!
After what was a short night of sleep for many, NamesCon got back to business Wednesday morning (Jan. 15) with two keynote addresses.
Jodee Rich, at left, (DotCEO, Kred.com & PeopleBrowser) delivered the opening keynote address Wednesday morning followed by one of the world's most successful bloggers (at right) Jeremy "ShoeMoney" Schoemaker of ShoeMoney.com.

Then it was back to the multi-track for three sessions in separate rooms.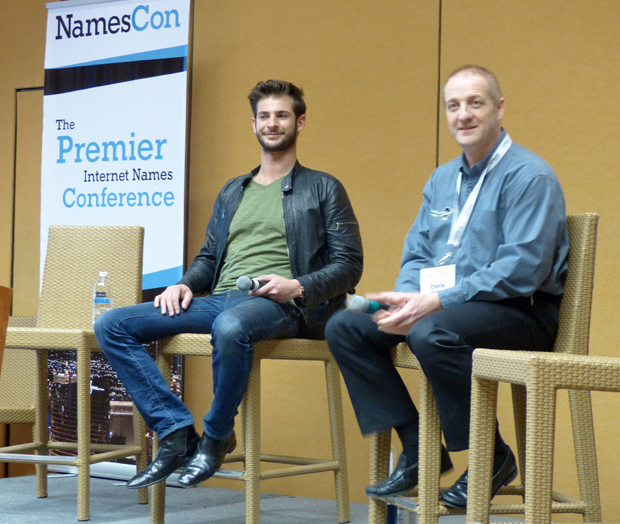 Merlin Kauffman (Soothe.com) and Chris Jensen (Christmas.com) deliver a case study in Premium Domain Development Wednesday morning. At the same time a third Meet the New TLDs panel discussion was going on in another room, as was a session detailing the work done by two important industry trade associations - the Internet Commerce Association and the Domain Name Association.
Three more sessions followed: Meet the New TLDs Panel 4, Using the DomainNameSales.com Platform to Its Full Potential and Meet the Industry Press. Since I sat on the latter panel, the decision about where to go was much easier this time!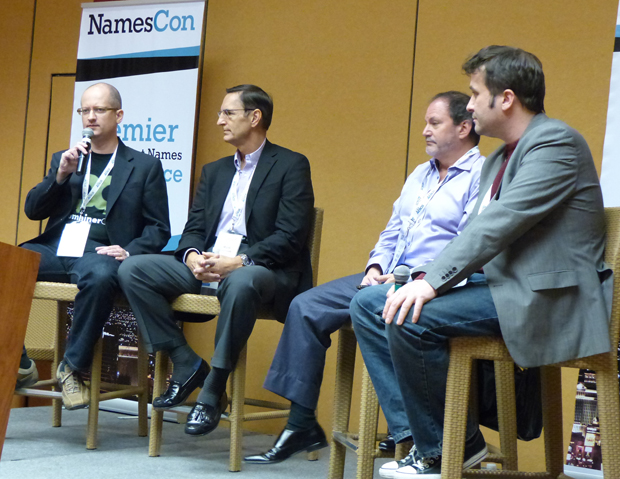 Featured on the Meet the Industry Press panel were (L to R) Theo Develegas (DomainGang.com), Ron Jackson (DNJournal.com), Mike Berkens (TheDomains.com) and Kevin Murphy (DomainIncite.com). Our respected colleague Andrew Allemann moderated the session, wisely remaining off stage most of the time, probably to (wisely) avoid being associated with the rest of us! :-)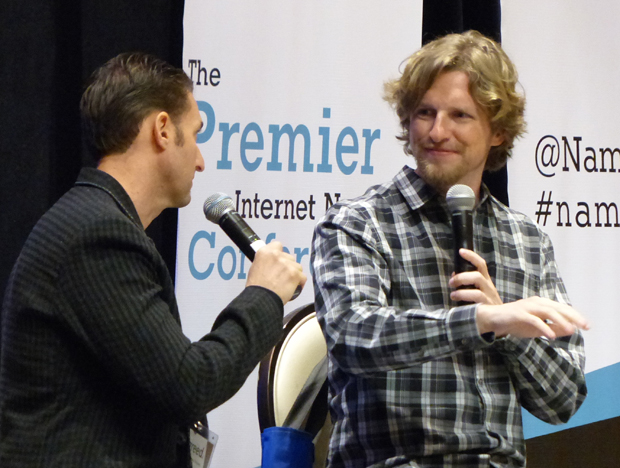 A lunch break was schduled next but NamesCon organizers came up with a huge last minute get, persuading Matt Mullenweg, the 30-year-old genius behind WordPress to sit for an interview with Braden Pollock. Most of the crowd gladly skipped lunch to sit in on this session.
The afternoon continued with three more sessions: Best Practices for Internet Domains and Your Company, Keeping it Sexy - How Regsitries Can Make Themselves Attractive to Registrars in the New TLD Landscape and Park It, Sell It, Drop It, Work It.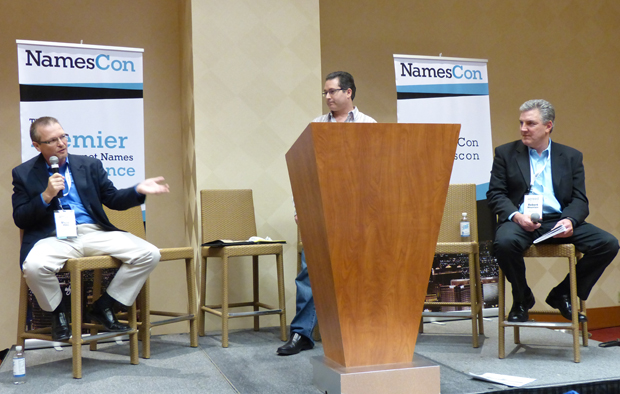 Above: Moderator Adam Dicker joined Victor Pitts (Above.com, at left) and Bob Mountain (Afternic.com, at right) for the Park It, Sell It, etc. session that covered ways to wring the most revenue from a domain portfolio.
Below: Morgan Linton (Linton Investments) kicked off the next round of sessions with a solo presentation on Startups, VCs and Customer Acquisition.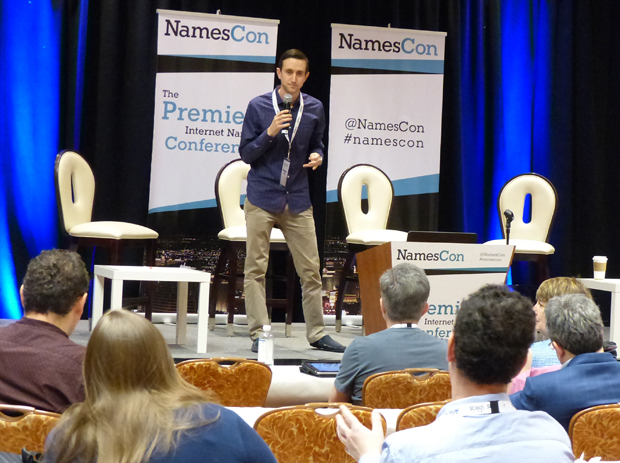 While Morgan spoke on the main stage, other sessions covered Important Tools of the Industry and Legal Issues and Guidance for Domain Name Investors and Entrepreneurs.
Following the afternoon coffee break, the final multi-track sessions began with discussions centered on Regional Market Opportunities, as well as SEO, Search New TLDs and Audience and Applying for Your TLD (advice of getting in on the second round of new gTLD allocations).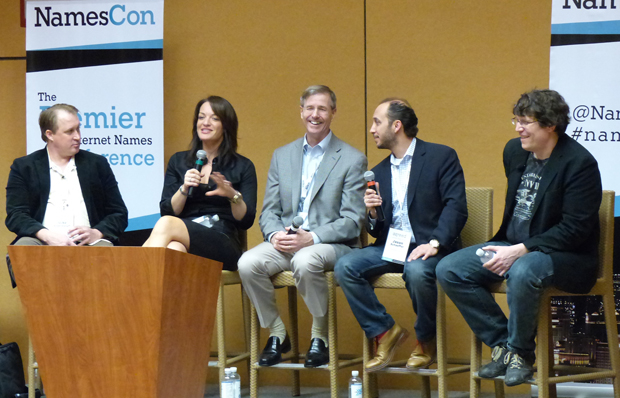 Applying for Your TLD panelists (L to R) were Mike Rodenbaugh (Rodenbaugh Law), Jennie-Marie Larsen (DomainDiction.com), Roland LaPlante (Afilias), Jason Schaeffer (ESQwire.com) and moderator Frank Michlick.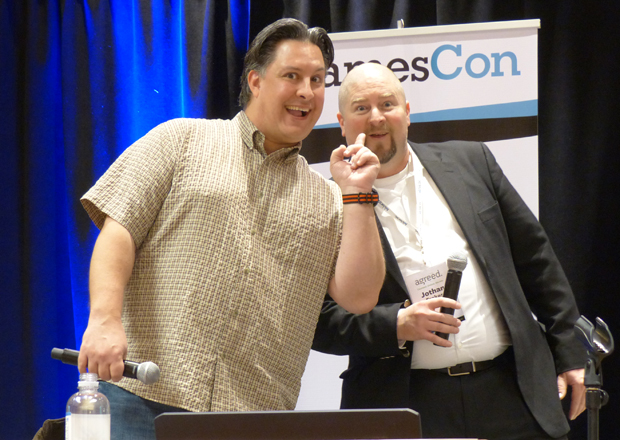 In the final business session of NamesCon, Bing.com's Senior Product Manager Duane Forrester (at left, just before beginning his talk, mugging for our camera along with Jothan Frakes - we admittedly egged them on!) delivered the closing keynote address to all attendees. Forrester provided a wealth of information on what will and will not work when you are trying to improve your search engine ranking.
Business was now done, but not the fun! You probably heard about the 16-man East vs. West ping pong tournament that went on after work at NamesCon. ESQwire.com sponsored the East team and Agreed.com the West. In the end two team members from the West, Ammar Kubba and Ray King were the last men standing.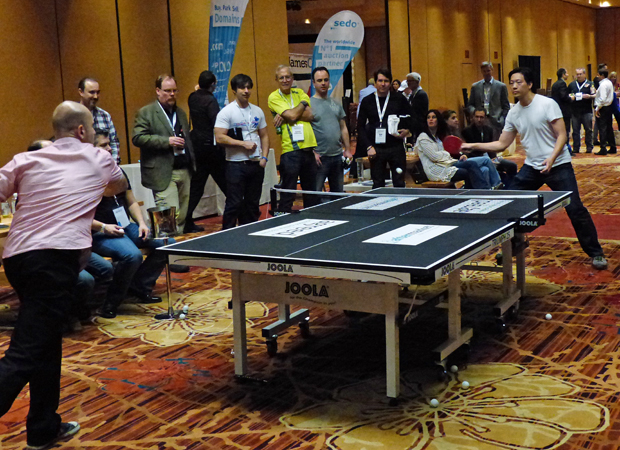 The championship match in the East vs. West ping pong tournament, Ray King (at right)
held off teammate Ammar Kubba to take the individual crown.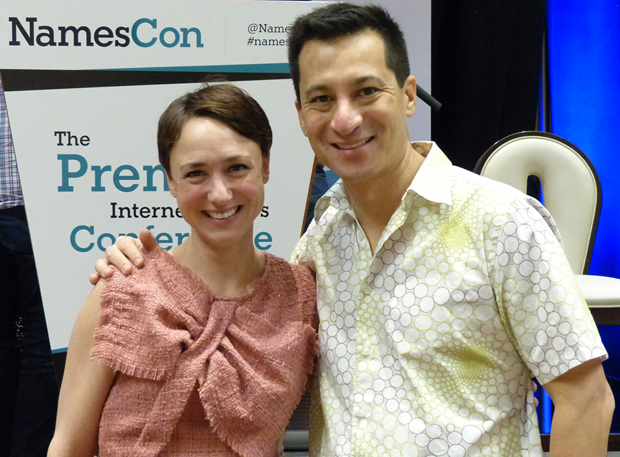 NamesCon Founder Richard Lau with show Co-Director Jodi Chamberlain, who,
along with Co-Director Jothan Frakes, delivered a major hit in their first time out.
Judging from what we saw and the feedback we heard from attendees, NamesCon was a home run on just about all counts. The real winner was the industry at large though. Nothing prepares us for the way forward better than getting together face to face to exchange ideas and debate the merits of the many opportunities we have to choose from in what contiues to be one of the world's best businesses (on many levels, not just financial) to be in.
(P.S. if you want to see more photos from NamesCon check out the wall at Pixt.com set up by our long time friend Ron Sheridan.)
(Posted January 17, 2014) To refer others to the post above only you can use this URL: http://www.dnjournal.com/archive/lowdown/2014/dailyposts/20140117.htm
Inaugural NamesCon Ends With Richard Lau, Jodi Chamberlain & Jothan Frakes Delivering the Goods and Scoring Big Win for the Water School
Congratulations to NamesCon conference Founder Richard Lau and his show co-producers Jodi Chamberlain and Jothan Frakes for delivering a crowd-pleasing inaugural conference that ended Wednesday night (Jan. 15, 2014) at the Tropicana Hotel in Las Vegas. The show organzers, sponsors and attendees also did the industry proud by coming through for the Water School by raising over $111,000 for the charity in the show's signature event, Water Night, where Jothan joined Yancy Naughton and Joe Alagna in the barber's chair to help raise that record-breaking total.
We're staying over in Las Vegas where I will spend most of the day going through a couple of thousand photos from Tuesday and Wednesday so I can put together a final Photos & Highlights column for you that will be posted here tonight.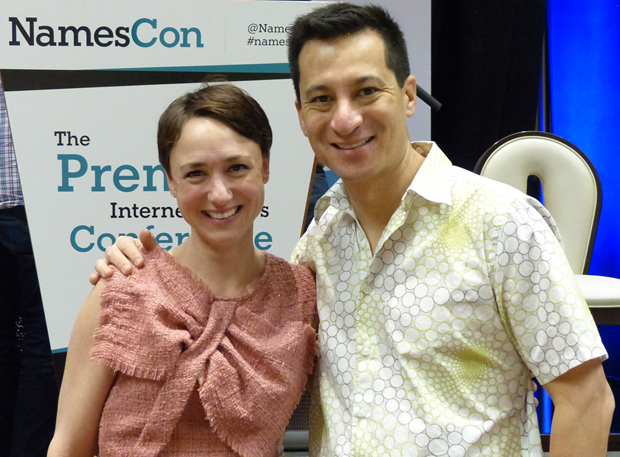 Above: Show Co-Director Jodi Chamberlain and NamesCon Founder Richard Lau.
Below: NamesCon Co-Director Jothan Frakes
(Posted January 16, 2014) To refer others to the post above only you can use this URL: http://www.dnjournal.com/archive/lowdown/2014/dailyposts/20140116.htm
Huge Water Night Party at NamesCon Raised Over $111,000 for the Water School WIth Three Domain Men Ending Up Getting Scalped
Change of plans! This morning I was going to try to post photos and highlights from all of Tuesday's opening business day activities at the NamesCon conference in Las Vegas but with non-stop action around the clock, there has been zero downtime to do it (and there will be no downtime during today's closing day either). So, instead I will include both days in one big post Thursday. However, there was one thing from Tuesday's schedule that couldn't wait, so after a couple of hours of sleep I got up in the middle of the night in Las Vegas to tell you about NamesCon's amazing record-breaking Water Night fundraising party for the Water School.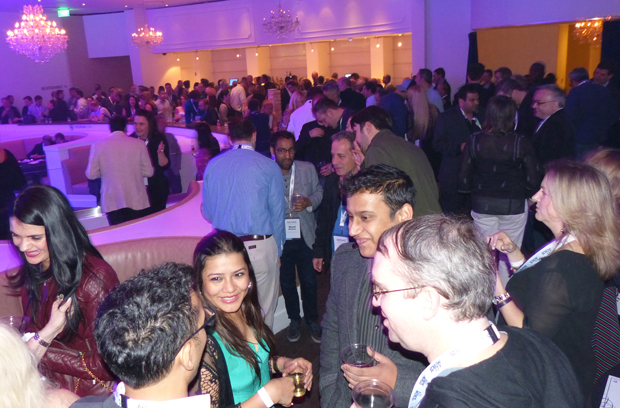 A wall to wall crowd filled the Tropicana Hotel's Havana Room in Las Vegas Tuesday night (Jan. 14) for NamesCon's big Water Night Party benefitting the Water School.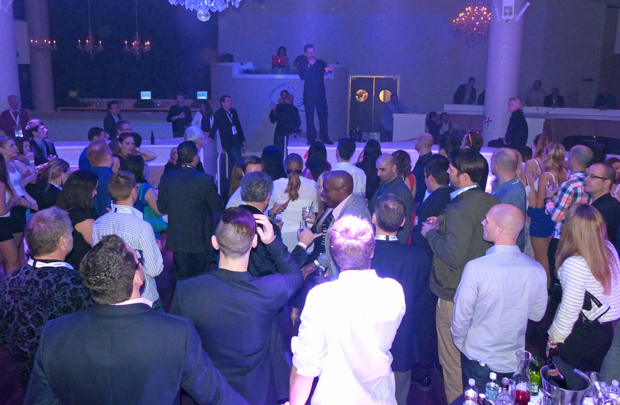 A little after midnight NamesCon Founder & Water School Executve Director Richard Lau took the stage to introduce the evening's main event. Water School co-producer Jothan Frakes and industry veteran Yancy Naughton has agreed beforehand to allow their heads to be shaved in exchange for donations to the Water School.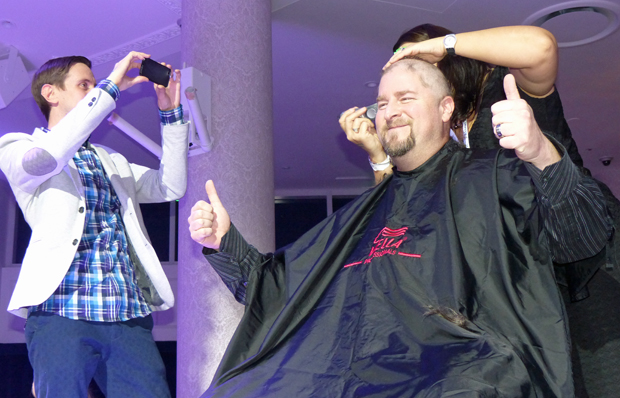 Jothan Frakes took the hot seat first and within minutes he was sporting this cool new do!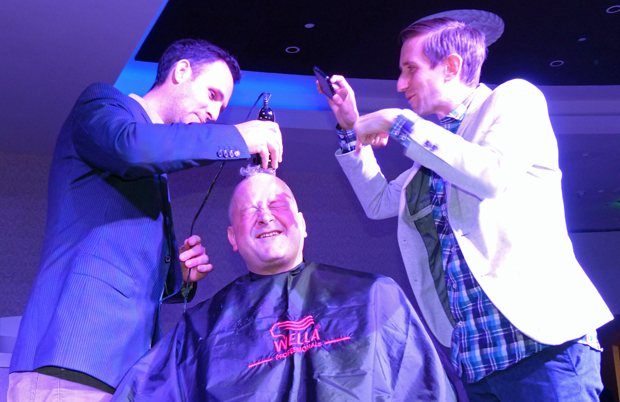 Yancy Naughton was next and, for a very brief time, his stylish coiffure was reduced to a Mohawk - and that was soon gone too. Morgan Linton was so enthused he jumped on stage to get an up close and personal look through his iPhone. After this, Richard Lau announced over $66,000 had been donated to the Water School by attendees and sponsors.
But wait! There was more. NameCheap.com offered another $20,000 if 101Domain.com's Joe Alagna would face the shears too. Joe has never turned his back on a good cause and he was about to start now!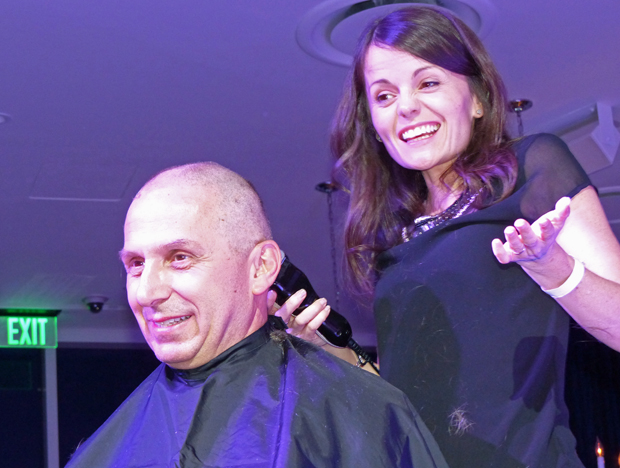 Joe Alagna's entirely new (and cooler then ever) look after sacrificing his locks for the Water School.
Then it got even better. Colin Yu texted Lau with a most welcome message. He was adding another $25,000 to the pot, pushing total donation's for the evening to a Water Night record of over $111,700! Way to go domain industry!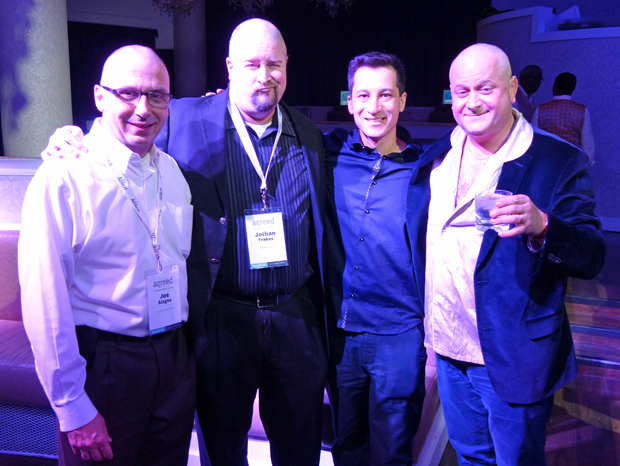 With the clock approachng 1am Wednesday four of the superheroes who gave the Water School's life saving efforts a huge boost gathered for this shot. (Left to right) Joe Alagna, Jothan Frakes, Richad Lau and Yancy Naughton.
What a night for Water Night! OK, the sun is coming up soon and I have to go get ready for another busy day. I'll be back with you some time tomorrow (Thursday) with all of the photos and highlights from NamesCon's two jam packed business and networking days.
(Posted January 15, 2014) To refer others to the post above only you can use this URL: http://www.dnjournal.com/archive/lowdown/2014/dailyposts/20140115.htm
Photos and Highlights From Opening Night at the Inaugural NamesCon Conference in Las Vegas
We arrived at the Tropicana Hotel in Las Vegas late Monday afternoon, joining almost 600 others who are converging at the beautifully renovated property for the debut edition of NamesCon, the highly anticipated conference founded by industry veteran Richard Lau that is being orchestrated with the invaluable help of show co-ordinators Jodi Chamberlain and Jothan Frakes.
A view of the Tropical Hotel entrance shot early Monday evening (Jan. 13, 2014)
as the first NamesCon conference was getting ito full swing at the Las Vegas landmark.
At the registration desk, Todd Reum and his wife Jeanette get their badges from NamesCom staffer Justin Bush. Todd and Jeanette were two of 581 people that had registered for NamesCon by late Monday afternoon. More are expected to register on site today before the first business sessions begin.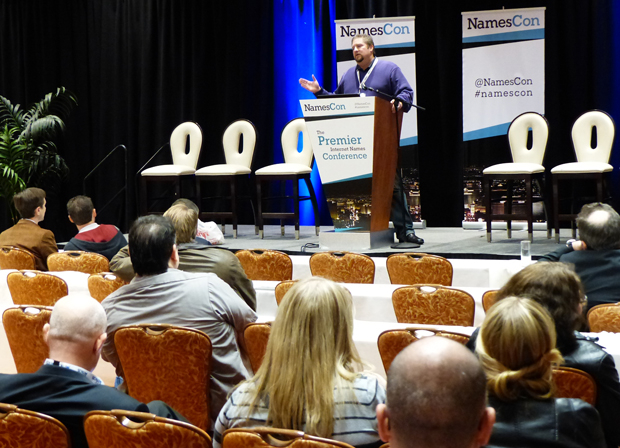 While people were registering at the entrance to the conference center, Jothan Frakes (on the stage where conference sessions will take place starting today) held an orientation session for the 100 speakers that will be fetaured in 30 business sessions today and tomorrow. Jothan and Jodi Chamberlain both have extensive experience in staging domain industry conferences and, though ths is the first for NamesCon Founder Richard Lau, his reputation has helped attract a remarkably large and diverse group of registrants, speakers and sponsors for a show that was announced only three months ago.
At 8pm last night, the first big event of NamesCon, the .XYZ Opening Night Cocktal Party, hosted by the founder of the Las Vegas based new gTLD registry, Daniel Negari, got underway in the Tropicana Lounge with a wall to wall crowd on hand.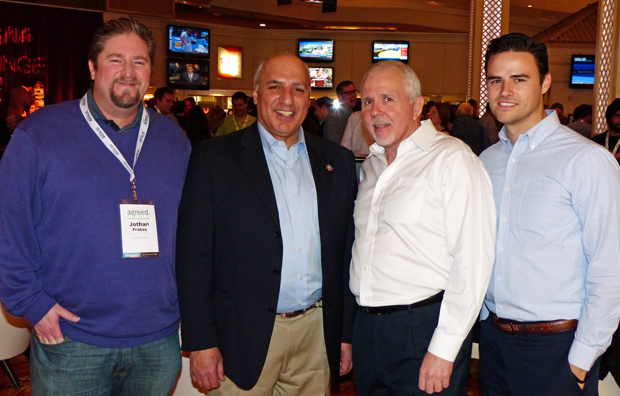 Some special guests at the opening night party with NamesCon's Jothan Frakes (far left) were (left to right after Jothan) Las Vegas Mayor Pro Tem Stavros S. Anthony (the city's 2nd highest ranking official), DotVegas President and CEO James Trevino and DotVegas's Tyson Mackay.
NamesCon has attracted a vibrant mix of industry veterans and newcomers alike. It was a pleasure for us to see some long time industry friends and colleagues in person for the first time in years, including Donna Mahony, Brian Null, Grant Keiser and Dale Porter, just to name a few.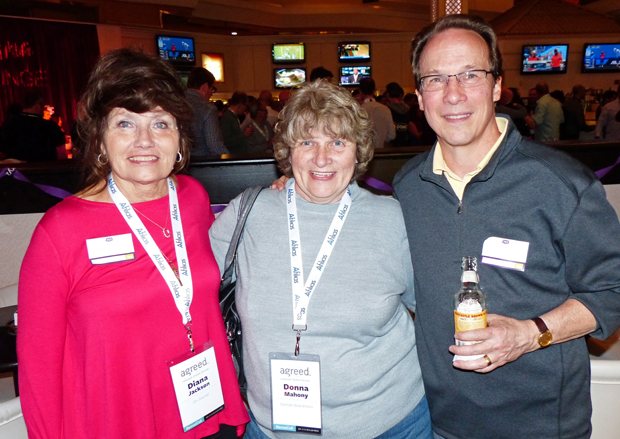 Above (left to right) Diana Jackson, Domain Boardroom founder Donna Mahony and Domain Boardroom member David Harrison at NamesCon's Opening Night Party hosted by .XYZ.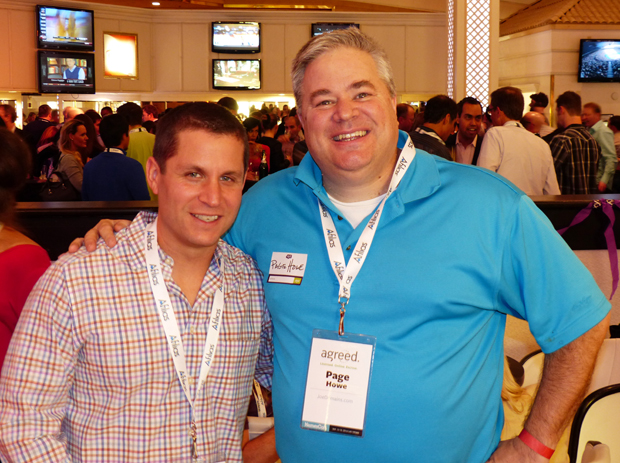 Familiar and always friendly faces in the crowd also included (above)
DomainCapital's Gregg Freeman (left) with veteran domain investor Page Howe.
And below, three members of a huge Go Daddy contingent at NamesCon, a group that totaled at least 16 at last count: (left to right) Greg Silvius (my long time executive account manager), Aftermarket Director Paul Nicks and Director of Sales Operations at Afternic.com/GoDaddy Dave Helgeson.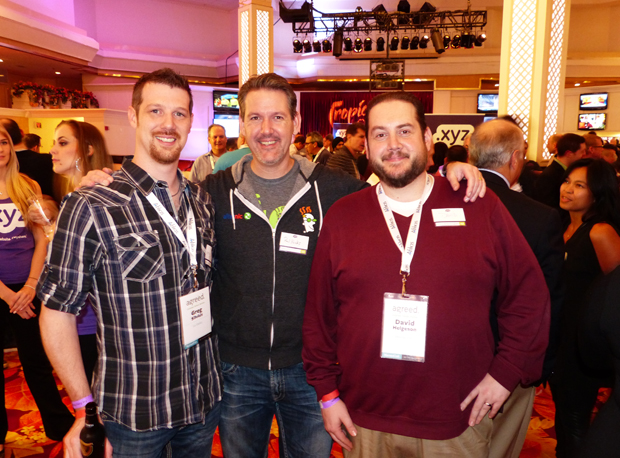 The first full day of business at NamesCon get underway at 9:55am local time today (12:55pm in the Eastern U.S.). It will be a very busy day with a jam packed agenda followed by the show's signature social/networking event, Water Night, that gets underway at 8pm at the Tropicana. Water Night is also a major fundraiser for a great charity - the Water School.
I'll have the photos and highlights from today and tonight's activities for you in this column tomorrow. NamesCon continues through Wednesday evening with a half-dozen keynote speakers among the main events scheduled over the next two days.
(Posted January 14, 2014) To refer others to the post above only you can use this URL: http://www.dnjournal.com/archive/lowdown/2014/dailyposts/20140114.htm
Editors's Note: I'll be en route to Las Vegas Monday to cover the inaugural NamesCon Conference for you. The conference gets into full swing Monday night with .XYZ's Opening Night Cocktail Party at the Tropicana Hotel. It gets underway at 8pm local time (11pm Eastern). I'll have photos and highlights from that in my first post from Las Vegas Tuesday morning and will follow with a daily recap in this column after each business day as NamesCon continues through Wednesday evening.
Ping Ping Pandemonium: Rosters Released for Next Week's Epic East vs. West Battle at NamesCon Where Women in Domaining Are Also Set to Meet
There has been a lot of talk about the exceptionally ambitious multi track business schedule set for the first ever NamesCon conference coming up next week at the Tropicana Hotel in Las Vegas (the event opens Monday evening (Jan. 13), followed by two full days of business Tuesday and Wednesday).

Show organizers Richard Lau, Jothan Frakes and Jodi Chamberlain have certainly covered all of the business bases and, as a former sportscaster, I am happy to report that they have even included an intriguing sports event in the program. It will be the first ever NamesCon National Ping Pong Championship pitting two 8-man all-star industry teams against each other. Representing

the East will be Team ESQWire.com and carrying the flag for the West will be Team Agreed.com.
This two-day 16-player Single Elimination tournament starts on Tuesday night with the Finals slated for Wednesday during the Agreed.com – ESQwire.com Ping-Pong Networking Happy Hour that gets underway at 5:45pm local time in Las Vegas.
East Team Manager Jason Schaeffer informed me that Team ESQwire.com, captained by attorney/slash ping pong prodigy Ari "The Lion" Goldberger, has been hunkered down during the snow and ice storms that hammered the eastern U.S. this week, honing their serves and volleys to a razor's edge. Realizing the importance of staying fully hydrated while exercising, I'm sure they also rang up a significant bar tab during the strenuous workouts.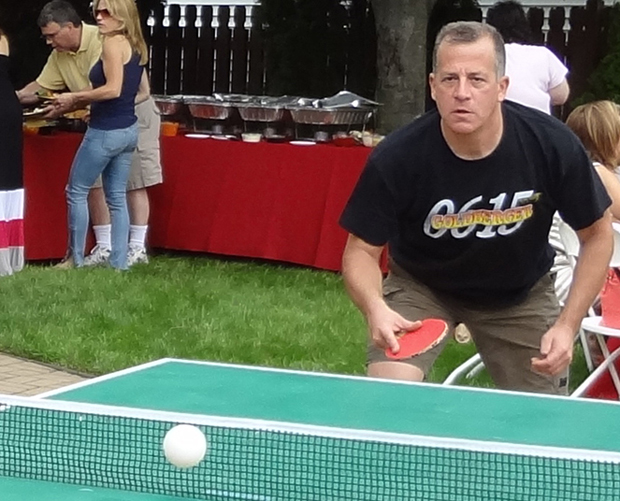 Team ESQWire.com Captain Ari Goldberger keeps his game sharp by
taking on all comers at the ping pong table he has set up in his backyard.

Of course, Team Agreed.com, led by Captain Ammar "The Terminator" Kubba, has not been slacking off either. In fact Schaefer said that Kubba, being the considerate sportsman that he is, called him this morning to turn in his line up card. Schaefer said he would have preferred that Kubba call a bit later than 2:51AM when the jangling phone woke him from a deep sleep. Kubba insisted the faux pas was caused by the time zone difference and was absolutely not a ploy aimed at keeping his opponents off balance and bleary eyed.

One still has to wonder though because while Team ESQwire.com revealed their final starting eight, Team Agreed.com handed in a 12-man roster but declined to name their final line up, a gambit that will obviously make it harder for Team ESQwire to game plan. We will see how the opposing strategies play out when the cross country rivals square off face to face. Here are the rosters for the respective squads:
Team ESQWire.com (East)

Ari "The Lion" Goldberger
Bill "Ninja" Sweetman
Steve McQueen Kaziyev
Andrew "The Hammer" Rosener
Guoliang "George" Hong
Steven "Paddles" Kennedy
Brad "MD.com" Shapiro
Stevan "Weebie" Lieberman

Team Agreed.com (West)*

Ammar "Terminator" Kubba
Braden "Top Spin" Pollock
The Donut Twins: Paul Stahura & Dan Schindler
Yoni "Top Spinna" Belousov
Omar Kubba
Tom Gilles
Constantine "I Love Music" Roussos
Scott Fuller
Matt Overman
Mason Cole
Anthony Faber

*(Team Agreed must select 8 players from this roster for their final line up).

While the boys do battle at the ping pong tables, the ladies have their own special event lined up at NamesCon too - a "Women in Domaining" social and networking event that will be hosted by Lisa Box, Senior Director - Domains, at Endurance International Group. The event, open to all female attendees, will run from 3-7pm Monday at the Tropicana Hotel in Las Vegas (near the main conference room - Partagas 1). Food and drinks will be served.

The first two hours will be devoted to networking, followed at 5pm with a women's only poker tournament. If your poker skills are minimal, don't worry, there will be a 30-minute lesson before play begins. Prizes will be awarded to the top three finishers.

"Women in Domaining" began in 2012 as a unique networking event to appeal to the industry's female executives. Ironically, while a majority of domainers who attend these conferences are men, many domain companies including Oversee.net, Domain.com, Igloo.com, DomainTools.com and the .CO Registry have women in senior leadership positions.

Tessa Holcomb, Co-Founder and CEO of Igloo, has attended WID events since they began. "When I joined the industry, the WID events were small enough to be held in someone's hotel room. It's great to see that, just a few years later, the numbers have multiplied more than tenfold, with many women holding high level positions among some of the most successful companies in the industry," Ms. Holcomb noted.

Holcomb believes that the WID events enhance what NamesCon offers. "It's great to have a smaller, more targeted event providing the opportunity to meet and get to know more of the other women in the domain industry and beyond," she added.

By the way, if you will be at NamesCon and want to learn more about the new .co.com registry, look up President Paul Goldstone and CEO Ken Hansen, who will both be at the show.

On Thursday .co.com announced an agreement with CentralNic, under which CentralNic will provide the technical registry services to make co.com domain names available through registrars worldwide. CentralNic has already built a successful global business offering domain names using country-specific .com domain extensions ( like .UK.com and .US.com).

Mr. Hansen said, ".co.com provides CentralNic with the opportunity to enable a global extension ending in .com. We look forward to benefiting from CentralNic's experience, and tapping into their global registrar distribution network".

.co com is planning a "Sunrise Period" for trademark holders in late February, followed by a first-come, first-served "Landrush Period". Some premium domain names are already available. To inquire about those, or to receive launch updates and additional details

Ken Hansen
CEO, co.com LLC

as they become available, you can subscribe to their email list and find contact information at www.registry.co.com.

One other note today - an update on rock band bree, the Nashville based trio managed by Domain Hall of Famer David Castello (who is also the group's drummer). The band is named for its dynamic singer/guitarist/songwriter, bree, who continues to pop up in the coolest places - this time as a model in the 2014 Gibson Guitars catalog! bree goes by just her first name (all in lower caps), but she loves Gibsons so much she uses the name Bree Gibson on Facebook!
(Posted January 10, 2014) To refer others to the post above only you can use this URL: http://www.dnjournal.com/archive/lowdown/2014/dailyposts/20140110.htm
The Field of Competitors Seeking a Share of the Money Spent on Domain Escrow Services Continues to Expand With the Opening of EscrowHill.com Today
The number of available domain extensions isn't the only part of this industry that is expanding. With the arrival of hundreds of new TLDs this year many expect the number of aftermarket sales transactions to grow, accompanied by a bigger demand for domain escrow services. Though there have always been multiple players in that field, the category has been dominated by one 800-pound gorilla, Escrow.com.

Despite that formidable opposition, some new competitors, led by well-known industry figures, think now is the time to get in the game and go for a share of the gold. Thought Convergence's Agreed.com was the first newcomer to enter the fray, taking space at the 2013 T.R.A.F.F.I.C. East conference in Florida last fall to demo their platform.

A month after T.R.A.F.F.I.C. East, Escrow.com's former Director of Business Development, Andee Hill, announced she was gong out on her own to launch EscrowHill.com with the firm operating from a New Zealand base. Today that site opens for business.
Andee Hill
EscrowHill.com Founder & CEO

A press release issued this morning said, "Escrow Hill Limited is an internationally licensed escrow provider. Our license involves government oversight, independent audits and employee background checks very similar to the state of California. The license applies to all currency accounts, not just USD."

The release also posed the obvious question in an increasingly crowded field - why use us? The replies provided were:

We have over 30 years of online escrow experience in the domain industry. While the company name is new, all the people are tried and true escrow specialists.

For the flexibility of utilizing the currency of your choice, we have established accounts in USD, CAD, AUD, EUR and GBP.
Our escrow fees are generally about 20 percent lower than our competitors.

We offer a fast, free wire disbursement on every transaction. Additional wire disbursements are just $15.00.

We offer premium escrow where we will take possession of the money AND the domain. We are the only licensed provider offering this service.

We offer seller financed and domain leasing at our basic fee plus just $25/month.

We support completely anonymous transactions with one or more brokers; the buyer and seller only know their price with no other detail.
Those using the firm's services can submit transaction information on the online form at EscrowHill.com. Once submitted, EscrowHill will contact the parties to complete the escrow. A fully automated system
is still in development.
If you are going to next week's NamesCon conference in Las Vegas, you can meet some of the EscrowHill team members in person. You can also get more information by contacting them through the EscrowHill.com website or an email to Support @ EscrowHill.com.
(Posted January 9, 2014) To refer others to the post above only you can use this URL: http://www.dnjournal.com/archive/lowdown/2014/dailyposts/20140109.htm
Afternic Sales Network Expands With New Partner in China - .ME Builds Community With New Loyalty Program & Whizzbangs Blog Opens Social Network for Domainers
Expansion seems to be the order of the day. Domain aftermarket powerhouse Afternic, the .ME Registry and Michael Gilmour's Whizzbangs Blog have all announced new developments in their continuing growth.

Afternic's aftermarket domain sales platform (often referred to as the Afternic DLS - for Domain Listing Service) continues to add muscle. Afternic (who was recently acquired by Go Daddy) announced a new partnership

with Xinnet, the second-largest domain registrar in China (Afternic's fastest growing market). The agreement puts Afternic's vast selection of fast-transfer domain names in front of Xinnet's huge base of customers.

Bob Mountain
Chief Revenue Office, Afternic

Afternic's Chief Revenue Officer, Bob Mountain, said "Adding Xinnet to the lineup brings a great selection of domain names to business and individuals in China who are looking for their 'just right' name. Afternic is focused on making the domain name aftermarket seamless and easy to access for users around the globe. We created the Domain Listing Service and the Fast Transfer network to remove the complexity of buying a domain on the aftermarket. Our goal is to give customers the same experience if they're purchasing an aftermarket name or registering a primary domain name."

The Afternic DLS Network now has over 120 members, most who use Afternic's Fast Transfer system. Fast Transfer eliminates lengthy escrow and transfer processes, giving customers the domain name they want within seconds of making the purchase.

Meanwhile, .ME has introduced a .ME Loyalty Program, a platform designed to connect all .ME users into one community and reward them with perks and prizes, including T-shirts, domain name and hosting packages, gift card vouchers and more. They posted a special walkthrough video at YouTube to illustrate how it works.

The concept consists of these three basic steps:

Sign up at the Loyalty Program page

Perform fun actions to collect points

Redeem rewards

For more information about the platform and program, .ME invites you to follow their social media channels and keep an eye out for announcements at FB.ME/domainME, as well as on the #domainME hashtag. Predrag Lesic, CEO of the .ME Registry, said, "We are looking forward to being able to give back to our outstanding community. Become a part of it today and help us make the Internet more personal!"

To learn more about the .ME Registry, developing a .ME business idea, some clever uses of the .ME domain or to simply find out how to register a .ME domain name, you can visit http://www.Domain.ME.
Michael Gilmour
WhizzbangsBlog.com

Most of our regular readers know or know about domain industry veteran Michael Gilmour, the founder of domain monetization company ParkLogic.com and author of WhizzbangsBlog.com, who was profiled in our November 2008 Cover Story.

Michael, who knows the domain monetization business as well as anyone on the planet, has just rolled out a major new feature at WhizzbangsBlog - the addition of a social network dedicated to domain investors. It should open up a lot of new opportunities to expand your circle of friends in the business as well as, learn and share information and knowledge with other domain asset owners.

In addition to being one of the smartest people in the business, Michael is one of the nicest, all of which makes him the right guy to guide this kind of endeavor. You can be sure he will make you feel right at home.
(Posted January 7, 2014) To refer others to the post above only you can use this URL: http://www.dnjournal.com/archive/lowdown/2014/dailyposts/20140107.htm
Crazy for Keynotes! Next Week's Inaugural NamesCon Conference in Las Vegas Will Feature Five Keynote Speakers
The countdown to the first ever NamesCon conference continues. The new domain show officially opens at the Tropicana Hotel in Las Vegas one week from tonight (Monday, January 13, 2014) with the .XYZ Opening Night Cocktail Party.

NamesCon Founder Richard Lau and a team captained by industry veterans Jothan Frakes and Jodi Chamberlain has done a remarkable job in putting together what has become a major production, even though the event was announced just 10 weeks ago. Lau said a sellout crowd of over 450 people has registered for the event that will run January 13-15 (you can read our NamesCon Preview interview with Lau here).

Author and Eexecutive Jennifer Wolfe
will be the first of five keynote speakers
to take the stage at NamesCon next week.

The big crowd will be treated to a big agenda that features dozens of sessions that will play out on three simultaneous tracks. NamesCon will also have not one, not two (or even three or four) but five keynote speakers. The first of those to appear will be author and executive Jennifer Wolfe who will speak Tuesday morning (Jan. 14) at 10:10am to kick off the first full day of business. Wolfe's most recent book, Domain Names Rewired, predicts trends in the next generation of the internet. She also co-authored Brand Rewired, on innovation, branding and intellectual property strategy in 2010, which was widely recognized as visionary thinking by global brand executives.

Right after Ms. Wolfe's keynote, Las Vegas Mayor Carolyn Goodman will take the stage to welcome NamesCon attendees to the city. Bill Arent, the Director of Economic and Urban Development for Las Vegas, will also speak.

The second keynote address Tuesday at 4:50pm will be delivered by legendary domain investor and Uniregistry Founder Frank Schilling. If there is anyone in this business who truly needs no introduction it is Frank (who was profiled in two DN Journal Cover Stories - one in December 2007 and another, covering ensuing career developments, in November 2012).

Three more keynote speakers will highlight the closing day of business Wednesday, May 15 starting with Jodee Rich, CEO of PeopleBrowsr, dotCEO, dotBEST and dotKRED, at 9:55am. A guy who is known far and wide on the web, ShoeMoney blogger Jeremy Schoemaker, will follow at 10:15am. The fifth and final keynote will also be the final business event at NamesCon. That comes at 4:50pm Wednesday when Duane Forrester, the Senior Product Manager for Microsoft's Bing search engine, will close things out with a highly anticipated talk.

The keynote addresses are just part of the NamesCon picture. There will also be a variety of networking and social events, highlighted by the big Water Night charity gala Tuesday night, Jan. 14.

Duane Forrester
Senior Product Manager, Bing

I will, of course, be in Las Vegas to cover everything wire to wire for you in this column. I have a feeling 2014 is going to be a big year for domains and NamesCon promises to get things started with a bang.
(Posted January 6, 2014) To refer others to the post above only you can use this URL: http://www.dnjournal.com/archive/lowdown/2014/dailyposts/20140106.htm
The Holidays Were Great But It's Even Better to Be in a Business Where Going Back to Work is Fun!
I hope you all had a relaxing and enjoyable holiday season with family and friends (Diana and I certainly did, as we enjoyed spending Christmas week with family members in beautiful Charleston, South Carolina). People began returning to work at many offices (or their home offices) around the industry today (though many will be off until Monday).

As much as I enjoyed the break, like a lot of people in this business, I find being on the job just as much fun as being off the clock and that is a rare blessing indeed. Who doesn't dream of working at something

If people came to your office acting like this today,
yesterday was was probably New Year's Day!
(Image from Bigstock)

they love to do? In fact, I spent most of New Year's Day finishing up some stories I was behind on due to an overabundance of personal and work projects and travel over the final weeks of 2013. Now that our Pictorial Review of T.R.A.F.F.I.C. Last Bash on Fort Lauderdale Beach is out, along with our latest newsletter (free to opt-in subscribers) in which Broker of the Year Award Winners & Nominees From Sedo Provide an Inside Look at the Business of Buying and Selling Domains, I feel like I am finally caught up and ready to take on coverage of another exciting year of industry news and events in 2014.
New Year's Day marked the start of my 11th year doing this and if the next 11 years are as much fun as the last 11 I will be a happy camper indeed. I truly value the support readers like you have given DN Journal and the many great friends I've made along the way.
It's not going to take long for 2014 to shift into high gear. A week from Monday (January 13) I'll be on my way to Las Vegas to cover the first ever NamesCon conference for you. Founder Richard Lau said today that more than 400 people have already signed up and he is expecting a complete sell out for the event that will be staged January 13-15 at the Tropicana Hotel. We'll also be going back to Las Vegas in late May for the 2014 T.R.A.F.F.I.C. West conference at the Bellagio Hotel so by the time summer arrives I should know half of the taxi drivers in Vegas by name. I hope to see many of you at one or both of those events.
I have one other bit of information to share with you today that may be of interest to those who use or have been looking into using Dropbox or a similar online storage service that give you a free place to keep some of your files in the cloud for back up or easy access.

I have been using Dropbox which gives you 2.5 GB of free storage but Scott Ross tipped me off to easy to use and more generous newcomer in Copy.com who is trying to carve out a big share of the market by offering, for a limited time, 15GB of free space and they will make that 20GB if you use this referral link (they add the extra 5GB as soon as you reply to their confirmation email activating your account).
I do not get paid anything for referrals to them but, as full disclosure, they will add 5GB of bonus space to my account as well (I don't need the space because the starting allotment is more than enough for my needs - but I thought this is one free service that would be really useful to a lot of our readers). One thing I really like about Copy.com is that they also have free apps for your smartphone or tablet (both IOS and Android) that allow you to just open the app on your mobile device and access the files you placed in your Copy.com folder from your computer. You've got to love modern technology!
(Posted January 2, 2014) To refer others to the post above only you can use this URL: http://www.dnjournal.com/archive/lowdown/2014/dailyposts/20140102.htm
Welcome to 2014! Get Ready for a Year Filled With BIG Changes and Even Bigger Opportunities
Another year is now history and a new one beckons with great prospects for people in the domain business. Like every year that has come before this new one, 2014 will be one of great change in our industry. That simply adds to the excitement and brings new opportunities to prosper in a business that never gets old because it is too busy being constantly reborn.

In 2014 hundreds of millions of dollars will be spent rolling out and marketing a tidal wave of new gTLDs. The nice thing is that you don't even have to be a believer in new gTLDs as an investment vehicle to find ways to profit from the new money that will be flowing into the domain basin and the accompanying attention that quantity of money will bring to our industry as a whole.

2014 image from Bigstock
If you are among the many veteran domain investors who view new gTLDs as fool's gold, and you prove to be correct in that assumption, you will almost certainly benefit from a flight to quality (i.e., .com or popular ccTLDs) if new gTLDs start stumbling out of the gate. Even if they enjoy more success than you expect them to, it will still be a long time (if ever) before the world's business community (which drives domain resale value) is going to abandon the tried and true.
For that reason, I think those who have invested hundreds of millions of dollars in new gTLDs are in a much riskier position than those who hold high quality portfolios in familiar TLDs. However, big risks sometimes produce big rewards and the more people in our industry who succeed, the stronger our industry becomes, so I'm not rooting for anyone to fail. With the meteoric growth of the Internet there is room for a lot of people to make money. Yes, there will continue to be winners and losers as there always are in any business - but overall I like where we all are sitting heading into 2014.
It is going to be an exciting year filled with the unexpected. There will be new faces, vigorous debates and big changes - and there is nowhere else I would rather be. Happy New Year to you and yours and may 2014 be the best year of your life!
(Posted January 1, 2014) To refer others to the post above only you can use this URL: http://www.dnjournal.com/archive/lowdown/2014/dailyposts/20140101.htm
---
If you've been out of the loop lately, catch up in the Lowdown Archive!
---
We need your help to keep giving domainers The Lowdown, so please email

[email protected]

with any interesting information you might have. If possible, include the source of your information so we can check it out (for example a URL if you read it in a forum or on a site elsewhere).
---
Home Domain Sales YTD Sales Charts Latest News The Lowdown Articles
Legal Matters Dear Domey Letters to Editor Resources Classified Ads Archive About Us