The Lowdown


January 2015 Archive

Subscribe to our RSS Feed

Here's the The Lowdown from DN Journal,
updated daily to fill you in on the latest buzz going around the domain name industry.

The Lowdown is compiled by DN Journal Editor & Publisher Ron Jackson.
NamesCon 2015 Extended Domain Auction Heads Into Final Week Led By Two Names That Have Bids Totaling Over $1 Million
The 2015 NamesCon conference end two weeks ago, but there is still a week to go in the show's extended onlne domain auction being staged by RightOfTheDot.com on the SnapNames.com platform. The ongoing sale follows the successful live domain auction that RightOftheDot staged at the NamesCon conference in Las Vegas on Jan. 13. That event generated just under a million dollars in sales and interestingly enough, the extended auction has a shot at doing more than $1 million in its own right.

As of this writing Land.com has a bid of $850,000 and 877.com is sitting at $200,000. Both of those of those bids are just shy of the reserve ranges shown for the two names but given the quality of the domains it would not be shocking to see either or both finding new homes when the extended auction closes on Thursday, Feb. 5 at 12:15pm U.S. Pacific time (3:15pm U.S. Eastern).

There are several other marquee domains in the extended auction including Auctions.com, Investment.com, Photographers.com, Rookie.com, Street.com and HomeCare.net (Homecare.com was sold in the live auction for $350,00).

A scene from the RightOfTheDot Live Domain Auction
at NamesCon in Las Vegas Jan. 13, 2015.

The extended online auction catalog also includes many premium new gTLD domains including Auction.website, Vacation.deals, Chess.club, Sell.NYC and News.global. You can see the full extended auction catalog, including current high bids here.
(Posted January 28, 2015) To refer others to the post above only you can use this URL: http://www.dnjournal.com/archive/lowdown/2015/dailyposts/20150128.htm
Valideus Lures 15-Year Veteran Jeff Neuman Away from Neustar to Help Launch New Sister Company in America
London based management consultancy Valideus decided to launch a sister company in the United States and they have certainly gotten off on the right foot by appointing veteran domain industry executive Jeff Neuman as the Senior Vice President for Valideus USA. Jeff started his new job today. During the first round of ICANN's New gTLD Program, Valideus managed over 120 applications for leading brand owners. It is now providing registry management services to these clients as well as helping the operators of Restricted, City and Community registries to draft their policies and to validate applications.

Neuman's extensive experience makes him especially well suited to further Valideus's expansion into the U.S. For the past 15 years he has served in business, policy and legal roles for Neustar's Registry Services Group where he has been instrumental in providing policy assistance and advice in the fields of Internet governance, intellectual property protection and domain name policy.

At Neustar, Jeff was responsible for the sales, business development, distribution and management of Neustar's franchise TLDs, including .biz, .us and .nyc. He was also responsible for Neustar's response to the new gTLD initiatives, including the launch and administration of each of its 350+ new gTLD applications. Previously, Neuman led the legal team for Enterprise, Media and Registry

Jeff Neuman
Senior VP, Valideus USA

Services at Neustar, where he was responsible for the oversight of all legal and policy matters for these organizations.

Neuman, who was a featured speaker at this month's NamesCon conference in Las Vegas, also served on ICANN's Generic Names Supporting Organisation (GNSO) representing the gTLD Registries from 2003-2005, and again from 2010 through 2013. He chaired the gTLD Registries Stakeholder Group as well as a number of ICANN Working Groups on WHOIS, Domain Name Transfers, Policy Development Processes and served on the Implementation Review Team tasked by the ICANN Board of Directors to establish intellectual property protections for the new gTLDs.

New Valideus SVP Jeff Neuman speaking at this month's NamesCon conference in Las Vegas.

Valideus Managing Director Nick Wood said, "This is a really exciting time for us. We are delighted for our clients. Jeff is a lawyer by training with a profound understanding of internet policy and governance. For the past five years Jeff has been the business lead for Neustar's Registry Services team with responsibility for the application and launch of hundreds of new TLD registries. We are very lucky that he also has the instincts of a technology entrepreneur as witnessed by his successful leadership of the .NYC launch."

Neuman will be based in Virginia and will help the Valideus team to develop the core consulting business while exploring new opportunities. Neuman noted, "Domain registry management is still in its infancy. There are some very significant challenges ahead, especially for Dot Brand applicants who want to use secure registries to enhance their corporate strategies. The stakeholder environment is getting more and more complicated and technologies are changing rapidly. I want to help Valideus and our clients to reach new heights."
(Posted January 26, 2015) To refer others to the post above only you can use this URL: http://www.dnjournal.com/archive/lowdown/2015/dailyposts/20150126.htm
Latest Quarterly Verisign Report Shows Continued Growth in Worldwide Domain Registrations - Total Names Across All TLDs Rose Nearly 7% Year Over Year
Verisign, the administrator of the .com and .net registries has issued their latest quarterly Domain Name Industry Brief covering the 3rd quarter of 2014. Always a treasure trove of interesting information, the latest brief reveals that 3Q-2014 closed with a base of 284 million domain name registrations across all top-level domains (TLDs). That is over 18 million more than were registered at this time year ago, reflecting healthy year over year growth of nearly 7%. The number of registered domains grew by 4 million over the previous quarter.

The ccTLDs grew even faster than the overall market, jumping 10.7% year over year ending 3Q-2014 with 132.1 million registrations. Despite the onslaught of new gTLDs in 2014, the world's most popular extension, .com,

continued to grow, albeit at a slower percentage rate than the market as a whole. The .coms rose from 112 million domains at the start of 2014 to 114.9 million at the end of 3Q-2014, a 2.6% increase over those 9 months.

In addition to the full Domain Name Industry Brief (.pdf file), Verisign also summed up its 3Q-2014 highlights in this infographic.
(Posted January 23, 2015) To refer others to the post above only you can use this URL: http://www.dnjournal.com/archive/lowdown/2015/dailyposts/20150123-2.htm
Big Names Now Up for Bid in Next HA Live Domain Auction Coming Up Feb. 9 in New York City
Pre-bidding has now opened for the next live domain auction from Heritage Auctions (HA). The mainstream auction giant will stage the sale on February 9, 2015 at the historic Waldorf Astoria Hotel in New York City. If you will be in the New York area you are welcome to attend the auction in person. It will begin at 11am in the Metropolitan Suite on the 18th floor of the Waldorf Astoria.

Aron Meystedt, the Director of HA's Intellectual Property Department (and a well-known domain investor in his own right) told us, "This auction features a limited inventory of 30 lots (as opposed to 100+ normally seen in domain auctions). We wanted to

Waldorf Astoria graphic from Bigstock

create an exclusive auction event, with a top flight venue, in order to appeal to mainstream investors." As the world's 3rd largest auction house, behind only Sotheby's and Christie's, HA's access to mainstream investors is something that sets them apart. Meystedt founded their IP division with the goal of having HA clients view domain assets as favorably as they do the art, jewelry, coin and other collectible assets that the major auction houses are known for offering.

Aron Meystedt

As they have done with their past domain sales, HA is supporting the upcoming auction with ads in the New York Times and Wall Street Journal that began running today. With respect to the catalog, Meystedt said, "We were careful to select a maximum of 30 names that we felt had a legitimate shot at selling. There aren't any $1 million reserves in this auction, although I feel there are a few names worth that amount and many lots already have bids.

Among the notable domains in the HA auction are
Luxe.com, Quick.com, Mouse.com, Future.com. Equity.com, Import.com, Corn.com, NL.com
8.co (direct from the .CO registry), Stock.Market (direct from Rightside), Classic.com, SmartWatches.com and several 3-letter .coms as well as a huge portfolio of 84 3-letter .nets that will be sold as one lot. Several lots have low or no reserve prices, so this is a catalog you may want to check out.
(Posted January 23, 2015) To refer others to the post above only you can use this URL: http://www.dnjournal.com/archive/lowdown/2015/dailyposts/20150123.htm
Adam Dicker Tabbed to Deliver Keynote Speech at the 2015 Domaining Europe Conference in Spain
At last week's NamesCon conference in Las Vegas DNForum.com owner Adam Dicker spoke at several sessions, often attracting a standing room only crowd to hear his advice on domain investing, development and ecommerce. Those on the other side of the Atlantic will get a chance to see and hear Adam themselves as he has been tabbed to deliver the keynote address at the Domaining Europe conference coming up April 23-25, 2015 in at the Sorolla Palace Hotel in Valencia, Spain. Adam will also participate in two panel discussions - one covering how to avoid having your domain stolen and another on how .com is faring in the face of hundreds of new gTLD challengers.

Domaining Europe Founder Dietmar Stefitz sent us an update on the upcoming 7th edition of the show, noting that several other speakers who had prominent roles at NamesCon will also be on stage in Spain. Braden Pollock (LegalBrandMarketing.com) will return to Valencia as the featured session moderator and attorney Paul Keating (Law.es) will be there for a presentation, followed by a Q & A session on trademarks and how to sell or lease your domains.

Adam Dicker
Keynote Speaker

Stefitz also provided a list of additional topics that will be addressed at Domaining Europe including:

- ccTLDs
- Geo TLDs
- News on the New GTLD scene
- Startups and Domains
- Domain Tools and APPS
- Domains and SEO


- The new WHOIS (how it will affect registrants)
- News on the Development side for Domains
- The role of Europe in our Industry
- How should ICANN spend the auction proceeds
(should a big part go into awareness and marketing of new GTLDs?)
- Prospects for another round of new gTLDs ?

Domaining Europe is maintaining the €600 registration fee it offered for last year's show, but Stefitz has given us a special code that will allow DNJournal.com readers to register for half price, slashing the cost to just €300. You can take advantage of that offer by entering the code: DNJOURNAL50 at this registration page.
(Posted January 21, 2015) To refer others to the post above only you can use this URL: http://www.dnjournal.com/archive/lowdown/2015/dailyposts/20150121.htm
Final Reflections on NamesCon 2015 - Organizers Send Happy Attendees Home With Another Winning Hand
We're back home in Florida after 8 days on the opposite side of the country. We headed west to cover the 2015 NamesCon conference in Las Vegas for you, then made the short hop over to San Jose, California to spend an extended weekend with family. The second edition of NamesCon that ran January 11-14 at the Tropicana Hotel was a truly outstanding event, one that showed tremendous growth over the impressive debut show held in 2014. The number of registrants soared to approximately 900 with the floor space occupied by the conference and the multi-track agenda both expanding dramatically as well.

While we covered the conference in depth with daily posts in this column, I wanted to assemble this final wrap up to put the links to all of the daily coverage in one convenient place and to share some additional thoughts and previously unpublished photos from the event with you.
As detailed in those daily posts from Las Vegas there were many highlights from NamesCon 2015. One that will be especially memorable for me was meeting longtime online friend Thunayan K. AL-Ghanim of Future Media Architects in person for the first time. For more than a decade, we've conversed in forums, through email and by phone but it took NamesCon to finally put us both in the same place at the same.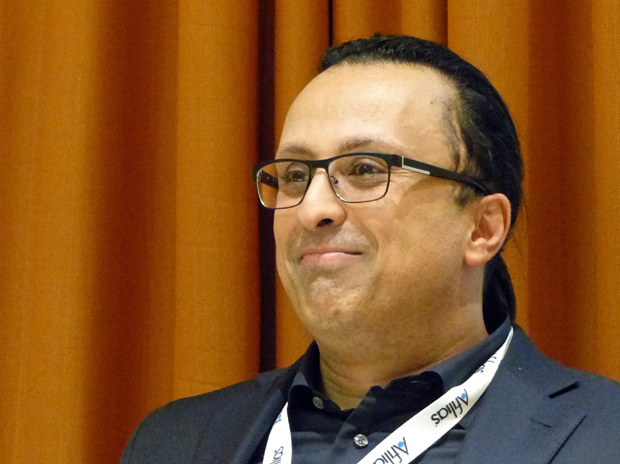 Above: Thunayan K. AL-Ghanim (FMA.com) at one of the two sessions in which he was a featured speaker during NamesCon 2015.
Below: Another highlight of NamesCon was the opening night cocktail party when attendees get a chance to catch up with old friends and start making new ones. In this shot from that event Sunday night (Jan. 11) are Sandy Brooks (DomainTaxGuide.com) and her husband Darryl.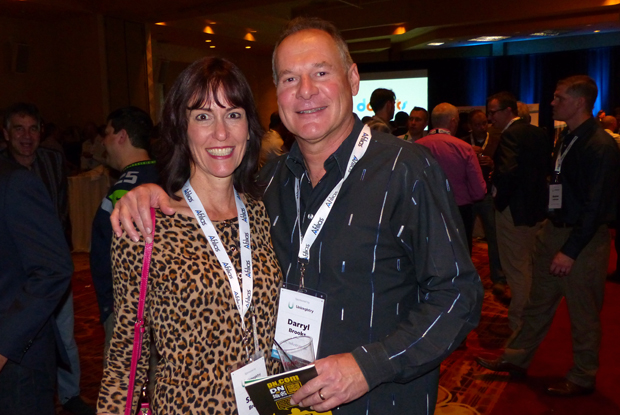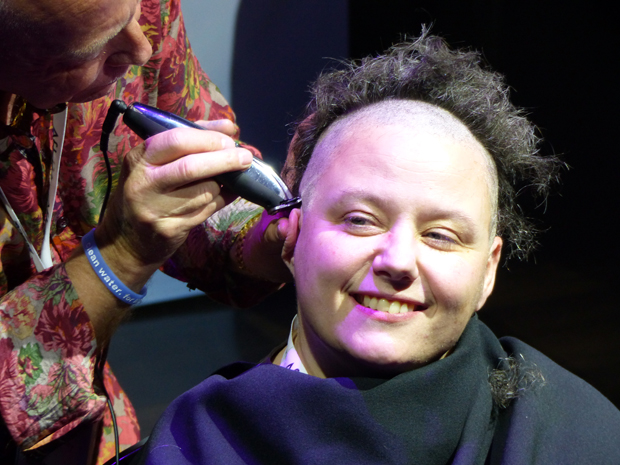 Above: An even bigger party was held Monday night (Jan. 12) - NamesCon's huge Water Night fundraising event for the Water School. Kellie Peterson (DNC Holdings) was one of three brave and generous souls (joined by her DNC Holdings colleague Mike Robertson and Kevin Kopas of Radix Registry) who allowed their heads to be shaved by Gregg McNair in exchange for donations to the Water School. With NamesCon and NameCheap.com each matching all donations made by attendees, the event raised $138,000 for the life saving charity!
Below: Barbara Neu (left) and Ilze Kaulins, seen here with Adam Dicker, came to the Water Night party right after a special Women in Domaining event where the industry's many outstanding ladies pooled their resources to raise $8,000 for the Water School - a sum that tripled to $24,000 with the matching funds from NamesCon and NameCheap.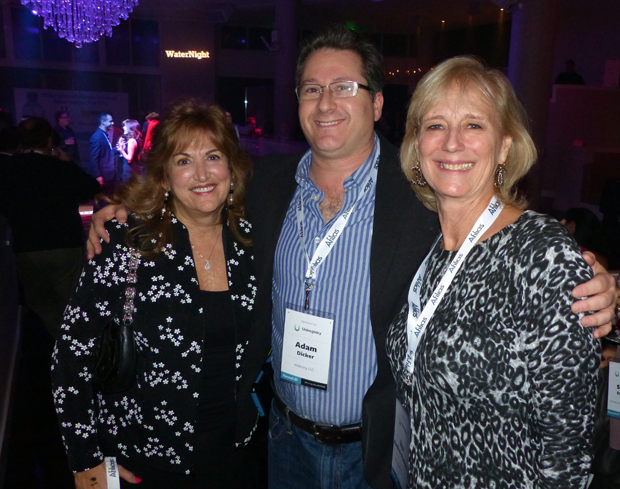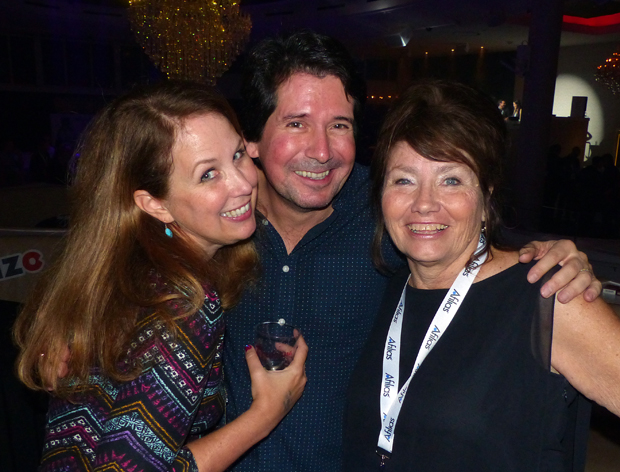 Above: Also on hand for Water Night were Trudy Olea, her husband Bob and Diana Jackson.
Below: The entire team from Winged Media raise their glasses in a Water Night toast celebrating a record breaking fundraiser for the Water School. Left to right are Michael Thandi, Rebecca Alva, Eugene Wood, CEO Troy Rushton and Jon Hewitt.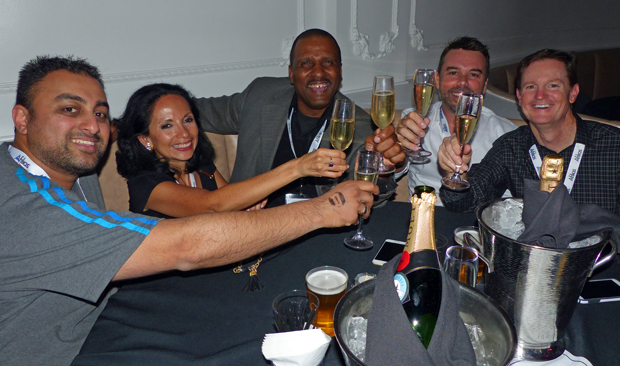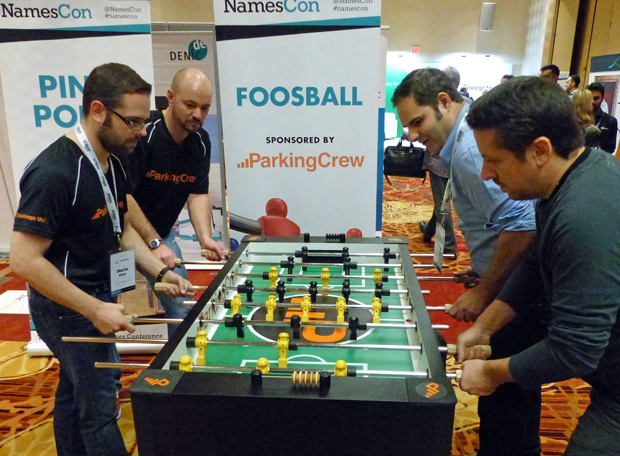 Above: Water School fundraising wasn't restricted to Water Night. Throughout the week, executives from ParkingCrew.com took on all comers at their foosball table in the Exhibit Hall and donated $100 to the Water School for every match they lost! Mario Witte and Axel Kaltz (both at left) are defending the ParkingCrew goal in this match. Konstantinos Zournas (OnlineDomain.com) is at front right on the challenging team.
Below: The Exhibit Hall provided a popular and comfortable meeting place for attendees throughout NamesCon. With white leather chairs and sofas spread throughout the lounge area there was always room to hold meetings, check email or just kick back with friends.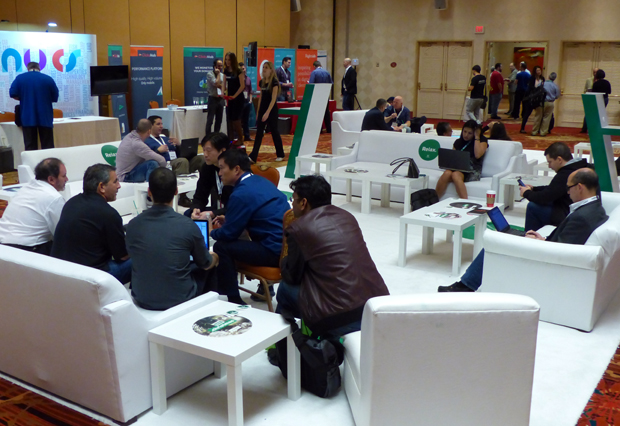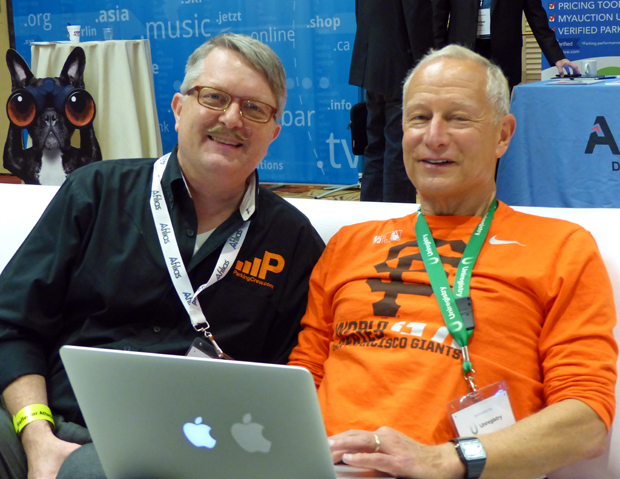 Above: Jim Grace (ParkingCrew.com) and Howard Hoffman (domain investor from Palo Alto, California) did some catching up in the Exhibit Hall lounge at NamesCon.
Below: With sponsors handing T-shirts and all manner of free swag, the Exhibit Hall was heaven for domain memorabilia collectors. As you can see in this shot, DomainCapital.com came well prepared with Gregg Freeman (left) and Vince Harasymiak on hand to distribute a mountain-sized stack of DomainCapital T-shirts.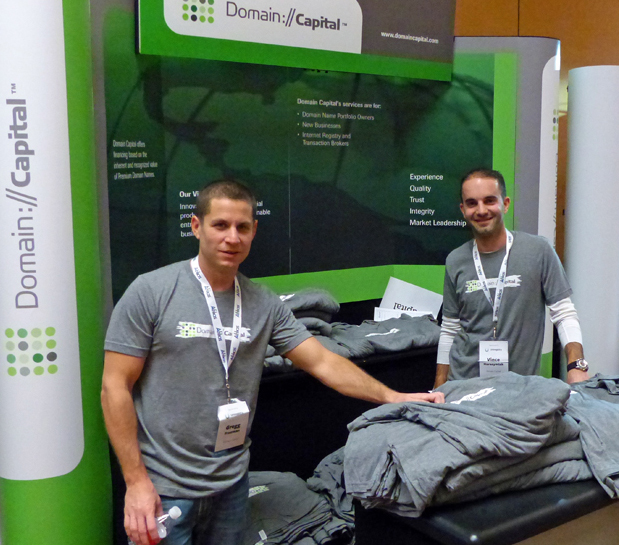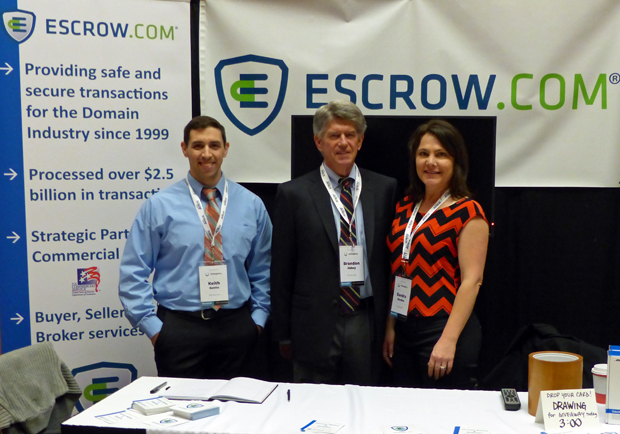 Above: Even better than the free swag, drawings and giveaways was the chance to meet key service providers face to face at their Exhibit Hall booths. With (left to right) Keith Gettle, President Brandon Abbey and Sandra Gordon at the Escrow.com booth, attendees could see and talk to the people who secure so many of their domain sales transactions.
Below: As you would expect, especially with industry giant Frank Schilling (seated, 2nd from right) often on hand to chat personally with visitors, things were always busy at lead sponsor Uniregistry's booth.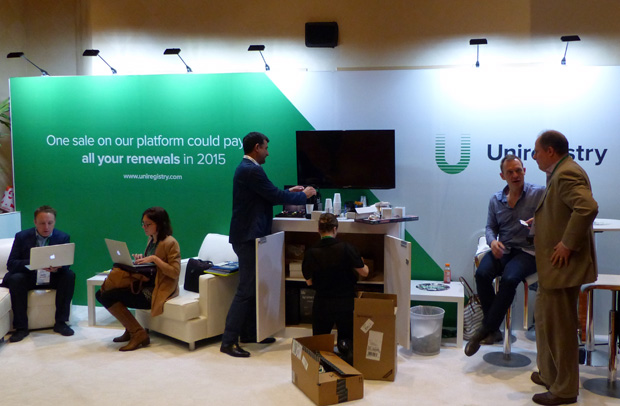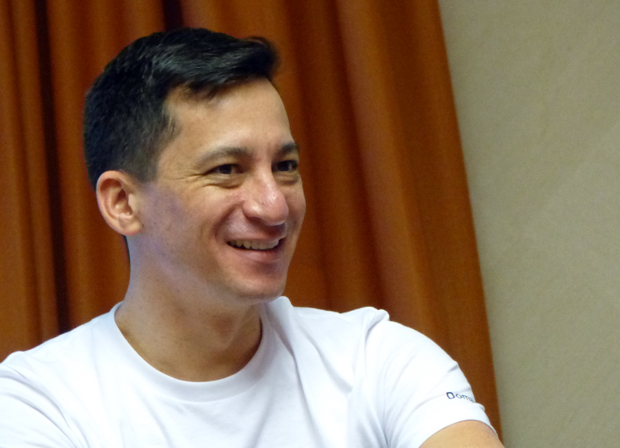 All in all, Namescon Co-Founders Richard Lau (above) and Jothan Frakes (below) couldn't have had a better week. When you have 900 people over for a party a lot can go wrong but, at least as far as attendees could see, the conference ran like well-oiled clockwork.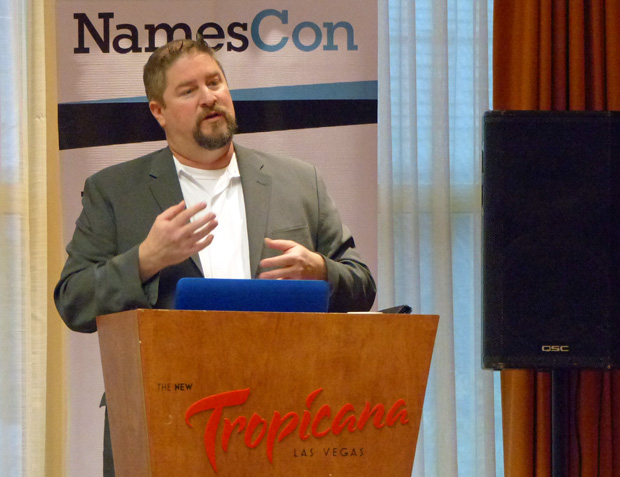 Below: Richard and Jothan will both be quick to tell you that their show Co-Producer Jodi Chamberlain deserves much of the credit for the smooth logistical sailing at NamesCon. Jodi is seen 2nd from left in this photo from the Women in Domaining event at NamesCon. Left to right are Natalie Lambert (Uniregistry), Jodi, Syan Stevens, attorney Karen Bernstein and Nancy Bianchi (Above.com).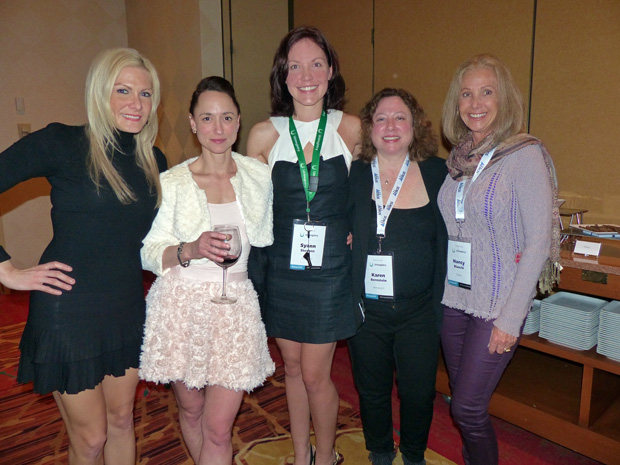 So NamesCon 2015 is now in the books. There is an old show business saying - "Always leave them wanting more" - and no doubt this year's attendees will want, and no doubt receive, even more when NamesCon returns to Las Vegas in 2016.
(Posted January 20, 2015) To refer others to the post above only you can use this URL: http://www.dnjournal.com/archive/lowdown/2015/dailyposts/20150120.htm
Final Day Photos & Highlights From the 2015 NamesCon Conference in Las Vegas
The 2015 NamesCon conference completed its four-day run Wednesday evening (Jan. 14) at the Tropicana Hotel in Las Vegas. This second annual edition of the event enjoyed tremendous growth from the debut edition a year ago with attendance jumping nearly 50% and floor space, sponsorship and program content also enjoying a major expansion under the direction of Co-Founders Richard Lau and Jothan Frakes and their Co-Producer Jodi Chamberlain. Here are photos and highlights from the final day of the big event.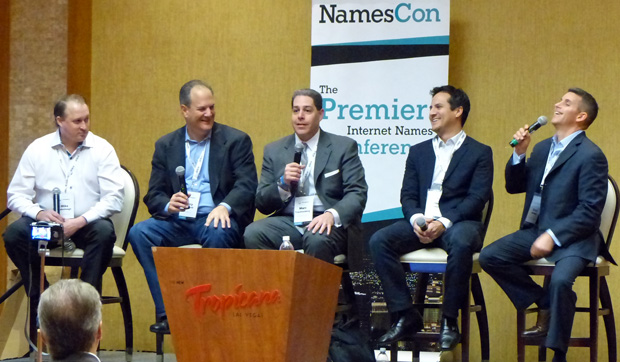 Above: Wednesday began with a trio business sessions at 9:55am including one on Domains, Brands, Trademarks and the Law where this photo was taken. Featured panelists (left to right) were Mike Rodenbaugh (Rodenbaugh Law), Gary Saposnik (TMNetLaw), Mark Trachtenberg (Greenberg Traurig), Anthony Beltran (101Domain) and moderator Derek Newman (Newman Du Wors LLP).
At the same time sessions in other rooms featured Domain Name Association Director Kurt Pritz in one and DomainNameSales.com VP Jeff Gabriel in another where he offered advice on Eliminating Roadblocks to Selling Your Domains. At 10:20am sessions also resumed in the weeklong Chinese Domaining Masterclass presented by TLD Registry.
Below: At 10:50am everyone returned to a central location - Verisign Hall - to hear Sedo Chief Sales Officer Dima Beitzke's address on Marketing Premium Domains.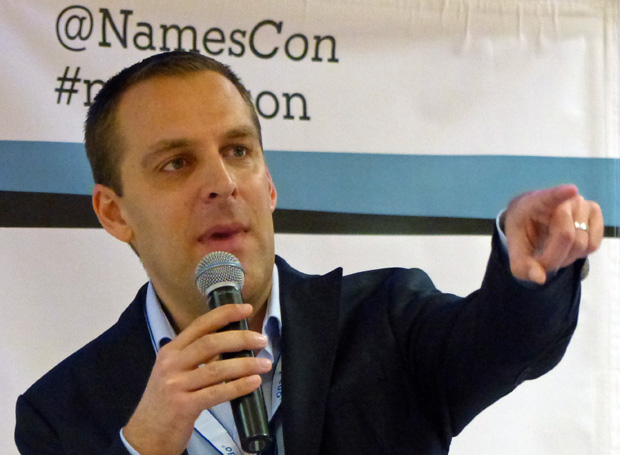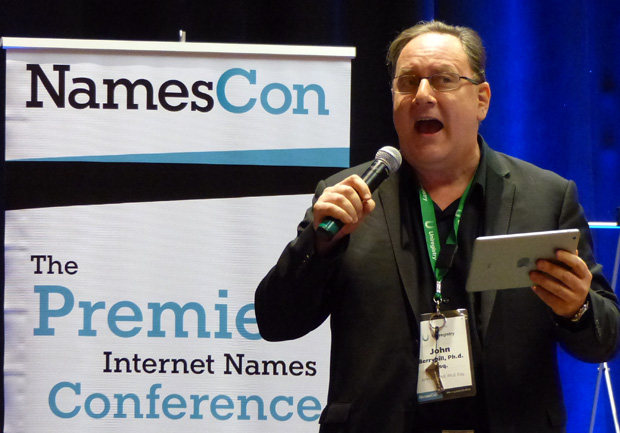 Above: At 11:25am - in what had to be the most entertaining session of the week, titled Legendary Tales - some of the world's top domain attorneys shared some hilarious anecdotes about real life cases that have handled over the years. John Berryhill, who has a background in theater, took his presentation to an entirely new level with theatrical readings of wildly over the top accusations made against him or clients in UDRP filings. You really had to be there to appreciate the Shakespearean delivery that had the audience in stitches. With Ari Golderger, Paul Keating and Brett Fausett sharing their stories as well you missed the boat if you missed this one (but we are hopeful it will dock again at another show)!
Also at 11:25 on The ICA Stage Thomas Stocking (Gandhi US Inc.) told his audience How to Be a Reseller of registrar services while a panel discussion in the Whoisology Room covered efforts being made toward Universal Acceptance of Domain Names (with respect to having them behave correctly with software to prevent technical issues).
Below: At the same time on The DNA Stage (left to right) - Jonathan Tenenbaum (NameJet), Chris Ambler (GoDaddy) and moderator Andrew Allemann (DomainNameWire) presented The Drop Zone - Evolution of Tools in the Secondary Market.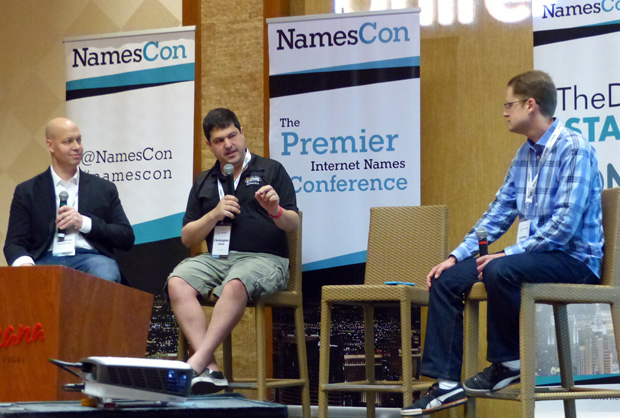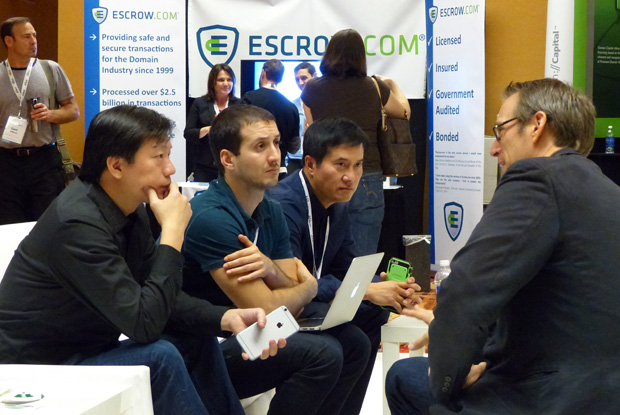 Above: At the Wednesday lunch break, as it did every day, the Exhibit Hall and its comfortable lounge area drew a crowd. Some used the time to schedule meetings like this one in front of the Escrow.com booth.
Below: Others took the time to visit sponsor booths where all kinds of cool swag could be found like the Radix Registry T-Shirts laid out in front of the crew at their booth (including Kevin Kopas at far right who had his head shaved to raise money for the Water School at the big Water Night fundraising party Monday night).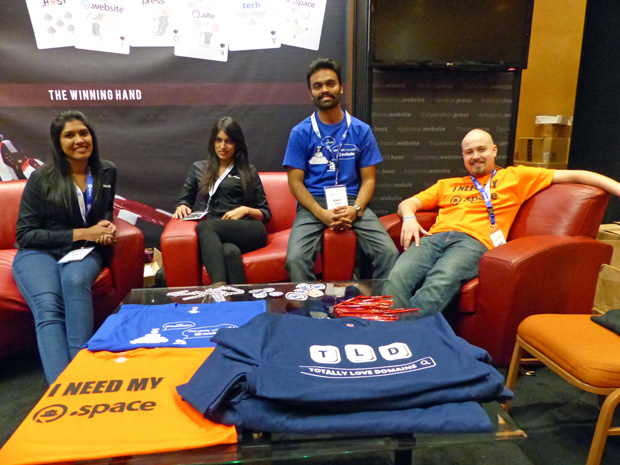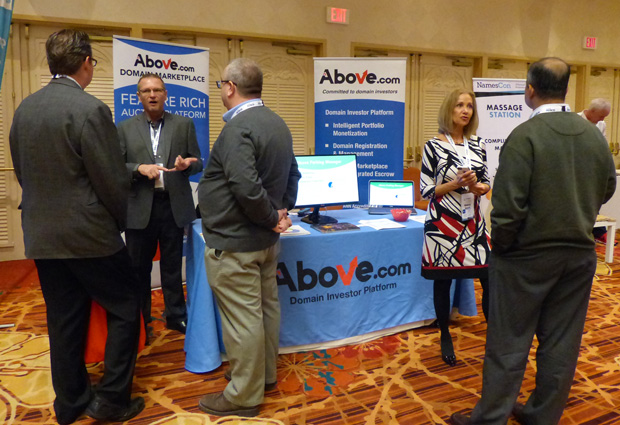 Above: The Above.com booth featuring industry veterans Victor Pitts (facing camera at left) and Nancy Bianchi (facing camera at right) was also a popular stop in the Exhibit Hall. With three separate stage entrances/exis in the exhibit area sponsors enjoyed a steady flow of traffic throughout the day as attendees came and went from the various sessions.
Below: Business resumed after the Wednesday lunch break with five more sessions starting in the various meetings rooms at 1:15pm. One of those, Extracting the Most Value from a Portfolio, featured (left to right) Bob Mountain (Afternic.com), Monte Cahn (RightOfTheDot.com) and Dave Evanson (Sedo.com).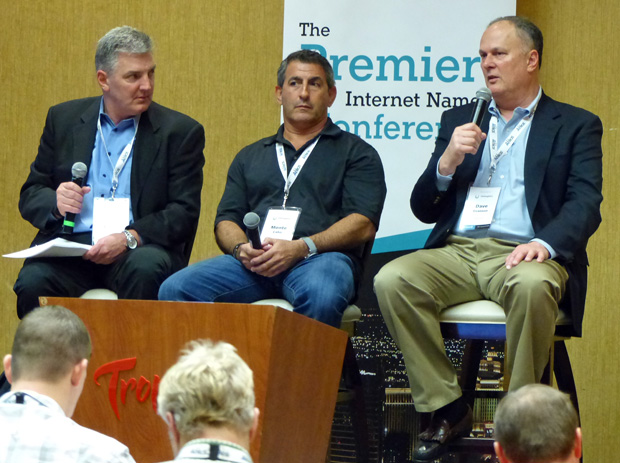 Other 1:15pm sessions covered Global SEO and Domain Name Preferences, New gTD Statistics and Business Implications, a Frogans Platform Workshop and the continuing Chinese Domaining Masterclass.
Below: After a 2:15pm Coffee Break, attendees headed back to the conference rooms for another five-session set that started at 2:40pm. On the main stage in Verisign Hall, Joe Alagna of 101Domain.com presented his Ten Percent Rule for Domain Names in Advertising. Joe makes a solid case for the value of buying and using domain names in advertising vs. other options.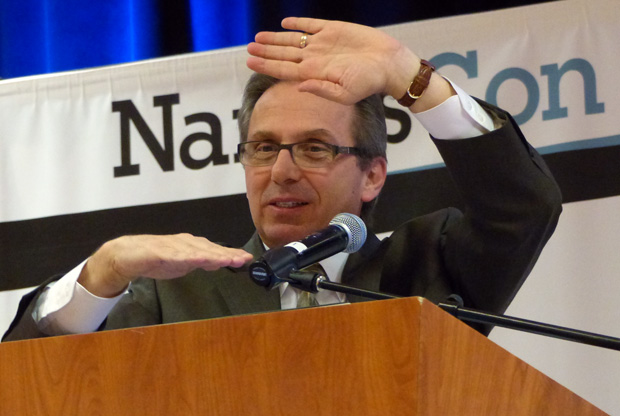 2:40pm sessions on other stages discussed How to Leverage Opportunism in Emerging Markets, The Politics of ICANN, IANA and Internet Governance and there was a legal workshop titled I'm Getting Sued, What Do I Do Now?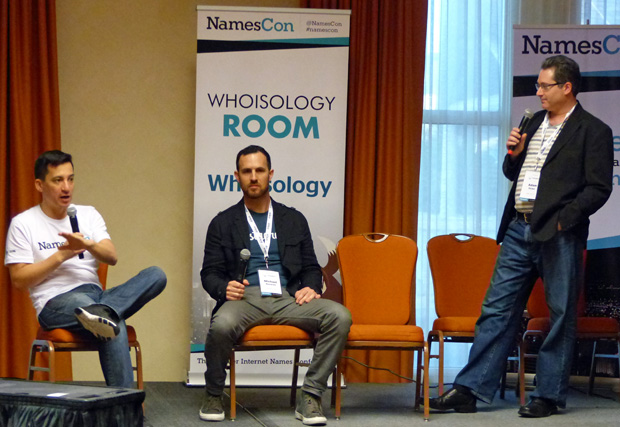 Above: Yet another round of sessions on NamesCon's content-rich schedule began at 3:50pm, including a panel discussion on Brandable Domains that featured (left to right) NamesCon Co-Founder Richard Lau, Michael Navarini of Namerific.com and moderator Adam Dcker.
Below: There was also a session on Essential Industry Tools as well as the show's third Meet the TLDs session (below) that featured (left to right) moderator Braden Pollock, Vladimir Shadrunov (Asiamix Digital Ltd.), Urs Eroes (.LTDA Registry) and Antony Van Couvering (Minds + Machines).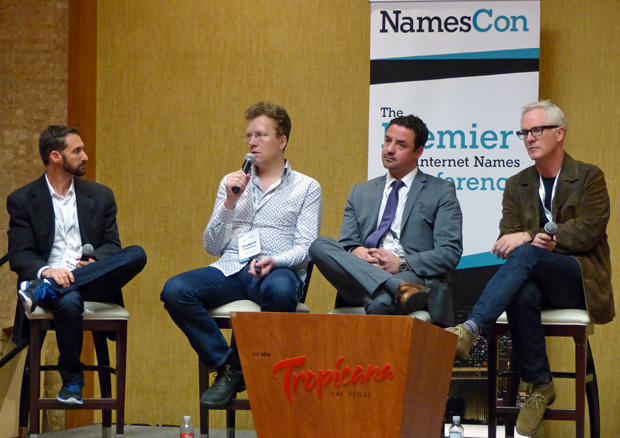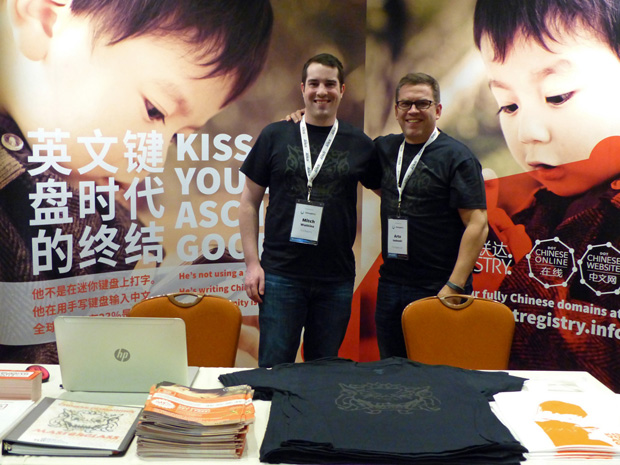 Above: With only one business session left on the 2015 NamesCon schedule attendees paid their final visits to sponsor booths in the Exhibit Hall. Those visiting the TLD Registry table were greeted by Mitch Watkins (left) and Founder Arto Isokoski.
Below: Meanwhile fans of popular domain forum NamePros.com made a bee line to their table to see Eric Lyon and Edward Zeiden (right).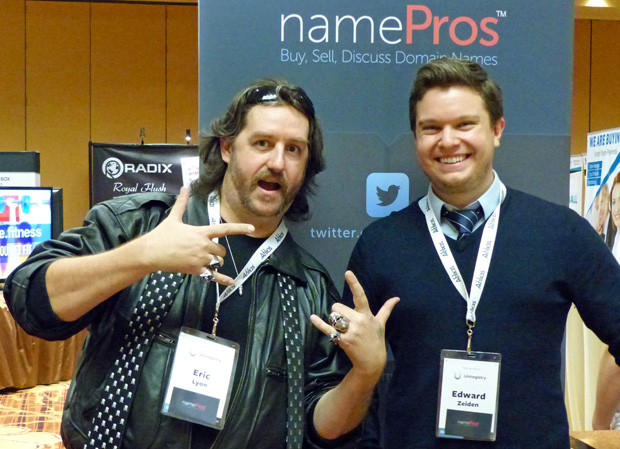 Above: At 5pm NamesCon's grand finale - The Executive Roundtable: Outlook for 2015 was held in Verisign Hall with attendees hearing from (left to right) Michele Neylon (Blacknight), Cybele Negris (WebNames.ca), moderator Christian Dawson (i2Coalition), Elliott Noss (Tucows Inc.) and Antony Van Couvering (Minds + Machines).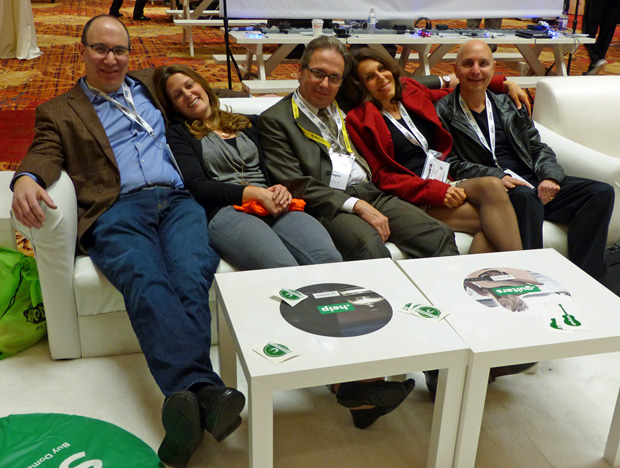 Above: With the 2nd annual NamesCon conference now complete these exhausted but exhilarated attendees kicked back on one of the Exhibit Hall sofas just minutes before a crew arrived to carry the furniture away! Left to right are Larry Fischer, Michelle Miller, Joe Alagna, Kina Merdinian and Alan Hack.
After its successful debut show in 2014 NamesCon raised the bar even higher this year and you can bet it will go higher still in 2016. Kudos to Co-Founders Richard Lau and Jothan Frakes, Co-Producer Jodi Chamberlain, James Morfopoulos and the entire NamesCon team on a job exceptionally well-done.
Below: While Richard and Jothan appeared on stage several times during the show, Jodi stays so busy behind the scenes that she was rarely still long enough for us to snap a photo. However, we did finally catch up with her at the registration desk (center below) along with NamesCon teammates Kevin Burke and Len Rada. They, along with Frankee Teeter and every other NamesCon team member, helped the domain industry take a giant step forward this week! We are looking forward to seeing you all again at NamesCon 2016!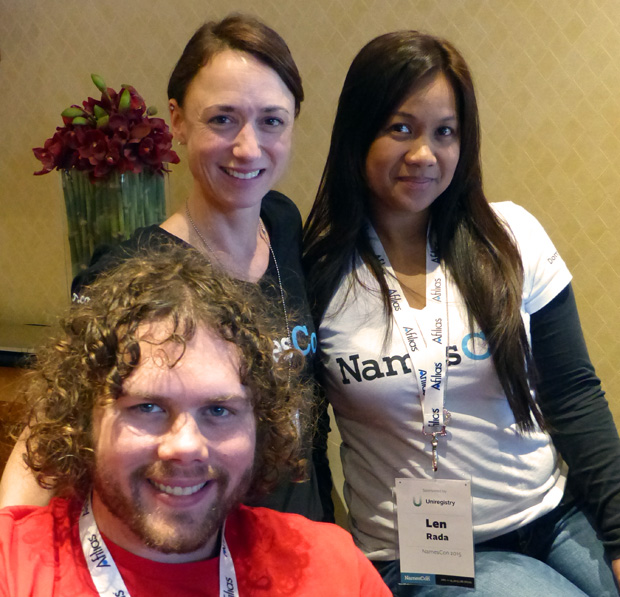 (Posted January 17, 2015) To refer others to the post above only you can use this URL: http://www.dnjournal.com/archive/lowdown/2015/dailyposts/20150117.htm
Day 3 Photos & Highlights from NamesCon - Live Domain Auctions Live Again! & Howard Leftkowitz Brings Las Vegas Buzz to the Club!
Day 3 of the 2015 Namescon conference Tuesday (Jan. 13) was filled with events that could well be looked back on as historically important industry landmarks in the not too distant future. RightOfTheDot.com breathed new life into live domain auctions, a sale format that many had given up for dead, and the very successful Las Vegas based entrepreneur Howard Lefkowitz unveiled two big plays in the new gTLD space centered around .buzz and .club.

While those developments grabbed the headlines there was a lot more going on at the Tropicana Hotel in Las Vegas as some 900 attendees from around the world continued their march through the four-day event. Here are photos and highlights from another unforgettable day and night at NamesCon.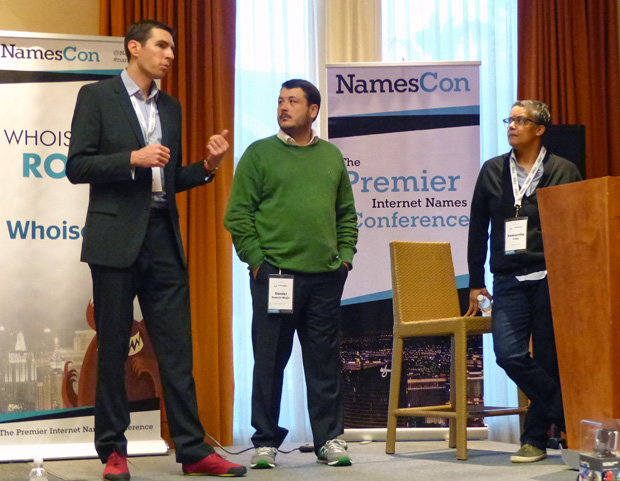 Above: The Tuesday (Jan. 13) schedule began with a trio of simultaneous sessions at 9:55am including the one above covering Data Science for the Domain Name Industry that featured (left to right) Matt Bentley (Pretarget.com and CanIRank.com), Daniel Mejia (DomainsBot SRL) and Samantha Frida (Data provider).
At the same time in another meeting room attendees got to meet ICANN Ombudsman Chris LaHatte, and in yet another Christian Dawson (i2Coalition) hosted Meet the Internet Infrastructure Coalition. A short time later, at 10:25am, sessions resumed in TLD Registry's popular week-long Chinese Domaining Masterclass series.
Below: At 10:55am everyone met in the centrally located Verisign Hall for an illuminating keynote address from Mike McLaughlin, the Senior Vice President of Domains at industry giant GoDaddy (Tuesday night we had an opportunity to sit and talk with Mike at a dinner hosted by GoDaddy and were very impressed with his insight, energy and enthusiasm for the industry. When GoDaddy lured McLaughlin away from Ebay a couple of years ago they strengthened both themselves and the domain business at large.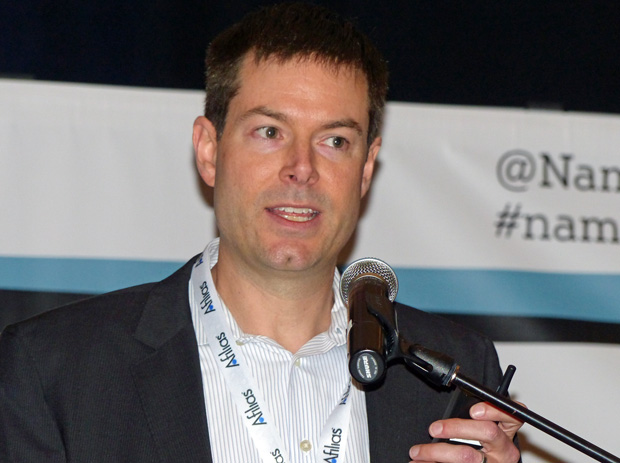 McLaughlin's talk was part of a mid-day triple-header that made Verisign Hall the place to be Tuesday. Decision Counsel CEO Sal Fuentes followed with another solid keynote on digital branding and strategic framework, then Las Vegas based entrepreneur Howard Leftkowitz blew the roof off the place by delivering a great speech filled with breaking news, Vegas showgirls and confetti!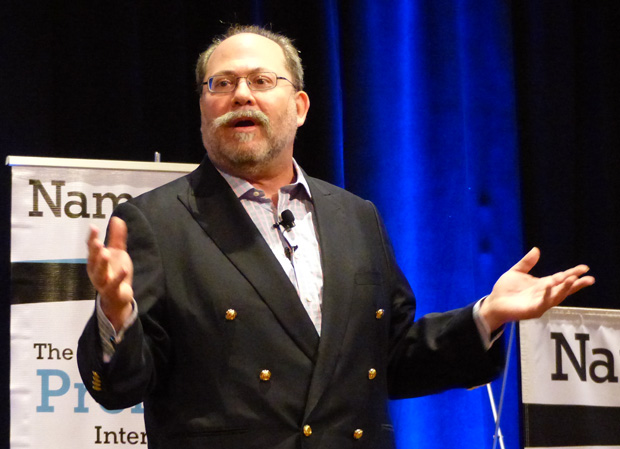 Above: One Degree World CEO Howard Lefkowitz delivering a rousing keynote speech Tuesday at NamesCon filled with news he revealed for the first time. For starters Lefkowitz announced his company's network of hundreds of travel destination websites built on .buzz domains (like Vegas.buzz) will get national TV exposure when they are featured on Wheel of Fortune the first two weeks in February.
Below: Lefkowitz's buzzworthy announcement was accompanied by Vegas showgirls marching down the aisles and onstage in .Buzz headdresses.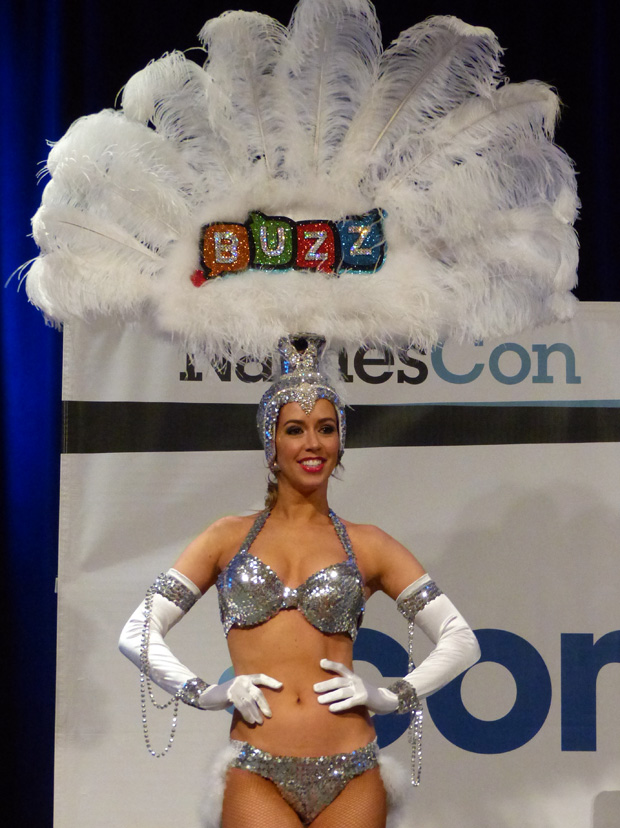 Below: Leftkowitz was just getting warmed. He closed his talk by announcing a $100,000 deal to acquire Vegas.club from the .CLUB registry under their Startup.club program. One Degree World will build a members only website offering special deals and services for Vegas club goers on the domain. That announcement was accompanied by a sudden transformation of the meeting room into a Vegas nightclub complete with booming music, flashing lights and confetti! Only in Las Vegas! :-)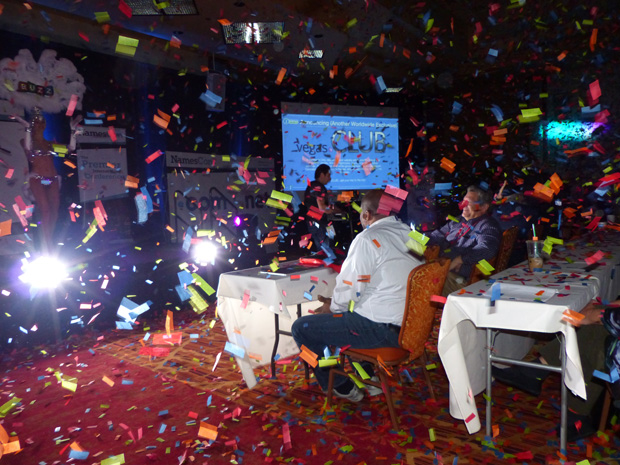 After the Lefkowitz extravaganza, attendees took a lunch break then came back for the week's busiest round of business sessions with six of them going on simultaneously in the various conference rooms.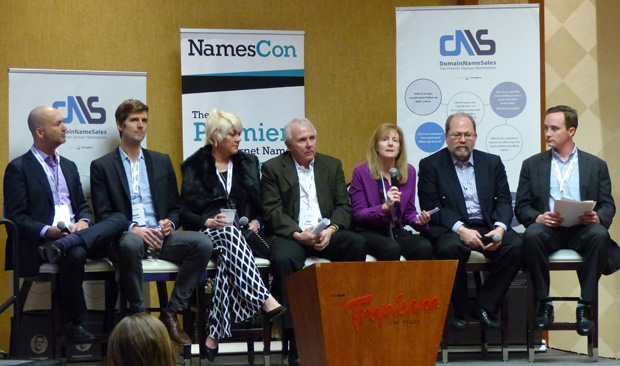 Above: The half dozen sessions that began after lunch Tuesday included TLDs: Making the Pivot to Mainstream that featured (left to right): Adam Steck (CEO, SPI Entertainment), Matt Overman (VP, Rightside), Ruth McCartney (MaCartney Multimedia), Jim Trevino (CEO, Dot Vegas Inc.), Theresa Geraghty (GoDaddy) and moderator Patrick Carleton (AdPartnerships.com).
Below: At the same time a Global ccTLD Leadership Roundtable was going on in Verisign Hall that featured (L to R): Jorg Schweiger (Denic), Kelly Hardy (.ME Registry), Tobias Flaitz (CEO, Sedo), Jothan Frakes (NamesCon), Crystal Peterson (Neustar) and Dave Chiswell (CIRA).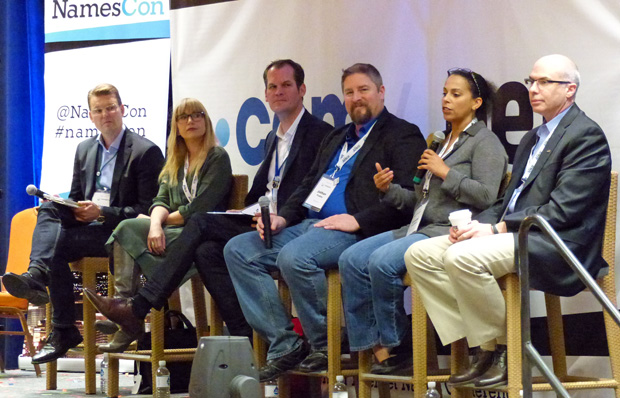 Other topics covered in the first afternoon sessions were Domain Parking in 2015, Moving to the Cloud, Applying in the Next Round for Your Own TLD and another session of the Chinese Domaining Masterclass.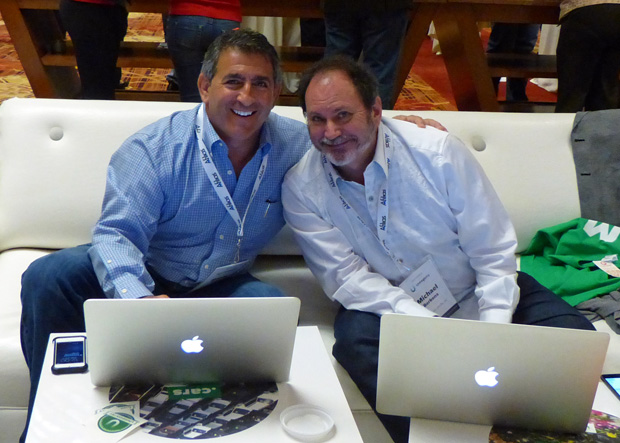 Above: In between sessions we caught RightOfTheDot.com Co-Founders Monte Cahn (left) and Michael Berkens strategizing for the live domain auction they would run later in the day Tuesday.
Below: The next round of sessions on NamesCon's multi-track agenda started at 2:30 Tuesday afternoon and included this popular panel discussion on Cyber Security, Domain Theft and Hijacking - How to Be Safe. It featured (L to R): Ryan Leszczynski (FBI), Phil Corwin (Internet Commerce Association), Mark Jeftovic (easyDNS), moderator Derek Newman (Newman Du Wors LLP), Theo Develegas (Acroplex LLC) and Stevan Lieberman (Greenberg & Lieberman LLC).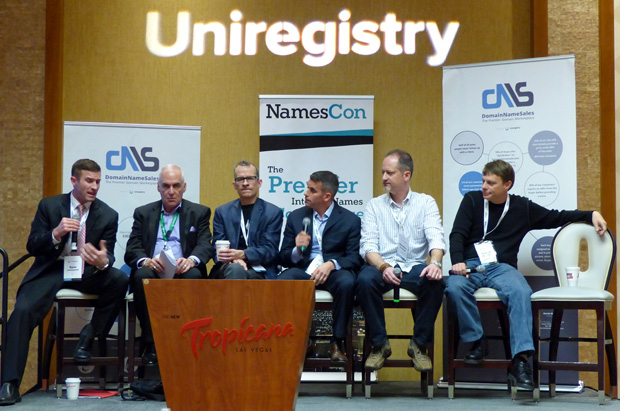 Other 2:30pm sessions covered Lessons Learned from Recently Launched TLDs, The Psychology of a Click (SEO, TLD and Lead Generation A-Z) and Selling Domains to the Chinese Market With Guta.com.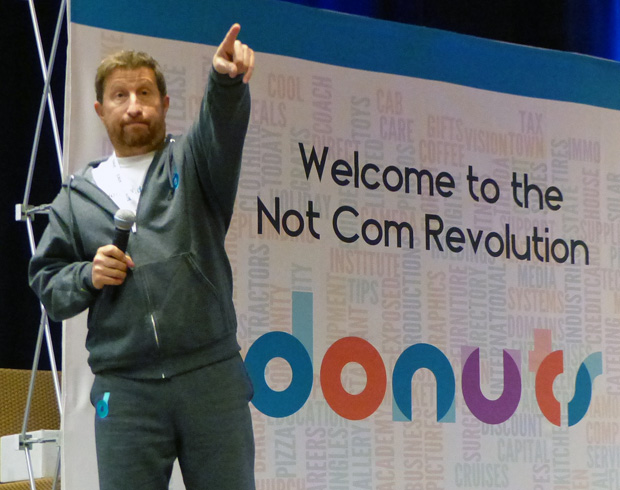 Above: At 3:35pm, everyone came together in one place again (Verisign Hall) for a pair of keynote addresses beginning with a very informative talk from Donuts Co-Founder and Executive Vice President Dan Schindler who also fielded audience questions about new gTLDs (Donuts is the largest player that space).
Below: Uniregistry Founder Frank Schilling, the legendary domain investor and domain services provider (including DomainNameSales.com), can always be counted on to pack a hall, which he did again at his keynote Tuesday. With his record of success in multiple ventures, Frank's appearances are always must see events.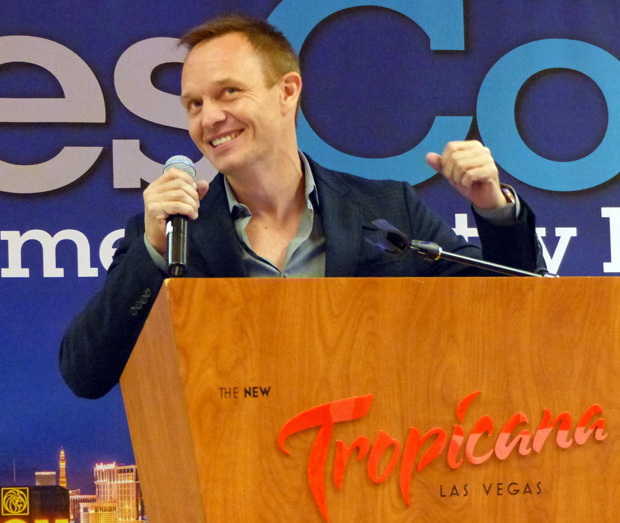 Below: After Schilling's address there was a Meet the TLDs panel discussion on the ICA Stage that featured (L to R): Tyson Mackay (Dot Vegas Inc.), moderator Monte Cahn (standing), Rolf Larsen (Dot Global), Colin Campbell (.Club), Sandeep Ramchandan (Radix), Ray King (Top Level Design LLC) and Daniel Negari (.XYZ).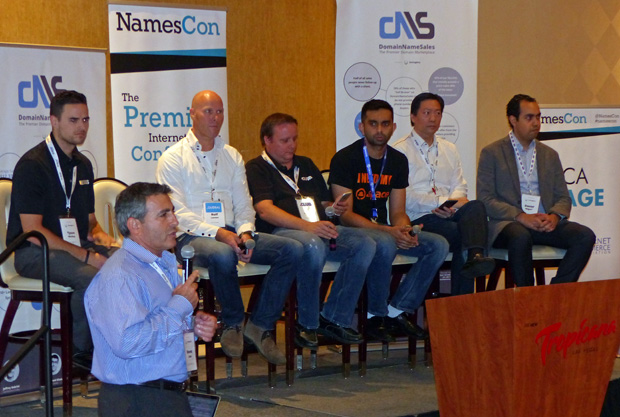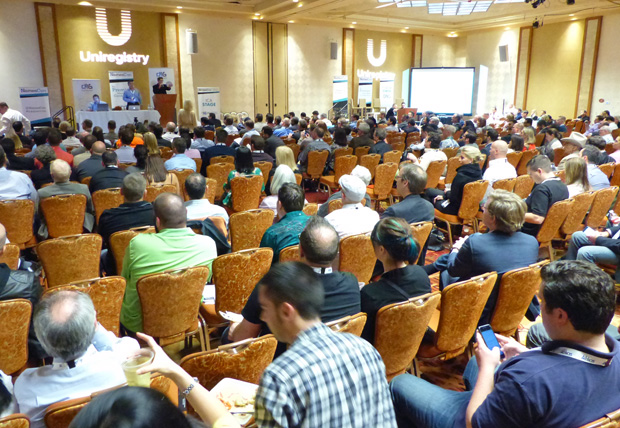 Above: A sight we haven't seen in years. A massive crowd turning out for a live domain auction. It happened late Tuesday afternoon at NamesCon when RightOfTheDot.com orchestrated a live sale that generated nearly $1 million in sales (a figure that will almost certainly surpassed in the extended online auction) including a huge new gTLD sale - Wine.club at $140,000. The auction also had an exceptionally high sell-through rate with two-thirds of the inventory (87 of 134 lots) being sold.
Below: Both veteran auctioneer Wayne Wheat (far right) and RightOfTheDot Co-Founder Monte Cahn (standing), had a lot to smile about during Tuesday's successful live domain auction - an event that breathed new life into the format.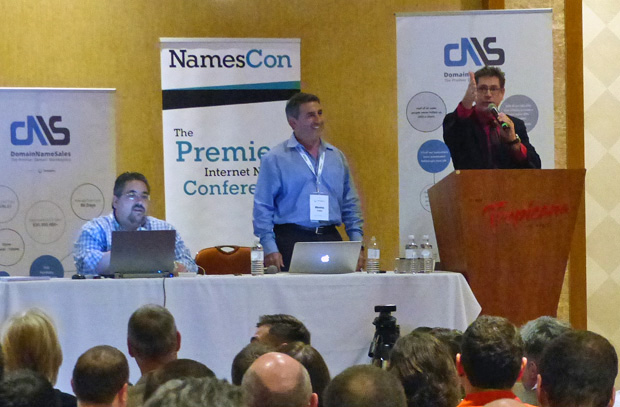 Below: After the live auction closed an extremely busy and highly productive Tuesday business day attendees scattered to various spots around Las Vegas to unwind and refresh ahead of Wednesday's final day at Namescon. We joined several dozen guests at a dinner GoDaddy hosted at the MGM Grand's delightful Crush restaurant. It was a great opportunity to talk and learn in a relaxed environment with members of GoDaddy's leadership team including MikeMcLaughlin, Paul Nicks and Joe Styler, as well as fellow NamesCon attendees.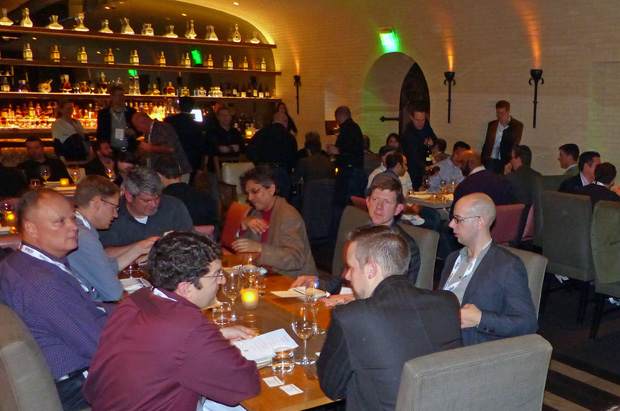 In my next post, I'll have photos and highlights from the final day at NamesCon Wednesday (Jan. 14). One, like all that proceeded it, was filled with wall to wall news, information and networking that will serve every attendee well in the new year ahead.
(Posted January 16, 2015) To refer others to the post above only you can use this URL: http://www.dnjournal.com/archive/lowdown/2015/dailyposts/20150116.htm

Day 2 Photos & Highlights from NamesCon 2015 Including Another Amazing Water Night
The 2015 NamesCon conference continued full steam ahead with a busy 2nd day Monday (Jan. 12) at the Tropicana Hotel in Las Vegas. After a jam-packed business day and a wow-inducing Women in Domaining event, the show's crown jewel - the annual Water Night fundraising gala - was held with over $138,000 raised for the Water School! Here's a visual trip through an unforgettable day and night in the desert.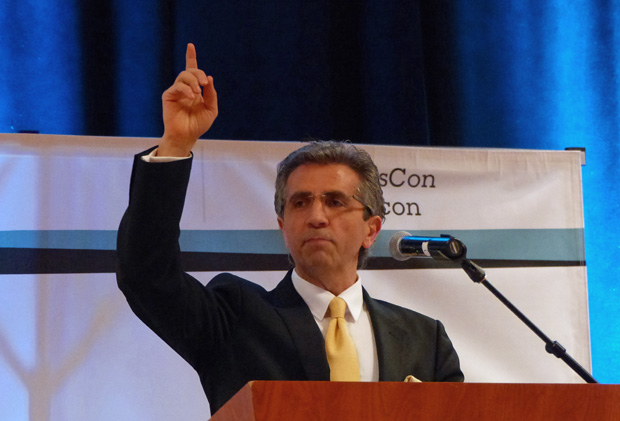 After a videotaped welcome from Nevada Governor Brian Sandoval, Monday got off to a quick start with wide ranging talks from Khaled Fattal of the MLi Group (above), the Domain Name Association's Executive Director Kurt Pritz (below) and Fiona Alexander of the U.S. Department of Commerce's NTIA. Later in the morning Mr. Fattal was again featured in a very productive session titled Turning Billions of Users Into Customers in the New Multilingual Internet & Landscape EcoSystem.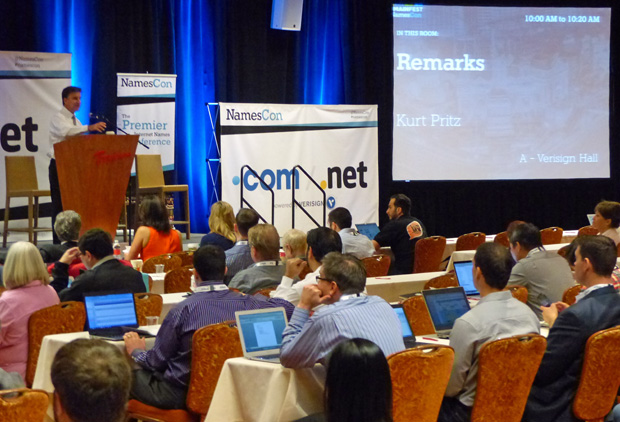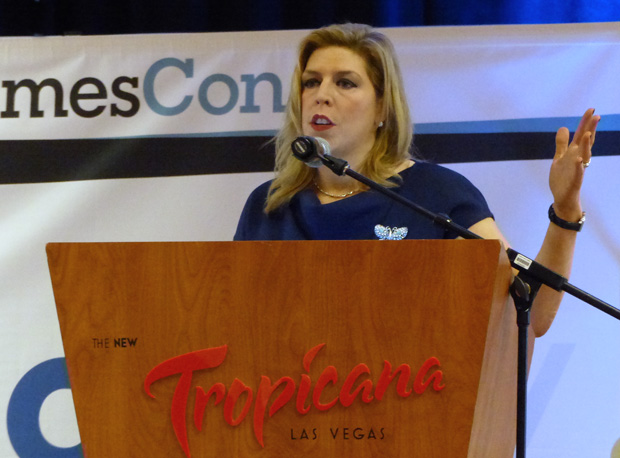 Above: Jennifer Wolfe (Wolfe Domain Digital Strategy) followed with comments on the early results from ICANN's massive new gTLD initiative and the challenges that remain ahead to increase recognition and corporate interest in the new extensions.
Below: ICANN Global Domain Division President Akram Atallah (right) offered more insight into the new gTLD program and other ICANN related matters during an engrossing interview conducted by DomainNameWire.com's Andrew Allemann.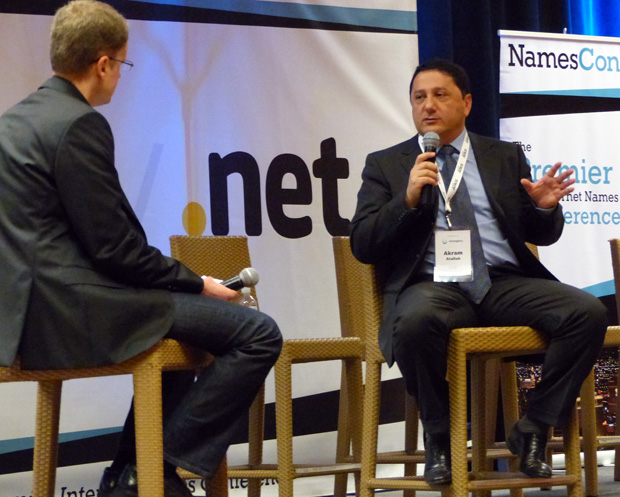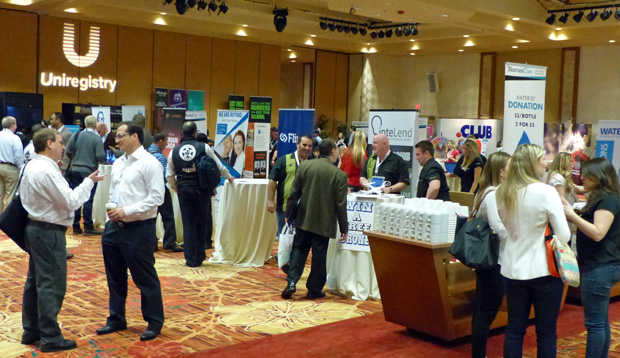 Above: The biggest and busiest conference Exhibit Hall we have seen in years drew a steady flow of traffic throughout the day, offering a great chance to meet vendors face to face, enjoy a cup of coffee and relax or hold impromptu chats in a spacious lounge area that provided lots of comfortable seating.
Below: Back in the conference rooms, four simultaneous sessions got underway including this one called Dot-Execute: Consumer Facing Marketing Efforts that are Working in TLD Launches. It featured (left to right): Moderator Braden Pollock, Theresa Geraghty (GoDaddy), Jeff Neuman (Neustar) and Jeff Sass (.CLUB). Meanwhile seminars in adjacent rooms covered A Day in the Life of a Corporate Brand Manager, Doing Domain Business in China and The Domain Development Life Cycle.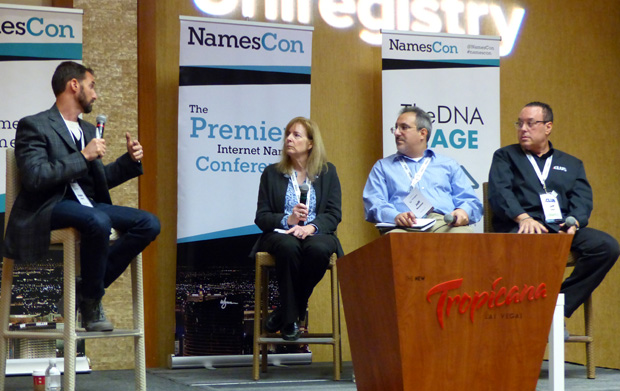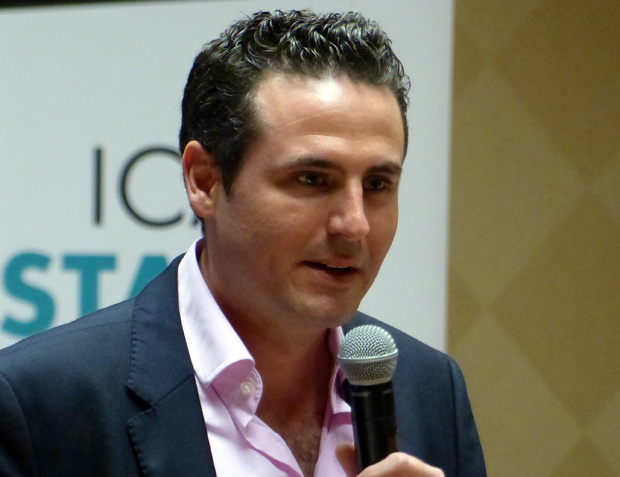 Above: After a lunch break attendees got a chance to get advice on selling domains from one of the world's top domain brokers - Jeff Gabriel of DomainNameSales.com. For many what they learned from Jeff alone will more than pay for what it cost them to come to Las Vegas. As part of NamesCon's multi-track agenda, other sessions running at the same time covered Domain Trademark Issues, The Power of the Right Domain or TLD, Building a Domain Into a Business in Under 60 Minutes with Joomla and another installment of TLD Registry's week-long Chinese Domaining Masterclass series.
Below: The next round of sessions featured a live edition of Domain Sherpa, hosted by Michael Cyger (left). His panelists (left to right) - Adam Dicker, Andrew Rosener (MediaOptions.com) and Page Howe (iLove.LA) all had a great time as did the standing room only audience.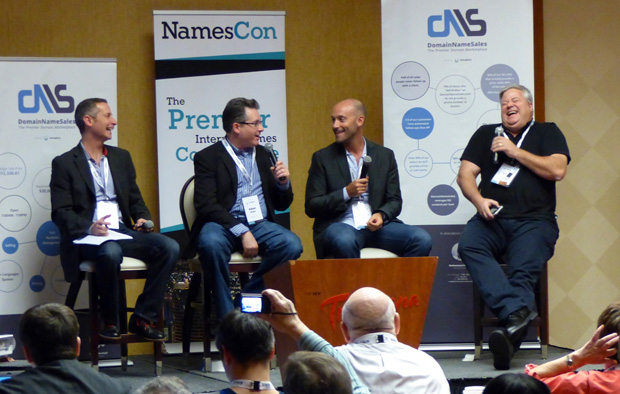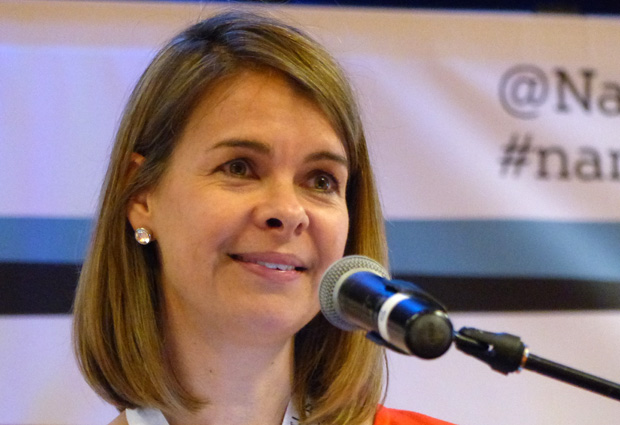 The mid-afternoon sessions also included Meet the TLDs (Session 1) that featured Kathy Nielsen of .GREEN (above) along with Angus Richardson (.KIWI), Stephane Van Gelder (OP3FT) and Jean-Christophe Vignes (NCC Group). Other sessions covered DNSSEC and Making the Most of Your .BRAND and the Evolving Internet.
Below: J. Scott Evans (Associate General Counsel at Adobe Systems and President Elect of INTA) closed the business day with back to back sessions - a wide ranging keynote talk followed by the potential that lies ahead in serving the Next Billion Internet Customers.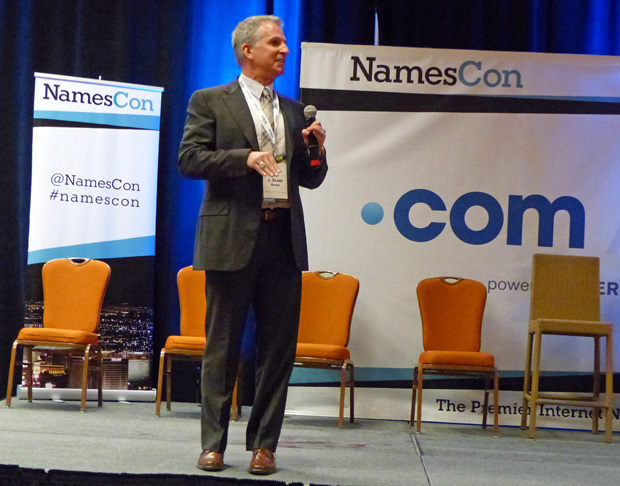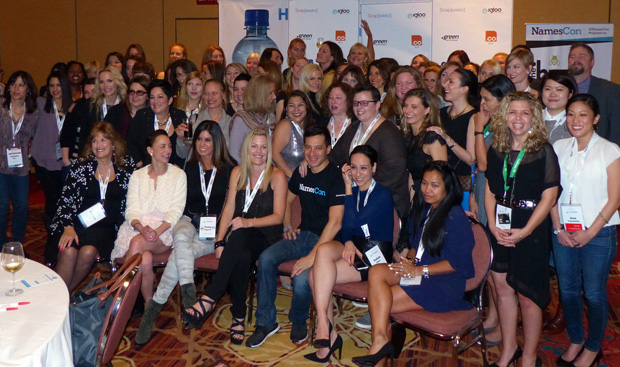 Above: While the business day was over the fun was just beginning with two big evening social events. It started with a joyous gathering of the many outstanding Women in Domaining from 7-9pm. In addition to enjoying each other's company the women chipped in thousands of dollars that they took down to the Havana Room where the big Water Night fundraising party got underway at 9pm. Their donations and those from fellow attendees that were matched by both NamesCon and NameCheap.com wound up raising $138,000 for the Water School!
Below: NamesCon's Water Night fundraising party gets underway with hundreds of attendees enjoying an event that ran past 1am Tuesday morning.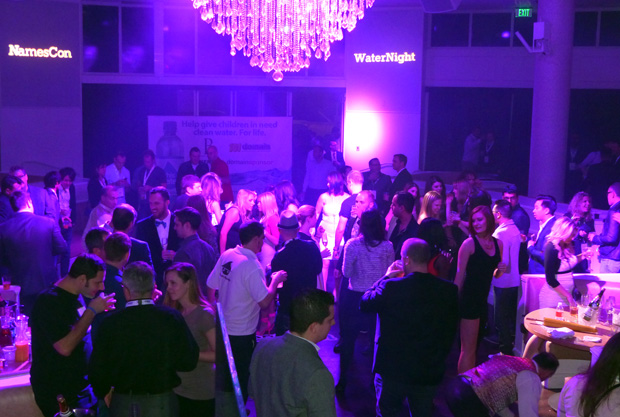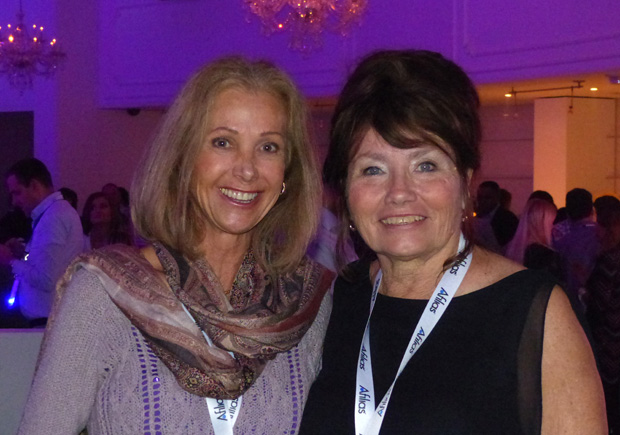 Above: Among the many beautiful faces in the crowd were Nancy Bianchi (Above.com) and Diana Jackson (DNJournal.com) and below (left to right): Ammar Kubba (Thought Convergence), master photo bomber Adam Strong, Norway's Truc Tran and Paul Goldstone (.CO.COM).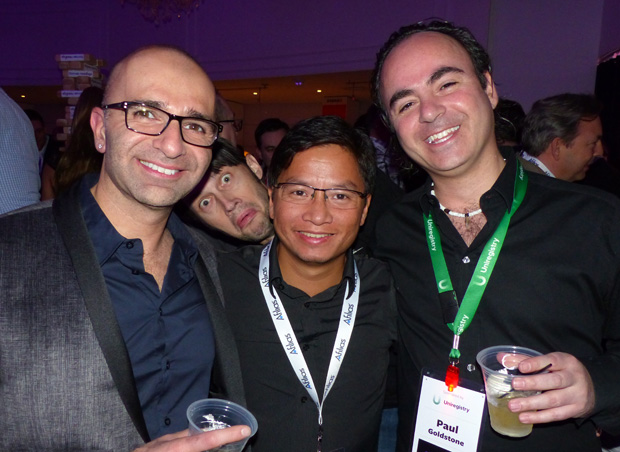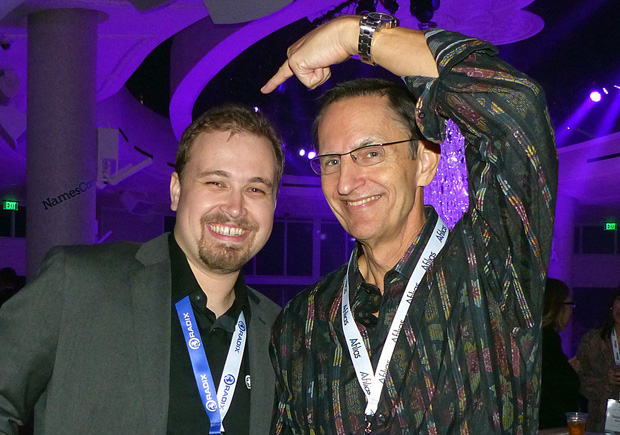 Above: A huge chunk of the $138,000 donated to the Water School was generated by pledges made to three brave and generous souls who agreed to have their heads shaved in exchange for donations to the life saving charity. In this shot I was enjoying a final look at the soon to fall locks of Radix Registry's Kevin Kopas.
Below: Kevin Kopas getting the coup de grace from veteran Water Night barber Gregg McNair.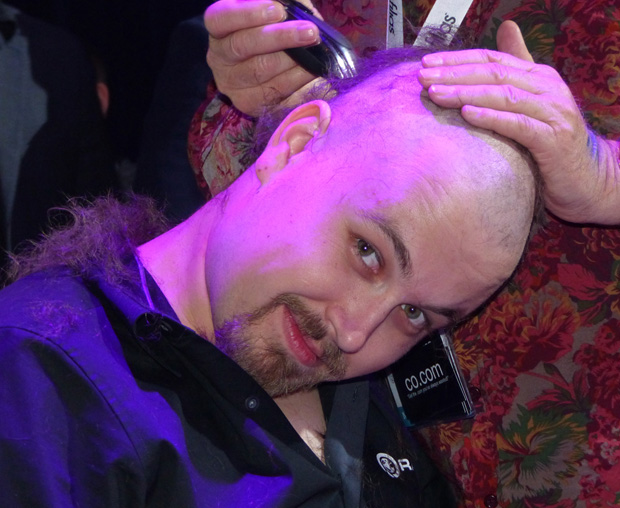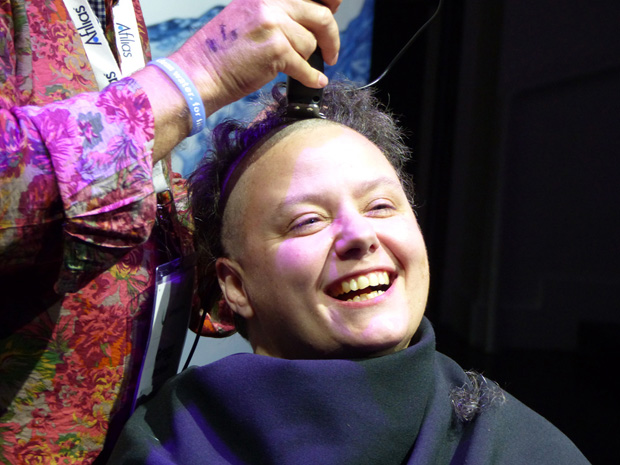 Above: Next on the hot seat was DNC Holdings President Kellie Peterson (who was soon followed by her DNC teammate Mike Robertson). Kellie and Mike were featured in our December Cover Story.
Below: When the deeds were all done, our heroes and they stylist (Mr. McNair) showed off their new hairdos (or is that hair don'ts). Whatever the case may be - they are more beautiful than ever in our eyes. Left to right: Gregg, Kellie, Mike and Kevin.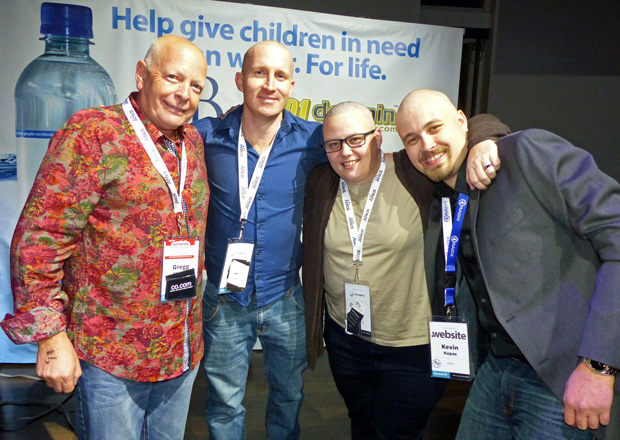 So another day and night (and part of another day) were in the books. In my next post from Las Vegas I will have photos and highlight from Day 3 Tuesday, including the big Tuesday evening live domain auction run by RightOfTheDot.com that drew a huge crowd and generated nearly $1 million!
(Posted January 14, 2015) To refer others to the post above only you can use this URL: http://www.dnjournal.com/archive/lowdown/2015/dailyposts/20150114.htm
Opening Day Photos and Highlights from the 2nd Annual NamesCon Conference in Las Vegas Sunday
The 2015 NamesCon conference got underway Sunday (Jan. 11) at the Tropicana Hotel in Las Vegas with a day christened Domainfest at Namescon following the show's acquisition of the Domainfest conference from Oversee.net a few weeks ago.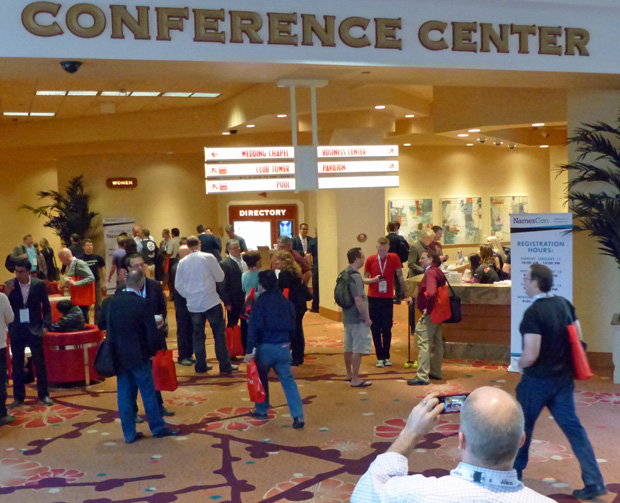 Above: The first of an an expected 900 attendees begin arriving at the Tropicana Hotel's Conference Center Sunday morning for the opening day of the 2015 NamesCom conference that runs through Wednesday (Jan. 14).
Below: NamesCon staff busy checking in attendees Sunday morning at the Tropicana Hotel.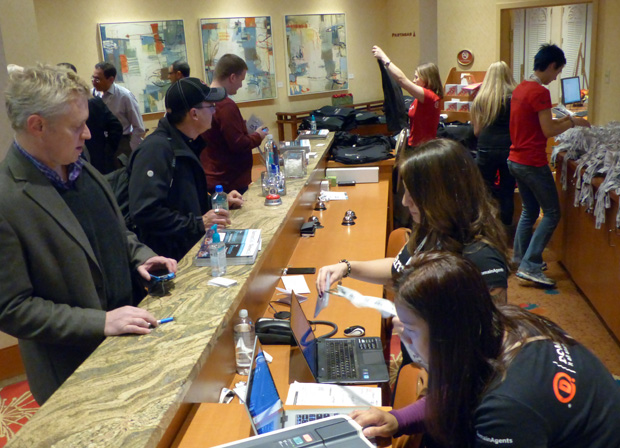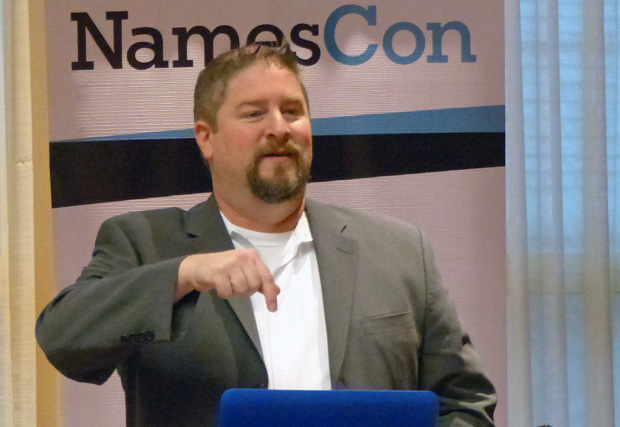 Above: NamesCon Co-Founder Jothan Frakes welcoming attendees to the 2nd annual conference in Las Vegas Sunday morning (Jan. 11, 2015).
Below: The first round of business sessions began at 10:15am Sunday with four separate seminars on a variety of topics. In this photo you see part of the standing room only crowd at Adam Dicker's DN College session.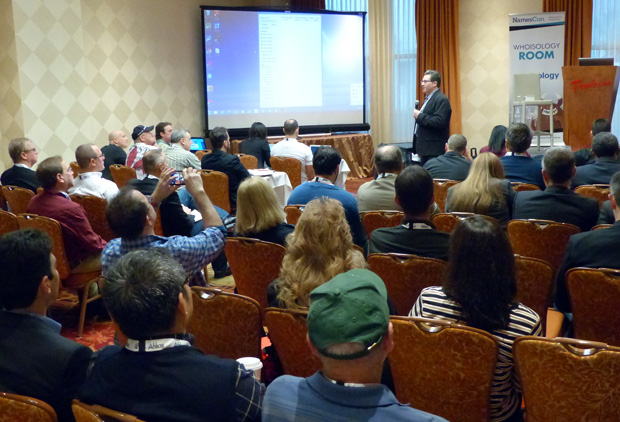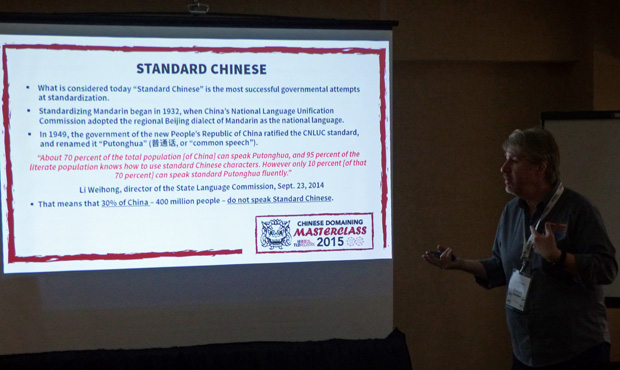 TLD Registry's Simon Cousins may be the busiest guy at NamesCon. He is helping stage a weeklong Chinese Domaining Masterclass that has him doing as many as a half dozen presentations a day including this one Sunday (Jan. 11, 2015).
At the same time Sunday morning, Victor Pitts of Above.com conducted a session on Monetizing Your Domain Traffic while the dynamic team of Bruce Marler and Tiffany Marley of LocalTek LLC presented the first of multiple sessions on mastering Wordpress.
Below: The next round of sessions on NamesCon's four-track agenda started at 11:25am. In one of those Mark Jeftovic of easyDNS held court on The 7 Deadly Types of Domain Name Risk.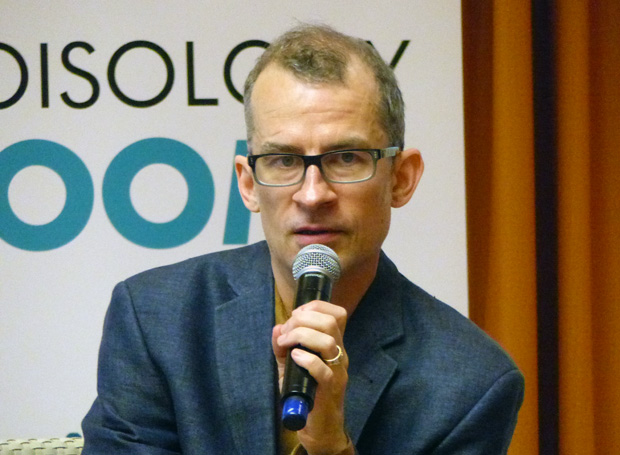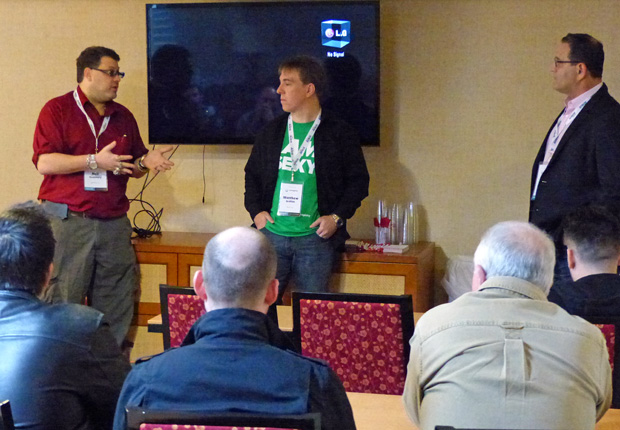 Above: In another Sunday morning session Neil Sackmary of GetItFido.com (left) and Matthew Griffith of Merlix LLC (center) were part of a Workshop on Uniregistry Registrar Services that was moderated by Uniregistry's Sevan Derderian (right).
Below: After the lunch break, sessions resumed in 1:10pm Sunday with Angie Graves (far right) overseeing one that covered Pitching the Venture Capitalist. Facing the camera at left is attendee Kirk Klinkhammer.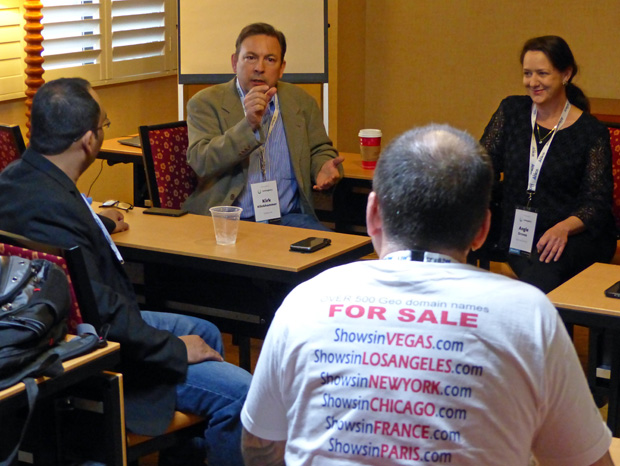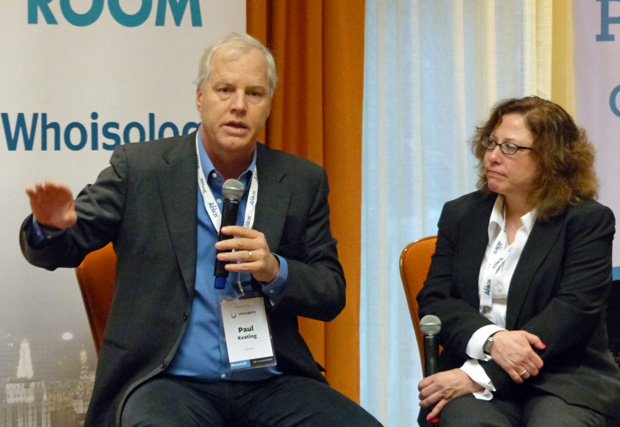 Above: At 2:20pm Sunday attorneys Paul Keating from Law.es and Karen Bernstein from Bernstein IP provided A Primer on Legal Protection for Domain Names.
At the same time, another one of the industry's top attorneys, Zak Muscovitch from DNAttorney.com was in another conference room conducting a workshop on Leasing Domain Names. Meanwhile TLD Registry's Chinese Domaining Masterclass sessions continued to run on another track.
Below: In yet another mid-afternoon session Sunday Thunayan K. AL-Ghanim from FMA.com (left) and Adam Dicker (DNForum.com) drew a standing room only crowd to a session covering Uniregistry Registrar Services (a company whose services both utilize).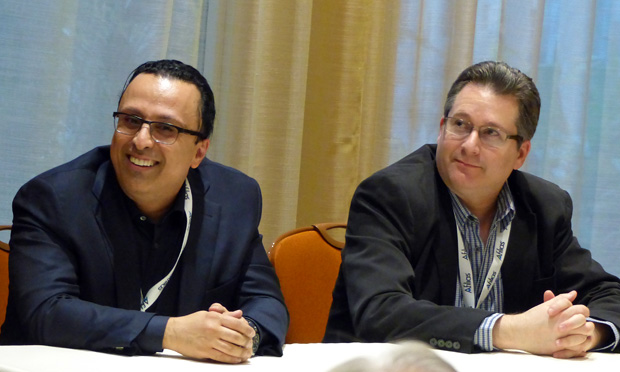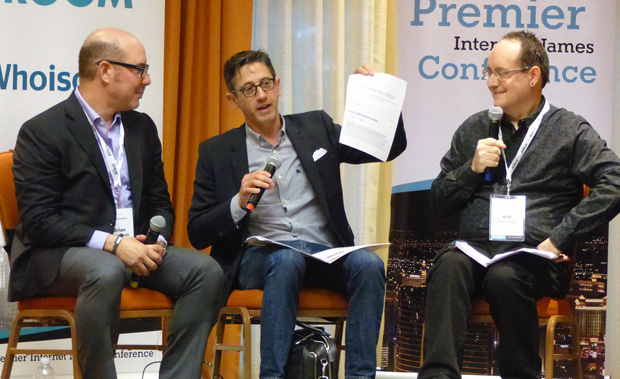 The next round of sessions began at 3:30pm and included (above) Fundamental Domain Name Concepts for Digital Brand Managers that featured (left to right): Brian Winterfeldt (Katten) and Frederick Felman with moderator Bill Sweetman (NameNinja.com).
In another room Hiro Tsukahara of GMO Registry detailed what was happening in the Japanese Marketplace and with new gTLD .Tokyo.
Below: In yet another, ParkLogic.com's Michael Gilmour came over from Australia to conduct a Dissecting Traffic Monetization workshop and the session obviously went well.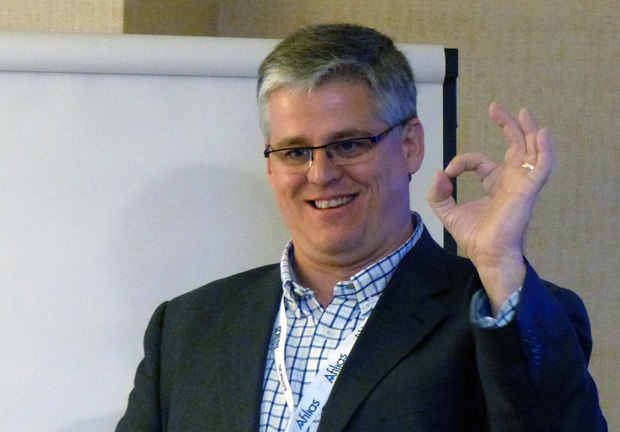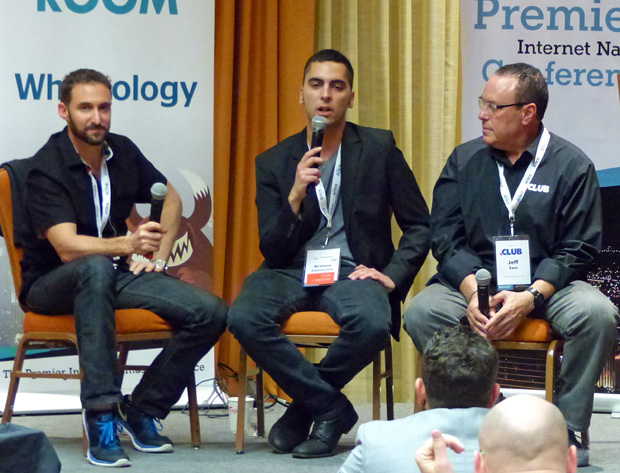 Above: The final round of day one business sessions included a workshop on the various new gTLD Founders Programs that featured (left to right): moderator Braden Pollock, Armen Zeynalvand (Minds + Machines) and Jeff Sass (.CLUB).
At the same time in other rooms Gary Fisher conducted a workshop called Meet the New TLDs, Kevin Murphy (DomainIncite.com) and Matt Bentley (Pretarget.com) joined forced to dissect Stats: What Measures a New GTLD, with another Chinese Domaining Masterclass bringing Sunday's business day to a close.
Below: With business now out of the way it was time to party at the Sunday night NamesCon Welcome Networking and Entertainment Event. This scene captures just a fraction the crowd spread across the spacious ballroom.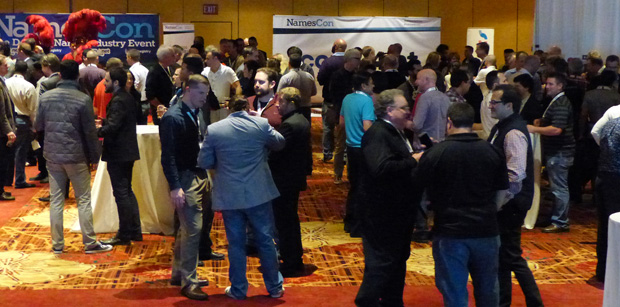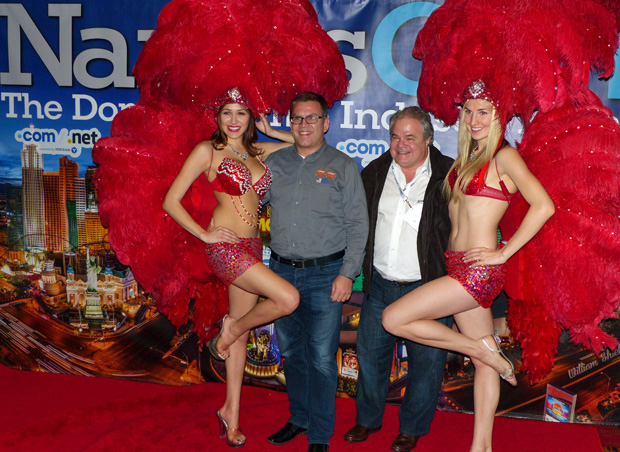 Above: Of course, what would a convention in Las Vegas be without Las Vegas Showgirls?! TLD Registry's Arto Isokoski and Pinky Brand took advantage of their presence for this colorful photo op.
Below: The Vegas Showgirls are great but they have nothing on our Domain Women and Tiffany Marler (LocalTek LLC) proved it by striking this pose! Left to right are Bruce Marler, Thomas Stocking, Tiffany and Victor Pitts from Above.com.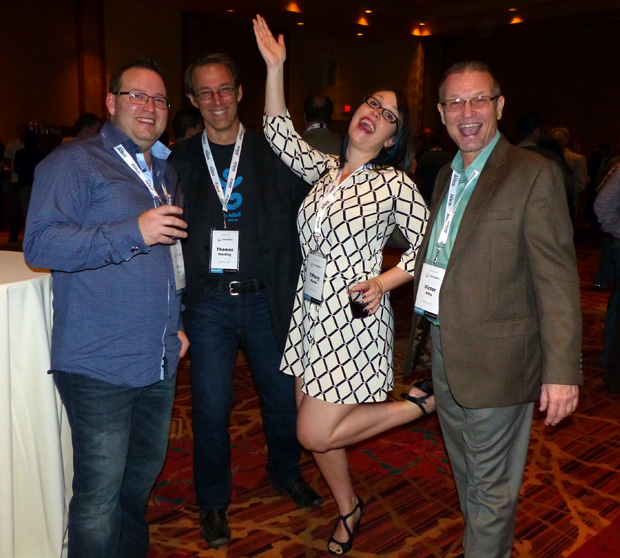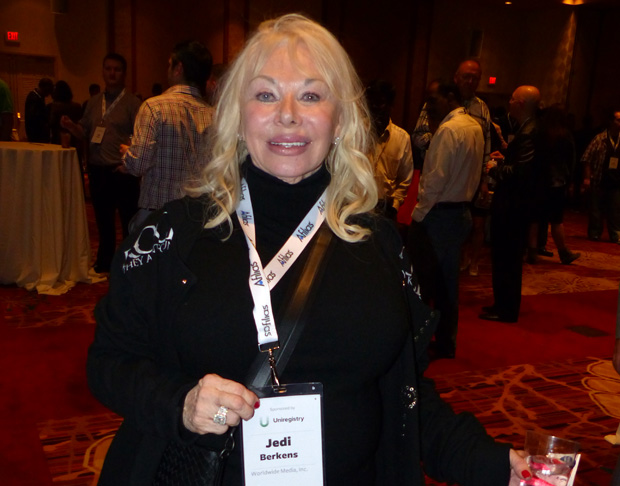 Above: This may be the most accurate typo ever. The status of Judi Berkens, the wise wife of TheDomains.com's Michael Berkens, was acknowledged on her Jedi Berkens nametag!
Below: Faces in the Sunday night party crowd included (left to right): James Morfopolous (an important part of the team that puts on NamesCon), Tessa Holcomb (Igloo.com), Diana Jackson and Jason Schaeffer (ESQWire.com).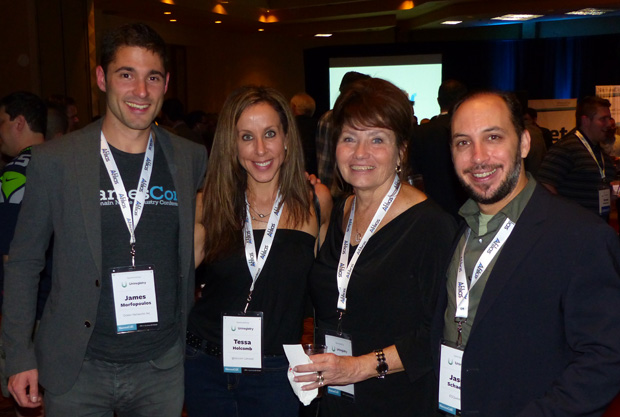 As I write this a very busy second day at NamesCon is winding down with the big Water Night charity fundraising party still to come tonight. It starts at 9pm local time and runs until 1am (that is midnight to 4am Tuesday for our fellow Easterners). I'll have all of the Monday photos and highlights for you in my next post from Las Vegas tomorrow.
(Posted January 12, 2015) To refer others to the post above only you can use this URL: http://www.dnjournal.com/archive/lowdown/2015/dailyposts/20150112.htm
NamesCon: Where New Friends Are Made and Old Friends Meet - Sometimes for the First Time!
The 2015 NamesCon conference doesn't officially begin until later today but things were already hopping at the show venue (the Tropicana Hotel) and around Las Vegas last night as some of the more than 800 expected attendees began arriving from around the world.

They'll all get down to business when the four-day show gets underway with four simultaneous sessions starting at 10:15am local time today (1:15pm U.S. Eastern), but Saturday it was all about greeting old friends and meeting new ones.

A very special highlight for me was meeting a friend of more than a decade in person for the first time after all these years. I originally became acquainted with friendly Kuwaiti Thunayan K. AL-Ghanim, the founder of

Future Media Architects through DNForum.com (where he was known by his nickname - Elequa) the year I entered the industry in 2002. The following year he was the subject of just the second Cover Story in our history (back then they were more brief sketches than the detailed profiles the Cover Stories later morphed into).

Though Thunayan didn't come to any of the dozens of domain conferences I've covered since then, we stayed in touch through email, phone calls and Facebook. So you can imagine how delighted I was when I learned Thunayan would not only be attending NamesCon but also speaking in two of the conference sessions. I didn't have to wait for those to finally meet though. Thunayan invited a group of friends to a pre-show dinner last night at the Guy Savoy restaurant at Caesars Palace that could not have been a more perfect way to kick off conference week.

Above: The dinner group hosted by Thunayan K. AL-Ghanim at the Guy Savoy restaurant in Caesars Palace Saturday night included (clockwise from bottom right) Frank Schilling, Bret Fausett, Adel Alali, Diana Jackson, Sevan Derderian, Jothan Frakes, Jeff Gabriel, Thunayan K. AL-Ghanim, Amy Freeborn, David Lee, Stevan Lieberman, Vern Jurovich, Nat Cohen and myself (not pictured, as I was taking the picture).

Below: A final guest who arrived after the shot above was taken was NamesCon co-founder Richard Lau (left), seen after dinner with his fellow show co-founder Jothan Frakes. Richard has a good reason for running late - he has been scrambling making last minute preparations for a little party of his own (NamesCon) that could draw more than 900 people when final registrations are tallied later today.

Above: Mr. AL-Ghamin I Presume? (left to right): Bret Fausett, Ron Jackson, Thunayan K. AL-Ghanim and Amy Freeborn.

Below: Bosom Buddies - long time friends and business associates Vern Jurovich and Frank Schilling who are now scaling new heights at Uniregistry.com.

Above: The view from another end of the table as the evening is just getting underway.

Below: Uniregistry's Jeff Gabriel with our host and mutual friend Thunayan K. AL-Ghanim.

When we got back to the Tropicana Hotel after dinner, the lobby was filled with excited NamesCon attendees enjoying the night with fellow travelers as they anticipated the start of the show today. We will be running on four hours of sleep when the doors open, but there will be plenty of time to sleep next week. Now it's time to get this show on the road! I'll have daily photos & highlights of the previous day and night's events at NamesCon in this column for you throughout the week ahead.
(Posted January 11, 2015) To refer others to the post above only you can use this URL: http://www.dnjournal.com/archive/lowdown/2015/dailyposts/20150111.htm
It's Show Time!

We are on our way to NamesCon. The big show gets under Sunday morning (Jan. 11) with the first of our full days of business at the Tropicana Hotel in Las Vegas where over 800 attendees from around the world will gather for the 2nd annual event. We'll have daily photos and highlights from the conference in this column starting Monday morning with each post recapping the previous day's events. If you will be at NamesCon we will look forward to seeing you there - and if you can't be there will try to make you feel as though you are in our reports from Las Vegas!

(Posted January 10, 2015)
Andee Hill Enlists Noted Domain Attorney Stevan Lieberman to Expand Services at EscrowHill.com
While some of us came out of the holidays carrying a little more excess weight than we wanted, EscrowHill.com went in the opposite direction and has added muscle that is allowing them to start the new year with an expanded suite of domain escrow services.

On Wednesday company founder Andee Hill announced that EscrowHill has retained the services of Washington, D.C. based Intellectual Property Law Firm Greenberg & Lieberman - a move that allows the New Zealand registered service provider to offer customers the option of U.S. based escrow handled by one of the industry's most widely respected law firms.

G&L's Stevan Lieberman is one of the world's most knowledgeable and successful IP attorneys who specialize in the domain space. In addition to providing legal advice to domain name owners and associated companies, setting up registrar tags, and providing litigation services Lieberman has been handling domain escrow transactions since 2002.

Lieberman said, "My firm is looking forward to continuing to offer domain and website escrow through the latest automation accessible within the EscrowHill.com website." With Lieberman now on board, EscrowHill.com clients can select - depending on their location - between an International or Domestic escrow agent.

EscrowHill.com, founded by Ms. Hill in 2013, offers three levels of service. Basic Escrow where the Buyer's funds are held in escrow until the domain is transferred from the Seller to the Buyer, Premium Escrow where the funds are secured and then the domain is transferred to the escrow agent. The escrow agent then moves the domain to the Buyer and the funds to the Seller (and any brokers) with no buyer review period and Financed Escrow where the domain is held in escrow during a term length while payments are made.

In addition to offering online escrow services in six different currencies, EscrowHill.com has the ability to allow funding of a transaction with Bitcoin.

Andee Hill
Founder, EscrowHill.com

Stevan Lieberman
Greenberg & Lieberman, LLC
(Posted January 8, 2015) To refer others to the post above only you can use this URL: http://www.dnjournal.com/archive/lowdown/2015/dailyposts/20150108.htm
Are You Ready to Rumble? ParkingCrew Challenges All Comers to $100 a Match Foosball Throwdown at NamesCon - If They Lose the Water School Wins!
One thing we learned from the first NamesCon conference in January 2014 was that the Las Vegas show serves up business and pleasure in ample proportions. While we love the speakers, sessions and exhibits, what could be more fun that watching our industry cohorts try to rip each other's face off in a little friendly competition!

Last time around a hard fought ping pong tournament broke out in the exhibit hall (with ICANNWiki's Ray King emerging victorious). When NamesCon reconvenes for its 2nd annual go round that starts Sunday (Jan. 11) at the Tropicana Hotel, look for some heated battles on a different field. It seems the foosball wizards from ParkingCrew.com think they can whip anybody, anywhere and they are willing to put their money where their mouths are - to the tune of $100 a match.

Now, as nasty as these guys look, we all know they are softies at heart. That $100 will be paid out as a donation to the Water School for every match a Parking Crew team member loses. You can sign up to play at the special Foosball and Water page that has been set up at the ParkingCrew.com site (you'll find all of the official rules there too).

If you are more a spur of the moment kind of guy or gal

Above: Expect some pitched battles around the foosball tables at NamesCon next week.

Below: ParkingCrew.com team members (clockwise from top left) Axel Axellent, Jim the Joker, Mario Machete and Rude Rudy will take on all comers. They will donate $100 to the Water School every time one of them goes down to defeat.

they are also ready to accept your challenge on the spot during some open windows they have set aside for that purpose. Those are Monday & Tuesday (Jan. 12 & 13) between 5:00PM and 5:30PM and Wednesday (Jan. 14) between 3:30PM and 5:30PM.

These guys talk a good game and they look pretty scary in those sunglasses but we know our readers are not easily intimidated. So, we are looking forward to seeing some of you taking them down and relieving them of a big pile of C Notes to benefit the life saving work being done by the Water School!
(Posted January 6, 2015) To refer others to the post above only you can use this URL: http://www.dnjournal.com/archive/lowdown/2015/dailyposts/20150106.htm
2015 Domain Sales Season Off to a Good Start - 345.com Sold for $800,000 by MostWantedDomains
The domain aftermarket staged a strong rebound in 2014 (4Q results will be released in our next newsletter but results from the first three quarters have already made a positive outcome clear). With momentum at its back, we expect (as I noted in my final post of 2014) that the aftermarket will continue its comeback in 2015 with short .coms leading the way.

The first evidence that things will follow that direction is already in. We have learned that Michael Berkens' company, MostWantedDomains.com, has completed an $800,000 sale of 345.com to a Chinese buyer. We will be officially charting the transaction when our next weekly domain sales report comes out Wednesday evening (January 7).

Chinese buyers played a big role in the 2014 market resurgence and there is no sign that is going to change in the near future. If anything, it looks like they will be even more aggressive in going after short .coms this year. Michael told us that the highest previous offer he had received over the past year for 345.com was $345,000. The successful buyer more than

Michael Berkens
MostWantedDomains.com

doubled that figure to land the domain and that is likely to have an impact on what buyers will have to pay if they want to acquire similar names this year.

A new year is almost always accompanied by a sense of optimism - and this sale will do nothing to diminish that. Congratulations to Michael (whom, as almost all of you know, also writes TheDomains.com blog). We hope to see many more notable sales for him - and for you - in 2015!
(Posted January 5, 2015) To refer others to the post above only you can use this URL: http://www.dnjournal.com/archive/lowdown/2014/dailyposts/20150105.htm
---
If you've been out of the loop lately, catch up in the Lowdown Archive!
---
We need your help to keep giving domainers The Lowdown, so please email

[email protected]

with any interesting information you might have. If possible, include the source of your information so we can check it out (for example a URL if you read it in a forum or on a site elsewhere).
---
Home Domain Sales YTD Sales Charts Latest News The Lowdown Articles
Legal Matters Dear Domey Letters to Editor Resources Classified Ads Archive About Us