The Lowdown
January 2018 Archive
Subscribe to our RSS Feed

Here's the The Lowdown from DN Journal,
updated daily to fill you in on the latest buzz going around the domain name industry.

The Lowdown is compiled by DN Journal Editor & Publisher Ron Jackson.
NamesCon Global 2018 Day 3 Photos & Highlights from Las Vegas Including Domain Sales Award Winners & Live Auction Results
The 2018 NamesCon Global conference continued Tuesday (January 30) with the 3rd day & night of the 5th annual event at the Tropicana Hotel in Las Vegas. If you missed our coverage of the opening

day Sunday, you can find that here. Day 2 coverage from Monday is here.

Above & below: The busy Tuesday schedule began with an insightful Keynote talk from Verisign Senior Vice President for Global Marketing and Channel Management Scott Schnell. Scott's address, Domain Name Industry Drivers, was a data-rich presentation detailing the latest trends in domain registrations.

Above: Another key industry leader, GoDaddy Aftermarket Vice President & GM Paul Nicks was the next featured speaker in the Keynote Hall. Paul covered Lessons Learned from Operating the Most Valuable Portfolio in the World.

Below: At the same time in the .Asia Space, India's Deepak Daftari (left) from Esiksha.com and Jay Paudyal from DomainKhan.com discussed the Impact of Cultural Diversity on Domaining, including India's role in the domain name industry and IDN's role as a growth driver of Indian Internet.

Above: A major highlight of the morning Tuesday was the Internet Commerce Association's presentation of their 2nd annual Lonnie Borck Memorial Award that went to attorney Kathy Kleiman, a fierce advocate for domain registrant rights from the very beginning of the UDRP process. Kathy continues that advocacy for fairness today. Noted attorney John Berryhill introduced Ms. Kleiman and Lonnie's brother-in-law Jonathan (in this photo with Kathy) came to Las Vegas to present the award that honors the late beloved domain investor.

Below: ICA board members and managers joined Kathy after the award presentation. Left to right are Bob Mountain, Daniel Law, Kathy Kleiman, ICA Executive Director Kamila Sekiewicz, ICA Legal Counsel Zak Muscovitch, Nat Cohen and Jay Chapman.

Above: After Ms. Kleiman was honored, the ICA presented a panel discussion on UDRP Reform and the Worst UDRP Decisions of 2017. The panelists (L to R) were Daniel Law, Nat Cohen, Bob Mountain and Zak Muscovitch.

Below: When the noon hour arrived many attendees headed to the Keynote Hall to see Daliah Saper (Saper Law) who talked about Negotiation Strategies in Business. As a transactional lawyer and litigator, Daliah regularly negotiates on behalf of her clients. However, most business negotiations take place before lawyers are involved. In this seminar Daliah explained how to successfully negotiate your business deals.

Above: Two other sessions were held simultaneously in adjacent meeting rooms. In the one above Margot Bushnaq (Brandbucket), Tony Kim (Hexonet) and Joe Alagna (Afilias) offered an inside look at Domain Search Tools.

Below: Meanwhile, just up the hall, Mano Samy (ENSListing.com) drew a crowd with his presentation on Blockchain Domain Names: Hands On.

Above: On a walk through the Exhibit Hall we found Payoneer Director of Strategic Accounts Brandon Abbey visiting broker George Hong at the Guta.com booth. George, the company founder, recently closed TWO 7-figure sales on the Payoneer escrow platform (unfortunately we can't share the details due to non-disclosure agreements). Left to right are Cindy from Guta, Brandon, George and Tina (Guta).

Below: After the lunch break the Keynote Hall quickly filled up again to see a Crypto Meets Domaining Fireside Chat in which NamesCon Founder Richard Lau (left) interviewed star brokers Jen Sale (Evergreen.com Co-Founder) and Andrew Rosener (MediaOptions.com Founder).

Above: In the final business session of the afternoon a domain broker's panel discussion centered on Mastering Aftermarket Appraisals. It featured (L to R) George Hong (Guta.com), David Clements (Brannans.com), Brian Kleiner (Afternic) and Andrew Rosener (MediaOptions.com).

Below: That set the stage for two special events in the Keynote Hall, the first being the annual Escrow.com Masters of Domains Awards in which the company recognized the world's top brokers in terms of total dollar volume transactions on the Escrow.com platform. Escrow.com General Manager Jackson Elsegood announced the winners, many of whom were in attendance at NamesCon Global 2018.

Above: This year's #1 broker was Raymond Liu of 62.com. Raymond could not be here so last year's winner, George Hong, accepted the award for him from Escrow.com Senior Account Manager Brian Tharp.

Below: For the second year in a row, Andrew Rosener of MediaOptions.com was the #2 broker in the world on the Escrow.com platform.

Above: #3 broker Mohammed Hashim Al-Asadi (CEO of TopNames, Ltd.) was not in attendance but #4 Joe Uddeme (NameExperts.com) was there to pick up his award from Brian Tharp. Ali Zandinejad of Starfire Holdings completed the first five.

Awards also went to #6 Özcan Marcus Kocak (CEO of DotWhat), #7 Jen Sale (Evergreen.com), #8 James Booth (BQDN.com), #9 Nat Cohen (Telepathy Inc) and #10 Ryan McKegney (DomainAgents.com).

Above and Below: The day's grand finale was the NamesCon's Live Domain Auction staged again by NameJet.com and RightOfTheDot.com. It drew a standing room only crowd that watched world champion auctioneer Wayne Wheat call the action. The auction wound up producing over $1.5 million in sales led by Great.com at $900,000. Lucky.com had a bid of over $1 million but did not reach reserve. The next highest sale was PayPerClick.com at $100,000. TheDomains.com has a listing of all of the auction results here.

Above: After dark fell the first big event of the evening was the annual Internet Commerce Association Member's Dinner held in the Crossroads Restaurant in the House of Blues at Mandalay Bay. On hand to welcome over 100 attendees were ICA Legal Counsel Zak Muscovitch and Executive Director Kamila Sekiewicz.

Below: ICA members enjoyed a fabulous dinner spread at their annual event Tuesday night.

Above: Braden Pollock (LegalBrandMarketing.com), a long time ICA supporter, helped drive record ticket sales for the ICA Dinner by merging a dinner he hosted over the past four years at NamesCon with this years ICA event. Kamila had him join her on stage to be recognized.

Below: After the ICA Dinner it was on to the MGM Grand where MMX.co hosted their NamesCon Party open to all conference attendees at the Ling Ling Lounge inside the world famous Hakkasan Night Club.

Above: Toby Hall, CEO of party host Minds + Machines (MMX), is third from the left with three of his guests (L to R): Ron Jackson, Gregg McNair, (Toby) and Howard Neu. Toby and his team made sure everyone had an unforgettable evening at the world class venue.

Below: NamesCon/Cloudfest President Soeren von Varchmin (right) was also on the scene. He visited with MERGE! Conference Co-Founder Ray Neu at the Ling Ling Lounge. Since Soeren's company bought NamesCon from Richard Lau last year we have been impressed by how he has expanded the NamesCon presence around the world while also putting out the welcome mat for leaders from other important domain industry conferences (for example, NamesCon will partner with the NameSummit show in New York City next August to present a Global Pitchfest competition). Soeren has been all about growing the domain business worldwide for everyone and knows the best way to do that is to do it together.

In my final post from Las Vegas I'll have Wednesday's closing day photos and highlights - so keep an eye on this spot for that!
Photos & Highlights from Day 2 of the 2018 NamesCon Global Conference in Las Vegas Monday
The 2018 NamesCon Global conference continued Monday (January 29) with another full day and night of business sessions and social events (including the big Water Night charity fundraiser) at the Tropicana Hotel in Las Vegas. (If you missed our opening

day report covering activities Sunday you will find those photos and highlights here).

Above: Monday got off to a start most people in our business would not expect to see - a real live rock star on stage - not as a musician - but as the keynote speaker at a domain conference! Yet there was Megadeath's Dave Ellefson being interviewed by Andrew Allemann (DomainNameWire.com) in a Fireside Chat format.

Below: It only took a few minutes for the audience to realize that NamesCon had made a great choice in Ellefson (below) whose knowledge of business and domains is right up their with this world renowned expertise in music. The Megadeath bassist and co-founder is also the author of several books, including the autobiography "My Life With Deth" and music business how-to book "Making Music Your Business...A Guide For Young Musicians". He is also the owner of EMP Label Group/Combat Records and coffee company Ellefson Coffee Co. It made for a highly entertaining and informative hour that made a very positive impression on the NamesCon audience.

Above: The Exhibit Hall opened immediately after Ellefson's appearance and the Sedo/InterNetX booth, located right next to the entrance to the Keynote Hall, was a huge hit thanks to Sedo Chief Marketing Officer Christian Voss (above) having a classic DeLorean (of Back to the Future movie fame) brought in to match the company's current promotional theme - Domaining of the Future.

Below: Back in the Keynote Hall a few minutes later Jonathan David Lewis of McKee Wallwork + Co. delivered a talk on Using Survival Psychology to Build a Resilient Brand. After 10 years of proprietary research, Lewis provided a how-to guide for navigating uncertain times by correlating survival psychology with modern business, teaching us how to adapt and embrace change.

Above: At the same time an adjacent meeting room, Michael Gilmour from ParkLogic.com, covered Data Mining for Revenue with Registries and Registrars.

Below: In yet another session at the same hour, just down the hall, an expert panel featuring (left to right) moderator Stu Homan, Sherry Hildebrand (MarkMonitor), Ryan White (Digicert) and Brian Cute (CEO at the Public Interest Registry) covered Domain Security 101.

Above: Back in the Keynote Hall at noon there was a Fireside Chat about DNS, Digital Identity, Blockchain and Smart GeoFences featuring Tim Favia (Donuts) Justin Newton (Netki) and Sean Eilers (GeoNetwork). The three discussed Donuts.ventures investments in DNS innovation, how Netki's Digital ID and Wallet Names make blockchains safe and compliant for a broad range of business and personal use cases, and how GeoNetwork's platform of smart geofences is able to pinpoint any location on Earth, down to a square centimeter.

Below: At the same time on the .GLOBAL Breakout Stage down the hall, the topic was nTLD Case Studies: Rising Above the Noise with Bill Sweetman (standing at left) moderating a panel discussion that featured (seated left to right) Christa Taylor (dotTBA), Jennifer Molina (.luxury), Trevor Bowden (.ECO), Toby Hall (MMX) and and Karn Jajoo (Radix).

Above: The afternoon sessions continued with one featuring Lisa Box from WP Engine in the Keynote Hall delivering a talk titled Ice Cream, Roller Skates, and Gen Z. Today Millennials and Gen Z want their habits to be anticipated, with each experience better than the last, so this session centered on new research from WP Engine & the Center for Generational Kinetics to illustrate how brands need to evolve if they want to survive in today's competitive market.

Below: In an afternoon walk through the Exhibit Hall we saw NameSummit Co-Founders Jason Schaeffer (at far left) and Steven Kaziyev (2nd from right) telling visitors to their booth about the Pitchfest Global Competition they are doing in conjunction with NamesCon for the 2nd annual NameSummit conference coming to New York City August 6-7, 2018.

Above: At mid-afternoon we caught Rightmesh's Chris Jensen (left) and John Lyotier's popular session titled How Do You Move From Domainer to Cryptopunk? There are many parallels between Domaining and the Blockchain and Crypto worlds. Their workshop applied hard-won lessons from the domain industry towards these new opportunities.

Below: Just down the hall other attendees were learning about Navigating the World of geoTLDs from five expert panelists, (left to right) Alfredo Pinochet (LatinTLD), Solomon Amoako (MMX) Dirk Krischenowski (.Berlin), Rick Silver (N49) and Stuart Fuller (CenralNic).

Above and below: In day 2's final business session Monday, Haseeb Rabbani from Blockgeeks drew a large audience in the Keynote Hall to hear his explain What Is Blockchain?

With Monday's business day done NamesCon Global attendees headed out for a mix of casual dining or private company dinners to one of the week's major events - the WaterNight fundraising dinner for the Water School.

Above: At one of the private company functions hosted by Weebly at Craftsteak in the MGM Grand, Uniregistry Founder Frank Schilling popped in to see long time friends including Weebly's Head of Strategic Partner Sales, domain industry veteran Chris Sheridan (at right).

Below: Meanwhile the big WaterNight fundraising dinner was getting underway at the Havana Club in the Tropicana. Even though NamesCon Founder Richard Lau sold NamesCon last year, he was back to oversee the fundraiser for his favorite charity. Richard (at left below) is chatting with Morgan Linton about one of the items in the Silent Auction that was part of the event.

Above: With information about the Water School projected on a screen above the bandstand, musicians and prominent magician Justin Willman entertained attendees. The goal for the evening was $50,000 in donations. In celebration of his sale of NamesCon last year, Richard Lau committed to personally match pledges and donations made at WaterNight. They raised $34,852, which will be doubled to just under $70,000 thanks to Richard. Sponsors have committed another $10,000 so to reach their goal of $100,000 after Richard's match, they hope to raise another $10,148 in donations and pledges. For those at the show, pledge cards will be available at the NamesCon/MMX party at Hakkasan Tuesday night.

As I write this Tuesday, day 3, of NamesCon is still underway (with day 4 still ahead Wednesday). I'll have all of today and tonight's photos and highlights for you in my next post from Las Vegas.
Opening Day Photos & Highlights from the 2018 NamesCon Global Conference in Las Vegas Sunday
The 2018 NamesCon Global conference got underway Sunday (January 28) at the Tropicana Hotel in Las Vegas. The 5th annual event that attracts domain investors, developers and service providers

from around the world kicked off with a full slate of business sessions as well as a busy evening of social events.

Above: NamesCon Global attendees filled a ballroom at the Tropicana Hotel for the official start of the 2018 conference Sunday morning at 11am.

Below: NamesCon President Soeren von Varchmin was on hand to welcome the crowd and he invited a series of special guests to the stage.

Above: Soeren is also the President of World Hosting Days (now known as Cloudfest) who bought the NamesCon conference from Richard Lau and his partners last year. He invited Richard to join him for a champagne toast and to wish him well with the Water Night fundraiser for the Water School that will be held Monday night (an event that Richard returned to oversee). Shortly after this, Richard's NamesCon Co-Founder Jothan Frakes joined them on stage and he was also featured in the day's final business session in his current role as Executive Director of the Domain Name Association (more on that a bit further down).

Below: NamesCon debuted a new feaure for their opening day schedule - Tool Talks - a series of 15-20 minute presentations from various service providers and industry experts that ran continuously from Noon to 5pm. The first one featured the founder of popular registrar Dynadot, Todd Han.

Above: In the next Tool Talk Hexonet's Tony Kim covered the Future of Domain Search - ways registrars can help customers find relevant domain names for their needs.

Below: While the Tool Talks continued other sessions were running in an adjacent ballroom. In this one Alex Melen from SmartSites gave attendees tips on Developing a Domain Name and Selling a Business.

Above: In another special session after the 1pm lunch break Matt Holmes from Handshakin gave the audience advice on how to Use Your Blog to Connect with Industry Influencers.

Below: Next we checked back in at the .GLOBAL stage to see what was happening on the Tool Talks track and caught this presentation on Selling Domains with Confidence Anywhere in the World delivered by Payoneer's Director of Strategic Accounts Brandon Abbey (left) and the company's GM for B2B Services, Scott Reynolds.

Above: We stayed in the same room to catch a talk from Morgan Linton (BoldMetrics.com). Morgan gave his Top 10 Tips for Startups Trying to Raise Their Seed Round.

Below: We then headed across the hall to catch what industry veterans Jonathan Tenebaum (NameJet) and Monte Cahn (RightOfTheDot.com) had to say about Domain Auctions and Brokerage: A Path to Monetizing Your Domains. Jonathan and Monte (at right) will run the big NamesCon live domain auction Tuesday afternoon.

Above: At 3:40pm we returned to the Tool Talks sessions for an announcement from the .CLUB registry in which they unveiled their new Names.Club. Chief Marketing Officer Jeff Sass detailed the program which makes premium domains from multiple new gTLD registries available with no interest, five year financing.

Below: In the final main track session of the day NamesCon Co-Founder Jothan Frakes (who now runs the MERGE! Conference in Florida with Ray Neu) took the stage under a new hat as Executive Director of the Domain Name Association (a role he accepted on an interim basis last fall). Jothan provided details on the benefits of membership and participation in this important industry organization.

Above: With the business day over we made the first of three stops on the evening social schedule - a Happy Hour in the .CLUB suite at the Tropicana that was held to celebrate their launch of Names.Club. Among those on hand were (left to right) Jose Vicente from Spain, Abner Duarte from Boston (originally from Brazil) and Deepak Daftari from India. At the start of the day NamesCon President Soeren von Varchmin called Deepak to the stage to present him with a special Most Voluminous Moustache Award. I think this photo explains why Deepak was recognized :-)

Above: The next stop may have been the most impressive one of the day. I went over to NamesCon's annual Woman in Domaining Dinner at the new Robert Irvine Public House Restaurant at the Tropicana to snap some photos. I was stunned by the record turnout of some 120 of the leading ladies in our industry!

Below: Lisa Box, Vice President Strategic Alliances and Business Development at WP Engine (2nd from left) played a lead role in getting this annual dinner started and it his grown by leaps and bounds every year since.

Above: The Woman in Domaining Dinner grew so large this year it overtook two of the biggest sections of the Robert Irvine Public House Restaurant.

Below: This table was graced by (clockwise from left to right) KW Boswell, Kathy Nielsen, Judith McGarry, Kina Merdinian, Barbara Neu and Diana Jackson.

Above: Immediately after the Woman in Domaining Dinner all attendees got back together for NamesCom's big Opening Night Reception at the Tropicana.

Below: While a jazz trio filled the air with music guests were able to spend the next four hours networking with fellow domain and Internet enthusiasts from around the world.

Above: Another scene from the NamesCon Global Opening Night Reception that was sponsored by the .GLOBAL Registry.

Below: .GLOBAL CEO Rolf Larsen and VP Jeanette Soderlund Sause welcomed guests to the opening night party and also handed out prizes in random drawings.

After: As you would expect from a conference called NamesCon Global, guests came from all over the world including a large contingent from India. While originally from India, DNProperty.com's Suresh Raghavan, at far left, has actually lived in the U.S. (Detroit) for the past 20 years, so he didn't have to travel quite as far as his compatriots.

Below: Of course, there was no shortage of U.S. natives at the reception either. Left to right below are Barbara Neu and Diana Jackson (both from Florida) and Tessa Seelos Holcomb (BrandIT.com) from California.

Above: As I noted in a post in our Lowdown section a few days ago, good people are the big attraction for me at NamesCon. One of the old friends I enjoyed catching up with at the opening night reception was Philadelphia based attorney/domain investor/developer John Deneen (left).

As I write this Monday's business day 2 is still underway with a full evening still ahead. I'll have all of the Monday highlights for your in my next post from Las Vegas.
NamesCon Global 2018 Begins Today in Las Vegas But Early Birds From Around the World Settled in Saturday
NamesCon Global kicks off its 5th annual run today (Sunday, January 28, 2018) at the Tropicana Hotel in Las Vegas. The 5th annual event that draws domain investors, developers and service providers from around the world officially opens at

11am (local time) but the networking was already in full swing Saturday with early birds arriving throughout the day.

Above: NamesCon attendees come from dozens of countries around the globe. Among the first early birds to arrive Saturday where Dhananjeyan Thangavelu (left) from Guam and Aishwin Vikhona from India.

Below: Even though the show doesn't start until today NamesCon thoughtfully opened a badge pickup booth Saturday so early birds could get their credentials and programs well before the bulk of the crowd (and longer lines) would appear Sunday morning. At left is Abner Duarte (a native of Brazil who now lives in Boston) and at far right GoDaddy's Aftermarket GM & VP, Paul Nicks.

Above: Trellian/Above.com Executive VP Nancy Bianchi checking in Saturday.

Below: When guests arrived they were asked how long they have been coming to NamesCon. Those who have been making the annual pilgrimage to Las Vegas since the show started in 2014 were given this special lapel pin commemorating their 5 Years at NamesCon.

Above: The Saturday night view of the Tropicana Hotel in Las Vegas where NamesCon Global 2018 will run today through Wednesday (January 31).

Below: A walkway across Tropicana Boulevard connects the Tropicana Hotel to the MGM Grand (New York New York is at the left). One of NamesCon's biggest social events will be held Tuesday night in the Ling Ling Lounge at the MGM's world famous Hakkasan night club.

Above: After a Saturday night dinner with friends at the MGM, heading back across the walkway to the Tropicana's upper level entrance. If you have been in our business for a long time and see a name on a sign odds are the first thing you think of is "I wonder if they have their name in .com"!? I checked and Rich Little does (nice website too). Maybe that is a sign that I've been doing this too long but I still can't help myself. :-)

Below: So the stage is set and a little later this morning (2pm for our friends in the Eastern time zone) NamesCon Global 2018 will officially be underway. I'll have daily show photos and highlights for you in the column as the week unfolds. Being back among domain friends from all corners of the globe reminds me yet again how fortunate we all are to be in a business where work is so much .fun!
The Best Thing About Our Business Is the People - Braden Pollock Named Big Brother of the Year in Los Angeles
When I head out to Las Vegas this weekend for the NamesCon conference that starts Sunday, I will be going to see more than just domain industry colleagues (though that is certainly reason enough to go to the big show). I also go (and keep going) to these events to see some great people. Braden Pollock of LegalBrandMarketing (who was profiled in a November 2011 DNJournal Cover Story) is certainly one of the best of them.

Shortly after NamesCon, on February 7, 2018, Braden will be honored as the Big Brother of the Year in Los Angeles! That is truly a great thing. The only thing I can think of is greater is that not one person

Big Brother Braden Pollock and Daniel

in this business who knows Braden will be surprised to hear this - that is the kind of person he is and has always been. But enough about Braden - what about that handsome young man in the photo above? OK, they're both handsome - but I mean the one on the right - Daniel!

Braden told us, "I have been a "Big Brother" to Daniel for the past 9 years. I have tried to be a mentor to him, and show him that with hard work, a positive attitude, and motivation, he can achieve whatever goals he sets for himself. When I met him, he was going through a harder time than some people go through in their whole lives. You would never know from the smile on his face that he was once homeless, scared, and lost."

"Throughout my relationship with Daniel, he has learned to overcome the challenges he experienced in his life and is now doing great in college - straight A's in his senior year! He told me that he wants to study business so he can be his own boss one day, just like me. It really humbles me to know that he's always watching me and I know that I owe it to him be the best example possible. My life has been so enhanced because of my time with Daniel...he truly has become part of my family!

What Braden would like to see now is more kids getting the kind of helping hand Big Brothers & Big Sisters are so deservedly famous for. He noted "You can help support this amazing organization that has been changing lives in Los Angeles for the past 102 years! Join Lisa and Daniel and I at the February 7 dinner by clicking this link to buy a ticket or to donate: www.jbbbsla.org/bigevent. Anything helps!
MERGE! Show Announces New Venue and Dates for Their 2018 Conference in Orlando
2018 is shaping up as a great conference year - one that will kick off in Las Vegas Sunday (January 27) when the 5th annual NamesCon conference gets underway. Over the past few months I have been filling you in on the details of other major 2018 shows as information has come in to us. I just learned today that the MERGE! conference, that debuted last October will be returning to Orlando, Florida for their second annual event - but it will move to a new venue and new dates. The show that combines multiple fields of interest, including domains, cryptocurrency, blockchain and hosting, will move up a month to September 15-18, 2018 and it will move to the beautiful Hilton Lake Buena Vista Hotel, adjacent to Disney Springs, putting attendees within walking distance of all of great restaurants, shopping and attractions there.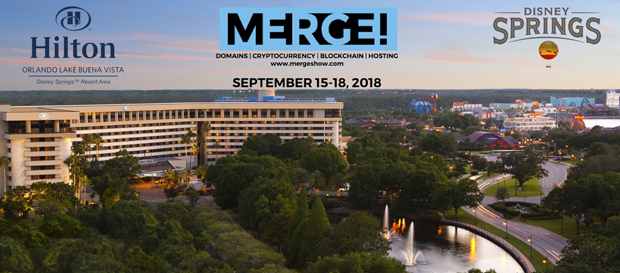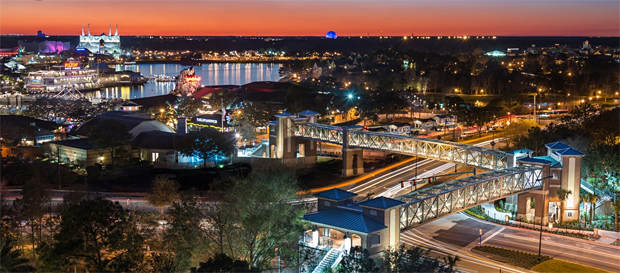 Above: A view of the walkway from the MERGE! show venue -
the Hilton Lake Buena Vista in Orlando - over to Disney Springs.
Below: An evening view of the Hilton Lake Buena Vista pool area.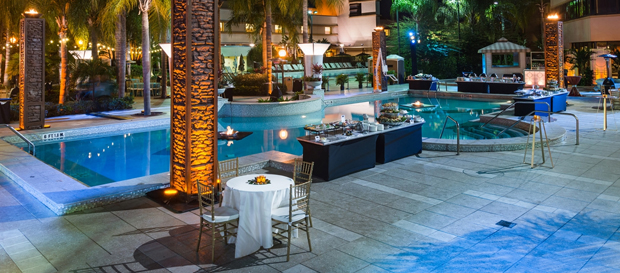 Above: The spacious halls at the Hilton Lake Buena Vista
will provide a great space for networking.
Below: A view inside the MERGE! conference hall
where attendees will gather in September 2018.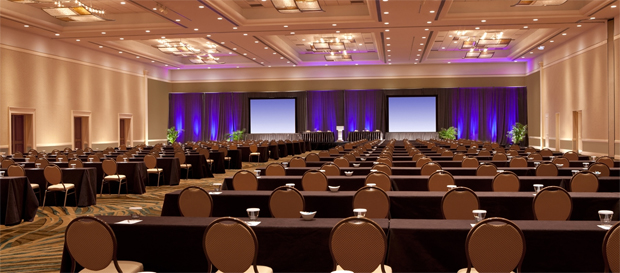 MERGE! was co-founded and conceived by Ray Neu and Jothan Frakes. Ray (who was one of the 24 expert panelists in our just published 2018 State of the Industry Cover Story) has 15 years of conference experience in the domain investment, startup, crowd sourcing, security, and technology innovation realms. Jothan (who was profiled in a July 2014 DNJournal Cover Story), brings a special flair for connecting ideas and people – evidenced by past successes in co-founding NamesCon, DomainFest and three other networking / opportunity conferences in the digital space over the past 25 years.
$199 early bird tickets for the 2018 event are already on sale. It's not to early to go ahead and book your hotel room either. MERGE! has secured a $149 a night rate - an excellent value for a hotel of this caliber in the center of the world famous Disney/Lake Buena Vista vacation paradise.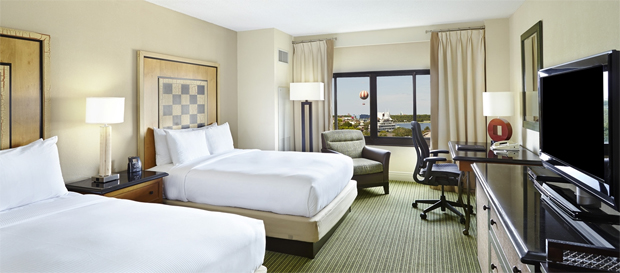 This could be your room at the Hilton Lake Buena Vista Hotel for MERGE! 2018
We will have more details on MERGE! and 2018's other major conferences as they develop in the weeks and months ahead.
Big New gTLD Sales Spark Debate But Do They Change the Big Picture? - What Sattler Says
Yesterday's news about the record $500,000 sale of a new gTLD domain (Home.loans) has sparked a lot of renewed conversation about the merits (or lack thereof) of new extensions. The conversation will likely go up a few more decibels when our next weekly domain sales report comes out tonight with news of a second big 6-figure new gTLD that will join Home.loans on the chart.

As I noted in yesterday's post about the Home.loans sale, no one sale - or even cluster of sales - is going to settle the matter of when or if an active, broad-based aftermarket for new gTLDs will develop. While we all wait to see what happens, there will be ups and downs with both good and bad news taking turns in

the spotlight along the way. In the interim, if you have an interest in new gTLDs, I think it is best to stay abreast of all of the news and opinions put forth by credible sources - then go with your gut and do what you think is best, whether that be investing in or developing new gTLDs or ignoring them in favor of traditional favorites - .com, of course, being chief among those.

You will find several interesting opinions, pro and con, on new gTLDs (among many other topics) in our 14th annual State of the Industry Cover Story that was just released this morning. The piece features 24 leaders from all corners of the domain industry, making it by far the biggest State of the Industry piece we have ever published.

Earlier this month another article you should read on this topic was published at CircleID.com. The piece, titled New TLD Launch: Lessons Learned, came from a very reputable source, Tobias Sattler, the Chief Information Officer at United-Domains AG (part of corporate giant United Internet, the parent of companies like Sedo, InterNetX and 1&1). It was originally published in German last fall but was just translated to English this month.

The names of the section headings in Sattler's piece will give you a good idea of the ground he covered in researching these early stages of new gTLD development: Far Too Much New GTLDs at Once, High Complexity on the Introduction of New gTLDs, Technical and Operational Challenges Due to Non-Scalability, Marketing and Awareness – the Assumptions Were Wrong, Unpleasant Pitfalls and Future Prospects.

Cumulatively, those headings might lead you to believe that Sattler is anti-new gTLD but that

Tobias Sattler
Chief Information Officer
United-Domains AG

is not the case at all. He details where the program went off the rails but also what it can do to get back on track. In his closing comments Sattler wrote, "Despite all the difficulties surrounding the launches of the new top-level domains, they will find their way into everyday life and expand step by step. Even .com took some time to skyrocket. However, the consolidation of the domain market will continue and some top-level domains may disappear again."

Sattler added, "Nevertheless, it looks like there will be more new TLDs from 2020 onwards. However, this time around, it will most likely be mainly trademark owners who will apply for their ending. However that may be, it is important to continue to work on the success of the new extensions, true to the motto "Keep it simple, stupid" (KISS), all parties should not lose sight of the big picture."

Whether you agree with Sattler's findings or not, this is the kind of clear-eyed commentary you need to consider when considering your own path forward - rather than basing it on a big sale or two or, on the flipside, mis-steps that may be damaging but not necessarily fatal as new gTLDs continue on toward whatever their ultimate destiny may be.
Donuts Announces Biggest New gTLD Domain Sale Reported to Date - Home.loans at $500,000
Donuts, the world's largest operator of new gTLD domain registries with over 200 extensions in their portfolio, announced today that they have concluded a $500,000 cash sale of Home.loans - the

highest figure ever reported for a new gTLD domain. Donuts credited Senior Domain Consultant Jebidiah Burnett for closing the record sale.

The Donuts announcement said, "Home.loans was acquired by "Home.Loans LLC founder and chief executive officer Blake Janover, a serial entrepreneur, digital media visionary and capital markets innovator. Janover is launching the home.loans website; its primary focus is to be

the Internet's most complete, well organized, and responsive source for "all things home loans."

Janover said, ""Home.loans is the ideal organic search term and digital media asset for this business. The website URL is the brand, which will help us drive awareness rapidly and cost-effectively. It creates an absolutely clear vision for the entirety of the site - we won't be selling credit cards or car loans." Janover already operates a portfolio of websites that includes: Multifamily.Loans, HUD.Loans, and CommercialRealEstate.Loans. He noted, "the objectives of these businesses are to simplify and streamline complicated loan products, and provide access to more sources of more competitively-priced capital for consumers, multifamily investors and developers."

Home.loans buyer Blake Janover

Matt Overman, Senior Vice President of Sales at Donuts, said "We're excited to be affiliated with yet another innovative business that's leveraging the power of a Donuts premium name. Blake is an amazing entrepreneur with an outstanding track record launching new businesses. He purchased the best possible name for his new venture. We look forward to supporting the rapid growth and success of home.loans in its marketplace."

The Donuts announcement was welcome news for new gTLD fans who haven't had a lot to cheer about recently, however it was also immediately questioned by a number skeptics in blog posts and commentary. Followers of the U.S. political scene are well aware of the massive chasm that has developed between Democrats and Republicans and, ever since new gTLDs were introduced, we have had a similar divide in this industry with .com-only stalwarts on one side and new gTLD adherents on the other. Today's news won't change that but over time the market, as it always does, will make the winners and losers clear. In the meantime, it will continue to be up to every investor and developer to carefully weigh the pros and cons of the options and decide for themselves what they believe and what path they want to take going forward.
We Have Free Tickets to NamesCon for Five People Who've Never Been to the Big Show in Las Vegas
The free tickets offered in this article have all been distributed now and the giveaway is over. Congratulations to the five winners!

The 5th annual NamesCon conference gets underway a week from Sunday (January 28, 2018) at the Tropicana Hotel in Las Vegas. The show attracts industry veterans from around the world but organizers of the event also go out of their way to welcome newcomers - knowing their energy and fresh ideas are critical to continued growth and innovation in this business. Toward that end NamesCon has given us five free tickets to the upcoming show (currently priced at $799 each) with the provision that they can go only to people who have never been to NamesCon before.

The tickets cover show admission only - winners will have to take care of their own transportation and lodging needs. NamesCon left it up

to us to decide how to hand them out. I wanted to keep it simple and also reward regular readers (who will be the ones most likely to see this offer before all of the tickets are claimed). The method I settled on will also give me a chance to show you the kind of daily show coverage we post from NamesCon in this column every year (the kind we will be providing again during its 2018 run from January 28-31.

Here is how it will work. I am going to give you a link to our closing day coverage of the 2017 edition of NamesCon last January. After you click the link, scroll through the photos and highlights from that day until you reach the final photo on the page. Read the text above the photo and that will give you the name of the person in the photo who is having their head shaved to raise money for the Water School (nearly $90,000 was raised that night)! Then just send that person's name and your name to me via email to Editor at DNJournal.com. The senders of the first five emails I receive with the correct name will get the tickets.

A scene from the 2017 NamesCon conference in Las Vegas last January.

Again, remember you will only be able to use this ticket if this would be your first NamesCon and show organizers will verify that is the case when I send them the list of winners. As soon as I have the first five in I will add a message to the beginning of this post (in bold red) to let you know all of the tickets have been claimed. If anyone does not redeem their free ticket or NamesCon determines it is not their first show, I will go down the line of emails received and offer the ticket to the next person in line).

So here we go - this is the link that will take you to the page where you will find the name you need to know: http://www.dnjournal.com/archive/lowdown/2017/dailyposts/20170127.htm - Good luck and I hope to see you at NamesCon!
Finland - A New Frontier for Global Domain Investors?
I've always been a fan of country code domains (ccTLDs). I wound up in this business only because I was reading a computer magazine one day in 2002 that had an ad placed by Neustar announcing that America's .US country code domain was being opened to all U.S. citizens for the first time (originally it was reserved for government agencies, schools, etc). In doing further research on that development I stumbled upon the domain business at large and the rest, as they say is history.

I soon learned that in many countries the local ccTLD was just as popular (if not more so) than the globally dominant .com extension with Germany's .de and Great Britain's .co.uk among the most prominent examples. However, it doesn't stop

Global flags image from Bigstock

there as every nation on earth has their own unique country code domain and an aftermarket has developed for many of them - especially among citizens and those doing business within a specific country.

Still, investing in ccTLDS can be a tricky business because most countries have Nexus rules that limit ownership of their domains to that nation's citizens and businesses. That, of course, limits overall sales and aftermarket interest in those TLDs. While I try to keep up with developments on the ccTLD front that could affect the value of the various extensions,

Finland flag image from Bigstock

I have to admit that I wasn't aware that a little over a year ago Finland's .fi domain administrator - FICORA - had removed their Nexus restrictions and opened that extension to anyone, anywhere on earth. That has created increased interest in .fi, especially since less than 450,000 domains were taken with the old rules in place, leaving a lot of desirable words and terms there for the taking. After the rules change in late 2016 FICORA reported the number of .fi domains registered in the first half of 2017 was 34% higher than the number claimed in the same period a year earlier.

I got a first hand report on what is happening on the ground in Finland from domain industry veteran Esa-Pekka Pälvimäki, who is a co-founder of Intelium.com and Estibot.com.

Esa said, "

Previously, there was no aftermarket, as registering domains for resale purposes was prohibited by law, and domain registration was restricted to Finnish citizens and corporations. As of September 2016, these restrictions no longer apply. Aftermarket sales have started building up, and a new domain marketplace has recently been established at DomainKauppa.fi."

Esa is not involved in the new marketplace but he did put me in touch with the owners and we expect to be able to start reporting verified sales on their platform in the near future. Esa noted, "The .fi ccTLD is the default TLD for Finnish businesses and consumers, and aftermarket prices are starting to reflect that. I expect the value will rise significantly once the mainstream catches on to what's happening," He added, "There is no comprehensive database of .fi aftermarket sales, but to my knowledge, recent sales of Moi.fi (translating to "Hello") at €15,000, Kasinot.fi ("Casinos") at €11,500 and Etu.fi ("advantage") at €5,000 have recently occurred, indicating a substantial potential for this aftermarket."

Esa acknowledged, "It's a small but interesting aftermarket, as it is a new one, and Finnish consumers always default to the .fi ccTLD for type-in traffic. For companies hoping to do business in Finland, a .fi domain name is essential. It also demonstrates how important ccTLD domains are locally in many countries outside the U.S."

Since individual registrars set their own prices for new .fi registrations they can vary wildly in cost. After checking just a handful of registrars I saw prices ranging from under $20 (at Gandi.net) to well over $60 at others, so it definitely pays to shop around.
Radix Registry Names New CEO: Sandeep Ramchandani Takes Over After 15-Year Rise Through the Ranks
Radix, the domain registry founded by serial entrepreneurs Bhavin Turakhia and Divyank Turakhia, has appointed Sandeep Ramchandani as its new global CEO. Launched in 2012, Radix owns and operates 10 Top Level Domains including nine new TLDs (.ONLINE, .STORE, .TECH, .WEBSITE, .SPACE, .PRESS, .SITE, .HOST and .FUN) and one re-purposed ccTLD in .PW. Radix currently has over 3 million domains under its management.

Commenting on the appointment of Mr. Ramchandani as CEO, Bhavin Turakhia, who has been serving in that role and will continue as Radix's Executive Chairman, said, "Sandeep, with close to 15 years of experience, and having played key roles across our registrar, service provider and registry businesses, has consistently built talented teams, delivered results and demonstrated exceptional leadership. Despite intense competition among new TLDs, he has evolved Radix into a profitable and fast growing business, with over $12 million in top-line revenue. We remain extremely bullish about the registry space and are looking for avenues to re-invest our profits."

Elaborating on his immediate plans as the

Sandeep Ramchandani
Radix CEO

new CEO, Sandeep Ramchandani said, "Just as the first few years of Radix were about demonstrating proof of concept, the next few will be about growing awareness and delivering accelerated growth. We are also actively looking to acquire more TLD assets to reach newer segments of the market while leveraging economies of scale. My mandate is to grow Radix into one of the largest global players, and given the team and resources at my disposal, I feel confident of being able to achieve that goal."

The 35-year-old Ramchandani has been with Radix since its inception as the VP and Business Head. Prior to Radix, he was with LogicBoxes, an enterprise consulting business, which was one of the businesses acquired along with Radix parent Directi by Endurance International Group in 2014.
NameSummit Announces Dates, New Location & Pitchfest for 2018 Show in New York City
The 2nd annual edition of New York's NameSummit conference will be held in a new location next summer. The big event that debuted last August at the Hilton Midtown Manhattan Hotel will move a few blocks south to the Westin Times Square for the 2018 show that will be staged August 6th & 7th.

Jason Schaeffer, who co-founded the conference with Steven Kaziyev, gave me the Lowdown on the 2018 event this afternoon. Schaeffer said, "Our first event provided unsurpassed networking opportunities for the lucky attendees and a positive showcase for domains and new TLDs. I'm happy to say that we are back to help anyone in the digital

branding space, and remain committed to a providing a platform to showcase domain names as an integral part for a branding initiatives."

NameSummit Co-Founders Steven Kaziyev (left) and Jason Schaeffer
at their debut event in New York City in August 2017.

Schaeffer added, "Thrilled by the feedback and overall success of the inaugural NameSummit, Steve and I turned our attention to find a way to add more value for attendees, speakers and sponsors. Building on the startup and coaching component of the conference was important, so we have created Pitchfest Global for 2018."

"Among other things, Pitchfest Global is a contest where the finalists will be able showcase their innovative ideas to an expert panel of influencers, business leaders, and a live audience. Additionally, the NameSummit and NamesCon teams are working together on Pitchfest to support digital entrepreneurship and innovation, and give Pitchfest a truly "global" reach. If you have a new business idea or marketing concept to propel your business to new heights then Pitchfest Global is for you!"

Schaeffer also noted, "The prizes and promotional opportunities for Pitchfest Global will be announced at NamesCon in January (NamesCon runs January 28-31, 2018 in Las Vegas).

However, we can already say that the winner of Pitchfest Global may reap the greatest reward of this collaboration by receiving assistance to position their new concept and reach 100s of thousands of people, if not more."

"Jodi Chamberlain is returning with us to make sure the event is a success," Schaeffer added. "Be sure to join us at NamesCon where the NameSummit team will be at Booth 1 to share more information about Pitchfest Global and accept applications to become a Pitchfest Global participant."

Schaeffer closed with this - "Whether you have one follower or 1 million, whether you are the brand, work for one, or are one in the making, NameSummit's experts will show you how to build your brand and connect with your audience. You can register for NameSummit 2018 to be a part of Pitchfest Global at The Westin Times Square with a special NamesCon discount for $199, limited to the first 50 registrants, or use the CODE: NamesCon."
Radix Rings Up $1.38 Million in Premium Domain Sales Revenue Over Past 6 Months
New gTLD registry operator Radix issued a report (.pdf file) on their premium domain sales over the last two quarters of 2017 today. The data, presented in infographic style, showed Radix banking just over $1.38 million in premium sales in the second half of the year. Over $614,000 came from new premium domain sales with the rest generated by premium renewals. The company said 64% of premium names that had been sold through the registrar channel and were up for renewal for the first time were renewed.

Radix's most popular premium extensions, both in terms of the number sold and the dollar amount generated, were .online and .tech. .Online generated $157,000 of the new revenue in 2H-2017 with .tech close to the same amount at $153,000. One other Radix TLD, .fun, generated six figures with $127,000 in premium sales.

The report also listed the company's top individual premium domain sales for 2H-2017. A trio of sales made through GoDaddy topped the list with Mint.tech, Wit.tech and Mirror.fun selling for $12,999 apiece. One other domain reached five figures - Track.tech - at $10,320. Those are just a few highlights from the full report that you can download here (.pdf format).
Neustar Moves Nicolai Bezsonoff Into New Position as VP & General Manager of Registry Solutions
Nicolai Bezsonoff is taking on a new role with industry giant Neustar, Inc. The company announced today that Bezsonoff will now lead the Registry Solutions business as VP and General Manager, transitioning from his current role of VP and GM of Security Solutions. Neustar said that will put Bezsonoff in charge of supporting the world's largest core registry and digital naming service.

Bezsonoff is well-known in the domain world, having previously co-founded and served as Chief Operating Officer of the .CO domain administrator, which was acquired by Neustar in 2014. The press release Neustar issued today noted, "Under Nicolai's tenure .CO had incredible growth and became one of the most successful domain extensions in history, with more than 2.2 million domain names registered by people in 200 countries. He has more than 20 years of experience running businesses and consulting on functions ranging from strategy, finance, product, technology and sales."

Nicolai Bezsonoff
VP & General Manager,
Registry Solutions
Neustar

Venkat Achanta, Neustar Chief Data Officer and SVP, Internet Addressing Solutions, added, "Nicolai has shown incredible leadership and insight shaping our growing cybersecurity business to meet the needs of our customers. Combining his expertise of the business, and

knowledge from his previous role at .CO, is a natural fit to broadening our capabilities and shows our dedication to innovation and strengthening the evolution of the domain name space."

Bezsonoff said, "I'm excited to continue this journey with Neustar and take on a more active role leading passionate teams dedicated to delivering digital naming services that are second to none. Working for an industry pioneer that continues to be at the forefront of the domain name industry provides an undeniable platform to raise the bar even higher on creativity, increased engagement and deeper insight for innovative brands."
This Is a Special New Year's Day for DNJournal.com - The Publication Launched 15 Years Ago Today!
As an eternal optimist I have always loved New Year's Day. The start of a new year symbolizes a fresh start and an opportunity to have not only a better year than the one before (no matter how great - or not so great - it may have been) but possibly one's best year ever. It is a blank canvas ready to be filled in with whatever you want to make of it. That is enough to give the day special meaning for anyone but for me it has significance even beyond that.

Image from Bigstock

In addition to a fresh start it marks the start for DNJournal.com. On New Year's Day 2003 - 15 years ago today - I launched this online publication with no great expectations. It was not something I planned to do when I discovered and got involved in the domain investing business in the spring of 2002, even though I had spent most of my previous professional life as a journalist (most of that time as a TV reporter).

As a newcomer to this field I was hungry for information about the industry. In my previous career that kind of information usually came from trade magazines. To my chagrin I could find none about the domain industry nor little information of any kind on the ins and outs of buying, selling and monetizing domains. So, the only solution I could see was starting a trade magazine myself. It turned out that many others were looking for the same kind of information I was and the publication - never meant to be my primary business - essentially took on a life of its own and swept me along

for the ride (for a more detailed description of my start in this business check out these two autobiographical Cover Stories: My First Year in the Domain Business: A Rookie's Diary from 2003 and Filling Niches: The Alternate Road to Riches: My Sophomore Year in the Domain Business from 2004).

It has been an extraordinarily rewarding journey that has taken my wife Diana and I around the world and allowed us to make hundreds of fascinating, creative new friends across the globe - people who continue to inspire me and our readers on a daily basis. Had they not been willing to share their stories and expertise there would have been no DNJournal. We could not be more thankful for them and for the dozens of sponsors who have supported us over the years including several who have been with us continuously for over a decade. In fact our very first advertiser, Sedo, is still with us 15 years later! Having worked in media throughout my life I know how rare the kind of steadfast support we have gotten from this industry has been. Again, I also know that we would not be here now without it.

On that New Year's Day back in 2003, when DNJournal.com first went live, I had no idea how much it would change my life for the better. On this New Year's

Ron Jackson
DNJournal.com

Day, the same possibility exists for each and every one of you. You have a blank canvas in front of you - so start painting! I wish you all the best in whatever you choose to do and hope 2018 will indeed be your best year ever!

(Posted January 1, 2018) To refer others to the post above only (and not the full Lowdown column) you can use this URL:
http://www.dnjournal.com/archive/lowdown/2018/dailyposts/20180101.htm
---
If you've been out of the loop lately, catch up in the Lowdown Archive!
---
We need your help to keep giving domainers The Lowdown, so please email

[email protected]

with any interesting information you might have. If possible, include the source of your information so we can check it out (for example a URL if you read it in a forum or on a site elsewhere).
---
Home Domain Sales YTD Sales Charts The Lowdown News Headlines
Articles Resources Classified Ads Archive About Us