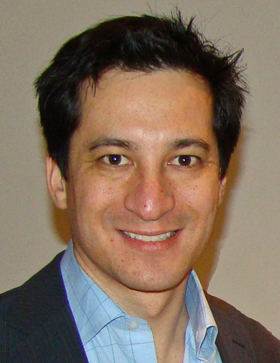 NamesCon Founder Richard Lau
NamesCon Founder Richard Lau will again host the 2015 show. The domain industry veteran, aided mightily by Jodi Chamberlain and Jothan Frakes, managed to pull factions from every corner of the industry together for the crowd pleasing multi-track inaugural event that ran January 13-15, 2014. The organizers were able to land six keynote speakers and produce 30 business sessions (featuring 100 speakers) in their first trip around the track. The show also featured a variety of social and networking events that drew very favorable reviews.
NamesCon was also able to secure an astonishing $79 a night room rate at the Tropicana Hotel. 2015 room rates are not yet available on the NamesCon site and I will be surprised if they are that low again. Prior to the 2014 show, the Tropicana had just finished a major remodeling and were cutting some great deals to get people to sample the impressively revamped facility. Even so, I would bet
NamesCon still manages to lock in a below market rate for 2015. They have already shown the Tropicana they are capable of bringing hundreds of people from all over the world to the property at the south end of the Las Vegas Strip. While NamesCon had over 500 people for their debut show, they are expecting over 800 in 2015.