A week from today we will be boarding a plane for Las Vegas so we can get settled in for the 2016 NamesCon conference that will run January 10-13 at the Tropicana Hotel. In a series of posts this week I've been touching on some the daily highlights in store for attendees (if you missed those you can catch up through these links: Day 1, Day 2 and Day 3). Today we'll take a peak at a few of the sessions scheduled for the 4th and final day of this 3rd annual event that is expected to draw more than 1,000 attendees from around the world.
The NamesCon stage will be graced by leading experts from every corner of the domain industry in a series of 11 keynote talks and dozens of presentations, panel discussions and workshops. You'll also be able to meet face to face with representatives from most of the industry's top service providers in NamesCon's centrally located Exhibit Hall (as well as at the special Network Lane event on opening day).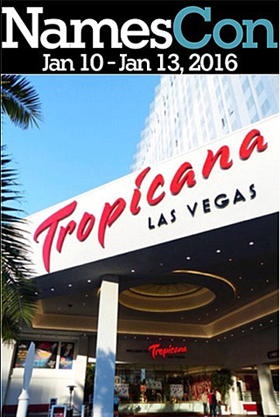 The show's final three keynotes will be among the closing day highlights Wednesday (January 13). The first of those at 10am will feature Go Daddy's Senior VP of Domains, Mike McLaughlin, who returns after making a very favorable impression when he spoke at the 2015 edition of NamesCon.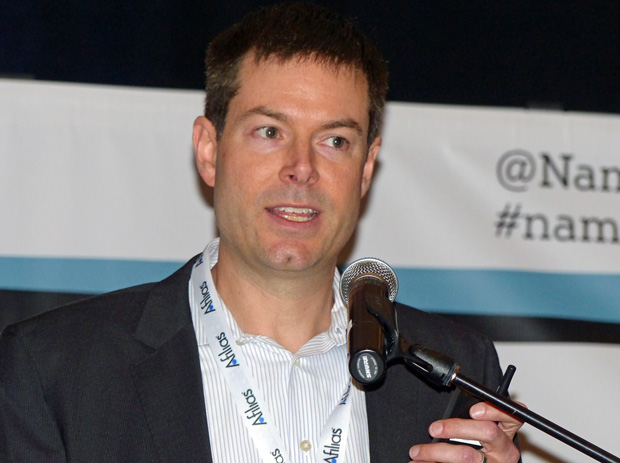 Mike McLaughlin (Go Daddy Sr. VP of Domains) speaking at NamesCon 2015 last January.
Two more keynotes will follow Wednesday afternoon, one at 1:45pm expected to feature Pat Kane (Verisign's Senior Vice President, Naming and Directory Services) and the other - the final keynote of the conference - at 4:25pm featuring Matt Barrie, who is the CEO at Freelancer.com and the President at Escrow.com (who was acquired by Freelancer in 2015).
Wednesday's many business sessions will include two more China Boot Camp Masterclasses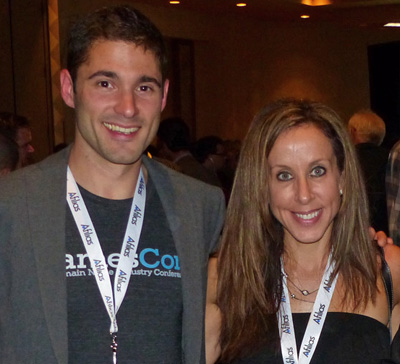 NamesCon Producer James Morfopoulos with Igloo.com Co-Founder & CEO Tessa Holcomb at NamesCon 2015's opening night party last January. Tessa will help close the 2016 show as one of five industry experts who who will be
on stage for an Executive Roundtable Wednesday,
January 13.
James, fellow Producer Terri Potratz and NamesCon Co-Founders Richard Lau and Jothan Frakes will oversee
this year's big event in Las Vegas with over 1,000
attendees expected to be on hand.
conducted by Allegravita's Simon Cousins (one at 11:45am and another at 2:15pm). A third Masterclass on a different topic - Domain Traffic Monetization: Trends and Future Predictions - will be presented by Trellian/Above.com President David Warmuz and ParkLogic.com Founder Mike Gilmour at 3:20pm Wednesday.
The show's final session at 4:50pm Wednesday (January 13) also looks like it will be one of the conference's best. An Executive Roundtable will bring to the stage Christian Dawson (Executive Director, i2 Coalition), Tessa Holcomb (Co-Founder & CEO at Igloo.com who was profiled in our June 2015 Cover Story), Rolf Larsen (CEO at DotGLOBAL), Jason Miner (General Manager, Domains, at Endurance International Group) and Cybele Negris (CEO at WebNames.ca).
The various sessions we have touched on are just the tip of the iceberg at NamesCon 2016. You can check out the full schedule here. We will be covering the conference wire to wire and will, of course, have daily photos and highlights for you in this column.