Editor's Note: On March 11, 2017 DomainX Founder Manmeet Pal Singh informed us the event previewed in the post below (on February 1, 2017) had been cancelled due to an unexpected illness. If it is rescheduled at a later date we will let you know.
After staging three successful annual domain conferences in India DomainX Events has decided to make their next step an international one. Plans are underway for a one-day London edition of DomainX to be held Sunday, April 9, 2017 in the UK capital. The conference venue has not yet been announced but the show website already shows an initial list of speakers and a preliminary event schedule. The roster of speakers currently listed includes Jon Yau (StockPhoto.com), Tommy Butler (Glasow.com), Zak Muscovitch (DNAttorney.com) and DomainX Founder Manmeet Pal Singh, as well as several other well-known industry figures.
Singh launched DomainX with a 2014 conference in Hyderabad, followed it in 2015 with an event in Bangalore, then went to New Delhi for the 2016 show last August.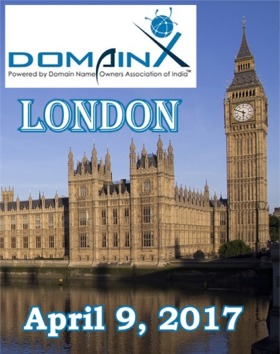 Singh told us, "We are hoping to bring together over 100 professionals to exclusively meet and greet each other while networking with some of the best in the Domain Name business in Great Britain." Tickets are priced in three categories - Regular Conference Ticket (£99), 2 Regular Conference Tickets (£149) and VIP Conference Ticket (£199). As more details are finalized you will find updates on the DomainX London website here: http://www.domainxevents.com/london/.