has yet to announce their plans for 2014. That left a void the domain industry veteran Richard Lau decided to fill with a new conference called NamesCon that will run at the Tropicana Hotel in Las Vegas January 13-15, 2014.
NamesCon is not just a new domain show though - it is an attempt to expand the business by bringing people from other corners of the Internet and business worlds together under one roof and to do so at an astonishingly low price. From now through November 30 the NamesCon registration rate for early birds has been slashed from the $749 price at the gate to just $199. Room at the Tropicana are going for a song too - just $79 a night (plus tax and a $9.99 resort fee that NamesCon negotiated down from the usual $19.99).
Of course, no price, including a low one, is meaningful unless you are getting something of value for your money. NamesCon will trim a lot of expenses by not having food service and some other amenities, but they will have what nearly all show goers say is most important to them - high value networking opportunities.
The show will not be scrimping on programming either - in fact it has so many sessions planned the conference will employ a multi-track format with multiple sessions often going on at the same time. This is designed to meet the needs and interests of different groups including domain registrants, registrars and registry operators.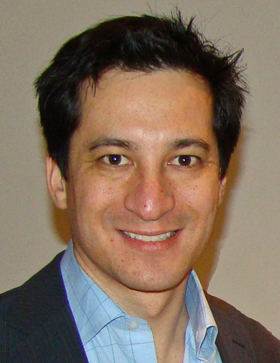 Richard Lau
NamesCon Founder
More importantly, those sessions will be helmed by some of the best known names in the industry and the keynote speakers, legendary domainer Frank Schilling and master blogger Jeremy Schoemaker of ShoeMoney.com, are the crème de la crème.
Bringing in that kind of talent on a shoestring budget is no easy task, but NamesCon is being aided by an influx of speakers and sponsors who think the low entry price will assure a big crowd and sizeable pool of potential new clients for their products and services. With affordability as his linchpin, Lau believes he will have a winning combination in Las Vegas.
"The idea of having a low-cost registration fee has been in my mind for a while," Lau told us. "Industry long timers have almost always paid high registration fees. We are used to it. We see the value in it. However I want to make NamesCon as open and inclusive as possible. Removing any obstacles or objections for reasons not to attend will make NamesCon the most widely attended Internet naming conference."
"Originally I had wanted to make NamesCon a free conference to attend but free has its own complications with people registering and not showing up - and possibly putting too much of the burden onto sponsors. As it is, the cost and expenses for NamesCon is over $400 per attendee, so at a $199 early bird registration price we are definitely leaning on the support of sponsors to make this show a break even success."

Lau added, "The removal of food, tables of buffet lunches and seated steak dinners is a small price to pay to be able to open up the industry to entrepreneurs, start ups, newcomers and anyone interested in this amazing land rush we are looking at in the Internet naming space. We have people coming from India, Romania, Greece - really from every corner of the world. At most other conferences I have attended that are not in the domain industry, food is purchased from nearby vendors or restaurants. And food is the last thing on my mind - I am usually too engrossed in conversation to notice the $60 per person buffet lunch that generally goes to waste. NamesCon is not about the food and flash - it is about the content and business networking."

The decision to hold the show in Las Vegas was also an easy one for Lau, even though he hails

Richard Lau speaking at the first T.R.A.F.F.I.C. conference in 2004 at Delray Beach, Florida where he was named "Domainer of the Year".

from Vancouver, Canada. "Las Vegas has been my base in United States for many years," Lau noted. "My US phone numbers and mailing addresses are all here and I come down multiple times per year and stay at a condo near the new SLS Hotel. It is easy for me to hold a conference in my second backyard. From an attendee's point of view it is a very convenient city to get to, has many amazing restaurants and has experienced conference facilities with extremely affordable accommodations. Also, holding NamesCon adjacent to other conferences such as Affiliate Summit and CES was done to allow attendees to hit more than one bird with a single stone."
For a new show, a surprisingly large number of sponsors and speakers share Lau's vision. Phil McKegney from DomainAgents.com (one of the show's sponsors) told us, "The show is not strictly "domainer" centric. Bringing varied industry groups together with the commonality of domains benefits everyone, encourages accidental innovation and creates the potential for unparalleled business opportunities. The fact that admission is much more affordable than other conferences means that startups and entrepreneurs will have the opportunity to interact with industry heavyweights and that's where I think some real magic could happen."
The Tropicana Hotel - Las Vegas
Site for NamesCon January 13-15, 2014

Escrow.com's Andee Hill added, "Escrow.com is excited about the opportunity to be a sponsor at NamesCon. I am confident that with Richard's experience, he can guide the direction of this event to be a rewarding and memorable one. I feel the lower cost and the multi-platform agenda is a win-win."

Attorney Zak Muscovitch, who signed on to sponsor too, said "Given how many great domain name related events there are all over the world, I have to be selective about what I can afford to participate in and sponsor both from a time and money perspective. But as soon as I heard of the low cost concept, run by industry veteran Richard Lau, I felt that this was an important test

event for the industry that I wanted to get behind and support financially as a sponsor."
RookMedia's Joe Higgins was also attracted to the NamesCon format. "By running multiple tracks and having many of the session topics suggested by an array of industry leaders, it's clear that NamesCon is establishing itself as the "can't miss" event for 2014 and beyond." Higgins said.
The multi-track format was a staple of the early Domain Roundtable shows in the Pacific Northwest that were directed by Jothan Frakes - shows that Lau never forgot. "I was at the very first Domain Roundtable and what struck me even then was the quality of the content and multiple tracks," Lau recalled. "It is time to bring that back. There are so many different topics to discuss in the Internet naming space right now that a single track is just not enough."
"NamesCon will be addressing all aspects of the industry - registries, registrars, registrants and suppliers. With the new gTLDs coming in to play it brings a radical shift that crosses all boundaries of the different players in the Internet namespace. Information, networking and new opportunities are best addressed in these sessions and in face-to-face conversations. The response since the announcement of NamesCon has been nothing short of phenomenal and we expect to have all of the major players and a "standing room only" crowd attending," Lau said.
Jodi Chamberlain
NamesCon Show Director

As you might expect, Frakes, having served as one of the inspirations for NamesCon (and who will speak at the inaugural event) is a strong supporter of the new show. "The conference just looks to be an absolute success as it has drawn he overall industry of registries, registrars and service providers, but also has attracted general population," Frakes said. He also thinks Lau's selection of Jodi Chamberlain as the Show Director will pay dividends. "With Jodi having produced two conferences in Spain and the industry experience that both she and Richard have, I look forward to the NamesCon and will be spreading the word when I meet with many industry heavyweights at the Buenos Aires ICANN meeting next week."

Ammar Kubba of Thought Convergence is already on board. "NamesCon is shaping up to be a fantastic opportunity to network with and learn from the biggest and brightest in the domain industry, both present and future," Kubba said. "It also looks like 2014 will be a landmark year in the history of domain names, so NamesCon is ideally positioned to kick the year off."
Internet Commerce Association Legal Counsel and Virtualaw LLC Founding Principal Phil Corwin summed up the feelings of many of NamesCon's early supporters when he noted, "Jodi Chamberlain and Richard Lau are two of the most positive people on the planet, so I was delighted when they asked me to speak at Namescon. This event has an awesomely positive vibe and is sure to bring the domaining community together for a collective sharing of knowledge, insights, and fun. Be there or be square!"