As usually happens the day after the TraffcZ party, morning arrived long before most registrants were ready to get out of bed! Still the highly motivated ones made it to the second speed networking session at 10am Thursday (May 22). This time the format changed with people divided into groups based on their expressed areas of interest. Some new partnerships came out of this session as like minded people came together and decided two heads were better than one in realizing their business goals.
The biggest panel of the week, seven members strong, followed at 11am to talk about the "holy grail", the possibility of discovering a way to develop hundreds or even thousands of domains en masse. The panel featured Jeff Beasley (BlueFrog Interactive), Gregg McNair (Domain Holding Group), Dr. Chris Hartnett (founder of USA Global Link), Andrew Allemann, Jerry Nolte, Donny Simonton and Ammar Kubba.

Kubba (the COO at T.R.A.F.F.I.C.'s lead sponsor TrafficZ.com and, along with CEO Kevin Vo, the subject of our October 2007 Cover Story) said he did not believe that developing thousands of domains in a meaningful way would ever be possible. Instead he advised developing a few key domains in one vertical, then taking other domains with traffic in that same vertical and directing their traffic to the developed sites.

Hartnett (a spectacularly successful

TrafficZ COO Ammar Kubba

entrepreneur who will be the subject of our upcoming June Cover Story) told attendees to "Do what gets you excited. Money will follow when you do something you are excited about."
Nolte ran through a series of useful tips on how to develop websites quickly, pointing out that there are often overlooked free programs that come with the Control Panel most hosting companies provide with even the cheapest hosting accounts. Using programs like Fantastico, Nolte showed a string of sites he had been able to do in as little as 15 minutes, some that include scripts that update content several times an hour.
Allemann advised those looking for content writers to hire interns from their local university. English and journalism students will work cheap (or free) just to get experience. His base in Austin, Texas is home to the University of Texas, giving him a large pool of talented young people to draw on.
Hal Bailey (head of Google's domain
channel) made an unscheduled
appearance at the podium Thursday.

An interesting situation developed just before lunch. Moderator Howard Neu shook up some people at the beginning of the day by announcing that he had been involved in a conversation with Hal Bailey in which the head of Google's domain channel said some derogatory things about domain owners - calling them all cybersquatters and people who clicked on their own sites. (Dr. Hartnett corroborated Neu's account).

Bailey got wind of this and asked to address the audience before lunch. When he took the podium he indicated that what had been said was in the context of a larger discussion about the problems of trademark violations and click fraud. I wasn't privy to the original conversations and Bailey did make an attempt to diffuse the situation so I would be inclined to write this incident off to miscommunication, but it does underscore the wisdom in domain owners exploring ways to reduce their reliance on Google and Yahoo.

There is nothing to stop the two search giants from deciding one day that they are no longer interested in using the domain channel and eliminating it from their ad network. Fabulous.com's respected COO Dan Warner has been very vocal about this possibility, so it is something that needs to be seriously considered in your monetization strategy.
Once again, there were just two afternoon seminars following lunch. In the first of those a four man panel discussed registration matters including, among other things, UDRP issues and how to deal with them. Those on the dais included Bill Mushkin (Name.com), Monte Cahn (Moniker.com), Freddy Schiwek (EuroDNS) and Divyank Turakhia (Skenzo).
Name.com CEO Bill Mushkin speaking
on registrar issues Thursday (May 22).

People sometimes ask if their domains would be safe from arbitration and legal issues if they were held with registrars based overseas. With the popular global extensions the answer is no. Newcomers frequently confuse registrars with registries. The registry administers one or more entire extension (for example Verisign controls the .com and .net registries). Registries do not deal directly with the general public. Instead you register your domains with any of the dozens of registrars out there, who in turn pay the central registry a set fee for each domain that you register through them.

Since the central registries hold the "book" on all registrations in the extensions they operate, they have ultimate control over the domains. As a result, holding domains with a registrar overseas would not insulate you from arbitration or legal proceedings directed against .com, .net, .org, .info or .biz domains because the registries that control those extensions are all based in the U.S.
I had the opportunity to sit on the final seminar panel Thursday called Insider Tips. Our group included Lonnie Borck (NetRocket.com), Page Howe (TheCardShop.com), Dave Evanson (NetVantagePoint), Lissi Mack de Boer (Sedo) and Ofer Ronen (Sendori.com). I know I may be a bit biased but I thought our session was one of the best of the show - partly because several of our speakers took the podium for the first time at a domain conference.
Borck, Howe and Evanson were in that group and I hadn't heard Lissi speak before either. Listening to these highly experienced domainers and executives provide tips for the first time was an exceptionally valuable experience.

Borck was a special treat for me because I haven't had a chance to talk with him privately as much as I have some of the other panelists. In my casual conversations with him he is always polite, low key and even a bit reserved. As a public speaker he quickly shifted into a high gear I haven't seen before and he was great, delivering one excellent tip after another throughout his talk. Several members of the audience mentioned that to me later and he left the crowd eager to hear more from him in the future.

By 4:30 the business day was over - the earliest ever, again by design as Schwartz

Lonnie Borck (NetRocket.com)

and Neu decided to loosen the agenda and leave people more free time to enjoy their surroundings and chat with friends and associates. Many hung out at a wine and cheese tasting in the sponsor exhibit hall while others headed for the pool or one of the Disney parks.
My family opted for the wine tasting and a chance to visit some of the sponsor booths. Parked.com quickly sucked us in with free rides on CEO Sig Solares' Segway personal transporter. None of us had been on one before and we all decided we wanted one after taking a ride. They would be the perfect alternative to $4 a gallon gas if they didn't cost $5,000 each!

When Brittany took off on her maiden voyage aboard a Segway (see photo at right), Sig quickly turned his back - obviously afraid to see what might happen to his vehicle (she did almost crash into one of the cocktail tables, so his concern was not entirely unwarranted). To Brittany's right, Michael Ward and Monte White watched as she peeled out of the Parked lot.

Everyone regrouped in the evening for Parked.com's Beach Party. Due to inclement weather that event wound up being moved indoors to the main lobby of the convention center. No one minded a bit as the tropical band set up alongside the buffets and open bars and quickly got the party underway.

A pair of Disney artists were a huge attraction as they did cartoon caricatures

of anyone who wanted one made (some may have been sorry they chose to do so but most got off relatively easily). A crowd gathered around the artists and their subjects throughout the night, laughing as they watched the cartoon likenesses develop.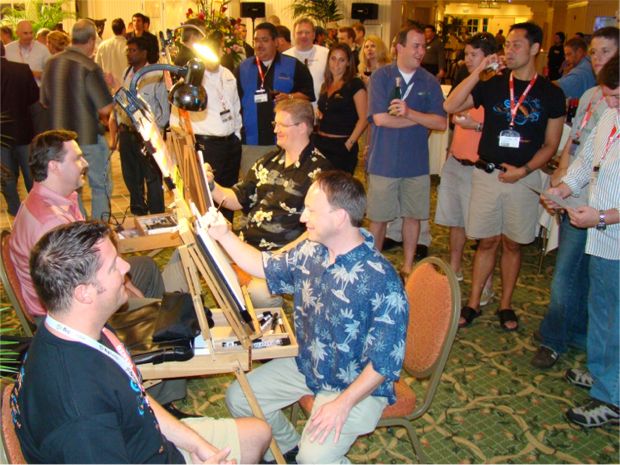 Ammar Kubba on the caricature hot seat. The cartoonist didn't quite
capture his good looks (probably just a coincidence, but I understand
the artists's rev share at TrafficZ dropped dramatically the next day!)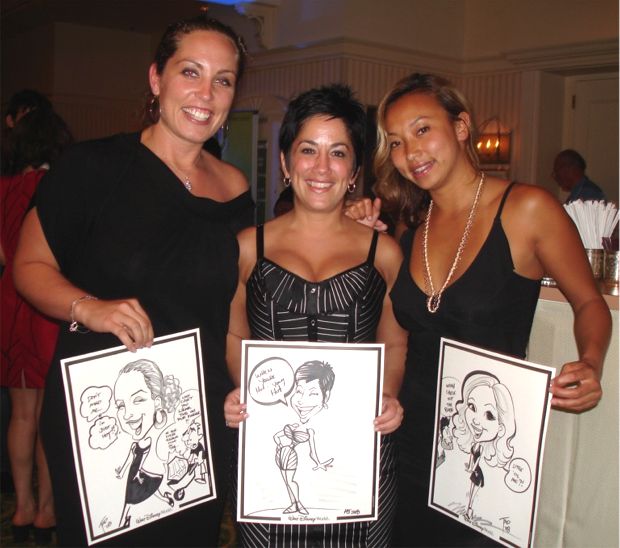 The ladies fared better at the cartoonist's hands - but with
subjects like this to work how could they go wrong?
After another short night for sleep, he final business day opened Friday (May 23) with a 10:30am seminar (the last of the show) devoted to Search Engine Optimization. Rick Waters (Webcast1), Paul Bliss (Elliance.com) and Eric Schiffer (SEOP.com) handled this session.
Schiffer, whom Business Week has referred to as one of America's top ten entrepreneurs, said his company also owns about 30,000 domain names. He said they have put together a development system, utilizing content writers based in the Philippines, that allows them to develop 1,500-2,000 sites a month. By concentrating on content and proven SEO techniques, Schiffer said they are seeing revenues quintuple from their starting points before SEO. Schiffer said that employing SEO experts provides a strong return on investment and those who do not take advantage of SEO are leaving a lot of money on the table.

He said his company is also entering partnerships with domain owners with flexible arrangements that can include cash payments or equity. Extra value is created and shared as they add content, video and SEO in the site building process.

Eric Schiffer (SEOP.com)
At the Friday luncheon I gave an update on aftermarket domain sales trends. Despite a continuing downturn in the general economy, the domain aftermarket continued to grow in the first six weeks of 2Q-2008, though the rate of growth appears to be slowing. Over that

time frame $11.1 million worth of completed sales were reported to us. In the same period in 2Q-2007, $10.9 million in sales had been reported, so the increase was 2% year over year. Things could change considerably over the second half of the quarter. Moniker sold $3.3 million worth of domains in the live and silent auctions at T.R.A.F.F.I.C. East and many of those sales will be completed and booked by the end of the quarter.

In a related noted, the Senior VP and General Manager of NameMedia's Domain Marketplace (which includes the AfternicDLS) Peter Lamson told me that his company had their best quarter ever in 1Q-2008. Lamson said, "Our SMB (Small to Medium sized Business) "end user" focus really seems to be paying off, as global business demand for a compelling online identity seems only to be accelerating. The momentum is continuing in Q2, so we are definitely seeing on AfternicDLS what you are seeing with respect to domain sales remaining strong in an otherwise challenging economic environment."

Ron Jackson (DNJournal.com)
After lunch, it was time for the main event, Moniker.com's live domain auction. By the time the dust had settled in the four-hour event, a little over $2.55 million worth of domains had been sold, including a half dozen 6-figure domains including GasPrices.com and InsuranceRates.com at $225,000 each. The complete list of auction results is available here.
Auctioneer Joel Langbaum and Moniker CEO Monte Cahn
conduct the live auction Friday (May 23)
While the auction total was lower than recent shows a higher percentage of domains was sold. Moniker has been pushing sellers to set more reasonable reserves and when they do so more names naturally change hands. People are looking for bargains and just as potential real estate buyers are waiting on the sidelines, hoping to see prices fall more before they jump into a house, many domain investors are being patient, waiting to see if problems in the general economy spill over to this business and start pulling domain prices down. Many have strong cash reserves and are ready to pounce if they think domains are priced right. I've also talked to many domain owners who say they would rather sit on their assets until the economic storms blow over than sell out cheap, so it's largely a matter of who will blink first.
Throughout the day Friday, normally dignified men and women were seen decked out in mouse ears and princess tiaras. Many were coming from a Disney character breakfast where this kind of fashion was de rigueur. By the time the farewell dinner rolled around at

At left, Gregg McNair (AKA Goofy)
with Goofier (AKA Ron Jackson)
(Photo courtesy of Barbara Neu)

7pm, it seemed like half the people in the room had a silly hat on. I didn't plan to be one of them, but earlier in the day I had taken a photo of a group sporting new Disney headwear. I razzed Gregg McNair about being the oddball because he was the only one not wearing an extra set of ears.

Later at lunch McNair showed up with an eye catching Goofy headdress on. In the interest of good sportsmanship I felt like I had to reciprocate so I selected a fine piece of haberdashery on an afternoon outing to Epcot that I wore to dinner. Unfortunately, there were people with cameras running around that ignored the time honored code that says "What Happens at Disney World Stays at Disney World."
After dinner Disney left the Magic Kingdom open from 11pm to 2am for hotel guests only so a large group (of all ages) decided to take advantage of it and hit the park together. We started by catching the spectacular fireworks show above Cinderella's Castle, then went on to hit rides in every corner of the park. In those wee hours there were few lines (a real rarity at Disney) so we felt like we had the run of the place.

Rob Grant, Chris Hartnett and others adopted a new slogan and tried it out on every stranger they saw, declaring "This is the best day of your life!" I'm sure that as soon as some of

Fireworks display over Cinderella's Castle May 23
(captured on a handheld Sony H50 camera)

those folks put some distance between themselves and our mad hatters they probably did indeed feel that way (or if not the best day, at least, once they were out of harm's way, the luckiest!). Of course it was all in good fun and has now been commemorated at...where else would domainers commemorate something....a website: ThisIsTheBestDayOfYourLife.com. Here are some photos from one of the best evenings of our lives: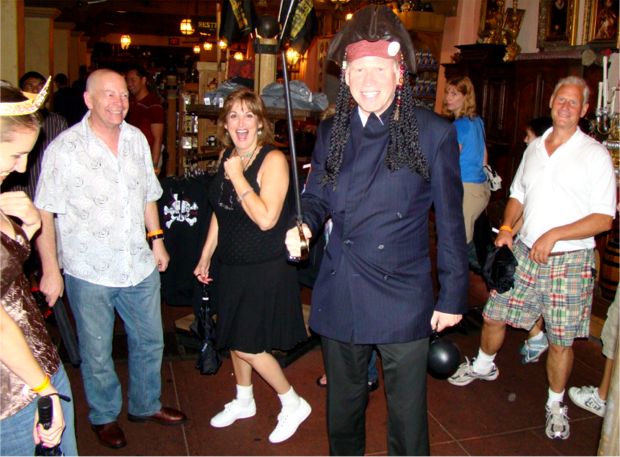 Inspired by the Pirates of the Caribbean ride he just disembarked from,
Dr. Chris Hartnett grabs a sword and goes postal.
| | |
| --- | --- |
| The ride below looks safe enough, proving looks can be deceiving... | ...we almost lost one of our best men on it! |
| | |
They conquered space mountain and lived to tell about it.
(photo courtesy of Barbara Neu)
By the time we got back to the hotel it was 3am. That made it a short night (but well worth the sacrifice) before the final order of business Saturday morning - a meeting of the T.R.A.F.F.I.C. advisory board. Anyone at the show is free to sit in on these gatherings. The board consists of about ten volunteers who provide the promoters with feedback on what they are doing right or wrong, where future shows might do well and the like. This time they were also asked to help provide input for a transparency seal of approval T.R.A.F.F.I.C. plans to make available to qualifying parking companies and domain monetizers.
Attendees at these meetings also get updates from Schwartz and Neu on what their plans are for the future. In this case, next will be the New York City show Sept. 23-26 that will be held at the Marriott- Brooklyn Bridge. That will be followed by the first overseas T.R.A.F.F.I.C. show, T.R.A.F.F.I.C. Down Under that will be staged by Fabulous.com on Australia's Gold Coast November 18-20, 2008.

In 2009, Schwartz and Neu plan to cut back to two shows, likely to be one on the West Coast (San Francisco or Silicon Valley) and a return to New York. Florida is expected to be back on the schedule in 2010 with Orlando in the running again. Schwartz said he is also considering a very limited capacity boutique show back where it all began in 2004, the Marriott in Delray Beach.

You may recall that at the New York show last summer Schwartz told the advisory board he was interested in selling his share of the conference and returning to " civilian life". At this meeting it was announced that he had changed his mind and plans to stay at the helm with Neu.

Marriott at the Brooklyn Bridge - Site of
T.R.A.F.F.I.C. New York Sept. 23-26, 2008.
That means T.R.A.F.F.I.C. attendees will continue to be greeted by Rick and Alina Schwartz alongside Howard, Barbara and Ray Neu. I'm personally glad to hear that. They have been consistently great hosts from day one and it just wouldn't feel like T.R.A.F.F.I.C. if any of them were missing.

Rick & Alina

Howard, Barbara & Ray
(shot taken at 2am after many many rides and a rain storm but they were still going strong!)

*****

DN Journal Show Coverage BONUS! For dozens of additional photos
continue on to the T.R.A.F.F.I.C. East 2008 Photo Gallery
---
Return to Page 1 of This Story