By Ron Jackson

The 2010 Domainer Mardi Gras (DMG) conference was held in New Orleans Feb. 11-13, right in the middle of the world famous Mardi Gras celebration that brought hundreds of thousands of revelers to the Big Easy. With the show's headquarters located at the New Orleans Marriott, DMG attendees were just steps away from the French Quarter and Mardi Gras ground zero on Bourbon Street.
Part of the wall-to-wall crowd on Bourbon Street during the 2010 Domainer Mardi Gras
conference in New Orleans (photo taken from the Parked.com balcony above the street).
The 2009 debut edition of Domainer Mardi Gras was a big hit with attendees but show sponsor Parked.com managed to dial everything about the 2010 event up another notch. Credit the conference's Executive Director Michael Ward and his team for strengthening the show's content while simultaneously providing attendees with a VIP Mardi Gras experience.
We provided daily show photos and highlights from DMG while the event was going on through these posts in our Lowdown section:
However the almost around the clock show schedule didn't leave us time to include many details about the individual sessions in those posts nor to share a lot of the other great photos we collected during show week. We will do that in this show review article, giving you the start to finish DMG experience in one tidy package.
The show began Thursday night (Feb. 11) with a welcoming cocktail party at the New Orleans Marriott.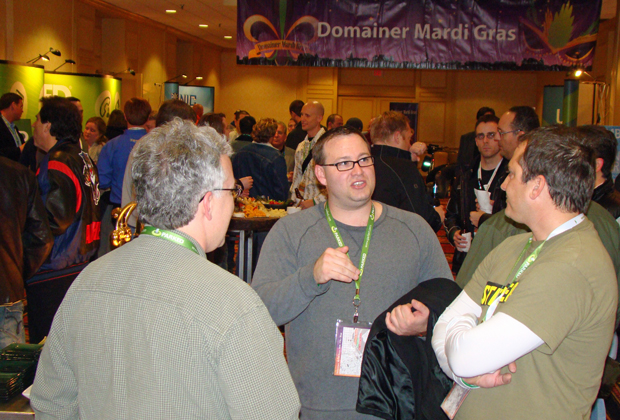 Scene from the opening night cocktail party at the New Orleans Marriott
At the cocktail party it was immediately apparent that more people were on hand than last year when the conference was held a few blocks further south on Canal Street at the Westin. After an hour or so to meet and greet fellow attendees, guests boarded buses that took them to a traditional Crawfish Boil at a tri-story rowhouse on Camp Street.
Above: DMG guests at the Crawfish Boil on Camp Street settle into
one of the dining rooms to dig into their platters of crawfish.
Below: Crawfish aren't for the squeamish but "mudbug" fans love them.
In the photo below: Catching up with friends at the Crawfish Boil are
(clockwise from the left) Tim Cole (ICANN), Kelly Urquhart (WhyPark.com),
Gregg McNair (PPX International) and Dan Kimball (Comwired.com)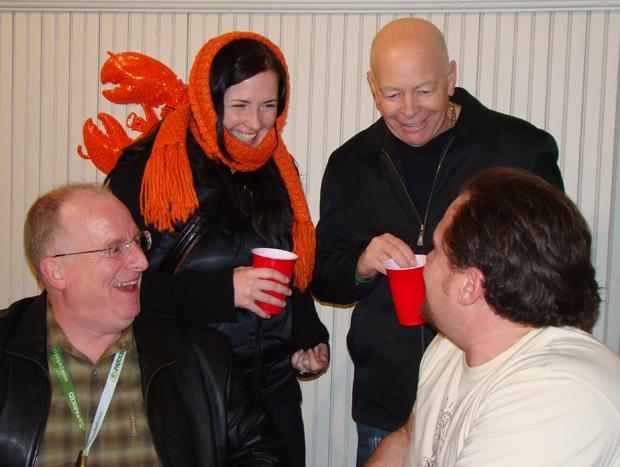 The Crawfish Boil ran from 7-10pm. From there attendees either headed back to the hotel for a good night's sleep before the first full day of business on Friday, or headed off to the French Quarter where the nightly Mardi Gras celebration was going strong.
Showing mercy on those who stayed out late, show organizers didn't schedule Friday's welcoming comments until 10:30am Friday (Feb. 12). Those were delivered by Executive Director Michael Ward and two fellow Parked.com executives, CEO Sig Solares and President Donny Simonton, all three of whom served as session moderators as well.
Above: DMG Executive Director Michael Ward

Top right: CEO Sig Solares

Bottom right: President Donny Simonton
Next it was time to get down to business with DMG's first business session called Show Me the Money! This panel discussion featured young industry pros Patrick Carleton (Executive Director, AssociatedCities.com), Bruce Marler (Missouri.me Network) and Sean Stafford (Comwired.com) who talked about new revenue opportunities in the domain business. Sig Solares moderated the session.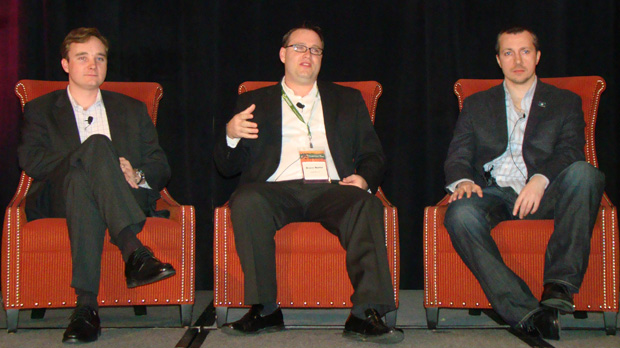 Show Me the Money! panelists (L to R): Patrick Carleton (Associated Cities),
Bruce Marler (Missouri.me Network) and Sean Stafford (Comwired.com).
Carleton said he thinks one of the best new revenue opportunities is investing in IDNs, a category that is starting to gain traction with Internet users around the world who want to own domain names that utilize characters from their native alphabets and scripts.
Marler said he increased localization on the internet is also making geo targetted domains more valuable (for example a city name combined with a product or service such as DenverCarInsurance.com).
Stafford suggested finding niches that others have overlooked. "We make money in a lot places were others couldn't or wouldn't look." He also advocated beating the bushes and being proactive by contacting potential end users for yourl domain names.
After a lunch break Michael Ward interviewed Andrew Allemann of DomainNameWire.com and myself in a Reporter Roundtable session that turned the tables and had Andrew and I answering questions rather than asking them.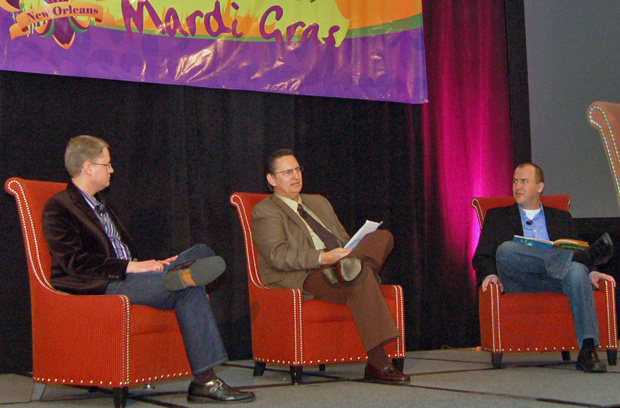 Reporter Roundtable session with (L to R) Andrew Allemann (DomainNameWire.com),
Ron Jackson (DNJournal.com) and moderator Michael Ward.
We discussed everything from how we found our way into this business, to our own domain investment strategies to what we saw as the major challenges facing the industry. When asked what was the most important thing newcomers to the industry should do my advice was to take some time to learn what makes certain domain names valuable and others worthless before you start spending money.
At first blush the business looks like such a great opportunity that people want to dive in head first before they know what they are doing (I did it myself when I started and wasted a lot of money as a result). The Internet is still in its infancy and the opportunity is not going to go away overnight. Look before you leap and you will come out ahead in the long run.
The next session was titled So You Think You Can Build a Site? Lessons Learned and Pitfalls to Avoid in Developing a Site. It featured an all-star panel comprised of the Castello Brothers, Michael and David from Castello Cities Internet Network, Craig Rowe (WhyPark.com) and Elliot Silver (Elliot's Blog.com). A New York City snowstorm prevented Silver from traveling to the show but he took part via a Skype video connection. Parked.com President Donny Simonton served as moderator.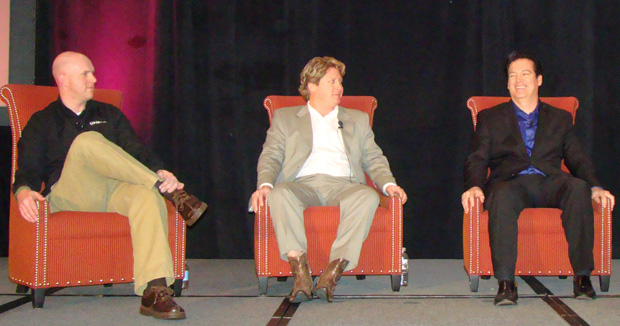 So You Think You Can Build a Site? panelists (L to R): Craig Rowe (WhyPark.com),
Michael Castello and David Castello (Castello Cities Internet Network).
Elliot Silver also participated via a Skype video connection.
Since content is king, Michael Castello advised adding a little bit of new content every day. As that body of work expands it will make a huge difference in the search engines and the stickiness of your website as you give people a reason to stick around as well as to return. Rowe also advised starting simply but keeping the lines of communications open with your visitors then adding the kind of content and features they request. Silver agreed, noting that when he launched his DogWalker.com site people started asking him how to start a dog walking business. He followed up by writing article for the site on that topic that proved to a solid audience draw.
David Castello said a successful website boils down to doing three things; 1) give people a reason to go there, 2) a reason to stay and 3) a reason to come back.
The final session Friday was a lively discussion of New TLDs: The Good, the Bad and the Ugly! featuring attorney John Berryhill, Mike Rodenbaugh (IP attorney and consultant), Ken Hansen (Nesutar), Michael Berkens (TheDomains.com) and Jeffrey Eckhaus (Demand Media/eNom). The session was moderated by Andrew Allemann.
New TLD panelists (L to R): Mike Rodenbaugh (IP attorney and consultant), Ken Hansen
(Nesutar), Michael Berkens (TheDomains.com) and Jeffrey Eckhaus (Demand Media/eNom).
Also participating - in full Mardi Gras regalia - via a live Skype connection to his home
near Philadelphia was attorney John Berryhill (seen below left on the video screen).

The panel had divergent views on the wisdom of ICANN's plan to roll out an unlimited number of new gTLDs. Eckhaus favors them and said that Enom is looking for more products to sell and distribute. As a result he thinks the company will apply to run a couple of new TLDS of their own. Hansen's company will offer backend services for new registry operators so he also sees a new business opportunity that Neustar hopes to take advantage of. Berkens believes the whole process is simply an attempted money grab by ICANN - a theme he expanded on in a detailed post on his blog the day after the show ended.

Berkens is also concerned about the new TLDs being allowed to operate under a different set of rules than those that apply to existing TLDs. Rules (such as

pricing) that would be detrimental to the interests of current domain registrants if extended to the unrestricted original extensions who would also demand them in their next contracts. Dr.Berryhill voice similar concerns. Rodenbaugh, who will advise new TLD applicants is concerned that cybersquatting will be rampant in the new extensions. He wants ICANN to require very low registration fees for trademark holders so their names do not have to be ransomed at the kind of high prices that have prevailed in previous sunrise periods for new TLDs.
The widely varying view on the topic illustrated why ICANN is having such a difficult time trying to resolve all of these sticky issues and get new TLDs out of the gate.
With the day's business out of the way, attendees were invited to the Daisy Dukes restaurant next door to the Marriott to unwind. The cozy French Quarter spot is owned by Parked.com's Sig Solares.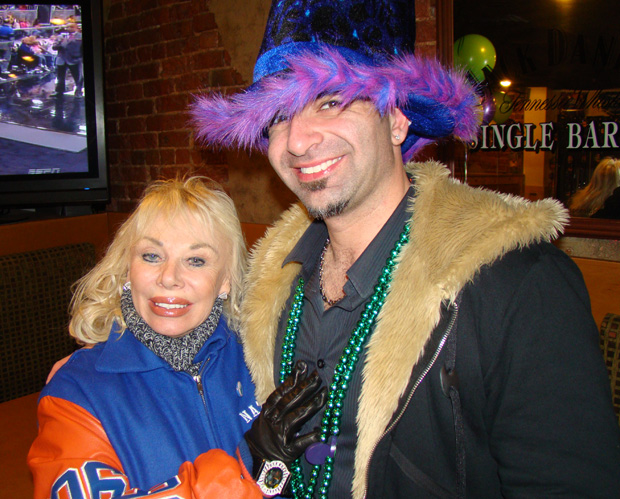 Judi Berkens and Thought Convergence COO Ammar Kubba at Daisy Dukes
From there it was on to the private Parked.com balcony on Bourbon Street where attendees had a bird's eye few of the massive crowd celebrating on the street below.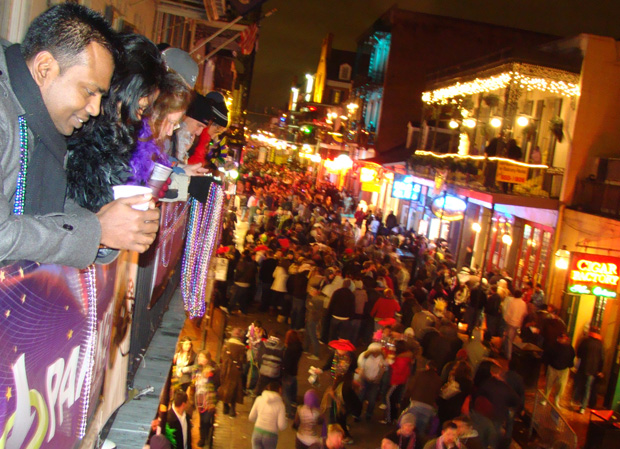 Scene from Parked.com's Bourbon Street balcony Friday night.
It was a very cold night, but the balcony adjoined a private room where guests could warm up at the open bar or buffet. The balcony was open until 3am but I adjourned several hours earlier to get in a few hours of sleep before closing day Saturday.
Closing Day at Domainer Mardi Gras Saturday (Feb. 13) was devoted primarily to enjoying Mardi Gras festivities in New Orleans. There was only one business session, a panel discussion on Domain Name Investments in 2010 and Beyond that kicked off the day at 10:45am. This session featured Leonard Holmes (ParkQuick.com), Hui Tam (AdKnowledge), Gregg McNair (PPX International) and Donny Simonton (Parked.com). Michael Ward served as the moderator.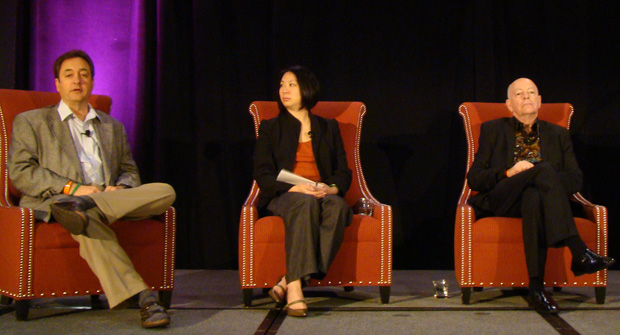 Above: three of the Domain Name Investment panelists (L to R): Leonard Holmes
(ParkQuick.com), Hui Tam (AdKnowledge), Gregg McNair (PPX International)
Like the New TLD session Friday, there was widespread disagreement over where the industry is headed from here. McNair said, "We're in trouble. Yahoo is a basket case, Google is a ruthless monopoly, PPC is struggling and will consolidate which (with less competition) could lead to further revenue drops. Then you have issues with ICANN, CADNA and lazy domainers who won't defend themselves be supporting the ICA." He said his company has been taking some money off the tabe as a result.
Hui Tam said that domain owners have become a bit spoiled by easy money in the past. She said there is still plenty of opportunity but "if you want money now you have to work for it - it's not 1999 anymore."
Holmes said new technologies, such as Google's new Chrome browser that allows people to access information without entering domain names could eventually have a negative impact on domain values. He advised selling some domains as a way to offset the decline in PPC revenue and cover portfolio carrying costs.
Simonton had the sunniest view saying that the industry is already experiencing an upturn after a long recession. Simonton noted that his company's revenues over the past five months are running about 20% ahead of the same period a year ago. Only time will tell whose forecast turns out to be the right one.
This session brought the curtain down on the business portion of the show, but the fun was just beginning. After lunch on the 41st floor of the Marriott, the afternoon was left open so attendees could enjoy the Mardi Gras parades, other New Orleans attractions or just catch up on their sleep with a mid-day nap.
A Mardi Gras parade float makes the turn from St. Charles Avenue
onto Canal Street Saturday afternoon (February. 13).
Those who opted for the afternoon nap (I wasn't one of them) might have been the smartest ones. A little rest would come in handy since the Saturday night party on Parked.com's Bourbon Street balcony would run into the wee hours of the morning.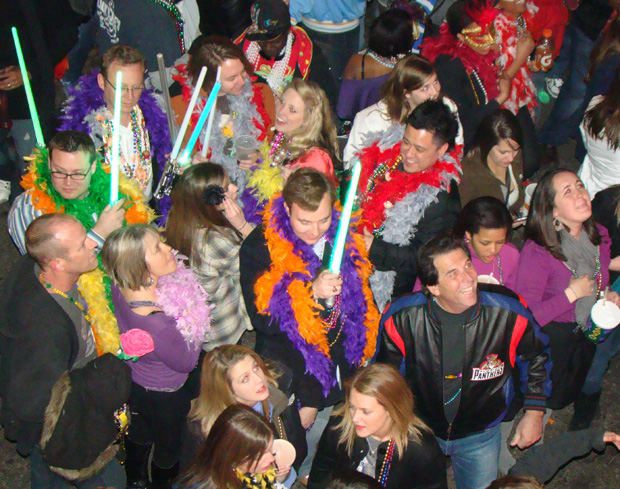 See any faces you know? Some DMG attendees weren't content to watch the action
from the balcony above, so they went down and joined the fun on Bourbon Street.
This conference had something for everyone - excellent content and networking opportunities coupled with the unique backdrop provided by one of the world's biggest parties - Mardi Gras. The conference understandably earned rave reviews from those who were there.(seen on posts attendees left on Facebook, Twitter and various blogs).
While Domainer Mardi Gras organizers set a new standard with their sophomore outing - they have also set a high bar for themselves to top next year. A lot of people are looking forward to a return trip to New Orleans in 2011 to see how they do it!
*****