The Lowdown
November 2012 Archive
Subscribe to our RSS Feed

Here's the The Lowdown from DN Journal,
updated daily to fill you in on the latest buzz going around the domain name industry.

The Lowdown is compiled by DN Journal Editor & Publisher Ron Jackson.
One of Europe's Top Conferences - Domaining Spain - Opens Registration for April 2013 Show in Valencia

Domaining 2013 (the fifth show in a popular conference series that has also been known as Domaining Spain and Domaining Europe) has opened registration for the next annual event, coming up April 25-27 in Valencia, Spain. The conference, co-produced by founder Dietmar Stefitz and veteran show runner Jodi Chamberlain, will return to Valencia's Sorolla Palace Hotel where the successful 2012 event was held last spring.

I covered this year's show that attracted an exceptional group of domain investors and corporate executives from around the world. That, coupled with the scenic splendor of Valencia made this well run event one of the most enjoyable I've had the pleasure of attending.

Jodi Chamberlain and Dietmar Stefitz
Domaining 2013 Co-Producers

Valencia, the third largest city in Spain, sits directly on the Mediterranean Sea and offers a marvelous mix of historic and ultra modern architecture, fine dining and beautiful countryside just minutes out of town.

The conference, with a registration fee of just €600, is a bargain for a show of this quality and the hotel's show room rate of €70 a night is an absolute steal - especially since that price includes a great breakfast buffet. For a top notch hotel like the Sorolla, I've never gotten a better deal anywhere in the world.

If you are quick on the draw you can save even more. Jodi and Dietmar will give the first ten DN Journal readers who register 50% off the show ticket, reducing it to €300 for those lucky early birds. Use the promo code: DNJournalDomainingSpain at this regsitation link: http://www.amiando.com/Domaining2013.html to take advantage of that limited time offer.

A panel session I moderated at the Domaining 2012 conference last spring in Valencia, Spain.

The agenda for Domaining 2013 will be releaswed soon. Ms. Chamberlain said a major theme has already been determined though. That will be ICANN's New gTLD program and what the industry is doing to prepare for the impending explosion in the number of available domain extensions.

(Posted November 29, 2012) To refer others to the post above only you can use this URL:
http://www.dnjournal.com/archive/lowdown/2012/dailyposts/20121129.htm
New Domain Sales Platform at DotBuyer.com Targets End Users With Pricing Guidance and Quality Names

There are a lot of well established domain sales venues out there so you might not think there is a need for any more. Certainly any new players in that competitive space would have to offer something different to gain a toe hold in the market. With a new sales platform at DotBuyer.com, Australia based Kikabink International Pty Ltd. thinks they have come up with just the kind of twist needed to stand out in the crowd.

That twist is a focus on end users - the kind of buyers all sellers most want to reach because they are willing to pay more than domain investors who want to buy on the cheap. Obviously existing sales venues want to reach end users too, but DotBuyer, the brainchild of Kikabank Founder Simon Johnson, thinks they have a better shot at doing it because of inventory controls and additional tools their system has in place.

DotBuyer is a closed platform that screens sellers, accepting only those who have quality assets to offer their buyers. If you are accepted to list there, you will be rewarded with an exceptionally low 5% commision rate (and there is no charge to list your names). There is also no charge for buyers to open an account.

DotBuyer.com Founder Simon Johnson

Johnson said that DotBuyer also helps to educate businesses by providing price guidance and search engine metrics. "We have levelled the playing field by enabling businesses to find out what domain names have previously sold for," Johnson said. "This helps to educate buyers so they don't pay too much for a domain name. The historical sales figures are powered by Kikabink's Domain Sales App - one of the largest databases of historical domain and website sales, dating back more than 10 years with more than 154,000 domain name sales."

Johnson added, "DotBuyer has many domains in multiple vertical markets, from trades and place names to premium generic keywords that describe entire industries. There is something for everyone - from small businesses, to advertising agencies, right up to multinational corporations searching for their next big brand. Many people incorrectly assume that all the good domain names are already taken and they settle for something less. In fact, domain names can be bought and sold, just like property, so it's about time that businesses had the tools to buy, value and sell this virtual real estate."

(Posted November 27, 2012) To refer others to the post above only you can use this URL:
http://www.dnjournal.com/archive/lowdown/2012/dailyposts/20121127.htm
Castello Brothers Sign Big Nashville.com Deal With DevDigital Covering Management, Development, Monetization and Sale of the Site

The Castello Brothers (Michael and David) have signed a management, development, monetization and sale agreement for one of their premier properties - Nashville.com - with Nashville based DevDigital - one of the largest software and web development companies in Nashville.

While terms of the deal are subject to a non disclosure agreement, I can say that I have seen the details and there are significant cash considerations involved as well as ongoing performance metrics that give both parties an opportunity to reap very impressive additional revenue from the agreement going forward.

David Castello told me, "DevDigital's owners,

Peter Marcum and Mitch Ballard, and I are members of the Nashville cigar club at The Standard (a Robb Report Top 5 Private Cigar Club) and we'd been discussing this deal for a good six months. Nashville.com is now going to be developed to its fullest potential and it will have a tremendous impact on Nashville." (Editor's note: If The Standard Cigar Club sounds familiar to you it's probably because its ballroom was the location where the video for "Whisky" - a song written and sung by upcoming Nashville based rock artist BREE who David both manages and plays drums for).

The Castello Brothers: Michael (left) and David

The Castello Brothers acquired Nashville.com in 2003. Michael Castello said, "It is the only major geodomain in our portfolio that was not acquired in 1995-97 and we spent good money for it. Regardless, after our successes monetizing PalmSprings.com, Acapulco.com, LagunaBeach.com and WestPalmBeach.com, we knew that Nashville.com was a wise investment."

In addition to managing sites for numerous Nashville businesses and developing an online tour management system used by Rascal Flatts and Jason Aldean, DevDigital had their eye set on capturing as much Nashville directed traffic as possible. DevDigital's Peter Marcum said, "We have a Facebook page about Nashville that has grown to 115,000 Likes. When I met David Castello he told me that he and his brother owned the worldwide brand for Nashville with Nashville.com. I thought it was a fairly outrageous claim until I took a closer look and came to the realization he was right. After that I knew it was only a matter of time until we forged a deal."

DevDigital will also be one of the companies building out the six brands comprising the newly incorporated Castello Brothers, Inc in Toronto: Rate.com, Bullion.com, Whisky.com, Bootleg.com, Kennel.com and GolfClub.com.

(Posted November 26, 2012) To refer others to the post above only you can use this URL:
http://www.dnjournal.com/archive/lowdown/2012/dailyposts/20121126.htm
Nico Zeifang, CEO of Team Internet AG's ParkingCrew, Comments on Why Company Went After New Acquisition - Elephant Traffic
In a major move last week Team Internet AG acquired Elephant Traffic (a well established domain monetization company that was co-founded by Czech Republic super entrepreneur Jan Barta who was profiled in our May 2011 Cover Story). Team Internet is now integrating Elephant Traffic into its rapidly growing ParkingCrew.com platform. I caught up with Team

Internet CEO Nico Zeifang today to find out why the company went after Elephant Traffic and what the deal means for the ET clients who now become members of the ParkingCrew.

DNJournal: Nico, for people that are not familiar with Elephant Traffic, what was it about their brand and client base that made them such a desirable acquisition for you?

Nico Zeifang: Basically, it was a logical step for us. On the publisher side, we had been the preferred PPC partner for Elephant Traffic publishers for more than a year before we made the acquisition. On the advertiser side, Elephant Traffic has done a tremendous job in educating advertisers about Direct Navigation traffic and the advertiser base was of great interest to our newest Tier-2 ad network DNTX.com. At DNTX we are excited to provide existing Elephant Traffic advertisers with access to a lot more targeting options which we believe will seriously help them to improve yield on their campaigns.

Team Internet CEO Nico Zeifang
DNJournal: Will the Elephant Traffic brand be retained for any other use or will you simply migrate Elephant Traffic clients to the Parking Crew platform?

Nico Zeifang: Elephant Traffic users will be migrated. Publishers will be migrated to ParkingCrew.com where they will profit from our fast growing Pay Per Click Monetization product for their tier-1 traffic as well as our vast inventory of DNTX.com advertisers for their tier-2 traffic.
Image from Bigstock

Advertisers will be migrated to DNTX.com where they will enjoy a lot more targeting options then previously, including Geo Targeting, Desktop vs. Mobile vs. Tablet Targeting, Carrier- and Device Targeting for Mobile users and Adult vs. Non-Adult Traffic.

DNJournal: ParkingCrew has experienced a lot of growth over the past couple of years. What has helped you to succeed in a sector – domain parking – that many had all but given up for dead after seeing steep revenue declines in recent years?:

Nico Zeifang: I believe that there are three major aspects that have helped us succeed in this market:
We understand the customer mindset (after all, we had been just that for more than 10 years each - Domain owners looking to monetize their inventory)

We understand both major markets: com/net/org as well as ccTLDs. We make sure that every visitor that hits our platform gets monetized to the fullest. No matter if the visitor is from the U.S., Germany or Japan. No matter if he uses a desktop computer or an outdated cell phone.

We scale through technology rather than manual optimization which helps us to keep overhead costs to a minimum and thus allows us to pay out much higher rev shares than other companies in this market.
If you are interesting in learning more about ParkingCrew.com you can visit their website here.
(Posted Vovember 23, 2012) To refer others to the post above only you can use this URL:
http://www.dnjournal.com/archive/lowdown/2012/dailyposts/20121123.htm
Seven of My Favorite Thanksgiving Sayings (and Sincere Thanks From Me to You)

Americans are celebrating one of our most meaningful holidays today - Thanksgiving - a day when we pause to give thanks for the many blessings in our lives, from family and friends to shelter, clothing and the food we have to eat.

Judging from the Thanksgiving Day feasts that are part of the celebration in so many American homes visitors from abroad might think that food is at the top of our gratitude list but the real spirit of the holiday lies much deeper than that. Far better writers than me have captured the essence of Thanksgiving in some favorite quotes I'd like to share with you today:

Image from Bigstock

"God has two dwellings; one in heaven, and the other in a meek and thankful heart." - Izaak Walton

"A thankful heart is not only the greatest virtue, but the parent of all other virtues." - Cicero

"We tend to forget that happiness doesn't come as a result of getting something we don't have, but rather of recognizing and appreciating what we do have." - Frederick Keonig

"We would worry less if we praised more. Thanksgiving is the enemy of discontent and dissatisfaction." - Harry A. Ironside

"What we do for ourselves dies with us. What we do for others and the world remains and is immortal." - Albert Pine

"Gratitude unlocks the fullness of life. It turns what we have into enough, and more. It turns denial into acceptance, chaos to order, confusion to clarity. It can turn a meal into a feast, a house into a home, a stranger into a friend. Gratitude makes sense of our past, brings peace for today, and creates a vision for tomorrow." - Melody Beattie

"God gave you a gift of 86,400 seconds today. Have you used one to say "thank you?" - William A. Ward

One of the many things I have to be thankful for today is you - the DN Journal reader. When this year ends I will have been writing for you for 10 years. It has been a wonderful experience that I never would have had without your constant support and encouragement over the past decade. For every one of you, I hope that your Thanksgiving Day is a truly joyous occasion!

(Posted November 22, 2012) To refer others to the post above only you can use this URL:
http://www.dnjournal.com/archive/lowdown/2012/dailyposts/20121122.htm
Woman Who Lost Lawsuit for Squatting on Man's Personal Name Forced to Pay Plaintiff's Legal Fees Too
A lot of people have had UDRPs filed against them or been sued for registering a domain based on a celebrity's name. However, under the Anticybersquatting Consumer Protection Act (ACPA), a person doesn't have to be a celebrity for you to get in trouble if you register their name as a domain, then try to sell it to them for a profit. Last Janauary attorney David Lin of Brooklyn based Lewis & Lin won an ACPA judgment for a New York real estate investor named Paul Bogoni against a woman named Vicdania Gomez who registered PaulBogoni.com and PaulBogoni.org then demanded Bogoni pay her $1 million each for the domain names.

The New York Times reported that the Federal District Court for the Southern District in Manhattan ruled that Ms. Gomez, who apparently has a prior social relationship with

Image from Bigstock

Mr. Bogoni, had committed cyber-extortion in accordance with the ACPA, a federal law intended to protect individuals from online registrations of personal names and trademarks made in bad faith. After winning the suit, Lin told the the Times, "This case shows that people have ownership in their own names, and they can't be used to ransom back to them for extortionate purposes or for blackmail."
Now, you might have thought would have been the end of it, but Lin and Mr. Bogoni thought this squatting incident was so egregious they might by able to get the court to do something it seldom does, order the defendant to pay Bogoni's legal fees too. Last week, after waiting 10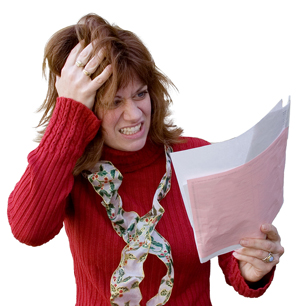 Image from Bigstock
months for a decision, Lin and Bogoni got some more good news - the judge agreed with them, ruling that Ms. Gomez is now on the hook for Bogoni's legal fees as well as her own. That is no small matter - Lin said his fees exceeded $70,000. The judgment requires Lin to provide detailed information on the work he did on the case before the court will set the exact amount Ms. Gomez will have to come up with, but it's not going to be pocket change.
A couple of points to take away from this are 1) registering someone's name as a domain and then trying to sell it to them at a profit is the kind of "bad faith" that can wind up teaching you a very expensive lesson (and it doesn't have to be a trademarked or company name to put a big dent in your
bank account) and 2) if someone tries this with your own name, Mr. Lin's track record indicates he might be a good guy to put on the case (both David and his partner Brett Lewis are well known in the domain industry).
(Posted November 20, 2012) To refer others to the post above only you can use this URL:
http://www.dnjournal.com/archive/lowdown/2012/dailyposts/20121120.htm
Guess Who is Heading to Hollywood After Winning Nashville's Musician of the Year Competition - BREE with Bandmates David Castello and Maryk McNeely!
In a Lowdown post on October 24th I told you about a rapidly rising Nashville-based rock trio fronted by singer/songwriter/guitarist BREE with Domain Hall of Fame member (and BREE's manager) David Castello on drums being nominated for the 2012 RAW Nashville Musician of the Year Award. The nominees took the stage last night in Nashville where the audience and a panel of judges selected the winner who will now move on to the RAW National Finals in Hollywood, California in January. I am happy to report that BREE, David and bass player Maryk McNeely are on their way to Tinseltown after taking all of the marbles in Music City!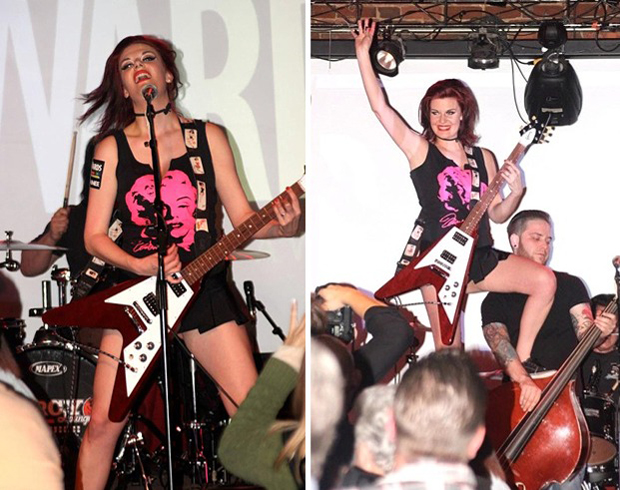 BREE & bandmates David Castello & Maryk McNeely on stage in Nashville last night delivering
the performance that won them the 2012 RAW Nashville Musician of the Year Award.
The national RAWards Indie Arts program, now in its fourth year, is a massive undertaking that recognizes outstanding new artists in multiple fields across the U.S. Last night's semi-finals were staged simultaneously in 54 different cites across America. Congratulations to BREE, David and Maryk on their big win and best of luck to them as they head to Hollywood where we like their chances of claiming RAW's 2012 American Musician of the Year Award.
(Posted November 16, 2012) To refer others to the post above only you can use this URL:
http://www.dnjournal.com/archive/lowdown/2012/dailyposts/20121116-2.htm
Attorney and T.R.A.F.F.I.C. Co-Founder Howard Neu Takes the Field With a New Domain Legal Team

T.R.A.F.F.I.C. Conference Co-Founder and veteran domain attorney Howard Neu has just launched a new venture. Neu has teamed up with well known Federal Litigation Attorney Roger Teich to anchor a one-stop web site for legal needs at DomainLegalTeam.com.

Neu said the new site will offer help for "all your legal needs, from UDRP and ACPA litigation to transfers, contracts, escrow agreements, leases, tax ramifications, joint ventures and partnership agreements, incorporations, corporate litigation and all other internet-related legal problems and concerns."

Teich, who built up a long, successful track record duruing his time at Skadden, Arps, Slate, Meagher & Flom, LLP and as a clerk to United States Judge Pamela Ann Rymer, said "We are enthusiastic that there is finally one place where everyone can resolve their legal problems and obtain valuable advice at very reasonable cost without having to go to different attorneys for each item."

The team will get additional technical and legal support from David Black. In addition to owning and operating his own virtual litigation assistance company called ShadowCounsel, Black will serve as litigation support specialist and ESI manager for the Domain Legal Team. Black was previously a senior intellectual property paralegal and electronic evidence liaison at the Silicon Valley offices of Cooley Godward LLP (now Cooley LLP) and Gray Cary Ware & Freidenrich (now DLA Piper).

Black said, "Domain Legal Team is a virtual practice providing legal services to a client base that expects information management expertise utilizing the best available technologies. We're more nimble, more efficient and ultimately more productive - at a lower cost - than traditional law firms clinging to increasingly outmoded ways of conducting business in an electronic era."

Howard Neu
DomainLegalTeam.com

Roger Teich
DomainLegalTeam.com

Neu, of course, will also continue to produce the industry's longest running domain conference with T.R.A.F.F.I.C. Co-Founder Rick Schwartz. The 24th show in the popular series that began in 2004 will be held at the Bellagio Hotel in Las Vegas May 29 - June 1, 2013.

(Posted November 16, 2012) To refer others to the post above only you can use this URL:
http://www.dnjournal.com/archive/lowdown/2012/dailyposts/20121116.htm
ICANN Drops a Bomb - New TLD Point Man Kurt Pritz Resigns Due to "Conflict of Interest"

ICANN CEO Fadi Chehade sent shock waves through the domain community (especially the segment of it involved in the planned rollout of hundreds of new gTLDs next year) when he announced the resignation of ICANN's Chief Strategy Office, Kurt Pritz, today (DomainIncite's Kevin Murphy, who covers ICANN closely, was the first to spot the letter breaking the news that Fehade posted on the ICANN website).

Fehade said that Pritz, who has played the lead role in ICANN's controversial new gTLD program, "submitted his resignation because of a recently identified conflict of interest." Unfortunately, Fehade did not disclose what that conflict entailed, an omission that is drawing a demand for more information from those who have already invested hundreds of millions of dollars in new gTLD preparations and applications.

Kurt Pritz

Michael Berkens

Michael Berkens, who runs the popular TheDomains.com blog and is also co-founder of a new gTLD consulting company, RightOfTheDot.com, issued a call for ICANN to "Come Clean" on the Pritz resignation in a blog post today. Given the possibility that Pritz's conflict may be related to the new gTLD program - one that involves many competing interests who are counting on a level playing field - Berkens said, "This is not acceptable...In his first address at ICANN as CEO in Toronto Mr. Chehade spoke of transparency time and time again. Now it the perfect time to for ICANN to do the right thing and tell those applicants who just gave ICANN over $350 million to apply for a new gTLD, many of whom have spent years of their life on the program what exactly the conflict of interest is, when it was detected, why it wasn't detected earlier."

So far, Mr. Pritz, who was a widely respected figure at ICANN, has been unavailable for comment and Mr. Cheade's only comment on the matter was the brief note he posted today:

To the ICANN Community,

Regretfully, I have accepted the resignation of Kurt Pritz, who has served most recently as ICANN's Chief Strategy Officer.

Kurt has submitted his resignation because of a recently identified conflict of interest, which he immediately communicated to ICANN. After analyzing this conflict of interest, we decided that a change in Kurt's role within ICANN would be appropriate. Kurt decided to resign his position and role as an officer of ICANN, to best serve the interests of the organization. Kurt will be engaged as a subject matter expert where needed, but will have no access to new gTLD applicant information nor will he play a role in the new gTLD program.

I have already put in place a plan for the reassignment of all of Kurt's management responsibilities.

I would like to thank Kurt for his many years of service and commitment to ICANN and our community.

Respectfully,
Fadi

With the amount of money that has been poured into the new gTLD program by so many different entities, it is obvious that this issue will remain a hot topic until those with a stake in the process get the answers they need to alleviate their concerns.

Pritz had been with ICANN since September 2003. Prior to joining domain name system's oversight body, Pritz spent nearly a decade at Walt Disney Imagineering where, as Vice President, Engineering & Production, he was responsible for the technical design and delivery of theme park shows and rides worldwide.

(Posted November 15, 2012) To refer others to the post above only you can use this URL:
http://www.dnjournal.com/archive/lowdown/2012/dailyposts/20121115.htm
Companies in the News: MediaOptions, DomainIndex, Nominet and Telnames

Domain brokerage company MediaOptions.com, whose founder & CEO, Andrew Rosener, was interviewed in our September 2012 Cover Story about the brokerage business, announced a key addition to their management team today. Tess Diaz, one of Go Daddy's longest tenured (6 1/2 years there) and most respected Executive Account Managers, has accepted a new Coordinator of Business Development position with Panama-based Media Options.

CEO Andrew Rosener said Tess was the person who got him interested in the domain business in the first place. Rosener said, "I couldn't be happier to have the opportunity to work even more closely with Tess. For the past six years Tess has been a critical advisor and assistant to our business in her role at Go Daddy as our Executive Account Manager, but now that we have her full time and attention, I look forward to the improvements and innovation she'll bring to the team."

Ms. Diaz said, "I'm delighted to join the Media

Tess Diaz
Coordinator of Business Development
MediaOptions.com

Options team. Media Options is such a responsible and respected leader, particularly in increasing end-user perceptions on domain value via education and their own portfolio of online businesses. Together, our clients can expect to experience Media Options' established results through our ongoing commitment to improving efficiency and effectiveness."

Elsewhere, Nominet's controversial plan to introduce .uk domains that would compete with the long established .co.uk extension that Nominet already administers, resulted in a dire prediction of dramatically reduced .co.uk values being issued by DomainIndex.com today.

The domain name benchmarking, rating and appraisal service, said DomainIndex.com "believes the introduction of the .uk TLD would massively destroy the value of existing .co.uk domains and in fact Nominet´s announcement already inflicted harm to the value of .co.uk domains and the aftermarket, as well as the investment climate in the .uk TLD. Our analysis of the proposal, which Nominet defends as a move to increase Internet Security, would have several adverse effects." The adverse effects DomainIndex predicts are detailed here.

In news from another TLD, Telnames is trying to breath some life into the .tel extension, that has been rarely seen since its 2008 birth, by releasing a new Mobile Website Builder app for the iPhone that was announced today. The company said the app, now available as a free download from the Apple App Store, "enables professionals and businesses to buy and create their own mobile-friendly website in less than 10 minutes with just their thumb."

Telnames CEO Khashayar Mahdavi said, "We believe this app changes the game by removing all the complexities

involved in buying and building a mobile-ready website. From today anyone, regardless of technical ability, can get their own place online in a matter of minutes." More information on the application and Telnames can be found at http://telnamesapp.tel.

(Posted November 13, 2012) To refer others to the post above only you can use this URL:
http://www.dnjournal.com/archive/lowdown/2012/dailyposts/20121113.htm
Moving Music/Video Tribute to Veterans Created by Sams Family Members Going Viral
The United States will observe Veteran's Day Sunday (Nov. 11), a day that recognizes the service of all U.S. military veterans. The meaning and emotion behind Veteran's Day has been captured in a remarkably moving way in an original song and video that has been put

together by three very talented members of the Sams family. The name is familiar to people in the domain business thanks to industry veteran David Sams (who was the subject of September 2011 Cover Story).

Before he got into this business David had phenomenal success as a Hollywood TV producer. He played a key role in launching the most popular syndicated talk show in television history with Oprah Winfrey. He was part of the legendary team that launched other smash hits like Wheel of Fortune and Jeopardy! and he won 9 Emmy Awards along the way.

Today I learned that David isn't the only member of the family with extraordinary talent. David posted a link to a music video on his Facebook account this morning featuring an original song called "Dear Veteran" that is marvelously sung by his 13-year-old daughter Elizabeth, who also co-wrote the tune with her mother, Renee Sams. After being both floored and inspired when Elizabeth sent him a copy of her song, David put his video production talents to work stitching together a stunning collage of scenes that completed this very special package.

David Sams
at a 2009 Academy Awards
dinner in Hollywood, California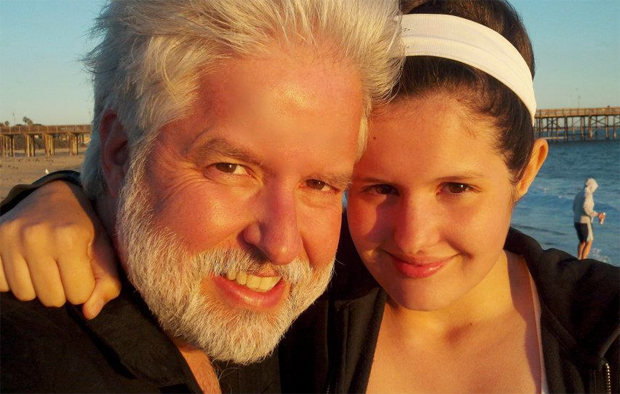 David and daughter Elizabeth Sams
It looks like "Dear Veteran" is quickly going viral. Within an hour of when David posted the YouTube link to the video, more than 50 others has shared the link with their friends. By the end of the day it will be in triple digits if not more. You can see this special gift to our veterans by clicking Play on the video below.
(Posted November 9, 2012) To refer others to the post above only you can use this URL:
http://www.dnjournal.com/archive/lowdown/2012/dailyposts/20121109.htm
The Top 20 All-Cash Domain Sales Reported Since DNJournal.com Started Tracking the Aftermarket in 2003
Last week in a post about Marchex releasing a list of their 500 biggest domain sales over the past four years, I noted that I have never published an all-time top domain sales list, because I can't vouch for sales reported before we started tracking and verifying aftermarket sales in late 2003.
Many of the sales reported prior to that were not cash deals. Instead payment was often made, at least partially, with stock (usually of questionable value at best). Still others were entirely bogus. Since no one (that I know of) was checking, it was something some unscrupulous people did in an effort to pump up the perception of value in a keyword string or TLD that they had a financial interest in. Of course, there were some impressive real sales in that era too, I just can't vouch for which ones were and which ones were not.

Image from Bigstock
What I did do a couple of years ago this month, is post in this column a list of the Top 20 Sales ever reported by DNJournal.com. With the release of the Marchex sales last week, it occurred to me that this might be a good time to update our all time Top 20 covering sales we have reported since we began tracking the market almost 10 years ago.
Image from Bigstock

As it happens none of the Marchex sales were high enough to elbow their way onto this list. It takes at least $1.5 million to make it and the top sale on the Marchex 500 was Norwegian.com at $700,000. No surprise really because at these levels, sales that rank among the decade's 20 biggest are few and far between.

In fact only two sales made in the two years since we first published this list qualified for the DNJ Top 20 (2003-Now). One of those, the late 2010 sale of Sex.com, brokered by Sedo's Jeff Gabriel (now the President at DomainAdvisors.com), soared all the way to #1 where it remains at a cool

$13 million. The other newcomer - coming on board at #12 - is last year's $2,600,000 sale of Social.com, handled jointly by Monker.com and NameQuiver.com. Here is the complete Top 20:
The 20 biggest cash domain sales ever reported by DNJournal.com

1. Sex.com

$13,000,000

12. Social.com
$2,600,000

2. Fund.com

$9,999,950

13. Computer.com

$2,100,000

3. Porn.com

$9,500,000

14. Seniors.com

$1,800,000

4. Diamond.com

$7,500,000

15. Fly.com

$1,760,000

5. Slots.com

$5,500,000

16. Dating.com

$1,750,000

6. Toys.com

$5,100,000

17. Auction.com

$1,700,000

7. Clothes.com

$4,900,000

18. DataRecovery.com

$1,659,000

8. (tie) Vodka.com

$3,000,000

19. Ticket.com

$1,525,000

8 (tie). Candy.com

$3,000,000

20. (tie) Russia.com

$1,500,000

10. Shopping.de

$2,858,945*

20. (tie) Tandberg.com

$1,500,000

11. CreditCards.com

$2,750,000

20. (tie) Cameras.com

$1,500,000

*Shopping.de sold for €1,960,000 in 2008. The dollar equivalent at that time was $2,858,945.

While the Top 20 chart above is current through today - November 8, 2012 - changes will occur over time, so, to make an updated list always available, I have placed a permanent DNJournal Top 20 Chart (2003-Present) link in our Domain Sales Archve with that chart being updated every time a new sale qualifies for the elite list.
(Posted November 8, 2012) To refer others to the post above only you can use this URL:
http://www.dnjournal.com/archive/lowdown/2012/dailyposts/20121108.htm
Big Changes at Sedo - Three Co-Founders & Chief Sales Officer Leaving

Earlier this year Sedo Co-Founder and Former CEO Tim Schumacher left the company that he started 12 years ago with Ulrich Priesner, Marius Würzner and Ulrich Essmann. Today, the popular domain monetization and aftermarket sales company announced that Priesner, Würzner and Essmann will also be exiting, along with Chief Sales Officer Liesbeth Mack-de Boer, shortly after the 1st of the year.

Moving up from within Sedo's ranks, Dirk Ochotzki will now serve as Head of Operations, Joel Ghebaly as Head of Product Management (Traffic Monetization), and Simonetta Batteiger as Head of Product Management (Trading).

Sedo CEO Tobias Flaitz

Tobias Flaitz, CEO of Sedo Holding AG, said, "I would like to thank the departing founders and management members for the last 12 years in which Sedo has matured from a fast growing start-up to the world's largest domain marketplace with more than 140 employees serving our global customer base. With changing market requirements and increasing competition, Sedo enters the next stage in its growth with changes at the management level that will let the company continue to cater to today's client expectations."

Co-Founder Ulrich Essmann, who has been serving as President of Sedo.com, LLC, said "By the nature of the domain business, Sedo has always been an evolving organization, and embracing change is part of the company's DNA. Today we are very proud to pass on management responsibility to longtime team members who will enable Sedo to capitalize on its tremendous growth opportunity and bright future."

With Mr. Flaitz anchoring the next generation of Sedo leadership, the company's announcement said Sedo is poised for further growth in its second decade by bringing to market innovative domain solutions that help companies and entrepreneurs capitalize on their online real estate potential, citing a recently launched suite of services to help launch promote and grow new gTLDs as one example.

(Posted November 7, 2012) To refer others to the post above only you can use this URL:
http://www.dnjournal.com/archive/lowdown/2012/dailyposts/20121107.htm
Rick Schwartz Launches New Business Based on "Million Dollar" Domain Names at JointVentures.com

"Domain King" Rick Schwartz has added a new business to an entrepreneurial portfolio that already includes the T.R.A.F.F.I.C. domain conference and eRealEstate.com, the home base for his domain monetization and development endeavors. Schwartz has just launched Jointventures.com, a new platform that will he said will give companies wanting to differentiate their brand online an opportunity to secure a premium generic .com website domain name with zero up-front capital cost through a joint venture or a leasing arrangement."

Schwartz said over 1,000 of his company's generic and brandable website domain names, including Homemade.com, Tradeshows.com, VirtualTours.com and Widgets.com, have been set aside for free use or to lease to qualifying companies. He said JointVentures.com offers "a new strategy for CEOs and marketing executives of small, medium and large companies with growth ambitions to get a "million dollar website domain name" without the high price tag or capital layout of category defining domain names frequently reported sold in today's secondary market."

Rick Schwartz
Founder, JointVentures.com

The plan allows member companies to apply for a profit-sharing joint venture and if selected receive the exclusive right to use and develop the premium domain name of their choice in exchange for a domain partnership deal based on pay-per-lead, pay-per-sale, pay-per-call, and/or percentage equity stake. Domain name lease agreements for an affordable monthly fee are also being offered.

Schwartz said selling domain names for cash is not a part of his company eRealEstate.com's business model. He noted that he has sold only 18 domain names outright over the past 18 years, but those have totaled over $10 million dollars, including transactions that received international media attention including iReport.com (sold to CNN for $750,000), Men.com for $1.3 million, Candy.com for $3 million + royalties, and Property.com for $4 million plus stock.

"I started in this business in 1995 with a 20 year plan, and we are now in the final phases," Schwartz said. "Our business does not have the resources, time, or infrastructure necessary to actively go into all of the business industries for which we own domain names receiving traffic, generating over 100,000 potential customers every day. In fact, we never planned to do so. Instead, today we lease our domain names or joint venture with companies to develop them into website businesses, and then receive a fair percentage of our partners' increased profits."

Schwartz said that over 3 million consumers per month visit the eRealEstate family of websites, that includes some

Rick Schwartz welcoming attendees to the Oct. 2012
T.R.A.F.F.I.C. conference at Ft. Lauderdale Beach, Florida

of the most popular category-defining destination website domain names in the world, such as Candy.com, BirthdayParty.com, PunchBowl.com, ChiantiWine.com, HelicopterCharter.com, CubicZirconia.com, Property.com and many more, all operated by domain lessees, joint venture partners and other agreements.

In addition to his own domains, Schwartz said JointVentures.com services will also be available to domain investors that have category defining domain names and others of "obvious great value." Schwartz said, "Great domains with low earnings on PPC can increase domain investor payouts by large multiples with just our standard $1500 per month annual lease. The cost of which is still just a fraction of a full running brick and mortar store capable of attracting mostly customers from a very specific and small geographic area compared to a worldwide presence with unlimited expansion capabilities."

| | |
| --- | --- |
| Image from Bigstock | Schwartz added that JointVentures.com does not accept .net, .org or any country specific domain names or any other extension. .Com only. While JointVentures.com has already made a "soft" launch Schwartz said the official opening will be on December 1, 2012. For additional information on the marketing, branding, credibility, memorability and business growth benefits of operating a business online from a premium generic .com domain name Schwartz encouraged interested companies to review the information and list of category defining domain names provided at JointVentures.com and apply now. |

(Posted November 6, 2012) To refer others to the post above only you can use this URL:
http://www.dnjournal.com/archive/lowdown/2012/dailyposts/20121106.htm
Sedo Releases 3rd Quarter Sales Results - Reports Much Stronger Median Sale Prices Than a Year Ago

Editor's Note: After this article was posted, Sedo issued an updated release deleting references to the median price increases cited in their initial press release that was quoted in this article. In researching median price questions raised by Andrew Allemann at DomainNameWire, Sedo reported finding a currency error that produced incorrect median numbers, resulting in that metric being withdrawn in their updated release.

Domain aftermarket powerhouse Sedo.com released their latest quarterly Domain Market Study (.pdf file) today. The report breaks down sales results on Sedo's popular platform in the recently completed 3rd quarter of 2012. The numbers Sedo reported mirror a trend we saw in the 3Q-2012 data we collected from sales venues throughout the industry - higher median sale prices but lower total dollar volume compared to the same quarter a year ago (a breakdown of our data will be in our next monthly newsletter that we expect to publish tomorrow).

The drop in total dollar volume resulted from fewer blockbuster sales at the ultra high end of the market as weakness in the general economy seemed to make buyers too skittish to pull the trigger on seven-figures deals (only one has been publicly reported in 2012 - PersonalLoans.com at an even $1,000,000 last February). Though high end sales have been few and far between, the mid range of the market has been a different story with a steady stream of sales at median prices that have moved up from a year ago (the median price is the point at which half of all sales were higher and half were lower).

Sedo reported "median sales prices for the most popular generic Top-Level Domains (gTLDs) saw significant increases from the same quarter a year ago, indicating strong momentum in domain value. Specifically, .COM domains saw a year-over-year increase of 41%, while .NET and .ORG domains both increased 44%. By contrast, the lack of high end sales across the industry resulted in total dollar volume at Sedo falling over 20% from $19.3 million in 3Q-2011 to $15.1 million in 3Q-2012.

Image from Bigstock

Sedo's average sales price for .COM domains increased from $2,107 in the previous quarter to $2,225 in 3Q-2012 with .COM domains accounting for 49% of Sedo's sales. The average sales price of .NET sales "plummeted almost $1,000 in the third quarter, suggesting that the high average experienced last quarter was the result of several very high value sales," another illustration of how a handful of sales can skew total dollar volume and average sale prices dramatically. The average sales price for .ORG domains increased to $1,313, up 9% from the previous quarter, largely thanks to the sale of Work.org for $55,000.

The Sedo report said domains were purchased by buyers in more than 160 countries worldwide, "further highlighting both the global importance

of securing the right domain for a business and the creative approaches some registries have implemented to market country code Top-Level Domains (ccTLDs)." Sedo also noted that Buy Now transactions (sales made at fixed prices rather than through back and forth negotiations) accounted for 42% of all sales there - further evidence of a trend that has been growing annually - buyers showing a preference for set prices rather than haggling for a domain.

(Posted November 5, 2012) To refer others to the post above only you can use this URL:
http://www.dnjournal.com/archive/lowdown/2012/dailyposts/20121105.htm
How Will All of Those Big Marchex Domain Sales Revealed Thursday Fit Into DNJournal's Charting System?

As I told you yesterday, when Marchex announced they were spinning off their massive portfolio of domain assets into a new company called Archeo (this .pdf file has details on what the new company will be doing), Marchex also released, for the first time, the prices they received in each of their top 500 domain sales over the past four years.

With 49 of those sales hitting six figures, ranging all the way up to $700,000, obviously many of the newly revealed transactions would have ranked high on the annual Top 100 sales lists we publish at the end of each year (you can see all of those in our Domain Sales Archive - scroll down past the weekly headline links to the last section with links to the annual Top 100 charts).

Since Marchex did not release the dates their sales were made I couldn't assign qualifying sales to a specific Top 100 chart so I had to decide how to best recognize this treasure trove of new sales information and fit it into our existing data covering tens of thousands of sales reported over the past decade in a way that would make it easily accessible to our readers going forward.

We have never had a situation like this come up before, so I considered several options before deciding the best route would be to add a special entry in our Domain Sales Archive detailing how the Marchex sales, made over a span of several years, came to be released, including a permanent link to their complete Top 500 list - just as there is a link to each of our Top 100 charts.

Image from Bigstock

In the years over which the Marchex sales were made, I found that it took a minimum of $73,500 for a domain to qualify for any one of our annual charts across that span. 72 names on the Marchex list beat that number. With a lot of detective work it may (or may not) have been possible to eventually run down the years in which those sales were made so they could be put on existing Top 100 charts - but that would have meant that an average of 18 names on each of the present charts since 2008 would be deleted.

Since our purpose is to try to bring you more sales information rather than less, I didn't think that was the best option. You could have still dug through hundreds of weekly columns (all of which are linked to in the Archive) to find the 72 notable sales that would have been bumped, but that would take forever rather than having them readily available to you where they are now.

Also, since none of the Marchex sales were reported when they happened, none were included in our weekly reports over the years - another reason to make their list a permanent special entry, otherwise the 428 Marchex sales that would not have qualified for one of the Top 100 lists, would never be seen again in our Sales Archive.

Last but not least is the fact that the Top 100 lists, with or without Marchex sales, are still just a sampling of the sales that have taken place over the years. We all know that publicly reported sales represent just a fraction of aftermarket activity. Most sales, especially at the high end of the market, are never reported due to non disclosure agreements. For that reason we have always taken pains to note that our charts are meant primarily to be an educational tool that allows you to see how much specific domain names have sold for - not a complete list of every sale that took place as such a list is impossible to compile due to the majority of sales being kept private. The vast number of significant sales Marchex made that went previously unreported is a perfect example of that. We only see the tip of the iceberg.

Still, being able to detail the specifics from a broad range of public sales is helpful in giving all of us a better understanding of domain values and sales trends over a long period of time. Through the links in our Sales Archive to all of our weekly columns since 2003, the annual Top

Image from Bigstock

100 charts and now the Marchex list - all of that information is readily available to you in one spot.

One final point while I am on the subject of reporting sales. I am often asked why we don't publish an all-time top sales chart. The reason is that I have always refused to vouch for any sales reported prior to the fall of 2003 when we began collecting, verifying to the best of our ability and publishing reported sales. Prior to that a lot of people were claiming to have made big sales - many of which were later proven to be bogus - comprised of either "funny money" deals that involved more worthless stock than cash or even worse - numbers that were nothing more than someone's vivid imagination. At the time no one (that I know of) was attempting to verify whether some of the sales claims being thrown around were real. As a result, I am not comfortable including pre-2003 sales on an "all time" chart with my name on it. I'm sure there were many legitimate and sizeable all cash sales made in earlier years, I just can't tell you with enough certainty which ones fit that description.

(Posted November 2, 2012) To refer others to the post above only you can use this URL:
http://www.dnjournal.com/archive/lowdown/2012/dailyposts/20121102.htm
Marchex Splits Into Two Companies - Domain Assets Go to New Business Dubbed Archeo - Prices Paid in Highest Marchex Domain Sales Revealed For the First Time

Marchex, one of the few public companies in the domain business, made a huge splash in 2005 when the Seattle based company spent $164 million to acquire a portfolio of more than 100,000 domains that had been assembled by reclusive investor

Yun Ye (who did business under the Ultimate Search banner. We detailed the early history of Marchex in a September 2006 Cover Story).

Since then Marchex has tried several ways to best monetize their domain assets (which have grown to approximately a quarter of a million names today) and along the way the cash flow from their domains gave them funds they used to branch into new areas including pay per call (rather than pay per click), call analytics and mobile marketing.

With the advent of the iPhone and explosion of cell phone use in general those three areas became the company's most important growth centers and today accounts for more than 80% of Marchex's business with the company recently hitting $120 million in annualized revenue from those categories. Marchex CEO Russell Horowitz said, "Our company is the largest mobile advertising company few have heard of. But most important, it's driving better

advertiser ROI than any other mobile business." Details about this key component of the Marchex strategy are in a new 16-page Marchex Summary (.pdf file) that the company released today.

In a phone interview Wednesday Horowitz told me the rapid growth of its call/mobile advertising platform resulted in the company becoming a kind of "half man, half beast" with the domain assets not getting the attention they deserved due to the company's focus on its new profit centers. So, after a strategic review, management decided to spin the domain assets off in a new company called Archeo - a move that was announced after the stock market closed this afternoon. Horowitz said that the spin off of Archeo (whose goal is to "develop the industry's most dynamic domain and advertising marketplace") will help Marchex unlock maximum value from each side.

| | |
| --- | --- |
| Horowitz will remain as Marchex CEO and also serve as Chairman at Archeo, but he said an entirely new management team will be hired to run that company. Horowitz said he believed the assets going to Archeo are worth nine figures based on the fact that Marchex raked in $30 million for a tiny fraction of their portfolio - a few hundred names that have been sold over the past three and a half years - names that Horowitz said were neither core assets nor the best domains in the Marchex portfolio. Horowitz added that the company has turned down seven-figure offers on several domains it continues to own. | Image from Bigstock |

In a release of new information that will be of special interest to domain investors, Marchex underscored the point above by publishing, for the first time, the prices they received for their top 500 domain sales. More than a dozen of those went for prices ranging from $200,000 to $700,000 as shown below:

Norwegian.com
Exterminator.com
Vuelos.com
LocalDeals.com
Matrimony.com
BlockParty.com
NA.com

$700,000
$520,000
$500,775
$500,000
$500,000
$300,000
$275,000

Giggle.com
UniversalSports.com
CalorieCount.com
Dominio.com
FreeScore.com
MyEducation.com
FreeScores.com

$250,000
$250,000
$250,000
$250,000
$200,000
$200,000
$200,000

The Marchex sales list included 35 more six-figure sales. You can see the complete list of their 500 largest sales here (.pdf file).

With Archeo the company plans to be involved in domain sales, monetization and development saying:

We will take a build or partner approach to develop businesses complementary to our vertical focus and expand our strategic domain sales support efforts. This includes entering the buy-now market where we did not previously participate.

Our premium vertical PPC product will focus on innovative new features and entering new verticals.

Our unique and highly valuable domain portfolio and history in performance advertising provides a limitless ability to build new businesses.

For further details, see a tidy summary - in bullet points - of the Marchex Story, tracing the company's evolution, and the Birth of Archeo in this two-page Word document.

(Posted November 1, 2012) To refer others to the post above only you can use this URL:
http://www.dnjournal.com/archive/lowdown/2012/dailyposts/20121101.htm
---
If you've been out of the loop lately, catch up in the Lowdown Archive!
---
We need your help to keep giving domainers The Lowdown, so please email

[email protected]

with any interesting information you might have. If possible, include the source of your information so we can check it out (for example a URL if you read it in a forum or on a site elsewhere).
---
Home Domain Sales YTD Sales Charts Latest News The Lowdown Articles
Legal Matters Dear Domey Letters to Editor Resources Classified Ads Archive About Us