The Lowdown
February 2013 Archive
Subscribe to our RSS Feed

Here's the The Lowdown from DN Journal,
updated daily to fill you in on the latest buzz going around the domain name industry.

The Lowdown is compiled by DN Journal Editor & Publisher Ron Jackson.
.CO.UK Rescued, .ORG Rockets, Dr. Chris Hartnett Sparkles & Igal Lichtman's Light Shines On

British flags image from Bigstock

A lot of good news crossed our desk in the past 24 hours. It was especially good to see sanity prevail when Nominet, the administrator of Great Britain's iconic .co.uk domain extension, at least temporarily, back away from its widely reviled plan to sell .uk domains (a move that would instantly devalue the millions of .co.uk domains that have already been registered). The scheme to sell .uk domains (at grossly inflated prices) ran aground after a wave of complaints from current .co.uk registrants washed over Nominet. .co.uk is still not out of the woods yet, as Nominet said it will continue

to study ways to sell .uk separately that would cause less damage to its existing customer base. As always, vigilance will be in order here for every business and individual invested in the well established and widely respected .co.uk namespace.

While .co.uk dodged a bullet, the .org extension apparently spent the second half of 2012 speeding like a bullet. The Public Interest Registry, who administers the popular .org TLD, said in its latest semi-annual Dashboard report that the number of .org registrations soared by almost 12% in the final half of last year.

.Org added over 416,000 registrations over the entire year with a lot of that surge credited to fast growth outside of its core North American and European markets. From 2010 to 2012, newly created .org domain names in Asia, Australia and the Pacific Region grew by 47%, followed by Latin America at 25% and Africa at 23%.

Public Interest Registry CEO Brian Cute said, "We had a very successful 2012, which included reaching a remarkable milestone with the registration of our 10 millionth .ORG domain and the outlook for 2013 looks just as bright both domestically and abroad."

Dr. Chris Hartnett

I've always been amazed by the diverse skill sets so many men and women in our industry have. Those renaissance men and women often excel in areas far beyond the domain space. Take, for example, T.R.A.F.F.I.C. Domain Hall of Fame member Dr. Chris Hartnett who was profiled in one of most popular Cover Stories ever in June 2008. I mentioned Chris's expertise in gemology in that article five years ago and he remains a widely respected expert in that field.

That was underscored again today when Southern Jewelry News published a profile about Dr. Hartnett titled In the Pink - The Morganite Millionaire. The fascinating story details Chris's remarkable history with precious gems and, in a telling nod to his top priority in life, they kicked off the article with a photo of Chris with his four most precious gems - his wife of 34 years, Linda, and their three lovely daughters.

There are certain special people who shine even brighter than the most expensive diamonds. We lost one of those 10 days ago when industry giant Igal Lichtman passed away after a fierce battle with cancer. A lot was written about Igal in the immediate hours after that sad news broke, and now one of the most touching tributes to the man has been added to a special memorial page on the most prized website in his marvelous collection - Jerusalem.com, an ambitious site he co-founded with his beloved wife Michal.

The tribute noted, "Igal was a brilliant entrepreneur who always saw an opportunity where others did not. His spirit and light were so strong that one could not remain passive in face of it."

"We at Jerusalem.com will miss you greatly Igal. You have been our inspiration and strength

Igal Lichtman

and your support and teachings will continue with each and every one of us. We are thankful to have met a true visionary and thankful for the amazing opportunities you have given us all. As we continue forward with Michal, to realize your joint dream, we will remember and feel you always. We hope to make you proud and follow in your footsteps."

(Posted February 28, 2013) To refer others to the post above only you can use this URL:
http://www.dnjournal.com/archive/lowdown/2013/dailyposts/20130228.htm
New Service Offers Short Term Cash Loans Secured by Your Domains & Financing for New Purchases

inteLend Founder Matt Collins

While I was at the Webfest Global conference earlier this month I had a chance to chat with attorney Matt Collins who has launched a new financial services company at inteLend.com. Collins designed the business to serve intellectual property owners, especially those who hold quality domain names and/or revenue producing websites.

inteLend's service is much different than the long term domain financing model pioneered and dominated by DomainCapital.com. Collins has gone in the opposite direction, offering short term (usually one month) cash loans, as well as financing of new domain purchases (deals that can be paid off or renewed on a month to month basis).

While inteLend is a new company, Collins, is no novice in the short term financing and online business field. He helped DigiPawn.com get off the ground and went on to serve as Legal Counsel for a wide variety of ecommerce companies. Collins said he kept encountering people and companies who, even though they owned valuable domains, patents or other

intellectual property, got the cold shoulder from traditional lenders when they needed access to capital. He founded inteLend to fill that gap.

I asked Matt for more details on the two services inteLend offers - 1) cash loans and 2) financing of domain purchases. For loans, Collins said, "We advance cash on domains that have intrinsic value as well as websites that generate cash flow - the higher the value of the collateral, the more we can advance on any given deal. Once we agree on the financial terms with the client, the client forwards the domains to us in our registrar account and we wire transfer the money to the client."

"Since the name servers are unaffected, the client continues to operate his business as normal," Collins said. "inteLend.com can never "call" the deal or force a client into a default, meaning the client can close out the deal whenever ready. More importantly, the client can continue to renew the deal every month for as long as the client wants to do so."

For those interested in the company's other service - helping to finance new purchases, Collins said, "In this situation, inteLend.com will loan up to 70% of the purchase price. The buyer will need to put down at least 30% so that he will have a real ownership interest and thus will not be likely to default on a deal."

Collins acknowledges that inteLend is not for everyone. As with short term financing providers in other fields, interest rates are high. However, Collins cited several reasons why many will find the cost is justified:

Make money online image from Bigstock

1. There is never a credit check.

2. Cash advances are made solely on the value of the assets so personal credit is never going to be involved.

3. Whether a client needs $500 or $5,000,000, we stand ready to help as we have vast financial backing in order to do deals of any size.

4. A client will get a decision and/or offer within one business day.

5. While the domain is the collateral for every deal and is held by inteLend.com curing the term of the deal, the client still gets full use of the domain and has control of the name servers.

6. The client has maximum flexibility to decide every month whether to pay off or renew the deal so every deal is on a month to month basis.

If you would like to hear an in-depth discussion of inteLend's services, checkout the video interview that Michael Cyger did with Collins for DomainSherpa.com. Matt can also be contacted via email at [email protected].

One other thing - if you run a website, you might be able to profit from inteLend's arrival on the scene, even if you never have a need for the company's financial services. Collins said, "We have an affiliate program where affiliates can refer friends and associates to our service and earn a commission for every deal that is done. As an affiliate, the commissions can be very lucrative as we pay 3% of every deal an affiliate brings to us. This commission is payable after the client pays the first month's finance charge." You can check out http://intelend.com/affiliate.php for more information on the inteLend affiliate program.

(Posted February 26, 2013) To refer others to the post above only you can use this URL:
http://www.dnjournal.com/archive/lowdown/2013/dailyposts/20130226.htm
NameMedia Chairman and CEO Kelly Conlin in Line for a Board of Directors Seat at a Major Media Conglomerate
As a life long fan of all kinds of media, one of the people I most look forward to seeing and chatting with at domain conferences is NameMedia Chairman and CEO Kelly Conlin. Kelly is one of the few high level executives who has very successfully transitioned from traditional media to the digital media world and is completely comfortable on both sides of the fence.

Before coming to NameMedia (the parent company of domain industry powerhouses Afternic and BuyDomains), Conlin filled leadership roles at some of the world's iconic media outlets including CNN, where he was the Chief Assignment Editor in New York during the network's start-up era, and the New York Times, where he worked on both the editorial side of the newspaper and on the business side of the company's magazine group.

Kelly went on from there to serve as President (and later added CEO duties) at IDG, the world's leading technology media company, with more than 500 targeted publications, websites,

Kelly Conlin
NameMedia Chairman & CEO

subscription research services and events in more than 85 countries. In his last stop before coming to NameMedia he was the President and CEO at Primedia, the country's leading special interest media company, with more than 100 brands operating through print, online, event and video platforms.
Having been named one of the Top 5 executives in the entire business publishing field by Media Industry Magazine, the Harvard Business School graduate's advice and counsel is valued throughout the media world. That was illustrated again today when the E.W. Scripps Company, one of America's biggest newspaper and TV ownership groups, announced that Conlin has been nominated to serve on the Scripps board and will stand for election by the Common Voting shareholders at the May 1 annual meeting.
Scripps reached out to Conlin in the course of some major board changes at the 90-year-old Cincinnati based company. Nackey E. Scagliotti, a great-granddaughter of the founder, Edward Willis Scripps, notified the board that she will retire from service after the annual meeting and will not stand for re-election. The board's nominating committee has recommended that Rich Boehne, who has been the CEO and a director since 2008, replace Ms. Scagliotti as the board's chair. With the CEO serving as chair, the board will also select a lead independent director from among the directors elected in May.

Scripps owns and operates 19 television stations in

markets including Denver, San Diego, Detroit, Phoenix, Cleveland, Cincinnati and my home town - Tampa, Florida, as well as 13 newspapers in cities including Memphis, Knoxville, Naples, Florida and Corpus Christi, Texas. As the company positions itself to adapt and grow in a new media world they couldn't have a better advisor on board that Kelly.
(Posted February 25, 2013) To refer others to the post above only you can use this URL:
http://www.dnjournal.com/archive/lowdown/2013/dailyposts/20130225.htm

Today's Riddle: What Do Domainers, Escrow.com, Fender Guitars, Giving, Geddy Lee, Rush and The Rock and Roll Hall of Fame Have in Common?
One thing I've always loved about the domain business is the fact that there are so many very successful people in this industry that have not forgotten where they came from. They appreciate what they have and they generously give back to more causes than you might
ever imagine. In the past year alone they've donated tens of thousands of dollars to the good work of The Water School, an organization I've frequently written about because I know it is a charity where 100% of the donations go to the people the money is intended to help.

That is just one example of many though. I'll tell you about another one, but probably should first explain why that one immediately caught my attention. Those of you who are familiar with my background know that I am a big music fan and ran my own retail record stores in Florida for many years. I've got a Fender Stratocaster hanging on my office wall (that's it at right) with a Fender Mustang amplifier sitting right below it and a stack of Learn to Play Guitar books on an end table next to it. That's right, I don't know how to actually play it! However, one of the top things on my bucket list is learning to play a tune on electric guitar.

I dream of it being something like Jimi Hendrix's version of "All Along the Watchtower" (Jimi played a white Fender Stratocaster at Woodstock) but I know it will more likely be along the lines of "Mary Had a Little Lamb" - but that's OK! I just want to play something and I want the equipment and instructions sitting there to keep taunting me until I make time to start learning.
So, what does that have to do with domain people giving back? I'm glad you asked! As it happens the Fender Music Foundation (FMF) runs a program, that, like The Water School, makes sure every penny donated is used to put musical instruments in the hands of students enrolled in music education programs around the country. Over the past seven years more than 187,000 budding musicians have benefited from the program.

As for the domain connection, Escrow.com, a company that just about every domainer has used at one time or another in the process of selling their names, played a key role in the FMF's latest fundraising effort.
Escrow.com handled the sale of a black Fender Geddy Lee Jazz Bass Guitar autographed by the Rush bassist and vocalist, Geddy Lee himself, along with fellow band mates Alex Lifeson and Neil Peart (all three of whom will be on hand when Rush is inducted into the Rock and Roll Hall of Fame in April 2013). The sale raised over $10,000 after the guitar was auctioned off through Reverb.com.

Escrow.com initially got involved in the auctioning off of the guitar after hearing about the effort from one of their staff members, General Manager of Emerging Markets Andrew Sokol, who sits on the Board of the Fender Music Foundation as the Chairman of the Grants Committee.

Escrow.com President Brandon Abbey (through whom Escrow.com also contributed to The Water School's WaterShave fundraisers when they began last year and did so again this year) said "The Fender Music Foundation is yet another organization we are passionate about. We just recently co-sponsored a golf tournament that raised $120,000 for the Semper Fi Fund and America's Fund (both of which benefit injured

Above: Rush drummer Neil Peart autographing the guitar sold by Escrow.com.

Below: a close up of the autographed guitar that went for over $10,000.

(Photos courtesy of Reverb.com who ran the guitar auction on their site).

and ill members of the U.S. Armed Forces and their families) and when Andrew approached me with the idea to sell the bass to benefit the Fender Music Foundation, it simply fit right into our model of wanting to help others." (You can read more abut the sale of the guitar in this pre-sale announcement).
Kudos to the folks an Escrow.com and everyone else in our business who do us all proud by supporting so many worthy causes. As Winston Churchill once said, "We make a living by what we get. We make a life by what we give."
(Posted February 22, 2013) To refer others to the post above only you can use this URL:
http://www.dnjournal.com/archive/lowdown/2013/dailyposts/20130222.htm
DomainMarket President Chad Bennett Resigns, Protrada Partners With DomainPower and .US Registry Up For Grabs Again

Chad Bennett, who served as President and Chief Technical Officer at Michael Mann's aftermarket sales venue, DomainMarket.com, for the past 10 months has stepped down from that position. Bennett has decided to devote all of his time to Lancera.com, an IT outsourcing company he founded in 2011. Bennett said Lancera now has over 70 full-time employees with three offices in the U.S. and the Philippines.

Bennett was proud of the growth DomainMarket has experienced over the past year, telling his Facebook friends, "In the short time I was there we doubled e-commerce revenues and traffic to the website, increased monthly revenues by over 160%, lowered our expenses by tens of thousands a month and had created a completely new internal system to manage DomainMarket's portfolio of over 335,000 domains.

The testimonials page at Lancera includes comments from several of Mann's businesses

Chad Bennett
Lancera.com Founder

(including DomainMarket.com and SEO.com), as well as his well-known non-profit organization, GrassRoots.org. Lancera has also done work for multiple Fortune 500 and INC 500 clients.

Innovative domain name treading platform Protrada has announced a new partnership with DomainPower.com (a Domain Holdings, Inc. Company). The deal paved the way for DomainPower's monetization solution to be integrated into the Protrada platform, allowing the company's clients to monetize their domain assets and access reporting from within their Protrada account. The integration also

completes the domain lifecycle ambitions of Protrada, allowing members to research, bid, buy, sell, backorder, appraise, market, manage and monetize domains all from one centralized platform.

Protrada CEO Troy Rushton

DomainPower CEO Jason Boshoff said, "The DomainPower monetization decision engine predicts and optimizes so that traffic generated through domains will yield the highest revenue among our large advertiser base. Working with Protrada has been a pleasure and DomainPower is confident in our ability to help Protrada clients earn more."

Protrada also recently launched an education and training division which aims to assist new domain investors grasp the fundamentals of domain investing within weeks. Protrada CEO Troy Rushton said "We have been very focused on attracting new domain investors and it's now possible for our members to learn and earn all from one login. Our new education and support program allows us to more aggressively

pursue new audiences beyond traditional domain investors, which positions us for exciting growth over the coming years."

The contract to operate the .US registry (America's country code TLD) is up for grabs again. Neustar's current contract to administer .US expires August 31, 2013 so the U.S. Department of Commerce's National Telecommunications and Information Administration (NTIA) is now soliciting

public comments that they said "will inform the procurement process leading to the award of a new usTLD contract".

If you want to weigh in, pro or con, on how .US has been run in the past and/or what attributes should be required of the eventual winner of the registry contract you will want to do it now. The final day comments will be accepted is coming up March 4, 2013. Detailed information on how to send your opinions can be found on this page.

(Posted February 2 1, 2013) To refer others to the post above only you can use this URL:
http://www.dnjournal.com/archive/lowdown/2013/dailyposts/20130221.htm
Large Gathering of Friends and Family Honored Domain Industry Giant Igal Lichtman at Funeral Service in Livingston, New Jersey This Afternoon
| | |
| --- | --- |
| Earlier today I wrote about the sad news that domain industry giant Igal Lichtman had passed away Monday afternoon (February 18, 2013) after a long battle with cancer. The funeral service was held this afternoon at Bernheim Apter Kreitan in Igal's home town of Livingston, New Jersey. The funeral chapel has opened an online guest book where you can share your memories of Igal and express your condolences. | |
One of Igal's long time friends, noted domain attorney/entrepreneur Ari Goldberger, was among those who attended today's service. Ari said a large turnout, including a bus full of children, showed how widely loved the former Israeli Air Force officer was in the community. Ari said, "Igal's six beautiful children each spoke, along with his wife and son-in-law - their beautiful words a legacy." The family is going to Israel for the burial and will then return home Friday when Shiva (a week-long period of mourning) will be observed.
"People ask me who was Igal?", Goldberger said, wondering, "How do you describe a man like that in a few sentences? It's impossible! Igal had a favorite saying when he wanted to generously share with me (even force feed me) some wisdom: "God gave you one only one mouth and two ears for a reason!" he would say. "Never occurred to me to ask if he only had one ear!," Goldberger laughed.

"Igal was a mensch and straight shooter who said it like it was and shared," Goldberger continued. "Igal often told me, when he'd share ideas openly without fear of competition - "Ari", he would say, "this Internet, this domain thing, we're not fishing on a tank, or a lake or river. It's a sea and there's plenty for everyone." We can learn from this wise lion in our industry. Success shared is enterprise, and we all win."

"When I let Igal know that I was on board with

Igal Lichtman

an idea he had or vice versa, he would say in his confident voice: "GOOD!" Igal was one of a kind. A straight shooter and respectful. He will be missed but not forgotten," Goldberger said - a sentiment that everyone who knew Igal surely shares.
Among Igal's many friends who have shared the news and reminisced about Igal online since Larry Fischer broke the news last night, are DNForum.com owner Adam Dicker in a heart felt video, Adam Strong, Theo Develegas and Raymond Hackney, along with dozens of friends in multiple threads on Facebook and the commentary sections of numerous blogs. The outpouring of so many positive memories is a true measure of the kind of man Igal Lichtman was and how deeply he was respected and loved by people who were lucky enough to have crossed paths with him.
(Posted February 19, 2013) To refer others to the post above only you can use this URL:
http://www.dnjournal.com/archive/lowdown/2013/dailyposts/20130219-2.htm
The Domain Industry Loses a Giant - Legendary Investor/Entrepreneur Igal Lichtman Leaves Us After a Life Exceptionally Well Lived
This is the hardest article I've ever had to write. When I got a text message a little before 6:30pm last night that said "Sorry to share that after a long bout with cancer my beloved husband, Igal, passed away peacefully this afternoon...Please let everyone know. Much Love."

I only knew one Igal, and I refused to believe that irreplaceable industry treasure, devoted family man and friend was gone. It must have been a message about another Igal that was meant for someone else.

Sadly it was not. I sent and received several messages throughout the evening as I sought further confirmation and by this morning there was no longer any denying what my head and heart did not want to accept. Now my thoughts are with Igal's loved ones - his wife and six children - and the countless friends and colleagues he had such a huge impact on. Those who can get there in person will say

Igal Lichtman

goodbye to him today (Tuesday, February 19, 2013) at 12 Noon when services are held at Bernheim Apter Kreitan, 68 Old Short Hills Rd in Livingston, New Jersey.
My memories of Igal will be such good ones. Exactly 10 years ago this month, when I sat down to write DN Journal's first Cover Story ever I wrote about Igal Lichtman. After selling his former company, Magic Solutions, to Network Associates for $110 million, the former Israeli Air Force officer had entered he domain business and created an innovative new domain monetization company called DomainSpa.com. Igal was always a leader and an innovator. One year ago I found myself writing a second Cover Story about Igal and his latest creation - TrafficMedia - and the ground breaking virtual reality tour work he had unveiled on one of his most popular sites - Jerusalem.com.
In the course of doing that story I spent a lot of time on the phone with Igal last year. Though, unknown to me, he was battling an illness that would take him away within a year, he never sounded more energetic and excited than he was in those talks. There was no hint that he wasn't feeling well, and I don't think he ever would have said so anyhow. He wasn't that kind of man. He loved getting things done and had no time for negativity or letting whatever obstacles might be in his way slow him down. That is why he was able to accomplish so much is so short a time.
In the years between those two stories, Igal also amassed a terrific domain portfolio, buying and selling names under a pseudonym - Mrs. Jello - that puzzled many people. For those who knew him and what was more important to him than anything else in life - there was no mystery in that name at all. Each of the first seven letters was a first initial representing his wife and children, with the O added as an exclamation point at the end.
Despite the tremendous success that he had already had, Igal spent a good deal of time among industry newcomers that came to DNForum.com to learn more about the domain business. He was always generous with his advice and encouragement and he was honest to a fault. That's why other old friends, like Theo Develegas, and newer ones like Raymond Hackney, are also writing such glowing things about him today. While we won't see Igal again on this plane, his memory and positive influence will live on in all who knew him until the day we follow him to the next plateau. That's Igal - leading the way just as he did throughout a life that was exceptionally well lived.
(Posted February 19, 2013) To refer others to the post above only you can use this URL:
http://www.dnjournal.com/archive/lowdown/2013/dailyposts/20130219.htm
Did You Know the Latest New TLD Land Rush Opened Today? Say Hello to .PW
You've been hearing about ICANN's impending (it always seems to impending) launch of hundreds of new gTLDs for many years now, but new gTLDs come in more than one flavor. Several new ones have been launched over the past decade, including .info, .biz and .mobi, and several others have been re-launched as new global TLDs after starting life as country code TLDs (ccTLDs). Well-known examples of the latter group include Colombia's .CO, Montenegro's .ME and one of the earliest ones from this category - Samoa's .WS.
Land rush opened today for a new entry that was birthed from ccTLD roots, .PW, an extension that in the past served as the country code for the Micronesian island nation of Palau. Under a new licensing agreement the Directi Group has become the new operator of the .PW registry and is now marketing it as a globally open TLD they are branding as the Professional Web. Directi's offering has proved to be popular with registrars worldwide as 90 of them from 31 different countries signed on to offer .PW domain registrations to their customers.
Chris Sheridan
eNom, VP, Business Development

Directi's own ResellerClub, a major registrar services reseller, is, as you would expect, marketing .PW, to tens of thousands of customers. An even bigger fish, Demand Media's eNom, the world's largest ICANN Accredited wholesale registrar, is also part of the .PW line up. Chris Sheridan, eNom's VP for Business Development, said "The market is looking for fresh and well-priced inventory and quality generic names are always in demand. We look forward to promoting .PW across our 8,800 strong reseller base as a well-priced alternative before the new gTLDs arrive."

With so many new TLDs due to hit the market at once, it is certainly wise for the .PW camp to get their name out there now before the crowd arrives. They may also benefit from the impending horde of new gTLDs, simply because they have been written about so much that at least some potential new registrants are now more aware of the fact that there are other options to the right of the dot.
The big question for .PW and all of the new gTLDs to come is just how many domain registrants will be willing to try something new rather than retreat to the perceived safety of older, more established brands like .com, .net or their local country code. As always in this business, the time they are a-changin', and things are about to get even more interesting as the new gTLD drama plays out.
(Posted February 18, 2013) To refer others to the post above only you can use this URL:
http://www.dnjournal.com/archive/lowdown/2013/dailyposts/20130218.htm
Death of Parking Pronouncements Premature? Oversee Says PPC Earnings Are Improving
Oversee.net CEO Debra Domeyer
welcoming guests to the 2013
Webfest Global conference last week.

A week ago today Oversee.net CEO Debra Domeyer hosted an 8am press breakfast before the final day of the 2013 Webfest Global conference got underway at the Fairmont Miramar Hotel in Santa Monica, California (Webfest is produced by Oversee's DomainSponsor.com unit). I was planning to share some of Ms. Domeyer's comments in our upcoming conference review Cover Story, but since the press breakfast wasn't an event for show registrants, I decided it made more sense to tell you what Debra had to say now in a stand alone article of its own.

One of the many interesting points Ms. Domeyer made was that the company saw good year over year growth in domain monetization with the average PPC revenue in 4Q-2012 coming in a little better than the same quarter a year earlier. In a time when the "parking is dead" mantra is frequently repeated, that was bit of unexpected news. Lest you think the reported increase is company hype, I can tell you that the next day, a close friend who operates a popular monetization service that divides traffic across multiple parking platforms, told me he was seeing a significant increase in DomainSponsor's performance.
Ms. Domeyer, who comes from a technical background (she was Oversee's Chief Technical Officer before becoming CEO), attributed the gains to better optimization including increasingly important mobile friendly technology. Ms. Domeyer said their mobile monetization returns were up 18-20%. She added that the company continually runs 13 different tests with changes dictated by those tests bringing as much as an 8% rise in income. Debra also noted that the highest revenue per click came from tablet computers, followed by desktops, with phones third.
In addition to monetizing domains owned by others, Oversee holds a large portfolio of their own and they both sell names and develop them with many already hosting profitable online businesses. She said most of their sales come from direct end user inquiries with a few

others handled by the two or three brokers Oversee works with. Ms. Domeyer said even though the company has dropped many under performing domains from its portfolio, overall income from that portfolio was higher, thanks to "buying smarter."
Ms. Domeyer also commented on the Webfest Global conference that just completed its 7th annual run. Prior to this year it was known as DOMAINfest Global, but Debra said the name change was needed to mirror a paradigm shift in the industry that she believes makes it incumbent upon domain owners to be aware of constant changes in the web, social and mobile landscape that are affecting their livelihood.

Regarding her controversial choice of celebrity/entrepreneur Kim Kardashian as this year's Webfest keynote speaker, Ms. Domeyer, who describes herself as a risk taker, said she thought it was time to shake things up. As a woman who, as an expert surfer, has been dropped from a helicopter onto towering waves, Debra is certainly no stranger to taking chances. The Kardashian bet appeared to pay off with a standing room only crowd on hand to hear Kardashian deliver some useful

advice on how to start an online business (she credited her blog as the spark that got her started) and use social media to build a brand - in her case, one that is now known around the world. But that's another story - one I'll have more specifics on in our upcoming conference Cover Story.
(Posted February 14, 2013) To refer others to the post above only you can use this URL:
http://www.dnjournal.com/archive/lowdown/2013/dailyposts/20130214.htm
Rick Schwartz Sounds Off on New gTLDs and the Key Difference Between Them and .Com
After a very rewarding trip to California (both professionally and personally) I just got back to our Florida home today. After Webfest Global ended in Santa Monica, Diana and I flew up to San Jose to visit our son Aaron and his family for a few days. Aaron, who is a globe trotting chemical engineer at Apple, gave us our first tour of the company's sprawling campus in Cupertino while we were there. Apple's low rise office buildings cover a huge expanse of land encircled by One Infinite Loop.

Webfest Global was also very interesting again this year (I'll have a full show review in our upcoming February Cover Story). As you would expect the impending arrival of new gTLDs was a hot topic of conversation there. Opinions about how well the new gTLDs will fare were all over the board.

An entrance at the Apple Campus in Cupertino, CA
(Saturday, Feb. 9, 2013)
Before I left for the show, domain pioneer Rick Schwartz, co-founder of the T.R.A.F.F.I.C. conference, shared his new gTLD view with me while I was conducting interviews for our January State of the Industry Cover Story. Some of his comments were included in that article, but due to space constraints in that wide ranging article, I held some others that I can share with you now.
Rick Schwartz on the balcony of his Fort Lauderdale Beach penthouse apartment.

Schwartz said, "The .whatever registries and registrars may have internal success. But that's the problem and the difference. It is internal success where .com was/is an external success. Think about that. The reason .com is such a success is the wide use and acceptance by 3rd parties. 3rd parties were the big winners. Here Registries may be the winners but that is a completely different equation."

"So in success or failure, .whatever will just reinforce .com as not only the gold standard, but THE most sought after property on the planet," Schwartz declared. "The domain name is every great brand rolled into one brand. Your brand, my brand, their brand. Plus the location, plus everything else that comes with it. The intangibles. Like credibility for example. It is the total lifeline, heartbeat, main entrance and foundation of your business and supersedes all other entry and contact points."

"If you can hold on to your domains to 2015-2016 I believe that you will see a huge

spike in prices and that is what I have waited all these years for. I am sorry many don't see it. My most vivid example would be like comparing the salaries of Babe Ruth and Johnny Unitas with Derrick Jeter and Tom Brady. Now that took 70 years. What we are doing is taking 70 months and that clock starting ticking about 42 months ago," Schwartz said.
"T.R.A.F.F.I.C. has been the launch pad of .mobi, .me, .co and .xxx and all have enjoyed great success at our shows. I think that will continue as we have already proved that we can do the job. So I think many of us will benefit from .whatever. My job is not to talk anyone out of what they see - just try and separate fact from hype. Don't try to value the corresponding .whatever to the .com. Not a fair comparison. Those that buy into that are being fooled. T.R.A.F.F.I.C. will premiere, offer and promote but we won't endorse. And there may come a time where we see no value in that. Time will tell. We will be true to what we believe." Schwartz concluded.
(Posted February 12, 2013) To refer others to the post above only you can use this URL:
http://www.dnjournal.com/archive/lowdown/2013/dailyposts/20130212.htm
Closing Day Photos and Highlights From the 2013 Webfest Global Conference in Santa Monica, California
The 2013 Webfest Global conference (the 7th annual show staged by Oversee.net's DomainSponsor unit) closed last night (Thursday, Feb. 7) after a three-day run at the Fairmont Miramar Hotel in Santa Monica, California. The final day of the event that drew

over 500 registrants from around the world opened with a 9:30am presentation on Landing Page Optimization delivered by Tim Ash, who may be the world's foremost expert on the topic. Tim, who is also an exceptionally entertaining and energetic speaker, literally wrote the book on this subject - Landing Page Optimization: The Definitive Guide to Testing and Tuning for Conversions.

(For myself and two other domain industry writers - there was one earlier event Thursday - an 8am press breakfast with

Tim Ash

Oversee.net CEO Debra Domeyer. I will have highlights from that session for you in our upcoming Cover Story review of the entire conference).

After Tim Ash's talk, the next three business sessions Thursday were all about mobile starting with an 11am panel discussion on Engaging and Converting Mobile Users.
The Engaging and Converting Mobile Users panel featured (left to right): Moderator Min Chan (Oversee.net), Greg Sterling, Will Hsu and Bardia Dejban.
The 12:15pm lunch break followed under the fabulous 123-year-old fig tree that graces the courtyard at the Fairmont Miramar. Outdoor luncheons were held under the 80-foot tree - the second largest of its kind in the state of California - on each of the three conference days.
Lunch under the spectacular 123-year-old fig tree at the Fairmont Miramar Hotel.
At 2pm it was back to business with Henry Tam, Jr. on stage for a solo presentation on Mobile Advertising Trends.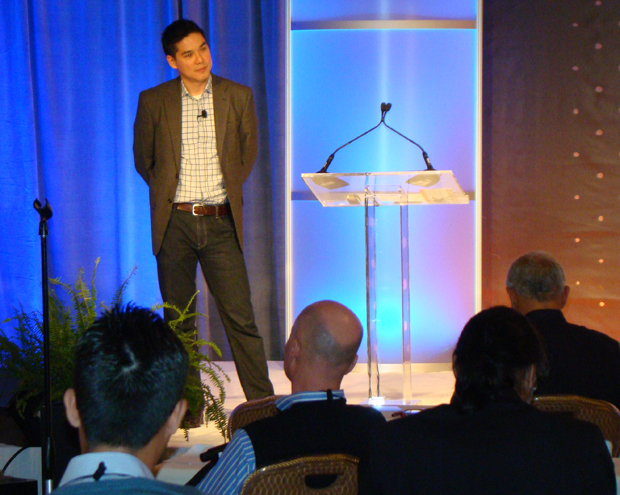 Henry Tam, Jr., Vice President, mMedia Advertsing, Millenial Media, kicked off the Thursday afternoon schedule with information on the latest mobile advertising trends.
Next up at 3:30pm was a panel of experts who offered advce on Acquiring Mobile Users on a Restricted Budget.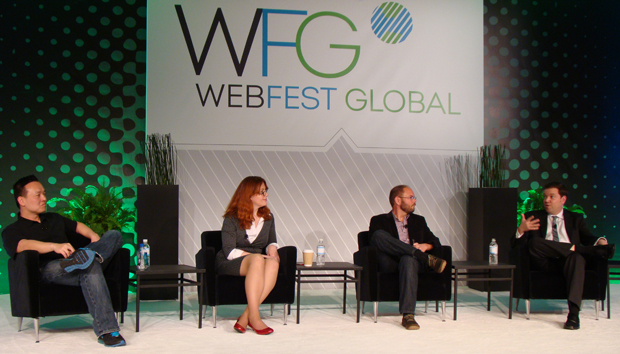 This panel featured (left to right): Moderator Gene Chuang (Oversee.net), Cindy Crum (MobileMoxie, LLC), Gary Rudolph (Lolay) and Bryson Meunier (Resolution Media).
The final order of business at 2013 Webfest Global was the popular annual Pitchfest Contest in which a series of entrepreneurs takes the stage to deliver 3-minute presentations aimed at securing venture capital funding for their enterprises. Two awards for the Best Pitch are then awarded - one from the audience (who voted through text messaging) and one from the distinguised panel of judges that included John Morris, Scott Jarus, Allen Morgan, Will Hsu and Ben Kuo - all of whom are veteran venture capitalists.
Seven entrepreneurs competed and were judged based on creativity, viability, originality and revenue potential...and the winners were:
People's Choice Award Winner - Jeremie Godreche (in the left photo above) of Freedom Registry (operator of the .tk top level domain) and Judge's Choice Award Winner - Darren Marble of Filmbreak.com (in the right photo above). Both received their awards from Oversee.net VP Aaron Kvitek (seen at right in each photo), who moderated the contest.

Webfest Global concluded with one last major social event Thursday nght (running from 8pm - 1am) - a visit to Hollywood's famed Magic Castle, a private club that features many of the world's best magicians.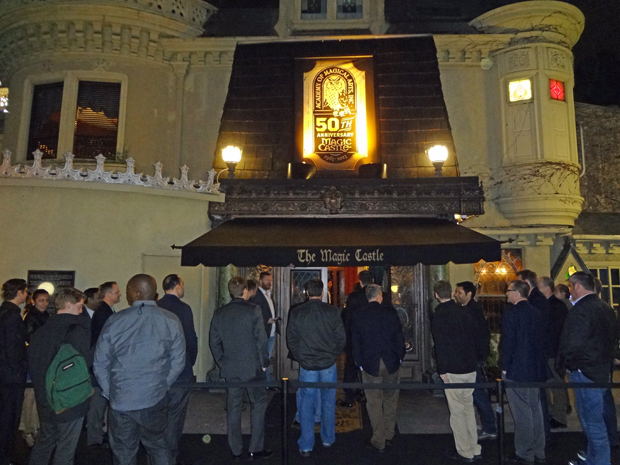 Some of the Webfest Global attendees waiting to be admitted to the Magic Castle Thursday night (Feb. 7, 2013). Photography is not permitted inside the Castle so we can only tell you we saw some astonishing performances with Jeff McBride on the main stage and Jon Armstrong in the Museum especially mind blowing for us. Many other performers showed their incredible stuff in other rooms or the labyrinthine Castle and guests were free to wander from one show to the next as they pleased.
All in all it was a wonderful week on the West Coast - one we are looking forward to telling you more about in our February Cover Story.
(Posted February 8, 2013) To refer others to the post above only you can use this URL:
http://www.dnjournal.com/archive/lowdown/2013/dailyposts/20130208.htm
Day 2 Photos and Highlights from the Webfest Global Conference With Kim Kardashian and Dinner Under the Space Shuttle Endeavour
After a busy opening day devoted to domain names Tuesday, variety was the order of the day Wednesday at the Webfest Global conference in Santa Monica, California. In keeping with the show's expanded agenda, attendees heard talks devoted to improving traffic to existing websites and advice on starting a new online business from keynoter Kim Kardashian who has done that successfully with several enterprises.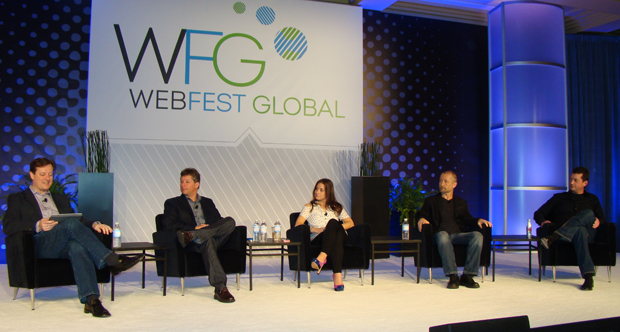 The day two (Wednesday, Feb. 6) schedule at the Webfest Global conference began with a 9:30am session on SEO Keywords, Content and Links that featured (L to R): moderator James Keating (Oversee.net), search guru Danny Sullivan (SearchEngineLand.com), Joanna Lord (SEOMoz.org), Christian Neeser (MyLife.com) and Aaron Shear (Boost Search Marketing).
Kim Kardashian image from Bigstock

At 11am, a fireside chat between Oversee.net CEO Debra Domeyer and celebrity entrepreneur and social media star Kim Kardashian attracted a standing room only crowd. Ms. Kardashian had been a controversial choice to keynote, with some questioning how an interview with her related to domains, but many domainers aspire to develop their own online businesses, an area where she has had multiple successes.

Still, prior to the show, I wondered how well Kim would be able to communicate useful advice from her experience to such a tech oriented audience. The confident and well-spoken Kardashian proved more than up to the task, sharing tips and details on how she started building her businesses and brand as a teenager with an Ebay shoe shop. Ms. Domeyer masterfully kept the interview on track with business related questions that elicited more insightful answers than many expected from someone known more for her celebrity status than the business acumen that anyone who heard this talk now knows she has.

I will share specifics from what Ms. Kardashian had to say in our upcoming Cover Story review of Webfest Global. With the show ongoing (and more sessions I have to go cover), there isn't time for me to go into it now - but suffice it to say that I went into her session with an open mind and came out impressed with a talk that far exceeded my expectations.

After a lunch break the conference resumed with a panel discussion of the pros and cons of acquriing traffic from various channels including PPC, Retargeting, Affiliate and Social.

The PPC, Retargeting, Affiliate and Social panel at 2pm Wednesday featured (L to R) moderator Raj Beri (Oversee.net), Jay Weintraub (NextCustomer, Inc.), Peter Hamilton (HasOffers.com), Merry Morud (aimClear) and Adam Epstein (adMarketplace).

The Wednesday business day closed with the Moniker Live Domain Auction conducted by veteran auctioneer Wayne Wheat (at the podium in the photo below). The auction generated over $560,000 in sales led by a pair of two-letter .coms - JF.com at $250,000 and XU.com at $210,000.

A scene from Moniker's Live Domain auction Wednesday (Feb. 6, 2013).

Rounding out the top five auction sales were IceHockey.com ($25,000), Free.me ($19,000) and BEZ.com ($17,650). All told, 22 of the 61 domains offered found buyers.

The conference organizers, Oversee.net's DomainSponsor.com unit, hit a home run with the Wednesday evening social event, a trip to the California Science Center in Los Angeles for dinner under the Endeavour space shuttle!

Above: The jaws of Webfest Global guests dropped when they walked into the terminal where the retired Endeavour space shuttle is housed.

At left: Attendees could choose food from thee different buffet stations featuring American, Indian and Mediterranean cuisines, then settle in at a table directly under the massive spacecraft.

Below: Oversee even arranged to have astronaut and veteran Endeavour crew member Garrett Reisman on hand to answer questions from show attendees. Reisman was

surrounded with fascinated guests throughout the night as he held court on what it was like to spend months in outer space aboard the historic Endeavour.

Many attendees, including me, thought this was one of the most memorable social events ever held at a domain conference.

As I write this, the final day of business at Webfest Global is underway with the traditional outdoor luncheon in progress. Things will conclude tonight with a trip to Hollywood's famous Magic Castle. I'll have the closing days photos and highlights for you in this space tomorrow.
(Posted February 7, 2013) To refer others to the post above only you can use this URL:
http://www.dnjournal.com/archive/lowdown/2013/dailyposts/20130207.htm
Opening Day Photos and Highlights from the Webfest Global Conference - One That Ended in a Night When Richard Lau Lost His Locks
In my last post yesterday morning, that went up just before the 2013 Webfest Global conference got underway at the Fairmont Miramar Hotel in Santa Monica, California, I noted a long day was ahead. That day (and night) finally wound down around 1:30 this morning and what an interesting day it was!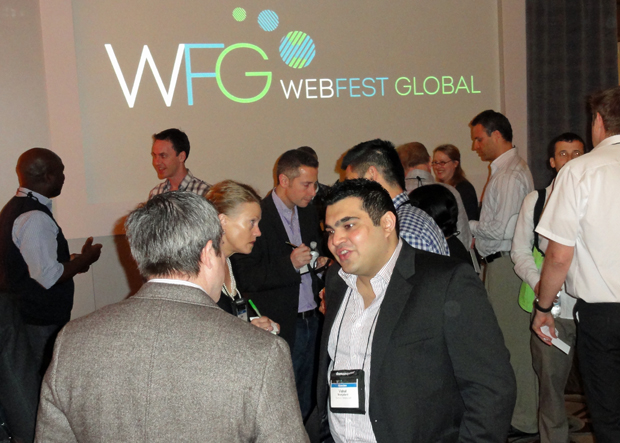 A scene from the Speed Networking session that officially kicked off the 2013 Webfest Global conference Tuesday mornng.
Right after breakfast, conference organizer Oversee.net got things started with a 9am Speed Networking session that had a new twist. As participants moved from one person to the next they were instructed to begin the conversation by saying "My biggest challenge this year is...(finishing with whatever that might be). The other party would then comment on that - the idea being that many of the attendees presented with that hurdle could provide a fresh idea or information about a contact that could solve the problem for the other person. In each encounter, before rotating, each party gave their thoughts on the challenge facing the other.
At 10:30am everyone headed to the main ball room to hear welcoming remarks from Oversee.net CEO Debra Domeyer and Vice President & General Manager of Internet Monetization Dwayne Walker.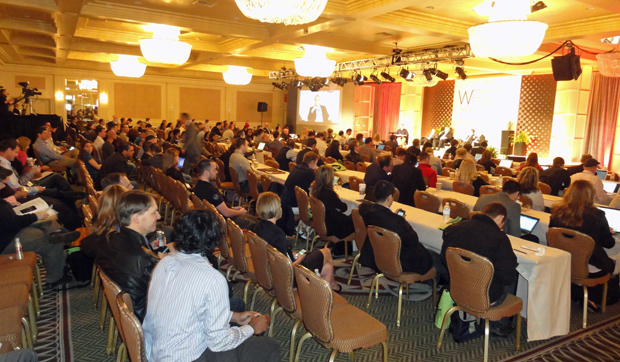 Above: A view of the crowd that filled the main ball room on the first morning at Webgest Global.
Below: Oversee.net CEO Debra Domeyer and VP Dwayne Walker welcome attendees to Webfest Global and fill them in on what is in store for them in the week ahead. They also provided an update on the improving business climate at their company and in the industry at large.
The show's first panel discussion followed at 11:15 and it was a timely one on How to Predict Winers and Losers in the upcoming New gTLDs and IDN TLDs. Most of the industry experts featured in our annual State of the Industry Cover Story agreed that new gTLDS will be the story of the year in 2013 and the panelists for this session provided the latest informatin on that process.

The New gTLD panel, moderated by Mason Cole (at far left) included (L to R after Mason), Dan Schindler (Donuts.co), attorney Andew Snow, Tim Switzer (.green) and ICA Legal Counsel Phil Corwin.

Corwin delivered some breaking news during ths session, announcing that his law firm, based in Washington, D.C., would be raising issues surrounding Google's new gTLD applications with regulatory and governmental bodies in the Nation's Capital. Corwin contends that Google has an unfair advantage that will stymie competition for important generic new gTLDs (one that Google wants for instance, is .search). Corwin's firm has an unnamed client who is in contention with Google for at least one new gTLD so he is getting an inside look at the issues involved.

At 12:15 it was time for an outdoor lunch break in the Fairmont's courtyard. Several tables were set aside for the show's Dine With the Experts offering. Each of those tables was manned by an expert in a specific sector who dined with guests who signed up in advance to have lunch with them.

Domain Broker Andrew Rosener of MediaOptions.com (in blue jacket with back to camera) answered questions from his guests during one Dine With the Experts lunch meeting Tuesday.

Two very informative and well received business sessions followed lunch. First up at 2pm was a panel on Domain Monetization Options Beyond Parking moderated by Joerg Schnermann from Oversee's DomainSponsor unit. This group of experts detailed a variety of ways domain trafffic can be monetized in addition to, or in place of, tradtional domain parking.

Tuesday's Domain Monetization Options panel featured (L to R) Braden Pollock (LegalBrandMarketing.com), Mike "Zappy Zapolin", Jay Chapman (Digimedia), Lavin Punjabi (Affinity) and Michael Gilmour (ParkLogic.com).

Closing out the business day was a 3:30pm workshop on How to Negotiate a Fair Price For a Domain that brought advice from some of the industry's top brokers and dealmakers.

The Domain Price Negotiation panel, moderated by Oversee's Brad Wilkinson (at far left) featured (L to R after Brad) Andrew Rosener (MediaOptions.com), Paul Nicks (GoDaddy) and Morgan Linton (Linton Investments).

This panel closed a productive business day, but activity would only increase over the next 8 hours with two big evening events ahead. At 7pm guests walked or took a short shuttle ride to the La Sandia and Zengo restaurants in Santa Monicca where Oversee hosted their official opening night dinner for attendees. Everyone was actually seated at La Sandia but the buffet featured dishes Zengo's menu.

Getting together at one table for Tuesday night's Webfest Global dinner at La Sandia in Santa Monica were (L to R): Ron Jackson, Diana Jackson, Shane Cultra, Jason Thompson, Howard Hoffman and Kina Merdinian.

After dinner, many Webfest attendees walked next door to the Sonoma Wine Garden for Water Night, a fund raising event for the Water School. While this was not a conference event it was widely supported by domain investors, developers and company leaders. The event wound up exceeding all expectations with over 250 people donating at least $50 apiece to attend (it was $100 at the door).

On top of that another $20,000 was raised when veteran domain investor Richard Lau agreed to have his head shaved if that goal was reached. It was when Oversee CEO Debra Domeyer matched the first $10,000 that was pledged. That spelled curtains for Lau's locks! As he has done several times in the past, PPX International Chairman Gregg McNair did the honors, quickly re-styling Lau's look to match his own.

Above: Richard Lau's hair, going once!

Below leftL Going twice! Below right: Gone! (thanks to Gregg McNair and Richard Lau)

Both Lau and McNair are long time supporters of the Water School, both sit on the organzation's board and Lau recently became its Executive Director. They have covered all of the organization's administative expense to make sure that every dollar donated goes to providing lfe saving clean water solutions in under developed countries. NameCheap.com helped maximize last night's returns by generously covering the entire bar bill for the 250+ guests.

Water Night ran until 1:30am. I got back to the hotel in time to catch about five hours of sleep (more than a lot of people got) and now it's on to Day Two of Webfest Global that is just getting underway as I write this. I'll be back tomorrow with photos and highlights from the Wednesday schedule that includes Kim Kardashian's keynote and a special dinner under the wing of the space shuttle Endeavour tonight.
(Posted February 6, 2013) To refer others to the post above only you can use this URL:
http://www.dnjournal.com/archive/lowdown/2013/dailyposts/20130206.htm
Photos and Highlights From Frank Schilling's Dinner for Domain Brokers Last Night in Santa Monica Where Webfest Global Gets Underway Today

The 2013 Webfest Global conference opens this morning with a Speed Networking session at 9am Pacific time (12 Noon Eastern), but for many who arrived early for the show in Santa Monica, California, the networking has already been underway for 24 hours or more. In one major pre-show event Frank Schilling's DomainNameSales.com honored the domain brokerage community with a special night of dinner and drinks just for them at the stylish Misfit Restaurant and Bar.

DomainNameSales.com Founder Frank Schilling (in blue jacket) welcomed domain brokers to a night out Monday evening (February 4, 2013) at the Misift Restaurant in Santa Monica.

DomainNameSales teammates (left to right): Vice President of Sales Jeff Gabriel (left), broker Andrew Mathias, broker Wade Smith and Sales Manager Dan Adamson were on hand to welcome guests.

The casual event gave guests the freedom to circulate and chat with fellow brokers while enjoying the wide variety of wonderful food and drink that the restaurant staff ensured was alway at close hand.

Among the friends Diana Jackson (center) enjoying catching up with were Thought Convergence Inc's dynamic duo Ammar Kubba (left) and Omar Kubba (right). TCI is the parent company of Aftermarket.com, TrafficZ.com and DomainTools.com.

Thanks to Frank, Jeff, Dan and the entire DomainNameSales team for a delightful evening and an opportunity to kick off the Webfest week among so many good friends.

Speaking of good friends, when Diana and I arrived in Los Angeles just before noon Monday, the week got off to a perfect start when Michael Castello (CCIN.com) met us at the airport and joined us for lunch at the Fairmont Miramar in Santa Monica where Webfest Global is being held. It is always a special treat for us to spend time with Michael and his family, including brother (and CCIN co-founder) David (who we unfortunately won't get to see ths week as he remains busy with his music career in Nashville).

With the conference kicking off today we have a very busy day ahead. While Webfest Global (Formerly known as DOMAINfest Global) has widened the scope of their agenda beyond domains ths year, today's sessions are almost all focused on domains.

Santa Monica's Fairmont Miramar Hotel

Between the business sessions, the opening night dinner and the Water Night fund riasing event that follows dinner, it looks like we will be going non-stop until about 1:30am Wednesday. That doesn't sound bad but that is 4:30am back home in Florida and we haven't adjusted to the time change yet. We usually don't get fully adjusted until it's time to go back home and re-adjust all over again to Eastern time! There is nowhere we'd rather be than among industry friends though, so we'll just ignore the clock and enjoy the special moments this week will bring! I'll be sharing those with you in this column with daily posts throughout the week.

(Posted February 5, 2013) To refer others to the post above only you can use this URL:
http://www.dnjournal.com/archive/lowdown/2013/dailyposts/20130205.htm
$13 Million in Sales Helps Win Amanda Waltz a Major Promotion at DomainAdvisors

DomainAdvisors Limited has promoted Amanda Waltz to become their new Director of Sales and Acquisitions. In making the announcement today, DomainAdvisors CEO Tessa Holcomb said, "With 15 years of proven results in sales and business development , Amanda quickly became a key player within the Domain Advisors team. During her short time in the industry Amanda has closed over $13 million in domain and website sales and acquisitions, most of which involved established businesses and start-ups."

Ms. Holcomb added, "In her new role, Amanda will continue to broker high value deals in addition to sourcing and developing new reationships with investors, developers and marketing agencies. I feel extremely fortunate to have someone with Amanda's qualities on our team. We have an exciting new year ahead of us and I am thrilled to have Amanda bring her operatinal awareness and organizational experience to the forefront to help push DomainAdvisors to the next level."

Amanda Waltz
Director of Sales and Acquisitions
DomainAdvisors Limited

(Posted February 4, 2013) To refer others to the post above only you can use this URL:
http://www.dnjournal.com/archive/lowdown/2013/dailyposts/20130204.htm
The 2013 Webfest Global conference gets underway Tuesday morning (Feb. 5) at the Fairmont Miramar Hotel in Santa Monica, California (the show's oceanfront venue is shown in the photo at right). This will be the 7th annual show in this conference series that was previously known as DOMAINfest Global. The event, that is produced by Oversee.net's DomainSponsor.com unit, will run through Thursday night (actually Friday morning if you count the farewell breakfast).

I'll spend most of today en route to Santa Monica and will arrive in time for the first major pre-show event - an invitational dinner for domain brokers that is being hosted by Frank Schilling's DomainNameSales.com tonight at 7pm (Pacific time). Starting tomorrow I'll have daily posts from Webfest Global in this column, bringing you photos and highlights from the year's first major conference as it unfolds. Until then, you can check out the complete show agenda here to see what is in store for this year's registrants.

(Posted February 4, 2013)
Sedo CEO Tobias Flaitz Looks Back at His 1st Year on the Job and Ahead to What 2013 Has in Store

Exactly one year ago today Tobias Flaitz became the CEO at domain industry powerhouse Sedo.com, taking the reigns from company Co-Founder Tim Schumacher who, after more than 10 years at the helm, decided it was time to let someone else run the show. I caught up with Tobias to get his thoughts on the direction of Sedo and the industry in general over the past year, as well as where he saw things going in 2013.

Sedo.com CEO Tobias Flaitz

"For both the industry as a whole and for Sedo, 2012 was a year of change" Flaitz said, "While parking was a challenge for everyone in the domain world, the needs of buyers and sellers have also changed, which has resulted in both groups asking for better usability and smarter tools for domain trading."

"At Sedo, we spent last year talking with our international customers and attending events so we could determine what changes were most important to our clients, and we have successfully implemented those changes. We also worked proactively to develop innovative solutions and channels to make buying, selling and parking more efficient and more successful for Sedo's customers. Our vision is to make buying and selling domain names as simple as any other kind of online transaction, and we have been determined to pursue this vision and make it a reality," Flaitz said.

"To bring new buyers to Sedo's platform and offer them a simpler, more intuitive search and purchase experience, we improved many aspects of our interface and relaunched our German language homepage. This was a direct result of buyers making it clear that they want to be able to research and purchase a name on their own, at any time."

"Our buyers – both investors and individual users – also told us that they simply want to know what's available, when, and for how much, without wasting time on negotiations," Flaitz said. "Sellers have heard this message too, and have increasingly turned to Buy Now pricing. This was reflected in the number of Buy Now sales during 2012: accounting for 41% of all transactions at Sedo, Buy Now was the most popular sales channel. We expect this trend to continue at Sedo and across the industry throughout 2013."

"Hand-in-hand with this was the need for sellers to have better, more reliable pricing tools, so that they could list domains for sale with prices that encouraged buyers to make an immediate purchase. This need came to the forefront in 2012, and with scientific pricing tools developed by our dedicated pricing expert Thies Lindenthal, we provided sellers with the most accurate pricing tools and features ever," Flaitz said.

"The most exciting and toughest challenge in 2012 was parking. Using alternative monetization methods was something that the domain community and our customers asked for, and so we added great new parking partners as well as leading second-tier providers to ensure that all traffic is monetized and that our customers get the best parking earnings possible."

"An ongoing goal for Sedo was to bring more buyers and sellers together worldwide, increasing sales and spreading the word about the value of premium names. 2012 saw expansion of the SedoMLS network to include both more international partners as well as industry leaders like Go Daddy. This put more of our customers' domains in front of more buyers across the globe," Flaitz added.

Internet business image from Bigstock

Looking ahead to the new year, Flaitz agreed with many other industry leaders had to say in our current State of Industry Cover Story about what would have the biggest impact on the domain business in 2013. "2013 will be the year of the gTLD, marking a critical point in our industry's history," Flaitz said. "New gTLDs offer a great deal of new opportunities for everyone connected to the domain industry. It is important that we as an industry show consumers that the new gTLDs have the potential to change forever how consumers and companies interact online."

"Sedo's goal in 2013 is to partner with registries and applicants to support the launch of the new gTLD program. This will be tied closely to our goal to grow the SedoMLS network so we can provide end users with access to premium new gTLD domains as well," Flaitz said. "As with our other products, Sedo's new gTLD services are designed as an integrated solution, providing registries and applicants a seamless experience for the launch and promotion of their new extensions. We're helping find innovative ways to maximize reach and help grow the value of these new extensions, starting from our unique approach in developing customized, premium reserve lists, to our historically strong track record of launch and premium auctions, and our award-winning brokerage."

Global business image from Bigstock

"Flaitz added,"We also tie marketing into every aspect of what we do for our clients: bringing new ideas on marketing new gTLDs, as well as providing them to end users through the largest global domain distribution network will be key to the industry in 2013."

"While gTLDs are a main focus in 2013, ccTLDs will remain successful on the marketplace. Part of the reason these have been successful is because the industry has gone international – companies everywhere learned that they need to speak the language of buyers and sellers in

order to succeed. It is important for our sellers to know that median prices and average prices of ccTLDs will likely continue to increase," Flaitz said.

"Looking at other areas of the industry, we are sure that our strong partnerships with Google and new second tier providers will ensure that earnings will remain stable as we move into the New Year. Our parallel bidding system, which was implemented several weeks ago, delivers the best results for our parking clients, and we are continuing to work on additional improvements in the parking sector to deliver innovative and outstanding traffic monetization options in 2013."

"Finally, Sedo is refocusing on our core strengths: providing superior, innovative domain solutions for our partners, buyers, parkers, and sellers, all in one location. With some new management and strong leadership, we will continue to focus on new strategies and ideas to help all of our clients to succeed this year," Flaitz concluded.

| | |
| --- | --- |
| Flaitz was introduced in his new role as Sedo CEO at last year's Domainfest Global conference in Santa Monica, California. He will be back in the Golden State (where, by the way, he earned one of his two MBA degrees at the University of California in Berkeley) next week for this year's conference - now known as Webfest Global. If you'll be at the show, meeting the personable Sedo CEO should definitely be on your to do list. | |

(Posted February 1, 2013) To refer others to the post above only you can use this URL:
http://www.dnjournal.com/archive/lowdown/2013/dailyposts/20130201.htm
---
If you've been out of the loop lately, catch up in the Lowdown Archive!
---
We need your help to keep giving domainers The Lowdown, so please email

[email protected]

with any interesting information you might have. If possible, include the source of your information so we can check it out (for example a URL if you read it in a forum or on a site elsewhere).
---
Home Domain Sales YTD Sales Charts Latest News The Lowdown Articles
Legal Matters Dear Domey Letters to Editor Resources Classified Ads Archive About Us