The Lowdown


March 2015 Archive

Subscribe to our RSS Feed

Here's the The Lowdown from DN Journal,
updated daily to fill you in on the latest buzz going around the domain name industry.

The Lowdown is compiled by DN Journal Editor & Publisher Ron Jackson.
Latest Domain Name Report From the Public Interest Registry Shows .ORG Growth Continued in 2014
Public Interest Registry, the non-profit operator of the .org domain, released their latest bi-annual domain name report covering the second half of 2014 today. With the final numbers from last year now tabulated, the PIR report, known as "The Dashboard," showed

another year of growth for the popular extension. Despite competition from hundreds of new gTLDs .org was able to add 136,089 registrations in 2014 to close the year with just over 10.5 million on the books, a 1.3% increase over the previous year.

| | |
| --- | --- |
| | .Org's fastest growth came from the Asia-Pacific market. For the region as a whole the number of .org registrations jumped 16% year over year to 1.37 million. China and Japan each account for nearly 3% of global .org registrations. |

PIR CEO Brian Cute said, "Last year, we saw more and more organizations across the globe turn to the .org domain to communicate their missions, ideas and initiatives in support of the public interest. While the U.S. has historically had the highest registration numbers, we're seeing an incredible increase in .org registrations from international markets, and as a result, they now make up nearly half of all .org websites. Clearly, no matter where a business, organization or individual is located, .org will continue its legacy to bring people together around the world and serve as a reliable online venue."

PIR was also able to report a very healthy renewal rate for .org domains with that number coming in at nearly 75%. A PIR press release on the latest data noted, "While .org continues to be used by organizations in nearly every field, information and management were identified as the top two industries supported by the domain, representing more than 35% of .org websites. All of the data in the latest release is available in infographic form here (.pdf file).

Brian Cute
CEO, Public Interest Registry

Public Interest Registry also announced they are launching OnGood, a new suite of online services exclusively to serve the needs of noncommercial, non-governmental organizations (NGO) and non-profit communities across the globe. With OnGood, NGOs and nonprofits will have an exclusive community website with a searchable directory, and the .ngo and .ong domain bundle to help improve visibility, raise funds and connect with other organizations. OnGood will be generally available for registration on May 6, 2015.
Aiming to Increase the Appetite for New gTLDs a Free Sedo Food Truck Served Thousands at SXSW
We're used to getting sales reports from domain industry giant Sedo, but the data that came in today was a lot different than what we usually see with frozen yogurt and coffee replacing domains in the Sedo spreadsheet. The

change stemmed from a very successful food truck promotion Sedo ran at the recently concluded SXSW extravaganza in Austin, Texas where they doled out close to 5,000 servings of frozen yogurt and almost 2,000 cups of Coffee.Club coffee - all free of charge - over a five day period.
The Sedo frozen yogurt and Coffee.Club coffee truck at SXSW 2015 in Austin, Texas.
In collaboration with their new gTLD partners (whose extensions were featured on the truck) Sedo offered specially named yogurt toppings to suit the occasion with names like .company, .direct, .deals, .club, .sexy and .bar. Sedo said that allowed them to expose the SXSW audience to how large the domain industry presence is in the online marketing world and provide useful information from all of their sponsors.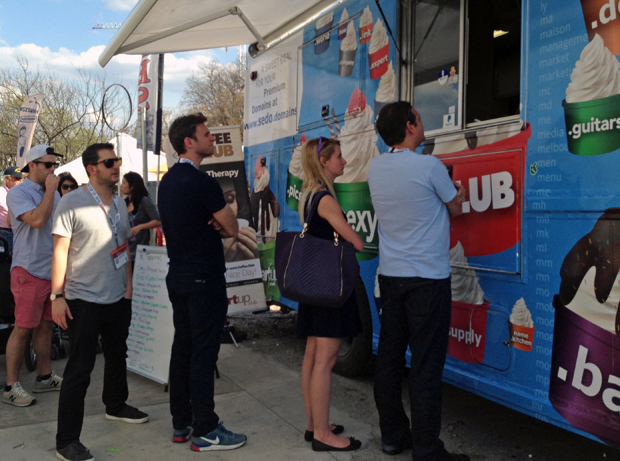 It didn't take long for a line to form at the Sedo food truck!
A Sedo release on the promotion said, "We were able to connect with tons of both tech-savvy and non-techy savvy professionals while we made huge strides in educating the SXSW audience about domains and what the new gTLDs could mean for them. With over 65,000 participants attending the interactive portion of the conference, a wide range of companies were represented from heavy hitters like Yahoo, Adobe, Bayer, Spotify, Mashable, and others to small startups and agencies and all were excited to get a free treat and learn about new gTLDs. We also benefitted from a huge engagement through social media with an influx of new followers and mainstream and industry press coverage like this feature on CNBC or this colorful post on Domain Name Wire."
Sedo's Boston based Chief Sales Officer Solomon Amoako (left)
and General Counsel Jeremiah Johnston taking a coffee break at the Sedo truck.
Sedo's review of their Austin initiative concluded, "It was eye-opening how many conversations occurred and how the dialog opened so many people's eyes to what's available in domains. The free frozen yogurt was simply the gateway to generating the much needed awareness around the new gTLDs and we were excited to execute this in cooperation with our very supportive partners. This was just a preview to the start of a year full of similar promotions around the world, so stay tuned"
Forbes Contributor Says Compatibility Issues Could Be Bigger Threat to New gTLDs Than Lack of Awareness
Overall new gTLD registrations haven't been as robust as many registry operators had hoped a year after the first wave of new extensions hit the web. With hundreds of new gTLDs fighting for a piece of the relatively small pie that .com and other long established extensions haven't locked up already, it's tough out there. Still, many operators believe better marketing efforts that are now getting underway from major players like Donuts will raise public awareness of the new options and significantly boost sales.

Today, an article by Forbes.com contributor Roger Kay pointed out a roadblock that could be an even bigger threat to new gTLDs than low recognition - a lack of universal compatibility with some key components of the web itself. Kay wrote, "a lot of the new domain names

don't work with existing devices and software. Browsers don't handle the new suffixes consistently or as expected, mail systems sometimes reject them as invalid, and some enterprise software generates unpredictable errors, which may requiring significant revisions to fix."

While I wasn't aware this kind of of potentially debilitating situation existed , Kay said ICANN has known about it all along, writing, "Ram Mohan, who sits on the Security and Stability Advisory Committee, said the problem has been known to ICANN since at least 2003 and remains unaddressed." Kay continued, "At an ICANN meeting in Singapore in February, a working group charged with sorting out the problem of "universal acceptance" admitted that the prospect of mass incompatibility is scary. Brent London, Google's representative in the working group, put it pretty straightforwardly: "New types

of domains and email addresses break stuff. Just to send an email from one person to another, you'd find yourself in a situation where an operating system, mail servers, routers, mail service providers, security software, all need to work properly." And with the new suffixes, sometimes they don't."

Kay added that a fix is still a long way off noting "During the final portion of the ICANN presentation, Christian Dawson of the Internet Infrastructure Coalition, in proposing that a Universal Acceptance Steering Group be formed, noted that its work should be envisioned to take 10 years... That's a fair stretch to wait for the responsibles to untangle this hairball."

Kay believes ICANN is exacerbated the problem by letting far too many TLDs be released at the same time and advised the governing body to slow down the pace of new gTLD introductions while the compatibility issues are worked through. It is well worth reading his full article to familiarize yourself with the issues Kay raised. It is certainly a sobering piece that could scare off a lot of potential registrants, especially in the corporate world where IT related changes are made at a glacial pace to begin with.

Still, I would imagine compatibility issues vary considerably from one new gTLD to another. Those who have few if any issues may do well to make that a selling point in their increased marketing efforts (perhaps by publishing favorable results from extensive testing of their extensions). As many have predicted from the start, the new gTLD program will have both winners and losers. In light of this story (and the greater attention that will be paid to these issues going forward as a result), the winners will likely need more than just a particularly attractive string and a healthy marketing budget - they will also need to be able to assure customers their TLDs won't create unexpected headaches for those who use them. Those who can do that will have a leg up in a field that is already flooded with competitors with many more on the way.

Reliability graphic from Bigstock

Editor's Note: After publication of this article I was informed that the author of the Forbes.com piece had previously disclosed (in another of his articles for Forbes in September 2013 - that his company, Endpoint, had a consulting relationship with Verisign, the administrator of the .com and .net TLDs). New gTLDs obviously represent competition to Verisign's extensions. Thus far no one has questioned the points Kay raised in the article about there being potential technical issues with some of the new gTLDs, but when a relationship like this exists readers should know about it.
Domaining Europe Adds New Speakers for Show Opening One Month from Today in Valencia, Spain
The 2015 Domaining Europe conference gets underway one month from today at the Sorolla Palace Hotel in Valencia, Spain. With the event drawing closer a lot of new speakers have been added since we shared the first draft of the show agenda with you a few weeks ago.

The updated schedule for the event that runs April 23-25 shows five new speakers on day two alone. That Friday (April 24) will open with .CLUB's Chief Marketing Officer, Jeff Sass, giving the audience a review of the popular new gTLD's first year in operation. Verisign's Duane Bailey will follow with advice on how to use registration trends to help find great domains (Verisign of course, administers the world's most popular extension - .com). Another newly added speaker, Amy Repp, the Director of TLD Partnerships at Donuts (the largest operator of new GTD registries) will take the podium next to talk about the "freedom of choice" offered by new extensions.

The day will continue with a wide variety of speakers before concluding with two more that have been added since our last update. Michael Marcovici from Domain Developers Fund will provide tips on selling domains by email, then Giuseppe Graziano, the former European

Jeff Sass, .CLUB
One of several new speakers added to
the agenda for Domaining Europe 2015

Director of Business Development for Domain Holdings who just launched his own firm, Lisbon Media, will cover growing sales opportunities in the booming Chinese market.

Sorolla Palace Hotel - Valencia, Spain

You can see the full agenda for all three conference days here. Registration for this 7th annual event is €600 but DNJournal.com readers can get tickets for half price (€300) by entering the promo code DNJOURNAL50 when registering (just click on the link on the registration form that says "Click Here to Enter a Promotion Code").

Rooms at the Sorolla Palace are just €70 a night - a remarkable deal for a modern hotel of this quality. With the Euro currently down dramatically against the dollar ($1.09 as of this writing) this is an especially good

time for Americans to visit Europe. Valencia is an exceptionally appealing destination too - a beautiful city located directly on the Mediterranean Sea that mixes stunning ultra modern architecture with fabulous historic buildings.

(Posted March 23, 2015) To refer others to the post above only you can use this URL: http://www.dnjournal.com/archive/lowdown/2015/dailyposts/20150323.htm
Page Howe Raises .LA's Profile During Three-Day Trip to Washington D.C. With Southern California Business Leaders
Veteran domain investor Page Howe wrapped up a 3-day trip to Washington, D.C. last night as part of a new role he has taken with the .LA domain registry, whom Page joined as Chief Engagement Officer. Page was one of some 200 Los Angeles area business leaders who made the ACCESS Washington D.C. trip (put together by the Los Angeles Area Chamber of Commerce) to advocate for Southern California.

Howe was part of the delegation's Technology and Innovation team that lobbied for increased investment in targeted growth industries, a permanent ban on internet access taxes and immigration reform that can spur growth and build a skilled workforce. Many of those initiatives are also part of the City of L.A.'s 2015 Tech Policy Agenda as outlined by Councilman Bob Blumenfield at a recent Chamber Innovation and Technology Council meeting.

Page Howe
Chief Engagement Officer, .LA

The trip gave Howe an opportunity to showcase the .LA namespace, one he said can " help create thousands of jobs and new websites in and about Los Angeles, and promote the development of the needed online web development skills for the new economy jobs LA needs to fill in the next ten years." Howe can already point to a significant sampling of popular websites built in .LA domains.

Los Angeles image from Bigstock

Howe noted, ".LA domains names help national and global companies create websites specifically tailored to the unique LA style, culture trends and demographics. Startup companies and investors can now create, disrupt and engage customers in .LA with new ideas and better curated local websites. Businesses and personal brands can obtain shorter and easily remembered and available .LA domains for their websites, especially for restaurants, real estate projects and companies only marketing in and around LA."

"A new economy in the .LA namespace keeps more jobs and commerce local in LA, as opposed to all online spending going out of area. Keeping

online and mobile spending local creates a multiplier effect and recoups money currently gravelling outside of LA as more and more people shop, buy and purchase online," Howe concluded.

The trip included a White House briefing Tuesday morning and a full slate of Administration, Agency and Capitol Hill advocacy meetings Tuesday and Wednesday before a closing dinner last night.
After Winning in the Domain World Michael Gilmour Goes to Battle on the Bookshelf!
Since entering this business 13 years ago one thing I have commented over and over on his how remarkably creative so many people in the domain industry are. Having worked in broadcasting and the music business before discovering domains I've been around a lot of creative people in the past but never so many with such diverse talents in one place as we have in our unique community. There are musicians, artists and writers in our midst and I guess that's not surprising because succeeding with domains involves a sense of harmony (between keywords and extensions), beauty (what is pleasing to the eye and ear) and certainly a mastery of language as our entire business is based in words. Equally impressive are the builders, who create websites, new businesses and entire industries from scratch.

Our embarrassment of creative riches was underscored again this morning when a very well-known industry veteran, ParkLogic.com Founder (and author of Whizzbangs Blog), Michael Gilmour, had his first novel - a science fiction epic titled Battleframe The Mindwars - released at Amazon.com (in both paperback and Kindle editions, the latter at the astonishingly low price of $2.99 when I downloaded it today).

Having just gotten my hands on it I can't provide a review of the book yet, but having known Michael for over a decade and become very familiar with his intelligence, wit and work ethic, I know it is going to be a very good read (for a detailed overview of Michael's life check out the in-depth profile of the Melbourne, Australia native that was published in our November 2008 Cover Story).

Michael Gilmour

After spending two years creating and polishing Battleframe The Mindwars Michael told his blog readers, "The plot is fast paced, has lots of action and the novel has a number of twists and turns that I hope really keeps the reader's attention." True to his reputation as one of the nicest, most genuine guys in the industry, Michael also quickly turned the spotlight to people who helped turn his vision into reality, writing, "I would also like to publicly acknowledge the tireless work of my team of beta-readers/editors. They are Roselyn (wife), Timothy (my son), Ray (father) and Laci (best friend). They made suggestions to improve the characters, tightened the plot and made the world of Alpha Three an exciting place to visit. More than that….they fixed a lot of my English!," Gilmour grinned.

Michael has always been a major supporter and proponent of our industry and the people in it. It would be great to see everyone in the business return that favor by picking up a copy of Battleframe and help turn it into a best seller. I have a feeling it is going to get there with or without us, but it would be a lot more fun if we all did what we have done so well in the past - lead the way to a previously undiscovered but extremely rewarding new world!
Five-Figure Domain Sale Prompts THE Domain Conference to Extend Discount Offer Through St. Patrick's Day
You may have noticed in last week's domain sales report that IrishWhiskey.com sold for €10,000 to earn a spot on the all extension Top 20 Sales Chart. The seller of that domain (to the makers of world famous Jameson Irish Whiskey) happened to be Howard Neu, the Co-Founder of the T.R.A.F.F.I.C. conference who, with the retirement of his long time partner Rick Schwartz, has now launched a new show - THE Domain Conference - that will debut next September at the Hyatt Regency Pier Sixty-Six Hotel in Fort Lauderdale, Florida.

The timing of Howard's domain sale and the Irish character of the name turns out to be fortuitous for those looking for a discounted ticket to the debut show next fall. With St. Patrick's Day coming up tomorrow Howard decided to share the "luck of the Irish" and his good fortune with IrishWhiskey.com with anyone who

Leprechaun image from Bigstock

would like to attend the event that will run September 26-29 in South Florida. A short term promotion that lowered the usual registration fee from $499 to $349 was set to expire last night, but now Howard, having found a "pot of gold" in his escrow account, has extended the offer through St. Patrick's Day. To claim it and save yourself $150 in the process, just go to the conference website and enter the promo code MARCH15.

Hotel rooms at the show venue, starting at just $109 a night, can also be booked now, and it is always a good idea to get those reserved early as the number available in their block is limited.
.Com Turns 30! With Top Domains Now Worth a Fortune More Criminals are Trying to Crash the Party
Happy 30th Anniversary .Com! The world's most popular domain extension reached that milestone today (March 15, 2015) - three decades after the first .com domain - Symbolics.com - was registered on March 15, 1985. The special occasion has been highlighted by news reports around the world. CNN.com published a very good article on the history of the first domain including how the current owner, Aron Meystedt, came to acquire it from the Symbolics Corporation in 2009.

.Com image from Bigstock

Symbolics.com owner Aron Meystedt

That same year we posted a Cover Story profile of Aron, a veteran domain investor who also currently serves as Director of the Intellectual Property Division at giant mainstream auction house, Heritage Auctions. Shortly after Aron arrived at HA he made them the first major auction house to offer premium domain names as assets alongside traditional high end collectibles like art, coins and jewelry. The company has now staged several successful live domain auctions, the most recent being just last month at the Waldorf Astoria Hotel in New York City.

While Meystedt has done some development work on Symbolics.com to generate a revenue stream from the steady flow of traffic, his responsibilities at HA have prevented him from devoting a lot of time to it. Still, he told CNN he doesn't expect to sell his unique piece of internet history.

.Com has come a long way in the last 30 years. You could originally register .com domains free of charge. Today it is not uncommon for top domains in the extension to sell for hundreds of thousands or even millions of dollars. Unfortunately, those increased values have caught the attention of criminals who attempt to hijack domains or the valuable traffic that goes to ones that have been developed into popular business websites. The Wall Street Journal ran a very informative piece by Ruth Simon on that issue this past week titled Cybercriminals Are Misappropriating Businesses' Web Addresses.

I was among those interviewed for the article, as were Internet Commerce Association Legal Counsel Phil Corwin, domain attorneys Stevan Lieberman, Enrico Schaefer and David Weslow, and ICANN's Gwen Carlson. This is a piece you need to read to see some of the latest tactics being used by cyber-thieves and what you can do to protect yourself.

ICA Legal Counsel Phil Corwin and several other domain industry figures were interviewed for a new Wall Street Journal story on theft of traffic to popular domains.

(Posted March 15, 2015) To refer others to the post above only you can use this URL: http://www.dnjournal.com/archive/lowdown/2015/dailyposts/20150315.htm
4th Quarter Reports from Verisign and Archeo Show Continued Growth in Both New Domain Registrations and Aftermarket Sales
Verisign released their latest quarterly Domain Name Industry Brief covering the 4th quarter of 2014 Thursday and again they were able to report solid year over year growth in new domain registrations. Verisign, who administers both the .com and .net TLDs, said the number of domains registered worldwide across all extensions rose to 288 million at the end of 4Q-2014, 16.9 million more than one year earlier representing a a 6.2% jump in total registrations year over year.

Combined .com and .net registrations grew at a slower percentage rate than the market as a whole, moving up 2.7%, while ccTLDs outperformed the market with an 8.7% increase years over year to a total of 134 million country code registrations at the end of 2014.

There is much more information in the report, including total registration rankings of the top ten TLDs (as wel as the top 10 ccTLDs). There is also some early data on new gTLDs but none of those had yet completed their first year of operation in the quarter this brief covers. You can get the entire Verisign Domain NameIndustry Brief for 4Q-2014 (in .pdf format) at this link. It is also available in infographic form (also a .pdf file) here.

Also this week a leading aftermarket domain sales company, Archeo Domains, released their 4Q-2014 results in their latest quarterly newsletter. Reflecting the growing sales we have seen industry wide, Archeo's 4Q sales of $1.7 million represented a 6.2% increase from the previous quarter.

Those interested in the market for Spanish language domains will find this edition of the Archeo newsletter especially interesting as it features an article on that topic that details why the company is especially bullish on that sector.

(Posted March 13, 2015) To refer others to the post above only you can use this URL: http://www.dnjournal.com/archive/lowdown/2015/dailyposts/20150313.htm
Rising Business Star and 2nd Generation Domain Investor Heather Hartnett Featured in the Wall Street Journal After Being Named CEO of Innovative New VC Firm
Most of our readers are very familiar with Dr. Chris Hartnett, the T.R.A.F.F.I.C. Domain Hall of Fame member who was profiled in one of the most popular Cover Stories we have ever published back in June 2008. A lot of industry veterans have also met Chris's brilliant and lovely daughter

Heather who, after being bitten by the domain investment bug herself, attended several major conferences before the mainstream business and philanthropic world stole her away from us! If you've met Heather and happened to be reading the Wall Street Journal blog Wednesday (March 11) I'm sure you weren't the least bit surprised to see her in the spotlight as the new CEO of an innovative new New York City based venture capital firm called Human Ventures.

Dr. Chris Hartnett and daughter Heather Hartnett
at the 2008 T.R.A.F.F.I.C. West Conference in Las Vegas.
As author Yuliya Chernova noted in the WSJ piece, Human Ventures was just launched by Joe Marchese, who recently sold his advertising technology startup to 21st Century Fox for a reported $200 million. With Human Ventures Marchese is taking a different approach to venture capital. The firm, which considers itself to be a "startup studio", plans to come up with their own ideas for businesses, then seek entrepreneurs to develop the ideas and turn them into real world businesses.
Heather Hartnett at the DOMAINfest
Global 2010 Conference in Los Angeles

When he went looking for just the right bright young mind to carry out his vision, Joe settled on Heather who had already made a big impression at venture firm City Light Capital and before that at the David Lynch Foundation. If you know Heather you know he made the right choice.

Marchese will serve as Executive Chairman of Human Ventures while spending most of his time handling a major role he took on at 21st Century Fox after selling his previous company to the media giant. Heather told the WSJ reporter she would be assembling a team to help launch startups with three projects already under way. She said the firm will focus first on mobile, consumer, financial technology, health care and some social impact projects.

As you would expect, Chris and his wife Linda couldn't be prouder of what Heather has accomplished. Those of us in the domain

community share that pride. The one thing we like even more than seeing our industry friends succeed is seeing their kids climb new heights - because nothing makes a parent happier than that!
Free Visual Map of the Domain Universe Charts the Birth of the 800+ Extensions Created Since the First Domain was Registered 30 Years Ago
Sunday (March 15) will mark the 30th anniversary of the first domain name ever registered - Symbolics.com. Since that day back in 1985 more than 284 million domains have been registered in a variety of extensions. That first year only nine TLDs existed - the familiar .com, .net and .org extensions, along with .edu, .gov, .mil and three ccTLDs - .us, .uk and .il (representing the United States, United Kingdom and Israel). With the explosion of new gTLDs released over the past year, more than 800 extensions have been birthed with hundreds more on the way.

To mark this special anniversary and illustrate just how much things have changed over the past three decades, the European Domain Centre has produced a very cool free infographic that shows every domain extension introduced since 1985 and the year in which each TLD was released. If you would like a print copy of the infographic they will send you an A3 sized poster version at no charge if you sign up for their free newsletter.

Domain cube image from Bigstock

European Domain Centre Founder and Managing Partner Christopher Hofman Laursen estimates his team spent more than 50 hours producing their visual map of the TLD universe. With hundreds of additional TLDs in the pipeline, their next update will undoubtedly require a major time investment as well. In commentary about the new infographic Uniregistry Founder Frank Schilling, whose company has introduced several new gTLDs, noted, "You're going to need a bigger chart for round 2!"
$5,000,000+ Sale of Invest.com Apparently Completed, Name Now Out of Escrow - Elsewhere NameJet Auction of Rare 3-Letter .Com Domain Could Bring Big Bucks
Last November we shared the news that news that Singulariteam - an Israeli venture capital company - had bought Invest.com for over $5 million (the exact amount and terms of the sale were not specified). Since that report came out the domain's WhoIs record showed it was being held in escrow at Escrow.com, a common arrangement when payments for a domain are made over time.

Today George Kirikos, the veteran domain investor who originally brought the sale to our attention last fall, let us know that the WhoIs record for Invest.com has changed and it now shows the domain under WhoIs Privacy at GoDaddy.com. There is also a "Coming Soon" landing page on the domain with a form allowing people to leave an email address to be notified when the site goes live. So, it appears the mega deal is now done.

Unfortunately, without an exact price we have been unable to chart the sale which would rank among the ten biggest cash sales of a domain ever reported to us. We are hopeful that at some point the new owners will be able to specify the exact price. While they did say it was over $5 million it's likely that a non disclosure agreement prevented them from giving the exact number at the time the deal was made.

Another major sale may be coming this week. NameJet.com has acquired the exclusive rights to auction off an ultra-rare 3-letter .com domain - VVV.com, one of only 26 repeating 3-letter .com domains in existence. The company believes this is the first time one of them has been offered in a

public auction. The auction started today and will end Wednesday afternoon (March 11, 2015) at 3pm US Eastern Time (or shortly thereafter - If there is a bid during the last 5 minutes of the auction, the closing process will extend for an additional 5 minutes from the time that bid is accepted to allow for additional bids. If additional bids are received within that next 5 minute time period, the auction will continue to be extended in 5 minute increments until no further bids are received).
Plans Announced for New Indian Domain Conference - DomCon - Coming to Mumbai as Part of 1st DigitalCon Event Next Month
Editor's Note: The original press release announcing this event stated that Anshul Goyal (of GuavaSofts.com and Email.biz) would be producing this conference with Nishank Yadav. Soon after publication Mr. Goyal informed us that he will not be involved in staging the event so the article has been updated accordingly.

The first major domain investment conferences held in India - World Domain Day and DomainX - were staged just last summer with both of those events held in Hyderabad where each attracted a sizeable audience despite the shows being held just two weeks apart. Now two of the key organizers from DomainX, Nishank Yadav (TheDomainer.net) and Anshul Goyal (GuavaSofts.com and Email.biz), have joined forces to co-found a new conference, DomCon 2015, that they are launching next month in Mumbai as part of a two-day event they have dubbed DigitalCon.

DomCon on April 26 will be the first day of DigitalCon with day two, April 27, offering a second conference within a conference - MobCon - devoted entirely to the mobile industry that is now closely intertwined with domains and website development. The twinbill will be held at the J.W Marriott Sahar Hotel in Mumbai with a very appealing price structure. If you want a ticket to DomCon (day 1) it will cost just $15. If you are only interested in MobCon (day 2) tickets are $20. If you want to learn more about both fields and how they intersect, a pass covering both days is just $25.

The key themes on opening day (DomCon) will be Domains, Websites, ECommerce & Marketing and Legal Issues (Legal Issues: Trademarks, Copyrights, UDRPs & INDRPs). Day 2 (MobCon) will center on Mobile Commerce & Media, Apps & Games and Development & OS Platforms.

Nishank Yadav
DigitalCon/DomCon Founder

By combining domains (DomCon) with mobile technology (MobCon) Yadav said the new event will be "the definitive multi-platform conference for India's domainers featuring an agenda that fosters prolific dialogue among domainers, graphic designers and cross platform developers with topics pertaining to investment in domains, monetization, design and website development. DomCon provides a platform to debate, rethink the world of domaining, and visualize your future in this industry."

Yadav added, "DomCon will open up new opportunities in the market and help establish connection with developers on other platforms including iPhone, iOS, Android, BlackBerry, Windows Phone, Design, UI/UX, Mobile HTML 5 and development tools, facilitating the stacking your app store or platform vis-a-vis the competition."

DigitalCon and its DomCon and MobCon components is also offering a wide variety of sponsorship opportunities (.pdf file).
Domaining Europe Provides First Peak at the Agenda for Next Month's Conference in Valencia, Spain
The 2015 Domaining Europe conference is coming up April 23-25 in Valencia, Spain and show founder Dietmar Stefitz has just posted the first draft of the agenda for the event that will be held at the Sorolla Palace Hotel.

The first morning (Thursday, April 23) will feature individual talks from AVALNET President Manuel Juliá, DNForum.com owner Adam Dicker and attorney Paul Keating. Five more sessions will follow in the afternoon, including panel discussions on ICANN, SEO, Parking and new gTLDs. Braden Pollock (LegalBrandMarketing.com) will return to Spain to moderate two of those sessions.

On Day 2 (Friday, April 24) featured speakers will include Antonio Villamarín on optimizing sales, Escrow.com's Brandon Abbey with Blacknight's Michele Neylon on Stolen Domains, Tommy Butler (Glasgow.com) and Natasa Djukanovic (.ME) on Domain Development and Carlos Blanco on StartUps and Domains, as well as several others. The 2015 European Domaining Awards will be handed out that night.

Dietmar Stefitz
Domaining Europe conference founder

Day 3 (Saturday, April 25) has been reserved for the show's traditional group outing with a Sightseeing Tour of the beautiful city of Valencia and a typical Valencian Saturday Lunch highlighting that day. Stefitz emphasized that there will be more updates and additions to the show agenda between now and mid-April as more speakers, keynotes, and panelists are confirmed. You can register for the conference here.
Radix Adds .Online to Growing Portfolio of New gTLDs - .CO.COM Happy With Year One Results
Radix Registry is celebrating the addition of .online to their portfolio of solely owned new gTLDs that already includes .website, .host and .space among others. Radix originally joined forces with Tucows and NameCheap to acquire .online in an auction last fall at an undisclosed price (though it is believed their investment fell in the $10-$12 million range). The latter two companies agreed to sell their ownership stakes in the new gTLD to Radix (again at an undisclosed price), however both Tucows, a leading wholesale registrar, and Namecheap, one of the top retail registrars, will continue to work closely with Radix as marketing and distribution partners.

The launch schedule for .online has not yet been announced but Radix said the extension has been among the most popular

Online image from Bigstock

pre-registered names across registrars. Radix CEO Bhavin Turakhia said, ".online has far greater potential than anything we or anyone else has launched to date."

Tucows CEO Elliot Noss

Tucows CEO Elliot Noss noted, "We have started investing more heavily in our telecom business with Ting. NameCheap, likewise, has increased its singular focus on delivering an outstanding retail domain name experience. Meanwhile, Radix has emerged as one of the most ambitious and capable domain name registries in the world. We still believe that .online has huge potential as a fresh alternative to .com. We are confident that Radix is the right company to run it and both Tucows and Namecheap are thrilled to play our rightful part in its success."

Radix has already invested over $30 million to secure licenses to operate their new extensions and they expect to acquire several more. In .online they have acquired the most commonly used word to end domain names with over 550,000 .com domain names today ending with the word "online."

While a lot of new extensions, like .online, have yet to launch, others have now reached the 1st anniversary of their availability to the general public. Not all of those are new gTLDs though - one of the most notable exceptions being .co.com. The registry celebrated its first anniversary last week by announcing it had booked more than 10,000 registrations in its opening year of business. With over 200 accredited registrars around the globe. co.com sees a lot of growth ahead.

CEO Ken Hansen said, "Momentum began building in December when .co.com Registry had more domain registrations and revenue than any month since launch. Most encouraging is the quality of the websites going live on .co.com."

Hansen added that countries with existing third-level domain extensions (like .co.uk and .com.au) have generated the strongest demand for .co.com. He noted that 40% of all .co.com registrations have come from companies and organizations located in the UK where over 7 million .co.uk domains have been

.co.com LLC CEO Ken Hansen

registered. "Many companies are using their .co.com domain rather than their country code top-level domain to better reach potential outside of their borders," Hansen said.
Introductory Discount Cuts Cost to Attend THE Domain Conference to $349 Through March 15 - A Great Deal Based on Our Weekend Visit to the Fort Lauderdale Venue
We are back home in Tampa after spending the past four days on the opposite side of the state with industry friends in South Florida - one of the world's key locales for domain investment activity. As I mentioned Friday I went down for multiple reasons including Thursday night's South Florida Domain Pros meeting at the Hyatt Regency Pier Sixty-Six Hotel in Fort Lauderdale. In addition to seeing people at the SFDP Meeting I wanted to spend some time exploring that hotel because it will also serve as the venue for the inaugural edition of THE Domain Conference coming up September 27-29, 2015 with pre-show Cabana Networking September 26-27.

This is the new new show we told you about being staged by T.R.A.F.F.I.C. Co-Founder Howard Neu, his wife Barbara and their son Ray Dillman Neu. I was thoroughly impressed by the hotel and its gorgeous grounds and surroundings. From the revolving meeting room at the top of the hotel the 360 degree vistas include the Atlantic Ocean to the east and the Intrascoastal Waterway, Pier Sixty-Six yacht basin and Fort Lauderdale skyline to the west.

The Hyatt Regency Pier Sixty-Six Hotel in Fort Lauderdale, Florida where the inaugural edition of THE Domain Conference will be held September 27-29, 2015 (with pre-show Cabana Networking September 26-27).

In addition to a fabulous pool area, the Pier Sixty-Six hotel has a wide variety of lawn games available on their spacious tropical grounds, including this gigantic chess board that Diana and I tried our hand at. We decided it would be even more fun if we knew how to play (stacking the pieces was apparently not the object of the game)!

We came away amazed they were able to get this kind of resort while simultaneously slashing room rates to as low as $109 a night and setting the registration fee at just $499 (a charge that also includes daily luncheons during the show). Better yet, you can cut that cost down to just $349 (plus tax) if you take advantage of an introductory special that is good until March 15, 2015. Just go to THEDomainConference.CLUB, enter the promo code MARCH15 and click on "Try Code". .CLUB has already signed on as the show's Premier Sponsor, with Coffee.Club, Escrow.com and Above.com also among the first companies to get behind the new event. The Neus said the show will put networking front and center with a Speed Networking session already planned as a key part of the agenda.

Yet another reason we wanted to make the trip to South Florida was to see some friends from other parts of the country (and as far away as Canada) who came to check things out too, including Michael Castello (CCIN.com) and Claude Dauman (Domains90210.com) from California, Fred Mercaldo (CityBrandMedia.com) from Scottsdale, Arizona and Frank Michlick (DomainCocoon.com) from Montreal, to name just a few. After the SFDP meeting Thursday Diana and I stayed over to thoroughly explore the Pier Sixty-Six Hotel Friday, then on Saturday we drove north to Palm Beach to spend the day with Michael Castello and his mother Victoria at Victoria's lovely island home where Claude, Howard Neu & Barbara also joined the gathering.

(L to R): Michael Castello, Victoria Castello, Howard Neu, Barbara Neu, Claude Dauman,
Diana Jackson and Ron Jackson at Victoria's home Saturday afternoon (Feb. 28).

By the way, that lovely painting you see on the wall in the photo above is a great depiction of Victoria with Michael and his brother David when the Castello Brothers were children. Michael and David commissioned the painting as a surprise gift to their mother who told us she cried the first time she saw it. We had so much fun visiting that we nearly cried when it was time to go home! It was a great day and a great way to wind up our visit before heading back to Tampa Sunday. We are already looking forward to seeing everyone in South Florida again at THE Domain Conference in September (if not sooner)!
---
If you've been out of the loop lately, catch up in the Lowdown Archive!
---
We need your help to keep giving domainers The Lowdown, so please email

[email protected]

with any interesting information you might have. If possible, include the source of your information so we can check it out (for example a URL if you read it in a forum or on a site elsewhere).
---
Home Domain Sales YTD Sales Charts Latest News The Lowdown Articles
Legal Matters Dear Domey Letters to Editor Resources Classified Ads Archive About Us