The United States has no intention of giving up control of the Internet's Domain Name System. That's the bottom line in an interesting article posted by Monika Ermert at the

Intellectual Property Watch website today. Ermert wrote "In a letter to the Internet Corporation for Assigned Names and Numbers (ICANN), the Department of Commerce National Telecommunications and Information Administration (NTIA) clearly knocked down plans presented by the ICANN President's Strategy Committee at the organisation's June meeting in Paris for a full privatisation of ICANN."

Ermert added, "For years there has been a back and forth on the issue of complete privatisation and internationalisation of the DNS core resource management. The topic nearly led to a failure of the United Nations World Summit on the Information Society (WSIS) because of demands by governments from the Arab world, Asia and Europe to end the privileged oversight role held by the United States.

The US government, which established ICANN, still has to give its blessing to every change in the root zone file which not only includes the introduction of new top level domains (TLDs), such as .com, but also possible changes of the so-called country code TLDs, from .us to .fr for France, .cn for China or .ir for Iran."

Ermert went on to write, "In Paris, ICANN Board Chairman Peter Dengate Thrush explained ICANN's intention to streamline this relationship (with the U.S. government) by taking over distribution of the root zone file to the root zone server operators. NTIA reacted immediately by denying any intention to take VeriSign out of the game.

Peter Dengate Thrush
ICANN Board Chairman

This is repeated in the new statement sent to ICANN: "The department believes strongly," the NTIA letter reads, "that it is important to clarify that we are not in discussions with either party to change the respective roles of the department, ICANN or VeriSign regarding the management of the authoritative root zone file, nor do we have any plans to undertake such discussions."

So even if ICANN, which has also presented plans to set up a second legal entity in another region, becomes a completely privatised body governed by its so-called multi-stakeholder structure, the heart of the DNS would stay where it is."
(Posted July 31, 2008) To refer others to the post above only you can use this URL:
http://www.dnjournal.com/archive/lowdown/2008/dailyposts/07-31-08.htm
Research firm Borrell Associates has released a new report that underscores the dramatic shift of traditional media to the Internet. This time the forecast for extremely stormy weather is directed at the ubiquitous phonebook Yellow Pages that have long been cash cows in the print world. Borrell said that "Over the next five years, we are expecting 39% of the ad spending on print yellow pages to vanish. After 12 years as an advertising medium, the Internet has finally reached small-business owners with viable marketing opportunities in the form of keyword

advertising, interactive directories and low-priced online video commercials. The recession appears to be triggering the shift. Borrell offers a download of a free executive summary of the full report here.

In another interesting finding Borrell reported that "there are now more than 34,000 local sales reps peddling online products - more than for any other medium. The chart at right shows that 84% of these reps are being fielded by newspaper and yellow pages companies,

all cross-training sales reps to rush toward their most-promising growth opportunity (online). To date, and in the foreseeable future, directory companies have fared better than any other legacy media at this strategy, garnering about 14% of their total gross revenues from online sales."

Borrell's report also details how online video commercials have emerged as the fastest-growing online ad format for small businesses. "By 2012, we expect streaming video advertising to surpass all other formats, including banners and paid search," Borrell said.

We also have some T.R.A.F.F.I.C. conference updates for you today. Tomorrow (July 31) is the last day to get the current registration rate ($1795) for the New York City show coming up September 23-26. The fee goes up another $200 starting Friday.

July 31 is also the last day to get the current $1295 registration rate for the T.R.A.F.F.I.C. Down Under conference coming to Australia November 18-20. On Friday the cost jumps by $300 to $1595.

In a related note, Moniker is now accepting submissions for their live domain auction at T.R.A.F.F.I.C. New York. More information on that process is available here.
(Posted July 30, 2008) To refer others to the post above only you can use this URL:
http://www.dnjournal.com/archive/lowdown/2008/dailyposts/07-30-08.htm
Sedo's Chief Strategy Officer Matt Bentley will be leaving the company as of Friday (August 1). Though Bentley will transition out of his operational role with the company he will remain close to Sedo in a non-operative role as Strategic Advisor. Bentley has been with Sedo since 2002 when he signed on as Director of International Operations. He was one of the first

dozen employees at the company.

Bentley played a central role in helping to expand Sedo's global footprint outside of Germany, in particular by launching (together with Sedo Co-founder and President Ulrich Essmann) Sedo's Boston-based U.S. subsidiary company Sedo.com, LLC in 2004. Bentley served as CEO of Sedo.com for two years before returning to Germany to assume his current role.

Bentley also played a key role in shaping Sedo's successful domain parking product, forging one of the industry's first parking partnerships with Google, and managing the launch of Sedo's premium brand for domain professionals, SedoPro.

Bentley said, "It has been an incredibly rewarding experience to participate in Sedo's

Matt Bentley
will leave Sedo August 1

worldwide growth and witness the company's emergence as a dominant player in the market. I'm definitely going to miss working with the many great people there, but the time was right for me to find a new challenge. Sedo is a strong organization, and I expect to see the company continue to thrive at the forefront of the domain industry."

Sedo CEO and co-founder Tim Schumacher said, "Together with Sedo's founders, Matt has played an important role in helping Sedo become the recognized, global domain marketplace leader it is today. Matt will no doubt continue to be a tremendous asset to Sedo in his new advisory role. We thank him for his years of dedication and wish him success in his future endeavors."

Bentley has not yet announced what his next career move will be but, on a personal note, I will add that I have no doubt that he will continue to be exceptionally successful in whatever he chooses to do. In covering the industry for DN Journal, I have gotten to know Matt very well over the past five years and he is without question one of the sharpest young executives I have ever met in this or any other business.
(Posted July 29, 2008) To refer others to the post above only you can use this URL:
http://www.dnjournal.com/archive/lowdown/2008/dailyposts/07-29-08.htm
Today's post is for computer geeks only. Fortunately I think that covers a lot of us in the domain business so I'm hopeful today's post won't bore everyone to tears! When I returned home from this month's GeoDomain Expo in Chicago and fired up my desktop computer (a slightly over 2-year old Compaq) I was alarmed to find the computer would not boot. I tried over and over and finally on about the 10th try, it wheezed its way into Windows. Though I back up critical data to an external drive, getting the computer to produce one last gasp was a big relief because there was other data, accounts and settings on it that I wanted to save.
I knew I had better get a replacement computer set up ASAP though so I headed for the local computer stores only to be thoroughly disappointed by all of today's off the shelf models. They were without exception amalgamations of low end parts housed in flimsy, plastic cases. I would also have to accept Windows Vista if I bought one off the shelf and I did not want it. I have Vista on my notebook but much prefer the tried and true Windows XP I had on the desktop.

Though time was of the essence I decided the only alternative was to build my own computer, something I had done once before (the machine I had prior to the ill-fated Compaq that barely made it to its second birthday before croaking). Rolling your own let's you make sure that every component you get is top quality and that you can house it in a case that is easy to upgrade and has plenty of room for expansion. On the downside, I'm prone to use more colorful language than usual when I am trying to get a dozen different PC parts to work together, so my wife was not enthusiastic about the idea.




The big box stores didn't have anything I
wanted but all the computer gear I needed
was available online.

None the less I decided that this time buying off the shelf was not an option. I got all of the parts I needed from NewEgg.com, a site that all of you computer nuts are undoubtedly familiar with. I probably shouldn't have ordered from them on general principals - after all they use a goofy domain name that has nothing at all to do with what they sell, almost an unforgivable sin to a died in the wool domainer like me. On the other hand, content is undoubtedly king and they have an astonishing array of inventory at good prices, very helpful user reviews and they get stuff to you quickly which under the circumstances was very important to me. I just hoped I wouldn't have to try to reboot the Compaq again before I had the new computer ready to go - and I made it by the skin of my teeth.
As soon as I got the last stuff I wanted off the old computer and onto the new, I tried rebooting the Compaq one more time to see if it was salvageable - but it was toast. The error messages informed me the BIOS could not find a hard drive period. At that point I no longer cared and just felt blessed to have averted what could have been a big problem. Plus I'll take any excuse to get a new computer purchase past Diana (she doesn't read what I write so this can stay between you and me).

Despite having owned computers all the way back to the second IBM PC model I've never had a hard drive fail - surprising given how many reports of disc failures that you hear about.

The horror stories had gotten me into the routine of regular back ups and this crash reinforced the importance of doing that. I put a second identical 640 GB drive in the new rig to make it even easier (while still offloading another backup to the external drive).
That brings us to the part that will be of interest to only the geekiest of geeks (such as myself), which is detailing exactly what went into the new system. When NewEgg buyers review their

purchases many like to list the parts in their rig in their signatures (just like a lot of guys in the domain forums list their favorite domain names in their signatures).

I wanted to pick the case first and all of the NewEgg customers raved about various models from Lian Li, so that is what I zeroed in on, settling on the PC-60B Plus II model. Their cases are as sweet as everyone said - made of top quality brushed black aluminum (there is no plastic ANYWHERE in their cases) and every piece is removable, including the top and side panels, drives cages and motherboard tray, so hooking everything up and putting it back in place is a piece of cake. Everything is held

The new rig doesn't look like anything special but it really rocks. I'm in front of a computer 12-16 hours a day so that's a good thing.

together with large thumbscrews so fastening and unfastening parts is also a breeze. Speaking of breezes, the case has four fans instead of the one you get in store brand models. The extra ventilation keeps everything cool so you can run high speed components at full throttle without shortening their life span. To power everything I added an Antec 650-watt power supply.

For the motherboard I picked the just released ASUS P5Q Deluxe with Intel's newest P45 chip set. That mobo is loaded and included an external eSATA port that I wanted to run my external hard drive on instead of its current USB connection (the 500GB Seagate can use either). SATA transfers data 2-3 times faster than USB 2.0. The processor is an Intel dual core E8400 - a big favorite with the NewEgg crowd. I added 4GB of highly recommended Corsair DDR2 800 memory (the ASUS will accept all the way up to DDR3 1200 memory, but too cutting edge for me. Nice to know it is a future option though). The video card is an EVGA 8800GS (I don't have time to play video games so no need to spend twice as much on the GT version for gamers). I put in a pair of Western Digital 640GB hard drives (I have actually owned Western Digital stock for years) and a pair of LiteOn DVD writers (it's just amazing to me that high quality internal DVD writers like this cost less than $30 apiece today). I also added a photo card reader to make getting pix out of my digital camera a snap.
All of the components cost a total of $1,100 and went together fairly easily (most of my issues with the build involved software problems rather than hardware and I eventually resolved all of those). To complete the set up I gave my wife my 22" monitor and replaced it with a new 24" Samsung 245BW (unlike the computer parts, I bought the monitor at Buy.com where it was under $400). The extra screen real estate is great and I am thrilled with the speed increase I've gotten over the old store bought clunker. I feel like I have doubled my efficiency just through the equipment change which makes the cost negligible.
For $1,100 you could not touch an off the shelf system that could match up with this one. Putting it together, transferring software and data, etc. did take up the better part of three days Friday through Sunday, but I'll be rewarded every day from now on until this one is ready for retirement so I'm a happy camper. I would also bet the new computer will live far longer than the Compaq that just kicked the bucket before reaching its third birthday.

Now, for those worried that this column will become a

weak rendition of Tom's Hardware, not to worry - it will be back to our regular domain programming tomorrow :-) I just had to share this with those domain fans who look at their computers like car aficionados look at hot rods. My wife had no interest in hearing about it so I turned to you! Hey, some days you win and some days you lose!
(Posted July 28, 2008) To refer others to the post above only you can use this URL:
http://www.dnjournal.com/archive/lowdown/2008/dailyposts/07-28-08.htm
Online advertising growth has been booming and much more will becoming the web's way when advertisers who don't yet fully understand the medium figure it out. In an interesting




Peter Chernin
President, News Corp.

Fortune Magazine article this week, News Corp. President Peter Chernin talked about that. Chernin said an advertiser recently told a sales rep from News Corp's MySpace.com to come back when the social network has a "Super Bowl level" event. What the advertiser failed to recognize, Chernin said, is that the MySpace home page has as many viewers every day as the Super Bowl has once a year.

Chernin indicated that despite their off the chart traffic, MySpace currently has a hard time getting decent prices

for ads displayed on the site that currently relies heavily on Google for monetization. Chernin said ,"The answer may be to look beyond banners and text ads. What drives ad prices is scarcity and the place that is most promising is probably in video. By definition there's more scarcity in video, and there's even more scarcity in premium video." Video, of course, is also a format that TV advertisers like those who flock to the Super Bowl can relate to.

Chenin said mobile is also attractive because it is by far the most penetrated device on earth. "So it's this enormous distribution platform, but by definition you're not going to be watching

two-hour movies," Chernin said. "It's going to be interesting to see people develop uniquely mobile content." However he also believes it will take a long time for mobile specific content to develop into a major force.

One other note today; Rob Grant (who was featured in our April Cover Story) was a guest on Domain Masters on WebmasterRadio.FM Wednesday night (July 23). In the interview conducted by Moniker's Victor Pitts (who was guest hosting the show for Monte Cahn), Grant talked about the unique attributes of real estate and geo related domains and their future on the web. Grant is a licensed real estate broker in upstate New York and has the world's best collection of .com real estate related domains.

Rob Grant

(Posted July 25, 2008) To refer others to the post above only you can use this URL:
http://www.dnjournal.com/archive/lowdown/2008/dailyposts/07-25-08.htm
When I entered the domain business in the spring of 2002 there were some independent drop catchers around who made it possible to occasionally get some great domains for next to nothing. Canadian Gordon Martin's DropWizard.com was one of those. I remember him catching two 3-letter .coms for me for what was then his flat rate for going after a domain - $120 apiece! Now THOSE were the good old days! I wound up doing an article about Gordon in our first year of publication (2003).

DropWizard.com
sees magic in ccTLDs

Martin got out of the drop catching business in 2004 but now he is back with a new venture devoted entirely to his latest passion - country code domains. "In 2004 we made a decision to exit that market and start catching for ourselves," Martin said. " What many don't know is I felt the .Com market was rising rapidly and future progress would only be made at a huge expense. Given today's prices it appears that prediction was right on the money. I felt that Country Codes were seriously underestimated and seriously undervalued. Accordingly that is the direction I moved in."

Martin added, "there are far more local and national companies selling goods within each country than international enterprises. People (buyers) tend to trust local (country) domains and local enterprises over international companies." Martin said he believes the local ccTLD for each country will become the domain "extension of choice" in the consumer's mind.

"Local search is becoming a larger and larger part of the search market, therefore, local extensions will become increasingly

important in providing local search results. For all the above reasons I believe that CCTLD's are vastly underpriced and represent one of the best opportunities in domain investment today," Martin said.

So what is he doing about? Martin has just introduced a new newsletter (the only cost is a $1 PayPal account verification fee) to connect ccTLD buyers and sellers. He said his newsletter would feature a closely filtered list of names for sale. "No more spending time crawling endless forums looking for gems. Most days we don't expect to exceed 10-20 prime generic domains," Martin said.

He believes the newsletter will be the perfect marketing tool for sellers as well. "Take advantage of our large clientele base. There were over 1,300 large qualified buyers in our initial mailout. These are some of the largest buyers in the world and they are fast too. I have closed major $xx,xxx deals, been paid and had the domain transferred in less than 5 minutes with these clients!"

Every nation has its own country
code extension. A list of all of
them is available here.

Martin may be on to something. In our latest weekly domain sales report, seven of the Top 20 domains on the all extension leader board were ccTLDs (including three of the top ten).
(Posted July 24, 2008) To refer others to the post above only you can use this URL:
http://www.dnjournal.com/archive/lowdown/2008/dailyposts/07-24-08.htm
Foreclosure.com Founder, President and CEO Brad Geisen announced today that he has reached an agreement with "Domain King" Rick Schwartz to acquire the domain name Property.com. The price paid was not revealed but Geisen indicated it is one of the largest URL purchases ever. Schwartz had purchased the domain for $750,000 in 2005.

Brad Geisen
Foreclosure.com Founder

Geisen plans to create a one-of-a-kind one-stop online real estate marketplace on Property.com that is to debut sometime in 2009. The site will reportedly offer a national real estate classified ad system that will be free to all visitors, "providing sellers, buyers and investors with a whole new concept of marketing and finding homes on the Web," according to a release we received about the sale.

According to Geisen, the acquisition of Property.com will allow him to focus his efforts on a different and potentially much larger segment of the real estate market than foreclosures alone. "I'm going after the 98% of the real estate market outside of the foreclosure business," Geisen said.

"For the past several years, I've built and run one of, if not the, most successful Internet foreclosure businesses, but the business was always exclusively distressed real estate. I've achieved in Foreclosure.com what I set out to accomplish and I am ready for a new challenge in a different market."

Geisen said the new Property.com "will revolutionize how homes should be listed, viewed and purchased. "I've seen what's been wrong with the way things were done and I've developed the methods to fix them. I have the knowledge and resources to take this to a whole new level … and that's what I plan to do," Geisen said.

Property.com plans to include all listing types, including those indexed by the Multiple Listing Service (MLS), creating a database that could surpass more than 15 million homes, but not including distressed properties, which will remain the business of Foreclosure.com. It will be totally free to search for potential buyers and visitors, and sellers will be able to upload and edit their own personal listings at no charge.

Schwartz said "Early on I saw the value in Property.com; however, I never had the resources to develop it so it could reach its maximum potential. Brad Geisen has the vision to truly get the most of Property.com for the benefit of so many people in every corner of the United States. I'm thrilled to be a part of this exciting new project with Brad."

Rick Schwartz

(Posted July 23, 2008) To refer others to the post above only you can use this URL:
http://www.dnjournal.com/archive/lowdown/2008/dailyposts/07-23-08-2.htm
The .ME Registry has released some early stats covering the opening days of public registration for the extension. .ME is technically the country code for Montenegro but it has been re-introduced as a globally available extension geared to personal users. The registry said

50,000 .ME domains were registered in the first 48 hours after the extension opened to the public July 17. 30,000 had previously been registered in the land rush period so total regs hit 80,000 by the end of the day July 18.

50% of the registrants were from the United States. 11% came from the United Kingdom, 9% from Germany and 5% from Canada. No other country accounted for more than 3% of registrations.

Though registry partner Godaddy suffered through a lot of registration glitches that upset customers, Afilias,

who handles back end operations for the .ME registry, said there were no problems on their end as they handled .ME requests from over 60 registrars around the world. GoDaddy was the most active registrar in promoting .ME, so a lot of those seeking .ME domains went to their site but their systems were not up to handling the volume. Smaller registrars, like Dynadot, reported no problems processing registrations in a timely manner.

Moniker has announced that the silent online auctions they run in conjunction with popular trade shows will move to the SnapNames.com platform effective with two sales next month that will be tied to the Internext Expo in Hollywood, Florida and the Affiliate Summit in Boston.

The Internext silent auction will run August 7-14 while the Affiliate Summit sale will run from August 10-21. Bidders will no longer need special access codes. They can simply log into their SnapNames account where they will find all auctions closing at 3:15pm (Eastern time) on the closing day of each event.

Moniker released a list of top candidates for their Affiliate Summit auction today with Clients.com, Trades.net and CreditCheck.us among the names highlighted. The final catalog is to be released soon. Moniker and SnapNames are both Oversee.net companies.
(Posted July 23, 2008) To refer others to the post above only you can use this URL:
http://www.dnjournal.com/archive/lowdown/2008/dailyposts/07-23-08.htm
The Incredible Shrinking Newspaper - like so many others around the country my local daily paper, The Tampa Tribune, continues to wither away before my eyes. It has been like watching a death by a thousand cuts. First the width of the pages was sliced, then whole sections

How much skinnier can newspapers
get and still be visible to the human eye?

started disappearing. When we got today's paper I remarked to my wife that they would have to rename the publication the Tampa Pamphlet as there are only a few pages left, especially on Mondays and Tuesdays. It turns out that the latest step in their irreversible descent into anorexia was completely eliminating the local news section for our suburban area the first two days of each week.

The Tribune of course is not the Lone Ranger. As more and more people get their news from the Internet the papers grow weaker with every passing day, cutting both jobs and content. In fact over the weekend, Editor & Publisher Magazine wrote "U.S. daily newspapers aren't shrinking just their newsrooms, an extensive study (from Pew Research) finds stories, page count, sections, international and national news are all smaller too - and only a minority of editors think online journalism will save their papers." That's what you call up the creek without paddle.

As the print publications scramble to find a way to survive, some are rolling out new formats to

see if they can find one that readers will rally around. Tomorrow (July 23) the 120-year-old Sporting News will launch Sporting News Today, a daily editorial product styled after a traditional newspaper but which will be e-mailed each morning to a list of subscribers - a hybrid format that the company is calling a "daily digital sports newspaper."

In covering that development, Mediaweek's Mike Shields wrote, "The product, which utilizes technology licensed from the digital magazine firm Texterity, has been designed to reproduce the visual packaging of a newspaper while blending the navigation of the Web." Publisher Ed Baker said "Physically, it looks like a newspaper, it reads like a newspaper, and feels like a newspaper." Whether or not modern readers will think that is a good thing or a bad thing remains to be seen.

Baker told Mediaweek that Sporting News Today will not carry any advertising until the company builds up a significant subscriber base (it will launch with approximately 30,000 subscribers). The plan is to eventually feature video ads, standard IAB units, and even "half page" newspaper type ads.

I wish them luck, but it looks to me like a half measure that still won't be able to match having a rich content website on a category killer domain name. With respect to the predicament of local newspapers, that's one reason I am bullish on geo

Geodomain owners who gathered in Chicago for the
GeoDomain Expo earlier this month may hold the
upper hand in the new web-based local media world.

domains (see our review of the recently concluded GeoDomain Expo in Chicago), Names like Chicago.com offer instant recognition and can deliver any kind of media - print, audio or video - from a single platform. That combination is going to be tough to beat in the years ahead.
(Posted July 22, 2008) To refer others to the post above only you can use this URL:
http://www.dnjournal.com/archive/lowdown/2008/dailyposts/07-22-08.htm
Major congratulations go out today to long-time domain investor Howard Hoffman (who also operates PPCIncome.com). In addition to his domain endeavors Hoffman owns a fast-growing bottled water company that distributes an oxygenated water called O2Cool, previously known

Howard Hoffman with Mariel Hemingway,
the new spokesperson for his company O2Cool

as hiOsilver (if you have attended many domain conferences you have probably met Howard and had him hand you a bottle of his refreshing product).

Today Hoffman's company announced a major coup, the signing of actress/author Mariel Hemingway as the spokesperson for O2Cool. In Ms. Hemingway's most recent book, Healthy Living from the Inside Out, the granddaughter of legendary author Ernest Hemingway listed hiOsilver (now O2Cool) Oxygen Water as the first product in the book's Index of Products that she uses.


Even before the book came out, in a February 2007 interview in Rachel Ray Magazine Ms. Hemingway had said ". . . I also drink tons of water. My fave is hiOsilver Oxygen Water – it has this smooth texture I adore."

Hoffman (an M.I.T. graduate who was a professional water engineer before moving into the domain business), said he noticed an increase in his bottled water sales, especially online where the water is available in the entire United States, soon after Healthy Living from the Inside Out arrived in bookstores. That led him to contact Ms. Hemingway and suggest the spokesperson arrangement.

Hoffman, who is based in Palo Alto, California, said "We could not think of a better person to represent O2Cool Oxygen Water. Mariel is a leading advocate of healthful eating and drinking, in addition to exercise, yoga, body awareness, and stress reduction. Our water has mostly been available only in the Western U.S. and a few cities east of the Rocky Mountains. Now we are planning to add distribution to cover the entire country."

Regarding his product, Hoffman said "O2Cool

Hoffman asking a question from the
audience at the 2008 Domain Roundtable conference in San Francisco in April.

Oxygen Water includes 8 times the oxygen of ordinary water for fresh breath and oral health. Made from natural spring water, with a natural pH of 8.4, O2Cool contains a naturally high level of magnesium, a mineral which is well known as vital to cardiovascular health."
(Posted July 21, 2008) To refer others to the post above only you can use this URL:
http://www.dnjournal.com/archive/lowdown/2008/dailyposts/07-21-08.htm
Bido.com has confirmed they will be one of the five companies presenting live domain auctions at the next T.R.A.F.F.I.C. conference Sept. 23-26 in New York. On his blog at

Conceptualist.com today, Bido co-founder Sahar Sarid wrote about what attendees can expect from his company's live auction saying, "None of us here at Bido has any idea as of yet what we will do. We will think it over the next week or two and come up with something, hopefully to exceed your expectations! Ideas? please let us know!"

Bido currently runs a unique one name a day online auction so doing a live conference auction with multiple names will be new territory for them. Knowing Sahar and his teammates I'm sure they will come up with something that will make their turn at the auction block entertaining. With Moniker, Thought Convergence and Rick Latona.com previously named as live auction providers, only one spot remains officially open, though speculation has been that Sedo.com will fill the final slot.

Bido Co-Founder Sahar Sarid

In other end of the week tidbits, friends with connections in Brazil have been telling me for some that that country is increasingly becoming a hotbed for domains. One impediment to growth has

been a .com.br registry restriction that limited use of the extension to corporations in Brazil. Now Juan Enrique Sánchez of registrar Domains Latin America (NameAction.com) tells me that restriction has been removed and any Brazilian citizen can register .com.br domains. The registry also lifted restrictions on .am.br, .fr.br and .tv.br that had limited their use to radio and TV stations. All good news for the domain business in Brazil.

Speaking of registries, the .pro registry is set

to begin the relaunch of their extension Monday (July 21) when a pre-registration period that runs to August 31 will begin. Open public registration will resume Sept. 8. More details are available here.

New York State's beautiful Adirondacks area appears to be turning into something of a "spiritual retreat" for domainers. Rob Grant (who was the subject of our April Cover Story) is based there and in recent weeks he has welcomed a number of prominent domainers to his Lake Placid home and treated them to a taste of the local lifestyle. The latest to make the trek north was DomainsForMedia.com and DNCartoons.com founder Eric Rice (the subject of DN Journal's February 2007 Cover Story) and his partner Clausen Ely. Grant soon had his visitors out on a local lake for some bass fishing but from the looks of the photo Rob sent me below, Eric and Clausen were eating light at the fish fry that night!

(Left to right): Clausen Ely, Rob Grant and Eric Rice in the Adirondacks

At first glance, Rob's catch (middle above) looked impressive by comparison but upon closer inspection the soft edges around Grant's image indicate that Photoshop may deserve more credit for that fish than he does! Another clue is that Rob's head in the picture is about half the size of Clausen and Eric's. I know Grant is a humble guy but, unless some lost tribe of Adirondack headshrinkers caught and released him recently, his noggin is not that tiny!

I hope you all have a wonderful relaxing weekend. I am going to be busy putting the finishing touches on our 2008 GeoDomain Expo review article that will be published before everyone is back at work Monday morning. We posted daily items from the show in our Lowdown column while it was underway last week in Chicago, but those were just an appetizer for the big wrap up article we're working on now.
(Posted July 18, 2008) To refer others to the post above only you can use this URL:
http://www.dnjournal.com/archive/lowdown/2008/dailyposts/07-18-08.htm
RickLatona.com has been named as the third live auction provider for the T.R.A.F.F.I.C. conference coming up Sept. 23-26 in New York City. Moniker.com has always been the only

live auction provider at T.R.A.F.F.I.C. conferences but the show's organizers have decided to let up to five auctioneers set up shop at the next show in New York City Sept. 23-26. The third spot was taken today by RickLatona.com who joins Thought Convergence and Moniker, with

two other auction providers expected to be named soon. T.R.A.F.F.I.C. said Moniker will remain the "premiere" auction at the show with the newcomers running sales that will concentrate on fewer names and be of shorter duration. Latona said he would have one hour for his auction.

Some might be surprised that Latona has muscled his way into a place among the major players in the aftermarket, but I am not. He has always been a masterful marketer, arguably the best in the business. He knows domains and he has been steadily selling high ticket names though a regular newsletter to his opt-in subscribers.

In announcing his new role at T.R.A.F.F.I.C. on his blog today, Latona wrote "I have a plan on how to make the names we are listing really stand out from the crowd but it would be silly for me to tell you guys about that here with competitors watching." You can bet he will come up with some new wrinkles. As the headline on his announcement said, "said it was a matter of "Go Big or Go Home." Latona tends to go big.

Rick Latona

(Posted July 17, 2008) To refer others to the post above only you can use this URL:
http://www.dnjournal.com/archive/lowdown/2008/dailyposts/07-17-08-2.htm
.ME opened for public registration today. Though the extension is officially the country code for Montenegro it has been opened for unrestricted global registration and is now being marketed as an extension for "personal" use. The world's biggest registrar, GoDaddy, is

partnering with the registry operators to promote .me and many of those who have been trying to register .me domains today have been trying to do it at GoDaddy.

According to a long thread at the NamePros forum, it hasn't exactly been smooth sailing with many reporting they were charged for domains they thought they got, only to find out later that they had already been registered by someone else. GoDaddy will issue refunds of course, but it has still resulted in a lot of disappointment and upset customers. Some in the thread reported having better luck with smaller registrars like Dynadot.com that were not as besieged by registration requests as GoDaddy has been today.

On Tuesday we told you about Video.us being back on the market after the domain had been stripped from its non U.S. owners twice in the past year. After the previous owners paid (and lost) $75,000 and $18,500 respectively, the name was auctioned off again today by Galcomm.com. The price slipped again, with the winning bid coming in at $12,000 this time. Let's hope the new owner has better luck meeting the .us Nexus requirement (be a U.S. citizen or have a business presence in the U.S.).

Elsewhere Sedo's latest GreatDomains.com premium online auction opened today with names including Color.com, Villas.com and House.net up for bid. Like all of the GreatDomains monthly acutions, the event will run for one week, ending July 24. You can see the full auction inventory here.
(Posted July 17, 2008) To refer others to the post above only you can use this URL:
http://www.dnjournal.com/archive/lowdown/2008/dailyposts/07-17-08.htm
We have compiled the domain sales data reported to us in the just concluded second quarter of 2008 to see how it compares to the same quarter last year. At first glance Q2-2007 (when the general economy was in much better shape than it is now) looked much stronger than 2Q-2008. $36.6 million in total sales were reported in Q2-2007 vs. $27.7 million in Q2-2008.

The domain aftermarket remains on course despite
severe disruptions in the general economy.

Since I had not noticed any significant decline in sales in my weekly reports on the aftermarket I figured there must have been an outlier or two that accounted for that big year over year difference. On closer inspection I found that was indeed the case. Q2-2007 was the quarter when Porn.com sold for $9.5 million. In Q2-2008 all reported sales were under $1 million so there was no blockbuster deal to offset the landmark Porn.com sale a year ago.

If you look at the comparative sales without Porn.com, then Q2-2008 was slightly better than Q2-2007, $27.7 million vs. $27.1 million. That is a much slower growth rate than we have been seeing, but I said late last year that given the rapid deterioration of the general economy, it would be a major victory if domain sales could just hold their own. They continue to do that and the past three weeks have been especially solid as shown in our weekly domain sales reports.

I also looked at how 2Q-2008 compared to Q1-2008 (the first quarter of each year is often the strongest of the year). Again the raw total showed Q1 was much stronger at $38 million in reported sales. However, again another major outlier was involved. $10 million of that Q1 total was for a single domain, Fund.com. Without it, Q1-2008 was about the same as Q2-2008, $28 million vs. $27.7 million. Q1 also benefitted from two other sales over $1 million: DataRecovery.com ($1.6 million) and Cruises.co.uk ($1.1 million).

| | |
| --- | --- |
| Now that we are halfway through 2008, I also looked at how the first six months of this year compared against the first six months of last year. Again the overall economy was dramatically better in the first six months of 2007, yet in domain terms, total sales for the first six months of 2008 easily topped the first six months of 2007, growing 11.6% with $65.7 million in sales reported in the first half of this year vs. $56.5 million in reported sales the first half of last year. | |

Those comparisons confirmed what I believed I was seeing anecdotally, that the domain aftermarket has been holding its own while the real estate and credit markets are collapsing around us. I think we are clearly blessed to be in an industry that continues to perform well when so many others are struggling to survive.
(Posted July 16, 2008) To refer others to the post above only you can use this URL:
http://www.dnjournal.com/archive/lowdown/2008/dailyposts/07-16-08.htm
In the past 15 months, two previous owners lost big bucks after buying Video.us only to see the registry delete the domain for Nexus/WhoIs violations. Now we will see if the third time is the charm for this star-crossed domain. The story began in April 2007 when a European company

bought the domain from its American owner for $75,000 (the highest reported price for a .us domain to date). 10 months later, someone alerted the registry to the fact that the contact information in the WhoIs record was no longer valid. The .us registry, Neustar, responded by deleting the domain which was then caught and auctioned off by Pool.com in February 2008.

The previous owner lost their $75,000 investment and the new owner, based in Luxembourg, paid just $18,500 to win the

Pool auction and gain control of the domain. But they ran afoul of the registry too. Citing Nexus requirements that .us domains be owned by a U.S. citizen or someone with a business presence in the U.S., Video.us was deleted still again, only to be caught again Monday, this time by Galcomm.com. They too are auctioning the domain off, with the bidding scheduled to end at Noon Thursday (July 17).

It will be interesting to see what the domain is valued at this time and whether or not a non-U.S. buyer will risk going after it again. If they do, history shows they had better be able to convince the registry that they have a valid presence in the U.S. and keep the information in their WhoIs record up to date (wise advice for all domain owners).
(Posted July 15, 2008) To refer others to the post above only you can use this URL:
http://www.dnjournal.com/archive/lowdown/2008/dailyposts/07-15-08.htm
The 2008 GeoDomain Expo closed in Chicago Saturday (July 12) with a 12-hour day packed with big events. It opened with a morning session featuring stories from five geodomain pioneers (all seen in the photo below showing, left to right); Josh Metnick (Chicago.com), Dan Pulcrano (Boulevards New Media), the Castello Brothers (David and Michael) and Skip Hoagland.

Metnick is the man who originally came up with the idea for an association of .com city domain owners and got a ball rolling that led to the formation of Associated Cities, the group that presented the GeoDomain Expo in association with the Kelsey Group. All five panelists are founding board members of Associated Cities and are geodomain pioneers in every sense of the word. Associated Cities will soon be renamed Associated Geos as the organization starts welcoming state and country geo domain owners to their membership ranks.

The Saturday luncheon featured a powerful address from Internet Commerce Association Legal Counsel Phil Corwin. Corwin detailed current theats to domain owners (including specific threats to geodomain owners) and what the ICA is doing to meet those challenges. I'll have more on his talk as well as greater detail on all of the show sessions in our comprehensive review of the conference that will be published by the end of this week.

After lunch I sat on a five-man panel discussion about GeoDomains In the News that also included David Kesmodel (author of The Domain Game), Andrew Allemann (DomainNameWire.com), Elliot Silver (ElliotsBlog.com) and Steven Morales (SimplyGeo.com). David Castello moderated the session and though I am a bit biased on this specific topic, I thought it was an exceptional session that shed a lot of light on the rising interest in geodomains.

Phil Corwin
ICA Legal Counsel

The final informational session of the Expo was a GeoDomain Town Hall meeting that Mark Burgess (SanDiego.com) and Skip Hoagland presided over. There were open mikes for attendees to bring up any topic they wished with Burgess, Hoagland and various audience members providing the answers.




Wayne Wheat
New auctioneer for the Moniker live auction

Moniker's live domain auction followed with 40 lots selling for a total of $279,000. The top sale was SantaClara.com and a group of additional Santa Clara related domains for a total of $82,500 - a nice lot acquired by Page Howe who is steadily building a real presence in the geo space. The next best sales were Afghan.com ($30,000) and Asia.org (also $30,000). OysterBay.com added another $24,500. The Castello Brothers raised $2,500 for the Internet Commerce Association by donating ChicagoHotelReservations.com to the sale with the proceeds earmarked for the ICA.

Moniker brought in a new auctioneer for this event, Wayne Wheat, a polished Texan that I thought did a great job. He is a real high energy auctioneer who kept things moving at a rapid pace (aided by a frantic spotter named Leb who added further color to the show).

The curtain came down on the 2008 GeoDomain Expo with the big GeoDomain Awards dinner last night. The winners were chosen in voting by their geodomain peers. I had the honor of emceeing the event and handing out the highly deserved honors. The winners in the ten categories were:

Best Monetized GeoDomain - PalmSprings.com

Most Economic Impact - Richmond.com

Most Influential GeoDomain.com - Vegas.com

Best GeoDomain Technology - NewYorkCity.com

Best U.S. City GeoDomain - Vegas.com

Best U.S. State GeoDomain - Hawaii.com

Best U.S. Destination GeoDomain - Branson.com

Best International City GeoDomain - Acapulco.com

Best Country GeoDomain - Australia.com

GeoDomain Hall of Fame (a new honor that will be bestowed on two inductees each year) - The inaugural winners (pictured from left to right in the photo below) were: Patrick Carleton (Executive Director of Associated Cities) and the Castello Brothers (Michael and David).

We will have photos of all of the GeoDomain Award winners in our comprehensive conference review article that will be out at the end of this week. In a nutshell, this show was a huge success and one that will become even more important in the years ahead as domain owners continue to focus more on developing their domains into real businesses.
(Posted July 13, 2008) To refer others to the post above only you can use this URL:
http://www.dnjournal.com/archive/lowdown/2008/dailyposts/07-13-08-2.htm
Another major player has jumped into the crowded domain conference game. Parked.com and Modern Domainer Magazine will sponsor a show in New Orleans during Mardi Gras week February 19-21, 2009. Parked.com and Modern Domainer share New Orleans roots though Parked.com moved most of their operations to Tampa, Florida (also our home base) after Hurricane Katrina. Below is a copy of a show invitation that circulated at the GeoDomain Expo that ended last night in Chicago.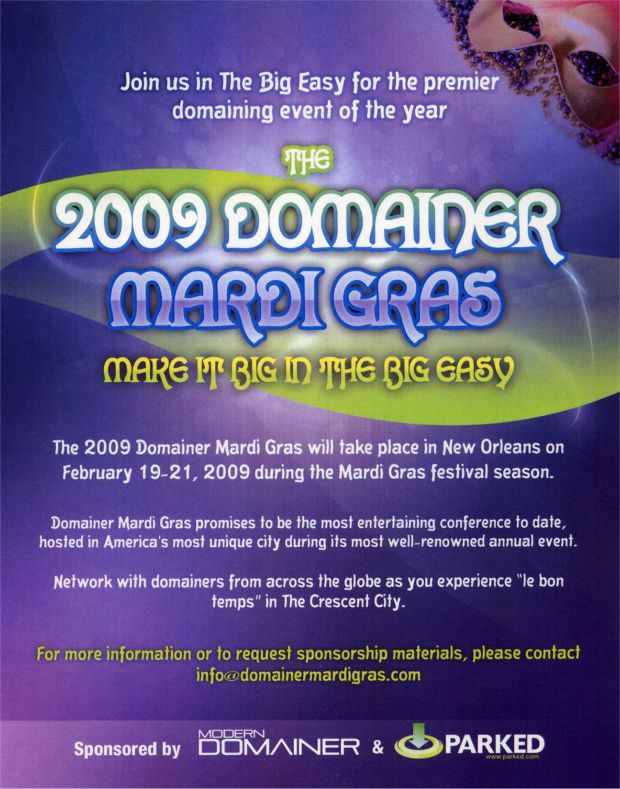 Though the domain conference schedule is already congested, you have to admit going to an event during Mardi Gras will have special appeal. Parked.com CEO Sig Solares filled me in on the show while we sat together during a late night dinner hosted by Jay Westerdal (TrafficZ/Name Intelligence) Thursday night in Chicago after that day's events at the GeoDomain Expo. Sig and his team plan to make the New Orleans show an unforgettable experience and I have no doubt they will succeed in doing that.
We also have a tidbit to add to the post below about new live domain auction providers coming to the T.R.A.F.F.I.C. conference in New York in September. As we mentioned in that post yesterday, T.R.A.F.F.I.C. organizers expect to announce a third auction provider (in addition to Moniker and Thought Convergence) in the next week or so. I have reason to believe that third provider will be Sedo.com who would be a new entrant in the live auction space, though they are of course very well known for their successful online auctions at Sedo.com and GreatDomains.com.
(Posted July 13, 2008) To refer others to the post above only you can use this URL:
http://www.dnjournal.com/archive/lowdown/2008/dailyposts/07-13-08.htm
Organizers of the T.R.A.F.F.I.C. conference recently announced that the live domain auctions at their events would start featuring multiple auction houses. In the past Moniker.com has been the sole provider of auction services at T.R.A.F.F.I.C. shows. We have learned that

effective with the New York City conference coming up Sept. 23-26, Thought Convergence (parent company of T.R.A.F.F.I.C.'s main sponsor, TrafficZ.com) will be one of the new auction providers at T.R.A.F.F.I.C. events. A third auction provider is expected to be announced in the next week or so.

Thought Convergence acquired live auction expertise this spring when they bought Name Intelligence, the parent company of the Domain Roundtable conference where live auctions have been a staple the past two years,

T.R.A.F.F.I.C. is also about to offer a new "T.R.A.F.F.I.C. Auction Rewards" program that will give frequent bidders and buyers in T.R.A.F.F.I.C. auctions greatly reduced admission prices to future T.R.A.F.F.I.C. shows. The discount amounts will be based on the level of money spent in their auctions.
(Posted July 12, 2008) To refer others to the post above only you can use this URL:
http://www.dnjournal.com/archive/lowdown/2008/dailyposts/07-12-08-2.htm
Dan Pulcrano
Boulevards New Media

The first full day of the 2008 GeoDomain Expo at the W Hotel City Center in Chicago kept registrants busy from early morning until well past midnight last night. Dan Pulcrano, a founding board member of Associated Cities, the geodomain owner's association that is staging the show in concert with the Kelsey Group, kicked off the Friday (July 11) agenda with a GeoDomain State of the Union address. Details from Pulcrano's talk as well other addresses and seminar sessions will be covered in our comprehensive show review article that will be published by the end of next week.

Pulcrano is the founder and CEO of Boulevards New Media and he had some good news yesterday when it was announced that the Boulevards network (including LosAngeles.com, Seattle.com, MovieTimes.com and

many other popular sites) has earned a spot on Quantcast Corporation's list of the Top 500 most trafficked properties on the web, reaching #360. "We are pleased to be counted among the world's largest Internet properties," Pulcrano said. "Quantcast has performed a tremendous service for the industry by becoming the first ratings service to transparently aggregate data from multiple sites into a unified ranking. This is the Forbes 500 of traffic ratings."

In Friday's main event, the Chairman and Co-Founder of the Kelsey Group, John Kelsey, delivered the Expo's keynote address. The Kelsey Group provides consulting services to publishing companies, helping them understand and profit from emerging technologies. They are global experts on local media so it was a major coup for Associated Cities to have the Kelsey Group join them in presenting the GeoDomain Expo. Registrants went to Chicago to learn how to build their domains into local media powerhouses and Kelsey has a unique understanding of what it will take for the new breed of online companies to supplant traditional media outlets.

After Kelsey's address, I spoke at lunch about the latest trends in the domain aftermarket including specific examples of geodomain and geo targeted domain sales that demonstrate the growing interest in the geo space.

John Kelsey
GeoDomain Expo Keynote Speaker

Author David Kesmodel signing copies
of his book, The Domain Game, last
night at the GeoDomain Expo in Chicago.

There were three informational seminars Friday afternoon followed by a 6:30 pm social event that included a cocktail hour, a sit-down dinner and a book signing session with Wall Street Journal reporter David Kesmodel. Kesmodel recently released a book about the domain industry, The Domain Game, that has been earning rave reviews. There was a constant line of people waiting to meet him and pick up signed copies of the book which can also be ordered from Amazon.com. We will be publishing an interview with David about his experiences in researching and writing the groundbreaking book soon.

After dinner, attendees were bused to one of Chicago's most popular night spots, The Hunt Club, for a big party hosted by show sponsor TrafficZ.com. Two levels of the tri-level club were reserved for show goers and the venue, selected by Chicago.com owner (and Associated Cities board member) Josh Metnick, proved to be a

popular choice. In the photo at right, Jothan Frakes (Oversee.net) gives the event an enthusiastic thumbs with Diana Jackson and Ray Neu nodding in agreement.

The GeoDomain Expo closes today with another jam-packed agenda. We will be hearing stories from geodomain pioneers in an 11am session, then Internet Commerce Association Legal Counsel Phil Corwin will speak at lunch. I'll be part of a 1:30pm panel discussion on GeoDomains in the News that will be followed by a GeoDomain Town Hall meeting. Another major event, Moniker's live geodomain auction gets underway at 4:30pm (US Central time) and continues until 7pm. The curtain comes down on the Expo

with the big 2008 GeoDomain Awards Dinner from 8-11pm tonight. I'll have the winner's list in a post in this column tomorrow. Publication time is up in the air because that's where we will be (up in the air) Sunday morning, on the way back to Florida. With a late night tonight, odds are there won't be time to make the post before we leave for the airport, but we will be back in the Sunshine State early enough to publish the final day wrap up in this space by Sunday evening.
(Posted July 12, 2008) To refer others to the post above only you can use this URL:
http://www.dnjournal.com/archive/lowdown/2008/dailyposts/07-12-08.htm
The 2008 GeoDomainExpo officially got underway last night in Chicago with a wall-to-wall crowd packing the welcoming cocktail party at the W Hotel - City Center (part of the room can be seen in the photo below). The turnout was truly stunning especially when you consider that the dates and location for this show were not announced until we did it May 20 - just 7 weeks ago! Equally remarkable is the fact that this show is devoted to just one sector of the domain industry - geo domains - yet managed to draw a crowd on par with the last two general interest domain conferences.

The crowd was not only large, it was loud. The high volume level produced by animated conversations throughout the hall generated an atmosphere crackling with electricity. A lot of the excitement stems from the fact that falling PPC rates have caused interest in domain development to hit an all time high and development is what geo domain owners (especially those who are Associated Cities members) are all about. In fact our current Cover Story on AC co-founder Skip Hoagland is devoted to that topic. This week's seminars will center on how to develop geo assets and turn them into profitable businesses. That theme appeals to just about all domain owners, whether they own geos or not.

While the cocktail party was the official kickoff for the Expo, there was actually a round of seminars earlier in the day. A major benefit of Associated Cities membership is that you get into a private series of informational sessions held in the afternoon before the public Expo opens with the evening mixer.

Just before noon, Associated Cities chairwoman Jessica Bookstaff (PigeonForge.com and Durango.com) welcomed members to Chicago and introduced the first of five private seminars that ran right up to the start of the evening cocktail party. A scene from the first of those, devoted to how you make money with a geo website, is shown in the photo below. Scottsdale.com's Fred Mercaldo is at the podium and you also see on the dais (left to

Jessica Bookstaff
Associated Cities Chairwoman

right) moderator Dan Pulcrano (Boulevards New Media), Natalie Lambert (Castello Cities Internet Network) and Pat and Michael French (Santa Fe.com).

Today's schedule begins with 10:30am State of the GeoDomain Industry comments from Ms. Bookstaff and Dan Pulcrano. The keynote address from local media expert John Kelsey of the Kelsey Group follows at 11. I'll be giving a brief talk at the noon luncheon then join attendees for the three afternoon seminar sessions that round out the day.

Tonight's cocktail party/buffet dinner will feature a book signing by Wall Street Journal reporter David Kesmodel who recently released his book, The Domain Game, to rave reviews. The night continues with a big TrafficZ.com party at a local nightspot that will run from 9pn into the wee hours of the morning. I'll try to turn in early enough to get a Lowdown item covering today's activity posted in this space Saturday morning (wish me luck with that)!
(Posted July 11, 2008) To refer others to the post above only you can use this URL:
http://www.dnjournal.com/archive/lowdown/2008/dailyposts/07-11-08.htm
The 2008 GeoDomain Expo officially gets underway this evening at 6pm (local time) with a welcoming cocktail party at the W Hotel - City Center in Chicago. Though that is the first event on the published agenda there was already a lot going on in the Windy City when we

TrafficZ treated early arrivals to a Lake Michigan
dinner cruise aboard the Odyssey II Wednesday.

arrived yesterday afternoon. The first person we bumped into when we arrived at the hotel was Jessica Bookstaff (PigeonForge.com), who chairs the board of directors of Associated Cities, the geodomain owners association that stages the Expo.

The board met Wednesday afternoon then joined a group of about three dozen people invited on a spectacular Lake Michigan dinner cruise aboard the Odyssey II that was hosted by Expo sponsor TrafficZ.com. The get-together also served to celebrate TrafficZ's acquisition of Name Intelligence this spring.

In the photo below you see one of the three tables filled with TrafficZ guests as the Odyssey cruises past the Chicago skyline just after sunset last night. TrafficZ COO Ammar Kubba is sitting at the front left and local domainer Anthos Chrysanthou is at the front right.

Soon after night fell, the ship served as the ultimate vantage point for watching a spectacular lakefront fireworks show launched from Chicago's famous Navy Pier. We snapped the shot below from the Odyssey deck.

This afternoon there will be a series of private seminars at the W Hotel for Associated Cities members only (one of the benefits of joining the trailblazing group whose members cross promote each other's developed websites). The cocktail party for all Expo registrants follows at 6, then the first full day of the conference gets underway Friday morning. We will have a daily Lowdown post from the show in this column.

In other domain conference news, the organizers of the T.R.A.F.F.I.C. show just announced that starting with their New York conference Sept. 23-26, they will be the first to offer multiple live domain auctions staged by multiple auction houses. In the past Moniker.com (who will stage a live auction at the GeoDomain Expo Saturday) has handled all of the T.R.A.F.F.I.C. auctions. Details on the additional auction service providers and their events at T.R.A.F.F.I.C. New York are to be released soon.
(Posted July 10, 2008) To refer others to the post above only you can use this URL:
http://www.dnjournal.com/archive/lowdown/2008/dailyposts/07-10-08.htm
I'm traveling to Chicago today for this week's big GeoDomain Expo at the downtown W Hotel. The show starts tomorrow evening and runs through Saturday (July 10-12). I'm heading

to the Windy City a day early to attend a private pre-conference event tonight that I will tell you about in this column tomorrow morning. I'll post a daily item here while the show is going on, then once we are back home I will put together our exclusive comprehensive show review that will be published on the home page by the end of next week.

This is shaping up to be a great show and

I hope to see many of you there. The organizers, Associated Cities, expect to break their attendance record and they have a lot of interesting speakers and seminars lined up, as well as top notch social events and of course another Moniker live domain auction. By the way, in case you missed the news we broke in our current Cover Story about geodomain giant Skip Hoagland, Associated Cities is changing their name to Associated Geos and will open membership to state and country geodomain owners, as well as the .com city owners the organization was originally built to serve.

Incidentally, if you want some excellent tips on domain development, regardless of whether your domains are geos or not, be sure to read that Skip Hoagland Cover Story. He has a ton of experience and details exactly how he uses partnerships to tackle the task of developing domains on a big scale.
(Posted July 9, 2008) To refer others to the post above only you can use this URL:
http://www.dnjournal.com/archive/lowdown/2008/dailyposts/07-09-08.htm
We've written a lot about how the Internet has sent the newspaper industry into what is looking more and more like a death spiral, but other forms of traditional media are facing the guillotine too. The TV networks and film industry may be next. Yesterday Lehman Brothers

analyst Anthony DiClemente issued a report saying the TV and video business is about to face a nasty downturn of their own, and that it could happen much faster than most people expected - reaching a crescendo in as soon as two years.

Commenting on DiClemente's report, Wired Magazine wrote, "If the television or video business model is broken, you can blame the internet for that: Digital distribution, audience fragmentation and widespread file-sharing are eating into network and studios' profits, and those profits may not come back". The big winners are expected to be digital distribution as embodied by sites like iTunes and YouTube.

In a related item, a new research report from Interpublic's Magna Global was released today projecting growth rates for various forms of media. Magna predicted that "Emerging Media" (new forms of media, led by online platforms) would soar 31.1% in 2009. By contrast traditional ad-supported media is expected to grow just 4% in 2009 according to another Interpublic unit, Universal McCann.

Online social media is expected to be the fastest grower next year expanding over 37%. Online search is expected to grow another 24%. These Internet media growth rates are actually starting to slow as the web matures, but they are still numbers that any traditional medium would die for. Joe Mandese has more on the Interpublic reports in his Online Media Daily column today at MediaPost.com.
(Posted July 8, 2008) To refer others to the post above only you can use this URL:
http://www.dnjournal.com/archive/lowdown/2008/dailyposts/07-08-08.htm
.Mobi is alive and well according to the registry's Director of New Markets Pinky Brand. Responding to our Lowdown post July 2 about a "Death of .Mobi" seminar scheduled for the

Pinky Brand
.Mobi Director, New Markets

Search Engines Strategies conference next month in San Jose, Brand rallied to .mobi's defense in an email we received today. Here are some of Pinky's counter punches:

Since the general availability of .mobi in September 2006, more than 1,000,000 .mobi domains have been registered, and are actively used and promoted by thousands of top brands around the world. See a small sampling of those at http://mtld.mobi/node/997.

A few weeks back, http://zagat.mobi took the Best Listings & Updates site of the year in the Webby Awards' People's Voice Awards.

This past week, two top tech magazines launched .mobi sites at http://zdnetuk.mobi and http://siliconuk.mobi.

"In short, I'd have to say - contrary to your posting that mentions the agenda at Search Engine Strategies 2008 - .mobi has been largely embraced, mostly by international brands looking to help their customers find mobile content that works," Brand said. "And by the way the iPhone is not a .mobi killer. It actually enhances our value proposition even more. You may recall by reading http://dotmobi.typepad.com/dotmobi/2007/01/what_does_the_i.html that we've been pro-iPhone since it was announced."

Brand added, "Any serious global brand or entrepreneur who wants their mobile content to find it's way to the world and wants their content to display properly on the 5,000 plus handset varieties that are out there at any given time is sticking their head in the sand if they think the iPhone is the only thing that matters. At best the iPhone makes up barely 2% of the handset market. So you see reports of our death are unbelievably exaggerated, and we look forward to hopefully serving on that panel in San Jose next month."
(Posted July 7, 2008) To refer others to the post above only you can use this URL:
http://www.dnjournal.com/archive/lowdown/2008/dailyposts/07-07-08.htm
Marc Ostrofsky, who earned a permanent place in domain history when he sold Business.com in a deal valued at a record $7.5 million when it took place in 1999, was married to Beverle Rivers Gardner Sunday (June 29) in Aspen, Colorado. The ceremony was held at picturesque Maroon Bells followed by a reception at the exclusive Aspen Mountain Club. 60 close friends and family members were guests at the wedding including the couple's five teenage daughters (two of whom, Kelly and Shelly Ostrofsky, are identical twins that were recently featured on the front page of the Houston Chronicle after graduating first in their high school class of over 550 student to be named co-valedictorians). Below is an exclusive wedding photo showing Marc, Beverle and their five daughters on their big day:

Ostrofsky is also widely known as a co-founder of iREIT.com and owner/operator of Blinds.com, CuffLinks.com, eTickets.com and many others. Wedding guests included a former Disney President, a CBS Executive VP, Playboy's Barbie Benton, domainer Chad Folkening and Bianka Krausch. Marc and Beverle are currently off on a honeymoon that is taking them through Italy, Istanbul and the Greek Islands. Incidentally, Ostrofsky has finished work on a new book, Get Rich Click™ that is scheduled for release in 2009.

In another sign of the (good) times for the domain industry, a story at Internet Retailer yesterday described how a chain of flower shops in Texas (Marc Ostofsky's home state) gave

their business a big boost by closing most of their brick and mortar stores and moving their business online. The six-store chain has already closed four stores with a fifth to be shuttered soon.

The owner of Forth Worth's Bice's Florist, Keith Riewe, said the company is buying up domain names as part of its strategy to drive more customers to their site and boost e-commerce sales. By purchasing 35 to 40 domain names such as eflowersite.com, nationalfloraldelivery.com and blossomlink.com, Riewe said Bice's has increased traffic by 47% to about 68,000 unique visitors a month and that annual sales are up by $1.5 million to about $3.7 million.

Riewe, who comes from a computer technology background, said he started looking into purchasing domain names as a way to drive traffic and sales soon after he purchased Bice's six years ago. Most of the domains redirect to Bice's home page with the BicesFlorist.com URL displaying in the address bar. The only difference is that a unique identifier is tacked on to the end to help track each domain.

The spirit of This Is The Best Day Of Your Life.com, born at the T.R.A.F.F.I.C. East conference at Disney World in Orlando six weeks ago, continues to soar. As we told you in our show review article, some of the attendees and their family members had such a magical time

(Left to right): Caroline Grant, Rob Grant,
Divyank Turakhia, Lizzy Grant and Dr. Chris
Hartnett at the Lake Placid, NY Airport.

together they decided to commemorate it in a website put up by Rob Grant (who was the subject of our April 2008 Cover Story).

Two other veterans from the Disney troupe, Divyank Turakhia (Founder and CEO of Skenzo.com) and Dr. Chris Hartnett (who was the subject of our June 2008 Cover Story) got together for a reunion June 21st in Grant's hometown - Lake Placid, New York. That day was also Rob's daughter Lizzy's 23rd birthday. Below is a photo of Rob, Divyank and Chris celebrating a beautiful day on the Lake (Rob is to be commended for keeping the spirit of Orlando alive with his choice of headgear):

Grant has also posted a pair of slide shows from the This Is The Best Day of Your Life mini-reunion online. The first is from the day in Lake Placid and the second from a follow up trip the group made back to New York City.

The best wish I can send our readers for this 4th of July weekend is that you all have as great a time with your family and friends as the Ostrofsky family did at their wedding and the Grant family, Divyank and Chris did on their get together in the Adirondacks. You can't go wrong following their philosophy and determination to make every day the best day of your life.
(Posted July 4, 2008) To refer others to the post above only you can use this URL:
http://www.dnjournal.com/archive/lowdown/2008/dailyposts/07-04-08.htm
The continued meltdown of the newspaper industry (under the heat of competition from the Internet) continues to accelerate. The news of declining circulation, shrinking ad revenue and

layoffs at major papers has become so frequent that it almost isn't news anymore. Still I was struck by a couple of things in the latest report of cutbacks regarding the Los Angeles Times that came out today. One was the remarkable scope of their latest retrenchment - 250 jobs cut including 17% of the newsroom staff, plus a 15% reduction in the number of pages printed each week.

Even more indicative of the unstoppable winds of change at work today, the print and online staffs at the Times are being consolidated into a single editorial department (noted in a

report on the Times dilemma at MediaPost). The online division of this iconic American newspaper will no longer be the company's red-headed stepchild - recognition that Internet delivery of media is where the action is today and where it increasingly will be tomorrow.

In a memo to his staff, Times Editor Russ Stanton wrote, "You all know the paradox we find ourselves in. Thanks to the Internet, we have more readers for our great journalism than at any time in our history. But also thanks to the Internet, our advertisers have more choices, and we have less money."

This migration of traditional media outlets to the Internet is relevant to domains because many of them, especially city geo domains, are the perfect platforms for delivering all kinds of locally relevant media - print, audio and video - from a single, unforgettable Internet address. The owners of many of the best domains in the geo space will gather one week from today in Chicago for the start of the 2008 GeoDomain Expo. We will be there as well.
(Posted July 3, 2008) To refer others to the post above only you can use this URL:
http://www.dnjournal.com/archive/lowdown/2008/dailyposts/07-03-08.htm
Is .mobi already dead? The folks putting on the big Search Engine Strategies 2008 conference coming up August 18-21 in San Jose, California seem to think so. Their agenda

has been posted online and includes a session titled Mobile SEO: Death of the '.mobi'. They are fingering the iPhone as the killer. The seminar decription states "The 'one web' premise of the iPhone generation of connected devices offers a stark contrast to the former

mobile standard, in which webmasters created a separate '.mobi' site, to specifically target mobile users. This session will outline what you can expect in the mobile space and how search marketers can use one site to leverage both mobile and traditional web search." Dhana Pawar or Yojo Mobile and Cindy Krum of Blue Moon Works are listed as the panelists. I don't think Dhana and Cindy will be getting any Christmas cards from .mobi fans this year, but the provocative premise of the seminar will certainly draw attention to this session and the SES show in general.

The GeoDomain Expo is coming to
the Windy City next week (July 10-12).

The annual Geo Awards will be handed out at the 2008 Geo Domain Expo next week in Chicago. The semifinalists in ten different categories were announced today and You can vote for your favorites here. A GeoDomain Hall of Fame will get its first member(s) with the Castello Brothers, Dan Pulcrano, Skip Hoagland, Patrick Carleton and Jessica Bookstaff all nominated.

In another Geo show note, Moniker.com has announced some of the top names that will be available during their live auction at the conference Saturday, July 12 (as well as in an associated silent online

auction). The roster includes Yemen.com, SantaClara.com, Burbank.net and Brazil.tv to name just a few. You can download the auction inventory list here. We will be at the GeoDomain Expo to cover the show for you wire to wire.
(Posted July 2, 2008) To refer others to the post above only you can use this URL:
http://www.dnjournal.com/archive/lowdown/2008/dailyposts/07-02-08.htm
Pizza.com has finally changed hands, three months after it was auctioned off by Sedo's GreatDomains.com with a winning bid of $2.6 million. However, the new owner,

Philadelphia's National A-1 (according to the updated WhoIs record), is not believed to have paid that high a price, apparently having stepped in and picked up the domain after the original winning bidder bowed out. It looks like the new purchase price was subject to a non disclosure agreement and will not be released. Sedo confirmed to us today that they could not release details. We also requested information from National A-1 (who has been a home page advertiser at DN Journal for nearly two years) but historically they have not disclosed details of their transactions. The seller, Chris Clark, told

Domain Name Wire's Andrew Allemann that a deal had been completed, but he also declined to reveal financial details of the transaction.

Mainstream press around the world jumped on the story of the original auction sale, but none bothered to follow up and report that the winning bidder never completed the transaction. This is the reason we do not report "sales" from the industry's many live auctions until the domains have been paid for and transferred to the new owners.
(Posted July 1, 2008) To refer others to the post above only you can use this URL:
http://www.dnjournal.com/archive/lowdown/2008/dailyposts/07-01-08.htm