The Lowdown
June 2010 Archive
Subscribe to our RSS Feed

Here's the The Lowdown from DN Journal,
updated daily to fill you in on the latest buzz going around the domain name industry.

The Lowdown is compiled by DN Journal Editor & Publisher Ron Jackson.
A Memorable Summer Vacation in a Corner of the Country That the Internet Forgot
| | |
| --- | --- |
| Editor's Note: With the 4th of July weekend coming up Diana and I decided this would be a good time to take a rare summer vacation. As a result, our office will be closed and there will be no Lowdown posts until we return a week from today (on Tuesday, July 6). We will be visiting a couple of places we've wanted to see, but never been to before, so we're looking forward to the break and to celebrating Independence Day with family members and friends at a lakefront cabin in the Carolinas Sunday. I'll of course have some pictures and details for you when we get back. In the meantime have a great week and for all of our friends in the U.S., a wonderful 4th of July! | |
(Posted June 29, 2010)
With the TV Audience Rapidly Aging, Advertisers Told to Shift Money to the Web If They Want to Reach People Under 50
I spent nearly 20 years working in local TV where winning the ratings game was always of paramount importance. That meant beating your competitors among 18-49 year old viewers - the demographic that advertisers most want to reach. That is still the case today but for TV the competitor to be most concerned about now is the web rather than another station or TV network. That is because younger viewers are deserting TV in droves, choosing to consume their video online instead.

Tod Sacerdoti wrote about the situation in an article titled Is Television Advertising For Old People on his Online Video Insider blog at MediaPost.com last week. Sacerdoti noted that the median age of prime time TV viewers is now close to 51. That means that more than half of the prime time audience is outside of that key 18-49 age group that advertisers pay to reach.

This aging trend for TV has accelerated dramatically over the past five years with the median age going up a full year every year since 2005.

Sacerdoti wrote, "They are losing their audience, which will ultimately translate into losing their revenue and relevance. If they do not commit to developing a meaningful audience off television, they will begin to lose their market capitalization."

Sacerdoti added that TV's loss is Google and Apple's gain. "Companies that own video consumption platforms that don't involve TV - YouTube, iPhone, iPad, etc. - are going to continue to take share from the networks that primarily reach older people. Young people are not watching less video, they are just watching less television. This nuance is more than important, it is the future of media," Sacerdoti said.

Sacerdoti concluded by laying out the only solution TV content owners appear to have for their problem - "The audience has moved online, so it's time for the budgets to follow. Advertisers can no longer use lack of standards, measurement or cost of media execution as pretext for avoiding online advertising. The world has changed and, unless they want to advertise body spray to seniors, it is time for advertisers to do the same."

If advertisers heed that advice, it can only be good news for those who operate video rich platforms on the web.

(Posted June 28, 2010) To refer others to the post above only you can use this URL:
http://www.dnjournal.com/archive/lowdown/2010/dailyposts/20100628.htm
French Company Found Guilty of Reverse Domain Hijacking Attempt Against American Serviceman
While serving with the U.S. Army in Japan back in 2001, Steve Hill discovered hand made kokeshi wooden dolls that have been made in that country for centuries now. "kokeshi" is a generic dictionary word in Japan, not a brand name. Thinking he might one day want to build a website about the cute local dolls, Hill registered the domain name kokeshi.com.

He has has it ever since but has never had time to do anything with it as the Army has moved him from one place to another throughout his military career. In late 2009, publishing company Editions Milan of Toulouse, France decided to start publishing a series of children's books called "Kokeshi" a term they acquired a French trademark on a couple of years earlier - a trademark that was however, limited to books and compact discs.

Not surprisingly, the company decided they would like to own the domain name kokeshi.com and asked Hill to sell it to them. His first offer was $16,700 - an amount the publisher deemed to be "outrageous" (obviously they have no knowledge of one-word generic domain values).

A Japanese kokeshi doll

Their lowball counter offer was $1,500 a token sum that Hill naturally turned down. After he rejected what Editions Milan called their "reasonable" offer, they apparently decided if he wouldn't give them his property at the price they wanted to pay, they would try to take it from him through a WIPO filing instead.

Hill hired Traverse Legal to answer Editions Milan's bogus claim to his property. Traverse easily blew holes in the Complainant's case, noting "The Complainant has no rights in a generic or descriptive domain name, particularly when its trademark was registered at least five years after the registration of the disputed domain name."

Traverse also noted, "There are over 1,000,000 uses of the word "kokeshi" in various domain names" and added "The Complainant's trademark is only for use in association with published books and compact discs. It does not give the Complainant exclusive right to the descriptive name "Kokeshi". The Complainant cannot monopolize the use of generic terms and common words."

Apparently this came as news to Editions Milan. They got another news flash when

Traverse asked the sole panelist, Sir Ian Barker, to declare Editions Milan guilty of a reverse hijacking attempt. Sir Barker

did the right thing and

made that declaration part of his decision finding in favor of the Respondent, Mr. Hill. You can read the entire decision here (Word document).

Unfortunately, attempting to use the arbitration system to hijack domain assets is becoming increasingly commonplace and efforts are also being made within ICANN to stack the deck even more in favor of companies who employ this despicable tactic. In the current environment, it is good to know that there are still fair-minded arbitration panelists out there who will turn the tables on companies that try to use the system to shake down domain owners.

(Posted June 25, 2010) To refer others to the post above only you can use this URL:
http://www.dnjournal.com/archive/lowdown/2010/dailyposts/20100625.htm
Like the Lakers, DOMAINfest Global is GoingTo Repeat By Bringing Their Winning Formula Back to L.A. in 2011
After the 2010 DOMAINfest Global conference wrapped up a hugely successful run in January, I wrote that the 2011 show was going to be a "can't miss" event. Like many who attended the last show in Santa Monica, California, I've been waiting to hear when and where the 2011 conference would be staged so I could lock up those dates on my calendar. The news came

today when DOMAINfest Global's organizers at Oversee.net 's Domain Sponsor unit announced the event will return to the Fairmont Miramar Hotel in Santa Monica February 1-3, 2011.

Just as L.A.'s beloved Lakers repeated as NBA champions last week, DOMAINfest Global has positioned itself for another big win by bringing their show back to this popular beachfront community on L.A.'s west side.

I was also glad to hear that the Fairmont will host the event again. It is a great venue that sits directly across the street from the Pacific Ocean and Santa Monica's scenic beach.

As was the case last year, the entire hotel property has been reserved exclusively for DOMAINfest Global attendees, Organizers said they do that to "create a relaxed, intimate environment for networking and personal meetings."

Just because the whole hotel has been reserved for the show doesn't mean you are going to get a room if you procrastinate. The hotel sold out quickly last year. As soon as I got the word on the 2011 dates today I booked my room at the Fairmont. DOMAINfest has arranged for discounted hotel room rates for attendees. The details on that are available here..

The DOMAINfest Global team started

working on the 2011 agenda almost as soon as the 2010 show ended, so they expect to be ready to publish the full 2011 schedule, including session topics and evening entertainment, on August 18, 2010. Online registration will open on the same date with an Early Bird discounted rate of $995 available through September 30, 2010. After that date, registration increases to $1,195. Registration covers all meals, sessions, networking activities, exhibit hall entry and evening entertainment.

There was also some news today from Rick Schwartz about the T.R.A.F.F.I.C. Miami show that he and partner Howard Neu will be staging in Miami's South Beach October 17-20, 2010. Schwartz announced inspirational speaker and author Simon T. Bailey would be a keynote speaker at the show.

This will be the only T.R.A.F.F.I.C. that conference co-founders Schwartz and Neu will run this year so you can rest assured that it will be something special, putting this one in the can't miss category as well.

(Posted June 22, 2010) To refer others to the post above only you can use this URL:
http://www.dnjournal.com/archive/lowdown/2010/dailyposts/20100622.htm
38th ICANN Meeting Opens in Brussels and .CO Land Rush Gets Underway + Castello Brothers Go to Vegas to Promote a Joint Venture
I was tied up working on our comprehensive review of the T.R.A.F.F.I.C. Vancouver conference so didn't have a chance to post a Lowdown item Friday (the review article has show details, plus previously unseen photos, that we did not have time to bring you in our daily highlight posts from this month's event in one of the world's most beautiful cities).
Today let's play some catch up and bring you up to speed on some other things going on in the domain industry. For starters, the 38th international ICANN meeting just got underway in Brussels, Belgium where it will continue through Friday (June 25). One of the hot topics will again be the status of ICANN's plan to roll out an unlimited number of new gTLDs. It is now looking like we won't actually see any of these new extensions actually operating until 2012, if then.
Today also marks the start of the .CO land rush during which the most desired domains are available at a premium price before they become available to the general public. If more that one applicant wants the same domain it will go to auction. Land rush continues through July 13, then one week later on July 20 .CO domains will become available for general registration. In a related note, MY.CO has rolled out a gateway solution for registrars (who are not among the ten major registrars selected to offer the extension) that will allow them to offer .CO domain names as well. MY.CO is offering an EPP gateway option for these smaller ICANN accredited registrars.
One other note today - the Castello Brothers (Michael and David) have been covering a lot of ground of the past couple of weeks. They were in Vancouver, Canada to speak at T.R.A.F.F.I.C. June 9, then, as soon as their session was over, they headed 250 miles east to visit industry pioneer Garry Chernoff at his Penticton, British Columbia home (see our Lowdown post about that). From there it was on to Las Vegas for last week's West Coast Tanning Expo at Caesar's Palace. So, why in the world were the Castello Brothers at a Tanning Expo? Well, they happen to be co-owners (with LZ Domains) of the nicely developed Suntan.com website. David sent me a photo of his business partners hard at work in the Suntan.com booth.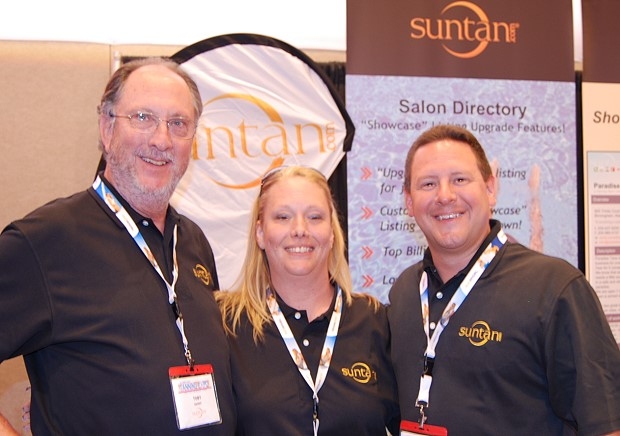 (Left to right) Toby Hardy, Tanya Fallis and Andy Botzer of LZ Domains
The Castello Brothers and the LZ Domains crew know a winning formula when they see one. There is no firmer foundation for a business than a category killing domain name that, along with some hard work and marketing panache, can be parlayed into a globally recognized brand name.
(Posted June 21, 2010) To refer others to the post above only you can use this URL:
http://www.dnjournal.com/archive/lowdown/2010/dailyposts/20100621.htm
T.R.A.F.F.I.C. Opens Early Bird Registration & Unveils Agenda for Upcoming Show on Miami's South Beach - Plus Another Embarrassment for NAF Arbitrators
Coming off a very well received show in Vancouver, Canada last week, the T.R.A.F.F.I.C. conference is gearing up for a busy second half of 2010. Next stop will be Dublin, Ireland August 24-26. That will be one of the five T.R.A.F.F.I.C. conferences promoted by Rick

Latona this year. It will be followed by the only 2010 show promoted by T.R.A.F.F.I.C. co-founders Rick Schwartz and Howard Neu - an event that will be held October 17-20 at the luxurious Loew's Hotel on Miami's South Beach.

Early bird registration for the South Beach show opened today with a $995 rate that will be good through June 30 (or

until the first 100 registrants sign up, whichever comes first). Hotel rooms at the Loew's show venue can also be booked now at the group rate of $249 a night.

The Miami show opens four months from today, but Schwartz and Neu, thanks to having a full year to work on this one event, have already posted a pretty well fleshed out agenda for the conference. A quick look at it shows all of the hallmarks of the first class T.R.A.F.F.I.C. events they have staged in the past, including a popular opening night cocktail party and parties every other show night at local hotspots (when it comes to South Beach - hotspots are everywhere so those nights out should be something special).

Pre-show events are also in the works to entertain people who want to arrive a day or two early to enjoy the beach and Florida sunshine before the conference begins. Schwartz had a lot more to say about the South Beach event in a post on his blog today, so check that out for more background. I know that he and Howard have been working non-stop on this show so it is a safe bet that no one is going to leave T.R.A.F.F.I.C. Miami disappointed.

Elsewhere today - you have to hand it to George Kirikos for continually turning up important issues to the welfare of domainers that would have otherwise been lost in the

paper shuffle. In April Kirikos discovered that some NAF arbitration panelists in UDRP proceedings where "cutting and pasting" completely irrelevant material into the decisions they are paid to render (supposedly after careful consideration) in domain name disputes.

Now, in a new article he posted at CircleID Wednesday, Kirikos showed that someone, in what appears to be an effort to cover their tracks, went back in and edited out an embarrassing passage in one of those adulterated decisions. This is not supposed to happen. As attorney Paul Keating noted in a reply to George's article, "On prior occasions I have asked for corrections in NAF decisions and have been told that it was not possible, that they would not request panelists to do so and they objected to any attempt on my part to raise the issue directly with the panelists - even if copying the other side in any correspondence." Apparently it is possible to edit published decisions when panelists are caught doing something wrong though.

(Posted June 17, 2010) To refer others to the post above only you can use this URL:
http://www.dnjournal.com/archive/lowdown/2010/dailyposts/20100617.htm
Have Worldwide Domain Registrations Hit the 200 Million Mark? Plus, Domain Name Wire's Andrew Allemann Launches a New Service
While I was away covering the T.R.A.F.F.I.C. Vancouver conference last week Verisign issued their latest quarterly Domain Name Industry Brief covering the 1st quarter of 2010. This document is always chock full of interesting statistics about domain name registrations and trends. The latest brief noted that as of the end of 1Q-2010 there were over 193 million domains registered across all TLDs, a 6% jump (and 11 million more domains) compared to one year ago.

That means the landmark 200 millionth domain registration may not be far away. In fact, in analyzing the latest Verisign brief and factoring in additional information from the 10 weeks since 1Q-2010 ended, Pingdom.com says we may have already hit the 200 million mark. An article there noted, "Two months ago, there were less than 117 million gTLDs. Now there are almost 121 million. That's an increase of more than 4 million domain names, and that's without including the more than 240 ccTLDs that exist out there. So, if you count all top-level domains together, 200 million either is very, very close, or a number we've recently passed."

The 100 million registrations mark was hit in the 2nd quarter of 2006, so the web has obviously seen tremendous growth with registrations doubling over the past four years. There is so sign that is going to change any time soon either. While it's true the growth from 4Q-2009 to 1Q-2010 was less than 1%, Pingdom noted, "The weak increase in Q1 2010 (from the previous quarter) is mainly because China changed the rules for .cn registrations, which made millions of .cn domain names drop off."

Andrew Alleman (DomainNameWire.com) with
(at right) Ray Neu (RickLatona.com) at last week's
T.R.A.F.F.I.C. Vancouver conference.

One other note today, while I was in Vancouver last week chatting with DomainNameWire.com's Andrew Allemann at the T.R.A.F.F.I.C. conference, Andrew told me about a new service he is about to launch at DNWStats.com (though the full site is not operational yet, you can go to the site and leave your email address so Andrew can notify you when it goes live).

DNW Certified Stats will be a third party stats verification system aimed at helping domain owners share verified traffic and revenue statistics with potential buyers or other parties of their choosing. The company will collect parking stats for domains directly from parking companies and create an "online certificate" with a code the domain owner can then give others to enable them to view the stats online.

Looks like an excellent idea that could eliminate the kind of bogus traffic/revenue claims that unscrupulous sellers sometime make in an effort to hoodwink unsuspecting buyers. We wish Andrew the best of luck with the useful new service.

(Posted June 15, 2010) To refer others to the post above only you can use this URL:
http://www.dnjournal.com/archive/lowdown/2010/dailyposts/20100615.htm
T.R.A.F.F.I.C. Vancouver Postscript: The Castello Brothers Cross British Columbia to See "The Cherminator"
Over the weekend I made it back home from Vancouver where I spent last week covering Canada's first ever T.R.A.F.F.I.C. conference. It was a very enjoyable and educational trip that I will be detailing in a comprehensive show review article that will be out by this time next week (look for it on our home page). Vancouver proved to be a perfect setting for a domain conference. The city has spawned some of the industry's most successful players and its natural beauty made a lot of attendees wish Vancouver was their hometown too!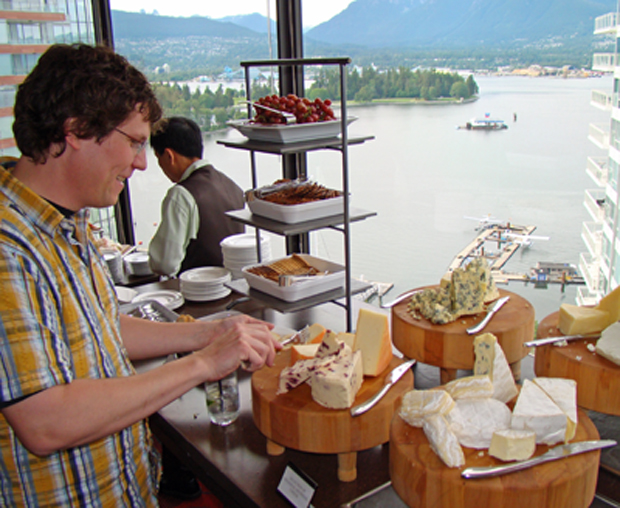 Frank Michlick samples some of the delicacies laid out at the T.R.A.F.F.I.C. opening night
cocktail party (Tuesday, June 8) held on the 19th floor of the show venue - the Renaissance Vancouver Harbourside Hotel - overlooking stunningly beautiful Coal Harbour below.
While a lot of Vancouver area domain investors turned out for the show, one of the area's most legendary industry pioneers, Garry Chernoff, was not able to make it (if you don't know Garry, I can sum up his credentials in these five words - Garry was Frank Schilling's mentor.) 'Nuff said.
Upon learning that Garry would not be at the show, the Castello Brothers, David and Michael, decided to follow the old axiom - "if Mohammed can't come to the mountain, take the mountain to Mohammed." As soon as the brothers finished speaking at their Wednesday morning T.R.A.F.F.I.C. seminar, they rented a convertible and drove 250 miles east to visit Garry at his home in the popular lakefront resort town of Penticton, British Columbia.
(Left to right above) Michael Castello, Garry Chernoff and David Castello getting ready to
climb aboard Garry's helicopter for an aerial tour of the scenic countryside and
canyons that surround Garry's home in Penticton, British Columbia.
Below: View from inside the helicopter as it flies through a canyon nearby.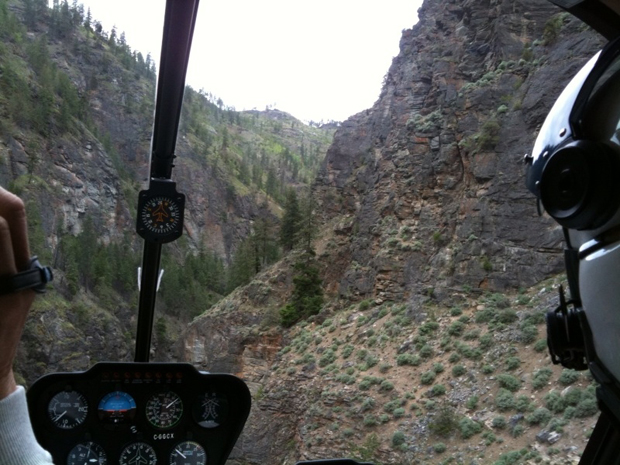 David and Michael said they had a blast hanging out with "The Cherminator" who is one of the nicest people in the business (something that is often said about Michael and David as well).
I'll have a number of other previously unpublished photos and T.R.A.F.F.I.C. tidbits for you in our upcoming review article. Before I get to that, I'll be putting together a double length domain sales report for you that will be out by Wednesday night (June 16). Since I was away this past week, the new report will detail sales for the past two weeks, bringing you completely up to date on what has happened in the aftermarket since our last report.
(Posted June 14, 2010) To refer others to the post above only you can use this URL:
http://www.dnjournal.com/archive/lowdown/2010/dailyposts/20100614.htm
Closing Day (Thursday) Photos and Highlights from the 2010 T.R.A.F.F.I.C. Vancouver Conference + E.CO sells for $81,000
The 2010 T.R.A.F.F.IC. Vancouver conference came to a close Thursday evening (June 10) at the Renaissance Vancouver Harbourside Hotel overlooking the scenic Canadian city's Coal Harbour. The final day of the first T.R.A.F.F.I.C. conference ever held in Canada opened with an 11am seminar on Domain Development: In-House or Outsource?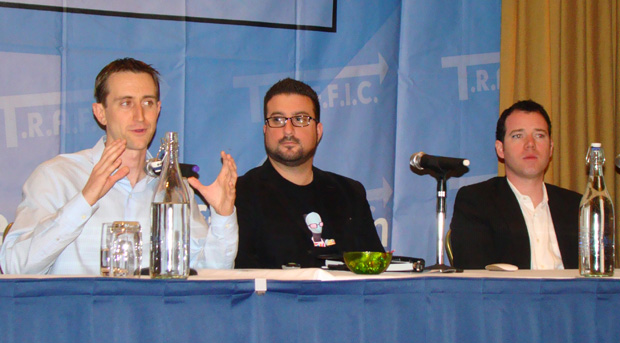 (Left to right): Domain Development panelists Morgan Linton (MorganLinton.com),
Mark Michael (DevHub) and Kevin Legault (n49 Interactive)
Panelists Morgan Linton, Mark Michael and Kevin Legault pointed out the pros and cons of various domain development strategies and platforms. I'll have details on their session (and all of the other T.R.A.F.F.I.C. Vancouver business sessions) in a comprehensive conference review article that we will be publishing late next week after getting back to our home base in Florida where we will sort through the hundreds of photos and pages of notes we took during the show.
At noon, show attendees headed for the exhibition hall to watch a televised simulcast of the live E.CO domain auction being held in New York. The T.R.A.F.F.I.C. Vancouver attendees gathered around a TV screen set up at the .CO Registry's booth where they watched E.CO close at $81,000.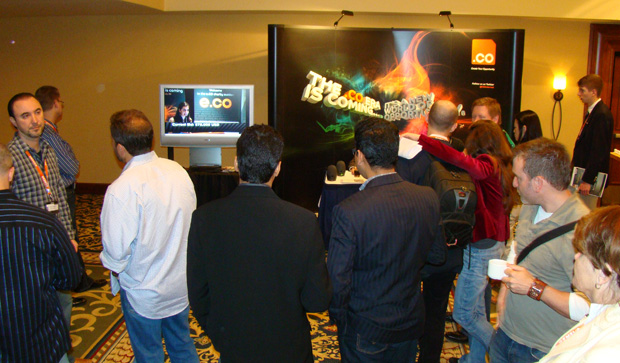 T.R.A.F.F.I.C. Vancouver attendees watch a televised live simulcast of the
E.CO domain auction as it happened in New York Thursday afternoon.
A joint press release from Sedo (who handled the auction) and the .CO Registry was issued after the auction. It said that Lonnie Borck from B52 Media and Uri Kerbel from Bookmarks.com joined together to place the winning bid in the auction. As the registry had previously announced, all proceeds from the sale will go to a charity selected by the buyers and approved by .CO Internet (the charity will remain anonymous at the buyers' request.) The auction was part of the ongoing launch of the .CO TLD.
After the break to watch the E.CO auction, the crowd reassembled in the meeting hall for a session on Mastering the Resale Market that featured (left to right in the photo below) Jason Miner (Senior VP at NameMedia), Victor Pitts (DomainIt.com/iGoldRush) and Jeff Gabriel (Senior Broker at Sedo).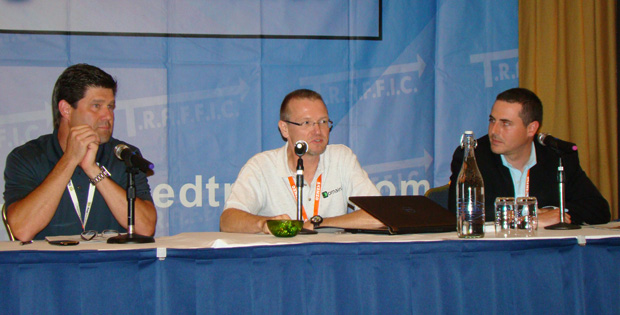 The panelists, who have combined to sell millions of dollars worth of domain names, provided tips on the best ways to successfully market and sell your names. I'll be running down some of their specific suggestions in our upcoming conference review article.
The final seminar of the conference, Advanced Parking Solutions, followed with (left to right in the photo below) Dan Warner (CEO, DomainAdvertising.com), Craig Rowe (WhyPark.com) and Richard Lau (PPX International/DomainManager.com) detailing some of the new parking and monetization platforms that have been developed in an effort to boost domain earnings.
Once that session concluded, just one event remained on the 2010 T.R.A.F.F.I.C. Vancouver agenda - the Latonas.com main live domain auction. It wound up producing just under $700,000 in sales with a pair of six-figure blockbusters providing most of the firepower. Those were Jewelry.net at $270,000 and CloseOut.com at $200,000. Other notable sales included XYZ.com and Cardiologists.com at $50,000 each, SalesPeople.com at $40,000, HAA.com at $18,500 and Telephone.net at $18,000.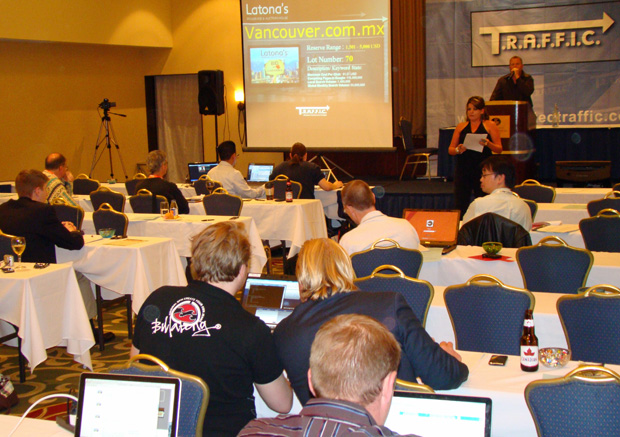 A scene from the Latonas.com live domain auction at T.R.A.F.F.I.C. Vancouver Thursday.
The auction brought the curtain down on the year's most satisfying T.R.A.F.F.I.C. conference to date - one that reflected the hard work put into staging the event by Rick Latona, Toby Clements, Jodi Chamberlain, Ray Neu and the rest of the Latona team. The show was made even more memorable by its location in one of the world's most beautiful cities, so a special thank you to Vancouver, British Columbia as well.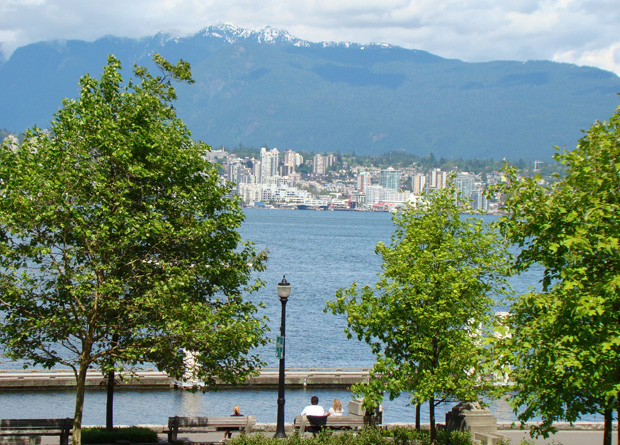 A snapshot of Vancouver's Coal Harbour taken just a few steps from the T.R.A.F.F.I.C. venue.
Next up for the T.R.A.F.F.I.C. team will be an August 24-26 show that will be held in Dublin, Ireland. Look for details on that show to be posted soon on the T.R.A.F.F.I.C. website.
(Posted June 11, 2010) To refer others to the post above only you can use this URL:
http://www.dnjournal.com/archive/lowdown/2010/dailyposts/20100611.htm
Day Two (Wednesday) Photos and Highlights From the 2010 T.R.A.F.F.I.C. Vancouver Conference
The second day of the 2010 T.R.A.F.F.I.C. Vancouver conference on Wednesday (June 9) opened with a lively 11am panel discussion titled Domain Names - the Past or the Future? The Castello Brothers, Michael and David (Castello Cities Internet Services), joined Victor Pitts (DomainIt.com) on the dais with Rick Silver moderating the session.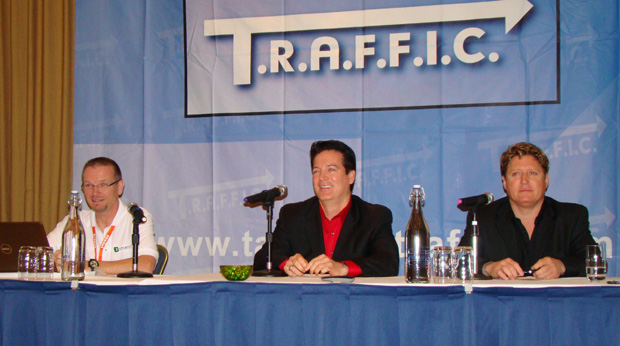 (L to R): Victor Pitts, David Castello and Michael Castello kicked things off on day two at
T.R.A.F.F.I.C. Vancouver Wednesday when they discussed the future of domain names.
The question was whether technological changes, the ability to access web information through mobile phone apps or the rising popularity of promoting and conducting business on social media sites like Facebook and Twitter would have a negative impact on the value of domain names in the future. The consensus of the panel was that domain names are unlikely to be materially affected by these developments. As Pitts pointed out, it would be unwise to build your business on someone else's platform (Facebook for instance) when they would have total control of your content and could shut down your account at any time.
Regarding possible technological changes such as voice commands replacing type-ins, the Castello Brothers noted that you would still be taken to an address and domain names are the addresses of the Internet and nothing on the horizon is likely to change that. We still depend on street addresses to reach destinations in the real world, a system that has not changed in centuries and is unlikely to change in our lifetimes either.
Next up a special one-hour session led by Richard Lau, Gregg McNair and Tessa Holcomb was held to recognize the domain industry's contributions to furthering the work of The Water School - an admirable charity that we have frequently written about.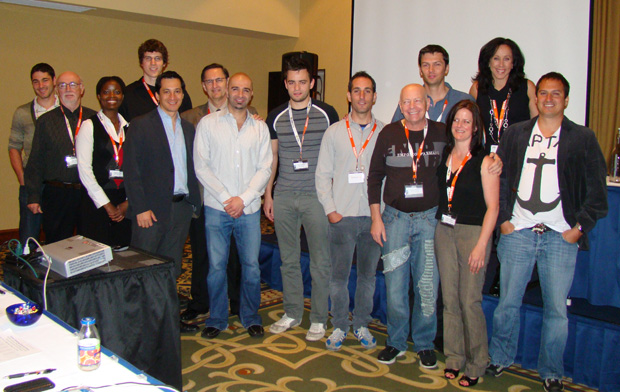 Workers from The Water School and a number of domain industry leaders who
support the charity were recognized at T.R.A.F.F.I.C. Vancouver Wednesday afternoon.
The Water School's proven, cost effective system for providing clean drinking water in developing nations around the globe has staved off water borne diseases and saved countless lives since it was introduced. A $50 donation is enough to provide clean drinking water for a family of four for life. I don't know of anything you could spend $50 on and have a greater positive impact.
John Demco - The father of
Canada's .CA country code TLD

Another major highlight of Wednesday's program was a "fireside chat" with John Demco, the person directly responsible for the establishment of Canada's .CA country code extension in 1987. With Rick Silver conducting the on stage interview, Demco recounted how things developed in the earliest days of the Canadian Internet and led to the system we have today.

After he was successful in getting .CA delegated to Canada, Demco single handedly ran the extension's registry in its early days. He was also instrumental on the creation of CIRA, the current governing body for .CA and Demco continues to serve on the CIRA board. John was also a co-founder of a major registrar, WebNames.ca, and serves on their board as well.

Demco's insight into the history of .CA was the perfect lead-in for a panel discussion sponsored by CIRA that followed.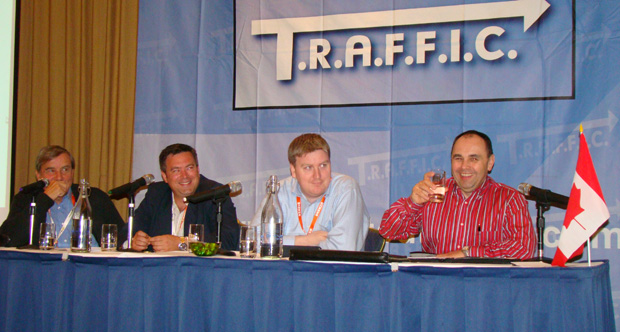 (L to R): Oh Canada! panelists Peter Maxmych (Emall.ca/DOAC), Zak Muscovitch
(DNAttorney.com), Paul Anderson (CIRA Chairman) and David Fowler
(CIRA Marketing & Communications Director).
The Oh Canada! panel discussed current CIRA initiatives to promote the .CA extension as well as issues related to the future direction on the ccTLD - most notably whether or not .CA's requirement that those registering .CA domains have a Canadian presence. CIRA has uphold that rule in the past but has expressed a willingness to at least discuss changing it. Businessmen like Maxmych and Muscovitch think the kind of open registration approach used by many other ccTLDs would enhance Canada's position in global ecommerce.
I was especially impressed by CIRA's .CA promotional efforts, including extensive advertising and contests, that Fowler showed in his presentation. That has helped .CA's share of total regstrations in Canada rise from 21% to 27% over the past three years while .com's share has decreased. Fowler was brought on board to proactively market his country's extension and I think the results he has achieved serve as an example that other ccTLD regstry operators could successfully follow.
The day closed with a .CA domain auction (with a few Canada related .coms sprinkled in) conducted by Rick Latona Auctions.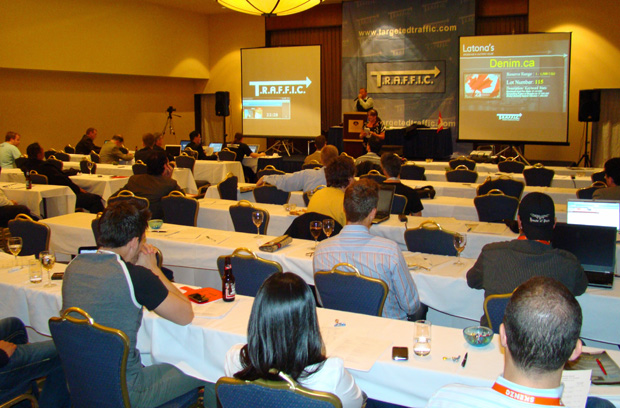 Scene from the Rick Latona Auctions .CA domain auction Wednesday afternoon in Vancouver.
The auction wound up generating over $260,000 in sales with Surrey.com generating the lion's share of the revenue with a $195,000 sale (Surrey.com is a developed website devoted to the city of Surrey, British Columbia, so it is not purely a domain sale - but is an impressive transaction none the less). The top .CA sales included Snowboards.ca ($20,250), Diet.ca ($20,000) and Vehicles.ca ($9,000).
After the auction, PPX International Executive Chairman Gregg McNair opened the doors to his suite on the top floor of the show venue, the Renaissance Vancouver Harborside Hotel, for a party open to all conference attendees. That event started at 6pm and was still going strong when I finally called it a night at 10:30pm.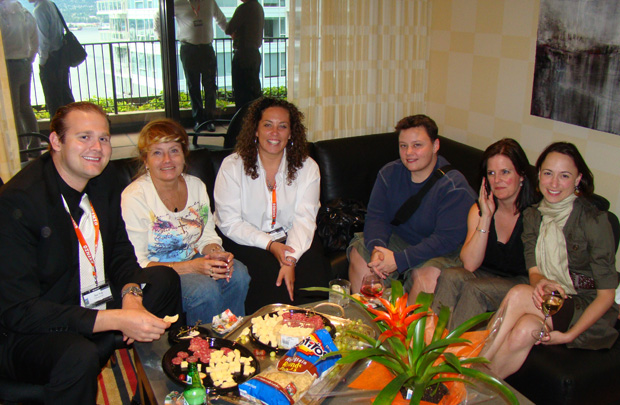 (L to R): Ray Neu, Diana Jackson, Laura Schmidt, Kellie Peterson, Susan Prosser and Jodi Chamberlain at last night's post auction party hosted by Gregg McNair. Other guests on the balcony in the background took in the panoramic view of Vancouver's Coal Harbour from the 19th floor suite.
The final day of T.R.A.F.F.I.C. Vancouver gets underway today at 11am local time (2pm U.S. eastern time) with a panel session on Domain Development. It will be followed by seminars on Mastering the Resale Market and Advanced Parking Solutions, then at 3:45pm (6:45pm Eastern) the Main Live Domain Auction, staged by Rick Latona Auctions, is scheduled to get underway.
I'll have the closing day photos and highlights for you in my last post from Vancouver early Friday morning before we begin the return trip to our home base in Florida.
(Posted June 10, 2010) To refer others to the post above only you can use this URL:
http://www.dnjournal.com/archive/lowdown/2010/dailyposts/20100610.htm
Day One Photos and Highlights from the 2010 T.R.A.F.F.I.C. Vancouver Conference
Rick Latona welcomes attendees to
the 2010 T.R.A.F.F.I.C. Vancouver
conference Tuesday morning (June 8).

The 2010 T.R.A.F.F.I.C. Vancouver conference got underway Tuesday morning at the Renaissance Vancouver Harbourside Hotel with show promoter Rick Latona welcoming attendees to the first T.R.A.F.F.I.C. conference ever held in Canada. By the time day one ended for me it was 1:30am Wednesday morning in my home time zone (U.S. Eastern).

Opening day was all anyone could have asked for - delivering the first class experience T.R.A.F.F.I.C. has been known for ever since it staged the first major doman conference in 2004. With one of the world's most beautiful cities serving as its backdrop, the biggest T.R.A.F.F.I.C. crowd of the year showed up to network with fellow domain investors in a town that has produced some of the industry's most successful players (including Dr. Kevin Ham, Frank Schilling, Yun Ye and Richard Lau to name just a few).

Part of the opening day crowd at T.R.A.F.F.I.C. Vancouver Tuesday (June 8).

After Latona's opening comments, the show's first business session got underway with Neustar's Ken Hansen and Steve Smith of WebNames joining me in a panel discussion titled ccTLDs are Taking Over the World - Is North America Immune? The session, moderated by Rick Silver, covered the prospects for America's .US extension and Canada's .CA as they try to gain recognition on a continent where they have been overshadowed by .com.

(L to R in the photo above) Ron Jackson (DN Journal), Ken Hansen (Neustar, operator of the
.US registry) and Steve Smith (registrar Webnames) discuss the prospects for .US and .CA.

With conference activity to cover almost around the clock, I won't have time to get into the specifics of the business sessions until we produce our comprehensive conference review article a few days after the conference ends but I can say that the overall consensus from this seminar was that .US and .CA are both making slow but steady progress as more businesses use the extensions (in the case of .US, Maserati.us, Shell.us, Transamerica.us, Hitachi.us, BASF.us and Carrabas.us are just a few examples) and search engines giving them favorable positions in local search results.

The next session was a networking event that allowed attendees to take the microphone and introduce themselves or their businesses. That was followed by the day's main event - T.R.A.F.F.I.C. Test Track.

Representatives from four new companies pitched their ideas to a panel of
potential investors during the T.R.A.F.F.I.C. Test Track session Tuesday.

Test Track allows founders of new businesses that are seeking capital to pitch their ideas to a panel of potential investors (the panel for the Vancouver conference included, left to right in the photo above, Richard Lau (DomainManager.com), Gregg McNair (PPX International), Rick Latona (Latonas.com) and Ammar Kubba (Thought Convergence). This has become a popular feature as it also exposes the audience to new solutions that are coming to the marketplace as well as insight into the process entrepreneurs go through in building businesses and the kind of tough questions they have to be able to answer when investors assess the prospects for their new companies.

After Test Track, it was time for the show's first big social event, a 5pm cocktail party in the revolving lounge at the top of the Renaissance Hotel - a perch that gave guests a spectacular view of Vancouver as the circular lounge slowly turned in a 360 degree rotation.

A scene from the Tuesday evening T.R.A.F.F.I.C. Vacncouver cocktail party
in the revolving lounge atop the Renaissance Hotel.

A highlight of the party came when PPX Internatational's Executive Chairman Gregg McNair (who was the subject of our October 2009 Cover Story) was surprised by a birthday cake spirited into the gathering by PPX's Tessa Holcomb and T.R.A.F.F.I.C. producer Jodi Chamberlain.

Popular PPX International exec Gregg McNair (at far right) got a birthday surprise
from his many industry friends at the opening night cocktail party Tuesday evening.

After the cocktail party wound down around 7pm, the night was still young so attendees scattered to various private functions around town or at the hotel. My wife Diana and I were honored to join a group of 14 remarkable people at a dinner Richard Lau hosted at the nearby Fairmont Hotel to honor The Water School, a ground breaking charitable organization that has become near and dear to the hearts of many domain investors, including Lau and Gregg McNair who have been instrumental in bringing the cause (providing clean drinking water that is saving lives in developing nations around the globe) to the industry's attention.

Richard Lau (seated at the head of the table at the center of the photo above)
hosted a dinner recognzing The Water School at the Fairmont Hotel Tuesday night.

Special guests at this dinner included Fraser Edwards, who co-founded The Water School with Bob Dell, and some amazing young people who Edwards said are ready to step up and help carry on the organization's life saving mission long after he and Bob are gone (they include Sandra Getuba, at far right in the photo above, as well as James Morfopoulous and Brad Pierik who are seated to her right).

Day two of the conference will get underway at 11am local time (2pm in the Eastern U.S.) today. The Castello Brothers, Michael and David (Castello Cities Internet Network) will be joined by Victor Pitts (DomainIt.com) on the day's opening panel discussion about the future of domain names. That will be followed by a one-hour session recognizing industry's contribution to The Water School's work. The second half of the day will be devoted to a fireside chat with John Demco, the "Godfather" of the .CA extension and a panel discussion about the Canadian ccTLD. A .CA premium domain auction (scheduled to run from 4:00-6:00pm Pacific time) will wrap up the Wednesday business day. I'll have day two photos and highlights for you in my next post Thursday morning.

(Posted June 9, 2010) To refer others to the post above only you can use this URL:
http://www.dnjournal.com/archive/lowdown/2010/dailyposts/20100609.htm
T.R.A.F.F.I.C. Pre-Show Photos and Notes from One of the World's Most Beautiful Cities - Vancouver, Canada
After getting up at 4am so we could catch an early flight from our home base in Tampa, Florida to Vancouver, British Columbia for this week's T.R.A.F.F.I.C. Vancouver conference, my wife Diana and I arrived in the spectacularly beautiful Canadian city this afternoon. The show, which gets underway Tuesday morning, will be held in a stunning venue, the Renaissance Vancouver Harbourside Hotel that overlooks scenic Coal Harbour. This is our first trip to Vancouver and the breathtaking waterfront view from our room left me wishing we had visited long before now.

If you watched the Winter Olympics on U.S. TV earlier this year, you will remember the frequent shots of seaplanes landing on Coal Harbour that were shown at the beginning of NBC's coverage most evenings.

Vancouver's Coal Harbour this afternoon

Some of the many seaplanes docked on Coal Harbour. Their constant takeoffs and landings
in front of a majestic mountain backdrop are one of Vancouver's most beautiful sights.

After spending an hour strolling through the gorgeous waterfront Harbour Green Park adjacent to the hotel this afternoon, we came back to catch a 4pm meeting T.R.A.F.F.I.C. moderator Rick Silver had with some of the conference speakers who got into town early.

Above: T.R.A.F.F.I.C. moderator Rick Silver (4th from the left in the photo above) briefs
some of the conference speakers on what he has planned for their sessions this week.

Below: Speakers check out the main conference room where they will be addressing
what is expected to be a large audience this week. Second from left is show producer
Jodi Chamberlain who was on hand to answer questions.

T.R.A.F.F.I.C. Vancouver will run through Thursday (June 10). I'll have daily posts in this column featuring photos and highlights from each day's activity. You can check out what is in store on the show's official agenda page here.

(Posted June 7, 2010) To refer others to the post above only you can use this URL:
http://www.dnjournal.com/archive/lowdown/2010/dailyposts/20100607.htm
Vancouver Will Be the Center of the Domain Universe Next Week + New Industry Websites and Events of Note
Many of the domain industry's movers and shakers will be converging on Vancouver, British Columbia next week for Canada's first-ever T.R.A.F.F.I.C. conference. The event gets underway Tuesday morning (June 8) at the Renaissance Vancouver Harbourside Hotel where it will run through Thursday (June 10).

It is a long haul from our home base here in Florida so I'll be making the trip northwest Monday to make sure I'm there in plenty of time to cover the event for you. It gets underway the next morning with a ccTLD panel discussion that I will be participating in. I'll have daily reports from Vancouver in this column starting Monday evening.

New DomainIT.com VP Victor Pitts is also heading to Vancouver where he will join the Castello Brothers on the opening panel discussion Wednesday morning. Victor's duties at DomainIT include re-launching the company's iGoldRush.com website. iGoldRush is a content rich domain /internet business resource site that was originally founded in 1996 by Edwin Hayward. After Hayward moved on to other interests, DOMAINit founder Paul Goldstone bought the site and his company has now upgraded the iGoldRush content as well as its resources guide and domain guide and they have also added interactive functionality that visitors will appreciate.

Several other totally new industry sites have also debuted this month. Emil Paulsson, the CEO at Swedish company Snapback AB, tells us they have launched a new version of their drop catching service for U.S., UK and international markets at www.Snapback.se/eng. They offer

Victor Pitts
Vice President, DomainIT.com

backorders for expired names in a number of extensions, including two favorites in Sweden - .SE and .NU.

A new domain news aggregation service, Domaining20.com has also entered the ring to compete with established sites like NameBee.com, DNHeadlines.com and the 800-pound gorilla in that category - Domaining.com. A new auction service is also up and running at AuctionPus.com. The wrinkle they bring to the standard domain auction format is limiting the number or domains offered to just eight a day - a strategy meant to keep listings from getting lost in a crowd.

Speaking of auctions, NetFleet.com.au is running the first of what they say will be many auctions focused on domains representing Australia's .com.au extension. Their debut auction is currently underway and is slated to finish on Wednesday (June 9) at 3pm (Australian EST). Be sure to take the time difference between you location and that Aussie time zone in account if you want to bid. You can view the complete catalog and place bids here.

Lizzy Grant/Lana Del Ray

One other note today, recording artist Lizzy Grant, AKA Lana Del Ray, (the daughter of veteran domainer Rob Grant), has spent much of this month recording and performing in the UK. Rob wisely grabbed the domain names LizzyGrant.co.uk and LanaDelRay.co.uk when Lizzy started making waves on the other side of the pond (the Grants are from upstate New York).

Lizzy has already caught the attention of a number of influential UK music blogs including Neon Gold who posted a capsule review of our favorite upcoming singer that includes a cool music video. Another, Dots and Dashes wrote, "Caught between New York and London, Lana del Ray's all about one of the most heart-arresting boombox voices of recent times, taking in Howling Bells' Juanita Stern's siren-like slur, Debbie Harry's cocksure nonchalance and all those mainstream gals that only really have one song that's even vaguely aurally pleasant."

Now here is a special treat for you - a free download of one of Lizzy's hottest new tunes, "Diet Mountain Dew." With Lizzy drawing rave reviews on both sides of the Atlantic it looks like just a matter of time before she breaks out in a big way.

(Posted June 5, 2010) To refer others to the post above only you can use this URL:
http://www.dnjournal.com/archive/lowdown/2010/dailyposts/20100605.htm
Editor's Note: I have been tied up the past three days putting together our new weekly domain sales report and getting the decks cleared here before I head out to Vancouver, British Columbia Monday for next week's T.R.A.F.F.I.C. conference. I'll do some catching up with a weekend news wrap-up post in this column Saturday (June 5). Meanwhile, check out that sales report - we logged the biggest sale of 2010 this week - the first multi-million dollar sale of the year.
(Posted June 3, 2010)
Post Memorial Day Weekend Potpourri of Domain News, Headlines and Links
We are coming off a three-day weekend in America where most businesses shut down Monday to observe Memorial Day - a day when we pause to honor U.S. soldiers who died while serving their country. The Memorial Day weekend is also regarded as the unofficial start of summer in the States and many spent the extended break going to the beach or having a cookout. I spent all of it at my desk finishing up our new Cover Story on Dan Warner, the man

who was the face of Fabulous.com for 7 years and now heads up DomainAdvertising.com.

Dan has an amazing personal story and even though he is very well-known in the industry it is a story that very few people have heard before. As always, Dan was very frank in our discussions and was equally open in talking about the good times as well as the bad times he has been through.

He has bounced back from some catastrophes that would have put most of us on the sidelines for good, including a near fatal accident and having a con artist destroy a promising multi-million dollar company he had built prior to joining Dark Blue Sea and its famous offspring, Fabulous.com, in 2002. I think there is a lot to learn from the experiences he shares and his amazing resilience in the face of major challenges so, if at all possible, set some time aside and check out this article - I believe you will find it to be time well spent.

Dan Warner
CEO, DomainAdvertising.com
ICANN was busy over the weekend too, issuing a boatload of documents, recommendations and the long awaited 4th (and possibly final) draft version of their New TLD Applicant Guidebook. This details things you will need to know if you are thinking about applying for one the unlimited number of new gTLDs ICANN plans to eventually start rolling out.
As always seems to be the case, some of their proposed actions in other areas are raising some huge red flags in the domain industry. At the forefront of those is a proposed Expedited Transfer Reversal Policy that, if passed, could be a major disruption to the domain aftermarket. The policy is intended to be a tool to thwart domain hijacking but it could have the reverse effect as it would allow someone who has sold a domain to you to reverse the transfer of the domain for up to six months after the "sale" has been

completed. As is so often the case with ICANN matters, George Kirikos spotted this issue and took it public. Check out this thread he started at the DomainState.com forum more details on the proposed policy and steps you can take to help stop it (ICANN has not yet opened a public commentary period on this proposal).
Also over the long weekend, the .mobi extension took a pretty good punch to the gut when a Miami Herald story declared that "The popularity of Facebook pages and smartphone apps may signal the death of dot mobi."
In the paragraph that landed the biggest haymaker, author Bridget Carey wrote, "It's not just the iPhone that made mobi domain names the mobile equivalent of an eight-track car stereo. The extension is unnecessary now, thanks to advances in how websites are built. Formerly, a .mobi extension was required to follow design rules that made web pages easy to read on a mobile phone screen. But now, a site can detect that a user is on a mobile device and automatically display in a cellphone-friendly format. Plus, phone keyboards now come with .com shortcut buttons - piling the dirt on dot mobi's young grave."
I don't know if .mobi is dead yet or not, but it is certainly walking with a serious limp and getting knee-capped by the Herald won't help its prospects. I will make one observation though - there are some other extensions that some people have also declared dead that, thanks to having strong keywords that define commercial products or services, I have been able to make money with. That comes from sales to small business end users and revenue generated by new monetization programs likes SmartName's ecommerce platform that

does not rely on a Google or Yahoo parking feed for its income. Perhaps, someone will come up with something new that will give .mobi a new lease on life too but right now I would have to say the odds don't look good.
(Posted June 1, 2010) To refer others to the post above only you can use this URL:
http://www.dnjournal.com/archive/lowdown/2010/dailyposts/20100601.htm
---
If you've been out of the loop lately, catch up in the Lowdown Archive!
---
We need your help to keep giving domainers The Lowdown, so please email

[email protected]

with any interesting information you might have. If possible, include the source of your information so we can check it out (for example a URL if you read it in a forum or on a site elsewhere).
---

---
Home Domain Sales YTD Sales Charts Latest News The Lowdown Articles
Legal Matters Dear Domey Letters to Editor Resources Classified Ads Archive About Us