Editor's note: I will away through next Wednesday (Sept. 5) preparing for my daughter's wedding and spending time with family and friends who have come in from around the country for the event. I expect to have a few posts in this section over the next week sharing some of those personal moments with you but I do not expect to have many (if any) domain related posts before Sept. 6 as I will be disconnected from industry events until then.
Photos and Highlights from the Rocky Mountain Domain Conference's 2012 Meetup in Denver

After staging his first Rocky Mountain Domain Conference (RMDC) last year in Denver, Colorado, Michael Law of NameTalent..com, assisted by Mike Awada of Astounde.com, presented the 2012 edition of the regional meetup last Thursday night (August 23) at Chloe in downtown Denver. Michael provided me with some photos and highlights from the event so I could share those with you.

RMDC Founder Michael Law (left) with one of this year's attendees - Abdu Tarabichi of Domainsville.com Thursday night (August 23) at the meetup venue - Chloe - in Denver.

Law said more than two dozen domainers of all experience levels were on hand for the event, including several representatives from Denver-based domain companies including popular registrar Name.com and Media Breakaway (who operates Affiliate.com, Redirect.com and TheParkingPlace.com).

Mike Awada (2nd from left), who helped organize and promote RMDC 2012, was
among those enjoying the networking opportunities the Denver event provided.

For several local domainers, RMDC 2012 was their first time and a domain meetup or conference. One of the show "newbies," Perry Rosenbloom, wrote about his his experience at RMDC 2012 on his blog.

RMDC attendees also enjoyed playing games that helped them build new relationships.

Name.com's Ashley Forker
won the Kindle Fire door prize.

RMDC 2012 was supported by sponsors 101Domain.com and GoldenKnightMedia.com (GKM). Charlotte Gilbert's GKM donated a Kindle Fire tablet to be given away as a door prize and Name.com's Ashley Forker was the lucky winner.

As an unexpected bonus, RMDC attendees also got to peek in on a Maxim magazine model''s photo shoot that happened to be going on at Chloe the same night.

Law said he received a lot of positive feedback and interest in future meetups/conferences. As a result he said there will be a winter event in early 2013 with details to be announced in the near future. You can keep track of RMDC developments through the show's website - RMDC.co.

The next opportunity for domain investors and developers to get together - this time

on a global scale - will be the 2012 T.R.A.F.F.I.C. conference coming up October 7-10 on Florida's Fort Lauderdale Beach.

(Posted August 29, 2012) To refer others to the post above only you can use this URL:
http://www.dnjournal.com/archive/lowdown/2012/dailyposts/20120829.htm
Domain Holdings Expands Executive Team Again Bringing Industry Veteran Michael Feeley Onboard as VP of Sales

Michael Feeley
Vice President of Sales
DomainPower.com

The executive team at Domain Holdings continues to expand with today's announcement that Kanoodle Co-Founder Michael Feeley has been hired as Vice President of Sales for the company's domain monetization solution – DomainPower. Feeley's responsibilities will include driving and maximizing revenue for DomainPower publishers, as well developing opportunities for expansion into new monetization channels.

Domain Holdings CEO Jason Boshoff said, "Michael knows this industry. He knows where it is, where it is heading and how we can reach across multiple channels to service the evolution. With our technology capabilities, his technical wherewithal in direct navigation, error traffic and the search landscape, we are excited about the tremendous growth ahead."

Prior to joining Domain Holdings, Feeley spent four years as the Director of Business Development for Sendori, Inc., cultivating revenue growth opportunities with direct navigation, error traffic and application distribution partnerships. Previous to that he spent two years with Dotzup Inc. as

the President of Domain Parking and Purchasing, growing its parking monetization service offerings.

In 1999, Feeley co-founded Kanoodle and helped grow the Buffalo, New York-based startup from one to just under 100 employees, as well as raise a round of funding from Insight Venture Partners. Kanoodle, which was rebranded as Seevast Corp. in 2006, is credited as being one of the first three PPC platforms built, and focused on search-targeted sponsored links.

"When I started out in the late 90s with Kanoodle, we wanted to disrupt the space and we were able to do that," Feeley said. "Domain Holdings is an innovative and hard-hitting company that I think can ultimately do the same."

(Posted August 28, 2012) To refer others to the post above only you can use this URL:
http://www.dnjournal.com/archive/lowdown/2012/dailyposts/20120828.htm
T.R.A.F.F.I.C. Awards Ballot Deadline is 9PM Tonight

Sorry for the short notice (a problem at our ISP that has still not been fully resolved left us unable to access the site all day today and I still have limited functionality doing a work around) but if you want to cast a ballot in the 2012 T.R.A.F.F.I.C. Awards voting, you have to get your choices in by 9pm U.S. Eastern time tonight (Monday, August 27). You will find a copy of the ballot with all of the categories and nominees here.

The awards will be handed out the annual show coming up October 7-10 at the Ritz Carlton on Florida's Fort Lauderdale Beach.

(Posted August 27 2012) To refer others to the post above only you can use this URL:
http://www.dnjournal.com/archive/lowdown/2012/dailyposts/20120827.htm
New Zealand Set to Launch New Domain Extension, Taking Just 4 Months From Application To Approval in a Speedy Process New gTLD Applicants Can Only Envy
While the debate over new gTLDs continues, one nation is taking advantage of the autonomy individual nations have in running their own country code domains to introduce a new extension now. That freedom allowed the organization that administers New Zealand's .NZ ccTLD (The Domain Name Commission Ltd., a subsidiary of InternetNZ) to launch a second level domain, .kiwi.nz, that will start accepting registrations September 11, 2012. The new extension still has to get over one low hurdle to get the final go ahead - at least 500 .kiwi.nz registrations have to be sold before it will can go live.

Second level extensions like this are common in the ccTLD world with some, like Great Britain's .co,.uk and Australia's .com.au among the most popular and recognizable country code extensions on the web. New Zealand had already taken advantage of opportunities to sub-divide with extensions like .co.nz.

Image from Bigstock
The decision to introduce kiwi.nz provides some interesting insight into how and why a new extension like this comes into being. New Zealand Domain Name Commissioner Debbie Monahan said a new second level domain can be created if the proposed extension meets the following criteriia:
Represents an identifiable, significant community of interest.

Represents an on-going and long-lived community of interest.

Does not conflict with, duplicate or cause confusion about, any existing second-level domain and is a useful addition to the current DNS (Doman Name System) hierarchy.

Uses a name to represent the domain that is an obvious derivative of a word that properly describes the community of interest, e.g. .org.nz for organisation, or a complete word, e.g. .maori.nz.

Does not bring the .nz domain name space into disrepute.
InternetNZ President Frank March said, "The .kiwi.nz application clearly met these requirements and should be an option for .nz registrants. The InternetNZ Council agreed that it met all the policy requirements and so approved it." March added, "the policy for evaluating a new second-level domain takes into account existing second-level domains in .nz but not possible future

Image from Bigstock

changes, such as direct registration under .nz (which is currently being consulted on) or new generic Top Level Domains that may or may not be introduced at some point in the future."

That indifference toward new gTLDs left a group that applied to run a new .kiwi gTLD more than a little irritated as Kevin Murphy detailed in an article at DomainIncite.com today. They also had to be envious of the fast track New Zealand's country code system afforded .kiwi.nz. It took just four months from the time .kiwi.nz was

proposed to the time it was approved. By contrast the group seeking a .kiwi gTLD will end up having waited years to see their domain go live in ICANN's new gTLD system and that is assuming their application is approved.
(Posted August 24, 2012) To refer others to the post above only you can use this URL:
http://www.dnjournal.com/archive/lowdown/2012/dailyposts/20120824.htm
What Does DN Journal, Sex.com and Who Wants to Be a Millionaire All Have in Common?
Over the years we have been fortunate to have been mentioned in numerous national mainstream publications including the Wall Street Journal, New York Times, Forbes, Newsweek, CNN/Money, ABC News, BBC News and on the front page of USA Today. However, as a former TV guy, I didn't feel like we had really made it until this afternoon when we were part of a trivia question on the national TV show Who Wants to Be a Millionaire.
DomainHoldings Co-Founder John Ferber happened to catch the show (unfortunately, only because he was feeling under the weather and was home recuperating) and he grabbed the screenshot below that he posted on his Facebook page today.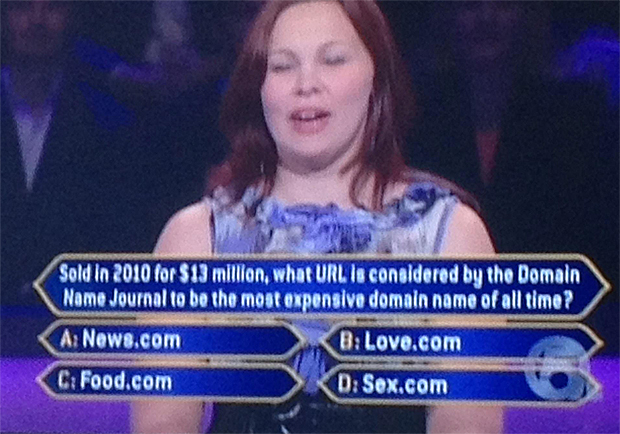 As you can see in the photo above, the question asked by host Meredith Vieira was "Sold in 2010 for $13 million, what URL was considered by the Domain Name Journal to be the most expensive domain name of all time? The answer, as all of our readers should know, was Sex.com at $13 million, a blockbuster transaction we reported in November 2010.
I don't know if the contestant reads DN Journal but she did get the answer right! Now, if we could just get on Jeopardy! :-)
M.I.T. Takes Dim View of New gTLDs - Former ICANN Chair Sees No Benefits Whatsoever
Though they are essentially a done deal the debate over new gTLDs continues with the Massachusett Institute of Technology's prestigious Technology Review coming down hard on the anti-new gTLD side in a new article by Wade Roush (a former Senior Editor) today. In the piece, titled "ICANN's Boondoggle," Roush wrote, "ICANN says it's opening up these

domains to promote competition and choice in the domain-name industry. But confusion and profiteering are the more likely results...There is no general shortage of Web addresses. If there were a genuine clamor for additional top-level domains, one might have expected to see businesses flocking to .biz, .info, .name, and the handful of other gTLDs that ICANN has introduced over the past decade."

Roush's view was seconded by Esther Dyson who served as ICANN's very first Board Chairperson from 1998 to 2000. Dyson told Roush, "I don't think it's illegal, but it's wasteful," she said. "One version of the future is: a lot of people spend a lot of money marketing [domain names], and a lot of new consultancies are created, and a lot of lawyers are very busy protecting and enforcing property rights, and there is no net benefit to anybody."

New gTLDs will begin arriving in the
near future but the debate over whether
that is a good thing or a bad one goes on.
(Image from Bigstock)
Dyson also believes that the launching of hundreds of new gTLDs at once, as ICANN plans to do, will create so much confusion it will drive people to search engines (and away from direct navigation) to find sites they are interested in. Dyson told Roush, " As fewer and fewer consumers resort to direct navigation, owners of new gTLDs could soon find that they have "spent large amounts of money on something that is fundamentally worthless."
With the new gTLD program also still faced with a lot of opposition from major corporations who resent having to pay for "defensive" domain registrations across so many new gTLDs, Dyson also predicted "the whole thing is going to be mired in litigation for a long, long time."
While critics lament ICANN's new gTLD
program, proponents say it will bring many
benefits and spur innovation on the Internet.
Image from Bigstock

The first responses in the comment section that accompanies the article are from a couple of well-known domain industry figures who strongly disagree with Roush and Dyson's take on new gTLDs. Roland LaPlante, the Chief Marketing Officer at Afilias (who will provide backend registry services to many new gTLD registry operators) wrote that there will be many benefits to brands who operate their own TLDs. Using Rolex as an example LaPlante wrote, "Rolex will have 100% control over their domain and can use it to validate anyone who is licensed to sell genuine Rolex products."

Tom Barrett of registrar Encirca.com was more indignant, writing "The basic premise of this article is all wrong. Who are you or anyone else to decide if there is a good reason for the internet expansion? We should be encouraging start-ups activity, not

trying to hold it back. This expansion is being undertaken with an abundance of caution in terms of ensuring the internet's security and stability. Let's see what innovation results."

(Hat tip to Scott Ross for bringing the M.I.T. article to my attention).
(Posted August 21, 2012) To refer others to the post above only you can use this URL:
http://www.dnjournal.com/archive/lowdown/2012/dailyposts/20120821.htm
With 2012 T.R.A.F.F.I.C. Conference 48 Days Away Organizers Unveil a Revamped Website Aimed at Attracting End Users
| | |
| --- | --- |
| The current iteration of the T.R.A.F.F.I.C. conference website (designed by Danny Pryor) was first unveiled last year to highlight the Florida oceanfront flavor of the conference's new location at the Ritz Carlton on Fort Lauderdale Beach where the 2011 show was held last October. Danny did a masterful job of incorporating the area's beauty in his eye-popping design and the sub-tropical scenery always makes the site a pleasure to visit. | |
With the 2012 show, again at the Ritz, now just 48 days away, Danny, working in tandem with show co-founders Rick Schwartz and Howard Neu, has beefed up the T.R.A.F.F.I.C. site, thankfully retaining the easy on the eyes exterior but also adding a lot of new muscle aimed at attracting more end users and mainstream business people to the big event. The site now has a detailed story covering show history, the uniquely qualified clientele T.R.A.F.F.I.C. draws and the importance of domain names and the traffic they generate to modern day business success.
There is no need to preach to the choir (T.R.A.F.F.I.C. veterans who return year after to year and already fully understand the benefits of being there) so the site's new tack makes a lot of sense. The updates make a convincing case that will likely draw a lot of new faces to the show that runs October 7-10 (preceded by two days of informal cabana networking October 5-6).
A Speed Networking session at T.R.A.F.F.I.C. 2011

If you haven't been to the site for the past few days you will also see that the agenda has been fleshed out considerably (and will continue to be as the show draws closer). Rick Schwartz has always been against locking in the full schedule too far in advance, to insure that there will be room for the most topical subject matter to be added right up to the day the conference begins.

Of course, as has been reiterated over and over again, the biggest attraction at T.R.A.F.F.I.C. is the

opportunity to network with so many people who have proven records of success in the domain industry. It is an invaluable chance to learn more and make connections, some of which will last a life time.
For those who are considering attending this year, there is good reason to make up your mind by the end of this month. The current early bird registration rate ($1,595) expires August 31 when the price goes up $200 (it is also $400 less than the on site registration fee of $1,995).
(Posted August 20, 2012) To refer others to the post above only you can use this URL:
http://www.dnjournal.com/archive/lowdown/2012/dailyposts/20120820.htm
People and Companies in the News: .ORG, Michael Mann, T.R.A.F.F.I.C., Zenscrow and Jerusalem.com

Public Interest Registry (PIR), the administrator of the .ORG TLD, issued their latest semiannual domain name report, The Dashboard (.pdf file), this week. .ORG has been growing at a rapid clip for years now and that growth continued in the first six months of 2012 with registrations climbing 7.7% from the same period last year.

Other .ORG highlights from the first half of 2012 included:

• .ORG domain registrations surpassed the 9.9 million mark (and went on to pass 10 million on July 11).
• Domains under management rose by 305,948 over the six month period ending June 30.
• PIR applied for six new top-level domains, .NGO, .ONG, and four internationalized domains that translate into "organization," "org" or "structured organization" for the Chinese, Russian, and Indian market.

.ORG is the world's third largest global TLD, behind only .COM and .NET. Since 2006, .ORG has exploded from 3.9 million registrations to the 9.9 million live at the end of June 2012 – an increase of 154% over the past six years.

Michael Mann

Speaking of growth, three companies owned by domain investing and development pioneer Michael Mann (who was the subject of DN Journal Cover stories in September 2003 and September 2007) have made Inc. Magazine's 2012 list of America's 500 fastest growing companies that is due on newsstands soon.

In a post on his Facebook page, Mann (who founded BuyDomains.com and later sold the company to NameMedia) said Phone.com (#262), DomainMarket.com (#292) and SEO.com (#491) will all appear on the same Inc. 500 list. Getting one company on the list is a huge achievement for any company, but landing three on it at the same time is truly extraordinary.

"Hopefully I'm setting a record and will get lots of press highlighting our charitable works,"

Mann said in reference to Grassroots.org, a non-profit charitable organization he founded to serve as "a catalyst for positive social change by leveraging modern technologies and best business practices." Grassroots.org provides nonprofit organizations with free valuable technologies and resources to increase their efficiency and productivity.

If you find yourself interested in buying any of the domains that will be up for sale in the 2012 T.R.A.F.F.I.C. conference's live domain auction in October, a new partnership between the show's organizers and Zenscrow.com could make it a lot easier for you. T.R.A.F.F.I.C. Co-Founder Rick Schwartz announced on his blog that Zenscrow will offer financing for live auction buyers.

In an earlier announcement, T.R.A.F.F.I.C. and Escrow.com reported a new strategic partnership that makes Escrow.com the exclusive escrow service provider for T.R.A.F.F.I.C. auctions.

One other note today, in our March 2012 Cover Story about Igal Lichtman's TrafficMedia, I told you about the impressive virtual reality tour of Jerusalem that the company introduced on its Jerusalem.com website. They have now taken that technology mobile with a new iPad app that allows you to visit the Church of the Holy Sepulchre - the site of Jesus' crucifixion, burial and resurrection and for many followers the most important Christian pilgrimage destination in the world.

Lichtman said such mobile offerings are a powerful way to promote domains and websites through apps. He said the new iPad app will be sold for $19.99 (or more) after this month, but through August it can be downloaded for 99 cents.

The iTunes page describes the new app as a 3D Interactive learning experience, with

Igal Lichtman, Jerusalem.com

excerpts saying, "Traced to the last detail, incredibly exact and with reliable content verified by leading religious authorities, counselors and experts...Rising above politics, conflicts and geographical boundaries, Jerusalem.com is a truly spiritual learning experience for the whole family unlike anything seen before."

(Posted August 17, 2012) To refer others to the post above only you can use this URL:
http://www.dnjournal.com/archive/lowdown/2012/dailyposts/20120817.htm
Farewell to Max "Americar" Walker - A Domain Industry Treasure Who Left Us Too Soon

For the past ten years friendly Australian Max Walker has been one of the "regulars" at DNForum.com that old-timers always looked forward to hearing from. To many Max was better known by his forum handle, Americar, and his avatar featuring one classic car or another - products of Max's life long love of great automobiles.

When I first arrived at DNForum as an eager domain industry newbie in July 2002, Max was already there and he was one of the kind veterans who made a newcomer like me feel welcome and among friends. I

Image from Bigstock

always appreciated that and years later was delighted to finally have a chance to meet Max in person on his home turf at the 2008 T.R.A.F.F.I.C. Down Under conference on Australia's Gold Coast.

Max "Americar" Walker (in the upper left corner of the
photo above, 2nd from left, wearing dark glasses) chatting
with friends at the 2008 T.R.A.F.F.I.C. Down Under conference in Australia.

When Max walked up and introduced himself he looked much like I had imagined he would - a distinguished, well-dressed gentleman with a wide smile and a warm handshake. From our discussions that week and the more than 600 posts he made over the years at DNForum I came to know Max as a dignified, self effacing guy who had a knack for making others feel good about themselves.

His special qualities made Max one of my forum favorites, as he was for many others, so I was very saddened to hear the news from one of Max's long time friends, DomainBoardroom founder Donna Mahony, that Max had passed away after suffering a heart attack. How I wish now that I had told Max directly how much I appreciated him and his generous support.

After ten years in this business I guess this kind of bad news was inevitable but it is still never expected. With domains being such specialized and little understood assets, I have had casual conversations with friends about a mutual agreement to help one another's wife or family manage those assets if something happened to one of us, but never really gave our mortality much thought beyond that (fortunately, some highly respected industry veterans developed a professional service, DomainGuardians.com, that will take on that task as I wrote about last

year). In Max's case, Donna and some other well qualified members at DomainBoardroom (DBR) have graciously reached out to his family to offer any help they may need in that area.

Donna noted that in a recent DBR thread about domain history, Max added his memories and the last line of his last post was this on July 10th when he posed the question, "Where have all the characters gone?" Just a few days later, Max, one of the truly special characters in our industry, was gone himself. It really makes you think about how fragile and fleeting life is. It also makes you think about telling people you love and appreciate that now, while you still can. I wish I had verbalized that to Max Walker when I had the chance.

Image from Bigstock

(Posted August 16, 2012) To refer others to the post above only you can use this URL:
http://www.dnjournal.com/archive/lowdown/2012/dailyposts/20120816.htm
Escrow.com Forms Strategic Partnership With T.R.A.F.F.I.C. Conference - Will Be Exclusive Escrow Provider for Live Auctions

With the 2012 T.R.A.F.F.I.C. conference now less than eight weeks away, activity is heating up on every show front, from fleshing out the agenda to lining up names for the live domain auction. In a key auction development T.R.A.F.F.I.C. Co-Founders Rick Schwartz and Howard Neu have formed a strategic partnership with the world's leading escrow company, Escrow.com, who will now be the exclusive escrow provider for T.R.A.F.F.I.C. Domain Auctions.

Brandon Abbey, President of Escrow.com, said "Rick and Howard have done and continue to do many great things for the domain industry. We consider this additional validation that we have been providing excellent service to the community and thank them for this opportunity." Rick Schwartz added, "T.R.A.F.F.I.C. is for serious domain investors and if you are serious about this business you know and probably already use Escrow.com. They are a key partner our industry and we are excited to have them join the T.R.A.F.F.I.C. team."

The upcoming T.R.A.F.F.I.C. conference will be held October 7-10 at the Ritz Carlton Hotel on Florida's world famous Fort Lauderdale Beach (a venue that also hosted the 2011 show). There will also be two days of pre-show cabana networking at the Ritz October 5-6. This year's live domain auction, the first to be held under the new partnership with Escrow.com,

is scheduled to run from 3:00-5:00pm (U.S. Eastern time) on Monday, October 8, 2012. T.R.A.F.F.I.C. is currently accepting auction submissions. Last week Schwartz detailed how he is choosing the finalists from among those submissions in a post on his blog.

(Posted August 14, 2012) To refer others to the post above only you can use this URL:
http://www.dnjournal.com/archive/lowdown/2012/dailyposts/20120814.htm
With New Startup Gaining Traction Morgan Linton & Teammates Decide to Quit Their Day Jobs and Go For Broke

Congratulations to Morgan Linton are in order on a couple of fronts today. First (by a mile) is his impending marriage Saturday (August 18) to his lovely fiancée and business partner Daina Burnes!

While that is the personal high of a lifetime, the second thing is extremely cool too, especially when you consider that Morgan said it represents he and Daina "finally living their dream" in a business sense as well.

As most of you know, Morgan is a serial entrepreneur who is all about domain development, as is Daina. One of their current projects (dreamed up by Daina), FashionMetric, aims to revolutionize the way men buy their clothes - or more precisely where they buy their clothes. Currently only

Morgan Linton & Daina Burnes
will be married Saturday (August 18, 2012)

7% of men's clothes shopping is done online - largely because of concerns over getting the right fit. FashionMetric has come up with a solution for that.

Morgan and Daina aren't the only ones who think they are on to something big. Daina entered FahsionMetric in the Lean Startup Machine competition in Santa Monica, California a few weeks ago and won. From there they went on join hundreds of other collaborative developers at AngelHack and came away with both a spot in the finals and a new web app that caught the attention of the prestigious Microsoft BizSpark Blog that published an interview with the FashionMetric founders today.

They told the author, "This has been a dream of ours for a long time now. After winning Lean Startup Machine and making it to the AngelHack finals we realized we had a unique opportunity to turn our dreams into a reality. Morgan and developer James Baca are quitting their day jobs and Daina is leaving her PhD program at UCLA to make this happen. Daina and Morgan

Image from Bigstock

are excited to get married in August and want nothing more than to work together full time. Team synergy is the key, we all are ready to take a risk to change our lives and do something that we love."

They added, "We set out to bridge the gap between the physical and online worlds, enabling men to buy shirts online that not only fit their body type but also match their personal style...our hack is the foundation of something much bigger that we think is going to change the way people buy clothes online."

That would be one BIG fish to reel in and if the FashionMetric team is successful, the rewards will be astronomical. Knowing the drive Morgan and Daina have, I think they have an outstanding chance to make it happen. Check out the full Microsoft BizSpark interview here.

(Posted August 13, 2012) To refer others to the post above only you can use this URL:
http://www.dnjournal.com/archive/lowdown/2012/dailyposts/20120813.htm
People and Companies in the News: DotGreen Community, Rob Grant & NameMedia

We've just published a new home page feature article that has the fascinating background story behind DotGreen Community Inc.'s campaign to land rights from ICANN to run a new .green registry - an effort that dates back more than five years. They are still at it and are now one of four entities competing for .green.

Within the next year or two a .green TLD will be one of hundreds of new domain extensions that are expected to go live as part of ICANN's new gTLD program. While a few new gTLDs have been launched over the past decade, the Internet has never seen a mass release of hundreds of new extensions at once. That is going to create a significant challenge for operators of new gTLD registries - how are they going to break through the clutter and achieve the public awareness they will need to sell enough domain registrations to become a going concern (and recoup the hundreds of thousands of dollars it will cost to launch each new gTLD)?

It will take a lot of marketing money and legwork to get over that hurdle - something that DotGreen Community Founder & CEO Annalisa Roger (the daughter of Internet pioneer Peter Leblanc) has always understood. That's why she and her .Green team have been spreading the .green gospel and building public awareness for the extension since 2007. Even so, with three other applicants also chasing .green, the race is still far from over, but what DotGreen Community has done to date serves as a textbook example of how to build public recognition and support for a new gTLD to give it the best possible chance for success. You can read all about it here.


Annalisa Roger
Founder & CEO
DotGreen Community Inc.

Rob Grant

A couple of week's ago we broke the story about Dan Pulcrano selling Denver.com to Peter Niederman, the owner of DenverRealEstate.com, in a seven-figure deal. Inman.com, the leading source of real estate news in the U.S., just picked up on the story yesterday and fleshed out their piece with a Rob Grant interview. Rob holds the world's best portfolio of geo-targeted .com real estate domains and he took the opportunity Inman presented to fill their professional real estate readers in on why domains like Denver.com and DenverRealEstate.com are so valuable.

"It's virtual, but it's still real estate," Rob told Inman, adding that his geodomains are so valuable as investments that he's reluctant to sell them. He let one, ParkCityRealEstate.com, go for $60,000 in 2006 but since then he has concentrated on leasing the geodomains he owns, something he has done with PhiladelphiaRealEstate.com and BeverlyHillsRealEstate.com, among others.

Grant noted that as the owner of Denver.com, Niederman now has a huge advantage over his local competitors. "The name's extremely easy to advertise and the ability to tell sellers that their listings will show up on Denver.com is a powerful asset," Grant added.

Speaking of domain sales, NameMedia (who operates the AfternicDLS) announced the launch of a new "wholesale" domain marketplace, DirectDomains.com, this week. The company said their research showed there could be a substantial opportunity in targeting "value buyers" with domains, so they are testing that concept with the new site.

Director of Marketing Karen Dixon said, "As we do with all of our new products, we are launching first with our own inventory and, if successful, will enable this channel for our listing customers as well. Since we have grown our listings volume on Afternic by more than 100% over the last 24 months, we realize that our customers depend on us to always be investigating new ways to create sales opportunities, and this is just another example of that continuous innovation. This very current, quicker-selling approach will give domain buyers good reason to visit the site for bargains."

(Posted August 10, 2012) To refer others to the post above only you can use this URL:
http://www.dnjournal.com/archive/lowdown/2012/dailyposts/20120810.htm
Alan Dunn Joins Domain Holdings as Senior VP and DomainSherpa Adds New Producer Wayne Nelson

Domain Holdings Group continues to add to an already outstanding management team. Well-known and highly respected domain industry veteran Alan Dunn has joined the Delray Beach, Florida based company as Senior Vice President of Strategic Media. Dunn will be responsible for growing the premium development portion of the company's business and identifying strategic opportunities.

While overseeing the development, SEO and marketing of the sites that Domain Holdings has under development, Dunn will focus on creating, enhancing or growing brands through white hat SEO best practices, striving for sustainable search engine rankings rather than manipulating search engine results.

Over the past four years, Dunn has participated in the acquisition and divestment of development properties and domain names that have grossed more than $10 million. Domain Holdings CEO Jason Boshoff said, "Real companies with real budgets looking to develop real properties will see real results just by spending five minutes on the phone with Alan."

Alan Dunn
Senior VP of Strategic Media
Domain Holdings Group

Dunn's work and reputation have earned him a nomination for the T.R.A.F.F.I.C. 2012 Developer of the Year Award that will be presented in October.

Wayne Nelson
Producer, DomainSherpa.com

DomainSherpa.com has also made an important addition to their team, bringing Wayne Nelson on board as Producer at the popular video interview site. Nelson is an avid domain name investor, has developed a website that ranks #2 in Google within an index of "about 18,600,000 results" and is also a successful businessman.

DomainSherpa founder Michael Cyger said Nelson will focus on finding the best strategies, tactics, stories and inspiration to feature on DomainSherpa. Cyger also invited anyone who has a story to tell (or someone to suggest as an interview subject) to contact Wayne.

DomainSherpa features a rich library of in-depth video interviews with various industry leaders. Those interviews are a great resource for newcomers who want to get sound advice from people who are already successful in the business. Even if you are an industry veteran, you are likely to learn something new from DomainSherpa's video series.

(Posted August 8, 2012) To refer others to the post above only you can use this URL:
http://www.dnjournal.com/archive/lowdown/2012/dailyposts/20120808.htm
Industry Veteran Victor Pitts Joins Above.com as Director of Domain Services

Victor Pitts, one of the most widely-known and well-liked veterans in the domain industry, has joined fast-growing domain registrar Above.com as Director of Domain Services. Pitts, who has previously held senior positions at Moniker, iGoldrush and ICM Registry, will be responsible for leading and overseeing the continued development of Above.com's Registrar and Marketplace services.

Pitts, who also hosts the weekly Domain Masters radio show on WebmasterRadio.fm, said "I am excited to be joining the Above.com team. Registrars today are challenged to provide services to manage both a growing volume and variety of domains, while offering uncompromised privacy and security. Above.com and I are committed to meeting that challenge through applying both smart technology and smart people to the task."

Above.com President David Warmuz said, "Victor brings extensive industry experience in many areas of domaining, such as domain

Victor Pitts
Director of Domain Services
Above.com

brokerage, domain registrar sales and domain auctions. His industry knowledge, enthusiasm and leadership skills will play a pivotal role in Above.com's growth and success."

(Posted August 7, 2012) To refer others to the post above only you can use this URL:
http://www.dnjournal.com/archive/lowdown/2012/dailyposts/20120807-2.htm
Sedo Sells Hoteles.es for Over $340,000 - The Inside Story Behind the International Transaction

In a deal shepherded by Sedo Senior International Sales Consultant Frank Tillmanns, the company has completed a €275,000 sale ($341,234 at today's exchange rate) of Hoteles.es ("hotels" in Spanish). While Hoteles.es is a well-developed website (built on Spain's country code extension), Tillmanns said the new owner, the operator of Hotels.nl, indicated they would retain only about 20% of the current site's code as they re-develop the property to their own specifications.

In addition to getting a category defining domain in a key European market, the buyers will also benefit from the current site's high search engine ranking, stable bookings and consistent flow of around 150,000 unique monthly visitors. Since the buyer is getting more than just the domain name, we won't be able to chart it as a domain only sale but we can give you a rare inside look at how a deal of this magnitude got done.

Frank Tillmanns, Sedo
Senior Sales Consultant
International

It started with Tillmanns contacting the owners of Hotels.nl - a successful, widely-known online hotel reservation site in the Netherlands and Belgium that is now expanding into other European countries. Tillmanns let them know a valuable property that would give them a perfect entree to the Spanish online hotel reservations market had become available for purchase. They liked what they heard and Tillmanns arranged a joint meeting with the seller in Mallorca just a few days later. When the day of the meeting arrived events unfolded in whirlwind fashion.

Time flies Image from Bigstock

Tillmanns, who is based in Sedo's Cologne, Germany home office said, "I headed down on a red-eye flight at four o'clock in the morning for a pre-meeting with the seller at 8am. The buyer arrived at the sellers' office at 10am accompanied by his programmer. After an intense session of presenting the opportunity in more detail and going through a set of questions the buyer had, we quickly negotiated, agreed and closed the sale with signing of the contracts by 5:30pm!"

"The buyer, his programmer and I all flew home that night to make sure the transfer was going to be started quickly the next morning. The transfer of the full project and domain were all done by last Friday. From signing the exclusive contract with the seller until fully transferring the domain and project it only took about two weeks," Tillmanns added.

| | |
| --- | --- |
| Tillmanns also noted the sale had a more international flavor than usual. "It involved a Swedish seller living in Spain, a Dutch buyer and me as a German Broker. In the process three languages were spoken: English, German and Spanish. This clearly demonstrates the international expertise that Sedo can offer its clients in arranging deals across cultural, language and geographical borders." | |

(Posted August 7, 2012) To refer others to the post above only you can use this URL:
http://www.dnjournal.com/archive/lowdown/2012/dailyposts/20120807.htm
Michael Castello's Martian Connection - Why the Red Planet's New Rover is His Favorite Robot
Michael Castello of Castello Cities Internet Network (who, along with his brother David, was profiled in a December 2006 DN Journal Cover Story) was in our area on a family vacation over the weekend. I always try to see Michael and his family when they are in this part of Florida or we are in Southern California where they live. When we got together again Sunday for brunch in Sarasota (joined by T.R.A.F.F.I.C. Co-Founder Howard Neu and his wife Barbara who were also visiting from Fort Lauderdale), Michael, his wife Sheri and daughter Jessica were all there, but son Jonathan, whom I also always look forward to seeing, was missing.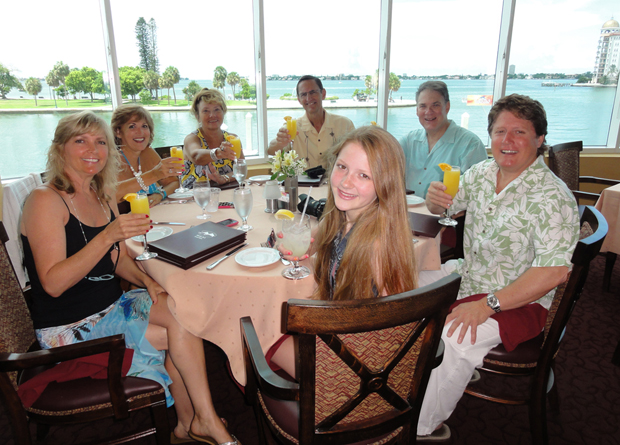 (Clockwise from left) Sheri Castello, Barbara Neu, Diana Jackson, Ron Jackson, Howard
Neu, Michael Castello and Jessica Castello at Marina Jack in Sarasota, Florida Sunday.
Michael explained that Jonathan, a student at Cal State Northridge, had to stay home in California because he was being paid to work as a computer programmer during a summer internship and things were just a tad busy at his workplace - the Jet Propulsion Laboratory (JPL) in Pasadena. In fact while we were enjoying a leisurely Sunday brunch in Sarasota, a day that most people were off work, people at JPL were working their tails off on a little project you may have heard about - landing the $2.5 billion Curiosity rover on the surface of the planet Mars that night! Something they did successfully around 1:30am (U.S. Eastern time) this morning.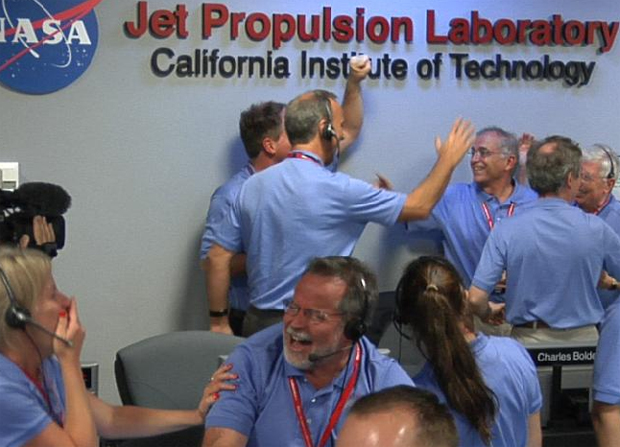 Above: Jubliant scene at the Jet Propulsion Laboratory (JPL) in Pasadena, California early this morning (U.S. Eastern time) when the Curiosity rover successfully landed on Mars. Michael Castello's son, Jonathan, is currently working in computer programming at JPL as a paid college intern. Image from: NASA/JPL-Caltech
I don't know about you, but during my school days when people asked me what I did on my summer vacation, I didn't have anything nearly that cool to talk about! The only rover I worked on was a used two-door AMC Rambler that I bought from one of my teachers. To hear what Jonathan was doing didn't surprise me a bit though - he is a brilliant kid who also has some very solid writing skills that I have seen first hand. I think his sister Jessica, a budding actress with a load of talent, is also destined for big things.
Michael and Sheri have done a great job parenting their children and I would love to see them follow their dad's footsteps into the domain world, but, given how busy they are with their own pursuits, that probably won't happen.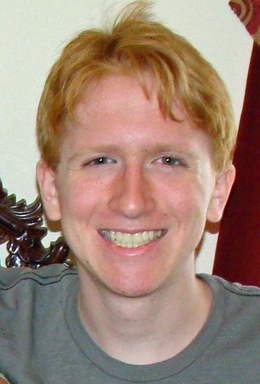 Jonathan Castello in a photo taken
during a Castello family visit to our home
in 2009, before Jonathan went off to
college.
Still, if ICANN ever gets around to launching a new pTLD program (Planetary TLDs) I know a young guy over at the Jet Propulsion Lab who would be perfect to run that project!
(Posted August 6, 2012) To refer others to the post above only you can use this URL:
http://www.dnjournal.com/archive/lowdown/2012/dailyposts/20120806.htm
Sedo Broker Dave Evanson Reports Selling Designers.com for $118,000

Sedo broker Dave Evanson just posted on his Facebook page that he has wrapped up a $118,000 sale of Designers.com for the popular domain sales venue. The buyer has not yet been revealed as the WhoIs record currently shows Sedo's Transfer Service as the registrant (that means the domain has been paid for and they have taken possession of it en route to moving it on to the buyer's account). The seller appears to be Lewis Design and Planning Inc. of Lewiston, New Jersey as Designers.com points to a page they have had up since 1998 according to Archive.org.

Designers.com is obviously a fabulous generic domain name with a practically infinite number of potential uses. At $118,000 it looks to me like the buyer got a very good deal on this one. After a drought of publicly reported six-figure domain sales that lasted several weeks, they have suddenly started popping up again over the past month. For the third week in a row, our weekly Top 20 Sales Chart was headed by a six-figure sale this week.

Dave has rung up many sales at this level but I'm sure it never gets old for him or Sedo!

Sedo Broker Dave Evanson

(Posted August 2, 2012) To refer others to the post above only you can use this URL:
http://www.dnjournal.com/archive/lowdown/2012/dailyposts/20120802.htm