The Lowdown
December 2014 Archive
Subscribe to our RSS Feed

Here's the The Lowdown from DN Journal,
updated daily to fill you in on the latest buzz going around the domain name industry.

The Lowdown is compiled by DN Journal Editor & Publisher Ron Jackson.
Welcome to Fabulous 2015! 2014 Was Good and We Believe the New Year Ahead Will Be Even Better
Not sure where 2014 went but ready or not, here comes a New Year! The last one has been a whirlwind with the pace of change in the domain industry - which has always been quick - accelerating at a mind bending pace. New gTLDs arrived and many people, companies and conferences came, went or consolidated.

In 2014 we also saw a vigorous rebound from he recession with the domain aftermarket performing the best it has in years (with Chinese buyers adding some rocket fuel to the fire). Domain sales (especially

2015 graphic from Bigstock

for short .coms) and the influx of new money being invested in new gTLDs made it a good year for many players and I believe 2015 will be even better. Yes, I am an eternal optimist but there are so many positive things happening I think that forecast is based on more than wishful thinking.

Like 2014, the new year will get off to a quick start with NamesCon returning to Las Vegas bigger and better than ever for their January 11-14 conference at the Tropicana Hotel. With over 800 expected to attend it feels like just about everybody is going to be there, so 2015 deal making is going to get a powerful jumpstart.

New Year's Day also marks the 12th anniversary of DNJournal.com and we are again looking forward to bringing you all of the interesting news and information that will be unfolding in the year ahead. Our wish as always that the new year will be the best ever for each and every one of you and your loved ones - now let's go get 'em!
(Posted December 31, 2014) To refer others to the post above only you can use this URL: http://www.dnjournal.com/archive/lowdown/2014/dailyposts/20141231.htm
With NamesCon 12 Days Away Here are 12 Previously Unpublished Photos from The Debut Show Last January
The 2nd annual NamesCon conference is just 12 days away. The event gets underway Sunday, January 11 at the Tropicana Hotel in Las Vegas where it will run through January 14, 2015. To give you an idea of what is in store here are 12 previously unpublished photos from the debut edition of NamesCon last January at the Tropicana.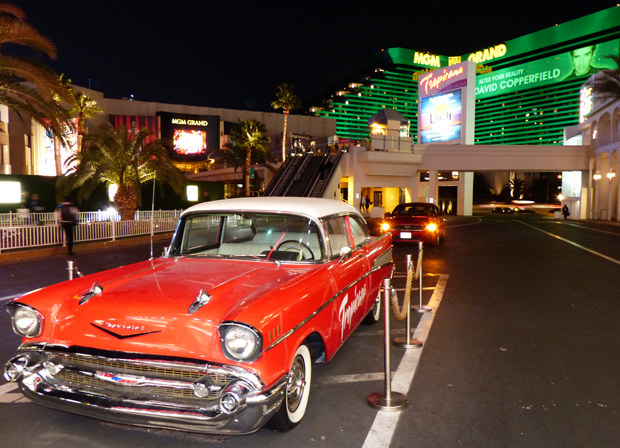 Above: The conveniently located Tropicana Hotel (just minutes from the airport) gives you easy access to the restaurants and amenities of two major hotels. The MGM Grand is directly across the street with a pedestrian bridge (seen behind the classic 57 Chevy that is permanently parked in front of the Tropicana) connecting the two properties.
Below: Your NamesCon adventure begins at the registration desk in the hotel's conference area.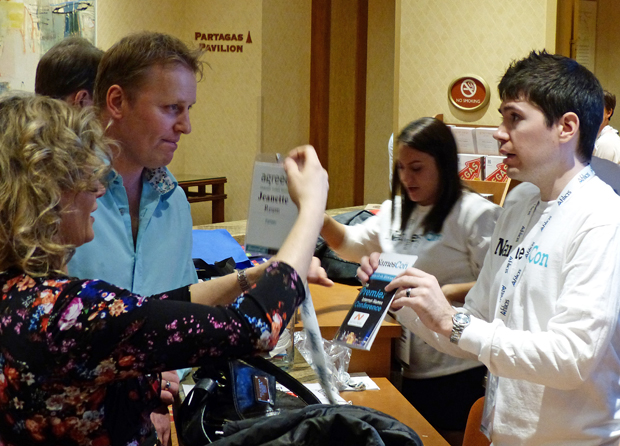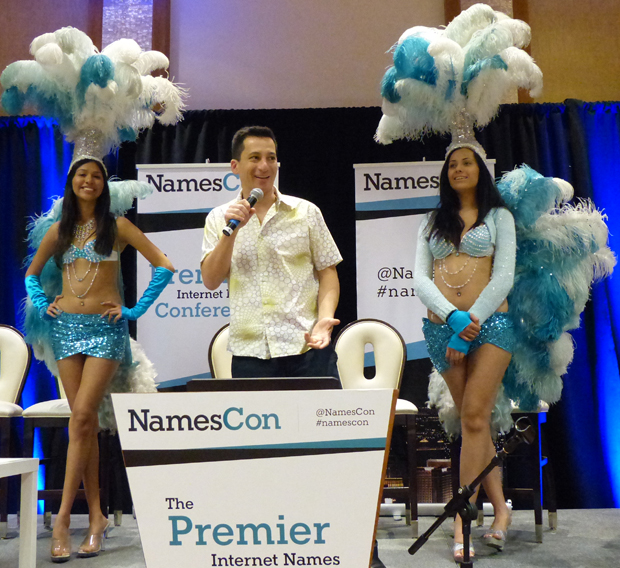 Above: NamesCon Founder Richard Lau, flanked by two Las Vegas showgirls, welcomes NamesCon attendees to the debut event in January 2014.
Below: Part of the a crowd of 500 attendees at one of the first 2014 sessions. For 2015 organizers expect over 800 to attend!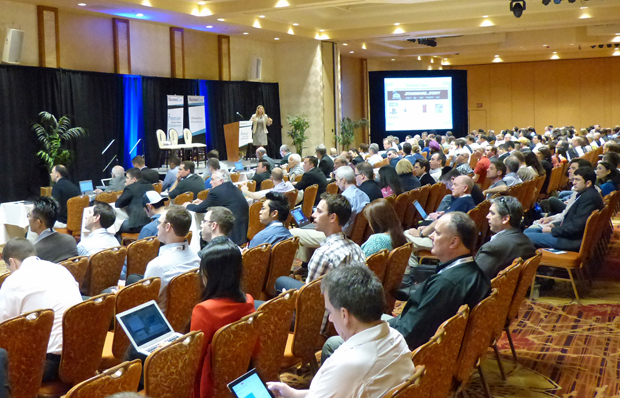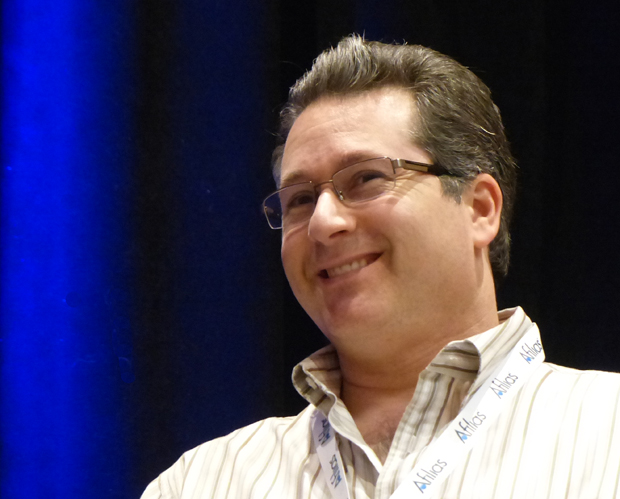 Above: DNForum.com owner Adam Dicker was one of the featured speakers last January and he will be again at the 2015 edition of NamesCon.
Below: Sedo.com CEO Tobias Flaitz welcomed visitors to the company's booth in the Exhibit Hall last January.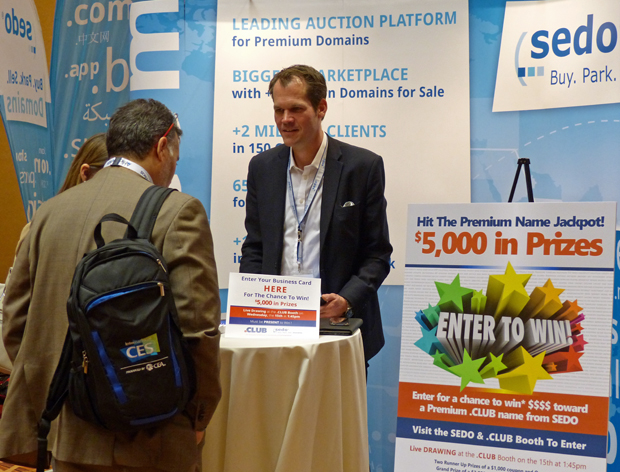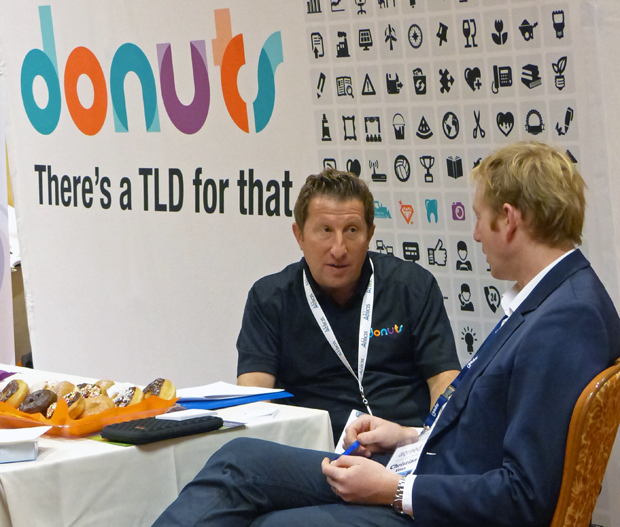 Above: Donuts, the biggest company in the new gTLD space, knew how to draw visitors to their booth. They kept a fresh supply of real donuts on hand for visitors!
Below: Another popular part of the Exhibit Hall is the lounge area where you can kick back and make a call or meet with fellow attendees.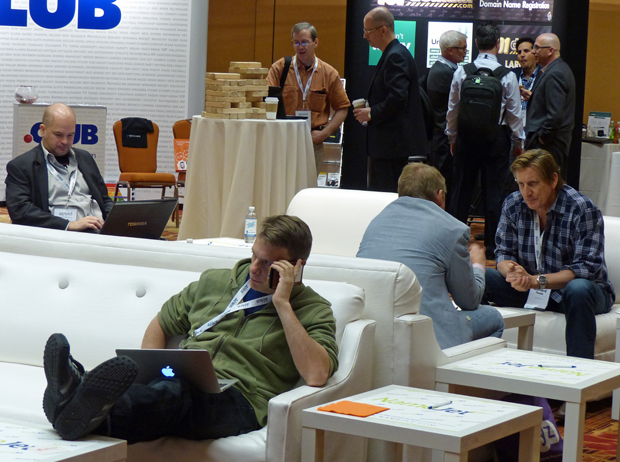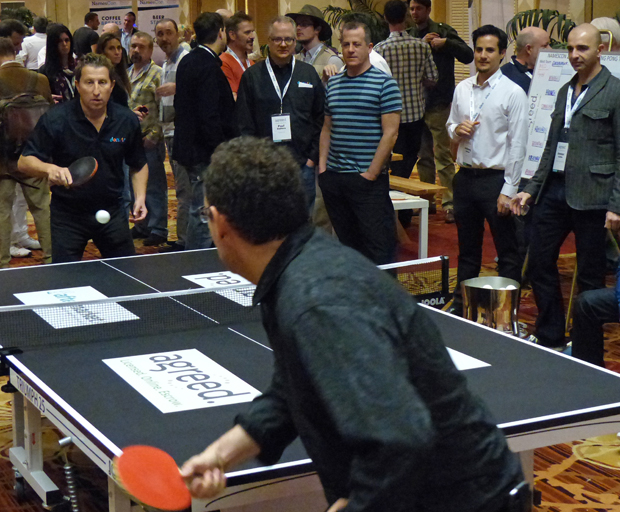 Above: You never know what you'll find going on at NamesCon. Last January a hard fought table tennis tournament drew a crowd of both players and spectators. In this match Donuts Co-Founder Daniel Schindler at top left squared off against NameNinja.com's Bill Sweetman (with back to camera).
Below: The biggest social event at NamesCon is the Water Night Party to raise funds for the Water School. Guests at last January's event, that raised over $111,000, included Bill Lozado (seen with a model he enlisted to help promote his domain portfolio)."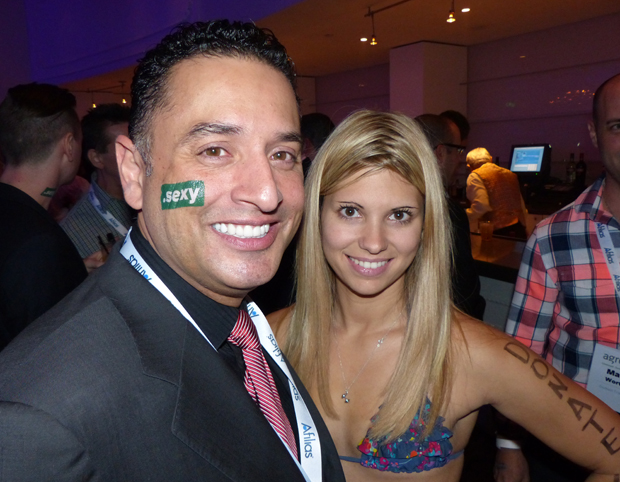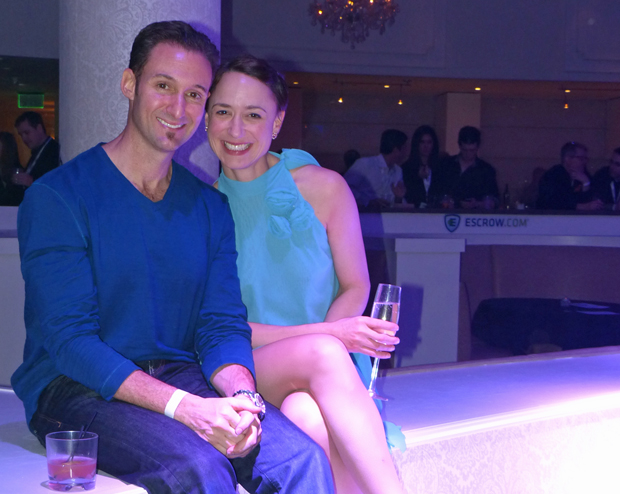 Above: Also at Water Night 2014 were NamesCon Co-Producer Jodi Chamberlain (right) and LegalBrandMarketing.com's Braden Pollock.
Below: Most of the money raised at Water Night 2014 came from pledges made to three brave men who volunteered to have their heads shaved in exchange for donations. Left to right, after the deed was done, are 101Domain.com's Joe Alagna, NamesCon Co-Founder Jothan Frakes and HasTraffic.com's Yancy Naughton.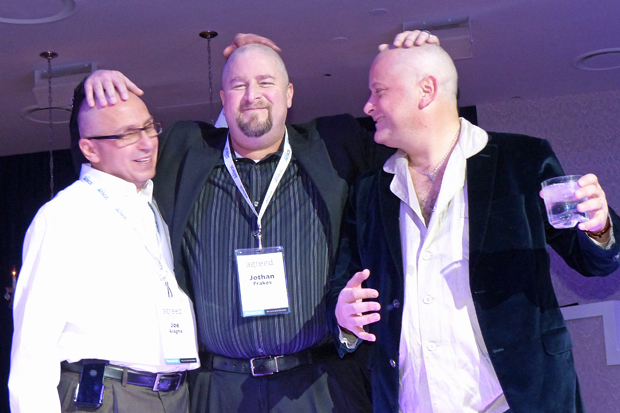 If it looks like NamesCon 2014 was a great event - you're right, it was - and 2015 promises to be even better with greatly expanded floor space, an even more ambitious agenda and a crowd expected to be more than 50% larger than last year. We look forward to seeing you there!
(Posted December 30, 2014) To refer others to the post above only you can use this URL: http://www.dnjournal.com/archive/lowdown/2014/dailyposts/20141230.htm
TrafficZ Exits Parking Business - Will Shut Down New Year's Eve

One of the biggest names in the domain parking business over the past decade, TrafficZ, is closing down effective at 12:00 AM Wednesday, December 31. Parent company Thought Convergence broke the news in a letter sent to clients this morning that said:

As you no doubt have heard by now, we recently announced the sales of our Aftermarket domain marketplace and our Agreed online escrow platform. In parallel with those sales, we will be discontinuing the TrafficZ domain parking and monetization service as of December 31, 2014.

In order to facilitate a smooth and seamless transition for you, our valued clients, we recommend that you explore alternative monetization providers and options for your domain assets. Many of our friends in the industry provide excellent domain management and monetization solutions, so we're confident that you'll find a suitable partner in no time.

Regardless of what you decide, though, please make sure to update your nameservers by 12:00 AM PST on next Wednesday, December 31, 2014, after which time we will no longer be serving ads from our upstream providers.

On behalf of the entire TrafficZ team, we'd like to thank you for your loyalty and support over the years (since 2002!!). And, as always, we wish you luck and continued success in all of your future endeavors.

Cheers, and Happy Holidays,
Ammar Kubba & Kevin Vo

TrafficZ's Kevin Vo and Ammar Kubba in 2007

Ammar & Kevin were profiled in our October 2007 Cover Story at a time that proved to be the "golden age" of pay per click domain parking. In recent years, parking revenue has been decimated as upstream providers (especially Google) began keeping almost all of the income from advertisers for themselves. Parking revenue from our own domains is now less than 20% of what is was in 2007 and many others have reported a similar free fall in earnings. Like some of them we stopped parking many domains with traffic all together, opting

to send those visitors to our own detailed "domain for sale" pages as aftermarket sales became a bigger and more important revenue stream than PPC.

The combination of massive revenue declines and departing clients has made it a tough environment for parking companies, resulting in decisions by some to sell off the business (as Oversee did in sending DomainSponsor to RookMedia) or shut down all together as TrafficZ and other once key players like Parked.com have now done.

With their divestitures of TrafficZ, Agreed.com (sold to Escrow.com) and Aftermarket.com (sold to Igloo.com), Thought Convergence can now concentrate on their more profitable services like DomainTools.com and promising new ventures.

(Posted December 28, 2014) To refer others to the post above only you can use this URL: http://www.dnjournal.com/archive/lowdown/2014/dailyposts/20141228.htm
Women in Domaining Will Meet at NamesCon With WaterSchool Support in Mind
We are fortunate to have some of the world's brightest and most compassionate businesswomen in our industry. When they join forces with one goal in mind you can bet good things are going to happen. You are about to see another example of that at the NamesCon conference coming up January 11-14, 2015 at the Tropicana Hotel in Las Vegas.

Today NamesCon Co-Producer Jodi Chamberlain announced a Women in Domaining Cocktail Social will be held Monday evening, January 12 from 7-9pm in the Whoisology Room (right across from the main Exhibit Hall) at the Tropicana. When the Social ends the big Water Night fundraising party for the WaterSchool will begin just down the hall at the hotel's Havana Room night club. The ladies plan to get that special event off on the right foot with a gift of their own to the life saving charity.

Jodi Chamberlain
NamesCon Co-Producer

Jodi revealed that two private donors have agreed to match every dollar raised at Water Night. That means a $1 contribution magically multiples to $3. The women in domaining plan to pool their resources at their own gathering (no donation is too small - every dollar counts!) then

take those funds to the Water Night to triple the impact of their donations. Last January's Water Night (also at the Havana Room) raised over $111,000 for the WaterSchool, so the bar has been set high for 2015 - but not too high for determined industry donors, back but a lot of good women, to get over.

Part of the wall to wall crowd that filled the Tropicana Hotel's Havana Room in Las Vegas
last January for NamesCon's big Water Night Party benefiting the Water School.

For those who want to bring a donation to the Women in Domaining Social, Jodi noted several ways to do that:

You can make a donation on site at Women in Domaining by filling out a donation card.

You can bring a check to Women in Domaining (checks made payable to WaterSchool).

You can email her directly - Jodi at Namescon.com - and she will help you make payments directly to the Water School.

In addition to their collective effort as individuals, our Women in Domaining are also getting corporate support. .CLUB, Igloo.com and DomainHoldings.com have all signed on to sponsor the upcoming Social.

You can learn more about the Women in Domaining Social here and learn more about the WaterSchool here.
(Posted December 26, 2014) To refer others to the post above only you can use this URL: http://www.dnjournal.com/archive/lowdown/2014/dailyposts/20141226.htm
Christmas Day: A Day that Reminds Us We are Here for More Than Ourselves
The headline above paraphrases one of my favorite Christmas quotes (from the late newscaster Eric Sevareid). Poet Edgar Guest said it in a more expansive way decades ago:

"A man is at his finest towards the finish of the year;
He is almost what he should be when the Christmas season's here;
Then he's thinking more of others than he's thought the months before,
And the laughter of his children is a joy worth toiling for.
He is less a selfish creature than at any other time;
When the Christmas spirit rules him he comes close to the sublime."

Image from Bigstock

We wish each of you and your loved ones a sublime Christmas Day and pray that the Christmas spirit of joy, love and giving will live within you in every day to come!

Nativity image from Bigstock
(Posted December 25, 2014) To refer others to the post above only you can use this URL: http://www.dnjournal.com/archive/lowdown/2014/dailyposts/20141225.htm
NamesCon & RightOfTheDot Issue Update on Live Domain Auction Coming Up January 13
The 2nd annual NamesCon conference coming up January 11-14 at the Tropicana Hotel in Las Vegas will have something the debut show last January did not - a Premium Live Domain Auction that will be staged by RightOfTheDot.com. NamesCon sent out an update on the event today noting that the auction is scheduled to run from 4:30pm-7:30pm (Pacific Standard Time) on Tuesday, January 13 and that it will be the only session running during that time frame (NamesCon has a multi-track format for most of the show with multiple sessions going on at the same time).

With the auction being the lone session the vast majority of the 800+ expected at attend the show will likely be in the auction hall - especially since a food and cocktail hour will be held there during the sale too! So, whether you are bringing a bidding paddle or just a big appetite, that will be the place to be - and if you can't be in Las Vegas you can still bid online during the simulcast video stream of the auction. You can also bid by proxy/left bid and by telephone. In the meantime pre-bidding has already opened.

After the conference, an extended online auction will start on January 15th and run through February 5th on Snapnames.com. That sale will feature another set of premium names that will not be in the live auction as well as any names that did not meet their reserve in the live auction.

Whatever stage of the auction you may want to bid in, keep in mind that to participate an active SnapNames account is required. If you do not already have one you can set up a new SnapNames account here: https://www.snapnames.com/add_acct_1.jsp.
(Posted December 24, 2014) To refer others to the post above only you can use this URL: http://www.dnjournal.com/archive/lowdown/2014/dailyposts/20141224.htm
He Loves .LA! Page Howe Sets Up Shop on Hollywood Boulevard in Bid to Boost .LA Domains
Make no mistake about it - veteran domain investor and educator Page Howe loves his hometown. The Los Angeles native (who was profiled in our August 2008 Cover Story) is now combining his passion for both LA and domains by opening a new office in Los Angeles to promote the .LA TLD. A building on Hollywood Boulevard will be his base in the real world while Howe's ILove.LA website carries the flag online.

While several new geo TLDs like .berlin, .london, .vegas and .nyc have been released this year as part of ICANN's new gTLD program .LA has been around for a long time. The extension was created as the country code for Laos, but was later re-purposed under a marketing agreement to serve as a designation for Los Angeles - in the same way that Montengro's .ME and Colombia's .CO were re-purposed to have different meanings.

The latter two TLDs have enjoyed a good bit of success and Howe believes the massive Los Angeles market offers a similar ripe opportunity for .LA.

He Loves .LA!

Below: ILove.LA
Founder Page Howe

In a press release announcing his new office today Howe said, "Local is everything in online marketing. The time is right for companies and inside and outside Intellectual Property advisors to consider adoption in the .LA extension in advance of wider publicity and relaunch in 2015. Los Angeles is unlike any city in the world and a .LA domain allows a company to market to the tastes and styles found in Los Angeles."

I Love LA image from Bigstock

Howe is using the aptly-named ILove.LA website to educate and inform local businesses, developers and companies about the .LA namespace, best practices in SEO, and registrar opportunities. He plans to initially focus on some specific areas - Restaurant/Food related businesses, Concert and Entertainment venues, Homes and Real Estate projects and Developments and Media. Howe noted that companies will find that in the .LA namespace over 99% of the names taken in .com are available for registration.

Howe said, "This namespace has been consistently live for the past ten years, managed by a strong registry operator. The ICANN introduction of new TLDs and other

geographical extensions has brought illumination and increased confirmation of the benefits of city namespaces. Some of LA's best-known companies use a .LA domain name, including Craft Brewery GoldenRoad.LA, Accelerator Amplify.LA, Fashion brand Made-in.LA and Directory Represent.LA."

Howe said plans are also in the works for a "Rancho" Founders Program to help websites, companies and causes/initiatives with additional advertising and promotion across the .LA network, adding "Opportunities also exist to acquire discounted premium names in exchange for joint promotion and publicity."
(Posted December 23, 2014) To refer others to the post above only you can use this URL: http://www.dnjournal.com/archive/lowdown/2014/dailyposts/20141223.htm
Zero to 60 in a Split Second: Coffee.Club Goes From a Domain Name to a Business Delivering Product in Just 6 Weeks
You've got to hand it to Bill McClure - when this guy gets an idea he doesn't mess around! Just over six weeks ago Bill stunned the crowd at a closing night T.R.A.F.F.I.C. conference party by announcing he had cut a deal with the .CLUB registry to buy the Coffee.club domain for $100,000 spread over 10 years.

Bill, who was already in the coffee business with his Coffee.org empire, promised to have a full blown coffee subscription club operating on the domain within a month. True to his word a Coffee.club website was up and taking orders before the end of November - and this week customers began receiving their first shipments from the new company.

Seeing a new business go from the registration of a domain name to creating a website to packaging and delivering a product this quickly is like seeing a sports car go from 0 to 60 in a split second. It just doesn't happen - but in this case it did.

Bill McClure
Coffee.club Founder

Coffee.club will serve as an excellent test case for how well a business built on a new gTLD can do. Will customers be confused when trying to find the site? Time will tell. Will there be a problem with search engine ranking? Time has already told. Here in Tampa Coffee.club comes up on the first page of Google's organic search for "coffee club" (and that's without the parenthesis which narrow a search).

Barely six weeks after Bill McClure bought the Coffee.club domain name customers began receiving shipments from a fully developed business built on the domain.

At first glance, as a coffee lover with a 6-month subscription that just started, I certainly like the business model. Coffee.club lets you choose your favorite roasts (light, medium or dark) of gourmet beans sourced from some of the world's top growing regions, as well as how often and how many 13-ounce bags you want shipped.

More importantly, I also like the coffee. I have always been a dark roast fan (before my first box from Coffee.club arrived I already had a half dozen different kinds of beans in the house, all dark roast except one). Still I wanted to try both so ordered bags of medium and dark.

As I expected the dark was my

favorite and it was exceptionally good. I think the improvement over the already good coffee I had in the house can be attributed to the fact that the Coffee.club beans were roasted just days before I ground the beans. Most of what you get from retail outlets is several weeks or months old. That is why it is so hard to duplicate the great cup of coffee you get in a good restaurant when you make it at home.

So, Coffee.club will be an interesting story both from a domain and general business perspective. Bill has an exact match domain, an excellent product that he knows inside out and he is a great guy to boot, so a lot of people will be rooting for him. It also takes guts to be a guinea pig and he knows, as one of the first end users out of the new gTLD blocks, that he is one - but .CLUB and new gTLDs in general would have a hard time finding anyone better to lead the charge.
(Posted December 18, 2014) To refer others to the post above only you can use this URL: http://www.dnjournal.com/archive/lowdown/2014/dailyposts/20141218.htm
Oversee Out of Conference Business After Selling Domainfest to NamesCon - New Shows in the Offing?
After Oversee.net sold off the last of their high profile domain divisions, DomainSponsor.com, earlier this year (following the 2012 sales of Moniker.com and SnapNames.com) most have expected them to also jettison the Domainfest conferences they have been staging over the past decade (the last of which was held in Hollywood, California last spring).

That has now happened. On Wednesday (Dec. 16), Richard Lau, the founder of the NamesCon that just debuted last January in Las Vegas, announced that NamesCon has acquired Domainfest from Oversee for an undisclosed price. NamesCon promptly re-christened the opening day of their upcoming January 2015 show as Domainfest@NamesCon.

With its rich history, the big question now is whether Domainfest will be given a new life of its own beyond its initial "name for a day" use at NamesCon. It looks as though it will. NamesCon acquired the Domainfest.com name along the with the conference and is already using it to promote NamesCon 2015. On the new home page at Domainfest.com, Lau states that Domainfest day at NamesCon will be "the first in a series of international DomainFest regional events."

NamesCon Co-Founder Richard Lau

If so, that would be a return to the roots of Domainfest which go back to smaller regional meetings in places like Los Angeles and Barcelona. It wasn't until 2007 that the large scale Domainfest Global events began with a show in Hollywood and a new domain in Domainfest.com that Donna Mahony had donated to Oversee (Donna staged her first Domainer's Choice Awards at the second Domainfest Global event in 2008).

With Richard Lau and the entire NamesCon team focused on their upcoming sophomore show, now less than four weeks away, it will probably be awhile before they are ready to release more details on their plans for future Domainfest events. However, given what they have been able to do with NamesCon in such a short period of time, there will be a great deal of interest in the game plan they end up unveiling.
(Posted December 17, 2014) To refer others to the post above only you can use this URL: http://www.dnjournal.com/archive/lowdown/2014/dailyposts/20141217.htm
Giving Back: Escrow.com Golf Tourney with Matching Funds from Go Daddy & the Parsons Foundation Raises $380,000 for Wounded Veterans
For the past three years Escrow.com and Hanna's Restaurant has staged an annual golf tournament in Southern California to raise money for the Semper Fi Fund and America's Fund. These funds provide immediate financial assistance and lifetime support to post 9/11 wounded, critically ill and injured members of all branches of the U.S. Armed Forces and their families, ensuring that they have the resources they need during their recovery and transition back to their communities.

This year's tournament at the Coto de Caza Golf and Racquet Club was staged November 10th (which happens to be the Marine Corps birthday!) and the total proceeds have now been tallied. Escrow.com wound up cutting a $95,000 check to each fund - $190,000 total - and that is only half the story. Go Daddy and The Bob & Renee Parsons Foundation matched every dollar raised - bringing the total to $380,000!

As many of your know, Go Daddy Founder Bob Parsons is an ex-Marine and a long time contributor to veteran related causes. This

year he and Renee's foundation are matching anyone's donation to the Semper Fi fund dollar for dollar up to $5 million. If you want to donate between now and December 31, they will match your donation too.

With non-stop promotion from Escrow.com and Hanna's Restaurant this year's Orange County Supports Our Troops Tournament (OCSOT is a 501(c)3 registered charity) attracted 233 players (with another 75 donors attending the tournament dinner) as well as some big time sponsors including FedEx, Cox, PepsiCo, Bank of America and others.

Above: Among those standing out in the crowd at this year's tournament were (L to R): retired Master Sergeant Davey Lind (Davey is a 20-year Marine veteran who lost both legs during his second deployment to Iraq in 2007 when his vehicle struck an IED), NHL hockey great Teemu Selanne, Escrow.com President Brandon Abbey and Golf Pro Rick Booth.

Below: Escrow.com's Jessica Schirner and Lisa Fikejs were on hand to welcome the more than 200 golfers who helped raise $360,000 for the Semper Fi Fund/America's Fund.

This kind of support for our wounded veterans and their families is, of course, always good to hear about but with it coming in the Season of Giving, it seems especially timely right now. We hope everyone involved and all of our veterans have the happiest of holiday seasons and are richly blessed in the new year ahead.
(Posted December 16 2014) To refer others to the post above only you can use this URL: http://www.dnjournal.com/archive/lowdown/2014/dailyposts/20141216.htm

EasyGroup Does It the Hard Way - Coughs Up Over $21,000 For a Domain 9 Years After UDRP Attempt Failed
A common complaint about ICANN's Uniform Domain Name Dispute Resolution (UDRP) process is that decisions handed down by UDRP panels or individual arbitrators can be wildly inconsistent if not downright inexplicable. A perfect reminder of that came today when we got an interesting domain sale report (more on that in a moment) on the same morning that Michael Berkens published an article at TheDomains.com about a troubling UDRP decision involving EasyTrain.com that went in favor of London's easyGroup Limited.

Judge image from Bigstock

Michael noted that the decision by a lone arbitrator, William R. Towns, appeared to give EasyGroup the right to every domain containing the word "easy" that the company holds now or may decide to trademark at any time in the future.

EasyGroup has claimed the rights to terms like EasyTrain, EasyCar, EasyGym and many others including EasyHotel. That last one brings us to the new domain sale I mentioned above. This morning I got a documented sale report (including a copy of the completed Escrow.com transaction) from Pascal De Vries showing that he sold EasyHotel.ch (a Swiss country code domain) last week for $21,800. De Vries said the buyer, represented by an agent from a negotiating company, was none other than easyGroup IP Licensing Ltd!

But wait a minute. If EasyGroup really owns the rights to EasyHotel, as they claim, why did they cough up so much money to buy this name? It turns out that easyGroup had tried to get this domain from De Vries once before, back in 2005, but not by offering to buy it but by trying to

Cart full of cash image from Bigstock

take it through a UDRP filed against De Vries. The problem was, easyGroup lost that one (for a variety of reasons, including the fact that De Vries had a Swiss trademark of his own on the term).

So, nine years later, easyGroup had to part with some cold hard cash to get the domain. Of course, they may be able to acquire more "Easy" domains like EasyTrain.com through UDRP (this one made easy for them by the fact the respondent never answered the claim) but they can't always count on a slam dunk as they learned the hard way - and as we have seen over the years from decisions that often defy common sense.
(Posted December 15, 2014) To refer others to the post above only you can use this URL: http://www.dnjournal.com/archive/lowdown/2014/dailyposts/20141215.htm
Domaining Europe Set to Return to Valencia, Spain Next Spring
Dates have been set for the 7th edition of the Domaining Europe conference in beautiful Valencia, Spain. Show founder Dietmar Stefitz will oversee the event set for April 23-25, 2015 at the Sorolla Palace Hotel.

The Sorolla Palace, which also hosted the previous conferences in this series, offers a a show rate that is a remarkable bargain - just €70 a night for a double room with single occupancy (€75 for double occupancy). We've stayed there and it is a very attractive modern hotel that is located close to Valencia's many attractions, including its waterfront on the Mediterranean Sea.

The local hop on hop off bus stops at the hotel and is a great way to see the popular resort city that has some of the world's most stunning ultra-modern architecture as well centuries old historical landmarks. It is a great place for a conference which is why many attendees keep coming back year after year.

While the agenda is still be formulated you

Dietmar Stefitz
Domaining Europe Founder

can also expect a diverse program that will feature domain experts and company representatives from around the world. We'll have updates on speakers and specific sessions as those are set leading up to the show.

Some of the attendees at the 2014 Domaining Spain Conference gathered
on the front steps of the Hotel Sorolla Palace in Valencia, Spain for this shot.
(Posted December 11, 2014) To refer others to the post above only you can use this URL: http://www.dnjournal.com/archive/lowdown/2014/dailyposts/20141211.htm
Photos & Highlights from Rightside's Big Day at NASDAQ Friday
This past Friday (December 5, 2014) was a memorable day for the management team at Rightside - the parent company of four well-known domain industry brands - registrars eNom and Name.com, aftermarket sale platform NameJet and new gTLD registry operator Rightside Registry. Leaders from the Kirkland, Washington based company spent the day in New York City where they hosted their first Investor & Analyst Day at the Nasdaq MarketSite, and capped off

the day with Rightside CEO Taryn Naidu ringing the closing bell (Rightside trades in the NASDAQ exchange under the symbol NAME). NASDAQ and Rightside provided some photos from the busy day in the Big Apple.

Rightside CEO Taryn Naidu presenting at the company's Investor & Analyst Day
Friday (Dec. 5, 2014) at the NASDAQ MarketSite in New York City.

Above: CEO Taryn Naidu in front of the NASDAQ video wall
shortly before ringing the closing bell Friday (Dec. 5, 2014).

Below: A wide view of the full Rightside team at the ringing of the closing bell Friday.

Above: A close up view of the Rightside team after ringing the NASDAQ closing bell.

Below: NASDAQ's video wall changes to display Rightside's ticker symbol: NAME

All told eight members of Rightside's management team presented during the day, providing investors and analysts with an in-depth look at how Rightside's new generic top level domains (gTLDs) are being used, how the company's end-to-end vertical integration has positioned it to capitalize on the new gTLD opportunity, and how the new gTLD program is transforming every aspect of the company's business.
(Posted December 9, 2014) To refer others to the post above only you can use this URL: http://www.dnjournal.com/archive/lowdown/2014/dailyposts/20141209.htm
Global Travel & Entertainment Company One Degree World Places Big Bet on New gTLDs - 1st Websites Launched Today
Howard Lefkowitz
Founder & CEO, One Degree World

Las Vegas based One Degree World launched the first of what they say will be hundreds of revolutionary new travel and entertainment partner websites today and all of them are being built on new gTLDs. One Degree World (ODW) is a new company founded by Howard Lefkowitz (the well-known entrepreneur was once President and CEO of Vegas.com) who has put together a management team that includes executives who've worked for some of the world's biggest brands including Wal-Mart, Google, Caesars, Amazon, Travelport, American Airlines and others.

The first ODW sites to go live are:

Lefkowitz said "One Degree World has reimagined and reinvented travel as a unique destination experience within the sites powered by our platform, taking travel beyond Point A to Point B to include what happens after you arrive, No longer will customers have to

search multiple websites to plan their trips, or even their entertainment and activities in their home market for that matter. We've developed patent-pending capabilities for booking everything from an airline ticket and hotel room to VIP table service at a club, restaurant reservations, or a ticket to a college football game, all self- contained for the consumer within each of our partner sites. It's a game-changer for the travel and entertainment industries and this is just the beginning."

All of the ODW sites have corresponding Facebook, Twitter and Pinterest accounts. Links to the social sites can be found on each website. The company said that each of the partner websites will include Guaranteed Best Pricing, Certified Rate Protector™ (Should the rate drop post purchase, for the same dates and terms, the reservation will be rebooked at the lower rate and the difference refunded to the customer. This is automatic and the customer will receive an email about their newly lowered rate and newfound cash) and Curated Content and Reviews.

· In addition the company said partner websites operated by the One Degree World e-commerce solution can orchestrate reservations for:

More than 300 cities

More than 500,000 hotels

Nearly 900 airlines

26,000 tours and attractions

Concert, sports, theme parks and event venues globally

A myriad of restaurants that number in the thousands

Accessibility in 58 different languages and 93 currencies

It is certainly an ambitious initiative and having a proven entrepreneur like Lefkowitz behind it makes the One Degree World launch one that people will be paying close attention to. It will be a major test of how well consumers will receive new gTLD websites.
(Posted December 8, 2014) To refer others to the post above only you can use this URL: http://www.dnjournal.com/archive/lowdown/2014/dailyposts/20141208.htm
...And the Hits Just Keep on Coming! A 7-Figure Sales is Reported for the 3rd Week in a Row
For the 3rd time in as many weeks a 7-figure domain sale has come to light (with the most recent two both uncovered by George Kirikos). George dropped us a note today to report a $1 million sale of QNB.com that he discovered while going through an SEC filing made by Pennsylvania's QNB Corp. (the parent company of QNB Bank). QNB Corp. sold their three-letter domain to foreign bank - Qatar National Bank - and filled the gap by moving their site to QNBBank.com.

Million dollar image from Bigstock

We will be charting this sale in our next weekly domain sales report that will be out Wednesday evening (December 10). It will be the 11th 7-figure sale charted so far this year with four of those coming over the past five weeks.

The hot streak started when we charted the $1,261,000 of Power.com on November 12. A slow week followed by then on November 26 our weekly chart was topped by the biggest sale of the year to day, Z.com at $6,784,000. Then this week we were able to tell you about a deal George alerted us to that has Invest.com changing hands for more than $5 million. We haven't been able to chart that one yet for two reasons - 1) the buyer, while confirming the amount was over $5 million has not released the exact price paid and 2) the domain is still in escrow (perhaps being paid for over time). Now comes QNB.com which can be charted next Wednesday.

It is always good to close out a year with momentum on your side and if this trend continues 2014 will have a nice swan song indeed and leave many excited about the prospects for the new year ahead.
(Posted Dec. 5, 2014) To refer others to the post above only you can use this URL: http://www.dnjournal.com/archive/lowdown/2014/dailyposts/20141205.htm
Worldwide Domain Registrations Still Booming - More than 18 Million Added Over Past Year According to Verisign
Verisign released their latest quarterly Domain Name Industry Brief (.pdf file), covering 2Q-2014 this week and it contained a lot of good news. The operator of the .com and .net registries reported that 18.6 million domain names across all extensions have been added since the end of the same quarter a year ago - a healthy 7.2% year over year jump.

That brought the total number of domain name registrations worldwide to over 280 million. 4 million domains were added in the 2nd quarter alone, a 1.4% boost from the previous quarter.

Percentage-wise, the country-code top-level domains (ccTLDs) performed even better than the market as a whole, growing 11.5% year over year to a total of 129.3 million domain names.

Verisign's .com and .net TLDs also continued to grow. The two extension, combined, totaled 128.9 million at the end of 2Q-2014, 3.7% higher than one year ago. .Com, the world's most popular extension, accounted for the bulk of those with 113.7 million registrations. .Net stood at 15.2 million domains making it the 4th most popular in the world. Tokelau's .tk (which is given away free) was #2 and Germany's popular cctLD, .de, #4. China's .cn rounded out the first five (up two notches from the previous quarter, pushing Great Britain's .co.uk down a notch to 6th and .org to 7th).
(Posted Dec. 4, 2014) To refer others to the post above only you can use this URL: http://www.dnjournal.com/archive/lowdown/2014/dailyposts/20141204.htm
TLD Registry to Present World's First Masterclass on Booming Chinese Domain Market at NamesCon 2015
With the 2015 NamesCon conference less than six weeks away major elements of the show's agenda are rapidly falling into place. Today TLD Registry, the owner/operator of the Dot Chinese Online (.在线 ) and Dot Chinese Website (.中文网 ) top level domains, announced they will present a Chinese Domaining Masterclass lecture series taught by TLD Registry's Simon Cousins and Jin Wang that will run over all four days of NamesCon. The 2nd annual show opens on Sunday, January 11 at the Tropicana Hotel in Las Vegas where it will continue through Wednesday, Jan. 14.

The purpose of the Masterclass (which will repeat sessions multiple times throughout the conference to make it easier for everyone

to attend) is to educate predominantly western domain name investors about the large and expanding domain name market in China, and how those investors can invest in Chinese Internationalized Domain Names (IDNs) without knowing a word of Chinese. The lecture series, comprised of four separate sessions, will be offered every day, both in the main conference track and in a dedicated Masterclass classroom.

NamesCon co-producer Jothan Frakes said "We believe that the Chinese Domaining Masterclass will be a huge asset for NamesCon, in terms of delivering something unique, educational, and valuable for the participants." NamesCon registrants who attend at least three of the four Masterclass sessions will be given their own binder copy of the entire comprehensive curriculum.

China image from Bigstock

Instructor Simon Cousins said, "We are proud of the work that our expert team has put in to creating this one-of-a-kind curriculum. We believe that this unique resource will close the language barrier between English and Chinese, and help domain name investors to build successes in China's largely-untapped market."

Simon's fellow instructor Jin Wang added, "The 100-page complete curriculum contains everything taught in the Chinese Domaining Masterclass, and more. It's the only guide available right now that teaches westerners how to invest in Chinese domain names, which is quite important, considering nearly a quarter of humanity is Chinese."

A pre-reservation list will be made available for those who want to sign up beforehand to secure a seat for any session in the 48-person presentation room. The first session of the Masterclass will take place on Sunday, January 11, in the "Whoisology Room" on the first floor of the Tropicana from 4:40pm–5:40pm. On Monday, January 12, a panel entitled "Doing Business in China" will be held in the "Famous Four Room" from 11:50am–12:50 p.m. with a TLD Registry sponsored box lunch immediately following. All other sessions of the Masterclass will be held in the Ashton Room 2 on the second floor of the Tropicana. Again, as noted earlier, repeat sessions will be offered every day of the conference.

One other note today. Our congratulations to Mike Sallese won won the drawing we held for a free six-month membership at Coffee.club - the new gourmet coffee subscription service that Bill McClure

launched over the Black Friday/Cyber Monday Weekend. The win means Mike will have nearly 20 pounds of gourmet coffee (worth over $300) delivered to his door over the next six months.
(Posted December 2, 2012) To refer others to the post above only you can use this URL: http://www.dnjournal.com/archive/lowdown/2014/dailyposts/20141202.htm
---
If you've been out of the loop lately, catch up in the Lowdown Archive!
---
We need your help to keep giving domainers The Lowdown, so please email

[email protected]

with any interesting information you might have. If possible, include the source of your information so we can check it out (for example a URL if you read it in a forum or on a site elsewhere).
---
Home Domain Sales YTD Sales Charts Latest News The Lowdown Articles
Legal Matters Dear Domey Letters to Editor Resources Classified Ads Archive About Us