The Lowdown


Februar

y 2015 Archive

Subscribe to our RSS Feed

Here's the The Lowdown from DN Journal,
updated daily to fill you in on the latest buzz going around the domain name industry.

The Lowdown is compiled by DN Journal Editor & Publisher Ron Jackson.
South Florida Domain Pros Get a Preview of THE Domain Conference Coming to Fort Lauderdale Next Fall
The South Florida Domain Pros (SFDP) trade association held a meeting last night at the Hyatt Regency Pier Sixty-Six Hotel in Fort Lauderdale, Florida. We drove over from our home base in Tampa for two reasons - 1) to see our industry friends based on the southeast coast of the Sunshine State, an area some view as the epicenter of the domain investment world, and 2) to get a closer look at the Pier Sixty-Six Hotel where Howard, Barbara and Ray Neu will be staging the debut edition of THE Domain Conference (TDC) September 26-29, 2015. TDC sponsored the SFDP dinner meeting to provide members a preview of what they will be experiencing at the same location next fall.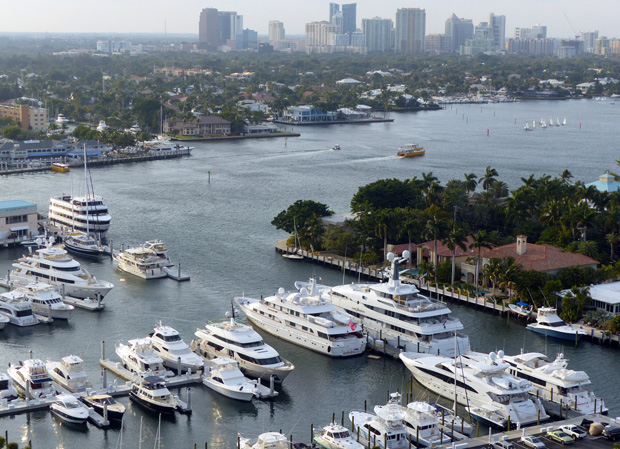 As soon as we arrived at the Hyatt Regency Pier Sixty-Six we headed to the top of the 16-story hotel that provides a spectacular view of the surrounding area. The shot above is looking west across the yacht basin on the Intracoastal Waterway to the Fort Lauderdale skyline. Below you see the view looking east toward the Atlantic Ocean.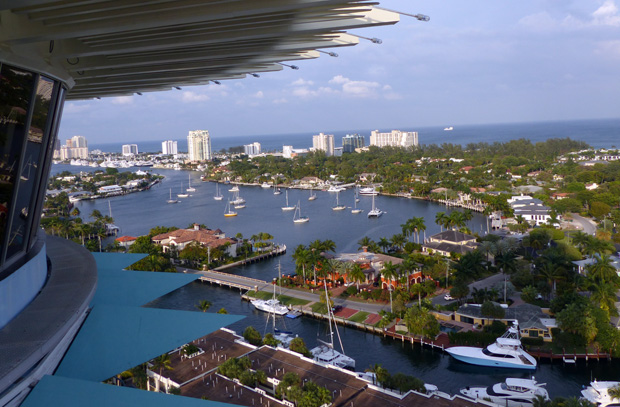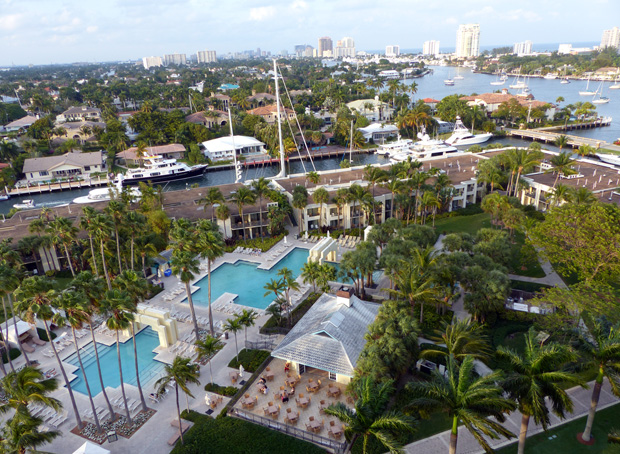 Above: An overhead view of the pool area at the Pier Sixty-Six where cabana networking will kick off THE Domain Conference on September 26, 2015.
Below: THE Domain Conference Founders Howard Neu, Barbara Neu and Ray Dillman Neu at the impressive Pier Sixty-Six Hotel just before the South Florida Domain Pros meeting they sponsored got underway last night.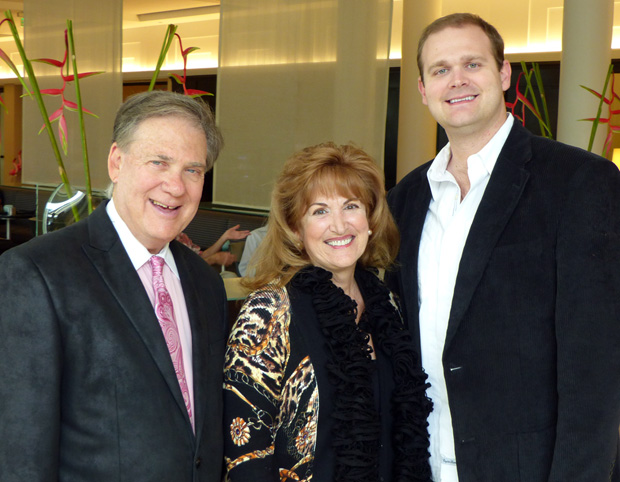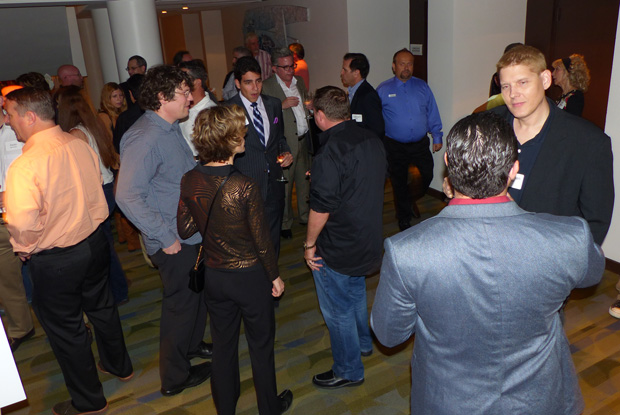 Above: The first of approximately 80 attendees to arrive for the South Florida Domain Pros meeting get the networking party started. Guests came from as far away as California and Canada!
Below: Domain Holdings Co-Founder John Ferber likes what he sees at the buffet table!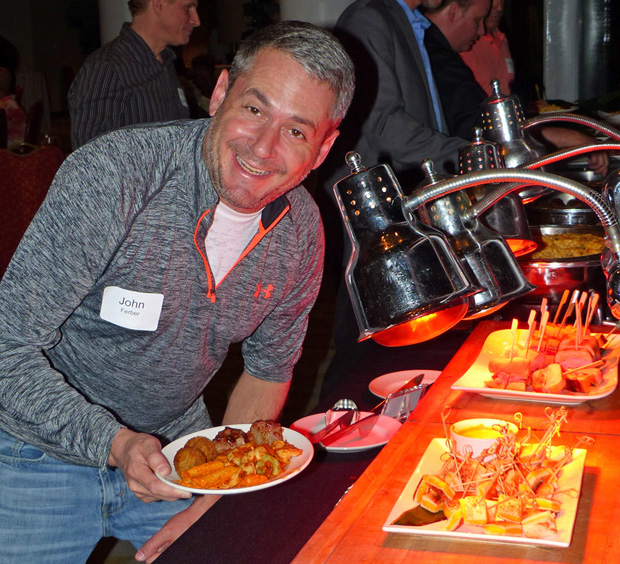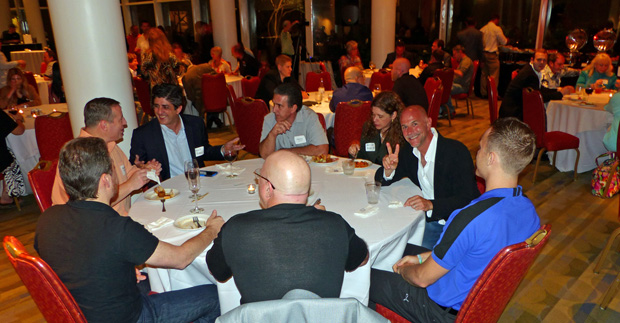 Above: SFDP guests filled the Windows on the Green room at the Hyatt Regency Pier Sixty-Six Hotel where they enjoyed dinner and listened to talks from Howard Neu (THE Domain Conference), Fred Mercaldo (City Brand Media) and Ron Jackson (DNJournal.com).
Below: City Brand Media Co-Founder Fred Mercaldo came in from Scottsdale, Arizona to fill attendees in on the exciting things his company is doing in the geodomain space.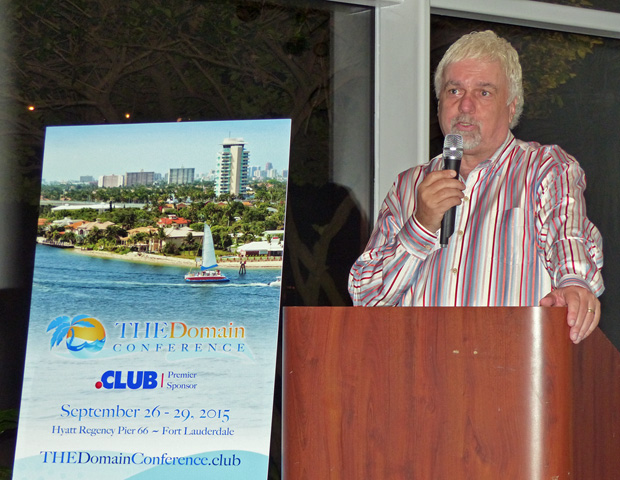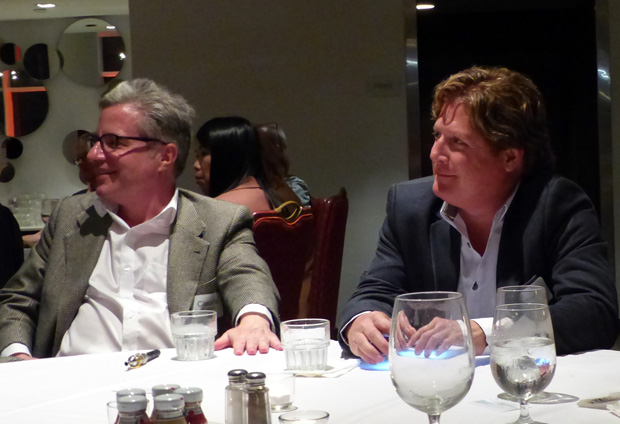 Above: Claude Dauman (left) from Domains90210.com and Michael Castello (CCIN.com), both visiting from California, listen to speakers at last night's SFDP meeting in Fort Lauderdale. (Photo above and below by Scott Ross).
Below: DNJournal's Ron Jackson filled guests in on some of the latest trends in domain sales, monetization, development and new gTLDs.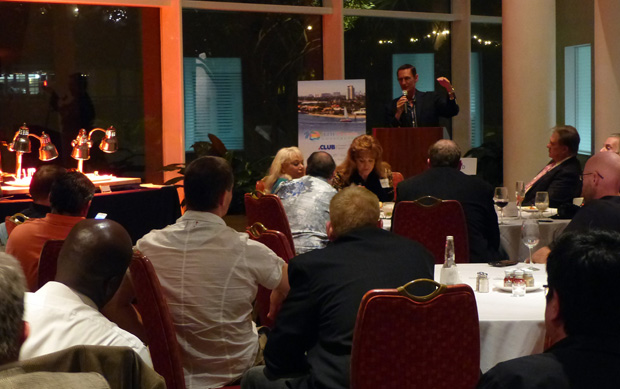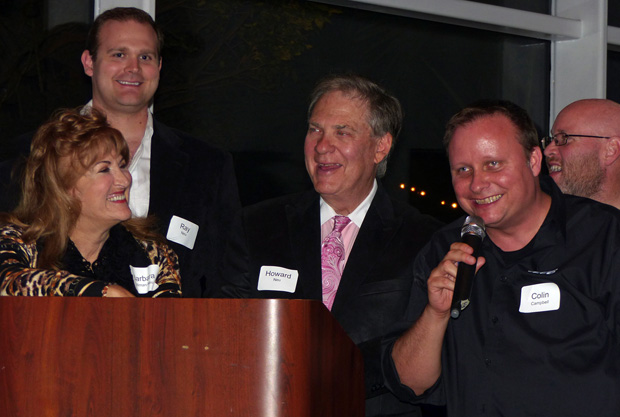 Above: The Neu family introduced .CLUB Chairman and Founder Colin Campbell (right) whose company is the premier sponsor for THE Domain Conference. The Neus also announced a special launch discount code - good through tomorrow (February 28) - that will allow anyone to buy a ticket to the debut conference in September for just $299 (the regular price is $499). To get the deal go to the show website and enter SFDP15 in the Promo Code field. That's a great price for what is shaping up to be an outstanding event at a fabulous venue and it includes daily lunches and all conference parties.
Below: Special thanks to the "Founding Caretakers" of the South Florida Domain Pros trade association (left to right): Scott Ross, Tracy Fogarty and Victor Pitts, whose hard work got this groundbreaking organization off the ground. They were all on hand to greet members and guests last night and make sure the event was a productive and enjoyable one for everyone on hand. Scott, Tracy and Victor also wanted to thank the group's first year-round sponsor, Bruce Marler (LocalTek), who is going to take over administration of the SFDP website.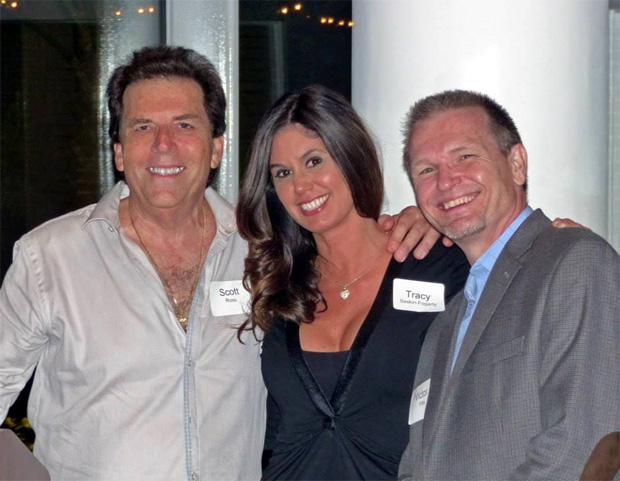 The SFDP meeting gave us a lot to look forward to when THE Domain Conference sets up shop at the Hyatt Regency Pier Sixty-Six less than seven months from now. See you in September!
Sales Boom at DomainHoldings Apt to Continue with Names Like HongKong.com, Taiwan.com & Give.com Added to Inventory
Domain Holdings released their full 2014 sales results (and 4Q-2014 results) Monday, reporting just under $31 million in sales last year. Their quarterly sales breakdown mirrored a trend of exploding high end .com sales that we watched unfold as the year progressed. After opening 2014 with a little over $3.3 million in Q1 sales business went through the roof at DH with nearly $10 million in sales reported in each of the next two quarters before they closed the year with over $8 million in Q4 - with the number of individual domains sold increasing every quarter throughout 2014.

DH Managing Director Alan Dunn, who authored the 2014 report, credited the big gains registered over the last three quarters to "a much higher quality of exclusive inventory for sale including many owned by corporate clients never listed for sale before." The report noted some recently acquired exclusive listings that could easily propel their numbers even higher

Alan Dunn
Managing Director
DomainHoldings.com

in 2015. It is not hard to imagine domains like HongKong.com, Taiwan.com and Give.com each selling for more money than DH booked for the entire opening quarter of 2014.

While nearly 77% of DomanHoldings sales came from .com domains Dunn said the company is also seeing sales in new GTLDs, premium .COs and strong country code domains. Two countries,

USA/China graphic from Bigstock

the U.S. and China, are accounting for the vast majority of their sales, further underscoring another major trend in 2014 - breakout buying from China- based companies and private investors. In 4Q-2014, the U.S. accounted for just over $4.2 million in DH sales while China generated over $2.4 million. No one else was even close with all other countries combined adding $1.4 million.

Aside from the always interesting numbers, I really like the new layout in the DH report that combines concise, right to the point text with

easy to read but highly informative graphics. It is a breeze to digest, a welcome change from traditional corporate sales reports. You can see what I mean and review some more interesting data here.
NamesCon 2016 Tickets Just $199 Through Feb. 28 + Last Call for South Florida Domain Pros!
The NamesCon conference will be returning to the Tropicana Hotel in Las Vegas January 10-13, 2016 for the third edition of the big event. One thing that has helped NameCon grow like wildfire has been the co-founders vigorous promotion of the show year round, not just in the few weeks leading up to it. They are doing it again by not only getting their 2016 dates out there 11 months ahead of time but also kick starting ticket sales with a near giveaway price through Saturday, Feb. 28, 2015. Register before the deadline and it will cost you a mere $199 - $800 off what it will cost at the door!

NamesCon will again utilize the Domainfest brand (that they acquired from Oversee.net late last year) for the first day of the show (January 10, 2016) but it a unique new way - as part of an expanded offering for conference exhibiters. On that Sunday a one-day only Domainfest Meetery will be held from Noon to 6PM. It will open up a special opportunity for companies that don't want to man a booth for the entire show but still want to be able

to meet with all of the attendees. Approximately 30 small or high top tables will be set up for exhibiters with space for two retractable banners at each table. These will be the only sponsor exhibits that day giving the Meetery event a special flavor of its own.

A second option for sponsors seeking more face time with attendees will be a major expansion in the number of high top tables available in the Exhibit Hall for use Monday through Wednesday. This year there were six but at the 2016 show 15-20 will be available depending on demand. Of course, there will also be the traditional option of 10-foot wide exhibit booths that will be open Monday through Wednesday.

NamesCon Co-Founder Richard Lau said the conference will again have three big session rooms that open onto the Exhibit Hall, with two classroom/workshop rooms added to the mix to accommodate the show's ambitious multi-track agenda.

While NamePros continues to gear up for 2016 it look like our friends in South Florida who will be hosting a meetup in Fort Lauderdale Thursday evening, Feb. 26 (that we first told you about a couple of weeks ago) now have a mini-conference on their hands! Maybe it is the frigid weather up north or just the good company, but well-known industry folks from around the country (and even out of the country) are flying in for the

South Florida Domain Pros (SFDP) get together at the Hyatt Regency Pier 66 Hotel (scheduled to get underway at 6:30pm).

Sedo super broker Dave Evanson is coming in from Boston, Frank Michlick from Montreal and some of our favorite folks from the geodomain world will be there too including, among others, Michael Castello (California), Fred Mercaldo (Arziona) and Jessica Bookstaff Doppelt (Tennessee). At this rate someone may have to make a motion to rename the group North American Domain Pros!

Fred Mercaldo will not only visit, he will also address the meeting, filling in attendees on his exciting new City Brand Media partnership. I will be speaking briefly as well, as will THE Domain Conference Founder Howard Neu whose new show is sponsoring the SFDP dinner. Howard, his wife Barbara and son Ray will be hosting their debut conference at this same picturesque Pier 66 Hotel September 26-29, 2015.

View from the top of the Hyatt Regency Pier 66 Hotel in Fort Lauderdale, Florida where the South Florida Domain Pros will meet Thursday evening, Feb. 26, 2015 (in the hotel's ground level Windows on the Green room) and also where the inaugural edition of THE Domain Conference will be held September 26-29, 2015.

The SFDP meeting Thursday evening is open to any industry professionals who live in or will be in the area, however since it is a dinner meeting (with dinner provided at no charge) the hotel has to have a head count so they will know how much food to prepare. So, if you would like to come you will need to RSVP - and preferably ASAP as time is growing short (I would recommend doing it now if at all possible or by Tuesday morning at the latest as a courtesy to your hosts that I'm sure will be much appreciated).

To RSVP you can go to the SFDP website, ignore the information about last year's meeting that is still up due to an unavoidable issue, and just fill in the Count Me In! form and submit (ignore the reference on the form to Callaro's Steak House where the 2014 meet up was held). If you are bringing a guest you can enter their name in a box that will pop when you begin filling out the form. This is shaping up to be a great meeting and we hope to see many of you there!

| | |
| --- | --- |
| One other note today, Andrew Allemann at DomainNameWire.com is currently conducting his 10th annual Domain Name Wire Survey, but the window to make your opinions known on a range of key industry questions will be closing Friday (February 27, 2015). | |

The survey, which will take just 5-10 minutes to complete, asks questions related to domain name registrars, new TLDs, parking, domain sales and more. Andrew will share the results with the entire community in March. You can take the survey at this link: https://www.surveymonkey.com/s/dnw2015 .
Flippa.com Expands Offerings with New Premium Domain Brokerage Service
Flippa.com is well-known as a popular platform for selling both developed websites and domain names. The company has also enjoyed success selling high end websites through special attention given to elite properties through their Deal Flow division. Now Flippa is applying the same principal to top tier domain assets with a newly launched Premium Domain Brokerage Service that will operate under the Deal Flow umbrella.

Flippa's Director of Domains, Kevin Fink, announced the new service in a post on the Flippa.com blog today. Fink said those who want to submit their premium domain inventory for brokerage consideration, or become a premium domain buyer can sign up for the company's weekly digest email that highlight new and exclusively brokered premium inventory.

Fink added that Senior Broker Ali Zandi (who was featured in a DomainSherpa.com interview this week) will play a key role in the new premium sales division. Fink said, "Ali started as a Flippa Seller last July, and made waves early on with some big sales. A few short months later, Ali became a Flippa Domains Super Seller, and many other sellers were asking him to broker their inventory for them.

Kevin Fink
Director of Domains, Flippa.com

If you have any questions about the new service, you are invited to post them to Kevin in the commentary section of his blog post.
Start Spreading the .News - Rightside Acquires One of the Most Attractive New gTLDs
New gTLDs have been getting released at such a fast and furious pace over the past year (hundreds are now live) that it's hard to keep up with them - even if you have a scorecard. Still, in the midst of all of the clutter one really stands out in the crowd from time to time. As a life long reporter I'm sure it won't surprise you that word today of .news being acquired and soon to be offered by Rightside caught my eye.

While none of us knows at this point know how widely any new gTLD will be adopted by end users .news looks to me to be one that could break out of

News image from Bigstock

the crowd in a big way. Everyone is touched by news in one way or another - people want to hear and see it, businesses and organization want to spread it and the web is the most efficient way ever devised to do it.

Another thing working in Rightside's favor is that virtually all of the good news domains in .com are long gone. Pretty much any keyword on any topic of even remote interest, followed by the word News, has been taken (including RemoteNews.com). There are and always will be a lot of entities and individuals who want to share their news with the world and this extension just looks, feels and sounds about as as good as any new extension is going to get. For some reason it doesn't even look new to me - maybe because news is as old as man himself. As soon as Eve arrived on the scene Adam, the first newscaster, started filling her in on what was going on (too bad the part about he apple was left on the cutting room floor!)

The only bad news in Rightside's announcement was that .news domains won't be available until an as yet unannounced date later this year. That will give the company a lot of time to beat the promotional drums though, something Rightside CEO Taryn Naidu began doing today when he noted, "Our acquisition of .NEWS is an exciting opportunity for businesses and news outlets of all sizes to establish themselves as dedicated, reliable sources of current information that is important to their readers and

viewers." As it happens, no one could have made better use of a .news domain than Taryn himself just yesterday when he and wife Oksana announced the birth of a beautiful new baby boy. You see what I mean, their son Emmet is already making news and will for decades to come, making Emmet.news a natural for him. I suspect a a lot of others will see it as a natural for them as well.
Adam Strong Beefs Up NameBio, Elliot Silver Has a New Son & Rick Schwartz Has Gotten Engaged!
We've gotten a lot of good news from some long time friends (and fellow writers) over the past 24 hours - some business and some personal. On the business side, Adam Strong, President at Strong Inc. (and co-founder of DomainNameNews.com) has announced a new strategic alliance with veteran domain investor/developer Michael Sumner that has allowed them to launch what Adam called "a revamped and re-energized website" at NameBio.com. NameBio provides a searchable historic domain names sales database that for nearly a decade has been a valuable resource for domain investors who want to research comparable domain sales.

Improvements at the site include an enhanced mobile experience, more accurate comparable sales on domain details pages, and more than double the number of new sales added daily. The addition of more data has grown the database to a number eclipsing more than $1 Billion in aftermarket domain name sales.

The new website gives users the ability to search for comparable sales by any one of 10 primary categories and more than 250

Adam Strong
NameBio.com

subcategories. Sumner said, "We've keyword parsed and categorized the entire historical data set. For example, a user trying to find comps for a gambling-related domain can now search the Games >> Gambling category rather than searching by keyword for dozens of related phrases, such as casino, poker, blackjack, slots, bingo, lottery, or jackpot." The sites's "pattern search," which allows users to quickly find domains matching popular investment categories such as LLL, NNN, and CVCV, was also improved. Congrats to Michael and Adam on their new advances.

Now to the personal side of things where major congratulations are also in order for Elliot Silver (DomainInvesting.com) and his wife Karen on a new addition to their family - and to Rick Schwartz (the legendary domain investor, T.R.A.F.F.I.C. co-founder and now retired author of RicksBlog.com) and his new fiancée Jun!

Elliot & Karen (in the photo at top left) have announced the arrival of their second child - new son Oliver Mark Silver who was born last week, weighing 5 pounds, 10 ounces when he made his entrance a bit earlier than expected. Both Oliver and Karen are doing well and we're sure their daughter is going to love having a baby brother!

Rick Schwartz made his big announcement to Facebook friends Monday when he revealed he had proposed to the lovely Jun on Friday (the day before Valentine's Day) and she made him a very happy man by saying yes! The wedding date hasn't been set yet but the joyous couple will have plenty of time to mull that over on an upcoming celebratory cruise!

There's is more than enough bad news to go around in this world so we are always delighted to hear such good news on both the business and family fronts for our industry friends and colleagues.

(Posted February 17, 2015) To refer others to the post above only you can use this URL: http://www.dnjournal.com/archive/lowdown/2015/dailyposts/20150217.htm
Goodbye T.R.A.F.F.I.C. - Hello THE Domain Conference! Neu Event Coming to Florida in Late September
Rick Schwartz

Before last fall's 10th anniversary edition of the T.R.A.F.F.I.C. conference was held at Miami Beach, show Co-Founder Rick Schwartz said that event would be his last. After teaming up with Howard Neu to stage the first major domain conference ever held back in 2004 and following it with over two dozen more shows around the world, Schwartz decided it was time to ride off into the sunset and start enjoying the fruits of his labor. Many thought he would change his mind about retirement but it's a safe bet that when Schwartz sold one of his domains, Porno.com, for just under $8.9 million earlier this month, any chance he would put his nose back up against the time consuming conference grindstone evaporated for good.

With his long time partner's mind made up, Neu huddled with his wife Barbara and their son Ray (who have both also played integral roles in staging T.R.A.F.F.I.C. over the years) to make a

family decision on how to proceed. All three love producing the shows and hosting domain industry participants from around the world, so the first decision - to continue doing what they have done so well for the past decade - was an easy one. The more difficult choice was whether to continue calling the show T.R.A.F.F.I.C. even though the Neus had a lot of new ideas they wanted to try, or to adopt a new name to reflect the new direction and honor T.R.A.F.F.I.C.'s place in industry history as a Schwartz-Neu collaboration that changed the fortunes of countless attendees for the better.

(L to R) Howard Neu, Barbara Neu and Ray Dillman Neu

Even though it meant giving up a universally recognized conference brand for their future productions, the Neus (with Rick's blessing) decided to go forward with a new name, a new logo and a new venue for their first solo flight. Allow us to introduce you to THE Domain Conference, an event that will make its inaugural voyage September 27-29, 2015 at the Hyatt Regency Pier 66 Hotel on the Intracoastal Waterway in Fort Lauderdale, Florida. The event will be preceded by two days of poolside cabana networking on Saturday & Sunday, Sept. 26 & 27 with the conference opening on Sunday evening (Sept. 27).

One of the primary things the Neus wanted to do was make their show much more affordable so a lot more people would be able to attend. To that end they managed to get a $109 a night room rate at the beautiful Pier 66 Hotel for September show attendees and have dramatically lowered registration fees which start as low as $499 with discounted group rates and free admissions for sponsors and speakers.

Above: A ground level view of the Hyatt Regency Pier 66 Hotel in Fort Lauderdale, Florida where THE Domain Conference will be held September 27-29, 2015 (with pre-show cabana networking starting September 26).

Below: A spectacular view of the area surrounding the hotel taken from the revolving meeting room at the top of the Pier 66 Hotel. (Photos courtesy of Barbara Neu).

Despite the low cost to attend, THE Domain Conference will still be providing full lunches and parties, along with increased networking opportunities with the return of Speed Networking putting more people face to face with other domain investors, service providers and operators of gTLD registries and registrars.

| | |
| --- | --- |
| Colin Campbell, Jeff Sass and the team at .CLUB (winner of T.R.A.F.F.I.C.'s 2014 Best New gTLD Award), who have proven to be ingenious marketers, are so convinced the Neus have come up with a wining formula they have already signed on as the Premiere Sponsor for THE Domain Conference. While the show has the .com version of their name, .CLUB's role is reflected in the official URL for the inaugural show - THEDomainConference.CLUB. | |

For those who can't wait to see the new conference venue in person, those who will be in South Florida next week will have a golden opportunity to do so. As we reported last week, the South Florida Domain Pros trade association will be holding a meeting at the Hyatt Regency Pier 66 on Thursday evening, February 26 starting at 6:30pm. While it is designed to be a regional event, several industry people from locales across the country will be there. We will be among them and will share a close up look at the new venue with you after we get a chance to explore the premises.

One last note about THE Domain Conference - the capitalized letters in the new name are there for emphasis but they could also be an acronym. There isn't an official one but given the show's South Florida location we are already thinking of it as the Tropical Haven for Entrepreneurs. Acronym or not, THE Domain Conference in many ways represents the Neus coming full circle. When they started T.R.A.F.F.I.C. with Mr. Schwartz it was the first and only domain conference in the world - literally THE domain conference. With T.R.A.F.F.I.C. now a part of our industry's brief but rich history, it seems fitting that if anyone was going to use the name, it would be the people who helped start it all.
Globerunner Releases Updated .COM Vs. New gTLD Google Marketing Test Results and the Winner Is...
Last summer we told you about an interesting .COM Vs. New gTLD marketing test conducted by Bill Hartzer, the Senior SEO Strategist at Globerunner.com. Hartzer's results, detailed in a 27-page white paper, led him to conclude that .com did not have the superiority in a Google

Bill Hartzer, Senior SEO Strategist
Globerunner.com

Adwords marketing campaign that many maight have expected. After seeing .coms fare better by some measures, and new gTLDs better by others, Hartzer said, "We are not totally convinced that one is necessarily "better" than the other."

Hartzer conducted his original study in May 2014 and, wondering how much things might have changed over an 8-month period, he re-ran his tests again last month (January 2015) and has just published the results from the rematch on his blog and in another extensively detailed white paper than you can download at no charge from a link at the conclusion of his blog post.

The bottom line was that the performance of new gTLDs has made further inroads from a search engine marketing standpoint vs. com (the opposite of what we are seeing in the domain aftermarket arena where the .coms seem to have gotten stronger than ever). Hartzer's new tests showed that when comparing the same keyword in .com vs. a new gTLD (i.e.,

3CaratDiamonds.com vs. 3Carat.diamonds) the .com had a 31.76% Conversion Rate vs. 29.11% on .Diamonds in January. In the 2014 test .com won by a much bigger margin - with a 52% Conversion Rate vs. 36% on .Diamonds. As a result Hartzer noted, "the New gTLD is converting just as well now as the .COM" while it cost twice as much to advertise the .com as the new gTLD. So, which would you rather use for a Google AdWords campaign? A .com domain name that costs more, or use a New gTLD domain name that costs less to use, and converts just as well as a .com domain name?"

Most domain investors are gauging the success (or lack thereof) for new gTLDs by their registration numbers and aftermarket sales figures - both of which naturally pale in comparison to .com at this early stage of the game (we are just concluding the first year since new gTLDs started entering general availability). While we don't yet know if buying new gTLDs for resale will be a profitable pursuit, Hartzer's study indicates those more interesting in building online businesses and marketing them through search engines may be the first to reap rewards from well chosen new gTLD names.
Hold the Date! South Florida Domain Pros Set to Meet Again February 26 in Fort Lauderdale
Last spring I told you about a group of industry leaders in Florida banding together to form a professional trade association for their region known as South Florida Domain Pros (SFDP). That such an organization would take root in South Florida came as no surprise as the area has one of the world's highest concentrations of domain aficionados - from individual investors and developers to brokers to registrar and registry operators.

Soon after SFDP was founded the group held their first get together last May in Lake Worth, Florida, an oceanside community in Palm Beach County (the northern edge of what most consider to be the South Florida region). We just got word that they are getting together again in two weeks with a meetup scheduled for Thursday, February 26 in Fort Lauderdale (a more centrally located spot for the region's domain practitioners).

The event in slated to get underway at 6:30pm that evening at the Hyatt Regency Pier 66 Hotel - a property situated in a beautiful spot located at an Intracoastal Waterway marina. If you attended the 2012 T.R.A.F.F.I.C. East conference on Fort Lauderdale Beach, then you are already familiar with the hotel. Though the T.R.A.F.F.I.C. conference was held at the Ritz Carlton, the show's official party was staged in the revolving meeting room at the top of the Pier 66.

Hyatt Regency Pier 66 Hotel - Fort Lauderdale
Site for the the South Florida Domain Pros
next gathering February 26, 2015.
(Photo courtesy of Barbara Neu)

My wife Diana and I will be making the trip across the state from Tampa to see our friends and colleagues from South Florida on the 26th. Other guests may come from as far away as California (one especially well known domain investor/developer who lives there but has Florida roots may be able to get into town for it). While more details on the meeting will be forthcoming soon (all we have is the date and location at this time) you can bet it will be a great mix of interesting and accomplished people that you would enjoy getting together with if you live in or will be visiting that part of the country. We will pass along more information when it becomes available and you can also keep an eye on the SFDP web page which should be updated with full details before the week is out.
HA's Live Domain Auction in New York Today Produced Nearly $1 Million in Sales With 3 Names Reaching 6 Figures
Heritage Auctions staged their latest premium domain auction today in front of a live audience at the Waldorf Astoria Hotel in New York City. The auction was limited to 29 hand picked lots with nearly half of those being sold. The 13 successful lots produced a total of $984,965 (including a 15% buyer's premium) according to results tabulated by OnlineDomain.com.

Three of those lots hit six figures with NL.com easily leading the way at $575,000. Classic.com was next at $172,500 followed by 8.co at $115,000. We will be charting those sales once the high bidders have made payment and the names are transferred to the new owners.

Waldorf Astoria graphic from Bigstock
Clock Winding Down on Radix's Premium New gTLD Domain Auction at the Above.com Marketplace
A new gTLD premium domain auction at the Above.com Marketplace entered its final 14 days today. The Radix Registry contracted with Above to have them conduct a sale of 53 previously reserved domains in Radix's .WEBSITE, .HOST and .PRESS TLDs that opened January 12 (you can see the full auction inventory here).

Prior to this auction the registry had these domains priced for registration at premium fees, which the same high fee due upon each renewal. To make this sale more attractive, Radix has modified their usual premium price structure for the domains being offered including lowering renewal fees to the standard cost charged for non-premium domains. In addition to lower reserve prices they have also set Buy It Now prices for those want to bypass the auction process.

The lots include Discount.website, DedicatedServers.host, Juegos.press ("games" in Spanish) and some sets of matching singular/plural domains like Smartphone.website/Smartphones.website, to name just a few. The auction concludes on February 20, 2015.

Auction image from Bigstock
The Largest New gTLD Registry Operator - Donuts - Reaches Their 1st Anniversary With Over 1.2 Million Domains Sold
Donuts Inc., the largest operator of new gTLD registries with more than 150 extensions now live (and dozens more coming) is celebrating their 1st anniversary today. The Bellevue, Washington based company marked the occasion by reflecting on what they have accomplished in their first year of operation - one highlighted by selling over 1.2 million domains across their wide variety of TLDs. That gives Donuts almost a third of all new gTLD registrations made to date.

By the time ICANN is through delegating new strings in the first round of the governing body's new gTLD program Donuts expects be end up operating about 200 extensions. So far their biggest hits have been .GURU (with 80,584 registrations), .PHOTOGRAPHY (51,431) and .EMAIL (48,031). Their Registrants are widely dispersed geographically, with United States

customers most active, accounting for 48% of their registrations. The U.S. is followed by Germany (12%) and the United Kingdom (11%).

Donuts CEO Paul Stahura

Donuts CEO and Co-Founder Paul Stahura said, "We've built a foundation to create vibrant online communities that drive commerce, participation, communication and the exchange of information. As we promised early last year, there's now a relevant, specific domain name for everyone, promising the ability to identify products, services, communities, companies and organizations."

Donuts recently launched .WORLD into general availability and tomorrow (Wednesday, Feb. 4, 2015) will make .ENERGY and .DELIVERY open to any registrant. Also in the pipeline toward general availability are .COACH, .MEMORIAL, .LEGAL, .MONEY and .TIRES. Those extensions are currently open only to trademark holders but will open to all registrants by the end of March.

Donuts is reportedly ready to apply a full court press in support of their TLDs with a major increase in marketing expenditures this year. During a talk at last month's NamesCon conference in Las Vegas Executive Vice

President Daniel Schindler said Donuts (and other new gTLD registries) would be ramping up promotional spending in 2015 to raise public awareness of the many new options available in the Internet namespace.

Donuts Co-Founder and Executive Vice President Dan Schindler speaking
at the 2015 NamesCon conference last month in las Vegas.

(Posted February 3, 2015) To refer others to the post above only you can use this URL: http://www.dnjournal.com/archive/lowdown/2015/dailyposts/20150203.htm
Biggest Domain Sale in 5 Years Rung Up By Rick Schwartz - Porno.com Brings $8,888,888!
"Domain King" Rick Schwartz has done it again! The pioneering domain investor and co-founder of the T.R.A.F.F.I.C. conference has closed the sale of Porno.com for just under $8.9 million - $8,888,888 to be exact (Schwartz has always been a numbers guy and, you have to admit, that string looks pretty good)!

That is the biggest cash domain sale since Sex.com in 2010 and will rank as the 4th highest sale reported since we started tracking the domain aftermarket back in 2003 (you can see the current top 20 here - Porno.com will be added after we officially chart the sales in our weekly domain sales report Wednesday, Feb. 4). The shorter form of Schwartz's domain, Porn.com is the 3rd highest sale on the list - having changed hands for $9.5 million in 2007. As Michael Berkens reported at TheDomains.com, the buyer was a Prague-based company that already owns several premier adult domains (they paid promptly through Escrow.com who told Michael this was the biggest single domain sale the company has ever handled).

Rick Schwartz

In a copy of a press release that Schwartz sent us (that had not yet gone out to the wire services) he noted that he had purchased Porno.com for $42,000 in 1997 from a college student that has purchased it just a week earlier for $5,000. In addition to the nearly $9 million he made from the sale, Schwartz said he had earned over $10 million from the domain since 1997 by simply redirecting traffic to actual adult sites or monetizing via domain parking.

This is the 5th time Schwartz has closed a publicly-disclosed seven-figure domain sale with Porno.com joining Property.com ($4 million + 5% equity in 2009), Candy.com ($3 million + 12% equity in 2008), eBet.com (for $1,365,000 in 2013) and his first one at this level - Men.com (at $1.3 million in 2003). While Schwartz has booked some of the biggest sales in industry history, he is not a frequent seller, having let only 20 domains go over the 20 years he has been in the business.

This may not be the last big sale you see from Schwartz in 2015. He said he plans to sell domains like 399.com, 750.com, 899.com and 12 other 3-number domains that are in high demand in China. Michael Berkens sold 345.com just last month for $800,000. Schwartz said business owners should "Use an easy to remember and easy to spell domain name and never settle for anything without .com on the end unless you use your local country code. But even then, having the .com counterpart is very important."

Schwartz has been providing business advice about domain names since 1996. His site eRealEstate.com, circa 1996-2000, still has his original thoughts from an era when only 5% of businesses were online with a web presence. He also ran RicksBlog.com until June 2014 (when he decided it was time to finally slow down and enjoy the fruits of his labor in semi-retirement). His extensive writings about business and domains are still there for all to read.

Rick Schwartz speaking at the 10th anniversary edition of T.R.A.F.F.I.C. at the Fontainebleau Hotel on Miami Beach (Oct. 31, 2014). Rick made his last industry appearance at the show before going into semi-retirement.
(Posted February 2, 2015) To refer others to the post above only you can use this URL: http://www.dnjournal.com/archive/lowdown/2015/dailyposts/20150202.htm
---
If you've been out of the loop lately, catch up in the Lowdown Archive!
---
We need your help to keep giving domainers The Lowdown, so please email editor@dnjournal.com with any interesting information you might have. If possible, include the source of your information so we can check it out (for example a URL if you read it in a forum or on a site elsewhere).
---
Home Domain Sales YTD Sales Charts Latest News The Lowdown Articles
Legal Matters Dear Domey Letters to Editor Resources Classified Ads Archive About Us