The Lowdown
December 2016 Archive
Subscribe to our RSS Feed

Here's the The Lowdown from DN Journal,
updated daily to fill you in on the latest buzz going around the domain name industry.

The Lowdown is compiled by DN Journal Editor & Publisher Ron Jackson.
With New Owners Onboard NamesCon Ready for Record Breaking 2017 Event in Las Vegas
The 4th annual edition of NamesCon, the domain industry's biggest event for domain investors, developers and service providers, is almost here. The big show will be held January 22-25, 2017 at the Tropicana Hotel in Las Vegas with as many as 1,500 attendees expected to be on hand.

A lot has happened since the 2016 conference - most notably World Hosting Days (WHD) purchasing NamesCon, with WHD and NamesCon then both being swallowed up by GoDaddy as part of their acquisition of Host Europe Group (HEG owned WHD).

To find out how being part of the GoDaddy/HEG/WHD empire would affect the upcoming show - as well as NamesCon in the long run - I connected with conference Co-Founder Richard Lau to get the lowdown.

"It's been an amazingly easy transition,"
Lau began. "The NamesCon team has been expanding over the past few conferences. Terri Potratz is doing even more than ever and has been continuing to take on more of what both Jothan Frakes and I were doing in the initial years."

Richard Lau
NamesCon Co-Founder

"With the change of ownership, we were told that World Hosting Days would come in as a supporting role and true to their word, that has been exactly what has taken place. We have a strong team here with Shallom, Stephanie and Terri all working from our Vancouver office and as you can expect, our on the ground team swells to over 30 staff in Las Vegas during the conference. We will also have team members from WHD coming over from Germany so it's an opportunity for everyone to meet new faces!

Regarding GoDaddy's blockbuster acquisition of WHD's parent company Lau said. "As much as I am immensely proud of what we have built in the last three years, honestly, I highly doubt that NamesCon was really playing into the asset mix when GoDaddy was looking at World Hosting Day's parent company. I would guess that GoDaddy will leave WHD and thus NamesCon to run completely independently. As the saying goes, if it ain't broke....

!"

2016 NamesCon attendees begin filling the Conference Center
at the Tropicana Hotel in Las Vegas for the start of last January's show.

NamesCon certainly doesn't appear to need "fixing". The event has gotten bigger and better every year and Lau said that will be true of 2017 as well. "We have streamlined the agenda with clear start times, more seating, with an aim for a smoother flow of talent across the stages," Lau said. "I think our sessions this year were already completely full a month before the conference. With a bursting agenda, we know that you'll want easy access to the agenda and speakers. We'll have a printed conference guide as usual, and we have added a mobile app this year. It's available in both the iOS App Store, as well as in Google Play, and it will be an indispensable tool that everyone will need to download this year in order to get the most out of the conference."

A scene from NamesCon's busy Network Lane on opening day at the 2016 show.

Asked about some of the specific sessions he is especially excited about, Lau noted, "The conference kicks off Sunday (January 22, 2017) at 11am and our Network Lane on Sunday from Noon-6pm will be a hit again. The networking parties set for Sunday night, Monday night and Tuesday night are all different from one-another and are all "can't miss" events. The Executive Round Table on Wednesday (January 25) at 2pm is always a highlight for hearing insights from the industry leaders in a format you don't see anywhere else.

"

After several years of lackluster results at various events, live domain auctions got "new life" at NamesCon last January when the show's sale, conducted by RightOfTheDot.com (ROTD) and NameJet, saw bids totaling nearly $1.5 million with a sale through rate close to 70%. They will be doing it again at the 2017 conference and the positive results from the 2016 auction have convinced owners of some top tier domains to put them on the block January 23rd. "I'm personally amazed at the quality of names coming through," Lau said. "The bar.com package for example is a stop-in-your-tracks opportunity for someone. Monte Cahn (ROTD) and NameJet have done a great job putting the list together and there are a large number of one word category killer domains that will find new homes during the auction at NamesCon.

"

A full house at the 2016 NamesCon RightOfTheDot/NameJet live domain auction.

Lau originally started NamesCon primarily to raise funds for a life-saving charity he is devoted to - the WaterSchool (this year's big WaterNight Charity Gala will be held on Tuesday night, January 24 at the Tropicana). Once the January conference is in the books and he steps back from the role he has played since launching NamesCon in 2014, I asked him about his future plans. "I am hoping to cut back on travel to take a bit of a break from the neck-breaking speed of the past few years," Lau said. "I am still heavily committed to WaterSchool and we are looking at expanding local fund-raising events with an eye to seeing how those can be replicated by volunteers throughout North America and Europe."

Thanks to a group of "super heroes" who volunteered to have their heads shaved to benefit the WaterSchool, some unexpected last minute volunteers, generous donors and matching funds from NameCheap, the 2016 WaterNight Charity Gala at NamesCon raised $115,000 for the life saving organization. Seen left to right after the "deeds" were done are barber Gregg McNair, shavees Omar Ahmed (Uniregistry), Larry Fischer (DirectNavigation.com), attorney Derek Newman, Alan Dunn (NameCorp) and NamesCon Co-Founder Richard Lau (who had his head shaved a few years back at the first WaterNight).

While he is looking forward to his return to "civilian life" Lau is ready to make one more big splash at NamesCon 2017. "It will be the largest commercial domain conference ever, and our goal is still to bring together Registrars, Registries, Domain Investors, Advertisers, IP management and Suppliers to create a networking, learning and co-operative environment," Lau said.

"The support we have had since the very first NamesCon has been humbling. Uniregistry has stepped up larger than ever this coming conference, and you will see their footprint at NamesCon has expanded alongside their tremendous growth in the industry. I'd like to think NamesCon has helped contribute to their success. Uniregistry is our Name Badge sponsor this year, and as many people know, that's a design topic close to my heart."

In closing Lau added, "It is always interesting to attend NamesCon, ICANN

meetings and other smaller meet-ups. We know that NamesCon has become a replacement for many who would otherwise attend an ICANN meeting. We do make our conference easy to get to and affordable for everyone. Every meet-up, meeting and conference has its own personality - at NamesCon we believe we deliver the critical mass of industry movers and shakers at a value proposition that is irresistible to everyone from new-comer to industry vet. We'll see you in Las Vegas!
Merry Christmas, Happy Hanukkah and Joyous Holidays to All of You!
And so another year has flown by! I hope it has been a rewarding one on every level for each of you. On this Christmas Day in the USA I would like to take this opportunity to wish all of our readers, sponsors and friends around the world a Merry Christmas, Happy Hanukkah and Joyous Holidays, whatever the ones you celebrate may be. From Ron, Diana, Piper and Bailey, may your holidays be blessed and the New Year your best ever!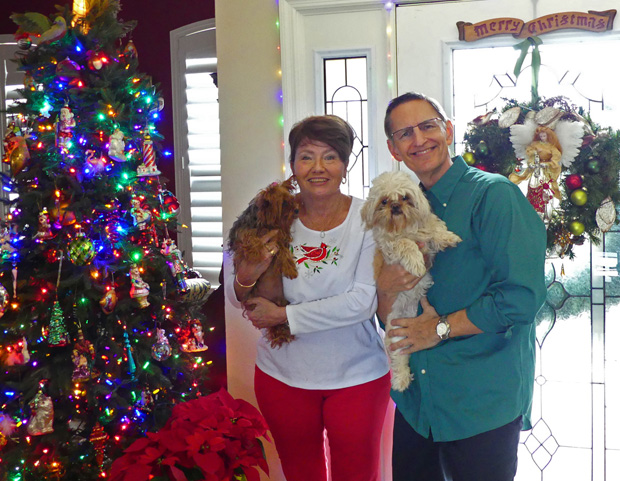 (Posted December 25, 2016)
The Domain Industry Loses Another Pioneer and One of Its Most Colorful Characters - RIP Roy Flanders
I received some sad news tonight when I learned that domain industry pioneer Roy Flanders passed away after a long illness last night on Nantucket Island, Masschusetts where he has lived the past 35 years.

Roy, who has been a successful domain investor ever since getting into the business some 20 years ago, was one of the most unique and colorful characters this industry has ever seen. He studied at Oxford as a Fulbright Scholar and authored a now out-of-print 1986 novel - Nantucket Solitaire - that has become a collector's item (the two copies available on Amazon tonight were listed at $60 each). Given his way with words it's no wonder Roy immediately understood the inherent power of good domain names.

He was a man with a very generous heart. In 2012 he donated $250,000 to the Nantucket Cottage Hospital's Annual Fund. It was a

Roy Flanders

sign of his appreciation for the care he was receiving there and the critical role the hospital played in his tight knit community.

The next year, though he was very weak from battling his illness, Roy ignored his doctor's orders not to travel, got on a plane and flew to Fort Lauderdale, Florida to see his many friends at the October 2013 T.R.A.F.F.I.C. East conference. It was the last time I saw Roy in person and like a lot of others who were so happy to see him when we knew he wasn't well, I wanted to get a new photo with him (I think I also hoped whatever it was that made him so special might rub off on me if I got close enough)!

Roy Flanders (right) with Ron Jackson at the
2013 T.R.A.F.F.I.C. East Conference in Fort Lauderdale, Florida.

Though not up to par physically Roy was clearly energized to be back among so many friends and admirers. When our mutual friend, Rob Grant, relayed the news of Roy's passing to me tonight Rob said, "I think his friends were more important to him than the business - or any domains." No doubt, that was true.

Roy wasn't one to take anything too seriously and he openly joked about his illness and how it was slowing him down. Shortly after the photo above was taken at the opening night cocktail party, noted attorney Ari Goldberger asked me to take a photo of him and Roy together. As I did that, Ari and I were both shocked to see Roy suddenly fall straight backwards and hit the hard terrazzo floor with an audible thud. We were sure he would be seriously hurt. But when we bent down to help him up Roy just laughed about how "clumsy" he had become, got back to his feet and dusted himself off. His doctor would no doubt have had a heart attack himself if he had seen what happened, but Roy wasn't phased in the least, after all the night was still young! He then proceeded to join everyone for a late dinner at a restaurant down the street!

Roy Flanders and Ari Goldberger, just before Roy's pratfall.

Some of Roy's friends started leaving comments on his Facebook page tonight. A common sentiment was expressed by one of his friends in Nantucket, Briegel Silva, who wrote, "We all know that the only thing in life we can be sure of, is that we are going to die. We will never be prepared to lose anyone but we know it will happen. As much as it sucks and hurts there is nothing we can do to stop death. May you rest in peace my pal Roy Flanders and you will never be forgotten! Thank you for being you and for all you have done for me and my family. And I thank God today for me having a chance to tell you exactly what i just said while you were still with us!"

A lot of Roy's domain industry friends didn't get a chance to thank him in the way they would have liked while he was here, but I think Roy knew how much we thought of him and how much we enjoyed being in his company. Farewell for now old friend - we will catch up with you down the line. No surprise, as always, you're several steps ahead of us in everything you do!
GGRG Releases Their Latest Quarterly Report Breaking Down How Liquid Domain Sales Fared in 3Q-2016
In October veteran domain broker and consultant Giuseppe Graziano of GGRG.com launched a new free quarterly report breaking down the sales of a category Giuseppe calls "liquid domains" (those that are relatively easy to sell at prevailing market prices). This group typically consists of short .com domains like those with two to four letters or numbers (there is also interest in 5-number domains).

Graziano's first report covered 2Q-2016 sales. Today he released his second Liquid Domains Market Overview (.pdf file) breaking down 3Q-2016 sales. Graziano found that in the 3rd quarter Chinese buyers continued to be the most active in this category, scooping up approximately 6,000 domains including 15 ultra high end 2-letter .coms, 170 of the 3-letter variety and 5,500 4-letter domains. That resulted in China's market share of these kinds of domains increasing a full percentage point (while US and European owners each lost .2 % and the rest of the world lost the remaining .6%. At this rate Graziano said Chinese owners will hold 50% of liquid domains by the year 2022.

GGRG Founder Giuseppe Graziano

In 3Q-2016 Graziano found $5,092,793 in total reported sales in the liquid domains category. That was down about 35% (minus $2.8 million) from the previous quarter. He noted, "The cause of this might be seasonality, but also the fact that large transactions in the most valuable categories are typically kept confidential. Because of this, we do not have any sales data for LL, NN, NNN, LN & NL. LLLs are the only category that registered a value appreciation over last quarter (+5%), although trading volumes decreased by 50%.

Looking ahead Graziano noted, "Letter domains, which typically have a higher development index, seem to have reached a support level. LLLs and LLLLs have been relatively stable (respectively up +5% and down -4%). We therefore foresee stable prices and a small chance of further downside in the last quarter. While LLs, NNs and part of the NNN group are considered unique assets with separate market dynamics, in our opinion, LNs and NLs appear undervalued because their price is quite low in relation to their scarcity (only 520 domains available) and high development index (29.23% of these domains have been developed)".

Again you can get the complete report here.
The Internet Commerce Association's 1st Lonnie Borck Memorial Award Goes to Attorney David Weslow
Lonnie Borck
President, B52 Media
1969-2016

David Weslow
1st recipeient of the ICA's
Lonnie Borck Memorial Award

The Internet Commerce Association (ICA) has established a new memorial award to honor the late great domain investor and human being Lonnie Borck who we lost much too soon when he passed away from a heart attack at the age of 47 in October. The ICA's Lonnie Borck Memorial Award is meant to honor Lonnie's efforts to help defend the rights of domain name owners.

Once the ICA board decided on how to recognize what Lonnie meant to his many friends, colleagues and the industry itself, they polled the trade association's membership to select the first recipient of the award that will be bestowed at the 2017 NamesCon conference coming up next month in Las Vegas.

When the voting concluded ICA Executive Director Daniel Law announced that the membership selected attorney David Weslow of Wiley Rein by "overwhelming consensus" as the first recipient of the Lonnie Borck Memorial Award in recognition of Mr. Weslow's exceptional efforts in championing the rights of domain name registrants.

Law said, "In particular, David's dedication and persistence in his pro bono representation of Heidi Powell in the HeidiPowell.com dispute demonstrates public minded service that is deserving of this Award. The Award will be presented during the ICA's session on "Most Shocking UDRP Decisions of 2016" that will be staged Monday, January 23, 2017 at NamesCon. It is possible that some of Lonnie's family will be in attendance."

Weslow was named one of Washington DC's "Rising Stars" for Intellectual Property Litigation by Super Lawyers magazine (2013, 2014), and The Legal 500 US 2012 recognized him for his practice "relating to online and emerging technology." He is also frequently interviewed by media outlets fromaround the world for commentary on intellectual property, Internet, and technology law issues, and is a frequent lecturer on these issues.
DomainingTips.com Author Andrei Polgar Lands on Amazon's Best Seller Charts with New Book Wealth Management 2.0
For the past seven years economist and online entrepreneur/investor Andrei Polgar has become well known in our industry for his popular DomainingTips.com blog. Recently he earned additional kudos for a newer project - his One Minute Economics Channel on YouTube that teaches people economics via one minute animations. Now comes an even bigger feather in his cap. Polgar has released a new book, Wealth Management 2.0, that has become a best seller at Amazon in multiple categories.

The 458-page book offers Internet professionals a financial education at an extraordinarily low price. The paperback edition is $12.99 and the instantly downloadable Kindle version is currently just $2.99. The book has hit #1 in Amazon's Personal Money Management category, #4 in the fiercely competitive Personal Finance category and #5 in the equally tough Investing category.

Andrei Polgar
Author of Wealth Management 2.0

In his pitch for the book on Amazon Polgar noted, "If you earn a living online in one way or another (as a freelancer, as an online entrepreneur, as an indie author, as a domain investor, as a bitcoin early adopter, as an online trader, as a website flipper, as an online marketer and so on) or at least generate a significant percentage of your revenue online and want to find out how to manage your money wisely, this book is just what the doctor ordered."

"Throughout my career, I've been involved in a lot of different dimensions of the online world. I've been a freelancer. I've run an outsourcing business. I've invested in domains, offered domain brokerage services and even started an auction platform for domain names. I've started an escrow business, which has been sold to Agreed.com, which was then sold to Escrow.com, and which was ultimately sold to Freelancer.com. I even owned three Web hosting businesses. No matter what it is you currently do online, chances are I've at least dabbled in it."

While Polgar has a wealth of experience to draw from he wants his readers to know there is no magic wand for gaining and maintaining wealth, noting, "Wealth Management 2.0 is not an easy fix, nor is it a sleazy "one size fits all" approach that sounds good but has zero real world applicability. It's a common sense guide which, if used properly, can and will help you enhance your wealth in a sustainable manner."

Polgar added, "Writing the 450+ pages of Wealth Management 2.0 took over two years of blood, sweat, tears and sanity. I'm a perfectionist. I could have launched this book a lot sooner but didn't. It wasn't ready and I wasn't about to put my signature on a product I don't believe in 100%. It is most definitely ready now. Give Wealth Management 2.0 a chance and I'm confident you'll end up agreeing with me!"

To promote the book Polgar is giving away a lot of prizes in a contest at DomainingTips.com (that will end Sunday, December 18). Those include an iPhone 7 from Uniregistry, two NamesCon passes (worth $799 each), three $300/1-year Whoisology plans, one Domaining Europe ticket (650 EUR value), $250 in Escrow.com credit, two annual Efty Growth plans and $100 in credit that can be used for registrations as well as renewals from 101Domain. You can get all of the contest details here.
GoDaddy VP Rich Merdinger Named Interim Chair for The Domain Name Association as Adrian Kinderis Steps Down to Focus on New Duties at Neustar
The Domain Name Association has named GoDaddy's Vice President of Domains, Rich Merdinger, as its Interim Chair. Neustar VP for Corporate Development Adrian Kinderis, who has served as the trade association's Chairman since April 2013, is vacating that role to focus on newly added responsibilities at his company but will still be actively involved in The DNA as Neustar's representative on the Board. Merdinger said, "The DNA will continue focusing on three main priorities: awareness, adoption and access."

"We are at a point in time in our industry when we are seeing an expansion of the domain name space," Merdinger noted. "Marketing agencies and businesses are increasingly adopting domain names as part of their larger, blended branding strategies. As we head into 2017, we'll be driving awareness by sharing new ways that more companies are blending traditional extensions like .BIZ, .COM, .INFO and .ORG with ccTLDs (for example, .AU, .CA, .NL and .UK) and new TLDs like .CLUB, .ONLINE, .ROCKS and .TODAY."

"Our second priority is accelerating adoption by investing in independent analysis that examines the impact domain names have on a brand's organic search engine results and optimization. In 2017, we'll highlight where and how businesses are utilizing domain names as part of their search initiatives."

"The third objective is to ensure the industry is energized to serve the commercial nuances of the industry. In 2017, we are very excited to launch a series of DNA Virtual Town Hall sessions for members that will involve policy organizations and other industry groups. These sessions will be a unique mechanism for members to have access to the efforts taking place to solve the crucial commercial issues facing the domain name industry," Merdinger said.

Regarding Mr. Kinderis's past and continuing service to The DNA Merdinger added, "I have a great deal of respect for Adrian Kinderis and what he has done to get the DNA off the ground and underway. He helped start the DNA and has led the organization for three years, creating a mature organization that is now 46 members strong. Adrian's hard work with Bombora Technologies and its

Rich Merdinger
Interim Chair, The DNA

Former Chairman Adrian Kinderis will continue to serve as Neustar's representative on The DNA Board.

subsidiaries, which includes ARI Registry Services, led recently to his company becoming part of the larger organization Neustar. I was thrilled to accept the invitation to the role of Interim Chair given Adrian's need to take on newly added responsibilities at his company. I am excited at what the future holds and welcome Adrian's strategic counsel as Neustar's representative on the DNA's Board of Directors."

You can read more of Mr. Merdinger's commentary on his new role and The DNA's plans going forward in this post on the organization's blog.
Daina & Morgan Linton Give Fashion Metric a New Name That Fits Their Expansion Into New Markets
After nearly a decade on the domain scene, Morgan and Daina Burnes Linton are well-known throughout the industry. While Morgan first became known as a domain investor and for his popular blog, in recent years he and wife/business partner Daina are more often associated with their Austin, Texas based Fashion Metric startup (one that has attracted well over a $1 million in capital investment with billionaire Mark Cuban among the investors).

In 2012 CEO Daina came up with Fashion Metric's innovative approach to helping consumers find a perfect clothing fit (whether purchasing in stores or online) through data science. Morgan went all in as well as CRO and they have been growing ever since. So much so that they have now outgrown the original concept and are expanding into new markets - a push that has created the need for a new name with a broader perspective. That re-branding was unveiled today when Fashion Metric became Bold Metrics - a company whose interests now reach into virtual reality and sporting equipment (adding VR Metric and Sport Metric to their portfolio alongside Fashion Metric).

Daina told Austin Inno, "We know that the utility and application of body measurements can go beyond apparel, so the name Fashion Metric is kind of narrow for exploring these other areas."

Daina & Morgan Linton
Co-Founders, Bold Metrics

In an interview with Retail Touchpoints Morgan added, "We see the world changing a lot with increased consumer desire for personalization and with the advancements in VR and AR, it's especially exciting to be making an impact in these areas. In addition, the technology provides feedback data based on real-life body measurements to enable brand manufacturers to more accurately design and size their products."

You can learn more about Bold Metrics here.
Rapidly Growing Internet Commerce Association Lands Industry Leader Daniel Law as Executive Director
The Internet Commerce Asoociation (ICA) is a non-profit industry trade association that has been fighting for domain owner's rights ever since its founding in 2006. Still, things have never come easy for the group. Domain investors are used to operating independently so getting them to organize has always been a challenging task, even when doing so would be in their

best interests. However, thanks to the tenacity and commitment of a handful of dedicated board members (who knew the effort was too important to give up) and a 10-year track record of outstanding work on behalf of domain owners by the ICA and its Legal Counsel Phil Corwin, the organization has made major strides in the past year with membership levels hitting new highs.

With that growth has come a critical need to fill an Executive Director position that has been vacant for several years (a result of unavoidable cost cutting measures taken to keep the ICA alive long enough for hoped for industry help to arrive). While the financial battle is far from won, the ICA's growing strength convinced long time industry leader Daniel Law to accept an offer to take the ED position on an interim volunteer basis - welcome news that ICA Board Member and Nat Cohen shared with members today. While this is being called an interim step, if the ICA continues its upward trajectory in membership growth, there is a widespread desire among current members to keep Law (who has already been a long time ICA supporter) in that role and make the position permanent.

Daniel Law
ICA Executive Director

I've known Daniel since he entered the industry as Sedo's Director of English Operations in 2003 and he has a remarkable resume. Sedo hired the U.S. Army veteran (who was also a UN Peacekeeper!) as soon as he graduated from Columbia University in New York City (he enrolled at the Ivy League school after concluding his military service). After nearly 3 years at Sedo, Law became the Co-Founder and COO of NameDrive (a popular domain monetization service) in 2006 and served there for 5 years. In 2011 it was on to another successful start up as Co-Founder, Director and COO at Rook Media AG (another top tier monetization service). Law spent another 5 years with Rook and is now involved with several enterprises including domain registrar Sombrero.de (which he founded) and monetization firm Innovation RPM (where he is Co-Founder, Director and President).

Beyond the resume, Daniel is a highly respected family man and valued friend to people throughout the industry who should be an ideal fit in the ICA's Executive Director role. If you are not already a member I urge you to get on board and help accelerate the ICA's momentum. You will find membership information here (it starts at just $50 a month for an individual membership).

A couple of other notes for you today - including one on filling another some other important roles with a major industry organization. The Public Interest Registry (PIR) - the nonprofit organization that administers the .ORG, .NGO and .ONG TLDs -

is seeking nominations for its Board of Directors. The deadline for nominations is this Sunday, December 11. The positions are compensated at up to $12,000 annually (plus reimbursement of travel expenses) but a solid resume is required. You can get all of the details here.

I also wanted to follow up on a story I told you about a few weeks ago when preparations were underway for an annual charity golf tournament in southern California that benefits wounded U.S. military veterans. The Semper Fi / America's Fund Charity Golf Tournament was staged November 14, 2016 at Orange County's Coto De Caza Golf & Racquet Club with domain industry veteran Brandon Abbey (the former President at Escrow.com who is now a Senior Advisor at Payoneer.com) again helping organize the event.

The final tally of receipts and donations is now in and Abbey told me the tournament raised over $150,000 for the Semper Fi and America's Funds - funds that were doubled to over $300,000 thanks to The Bob and Renee Parsons Foundation (representing the Founder of GoDaddy and his wife) agreeing to match funds raised by the tournament. While that was more than enough good news for Brandon, his four-man team also wound up tying for 1st place in the tournament - making it a perfect day in every way.

One of the teams tied for #1 at the 2016 Semper Fi / America's Fund Charity Golf Tournament November 14 at the Coto De Caza Golf & Racquet Club in Orange County, California included (left to right): Rick Booth, former NHL hockey star Teemu Selanne, Davey Lind and Brandon Abbey.
Payoneer's Plunge Into Domain Escrow Pays an Early Dividend - Trellian Picks Them to Handle Above.com Payments
In early October I told you about global payment services company Payoneer's decision to get into the domain escrow business. Well, it hasn't taken them long to land a major new account. We've learned from Trellian.com President David Warmuz that his company will be integrating Payoneer's online escrow payment solution into its domain name marketplace Above.com (Trellian, a leader in direct search navigation, has also been a long-time provider of popular products for domain investors).

David Warmuz
Trellian President

Of Payoneer, Warmuz said, "Great people, great product and even better pricing, is exactly why we are very happy to have chosen Payoneer. Offering a world-class payment option to our customers is critical for Above.com, especially in this competitive domain marketplace space."

Warmuz noted, "Payoneer's innovative payment platform enables global companies and marketplaces to transfer funds quickly, securely and at reduced cost to more than 200 countries and regions in over 150 currencies. Thousands of companies, including Airbnb, Getty Images and Google rely on Payoneer's payment services."

Scott Reynolds, Vice President of Payoneer's escrow division, said, "We are very excited to have been chosen to handle payments for Above.com. Our philosophy is to create long-term mutually beneficial relationships and we look forward to working together."
NamesCon Swallowed for the 2nd Time in 4 Months - This Time as Part of a $1.79 Billion GoDaddy Acquisition
The big fish keep swallowing the smaller fish and GoDaddy's latest big gulp means the NamesCon conference will have another new owner next year. This comes less than four months after WorldHostingDays (WHD) bought NamesCon - the largest domain industry conference that Co-Founders Richard Lau and Jothan Frakes started in 2014.

Today news came that GoDaddy has entered into a definitive agreement to acquire Host Europe Group (HEG) for €1.69 billion (US$1.79 billion) in a deal that is expected to close in the second quarter of 2017. HEG, the largest privately-owned web services provider in Europe, is a conglomerate that owns WorldHostingDays - and will thus own NamesCon as well when the deal closes. GoDaddy said it will operate these brands independently and invest in their continued growth.

HEG's far flung businesses serve more than 1.7 million customers with especially strong positions in the UK and Germany, including well-known hosting and domain registrar brands like 123Reg, Domain Factory, Heart Internet and Host Europe. HEG will complement GoDaddy's leading position in the US and its fast-growing international footprint.

Image from Bigstock

Blake Irviing
GoDaddy CEO

GoDaddy CEO Blake Irving said, "GoDaddy has successfully expanded its international business to 56 global markets over the past four years. HEG has built an impressive business that generates strong top-line growth, high margins, and industry-leading customer satisfaction. By joining forces with HEG, we accelerate our expansion into Europe with the delivery of a broader range of cloud-based products, built on a single global technology platform, and supported by unparalleled customer care to help small businesses and web designers succeed online."

The 4th edition of the NamesCon conference is coming up January 22-25, 2017 at the Tropicana Hotel in Las Vegas. It has grown in size every year and is expected to set new attendance records again next month. With GoDaddy's clout about to be thrown behind the event the impressive growth we have already seen at NamesCon is likely to accelerate.
Christmas Comes Early for .CLUB, .VIP & .XYZ as First Western New gTLDs Given Full Access to China
It's a happy day for the operators of the .CLUB, .VIP & .XYZ New gTLD registries. After months of steady spadework they have become the first three new gTLD operators to be given an approval from China's Ministry of Industry and Information Technology (MIIT) that will allow that nation's citizens to use local hosts to utilize or build websites on their extensions.

Prior to now, the registries could sell their domains in China but registrants were limited in what they could do with them. The MIIT clearances should provide a nice business boost to three new gTLDs that already rank

Image from Bigstock

among the ten most popular ones (in terms of registrations) among the hundreds that have been launched over the past two years.

Daniel Negari
.XYZ Founder & CEO

.XYZ, who has the most new gTLD registration at more than 6.6 million, will be able to expand their presence in a market that has already accounted for more than a third of their registrations. He Xiaojiang, CEO of registrar Chengdu West Dimension Digital Technology Co, LTD. said, "With the abundance of .xyz websites we will be seeing in China in the near future, we expect our daily .xyz registration volume to grow by a factor of 10, while aftermarket activity and auction sale prices rise dramatically in the coming months.

Under the guidance of Founder and CEO Daniel Negari .XYZ prepared for an expected increase in popularity by implementing its first phase of expansion in the region earlier this year when it opened an office in Beijing. In November Negari went there to meet with Chinese registrar partners and also gave a keynote speech at World Hosting Days. Mason Zhang, XYZ's Business Development Director in China, will lead the company's continuing expansion efforts there in 2017.

CEO Toby Hall
Minds + Machines (.VIP)

.VIP, a TLD that is operated by the Minds + Machines Group (MMX), owes an even bigger share of its success to China with over 90% of their more than 530,000 registration coming from China according to ntldstats.com (that ranks 9th among all new gTLDs).

M+M CEO Toby Hall said, "MIIT approval is a major milestone for MMX and the continued successful development of our dot VIP domain. We share the China domain industry's opinion that regulatory approval will provide for another wave of top-level domain growth in the region. Influential Chinese registrars will now be able to market this select group of approved new gTLDs more actively to the important local Chinese SME end-market for usage. We are deeply honored to be one of only three registries to be approved in this first round of approvals."

Dr. Mao Wei, Board Chairman of ZDNS, MMX's technical partner in China, added this about .VIP, "We believe it has the potential to become one of the most popular, significant top-level domains in China."

.CLUB Is the 5th largest new gTLD with over 880,000 registrations and more than 50% of those have been made in China. Registry Founder and CEO Colin Campbell (who is profiled in the current DNJournal Cover Story) said this about getting the coveted MIIT approval, "The Chinese market is extremely important to us, and we've worked very hard at understanding how the regulatory system there works and how we can work with the government as it evolves."

"We're very proud to be among the first foreign domain name registries approved. While we've already enjoyed some success in China, we now look forward to expanding the reach and popularity of .CLUB to the many businesses and entrepreneurs developing their online presence in China. Being an approved registry opens the door to great expansion for us in the Chinese market."

Colin Campbell
.CLUB Founder & CEO
Natural Born Ninja: When Movie Director Oliver Stone's Website Went Dark Bill Sweetman Saved the Day (and the Domain Name)!
Name Ninja President Bill Sweetman has a well deserved reputation for being one of the domain industry's good guys. In the more than 20 years that he has been a leading domain consultant one of Bill's hallmarks has been jumping in to make sure people who know little about domains are not taken advantage of. He typically does that under the radar with no compensation to himself but once in awhile the beneficiary is someone famous and the words gets around.

An example of that just hit the news yesterday when I came across a story in the Hollywood Reporter about how a fan of famous movie director Oliver Stone had rescued the Hollywood icon's OliverStone.com domain name after the studio it was entrusted to let it drop causing the director's website to dark. That fan turned out to be Bill! When the domain expired it, of course, wound up in an aftermarket auction. When Bill saw it, he reached into his own pocket and won the auction last week for $1,500. He them promptly sent the domain back to a very appreciative Oliver Stone whose classic films

Name Ninja President Bill Sweetman

include Wall Street, Platoon, Natural Born Killers, JFK, and Born on the Fourth of July. His latest effort, Snowden, is in theaters now.

With the news out, Bill (who has also rescued names for people like Freddie Mercury, Phil Collins and even Darth Vader!), provided some more background on how all of this went down in a post on his blog. With the widespread publicity this story is getting he decided to talk about it because people need to know about the danger of letting other people own their personal domain name (or any of their domains for that matter). I've seen close friends in the mainstream business world victimized myself after letting an unscrupulous hosting company or some other third party hold a critical domain name in their name rather than that of their client or customer, so I know this is a message that needs to be heard. As Bill noted in his account, "If that third party fails to renew your domain name, as was the case here, it can be difficult or impossible for you to retrieve the domain name since, legally and technically, you are not the owner and never were."

Oliver Stone
Photo from Bigstock

Oliver Stone did reimburse Bill for the money he spent to get the domain back, but why did he take that responsibility upon himself in the first place? "Here's the thing," Bill said. "I'm a lifelong film fanatic, a former film critic, and I worked as a producer and director in the film industry for many years. I've long admired Oliver Stone's work, especially his fearlessness at tackling controversial subjects. I didn't want this 19-year-old domain to fall into the wrong hands because Universal City Studios had failed to properly safeguard Mr. Stone's domain. At best, Oliver Stone (or Universal) would have been forced to buy the domain name – yet again – off another domain speculator. At worst, the domain could have been held hostage for years and never returned to its rightful owner."

"I also wanted to make sure Oliver Stone's Website was reinstated as quickly as possible so that his bold voice could continue to be heard the world over. Happy Thanksgiving, Oliver!"
The Diary of an Immortal - Mind Bending New Book from Modern Renaissance Man David J Castello Takes Readers on a Wild Ride
The first time I met David J Castello I thought, "now this is a different kind of cat!" It was in October 2006 onboard a party boat cruising Florida's Intracoastal Waterway one evening during a social event at that year's T.R.A.F.F.I.C. East conference in Hollywood. I had first bumped into David's equally engaging brother Michael and after we got to know each other Michael pointed to a table where one guy appeared to be holding court with everyone else listening intently to what he had to say. Michael said, "that's my brother David, you should meet him too."

So, I walked over to the table thinking this guy must really know domains to keep these veteran investors so enthralled. But when I got within earshot I was stunned to hear David giving an engrossing account of key moments in World War II history! I had to look around to make sure I hadn't gotten on the wrong boat - this isn't the kind of thing you normally hear domain people talking about at a domain conference!

Author David J Castello

I was certainly intrigued and after introducing myself learned that David was a man of many passions including World War II history, cigars, music and literature to name just a few. His mother later told me she always thought he would grow up to be a college professor and he certainly could have been a good one. Now, years later, almost all of our readers know David's story well including he and Michael's success in our business with Castello Cities Internet Network as well as David's return to the music industry as manager and drummer with fast rising rock trio BREE who is just back from their latest UK tour - the third there for the band this year, plus a publicity trek David made with the trio's namesake, lead singer, guitarist, songwriter and David's wife, Bree Castello.

Once they got back home to Nashville David decided it was time to put a bow on a project he has been quietly working on for years - a mind-bending novel called The Diary of an Immortal (1945-1959) that was just released today. You can get a copy at Amazon in paperback or as a Kindle download. If you want to get the paperback and have it autographed by David I will give you an address to do that at the end of this article.

The book tells the story of 21-year-old U.S. Army combat medic Steven Ronson, a man who escapes the constant inundation and threat of death in World War Two after he discovers an immortality formula designed for Adolf Hitler during the liberation of the Dachau concentration camp in April of 1945. When Ronson begins consuming the formula himself a series of amazing things happen as his story unfolds.

David told me, "I've been working on it for 20 years and knew it was ready. It first came to me in a dream

that was so bizarre I immediately wrote it down. Over the years, I kept returning to it every time I would have another dream and I felt like I was being taken on a cosmic journey. I began to get very emotionally attached to the characters in my book. Sometimes my dreams were not kind to them, but I went with it. The genre is magical realism such as Steven King's The Green Mile or F Scott Fitzgerald's The Curious Case Of Benjamin Button. If a reader is a fan of that style there is a good chance they will enjoy The Diary of an Immortal (1945-1959)."

"The front cover of my book is the 17th century monastic medical school atop Chakpori Hill in 1900. The back cover is what it looks like today. The Chinese destroyed it during the 1959 Tibetan Uprising. The real reason they were so intent on destroying such a benign structure with artillery is covered in my book. I doubt I'll ever get a Chinese visa again after this comes out!" David laughed.

While this is David's first book writing is nothing new for him. "I wrote my first newspaper article when I was nine and was going to major in journalism at the University of North Carolina in Chapel Hill and I visited the campus. However, Michael and I had a band together and we decided to relocate from our hometown in Boynton Beach, Florida to New York City. Between BREE, CCIN (Castello Cities Internet Network) and The Diary of an Immortal (1945-1959) I've got my hands full and I put up a quick site at www.DavidCastello.com that has links to all three."

Now, as I promised, if you want to get a print copy of the book at Amazon and have it personalized, just send your copy to this address and

BREE performing at Manchester Academy at the end of their latest UK tour. Bree on lead guitar, Mayrk McNeely on standup bass and David J Castello on drums.

David will sign it and have it shipped back to you (now if we could just get him to include that immortality formula!):

David J Castello
c/o Werewolf Publishing
533 Church Street, Suite 356
Nashville, TN 37219

I just got a copy today and am looking forward to diving into it!
---
If you've been out of the loop lately, catch up in the Lowdown Archive!
---
We need your help to keep giving domainers The Lowdown, so please email

[email protected]

with any interesting information you might have. If possible, include the source of your information so we can check it out (for example a URL if you read it in a forum or on a site elsewhere).
---
Home Domain Sales YTD Sales Charts The Lowdown News Headlines
Articles Resources Classified Ads Archive About Us