The Lowdown
January 2019 Archive
Subscribe to our RSS Feed

Here's the The Lowdown from DN Journal,
updated daily to fill you in on the latest buzz going around the domain name industry.

The Lowdown is compiled by DN Journal Editor & Publisher Ron Jackson.
Photos & Highlights From the Final Two Days at the NamesCon Global 2019 Conference in Las Vegas
The NamesCon Global 2019 conference concluded a successful 6th annual run at the Tropicana Hotel in Las Vegas Wednesday afternoon, January 30. The four-day event that drew domain investors, developers and service providers from around the world got underway on Sunday, January 27 (you can see the opening day photos

and highlights here). NamesCon Global continued with another full day (and night) of activity Monday, January 28 (our day 2 photos and highlights are here). The big show then sprinted to its conclusion with another very full day and night Tuesday, January 30, followed by the lone event that brought the curtain down Wednesday - a two-hour roundtable brunch with industry experts. In this article we have the photos and highlights from the final two highly productive and entertaining days for you.

Above: The business day Tuesday (January 29) began with an excellent panel discussion titled Data Rules that detailed how the domain industry leaders on the dais use data to improve their businesses. The panelists included (left to right): Pinky Brand (RegistryOffice.com), Bhavin Turakhia (Directi, Flock & Radix), Rolf Larsen (.GLOBAL), Richard Merdinger (GoDaddy) and Akram Atallah (Donuts).

Below: In the next session at 11am in the Keynote Hall, WP Engine Vice President of Strategic Relations Lisa Box provided some great insight into The Future of the Mobile Web. Lisa has also been the guiding light in developing the annual NamesCon Global Women in Domaining gathering into such an important event.

Above: Also at 11, but on the RegistryOffice Stage on the opposite side of the exhibit hall, Andrew Allemann (DomainNameWire.com), at left, interviewed Blake Janover (Home.Loans) and, at right, Mike Kugler (Vacation.Rentals) about their historic half-million dollar purchases of the new gTLD domains their businesses are being built upon.

Below: After the noon lunch break, Andrew Allemann moved over to the Keynote Stage to join three colleagues on a panel discussion presented by the Internet Commerce Association (ICA) about Verisign's recent price increase for .com domains. Left to right are Elliot Noss (Tucows), moderator Derek Newman (Du Wors LLP), Andrew Allemann and ICA Legal Counsel Zak Muscovitch.

Below: At the same time the session above was running in the Keynote Hall, another popular event was happening on the RegistryOffice Stage - The DomainSherpa Review in which a panel of experts gave their opinions on the value of domains owned by attendees who wanted valuation estimates for their names. The panelists (left to right) were moderator Tess Diaz (DomainSherpa), Shane Cultra (DSAD.com), Andrew Rosener (MediaOptions.com and current DomainSherpa owner) and Michael Cyger (DNAcademy.com and DomainSherpa Founder).

Above: Throughout conference week, attendees also had an opportunity to visit dozens of the industry's leading service providers in the NamesCon Global Exhibition Hall. This group, including industry veteran Deepak Daftari (at far left, from eSiksha.com) all came to the big event from India where they are involved in one of the world's fastest growing domain business communities.

Below: Lauren Tussey, Vice President of Operations at 101Domain.com, welcomes a visitor to the popular registrar's booth in the Exhibition Hall.

Above: At the Above.com booth we found (left to right) Above.com/Trellian CEO David Warmuz, ProtectedParking.com VP of Sales Marlon Phillips (who was visiting from his company's both adjacent to Above.com) and Above.com/Trellian Executive VP Nancy Bianchi.

Above: The Public Interest Registry's .ORG booth was also a popular stop in the Exhibition Hall. They had one of those walk-in chambers that blow money or paper objects in a vortex around you while you try to catch them. In this case, those brave enough to step inside tried to snare slips of paper that named prizes the visitor could choose from for playing.

Below: Donuts Inc. Senior Domain Consultant Jebidiah Burnett (center) chatted with a steady stream of visitors to the company's booth. Donuts is the biggest new gTLD registry operator in the world with more than 200 extensions in their vast portfolio.

Above: Sedo and sister company InterNetX used a huge stack of multi-colored plastic blocks to build their expansive booth at the Exhibition Hall's main entry way. Veteran domain investor Howard Hoffman (left) stopped by the booth to chat with InterNetX Marketing Team Leader Michael Piotrowski.

Below: Jodi Chamberlain (32Events.com) helped Radix Registry man (or in this case, woman) their booth. Here Jodi is seen with NamesCon Global attendee Prince Wyvener.

Above: After returning to the NamesCon Global stages at 2pm we found Cyril Fremont (.Best) in the Keynote Hall giving attendees details about the .Best Social Network.

Below: At the same time on the RegistryOffice Stage a fascinating panel discussion tackled Turning Chaos Into Growth: Sucessful Domaining in a Post-American World. It featured (left to right): Moderator Bob Mountain (Afternic), Mark Kychma (DNPric.es and Registra.rs), Tumay Asena (Nokta), Tony Kim (Hexonet), Stuart Fuller (CentralNic) and Jin Yang (GoDaddy).

Above: At 3pm in the Keynote Hall .GLOBAL CEO & Founder Rolf Larsen detailed Proven Strategies for Global Reach.

Below: Meanwhile, on the RegsitryOffice stage, the topic was The Good, The Bad and The Ugly in Premium Sales - a clever title for a panel discussion about the characteristics of success and failure for new gTLDs. The panelists were (left to right) Moderator Christa Taylor, Donuts Co-Founder Daniel Schindler and three representatives from MMX.co - Solomon Amoako, Michael Salazar and Tony Farrow.

Above: NamesCon Global offers multiple ticket levels. If you get the VIP pass it gives you access to a very convenient lounge where you can find refreshments, a comfortable seat and table to get some work done or hold a meeting, or a place to just visit with fellow attendees you want to catch up with. Industry veterans Fred Mercaldo (left) and Rob Grant were among the familiar, friendly faces seem in the VIP Lounge this week.

Above & Below: In the final business session Tuesday, January 29, Wordnik Founder Eric McKean welcomed attendees to the Keynote Hall at 4pm for her presentation titled The More Language Changes. The brilliant lexicographer explained the main ways in which words are made in English, how to judge a word's staying power and how you can use this knowledge in the world of domains.

While the Tuesday business day was done the networking was not as NamesCon Global hosted a Closing Reception from 5pm-8pm that was open to all in the VIP Lounge. Below: domain investing legend Larry Fischer (left) and broker Tessa Holcomb chat with VPN.com CEO Michael Gargiulo at that event.

Above: Among those in the crowd at the Closing Reception Tuesday night were afterTHOUGHT Founder & CEO Ammar Kubba (left) and NameJet General Manager Jonathan Tenenbaum.

Below: When Kina Merdinian (Co-Founder and Executive Director of the Global Discoveries Network Foundation) decided to apply some lipstick before I took a shot of her and PerfectName.com Founder Greg Ricks, I suggested Greg might benefit from the cosmetic as well but he didn't seem to be fully on board with the idea.

After three full days and nights at NamesCon Global 2019 there was still one thing left on the agenda, the Expert Round Tables event that was held during a two-hour brunch from 11am-1pm Wednesday, January 30.

Above: The Expert Round Tables involved setting up five large brunch tables with an industry expert seated at each one to answer any questions attendees might have. The experts came from different sectors so guests could choose the ones of most interest to them. The experts included Bill Sweetman (Name Ninja), seen here at his table dispensing advice on Working with Domain Brokers. At other tables you could find Braden Pollock (LegalBrandMarketing.com) on Getting Started, Drew Walsh (Moving Sites LLC), on Developing Domains, Christa Taylor (DotTBA) on Applying For a TLD and attorney Derek Newman (Newman Du Wors LLP) for those needing Legal Expertise.

Below: While picking up invaluable advice, attendees could fuel up for their trips home with coffee, pastries and other light snacks.

Above: Fellow Floridian and long time friend Chad Folkening (VNOC.com) was among those on hand for the final event, Expert Round Tables, at NamesCon Global 2019 Wednesday, January 30.

Below: A full house at Braden Pollock's table Wednesday.

Now that this very well received 6th edition of NamesCon Global is history, conference organizers have already begun planning for the 2020 show that will be held in Austin, Texas with the dates and venue still to be determined. Whenever and wherever that turns out to be, it will remain a must do event on the industry calendar. Our thanks to NameCon/Cloufest CEO Soeren von Varchmin, Senior Marketing Manager Helga Neumer and the entire NamesCon team for another extraordinarily well done event and for making our job of covering it for DNJournal readers such a pleasure.
Photos & Highlights from Day 2 Monday at the NamesCon Global 2019 Conference in Las Vegas
The NamesCon Global 2019 conference continued Monday (January 28) with another full day and night of business and social activity at the Tropicana Hotel in Las Vegas (you can see photos and highlights from day 1 Sunday here) and we have all of the photos and highlights for you in this post.

Above & below: The day began with one of the highlights of the entire conference, a keynote speech from India's acclaimed young billionaire entrepreneur Bhavin Turakhia. The Co-Founder of Directi is know for many other business successes including Radix Registry and Flock. NamesCon titled Bhavin's talk Insights & Inspiration with Bhavia Turakhia and that is exactly what he delivered to a very appreciative audience in the Keynote Hall.

Above: At 11am GoDaddy Aftermarket VP Paul Nicks provided his annual Domain Trends and Insights in the Keynote Hall with a treasure trove of information on domain sales trends based on GoDaddy's massive database of completed sales. It is always one of the best hours at NamesCon and fortunately Paul was kind enough to post his entire presentation online. You will want to check that out here: www.X.co/namescon19 .

Below: In another interesting session that ran at the same time on the RegistryOffice stage, Domain Sales Optimization Strategies were discussed by an all-star panel that included (left to right): Dave Evanson (Sedo), George Hong (Guta.com), Braden Pollock (moderator), Todd Cantwell (Afternic/GoDaddy), Yancy Naughton (HasTrafiic.com) and Simon Saleem.

Above: After the lunch break, in another highlight of the conference, domain broker Kate Buckley (BuckleyMedia.com) delivered an extraordinarily informative and entertaining keynote address called Storytelling Sales: How to Spin a Yard and Land a Whale. Kate has landed many whales in sales terms. We told her life story in a DNJournal Cover Story last year.

Below: Also at 1pm, on the RegistryOffice stage, the topic was Domain Connect - an Open Standard for Configuring DNS. It featured (left to right): Christopher Ambler (GoDaddy), Lisa Box (WP Engine), moderator Jothan Frakes (The DNA) and Timothy Heeney (Microsoft).

Carvertiser Founder Mac Nagaswami (above) and NamesCon Founder/interviewer Richard Lau (below), took the stage at 2pm for a Fireside Chat titled Betting on a Busboy: Domain + Idea to $5 Million Annual Revenue. Mac's fascinating book-worthy story of what he went through to land his must-have domain - Carvertiser.com - and, once he got it for a few thousand dollars, building it into a multi-million dollar business, was one of the best I've ever heard. Kudos to both him and Richard for one of the best hours at NamesCon Global 2019.

Above: Also at 2pm, on the RegistryOffice stage, moderator Dr. Paul Mockapetris (DNS/SMPT), center, welcomed Elliot Noss (Tucows), at left, and Toby Hall (CEO, MMX) to the dais to talk about the Trendline On the Global Importance of DNS and Domains.

Next up on the RegistryOffice stage at 3pm was a domain appraisal session that attracyed a wall to wall crowd. Titled What Is My Domain Worth? it featured, left to right, Mark Thomas (VIPBrokerage), Dave Evanson (Sedo), moderator Braden Pollock, Joe Styler (GoDaddy) and Andrew Rosener (MediaOptions.com).

Above: Monday was also brought us the domain industry equivalent of the Oscars with some major awards handed out. First, Escrow.com handed out their annual Masters of Domains Awards. These are given to each of the top ten domain brokers/sellers in terms of total dollar volume transacted on the Escrow.com platform. The #1 seller in 2018 was Andrew Rosener from MediaOptions.com. At the time the awards were handed out Andrew was on the RegistryOffice stage participating in the What Is My Domain Worth? session that you saw above this picture showing MediaOptions Business Development Coordinator Tess Diaz accepting the award on Andrew's behalf from Escrow.com General Manager Jackson Elsegood. Information on the entire top ten is available here.

In a related note, Escrow.com released a fascinating report today called Alternative Investing - A Comparison Between Traditional Instruments and Web Domains. This is a must read for anyone who wants to make the case for domains as a proven investment class asset that has outperformed more familiar assets over a long period of time. You can get a free copy of the report by just going to the Escrow.com home page and entering your email address in the "latest domain market report" box. While at NamesCon, I talked with Escrow.com President Matt Barrie about the findings in this report and several other key industry topics and will soon be publishing his insightful comments in a separate article.

Above: Back on the Awards front, right after the Escrow.com awards were handed out, the Internet Commerce Association (ICA) presented their prestigious annual Lonnie Borck Memorial Award for "extraordinary efforts in championing the rights of domain registrants." I don't think there is anyone in the industry that will be surprised to hear the award went to attorney John Berryhill - one of the first attorneys to specialize in domain related legal issues and - approaching 20 years later - still one of the world's most consistently successful at defending his client's rights. John is at center above with friend and fellow pioneering domain attorney Ari Goldberger (left) who introduced John with a touching tribute, and Lonnie Borcks's brother-in-law Jonathan, who flew to Las Vegas to participate in honoring the memory of the beloved domain investor Lonnie Borck.

Above & below: Monday's final order of business was the annual NamesCon Live Domain Auction conducted by NameJet and RightOfTheDot.com. Once again, Wayne Wheat (the best auctioneer I've ever seen in any field) conducted the sale and wound up calling an event that produced over 90 sales totaling in excess of $2.3 million. The top sales were OL.com ($900,000), Leads.com ($435,000), DomainNames.com ($370,000), DJs.com ($170,000) and Stop.com $110,000. The sale is not over yet either. The extended online auction will continue through February 13, 2019 at NameJet.com.

Above & below: With the business day done, evening social events moved to the forefront including the Internet Commerce Association's Annual Dinner that was held at the Las Vegas House of Blues. Well over 100 ICA members turned out for the event (their biggest turnout to date). The ICA is the non-profit trade association dedicated to protecting the rights of domain registrants.

Above: Among the familiar faces in the crowd at the ICA Annual Dinner were noted domain attorneys Howard Neu (left) and Gerald Levine.

Below: The dinner's Man of the Hour, as the newly minted Lonnie Borck Memorial Award Winner, was John Berryhill. With dinner hosts Braden Pollock and ICA Executive Director Kamila Sekiewicz looking on, John used the occasion to pay back Ari Goldberger for the glowing introduction Ari gave him earlier in the day when John received the award.

As many of you know, Berryhill's legal skills are exceeded only by his lethal sense of humor - demonstrated once again when John told the true story of having a heart attack last summer while biking - an incident that he was very lucky to survive. As John told it, while in the ambulance being rushed to the hospital he pondered the distinct possibility that his time on earth was coming to an end. He said he also wondered how we would all remember him and perhaps whether a John Berryhill Memorial Award might even be created. Taking it a step further, John wondered who might win such an award and came to the conclusion that it might well go to his rival, Ari Goldberger. John declared that terrifying possibility gave him an overwhelming will to live and he credited that for his survival - drawing a huge laugh from the audience, including Ari who appreciates a great joke even if it is at his expense!

In my next post from Las Vegas I will wrap up our NamesCon Global 2019 coverage with all of the Tuesday (January 29) photos and highlights, along with the lone Wednesday event (an 11am-1pm Expert Roundtables Brunch). I'm looking forward to that, especially after seeing Monday prove yet again that there is never a dull moment in this business!
Opening Day Photos & Highlights from NamesCon Global 2019 in Las Vegas Sunday
The 2019 NamesCon Global conference got underway Sunday morning (January 27) in Las Vegas. Domain investors, developers and service providers from around the world have converged at the Tropicana Hotel for the 6th annual event. All six shows have been held at the Trop but on Sunday it was announced that the conference will move to Austin, Texas next year with the dates and venue still to be determined.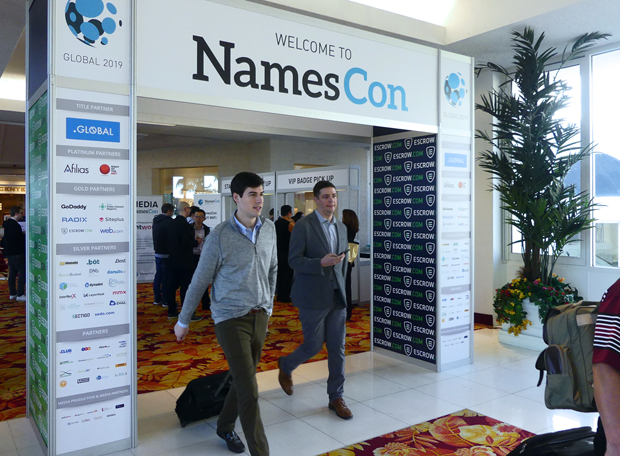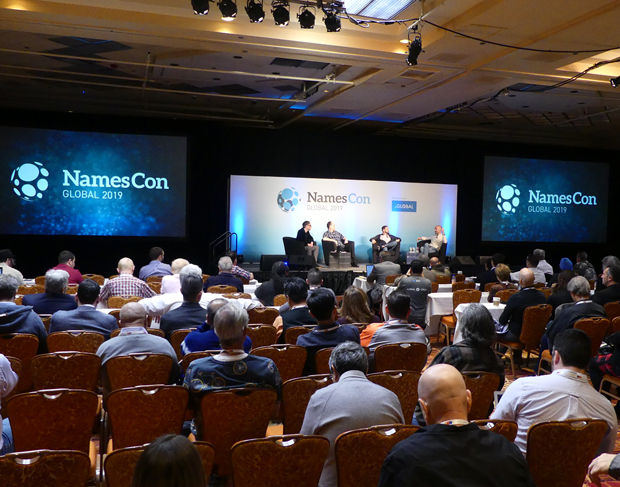 Above & below: At the NamesCon Global 2019 opening session Sunday morning at 10, NamesCon CEO Soeren von Varchmin (at left below) welcomed the crowd and introduced show moderators Bill Sweetman (Name Ninja) and Braden Pollock (Legal Brand Marketing) as well as Andrew Rosener (MediaOptions.com), who will be a featured speaker this week (all are seen, left to right, after Soeren). The quartet gave attendees the news on NamesCon planned move to Austin and filled them in on what to expect over the 2019 show's three-day run that will end Wednesday (January 30).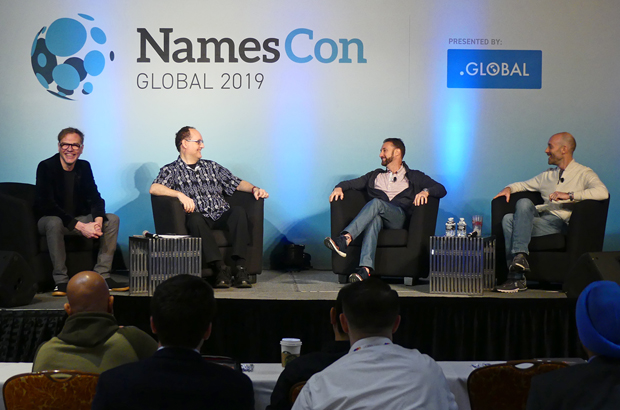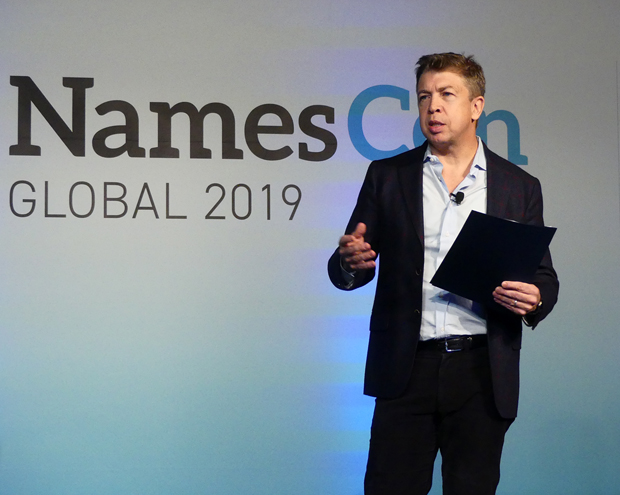 Sunday was a very busy day with 17 business sessions scheduled at 30-minute intervals in a twin-track format that ran throughout the day. Those got started at 11am with ICANN's Christopher Mondini (above) kicking off the half hour in the Keynote Hall with commentary on ICANN's Anto-Abuse Requirements and Abuse Audit. Pinky Brand (RegistryOffice), below, then took the stage for the balance of the session to talk about Building a Safer Internet & Fighting Abuse.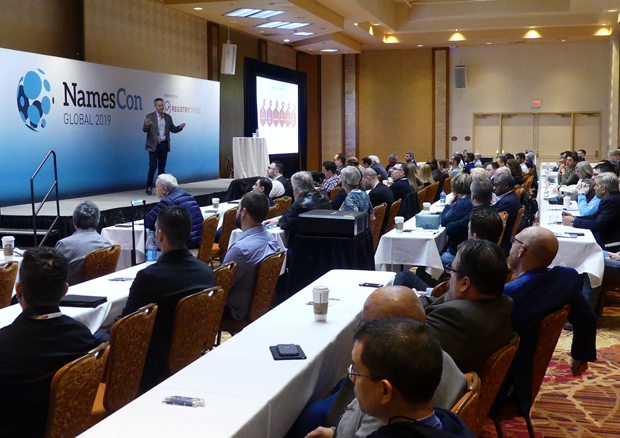 Above: While Mondini and Brand held court in the Keynote Hall, Michael Cyger (DNAcademy) drew a big crowd of his own to the RegistryOffice Breakout Stage. Michael's covered Domain Investing 101 (domain types and characteristics, as well as valuations) in this session and returned at 1PM for an advanced Domain Investing 201 talk built around Turning Your Domain Hobby Into a Profitable Business.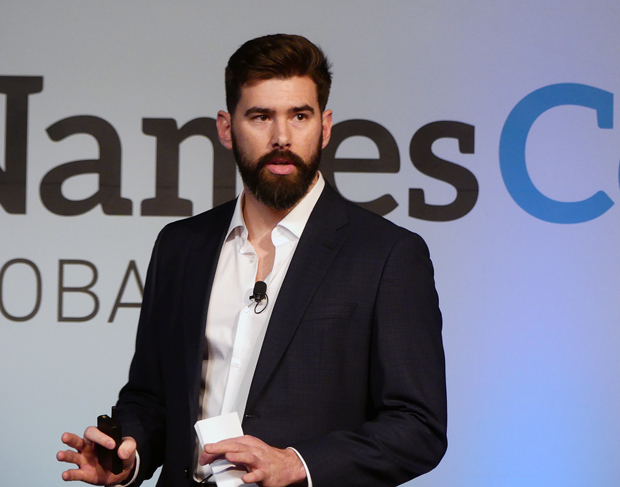 Above: In the 11:30am session in the Keynote Hall Sunday, Dynadot Product Manager Luke Burgess presented a talk titled Domaining Evolved: An Insider's Guide to Dynadot's Best Tools - giving attendees a close up look at the features that have made the registrar is a very popular one among domain investors.
Below: At the same time on the RegistryOffice Breakout Stage Alex Melen (SmartSites.com) discussed The 3 B's of Developing Domains: Buy, Build, Benefit.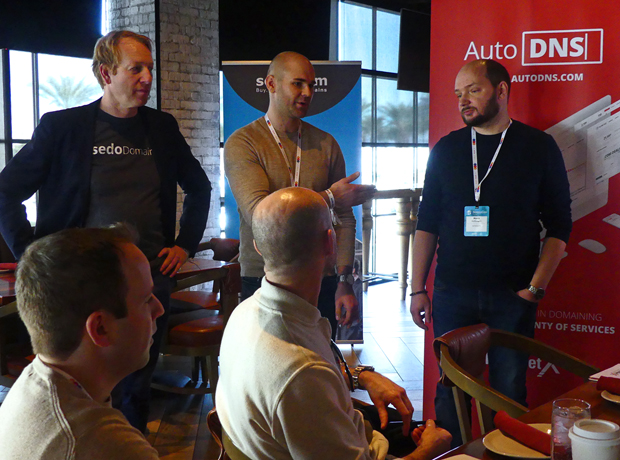 Above: During the noon lunch break we went to an InterNetX/Sedo press luncheon where they gave us a preview of a very promising new domain management platform they are rolling out at AutoDNS.com. Features are still being added and this is a development that deserves a story of its own that we will be putting together in the near future. Standing (left to right) are Sedo CMO Chistopher Voss, InterNetX Team Leader Marketing Michael Piotrowski and InterNetX Head of Domain Services Marco Hoffman (who was joined by fellow presenter Marco Revesz, whom you will hear more about shortly).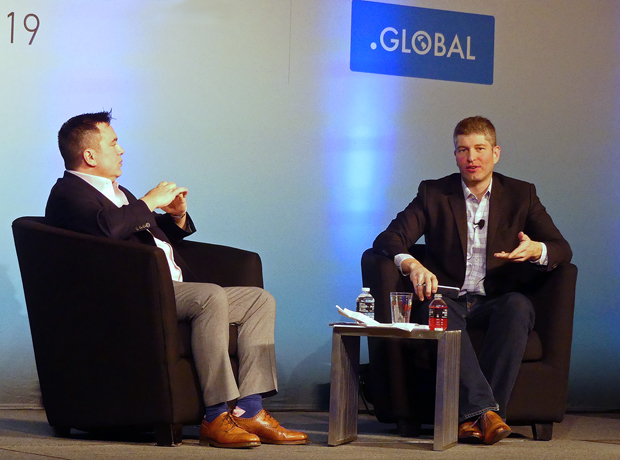 Above: After lunch, Internet Commerce Association General Counsel Zak Muscovitch conducted a Fireside Chat with WIPO and the ICA in the Keynote Hall that featured Brian Beckham (right), Head of the Internet Dispute Resolution Section at the World Intellectual Property Association (WIPO), the arbitrator in many UDRP cases. At the same time, as I noted above, Michael Cyger was conduction his Domain Investing 201 session on the RegistryOffice stage.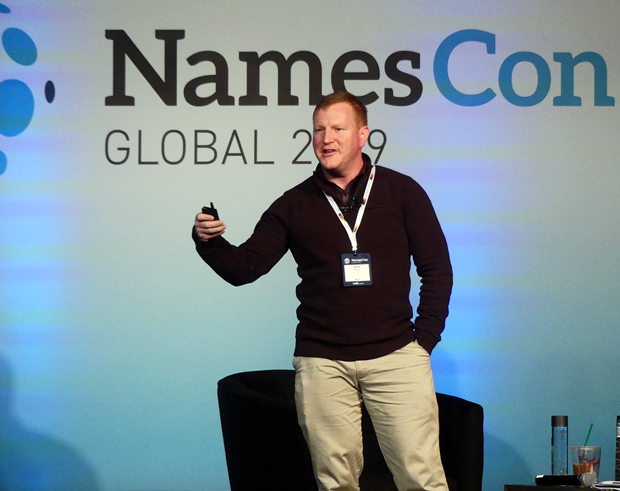 Above: At 1:30pm, Drew Walsh (Moving Sites LLC), took the stage in the Keynote Hall with advice on how to Turn Your Premium Domain Into a Recurring Revenue Business. Meanwhile, on the nearby RegistryOffice Stage, Matt Holmes (below) from Handshakin.com took a different track with How to Use Your Domain to Meet Your Idol.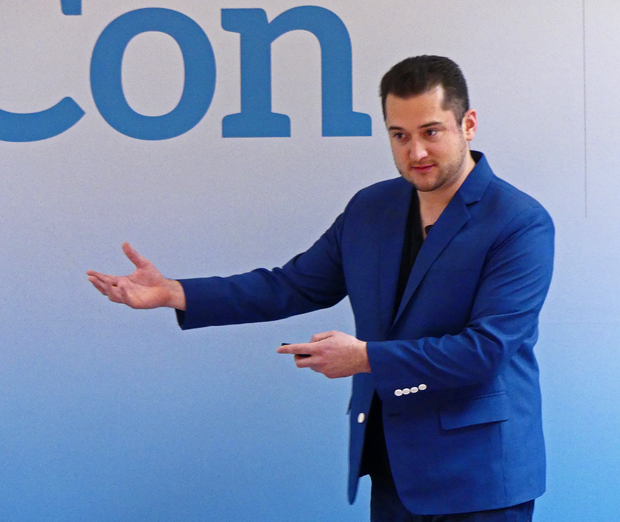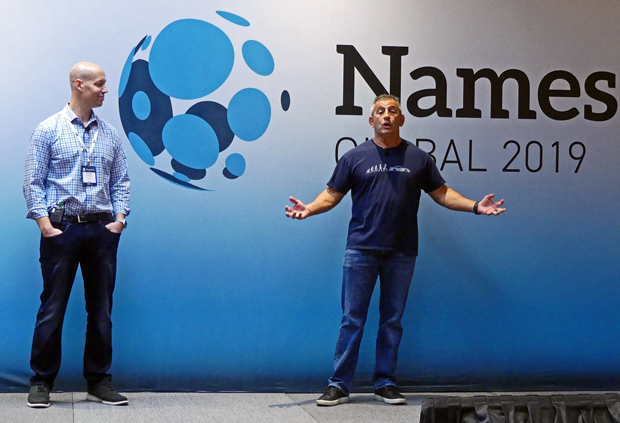 Above: At 2pm Matt Holmes turned the RegistryOffice Stage over to NameJet GM Jonathan Tenenbaum (left) and Monte Cahn (RightOfTheDot.com) who will be running Monday's LIve Domain Auction at NamesCon. Monte told me this auction has the best catatlog the two companies have ever put together for a NamesCon event. It could generate millions of dollars in sales.
Below: Meanwhile back in the Keynote Hall, MMX CEO Toby Hall covered The Intersection Between ICANN TLDs and Blockchain.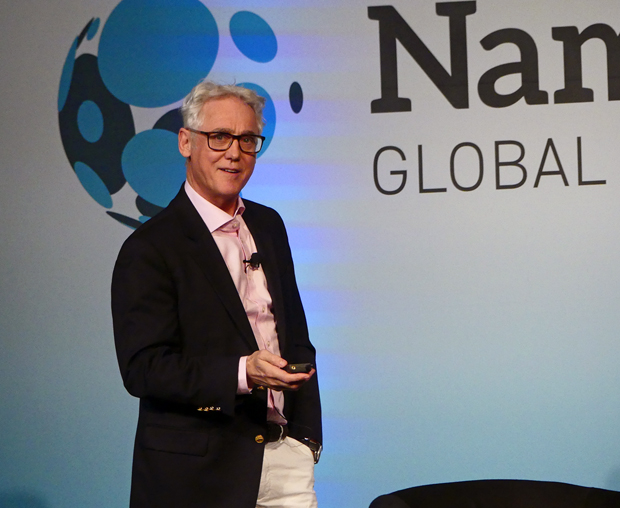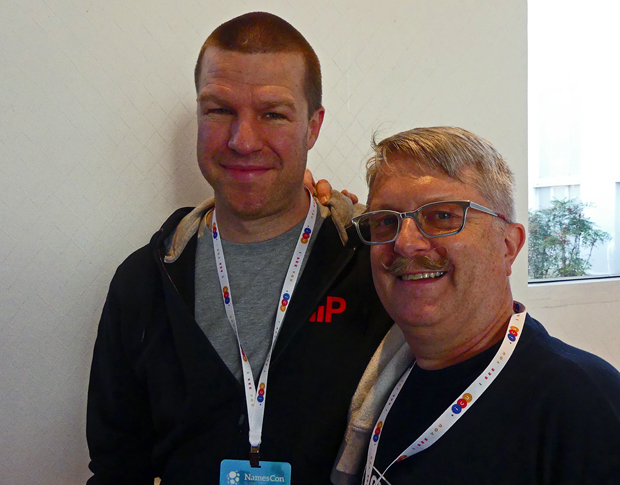 Above: While there is always something interesting being discussed on the NamesCon stages, a lot of attendees love spending time in the hallways where you never know who you will run into. Among the many long time friends I bumped into was ParkingCrew's Jim Grace (right), who introduced me to the company's CEO Markus Ostertag (left). We set an appointment on the spot to get together for coffee later this week so I can find out about the latest developments at the popular domain monetization service.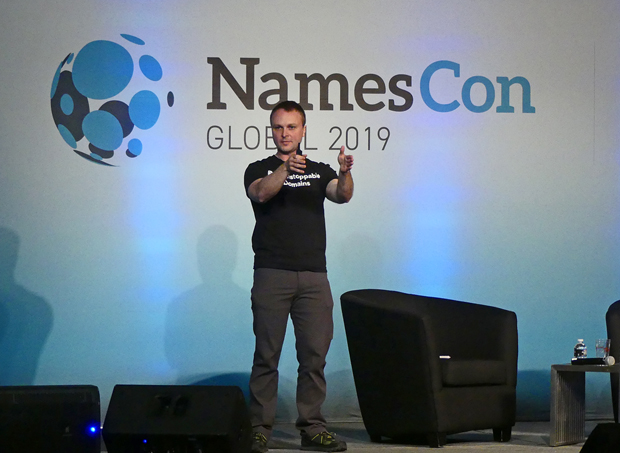 Above: When I returned to the Keynote Hall at 2:30pm Sunday, Matthew Gould (Unstoppable Domains Inc.) was covering Domain Names on the Blockchain.
Below: At the same time, industry veteran Jothan Frakes, representing the Domain Name Association, presented The DNA of theDNA: A Positive Voice for Our Evolving Industry.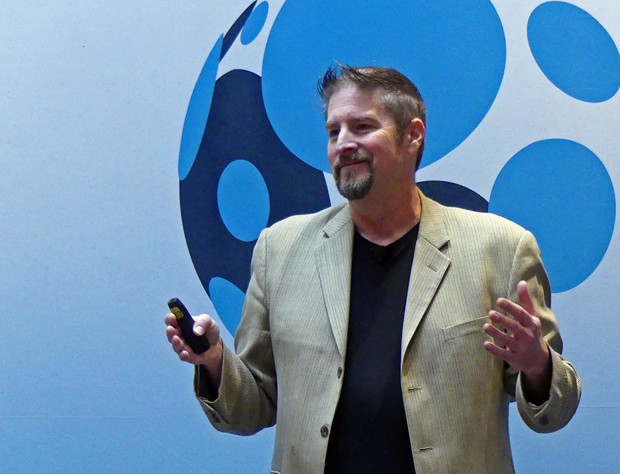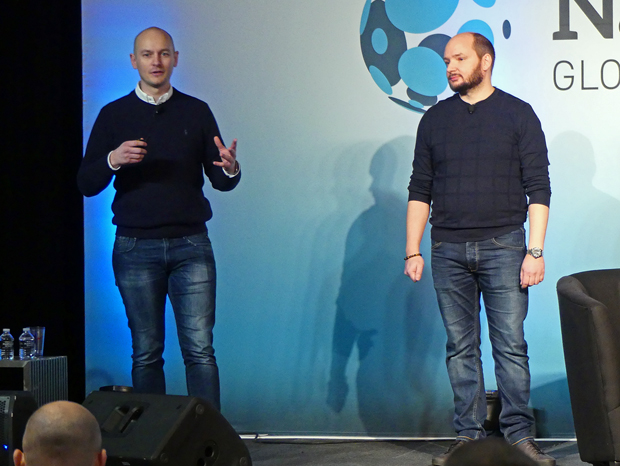 Above: I mentioned that InterNetX/Sedo gave us a preview of the new AutoDNS.com domain platform at a noon press luncheon. At 3pm in the Keynote Hall Marco Revecz (InterNetX Teamleader Serves Sales & Automation), at left, and Marco Hoffman ( Head of Domain Services), gave all NamesCon attendees the scoop of what they have in the works.
Below: At the same time on the RegistryOffice stage, ICA General Counsel Zak Muscovitch, who was asking the questions in a 1pm session, had the tables turned and was answering them when moderator Bill Sweetman (left) joined Zak for a session on Common Legal Mistakes Domainers Make.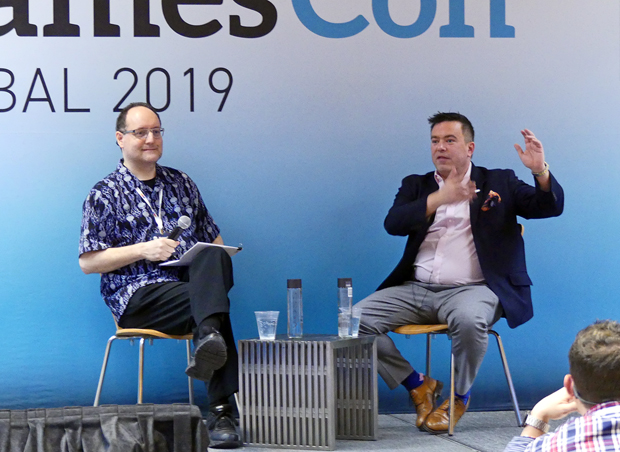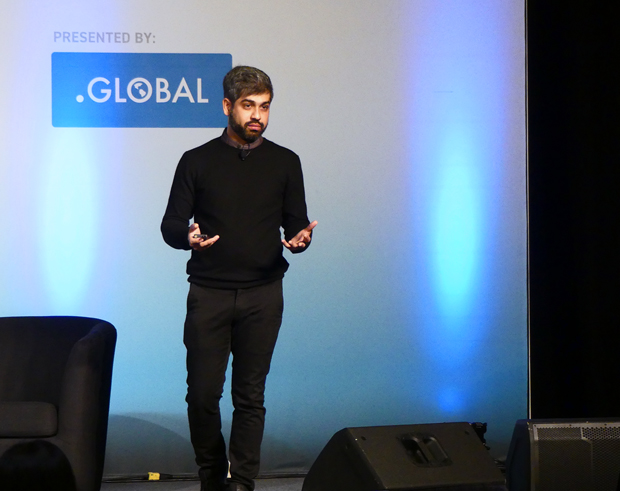 Above: At 3:30pm, Siteplug.com CEO Lavin Punjabi presented Secrets to Triple Your TM Typo Earnings in the Keynote Hall. Siteplug handles domains that trademark owners are willing to buy traffic from rather than pursue ownership of those domains through UDRP proceedings.
Below: Meanwhile back at the RegistryOffice Stage, Mark Kychma (DNPric.es and Registra.rs) provided advice on Domain Name Cash Flows: Leasing, Financing and Structuring.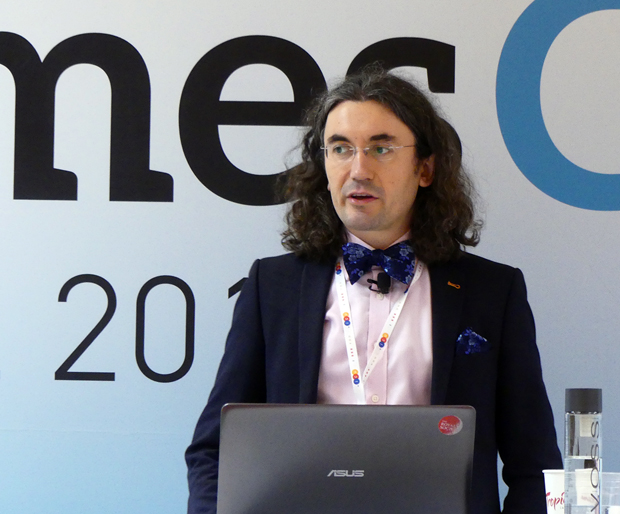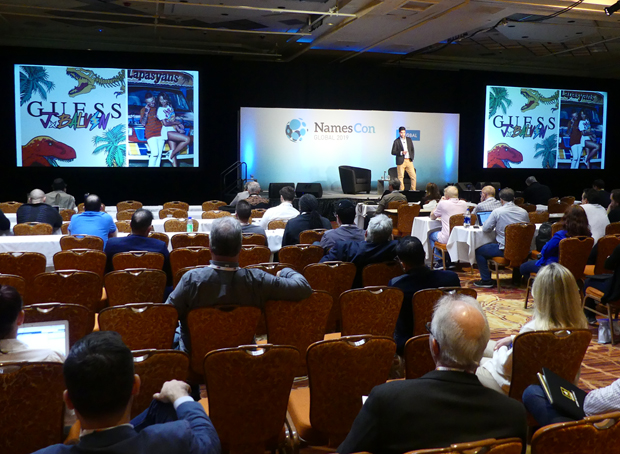 Above & below: at 4pm, in the final business session of the day, Haseeb Tariq (a long time marketing leader who has worked with Guess.com and Fox TV), had the entire NamesCon audience to himself for a full hour in which he offered valuable advice in a session titled Learn How to Price and Sell Your Portfolio.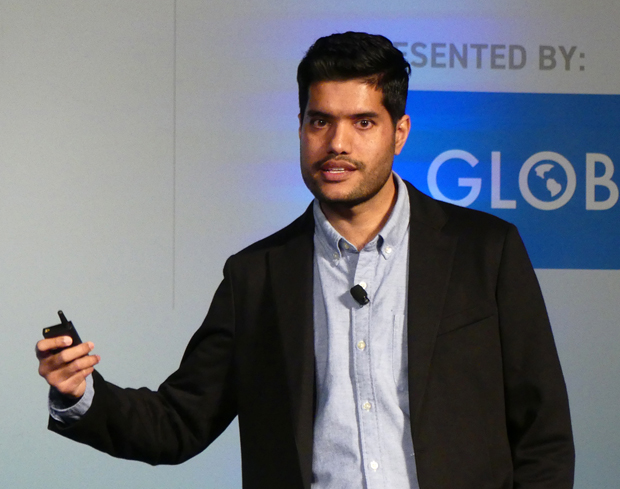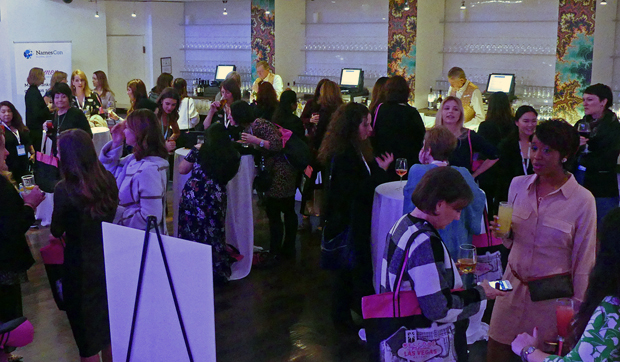 Above & Below: With the opening day of business now done, everyone's attention turned to the evening's social activities - starting with the annual Women in Domaining event in the Havana Room at the Tropicana Hotel. Once again WID has a great turn out of professional women from throughout the domain industry.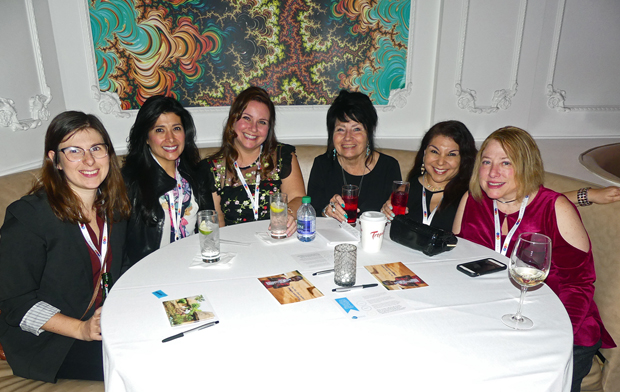 Above & below: More scenes from the annual Woman in Domaining meet-up,
a two-hour gathering that is always a premier event at NamesCon.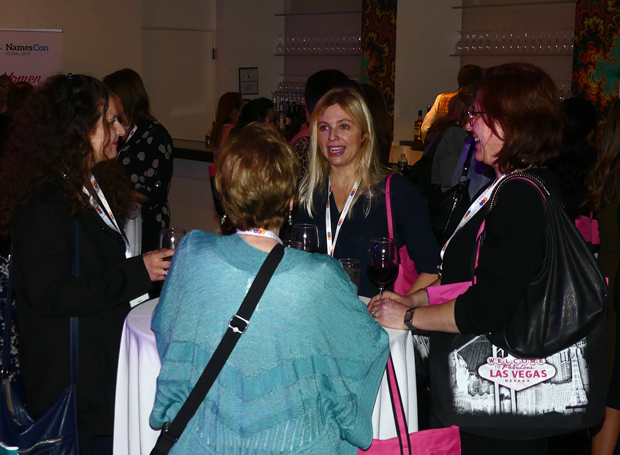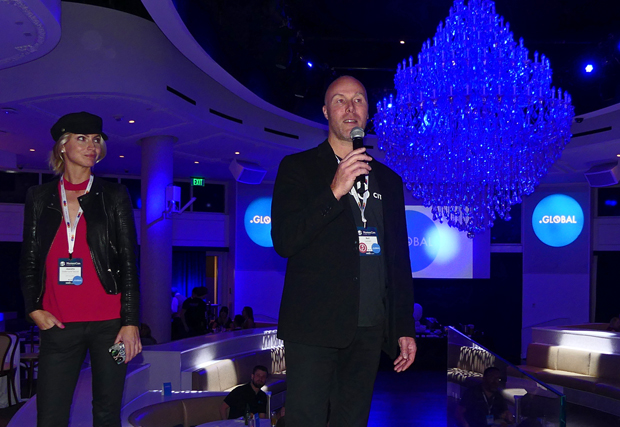 Above & below: At 8pm, .GLOBAL registry CEO & Founder Rolf Larsen and Jeanette Söderlund (VP Marketing and Channel Relations) welcomed guests to NamesCon Global 2019' Opening Night Party, also held in the Havana Room at the Tropicana Hotel.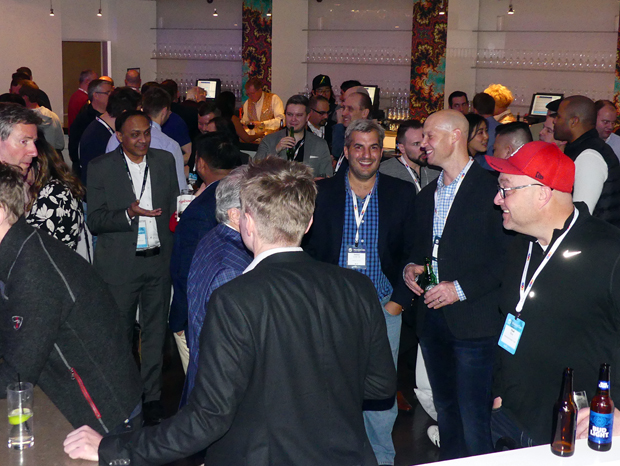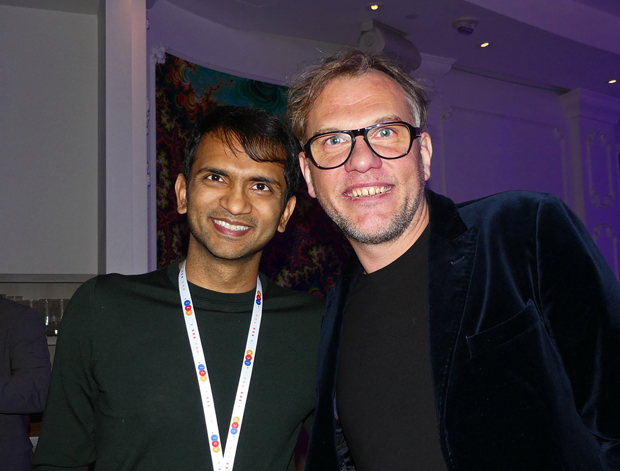 Above: NamesCON CEO Rolf Larsen with one NamesCon Global 2019's most celebrated keynote speakers, billionaire Directi Co-Founder Bhavin Turakhia (right), at the opening night party Sunday night.
Below: If you are at NamesCon this year you have no doubt seen veteran domain attorney Ari Goldberger with a large film crew interviewing people throughout the day. They were also at the opening night party Sunday night where Ari is seen interviewing Pinky Brand. It is all part of a new domain show Ari is launching called Domain Freaks (by and about people that REALLY love domains)! As it happens I will be part of the production and will be telling you more about the show in the near future.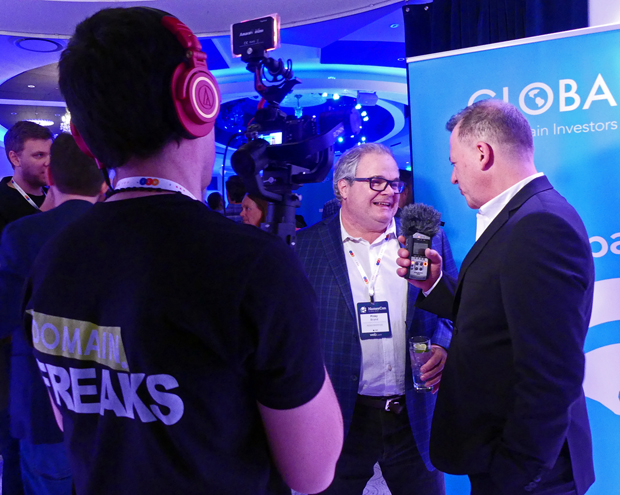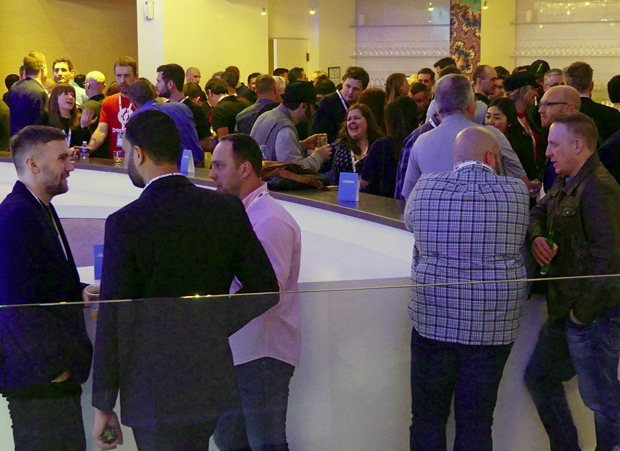 Above: The networking was still going strong when we finally made our way out of the opening night party so we could start working on this post. It was the end of a very interesting and productive day at NamesCon Global 2019 with more to come Monday through Wednesday. I'll have the Monday photos and highlights for you in my next post from Las Vegas!
NamesCon Global 2019 Got Off to an Unofficial Early Start Saturday Night in Las Vegas
The 2019 Namescon Global conference officially opens today (Sunday, January 27) at the Tropicana Hotel in Las Vegas but with dozens of attendees already in town Saturday it felt like the big show was already in full swing. The lobby bar at the Tropicana Hotel is always a popular pre-show hangout but there were also a number of private meetings, dinners and events

going at various locations around Las Vegas Saturday night. One of the busiest and most boisterous was a dinner party that sister companies InterNetX and Sedo hosted at the massive and always merry Hofbrauhaus a couple of miles east of the conference hotel.

Above: A scene from the InterNetX/Sedo dinner party that took over a big section of the Hofbrauhaus Saturday night. With popular registrar InterNetX and aftermarket sales and monetization giant Sedo both based in Germany, the Las Vegas version of the Hofbrauhaus (a faithful reproduction of the world famous original location in Munich) was a pitch perfect choice for the pre-conference gathering.

Above: The man everyone wanted to meet at the InterNetX/Sedo event was Sedo's brand new CEO, Matthias Conrad (center, flanked by Ron Jackson (DNJournal) at left and Sedo Senior Broker Dave Evanson at right). Just three weeks into his new position, the veteran executive (previously the VP of Marketing at 1&1 IONOS, a company, like Sedo, that is part of internet giant United Internet Group) said he had already fallen in love with the domain business and couldn't be more excited about his new assignment.

Above: One of the many tables taken over by the domain industry at Saturday night's InterNetX/Sedo dinner party. Diana Jackson (at lower left) has clearly been spending some time in the gym - it takes a lot of arm strength to curl one of those massive Hofbrauhaus beer mugs!

Above: Among the many faces in the crowd at the InterNetX/Sedo party, (left to right) Trellian/Above.com Founder & CEO David Warmuz, domain broker Tracy Fogarty (eNaming.com) and Sedo CMO Christian Voss.

...and below: Veteran domain investor/developers Rob Grant and George Verdugo (both of whom have been subjects of DNJournal Cover Stories).

A busy NamesCon opening day Sunday is ahead today. It begins with a 10:30am (local time) Welcome Session and will continue through the official Opening Night Party in the Havana Room at the Tropicana Hotel this evening. You can check out the full agenda here. We will have all of the Sunday highlights (day and night) for you in our next post from Las Vegas.
NamesCon 2019: Two Things You Can Count On: Great Networking and News Overload!
The 2019 NamesCon conference gets underway Sunday (January 27) at the Tropicana Hotel in Las Vegas where it will run through Wednesday, January 30. By bringing so many people from throughout the industry together in one place, NamesCon is able to offer a networking opportunity that just can't be beat. Representatives from all of the top companies will be there, along with successful domain investors and developers, legal experts and an all star line up of speakers.

Another thing you can count on when NamesCon rolls around

is a tidal wave of news releases from companies throughout the industry. In fact, that has already begun. Getting news about new offerings out just ahead of or during NamesCon gives companies an opportunity to create a flow of contacts that will check out their offerings in the exhibition hall or, if they at least pique the interest of potential clients, entice them to connect after the hustle and bustle of the show subsides. The only downside to that is having so much news competing for attention that a lot of it can get lost in the crowd. That's what more and more releases are coming out before the show event starts. I'll give you four examples of that in this post ( published before heading out to NamesCon myself).

Bhavin Turakhia
Founder & CEO
Radix Registry

One of the biggest highlights on the NamesCon agenda will be a keynote speech from the young billionaire Founder & CEO of Radix Registry, Bhavin Turakhia. I am expecting a full house when Bhavin delivers his address in the Keynote Hall Monday morning (January 28) at 10am local time in Las Vegas.

Dovetailing nicely with Bhavin's appearance is Radix's latest release of their semi-annual Premium Domain Report (.pdf file) covering the second half of 2018. Radix operates multiple new gTLD domain registries, including .online, .tech, .store and .website, to name just a few. The report provides sales results for their premium level sales across multiple Radix TLDs.

The company reported $1.3 million in total premium revenue from over 1,200 domain sales during the 6-month period. 31% of revenue came from new registrations of tiered premiums, 57% from the renewal of tiered premiums and 12% from one-time premium sales. Radix also reported that their 1st-time renewal rate stands at 51% and subsequent renewal rate at a robust 76%.

.CLUB is another new gTLD registry operator that will have high visibility at NamesCon (their exhibit hall booth always draws a crowd with a variety of games and cool schwag). They will be using NamesCon to launch what CMO Jeff Sass says will be "a big addition to our Names.club platform. Any domain owner will be able to

list their names for sale and we'll accept names with any extension, including .COM. We're very excited to make a much wider range of brandable and keyword domains available with 60-month Easy Payments, as we are confident paying monthly is an attractive way for businesses, startups, and entrepreneurs to build a brand on a great premium domain. This also represents a great new distribution channel and model for all domain investors to sell their names."

.CLUB has even produced a short video clip (under two minutes) illustrating how to list your names on their platform:

Domain monetization (parking) companies will also be out in force at NamesCon. One of the leaders in that field, ParkingCrew.com, just launched a new domain feature.

They can now serve parking pages over HTTPS with valid SSL certificates at no extra cost for the domain owner. With Google Chrome'd push towards HTTPS and expired traffic often coming over HTTPS, ParkingCrew expects this to increase revenues and future proof domain parking. You can get more details on that development here (.pdf file).

The Internet Commerce Association (ICA), the non-profit organization the protects the rights of domain registrants, including investors and develops, always has a major presence at NamesCon and 2019 will be no exception. ICA leaders will be in stage on multiple occasions, they will host a member's meeting Monday morning (January 28) at 11am and an annual dinner at the House of Blues (in Mandalay Bay) Monday evening starting at 6pm.

In between those two events, at 3:30pm Monday in the Afilias Lounge, the ICA will present their annual Lonnie Borck Memorial Award to pioneering domain attorney John Berryhill. In a letter sent out to members the ICA noted "John has been at the forefront of the fight for domain owner rights for over 20 years and has taken on many cases pro bono. He has devoted considerable time and effort to educating the domain community about their legal rights, often by actively engaging on the forums and we are honored to present him with this year's award."

The ICA does a great job and always has the welcome mat open for new members. You can learn more about that on their website.

We will of course be at NamesCon to cover all of the key sessions and events throughout the week for you. Each busy day runs from early morning to midnight (or beyond), so we will be

John Berryhill
2019 Lonnie Borck Award Winner

getting up especially early each day to put together a Lowdown post featuring the previous day and night's activity in Las Vegas. For those of you who will be there too, we look forward to seeing you at NamesCon 2019!
Mark Thomas Closes Biggest GeoDomain Sale We've Ever Reported - California.com Goes for Millions
Image from Bigstock

In the biggest cash sale of a geodomain reported since we began tracking and verifying aftermarket sales in 2003, Mark Thomas, the Founder & CEO of Florida-based VIPBrokerage.com, has closed the $3 million sale of California.com. While the buyer was not identified, a "Coming in Early 2019" splash page is already up on the prestigious domain. When we chart this sale in our next weekly domain sales report (that will be released this evening) California.com will not only be at the top of our weekly and Year-To-Date top sales charts, it will also be added to our list of the 20 biggest domain sales we have reported. California.com will be tied for #17 on that elite list (in 2000, before we began tracking and verifying aftermarket sales there were reports of a $5 million sale of Korea.com).

Thomas told us, "After several years of intense negotiations, I am proud to announce having brokered the blockbuster sale of the special 'geo' domain name California.com for $3 million." Mark is no stranger to big sales. In 2017

Mark Thomas
Founder & CEO
VIPBrokerage.com

he had one of the year's five biggest in 01.com at $1.82 million. He has been involved in many others that, like most sales at this level, were subject to NDA's, including Tax.com, House.com, GG.com andHH.com, to name a few. Thomas said over his career he has brokered and transacted over $60 million in domain sales which credits to "outbound marketing, persistence and tenacity."

Thomas noted that he recently brokered another 7-figure sale under a four-year lease with option to buy agreement. Its likely we will see more sales in that range from his firm as they currently have exclusive listings for Arizona.com, Paradise.com, EE.com, OF.com, Cups.com and GolfClubs.com, among others. Mark will be at the upcoming NamesCon conference in Las Vegas, so if you see him say hello and congratulate him on this historically significant sale.

(Posted January 23, 2019) To refer others to the post above only (and not the full Lowdown column) you can use this URL:
http://www.dnjournal.com/archive/lowdown/2019/dailyposts/20190123.htm
Guta.com Has Released Its Complete 2018 Premium Domain Sales Observation Report
Earlier this month I told you that international domain brokerage company, Guta.com, would be releasing a new Premium Domain Sales Observation Report, breaking down sales they made or verified in 2018 - with a focus on the upper end of the market and the interplay between buyers in the Eastern and Western hemispheres. I had been given an abbreviated preview of some of the data that would be included the final report that I shared with you in that January 11 post. Now, I can tell you that the complete free report has just been published and is available to all through all on this page at the Guta.com site.

The report includes a treasure trove of data including sales made in popular categories, like ultra short .com domains ranging from 2-4 letters or numbers.
VPN.com Brings Sharjil Saleem Onboard to Launch Company's New Domain Brokerage Service
Seeing Sharjil Saleem's name has become a familiar sight on our Year To Date Top 100 Domain Sales Charts over the past couple of years. In 2017 he had six of the year's biggest sales and he followed that up in 2018 by putting three more on the elite list. Sharjil's biggest headliner was the $2 million sale of ETH.com, one of the three biggest sales reported in 2017.

Sharjil's string of successes caught the eye of VPN.com CEO Michael Gargiulo who decided to kick off 2019 by adding a Domain Brokerage division to the company's services. Sharjil was the guy Michael felt he needed to launch the brokerage service for premium domains and he just let us know that Saleem accepted his offer to become VP of Domains at VPN.com.

In a post on his LinkedIn page, Gargiulo noted, "Since purchasing VPN.com for nearly $1,000,000 in 2017, we have been flooded with broker, buy and sell requests from hundreds of domainers across the globe.

Sharjil Saleem
Vice President of Domains
VPN.com

Sharjil and I launched vpn.com/broker to help acquire and sell premium domains for these brands and individuals who understand their value and want access to our network."

VPN.com CEO Michael Gargiulo

A quick look at the VPN Domain Brokerage page already shows an impressive list of domains the firm is handling, including DL.com, BTM.com, GTA.com, SAN.com, FAV.com, J8.com, Samurai.com, Shock.com and LocalNews.com, to name just a few. Gargiulo said the company has already closed some sales and predicted they would end up brokering $25 million worth of sales in 2019.

Michael alone has bought and sold more than 600 domains. His acquisition of VPN.com was the 7th largest publicly reported transaction in 2017, coming in at $976,730. A capsule bio on VPN.com says, "Michael can help you acquire or sell your name with many existing contacts. Moving quickly on large 7-8 figure deals is where he excels. One of his favorite transactions was CoolMathGames.com, which he contracted for $1.8 million."
Scottsdale.com Owner Fred Mercaldo Launches New Geodomain Brokerage Service at Cities.cc
Fred Mercaldo, a long-time leader in the geodomain space as the owner of Scottsdale.com and Founder & CEO of GeoCentric Media Inc., has just launched a new project. Mercaldo, who was profiled in a March 2013 DNJournal Cover Story, decided the time is right for a brokerage service devoted solely to geodomains and he made the idea a reality with the launch of Cities.cc Monday (January 14, 2019). The site's Home Page notes, "Cities.cc is an online marketplace dedicated to the marketing of pure brand, exact match keywords of Geo specific domains. We deal exclusively with City(dot)com brands, as well as regions, areas, and counties." In a an introductory letter that Mercaldo posted on the new site he noted, "we already have over 400 names available, with prices ranging from a low of $2,500 to a high of $4,000,000."

Mercaldo wrote, "We felt that it was necessary for a domain brokerage that specifically deals with the geo space to be created for numerous reasons. First, it is a very specialized market. While the top domain brokers around the world are a very creative and diligent group, they have not been as keen on representing the sale of City names. Top generic domain names have worldwide allure and potential buyers; City

Fred Mercaldo
Cities.cc Founder & CEO

names, in particular small to medium size cities, have a smaller potential buyer pool. We felt it necessary to fill a void in the domain marketplace by specializing ONLY in the geo market. It is what we know best, and we have much to offer."

While Cities.cc will obviously have a sales focus Mercaldo also intends to make it a resource for those interested in developing geodomains, noting, "we will be publishing numerous articles each month on the development and monetization strategies that are required in order to manage a successful and profitable City portal. As digital marketing and the internet itself appears to reinvent themselves seemingly every month, there are specific functions and services that are timeless and required for a City site to be relevant. There are also "best in class" partnerships, marketing strategies, and other methods from which to generate revenue. We will discuss all of them."

If you have any questions about Cities.cc and their services you can contact Mercaldo via email to Fred at Scottsdale.com.
GUTA.com Report on Their 2018 Sales Reveals Previously Unseen Activity at the High End of the Domain Market
International domain brokerage company GUTA.com will soon be releasing their Premium Domain Sales Observation report for 2018. GUTA, who maintains offices in the U.S. and China, has been a long-time leader in bringing together buyers and sellers of high end domain names from both the Eastern and Western hemispheres. Company Founder & CEO George Hong gave me an advance look at some of the highlights from the upcoming report that I can share with you.

As most of you know, most sales made at the ultra high end of the market are made under non-disclosure agreements (NDAs), so it is hard to get a clear picture of how much activity is occurring in that rarified atmosphere. While most of GUTA's sales are subject to NDAs and their own privacy concerns for their clients, the GUTA report features sales summaries that offer a good deal more insight than we get from the publicly reported sales alone.

For example, 2-letter .coms represent some of the most valuable real estate on the Internet. GUTA tracks 2-letter .com sales carefully and brokered eight sales from that category themselves in 2018 - sales that helped them close the year with total sales reaching 8 figures.

George Hong
Founder & CEO, Guta.com

The GUTA report says 48 2-letter .com sales were made in 2018 with 16 of those purchased by end users. Chinese buyers acquired more of those than investors/developers from any other country - with 19 of them moved into the hands of buyers located in China. GUTA said 12 of those were let go by sellers in the U.S. GUTA also noted that seven of the eight 2-letter .com sales they brokered themselves saw U.S. sellers sending their names to Chinese buyers - meaning GUTA accounted for more than half of all U.S. to China 2-letter .com sales. They added that six of their eight 2-letter .com sales reached 7 figures.

The charts below that will appear in the final GUTA report further illustrates movement of 2-letter .coms in 2018. You can click on the image to see a larger version of this graphic.

GUTA reported seeing several undisclosed one-word dictionary domain sales in 2018 that sold for six figures and at least one - a 3-letter word - went for 7 figures.

While they don't trade at nosebleed levels, 4-digit numeric domains are another one of the more popular categories in the aftermarket. While only a couple of dozen sales from that group were reported in 2018, GUTA alone brokered 86 4-number domain sales according to their report - another good reminder that publicly reported sales represent just a fraction of what is happening in the aftermarket.

GUTA attributes much of their success to collaborating with other brokers and partners to get deals done. Three different brokers worked with GUTA to close 7-figures transactions in 2018. If you will be at NamesCon in Las Vegas later this month and are interested in working with George and the GUTA team as a broker, buyer or seller, you can connect with them there (you can see our show preview article here). George will also be speaking at NamesCon in a Domain Sales Optimization Strategies session that is scheduled for Monday, January 28th.
Sedo Names a New CEO - Matthias Conrad Takes the Reins from Tobias Flaitz Who Filled the Role for 7 Years
Sedo is heading into the new year with a new CEO at the helm. The popular domains sales and monetization platform has appointed internet industry veteran Matthias Conrad to a role that Tobias Flaitz is leaving after seven years on the job. Conrad has been serving as the VP Marketing at 1&1 IONOS, a company, like Sedo, that is part of internet giant United Internet Group (UI).

UI has a policy of not reporting personnel changes through press releases but we learned that Conrad moved into his new position on January 1st, 2019 when he joined the Sedo management board alongside fellow directors Barbara Stolz and Hakan Ali. That highly experienced trio is intent on expanding Sedo's already large footprint in the domain arena.

Ali, the Managing Director of Sedo, said, "I thank Tobias Flaitz for his dedication to our company over the past seven years and I

Matthias Conrad
CEO, Sedo

wish him all the best for the future. He was responsible for the restructuring of Sedo, expanding its international activities and product portfolio. The now strong and stable company needs new momentum. I am pleased that we were able to welcome an industry insider at Sedo with Matthias Conrad. Together Matthias Conrad, Barbara Stolz and I will drive forward the positive development of Sedo."

Conrad started his career in 1999 as product manager at Vodafone Germany. As a qualified electrical engineer, he worked for Vodafone Egypt and Vodafone Hungary for six years, where he was responsible for product management and customer marketing in the B2B segment until 2011 as Director Marketing.

Since July 2011 Conrad has been working for 1&1 IONOS. He was responsible for the product management for the international web hosting and e-commerce business and most recently as Head of Marketing for the re-branding and brand introduction of 1&1 IONOS. In addition, he completed an extra-occupational MBA at Henley Business School.
New Keynote Speakers Added to NamesCon Global 2019 Lineup Bringing Total to Five for Las Vegas Event
The NamesCon Global conference has announced three additional keynote speakers for the 6th annual event coming up January 27-30, 2019 at the Tropicana Hotel in Las Vegas. The roster will now include Bhavin Turakhia (Founder of the Radix Registry). Show organizers noted, " Bhavin has been in the domain name industry for over 20 years,

and has built a billion-dollar empire. Bhavin has tremendous insights to share about leadership styles that work in the tech space, and how our industry can develop real business strategies that produce results."

NamesCon Global Keynote Speaker Bhavin Turakhia (standing at right)
and his brother Divyank were featured on this cover of Forbes India magazine.

The NamesCon release added, "We're also pleased to announce Haseeb Tariq, a Marketing leader working at Fox. He sold nine startups and over 25 premium domains to Fortune 500 companies by the age of 20. Haseeb has also amassed over 155,000 social media followers."

"Also, don't miss Richard Lau, founder of NamesCon and a driving force behind the WaterSchool charity. Richard has been developing out domain names such as Resume.com (sold to Indeed) and Logo.com, and has a lot to share about how the domaining game goes much further than simply flipping."

In our extensive preview of NamesCon Global 2019 that was published earlier today, conference President and CEO Soeren von Varchmin noted another impressive keynoter, Wordnik.com Founder and Google Developer Relations Program Manager Erin McKean. Erin is a lexicographer who will talk about how new words get created.

Rounding out the five keynoters that have now been named is Buckley Media Group Founder and CEO Kate Buckley who was profiled in our June 2018 Cover Story. Kate's talk is titled "Storytelling in Sales: How to Spin a Yarn and Land a Whale" and it is another one you won't want to miss.

NamesCon Founder Richard Lau will be one of at least five keynote speakers scheduled to appear at NamesCon Global 2019.
---
If you've been out of the loop lately, catch up in the Lowdown Archive!
---
We need your help to keep giving domainers The Lowdown, so please email

[email protected]

with any interesting information you might have. If possible, include the source of your information so we can check it out (for example a URL if you read it in a forum or on a site elsewhere).
---
Home Domain Sales YTD Sales Charts The Lowdown News Headlines
Articles Resources Classified Ads Archive About Us