The Lowdown
December 2012 Archive
Subscribe to our RSS Feed

Here's the The Lowdown from DN Journal,
updated daily to fill you in on the latest buzz going around the domain name industry.

The Lowdown is compiled by DN Journal Editor & Publisher Ron Jackson.
DN Journal's First Decade - 2009: Recession Arrives But Domain Investors Hold Their Own
I have been running a series of photos and highlights in The Lowdown featuring some of the people and events we have covered in DN Journal's first 10 years - an anniversary we will officially reach tomorrow - January 1, 2013. While I am using these Lowdown posts to highlight what we have covered over the past decade, I also just published a new Cover Story today that focuses on the history of the publication itself - - why I started it and how DN Journal took on a life of its own that carried me along on an unexpected but delightful decade long ride.
In my last Lowdown post Friday I covered some of the key moments from 2008, a year of smooth sailing until the Great Recession arrived in the final quarter of that year. As the recession began biting business harder in 2009 domain investors still managed to fare better than most. The biggest problem was diminishing PPC revenue - a trend that sent domain owners scrambling for alternate ways to monetize domains. That led to a short lived mini-site craze that was soon squashed by Google (the same force that was behind lower parking payouts).

While parking was going down, ccTLDs (country code domains) were coming up en route to replacing non .com gTLDs as the second most lucrative category for domain sales, trailing only .com.

Image from Bigstock
In 2009 we also continued to bring you the life stories of some of the domain industry's most interesting people including T.R.A.F.F.I.C. Co-Founder Howard Neu - a renaissance man with talents and experience ranging from singing, acting and politics to the legal profession and domain investing and developing.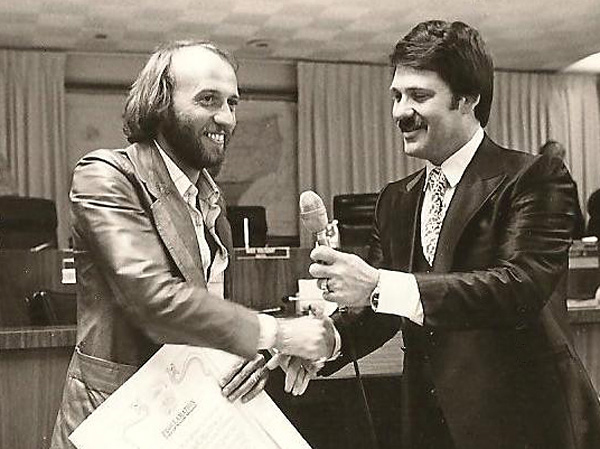 Howard Neu once recorded songs in the same Miami studio used by the Bee Gees. Years
later the Bee Gees' Maurice Gibb attended Neu's swearing in as mayor of North Miami.
The ccTLD boom in 2009 reminded everyone that domain investing is a global business. One of our most touching Cover Stories to date featured Germany's endearing domain giant Markus Schnermann - a man who excelled in everything he did after teachers and doctors told him he had no future. Turns out they just had no foresight!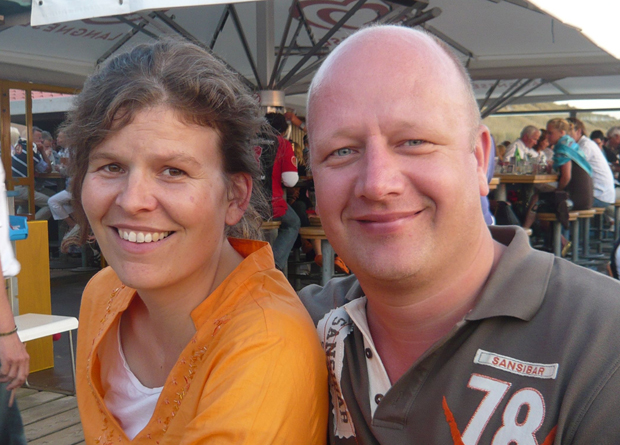 Markus Schnermann and his wife Susanne at the 2012 T.R.A.F.F.I.C. conference in Florida.
Another very popular 2009 Cover Story profile gave you the details on how Michael Berkens became a wildly successful domain investor (as well as author of one of the industry's best blogs at TheDomains.com).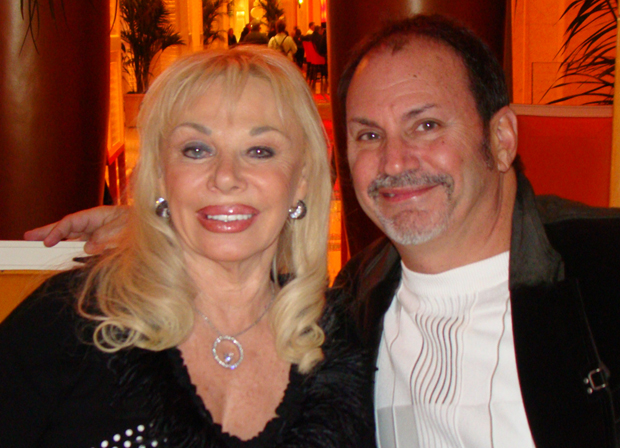 Michael Berkens and his lovely, irrepressible wife Judi - the life of every party.
In 2009 we also profiled Ron Sheridan, Aron Meystedt, Rick Latona and the domain industry's version of the Energizer bunny - Australia's Gregg McNair, the Chairman at PPX International. Gregg is always on the go but even though he doesn't stay in one place for long, he spreads good everywhere he goes. Gregg has been instrumental in raising hundreds of thousands of dollars for one of our favorite charities - The Water School. He also has a great personal story you will enjoy reading if you missed it the first time around.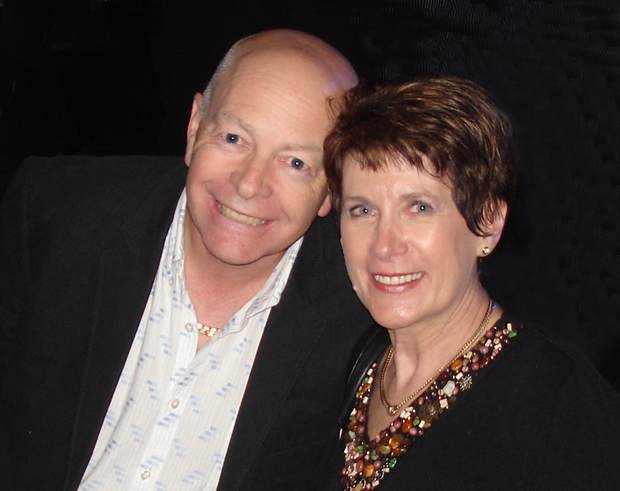 PPX International Chairman Greg McNair and his wife Beth.
Next time - 2010 - when fortunes continue to rise and fall in waters rocked by the Great Recession.
(Posted December 31, 2012) To refer others to the post above only you can use this URL:
http://www.dnjournal.com/archive/lowdown/2012/dailyposts/20121231.htm
Highlights From DN Journal's First Decade: 2008 - Another Big Year Before the Great Recession Arrives
I have been running a series of highlights from DN Journal's first 10 years - an anniversary we will officially reach on January 1, 2013. On Wednesday I covered some of the key moments from 2007 which by many measures cold be regarded as the industry's best ever. The boom continued through 2008 with interest in domains so fevered that sub-categories of the general domain industry became self-contained red hot "industries" of their own - the prime example of the being geodomains - domains representing specific geographic locations like NewYorkCity.com, Chicago.com and LosAngeles.com. The top geodomain owners had formed an organization of their own, Associated Cities, to promote geodomains and they staged annual conferences around the U.S. from 2006-2010 (I was the keynote speaker at their 2007 conference in San Francisco and also covered each show that followed; Chicago in 2008, San Diego in 2009 and New Orleans in 2010).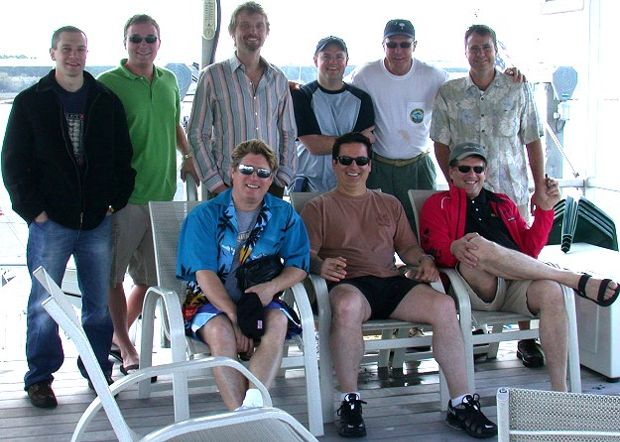 The founding board members and staff of Associated Cities (left to right):
Back Row - Josh Metnick, Patrick Carleton, Sean Miller, Jonathan King, Skip Hoagland &
Mike Ward. Front Row: Michael Castello, David Castello and Dan Pulcrano.
After doing a popular Cover Story about the Castello Brothers in December 2006, I profiled two more key geodomainers in 2008 Cover Stories - Dan Pulcrano (who owns the .com names of more than half of America's 50 largest cities) In February 2008 and Skip Hoagland (who owns many key U.S. and international city, state and country domains) in July 2008.
Geodomains were so hot, that category was further divided into booming sub-sectors of its own - geo-targeted domains pairing a city name with a product or service, such NewYorkRealEstate.com. The undisputed king of city-real estate domains was (and still is) Rob Grant, who was profiled in our April 2008 Cover Story.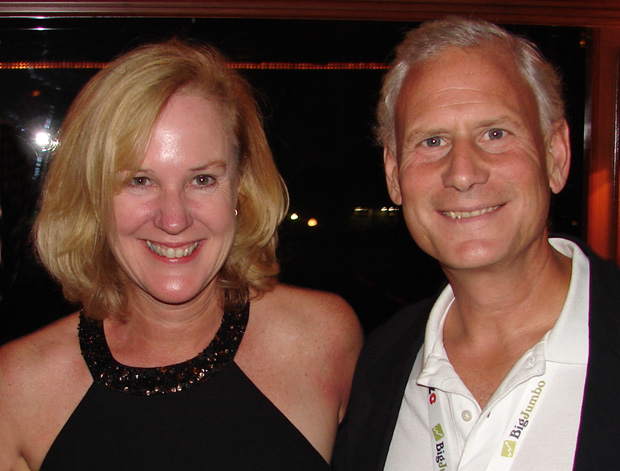 Rob Grant and his wife Pat at the 2006 T.R.A.F.F.I.C. East conference in Florida.
While Rob is still thriving and known throughout the industry, he is no longer the most famous person in his own family!. As many of you know, Rob & Pat's daughter is international music suiperstar Lana Del Rey.
2008 provided DN Journal with an abundance of riches in terms of Cover Stories. Nine of the ones we did that year were personal profiles (the most we've ever done in one year). One of those was one of our most moving pieces to date (and one of my personal favorites), the June 2008 profile of T.R.A.F.F.I.C. Domain Hall of Fame member Dr. Chris Hartnett titled From Death's Door To A Heavenly Mountain: How Dr. Chris Hartnett Built a Billion Dollar Company and Discovered the Real Meaning of Wealth.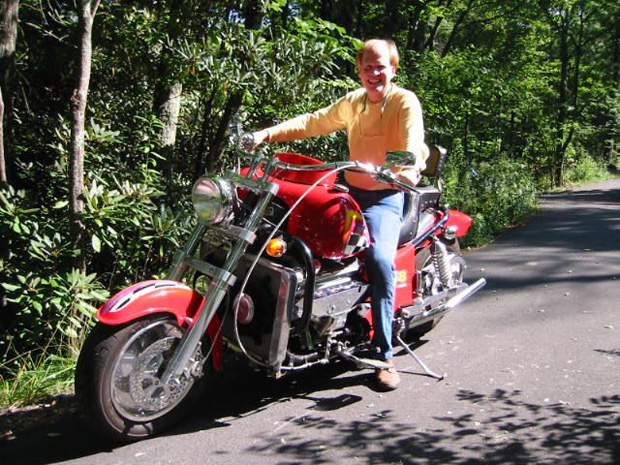 Dr. Chris Hartnett back in the saddle after beating a near fatal illlness.
Two of the world's most successful young entrepreneurs in any business, Oversee.net Co-Founder Lawrence Ng and Directi Co-Founder Divyank Turakhia, were also profiled in popular 2008 DN Journal Cover Stories. Divyank was a millionaire by the time he was 18 and, along with his brother Bhavin, he founded a company in Directi that was valued at $300 million at the time of our story (and is worth much more than that now after four more years of phenomenal growth).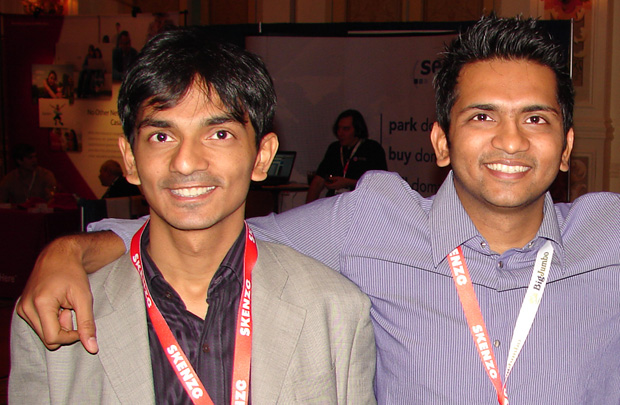 Directi Co-Founders Divyank Turakhia (left) and Bhavin Turakhia
at the 2008 T.R.A.F.F.I.C. West conference in Las Vegas.
Page Howe, Michael Gilmour and Warren Royal were also profiled in 2008 Cover Stories making that an all-star year from start to finish.
While 2008 was another great year for the domain industry it ended with a shock that reverberated around the world - a sudden financial meltdown that rocked Wall Street and began what has come to be know as The Great Recession - the worst economic downturn since the Great Depression. As fate would have it, domain investors from around the world happened to be in New York City shortly after the bad news broke, attending the 2008 T.R.A.F.F.I.C. New York conference. The headline on our conference review article said it all: T.R.A.F.F.I.C. New York 2008: Domainers Who Met in Brooklyn Counted Their Blessings While Wall Street Mulled a Meltdown in Manhattan.
It was true - while panic was ensuing elsewhere, domain owners remained confident that their assets would allow them to weather the storm better than others and most of them did. The biggest disruption for domain owners was a dramatic fall off in pay per click revenues, but the beauty of domains is that they can be monetized in many ways - through PPC, lead gen, leasing,development or sales to name a few. So as PPC evaporated, owners of good domain names were able to turn to sales to keep money flowing their way.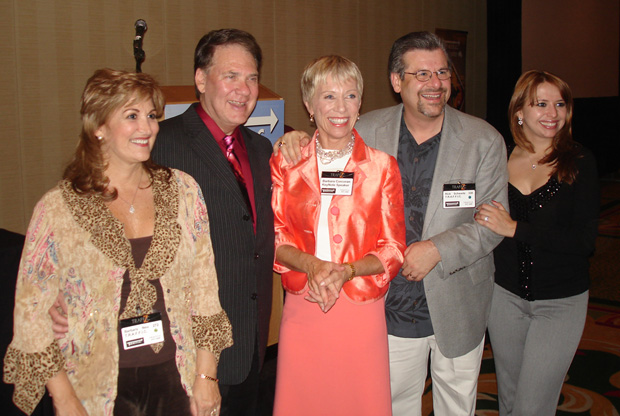 The T.R.A.F.F.I.C. conference has a history of great keynote speakers (jncluding a former U.S. Presidential candidate - Steve Forbes - in 2007). At the 2008 T.R.A.F.F.I.C. New York conference, vivacious real estate magnate Barbara Corcoran, who is now one of the stars of ABC-TV's hit series Shark Tank, wowed the crowd with her talk. Left to right in the photo above are Barbara Neu, her husband - T.R.A.F.F.I.C. Co-Founder Howard Neu, keynote speaker Barbara Corcoran, T.R.A.F.F.I.C. Co-Founder Rick Schwartz and Rick's wife Alina.
Next: 2009 - Domains continue to outperform other asset classes as the Great Recession continues to unfold, leaving us with many more personal success stories to chronicle in our Cover Stories, despite the spreading economic downturn.
(Posted December 28, 2012) To refer others to the post above only you can use this URL:
http://www.dnjournal.com/archive/lowdown/2012/dailyposts/20121228.htm

Super Broker & DomainAdvisors President Jeff Gabriel Takes New Position with Frank Schilling's DomainNameSales.com
The only constant in the domain business is change and before the New Year even arrives, the first big change that will have a major impact on 2013 has occurred. We have learned that super broker Jeff Gabriel (the man behind the biggest all cash domain sale ever reported - Sex.com at $13 million) is leaving his role as President at DomainAdvisors.com to join Frank Schilling's rapidly growing domain aftermarket operation, DomainNameSales.com (DNS).

Gabriel oversaw the highly productive brokerage relationship between DomainAdvisors and DNS in recent years and did the same in his previous position at Sedo.com where he orcestrated the Sex.com sale and many other major transactions.

In our current Cover Story about Frank Schilling and his rapidly expanding domain services empire, Frank said, "The maturing of the domain marketplace coupled with the

Jeff Gabriel

frustration over their inability to control revenues on the parking side has shifted many domainers outlook to focus on a revenue stream they have control over. That revenue stream is sales." Schilling also noted that hiring skilled industry leaders who were willing to pick up and move to DNS headquarters in the Cayman Islands was a challenge, but Frank was was able to persuade Jeff (and his new bride) to relocate from their life long home in New England to the Caribbean.

Once in the Caymans, Jeff will be tasked with taking sales numbers and the DNS platform to the next level. He will focus on increasing sales for both Frank's owned and operated names as well as those of Frank's InternetTraffic.com domain monetization clients. Gabriel will have a lot of tools at his disposal to make that happen, including the current highly proficient DNS Sales Team and the many solid relationships Jeff has established throughout the industry, some of the strongest of which were made during his time as President at DomainAdvisors. If you follow our weekly domain sales reports you have no doubt noticed that DomainAdvisors has had a hand in an increasingly large number of high dollar third party brokerage deals completed on the DNS platform.

The DomainAdvisors leadership team (left to right) included Chairmain Gregg McNair,
Senior Broker Amanda Waltz, President Jeff Gabriel and Founder & CEO Tessa Holcomb.

DomainAdvisors Founder and CEO Tessa Holcomb said she is looking forward to maintaining a mutually beneficial relationship with long time friend and teammate Jeff Gabriel. "Jeff and I have worked very well together over the years and I consider him to be one of my closest friends. His move to work directly for DNS in the Caymans will not change that. I genuinely wish him well!," Tessa told us.

Group Chairman Gregg McNair added " Jeff is a true professional and a close personal friend. His move to DNS in Grand Cayman completes a circle as we already act as a third party broker on the DNS platform. The domain name industry is growing but is really quite small in the end. We have a terrific relationship with both Frank and Jeff. None of that will change with his move. We are appreciative of the great team at DomainAdvisors that Jeff has helped build. It's a unique opportunity for both Jeff and Frank and we wish him the best in his new challenge."
(Posted December 27, 2012) To refer others to the post above only you can use this URL:
http://www.dnjournal.com/archive/lowdown/2012/dailyposts/20121227.htm
Highlights From DN Journal's First Decade: 2007 - The Year the Domain Boom Reached New Heights
Last week I started running a series of highlights from DN Journal's first 10 years - an anniversary we will officially reach on January 1, 2013. Today let's revisit 2007 - a record breaking year when the domain business set some high water marks that still stand today. The year began with another major player joining the domain conference circuit when the first DOMAINfest Global show opened in Hollywood, California at the end of January 2007. That event, staged by Oversee.net's popular domain monetization unit - DomainSponsor - joined T.R.A.F.F.I.C. and Domain Roundtable in helping spread the domain gospel around the globe.
DomainSponsor's Ron Sheridan (left) and Stephen Baldridge at the first DOMAINfest Global conference in Hollywood, California in 2007. Ron (who, in a 2009 DN Journal Cover Story, was described as the Babe Ruth of Business Development) played a key role in developing the new show that is still held annually in California with a new name - Webfest Global.
Just two months later, the pioneering T.R.A.F.F.I.C. conference scaled new heights with a landmark show in Las Vegas that drew more than 600 attendees. One of the most vivid and unforgettable memories of my first decade in this business was walking into the ballroom at the Venetian Hotel and seeing that massive crowd stretching wall to wall. That's when I knew the domain business was not in Kansas anymore!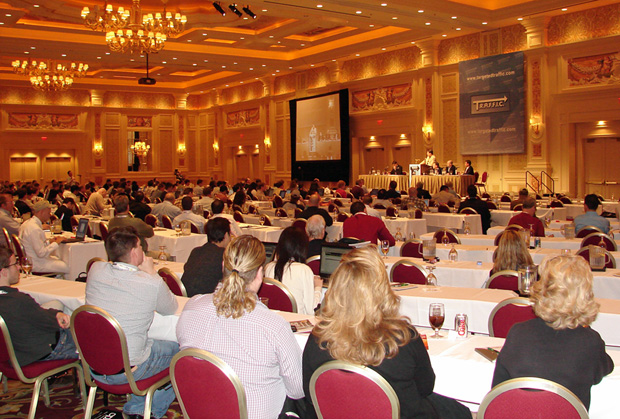 Part of the crowd at the record breaking 2007 T.R.A.F.F.I.C. West conference in Las Vegas.
As big as that Las Vegas show was, the best was yet to come. T.R.A.F.F.I.C. Co-Founders Rick Schwartz and Howard Neu decided it was time to take the domain business the media capital of the world - New York City. In August 2007 a big crowd packed the Grand Hyatt Hotel in Manhattan for a show highlighted by the most successful live domain auction in history. Just under $11 million worth of domains was sold in one day, and by the time the results from the accompanying online auction were added in, more than $12 million had changed hands.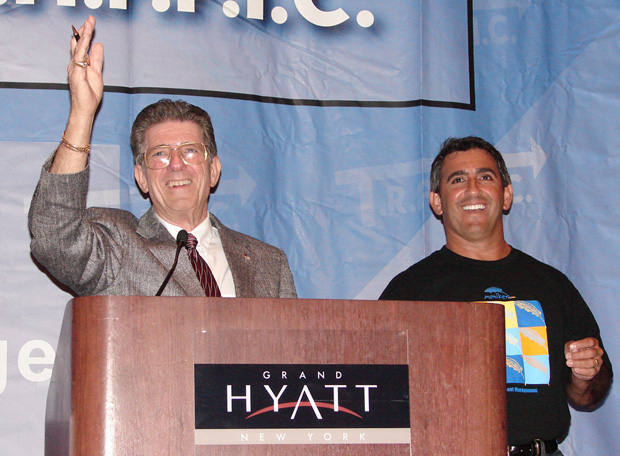 Auctioneer Joel Langbaum and Moniker Founder and CEO Monte Cahn had good reason to smile at the 2007 T.R.A.F.F.I.C. New York live domain auction. The sale, run by Moniker, would up generating a record $12 million in domain sales - a mark that has never been topped.
While the conferences continued to generate fireworks and push domains to an entirely new level we also continued to focus of the many fascinating personalities in the industry. I made a special trip to Los Angeles in September 2007 for the sole purpose of interviewing Thought Convergence leaders Kevin Vo and Ammar Kubba who were making big waves with their TrafficZ domain monetization unit. The result was an October 2007 Cover Story that detailed the remarkable personal stories of these two close friends and business partners who continue to play a key role in the domain industry today.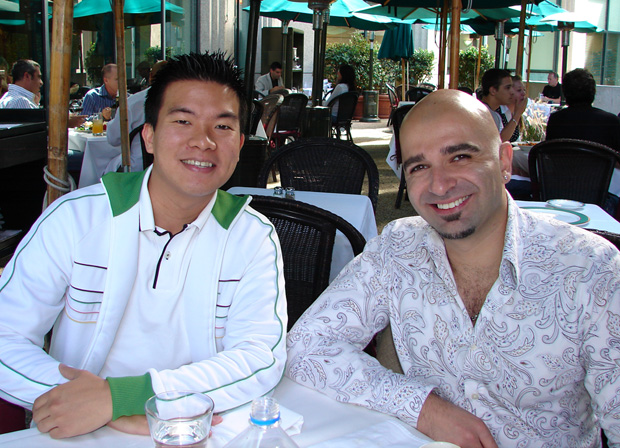 Thought Convergence leaders Kevin Vo and Ammar Kubba in Los Angeles - September 2007
2007 closed with one of the most widely read stories in DN Journal history - an in depth Cover Story profiling the world's most widely recognized domain investor - Frank Schilling. The headline on that article - Nice Guy Finishes First: How Frank Schilling Won the Domain Race After Starting at the Back of the Pack - sums up Frank's story pretty well, but the details of his journey are still a source of endless fascination to our readers. Frank has made a big move from domain investing to providing domain services to his fellow investors over the past year (a move we detailed in our November 2012 Cover Story).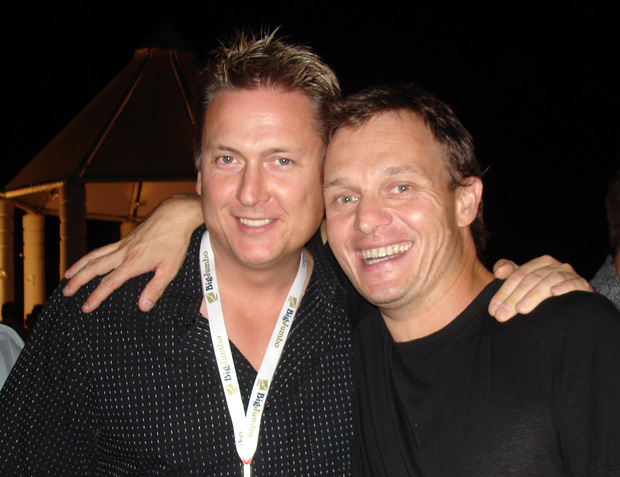 Frank Schilling (right) with his "mentor" and fellow domain industry legend Garry Chernoff
at the 2007 T.R.A.F.F.I.C. East conference in Hollywood, Florida (photo by Barbara Neu).
Next time - 2008: the year got off to a good start but the arrival of the worst global recession since the Great Depression, started taking a toll on our industry too.
(Posted December 26, 2012) To refer others to the post above only you can use this URL: http://www.dnjournal.com/archive/lowdown/2012/dailyposts/20121226.htm

Merry Christmas!
On this Christmas Day our wish is that you experience a wonderful day with the spirit of love exemplified by Christmas touching each of you and your families in a very special way!
"Best of all, Christmas means a spirit of love, a time when the love of God and the love of our fellow men should prevail over all hatred and bitterness, a time when our thoughts and deeds and the spirit of our lives manifest the presence of God." - George F. McDougall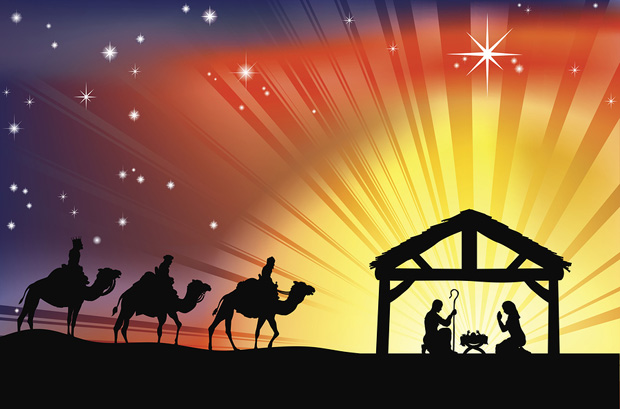 Image from Bigstock
"Somehow, not only for Christmas, But all the long year through, the joy that you give to others, is the joy that comes back to you. And the more you spend in blessing, the poor and lonely and sad, the more of your heart's possessing, returns to you glad." - John Greenleaf Whittier
Merry Christmas!
(Posted December 25, 2012) To refer others to the post above only you can use this URL:
http://www.dnjournal.com/archive/lowdown/2012/dailyposts/20121225.htm
Highlights From DN Journal's First Decade: Domain Pioneers Up Close and Personal - How Our Cover Stories Evolved Over the Years

Last week I started running a series of highlights from DN Journal's first 10 years - an anniversary we will officially reach on January 1, 2013. One of the things the publication has become best known for is its monthly Cover Stories profiling some of the industry's most successful domain investors and companies.

In our first year (2003), when DN Journal will still very much a part-time project for me, the initial cover stories were more like brief sketches. There had been no major domain conferences at that point in time, so I had no face to face personal relationships and no photo library to draw on for anything more ambitious than that.

Still, I started expanding the concept with an April 2004 profile of Sedo.com, the pioneering domain company born in Germany that had just opened its first U.S. office in Boston. I requested some photos from the firm to help flesh out the article and the outcome was an early road map for what the Cover Story concept would eventually evolve into - highly detailed biographical profiles with increasingly heavier use of photography that allowed readers to match the names they kept hearing about with faces that brought those names to life.

The landscape really changed after the first T.R.A.F.F.I.C. conference in October 2004. That allowed me to start getting to know people really well as individuals and also to get leads on an wide variety of story ideas.

Photos from our 2004 profile of Sedo.com: CEO Matt Bentley (at top) at the company's newly opened U.S. office in Boston, head of U.S./UK Operations Daniel Law (bottom left) and Co-Founder Ulrich Essman (bottom right) who was also head of the Technical Staff in the U.S. office.

One thing I noticed at that first conference was how few women were in the domain space (something that thankfully has dramatically changed since then). That led to an early 2005 Cover Story called .Women Wanted: Our Role Models Rock But the Business Needs More Recruits. Though female domainers were few and far between in 2005, I had three very talented professionals to profile in that piece, Donna Mahony, Marcia Lynn Walker and Michelle Miller.

Long time friends and pioneering domain investors Donna Mahony (left) and Marcia Lynn Walker (in a photo from the 2007 Domainfest Global conference in Los Angeles) were profiled, along with Michelle Miller of BuyDomains.com, in our February 2005 Cover Story.

DN Journal reached pass another key road marker in March 2006 when I had an opportunity to tell the story (and many travails) of original Sex.com owner Gary Kremens in a piece titled Be Careful what You Wish For: The Continuing Saga of Gary Kremen and Sex.com. The domain was stolen from Kremens and he went through years of personal and financial agony trying (and eventually succeeding) to get it back. The thief was finally caught and Sex.com was eventually sold for $13 million in what remains the highest publicly reported cash sale on record.

Original Sex.com owner Gary Kremens (seen here at the 2008 Domain Roundtable
conference in San Francisco) was profiled in our March 2006 Cover Story.

Three months after the Kremens story, we published what I would consider to be the Cover Story that became the one all of our personal profiles since then have been modeled on - a moving June 2006 piece on domain attorney Ari Goldberger that included his family's terrifying experience during the Holocaust. This was the first piece that really had the full complement of human interest, rich detail and supporting photos that was needed to elevate the Cover Story concept to the level I hoped to reach.

In a brief passage from that article I wrote, "I was more impressed by stories I started hearing privately about Goldberger – about people in trouble that he had helped regardless of whether or not they could pay. Goldberger has always felt compelled to stand up for those no one else would stand up for. He can instantly identify with people in dire straits, those for whom help is nowhere in sight, because of the horror his own parents experienced."

Ari Goldberger in the 2006 photo
that led our Cover Story profile of the noted
domain attorney from ESQwire.com.

"Adam and Ruth Goldberger are both survivors of the Holocaust. Only 5% of the 50,000 Jews who lived in Cracow, Poland before the war managed to survive extermination by the Nazis. Ari exists today only because his parents were among that tiny fraction that made it through the nightmare."

2006 ended with a December Cover Story that has become one of the most popular in DN Journal's history - a profile of the Castello Brothers, Michael and David, the personable geodomain giants who own and have developed such gems as Nashville.com, PalmSprings.com, Acapulco.com and a variety of category defining generic .com domains.

Michael Castello & David Castello on the night I first met them in October 2006 at the T.R.A.F.F.I.C. East conference in Hollywood, Florida. Two months later I told their remarkable story in one of DN Journal's most popular Cover Stories to date.

More 10th anniversary highlights to come, as well as our own story in the December 2012 Cover Story. In the mean time, on this Christmas Eve - a Merry Christmas to all and to all a good night!

(Posted December 24, 2012) To refer others to the post above only you can use this URL:
http://www.dnjournal.com/archive/lowdown/2012/dailyposts/20121224.htm
Highlights From DNJournal's First 10 Years: Conferences in Tech Meccas Silicon Valley and Seattle Put Domains on The Map + Fascinating People Now
On Tuesday I began running a series of highlights from DN Journal's first 10 years - an anniversary we will officially reach on January 1, 2013. As I noted then, the first T.R.A.F.F.I.C. conference in October 2004 at Delray Beach, Florida gave domain investors a central place to gather and compare notes. T.R.A.F.F.I.C. moved the ball a lot further down the field in January 2006 when it took the domain story into the heart of the Silicon Valley with a conference in Santa Clara, California.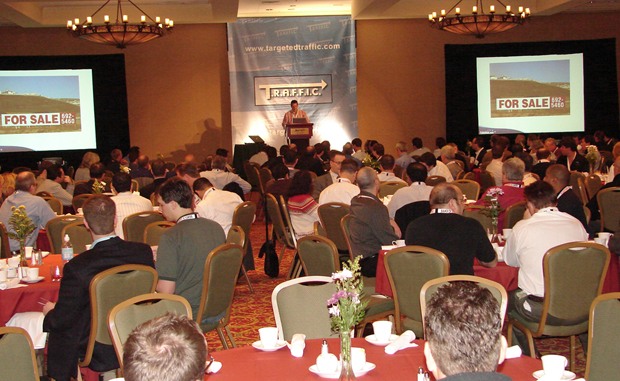 A scene from the 2006 T.R.A.F.F.I.C. Silicon Valley conference in Santa Clara, California.
This show established the domain business and a desirable sector for internet investment and triggered a major influx of capital from venture companies and private investors. It also became possible to finance domain purchases in the same way you could get a mortgage to buy a house. DomainCapital.com founder Rob Alfano, whose company pioneered domain financing, had a high profile at this show (and his company continues to finance domains today).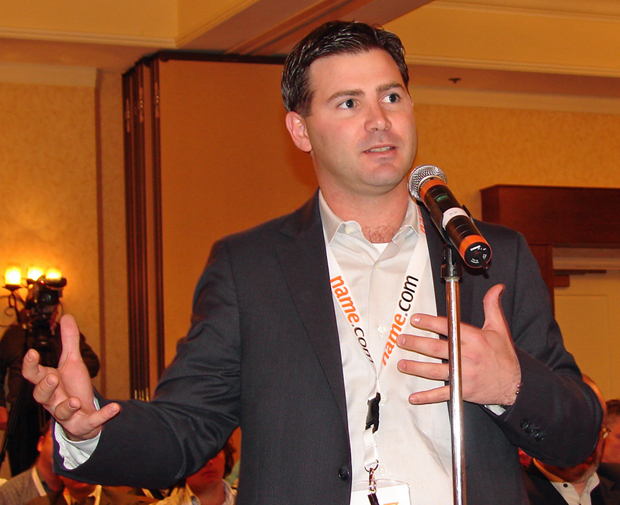 DomainCapital.com Founder Rob Alfano at the 2006 T.R.A.F.F.I.C. Silicon Valley conference.
All of the major tech companies, including Google, Yahoo and Microsoft had representatives at the show looking into what this domain explosion was all about. Google even hosted an official evening party for show registrants at their global home base in nearby Mountain View. Domains had become serious business.
Three months later, in April 2006, another conference that had been started the previous year by Name Intelligence founder Jay Westerdal, Domain Roundtable, set up shop near Microsoft's front door, with a show in the Seattle suburb of Bellevue, Washington. One of the fathers of the Internet itself, Vint Cerf, showed up to speak at this one, further cementing the domain industry's reputation as a corner of the Internet where big things were happening.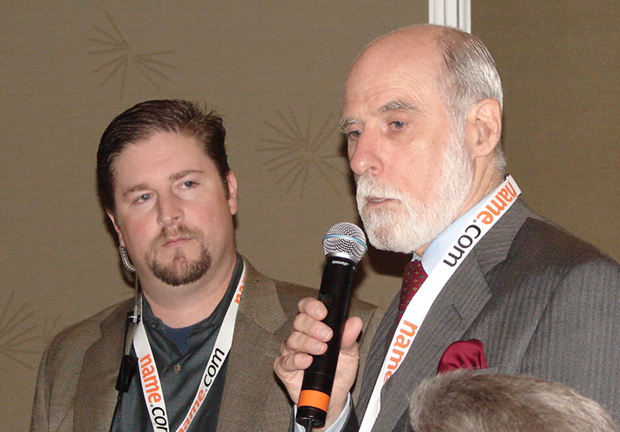 Internet pioneer Vint Cerf (right), with 2006 Domain Roundtable producer
Jothan Frakes, speaking to conference attendees in Bellevue, Washinton.
The captains of the domain industry were in Seattle too with many of those recognized as Name Intelligence Award winners in their respective categories (DN Journal picked up its first of three consecutive NI Awards for Best Industry Coverage at this event).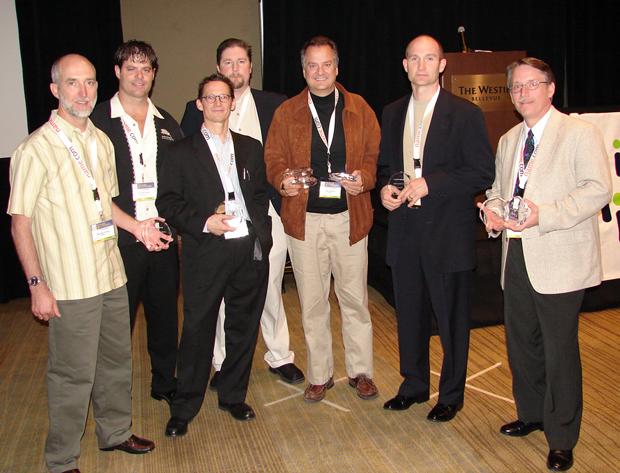 Name Intelligence Award Winners (left to right): Michael Collins (Afternic),
Eric Harrington (Moniker), Bill Mushkin (Name.com), Show Producer Jothan Frakes of
Name Intelligence, Paul Stahura (Enom), Clint Page (Dotster) and Tim Ruiz (GoDaddy).
The boom was officially underway and it would continue to expand as the year went on (to be continued).
Owen Frager

One other note today, while we are talking about industry leaders, I wanted to point out that the 2012 edition of Owen Frager's annual series of profiles called Domaining's Most Fascinating People is currently being published with four of the five profiles already up and the final installment due Christmas Day.

You can now read all about Escrow.com's inimitable Andee Hill, the late great Dan Brown (better known as Danno), ICA Legal Counsel and fierce defender of domain investor's rights Phil Corwin and T.R.A.F.F.I.C. Co-Founder, noted domain attorney and all around renaissance man Howard Neu. On December 25th, Owen plans to publish this year's grand finale, a profile of ShopCity Founder Colin Pape who took on Google and not only lived to tell about but actually soared to new heights.

The recogniton for these five people is well deserved. Give yourself an early Christmas present and check Owen's series out.
(Posted December 21, 2012) To refer others to the post above only you can use this URL:
http://www.dnjournal.com/archive/lowdown/2012/dailyposts/20121221.htm
Verisign Releases Latest Quarterly Domain Name Industry Brief - Number of Registered Domains Soars 12% Over Last Year

Verisign released their latest quarterly Domain Name Industry Brief, covering the 3rd quarter of 2012, today. The quarter ended with more than 246 million domain names registered across all Top Level Domains (TLDs). The 5.7 million domains added to the registration base in the most recent quarter represents a 2.4% increase in total registrations since the end of the previous quarter - the seventh consecutive quarter with growth of more that 2%.

The jump year over year (since the end of 3Q-2011) was even more impressive, soaring 12% with the number of registered domains increasing by 26.4 million names over the previous 12 months.

Versign also broke out figures for the .com and .net TLDs that they administer. Those two extensions reached a combined 119.9 million names at the end of 3Q-2012, which marks a 7.1% increase year over year. As of Sept. 30, 2012, there were 105 million .com domains registered and 14.9 million .net ames.

New .com and .net registrations totaled 7.8 million during the third quarter of 2012. This is a 1.1% year-over-year decrease in new registrations. The .com/.net renewal rate for 3Q-2012 was also down slightly from the previous quarter, slipping to 72.5% after logging a 72.9% rate in 2Q-2012.

(Posted December 20, 2012) To refer others to the post above only you can use this URL:
http://www.dnjournal.com/archive/lowdown/2012/dailyposts/20121220.htm
DN Journal's First 10 Years: Revisiting Some Familiar Domain Industry Faces and Places - The Way They Were

Two weeks from today we will be celebrating a major milestone here - the 10th Anniversary of DNJournal.com. At this time exactly a decade ago I was putting the finishing touches on the domain industry's first news magazine - a publication that would launch on New Year's Day 2003.

At the time, DNJournal was just meant to be a part-time project to fill a hole I had noticed when I entered the industry in the spring of 2002 - the lack of the kind of trade magazine I had enjoyed so much in the businesses I had previously been in (broadcasting and music retail). I had been a professional journalist for 20 years (as a TV reporter in Florida) so it was something I thought I could put together, especially since the Internet made it possible to reach a global audience at an incredibly low cost by publishing online only. It was to be a "hobby" while I continued doing what I came into the business to do, buy and sell domain names.

However, once I started writing about the fascinating people in this business and

Ron & Diana Jackson
before DNJournal.com was launched.

recounting some of their amazing success stories, the publication took off in a way I had never imagined. As the buzz about DNJournal grew advertisers started contacting me to buy banners. As their support grew I was able to devote more and more time to the publication and within three years DNJournal was taking just about all of my time.

I'm still amazed how everything transpired, especially since I had no sales department (and still don't - I have never asked anyone to advertise on this site - every DNJournal advertiser asked to be here and if it were not for them I could never have spent the time I have spent writing about this unique and wonderful business).

I will share the full history of DNJournal in a 10th anniversary Cover Story later this month. In the meantime, I thought it would be fun over the next couple of weeks to share some of the approximately 100,000 photos we have shot over the years. That photo library provides a remarkable visual history of our industry and shows how much the business has grown and how gracefully we have all aged over the past decade. :-)

A scene from the first major domain conference - T.R.A.F.F.I.C. 2004
in Delray Beach, Florida (October 2004).

The advent of major domain shows in 2004, started by Rick Schwartz and Howard Neu's T.R.A.F.F.I.C. conference, created the central gathering places that allowed me to capture so many industry faces, places and events.

T.R.A.F.F.I.C. Co-Founders Rick Schwartz (far left) and Howard Neu (far right) with the first Domainer of the Year Award Winner, Richard Lau (2nd from left) and domain attorney John Berryhill (3rd from left) at the ground-breaking 2004 T.R.A.F.F.I.C. conference in Florida.

Domain shows were also accompaniied by the first live domain auctions - events that would produce as much as $10 million in sales in a single day as happened at the 2007 T..R.A.F.F.I.C. New York show. However, domain auctions had a much humbler beginning as you can see in the photo below from T.R.A.F.F.I.C. 2004.

The first domain auction at T.R.A.F.F.I.C. 2004 featured domain names scrawled on a dry erase board with bidders then writing in how much that wanted to bid next to each name! For an industry based on technology, this was certainly an old school start but at least there were a lot fewer technical glitches than we saw in later years when the sales went live on in the Internet. :-)

Four industry stalwarts the way they were in 2004 - (left to right) attorney Ari Goldberger, Mike Berkens who later started TheDomains.com blog, Adam Matuzich and Larry Fischer. Ari and Larry had started domain monetization company SmartName.com (which they later sold to NameMedia). For the record, these four guys still look pretty good today :-)

I'll have more shots from the early part of the past decade interpersed among other Lowdown posts over the next coule of weeks. I hope you enjoy the walk down memory lane as much as I enjoyed taking the journey as it happened. It has been a great ten years.

(Posted December 18, 2012) To refer others to the post above only you can use this URL:
http://www.dnjournal.com/archive/lowdown/2012/dailyposts/20121218.htm
Companies & People in the News: Go Daddy, Blake Irving, Webfest Global, Roy Flanders & .INFO

I was away last week for the special trip with my daughter that I told you about in my last Lowdown post (Brittany was impressed with both Columbus hospitals where she had residency interviews but she still has more than a half dozen more to go before deciding her favorites. In fact she was on another plane to Philadelphia today for interviews there). I'm back home in Florida with lots of catching up to do! I'll start by touching on some of the most interesting stories that came out while I was away.

For starters, the world's biggest domain regsistrar, Go Daddy, has named Blake Irving as the company's CEO, effective Jan. 7, 2013. Irving, who was a long time Microsoft executive and most recently served as Chief Product Officer at Yahoo!, will succeed interim CEO Scott Wagner.

Go Daddy Executive Chairman and Founder Bob Parsons said, "Blake Irving's deep technology experience and his history of developing new cutting-edge products and leading large global teams make him an enormously compelling choice to drive Go Daddy to the next level of its domestic and global growth. Go Daddy has made great strides with Scott Wagner as CEO, and we look forward to building on that in the future.

Irving said, "I'm honored for the opportunity to lead such

GoDaddy CEO Blake Irving

a talented team and to be a part of such an innovative company. Go Daddy is and will continue to be the hub where businesses can come to life, grow and prosper. As a long time Go Daddy customer, I have seen firsthand an organization that is committed to its customers 24 hours a day and seven days a week and yet there still remains much more we can do to enhance the customer experience. This is a fantastic opportunity, and I can't wait to hit the ground running in January."

The 2013 Webfest Global conference (previously known as DOMAINfest Global) coming up February 5-7 at the Fairmont Miramar Hotel in Santa Monica, California, made some key new additions to the show's agenda, including locations for several big evening social events.

The most exciting of those for many will be on Wednesday, Feb. 6, when registrants will enjoy dinner and

cocktails directly under the recently retired Endeavour space shuttle! The shuttle was recently moved to a new home in Los Angeles after successfully completing 25 missions into space and traveling nearly 123 million miles.

The Pavilion where Endeavour now resides also features exhibits, images and videos that offer unique insights into the incredible science, missions and crews that made Endeavour so successful. Former NASA Astronaut Garrett Reisman will make a special appearance at the event to share stories, answer questions and show souvenirs from past missions.

Webfest Global registration is now open and an Early Bird rate of $1,095 is available through the end of this month (it goes up to $1,295 January 1).

Pioneering domain investor Roy Flanders, a published author who also happens to be one of the industry's most colorful and beloved characters, is making big waves in his long time home town on Nantucket Island.

Flanders has pledged $250,000 (.pdf file) in one-to-one matching dollars for new donations to Nantucket Cottage Hospital's Annual Fund appeal made by the end of this calendar year. This year's annual fund drive is $700,000.

After dealing with some with some major health issues over the past year (or as Roy called it, "finally paying my dues for the best life imaginable" ), Roy said: I owe so much to so many, but especially when it comes to still being above ground: certainly Dr. Pearl, then all the state of the arts medical people and...stuff, the labs and scans and technicians. And to think, we have them all, right here on this tiny little island. Along with so many folks who care so much!

Roy Flanders

Roy, who has lived on Nantucket for more than 30 years, said "I hope everyone who lives or visits here will want to be engaged and supportive of our hospital. Please join up, and kick in anything you can afford – anything...Get all your friends to kick in too...I assure you that will feel very good. And remember: Each dollar you give will mean TWO dollars to Nantucket Cottage Hospital!"

New donors and others who want to support the hospital's Annual Fund should mail contributions to Nantucket Cottage Hospital Foundation, 57 Prospect Street, Nantucket MA 02554, or call the foundation office at 508-825-8250. Visit www.NantucketHospital.org for more information about the hospital and to donate online.

Also this past week we got some insight into the .INFO aftermarket when Go Daddy conducted a Premium .INFO Auction involving Sunrise domains that were finally released by registry operator Afilias. After being in "limbo" for 11 years, 103 domains were sold for a total of just over $279,000.

The top sales in the auction were Cancer.info and Gambling.info at $16,005 each. Loans.info landed $12,205 and there others; Medical.info, Property.info and Treatment.info went for $10,005 apiece. The average price for 103 domains sold was $2,714.

(Posted December 17, 2012) To refer others to the post above only you can use this URL:
http://www.dnjournal.com/archive/lowdown/2012/dailyposts/20121217.htm
I'll Be on a Brief Hiatus This Week Taking a Special Trip With My Daughter

My daughter Brittany is nearing the end of a long journey. From the time she was a small child she said she wanted to grow up to be a doctor. Now, after graduating magna cum laude with a degree in bio chemistry from the Uniiversity of Pennsylvania in 2009, Brittany, at age 26, will fulfill her goal by graduating with honors from the Florida State University College of Medicine in May.

This month and next Brittany, who plans to be a cardiologist, is travelling around the eastern U.S. doing residency interviews at various hospitals that invited her to tour their facilities. Coincidentally, two of those interviews will be in Columbus, Ohio this week, just a few minutes south of the town I grew up in (Delaware) and where her grandmother (my mom) still lives (my father passed away in 1997).

Brittany Jackson & her Grandmother in 1993
(when she was already planning to be doctor)

Brittany Jackson in 2012

So I decided to jump on the plane with her so we can both visit a woman who has been a huge positive influence on both of our lives between the interview sessions and dinners that will be part of Brittany's week as she tours two facilities that have sterling reputations in her chosen specialty. Ironically, one of those, Riverside Hospital, saved my father's life when he was rushed there after suffering a heart attack many years ago. He wound up undergoing open heart surgery at Riverside and thanks to the great doctors there he fully recovered.

After Brittany completes the dozen residency interviews she has scheduled she will then wait until National Match Day on March 15 when all of the nation's graduating medical school students will find out where they will spend the next three years as residents (a computer makes those decisions based on the level of interest hospitals express in their interviewees and vice versa).

Graduation follows in May, then Brittany and her husband David will have to quickly re-locate in the city she is assigned (David works for a national aerospace company with branches in or near most of the cities where Brittany accepted interviews). It has been thrilling for Diana and I to watch Brittany steadily progress toward her goal (she has far more dedication and discipline than her dad ever dreamed of having) and we couldn't be prouder of the wonderful young woman she has grown up to be.

(Posted December 10, 2012) To refer others to the post above only you can use this URL:
http://www.dnjournal.com/archive/lowdown/2012/dailyposts/20121210.htm
Go Daddy Domains and Websites Now on the Warehouse Shelves at Costco.com

You've got to hand it to Go Daddy - they are everywhere. Low prices (and Super Bowl ads) helped make Go Daddy the world's #1 registrar and the 800-pound gorilla has been growing even bigger ever since. Another example of the huge inroads Go Daddy has made on Main Street arrived in my mailbox this week. The latest issue (December 2012) of warehouse giant Costco's in house magazine - The Costco Connection - has an article about Go Daddy detailing a partnership between the giant registrar and the giant wholesale club.

The arrangement allows Costco customers to order not only a domain name, but, if they wish, a custom designed website for their business from Go Daddy via Costco.com.

Headline from an article featuring Go Daddy in Costco's
December 2012 issue of The Costco Connection magazine.

Now they can toss a web presence in their cart along with the usual pallet loads of pper towels and bottled water. That's taking it to the streets!

There is a huge potential market there. I am always shocked by the statistics showing how many U.S. businesses still do not have a simple website. The Costco article said a recent survey from StatisticBrain.com found that out of 14 million businesses surveyed, 75.2% did not have a website. In this day and age that is insane! No wonder the vast majority of small business start ups fail. SearchEngineLand says that 40% of web searches are local - people looking for product and services near them. Being invisible to those searchers is a sure fire recipe for an early demise. For any business, a website is just as imporant (actually much more important today) than a business card.

To get some of those small business owners moving in the right direction the Costco article said the company of offering members 80% off Go Daddy service bundles (besides a domain name and hosting, bundles allow buyers to build their own sites with

pre-designed templates or other website building software, or have a Go Daddy design team build one for them). Costco members also get 20% off other Go Daddy services.

Of course, there are many service providers who could do the same thing for a small business, but too many start up entrepreneurs, especially mom and pop type outfits, have no idea where to go or what to do to get started. Having those services offered to them by a name they know and trust like Costco might reduce a lot of their fear factor and give those business owners a better chance of making a go of it. Business owners can search "godaddy4" on Costco.com to learn more, or call 1-877-818-3680.

(Posted December 6, 2012) To refer others to the post above only you can use this URL:
http://www.dnjournal.com/archive/lowdown/2012/dailyposts/20121206.htm
.Biz Baron Launches Free Service at Email.biz That Lets You Check All of Your Email Accounts in One Place - Also Offers Premium Addresses for $8 Annually
You've probably all heard of the Domain King (Rick Schwartz), but you might not be familiar with a guy who could stake a good claim to the title - .Biz Baron - if he wanted to. India's Anshul Goyal, whose successful development company, Guava Softs Pvt Ltd., has thousands of top tier .biz domains, including some of the best one-word generics as well as 1, 2 and 3-character domains like z.biz, up.biz and pet.biz. While the company sells names from its premium portfolio (that also includes .com, .net and .in domains), it is also a major developer of websites based on .biz domains.

Most of Goyal's attention these days is focused on the launch of a time saving new free email service at exactly the location you would expect from him - Email.biz. The new site gives users a single log-in to access all of their email accounts. To generate revenue the site also offers the option of selecting a memorable premium email address tied to one of the company's 16,000 top tier domains, including

Anshul Goyal
Founder & CEO, Email.biz

surnames and category defining generic names like Fly.biz, Stock.biz, Surfing.biz. etc. The cost for a premium name, for example [email protected], is $8 a year.
The free addresses (your name @ email.biz) come with 10 GB of standard storage space with other options, like unlimited storage, a 200 MB attachment size and SMS alerts for your important email can unlocked at nominal additional prices per year.
And why .biz you are likely to ask? ".biz has always been my favorite extension after .com and .net," Goyal said. ".biz is a 3 letter extension that is more than 10 years old and almost 2.3 million .biz domains are already out there in the global market. If we look at domain counts, it shows .biz is the 2nd fastest growing TLD after .com with a growth rate of 6.1% over the past year."

While Email.biz was just launched Goyal has been planning the service for years now. "The idea came into my mind around six years back , when I needed to check my corporate email and no good source was available," Goyal said. "So I decided to start working on it and to provide a clean and fully loaded features interface that would work from almost any POP3 or IMAP4

email server like Yahoo, Google, AOL, etc , that people can use even if they are not registered with us (they just sign in with the address and password for whatever service's account they want to access)."
"The second part - personalized premium  email addresses - was motivated by the increasing demand for personalized and premium products," Goyal siad. "People are spending lots of money on mobile numbers , car (license tag) numbers , landline phone numbers , even a good house

number. Now people can to make the shortest address (like [email protected]) or the name you select @ your surname or @ an adress that reflects your passion."

Goyal said there a lot of new updates and innovations still in pipeline for Email.biz. The company's other developed sites include Profit.biz, a financial services information portal where Guava Soft also offers premium domains for sale, and Up.biz, a site that offers complete software solutions, portal development, animation, TV ads, tablet & mobile apps.
(Posted December 4, 2012) To refer others to the post above only you can use this URL:
http://www.dnjournal.com/archive/lowdown/2012/dailyposts/20121204.htm
Christmas.com Gets a New Lease on Life With Move to Left of the Dot's Sub-domain Platform

After spending almost a decade as a parked page, the spectacular potential of Christmas.com is finally being realized after a move to the Left of the Dot platform that combines domain development with smart utilization of sub-domains to take top tier domains to a new level.

Left of the Dot Co-Founders John Lyotier and Chris Jensen, who got a Christmas.com trademark on the slogan - the Official Site of Christmas™ - have pulled out all of the stops to make the new Christmas.com site live up to that name. They said more than 40 million products from 400 different retailers can now be purchased through the site. They have also

loaded it up with all manner of Christmas-y things, including wish lists, games, recipes, stories, and a high-tech naughty or nice list. The duo is also proud of the fact that Christmas.com is their most social media oriented site to date.

Still, the thing thing they are most excited about is the use of their sub-domaining platform to provide unique Family Pages for Christmas. "In brief, we allow families to have their own special place of Christmas," Lyotier said. "For example, you might claim Jackson.Christmas.com or JacksonFamily.Christmas.com for your family. They are free for now and the uptake has been brisk so far."

Lyotier noted, "With your personal domain/page, you can share photos, Christmas traditions, recipes, wish lists, and generally give your family a place to come together over Christmas. If you want to get your own, you can claim your Family Page at http://www.christmas.com/family-pages."

Jensen said, "The rise of Social Media has led to increased online interaction between families, but until now,there has been no central, obvious location to celebrate Christmas together.

Image from Bigstock

Facebook allows transient conversations, but Christmas is special and those experiences and memories should be kept in a lasting place and shared with the important people in our lives."

Jensen added, "Many families are now spread around the world, separated by emigration, work, school, or military service; we want to bring those families together this Christmas. With Christmas Family Pages, whether you are a military family or a family that is just busy and spread over an entire city, you can ensure that special memories are enjoyed by your entire family."

Christmas.com is just the latest of several top tier doman names that Left of the Dot has transformed into leading web brands. The company, based in Maple Ridge, British Columbia, Canada, also has under management HomeDecor.com, Villa.com, Massage.com and Importers.com to name just a few.

(Posted December 3, 2012) To refer others to the post above only you can use this URL:
http://www.dnjournal.com/archive/lowdown/2012/dailyposts/20121203.htm
---
If you've been out of the loop lately, catch up in the Lowdown Archive!
---
We need your help to keep giving domainers The Lowdown, so please email

[email protected]

with any interesting information you might have. If possible, include the source of your information so we can check it out (for example a URL if you read it in a forum or on a site elsewhere).
---
Home Domain Sales YTD Sales Charts Latest News The Lowdown Articles
Legal Matters Dear Domey Letters to Editor Resources Classified Ads Archive About Us