The Domain Roundtable conference ended in San Francisco Monday with a 352-name live domain auction and an after-show party at local nightspot The Cellar. The final auction sales total came in at approximately $400,000, a large fall off from the $3.8 million in sales at the 2007 DRT show. Michael Berkens has a list of the final high bids on his blog.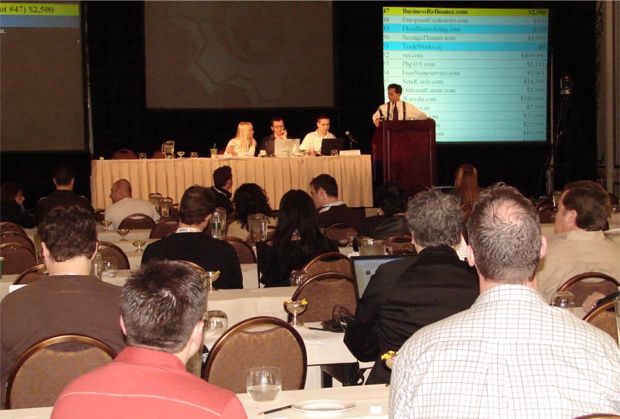 Scene from the Domain Roundtable Live Auction Monday April 21 in San Francisco
The reasons for the sales decline are being debated now. There were more technical glitches in the Internet portion of the bidding and auction access than there were last year (which also slowed down momentum in the auction hall at the Palace Hotel). Some think reserve prices

Auctioneer David O'Shaughessy calling
the Domain Roundtable live auction

were too high on the better names and there were none of the six-figure blockbusters that drove up the take in 2007. Of course, despite a strong first quarter in 2008, there is also the question of whether or not the slowdown in the general economy is finally spilling over to domains. We should get more insight into that question next month when a major Moniker/SnapNames Live auction will be held at the T.R.A.F.F.I.C. conference in Orlando. I think that a key reason for the fall off in the Roundtable auction is the fact that there are so many similar events now competing for buyers. That's a problem all of the live auction venues will have to deal with in 2008.
I am flying back to our home base in Florida later this morning. Soon after I return I will start working on our comprehensive conference review article that will be published within the next week on our home page. The past few days in San Francisco have been very enjoyable. DRT had a great new venue in the Palace Hotel, the seminars were well programmed with top notch speakers and as always it was an invaluable opportunity to pick the brains of some of the smartest people in the business.
(Posted April 22, 2008) To refer others to the post above only you can use this URL:
http://www.dnjournal.com/archive/lowdown/2008/dailyposts/04-22-08.htm
Sunday's schedule at the Domain Roundtable conference in San Francisco was headlined by former Sex.com owner Gary Kremen's keynote speech. Kremen's travails with Sex.com

(which was hijacked by a convicted felon who was eventually caught and jailed) have been documented in a book and many magazine articles. We also had an in-depth profile of Kremen in our March 2006 Cover Story.

Kremen was also one of the founders of Match.com, a pioneering dating site he said he conceived to help find himself a wife. Kremen sold the site before finding a mate but he told attendees he just got married for the first time last month (drawing a warm round of applause from the audience). Kremen talked about his many years in the domain business and what he has learned along the way. Kremen said he is now thinking of starting a new parking company because he thinks he can improve on today's PPC system.

Sunday's schedule also featured four seminars

Gary Kremen
Domain Roundtable Keynote Speaker

and a luncheon sponsored by the new .me registry. We will detail all of those sessions in our show wrap-up article that will be out by this time next week. But first things first. We still have one day to go as the show closes with a live auction today (I am actually sitting in the auction room as I write this and we are about halfway through the sale) followed by an after show party tonight at local hotspot The Cellar. I'll have a final post from San Francisco tomorrow morning before heading back to our home office in Florida where we will begin work on our comprehensive conference review article.
(Posted April 21, 2008) To refer others to the post above only you can use this URL:
http://www.dnjournal.com/archive/lowdown/2008/dailyposts/04-21-08.htm
The first full day at the Domain Roundtable conference in San Francisco Saturday (April 19) was packed with highlights. I'll cover all of the details in our show wrap-up article that will be published next week but before heading downstairs to the Palace Hotel's conference area for day two today I wanted to pass along a few comments about yesterday's jam-packed schedule.

Google's Matt Cutts speaking in the
main event at Domain Roundtable
Saturday (April 19).

A 90-minute afternoon Q and A session with Google's Matt Cutts was an especially rewarding session. Several attendees told me that the value they got from hearing Cutts detail how to get sites ranked as high as possible in Google's search results was, by itself, worth more than they paid to attend the entire show. Cutts is head of Google's Webspam team, which makes him the guy in charge of making sure the most deserving sites get the highest placement in Google search results.

Cutts, who is an exceptionally engaging speaker, said the #1 factor is having unique and frequently updated content on your site. He passed along tons of great tips and links to webmaster tools that will help the many website owners in attendance gain higher visibility at Google.

Another Saturday highlight was a new parking company innovation, SmartName Shops, announced by NameMedia Senior VP Brian Carr in a luncheon presentation. The program, limited to those who hold accounts with NameMedia's high end PPC provider, SmartName.com, allows clients to take parked domains to a new level with integrated affiliate shopping features. You can see an example of what they are doing at ToyCatalog.com. There were also four excellent panel sessions Saturday including the always popular CEO Roundtable that got the day off to a fast start. We will detail all of those in our upcoming conference review article.

There were two major evening events including the annual Name Intelligence Awards dinner (Name Intelligence is the parent company of Domain Roundtable and DomainTools.com). Winners were chosen in ten categories through open balloting on the Roundtable website and among the thousands of DomainTools members (or where applicable, winners were based on industry statistics, such at the registrar net gain award). The envelopes please....

Registrar with the Largest Net Gain - GoDaddy
Best Registrar for Resellers - Enom
Outstanding Drop Catcher - NameJet
Outstanding Secondary Market - Sedo
Best Registrar - Moniker
Best Parking Company (tie): Sedo and Parked.com
Best Aftermarket - Afternic
Best Forum - DNForum.com
Best Blog Community (3-way tie): SevenMile.com (Frank Schilling), Elliot's Blog (Elliot Silver) and Domain Name News (Adam Strong and FrankMichlick).
Best Industry Coverage - DNJournal.com

One of the Name Intelligence Awards
presented last night.

After the Awards dinner everyone boarded buses for Club 443 where TrafficZ hosted a fundraising casino night party to benefit Grassroots.org. Attendees donated money for chips and at the end of the night those with the highest winnings were given an array of prizes provided by sponsors. You can see some of the action in the photo below:

Casino night fundraiser for Grassroots.org

I'm off now for another busy day today. I'll have a Sunday show recap for you tomorrow.
(Posted April 20, 2008) To refer others to the post above only you can use this URL:
http://www.dnjournal.com/archive/lowdown/2008/dailyposts/04-20-08.htm
The 2008 Domain Roundtable conference got underway with a welcoming cocktail party at the elegant Palace Hotel in San Francisco last night. This fourth edition of Roundtable is the first to be held outside of the Seattle area where show sponsor Name Intelligence (parent of DomainTools.com) is based. The 2008 venue, a historic hotel originally built in 1875 then reconstructed after the 1906 San Francisco earthquake and fires is truly magnificent.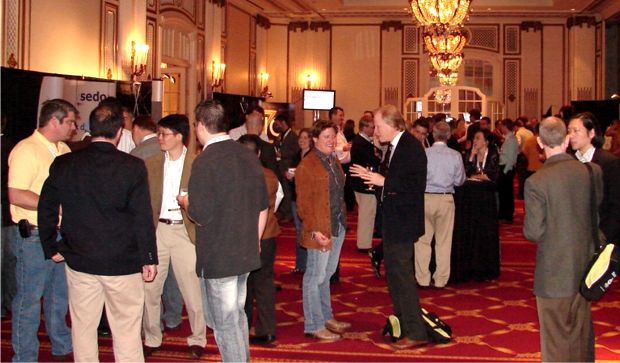 Part of the crowd at the Domain Roundtable welcoming cocktail party
at the Palace Hotel in San Francisco Friday night (April 18).
The first full day of conference activity gets underway today with a CEO Roundtable, followed by five more sessions, including an afternoon Q and A session with Google's Matt Cutts. The evening schedule will feature the Name Intelligence Awards Dinner followed by a fundraising casino night party at Club 443 to benefit Grassroots.org. The conference continues through Monday. I'll have a daily highlight post here in the Lowdown and we will of course also produce a comprehensive show wrap-up article that will be published on our home page within a week after the conference ends.
(Posted April 19, 2008) To refer others to the post above only you can use this URL:
http://www.dnjournal.com/archive/lowdown/2008/dailyposts/04-19-08.htm
HOT LINK - An auction for Pizza.com ended at GreatDomains this afternoon with the winning bid coming in at $2,605,000. The Baltimore Sun already has a story out on Chris Clark, the local man who put the domain up for sale. You can read it here.
(Posted April 3, 2008)