The Lowdown


October

2015 Archive

Subscribe to our RSS Feed

Here's the The Lowdown from DN Journal,
updated daily to fill you in on the latest buzz going around the domain name industry.

The Lowdown is compiled by DN Journal Editor & Publisher Ron Jackson.
NamesCon Just 10 Weeks Away - Reduced Price Early Bird Ticket Offer Ends Saturday
Hard to believe but the 2016 NamesCon Conference is now just 10 weeks away! The big show will return to the Tropicana Hotel in Las Vegas for a four-day run from January 10-13. If you want to go and haven't already gotten a ticket, now is the time to do so. A $399 Early Bird ticket offer expires at the end of the day Saturday (October 31). After that the price rises to $599.

Show organizers are promising that this 3rd annual edition of NamesCon will be by far the biggest ever. Co-Founder Richard Lau is forecasting more than 1,000 attendees will be on hand to network and learn more about all things related to internet naming, online branding, IP protection, domain monetization, and domain buying/selling.

If you haven't been to a NamesCon event before you can get a good idea of what it's all about - and why people consider it to be a can't miss event - by looking back at our coverage of this year's show that ran last January at the Tropicana.
New Delhi Will Be Next Stop for India's DomainX Conference - 3rd Annual Event Set for August 2016
The organizers of India's DomainX Conference started the event with a clear mission - to bring awareness and educate the general public about the domain industry in India. To reach

as many people as possible they decided to take the annual event from one city to another, planting seeds along the way designed to unlock the unlimited potential so many people see in this rapidly growing region.

To that end, DomainX staged its first conference in Hyderabad in 2014, then moved on to Bangalore for the 2015 event this past August. Today we learned the next stop will be the nation's capital - New Delhi - where the 2016 conference will staged August 6-7 of next year at a venue to be named soon.

Part of the audience at the 2015 DomainX Conference in Banagalore last August.
The show will move on to the nation's capital - New Delhi - in August 2016.

Having covered and spoken at the 2015 DomainX conference, I was amazed that the organizers were able to produce a world class event while charging so little to attend. That won't change in 2016. The full two-day pass covering both the Networking Day (Saturday, August 6) and the Conference Day (Sunday, August 7) will be just $135 and that includes dinner Saturday evening, lunch Sunday and coffee, tea and cookie breaks both days. Passes can also be purchased separately for the Networking Day ($99) or the Conference Day ($49). To show you the format of each, our coverage of the 2015 Networking Day is here and coverage of the 2015 Conference Day is here. Whatever ticket you choose it has to be one of the world's best conference bargains.

Organizers (front row) and speakers (standing) at the 2015 DomainX Conference.

I plan to return to India for the 2016 edition of DomainX and show founder Manmeet Pal Singh told me that leading Canadian domain attorney Zak Muscovitch will also be back to speak. DomainX Co-Organizer Gaurav Kholi added that well-known domain investor/developer Bill Karamouzis (who was profiled in our March 2010 Cover Story) has also been confirmed as a 2016 speaker with many more to be added as the agenda takes shape.

In addition to a great conference, New Delhi will have a lot to offer conference attendees. The city is close enough to Agra to allow guests to make an easy day trip to the world famous Taj Mahal (the express train can get you there in two hours). That will definitely be part of our itinerary as we look forward to re-visiting one of the world's most dynamic nations and participating in another extraordinary conference.
Marie Claire Magazine Names Dr. Chris Hartnett's Daughter - Heather Hartnett - One of America's 50 Most Influential Women
Many of our readers know Dr. Chris Hartnett, a Domain Hall of Fame member who was profiled in one of our most popular Cover Stories ever in June 2008. If you were active in the business back then there is also a good chance you met Chris's brilliant and beautiful daughter Heather Hartnett, who occasionally dropped in at conferences with her father. What was obvious to all of us then has become apparent to the mainstream business world as well - this is one remarkable young woman.

This month one of the world's leading fashion magazines, Marie Claire, included the 32-year-old CEO of New York City based Human Ventures in The New Guard: The 50 Most Influential Women in America. Marie Claire wrote, "Hartnett runs this "startup studio," founded by successful ad-tech entrepreneur Joe Marchese; she and her (mostly female) team come up with the disruptive ideas, then recruit talent to launch them."

Heather Hartnett
One of Marie Claire's 50 Most
Influential Women in America.

Dr. Christ Hartnett & Heather Hartnett
at the 2008 T.R.A.F.F.I.C. West Conference in Las Vegas
(Photo by Barbara Neu)

In announcing their "all-star" roster, Marie Claire noted, "This isn't your traditional Power List. Spotlighted here are legions of impressive women operating largely behind the scenes, pulling levers and exercising outsize influence in their industries. They are the women you call when you want to launch something—be it a startup or a movement—these passionistas with the know-how to make anything happen."

In addition to running Human Ventures, Heather serves on the Board of the David Lynch Foundation, established in 2005 "to raise funds and provide grants for the implementation of scientifically proven stress-reducing modalities, including Transcendental Meditation, for such at-risk populations

as underserved inner-city students, veterans with PTSD and their families, and abused women and girls." Congratulation to Heather and the entire Hartnett family on this well deserved honor.
Busy Week for New gTLDs: .SRL Entered GA Today - Two More Coming Wednesday Followed By .CLUB's 1-2 Letter Auctions Thursday
Most of the new gTLDs coming out each week are getting released on Wednesdays, but one came early this week with InterNetX opening General Availability for their .SRL extension today. A lot of Americans may be unfamiliar with that term but it is very familiar to business operators in Italy, Spain, Mexico, Panama, South America and other regions, as it in an abbreviation designating the private status of a business, similar to LLC in the U.S. Over 4 million companies worldwide are organized as an SRL.

.SRL domains are now available at more than 30 registrars from around the world, including Aruba.it, Register.it and 1&1. .SRL is just the second new gTLD launched by InterNetX, following .LTDA (a designation popular in Latin American that also describes a business's organization status) that went live last December. InterNetX CEO Thomas Mörz said, "We're very excited to introduce now .SRL, continuing the process we started a few months back with .LTDA. We believe this is a great opportunity for companies looking to establish a trustworthy and secure online appearance, to whom we can offer a home on the web that suits their needs."

As it does almost every week, Wednesday will bring more new gTLDs into General Availability this week. Rightside will be opening the doors at .studio and .live. Writing for the Rightside Blog, Ashley Schwellenbach noted, "Both new domain extensions have an undeniable artistic flair; .live is perfect for live music and theater events while .studio is a space for artists to showcase their work and skills." Ashley added that both terms are applicable to many other enterprises and pursuits as well.

Also on the new gTLD front, .CLUB is opening an auction of C.CLUB and 24 two-character .CLUB domains on China's EachNic platform Thursday (October 29), with the final lots due to close on November 5. The auction platform

will be available in both Chinese and English and .CLUB will be offering a Concierge Service to assist Western buyers. Auction bidding starts at $5,000 for the majority of two-character domains. Multiple lots will be closing daily from November 1 through November 5. Each auction will end promptly at 10:30 pm U.S. Eastern time (7:30 pm Pacific) on the designated end date for the lot.
Flu.Sucks! A Weekend Trip to See Family & Some Fall Foliage Led to a Losing Fight With the Flu
This past week hasn't exactly gone the way I planned. My last post in this column was a week ago today - the day before my wife, Diana, and I left for Ohio to visit my mother (who will be 97 in February)! We were also looking forward to seeing the fall foliage up north where I grew up.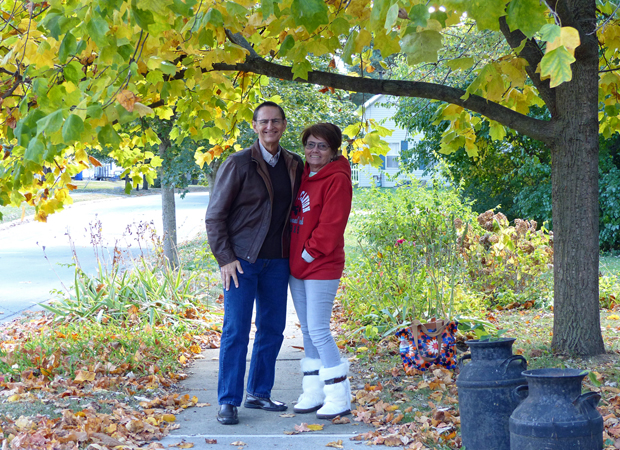 Diana and I on the sidewalk in front of my mother's house in Delaware, Ohio Sunday.
I didn't mention anything about the trip in that last post because I had planned to do an article or two from the road during our stay in the Midwest Friday through Monday. Well, you know what they say about the best laid plans of mice and men. We wound up running here and there all four days so I never got a chance to write.
Oh well, plenty of time to catch up starting Tuesday. At least there would have been if I hadn't started feeling very weak just as our plane home approached Tampa Monday night. By the time we landed and were in the car for the drive home everything hurt - it even hurt to turn the wheel of the car or turn my head in either direction. No doubt about it - Flu.sucks!
I spent a lot of my childhood playing on these railroad tracks near my mother's house.
By the time I got home Monday night I felt like a train had run over me!
I rarely get sick but almost every time that I have air travel was involved. I figured that part out years ago so have been meticulous about washing hands, wiping nearby surfaces with anti-bacterial wipes, etc. Doing that has pretty much eliminated getting sick when I travel - but not this time - no one bats 1.000. I get a flu shot every year too. I had actually tried to get the latest one a week before last Thursday but the line was too long at the pharmacy. I finally got the injection on the day before we left but it tales a week or two to become fully effective (if it works against a particular strain of flu at all).
Long story short, I've been feeling a little like Jerry Quarry after fighting Muhammad Ali the past few days! The only thing I've been able to get out before now is the weekly domain sales report last night. There's light at the end of the tunnel though (and I'm hoping it's not another oncoming train)! I'm starting to feel semi-human again this evening and planning to be fully back in the saddle Friday - and I'm hopeful those plans will work out better than the ones I had a week ago!
Steady Growth of .ORG Continues - Latest Report Shows Registrations Have Passed the 10.5 Million Mark
Public Interest Registry, the not-for-profit operator of the .org, .ngo and .ong top level domains, released their latest edition of "The Dashboard" Wednesday (Oct. 13). That report, which comes out twice a year, details how PIR's extensions have fared since the last update. The new edition reported that .org, the world's third largest TLD, added 130,865 registrations over the past year, pushing the total number of .org domains under management to 10,547,247.

For the first time, The Dashboard was issued in two parts - The .org Dashboard, detailing the continued growth of .org and The OnGood Dashboard that tracks adoption of the new .ngo and .ong domains. The latter two extensions became generally available to non-governmental organizations (NGOs) worldwide May 6, 2015 with the launch of OnGood, a comprehensive suite of online services anchored by the new domains that help NGOs and nonprofits increase visibility, reinforce credibility and raise funds for their missions. As of June 30 (seven weeks after they became available), 2,344 .ngo and .ong domain bundles had been registered across six continents.

Here are some other findings of interest outlined in The Dashboard:

After a year hiatus, India jumped back into the top 10 list of .org registrations by country, ahead of Spain, with 1.8% of worldwide registrations.

While .ngo and .ong experienced popularity across numerous and diverse fields, children and youth, education and health and nutrition are the three causes that are most commonly supported by the domains.

Brian Cute, CEO of Public Interest Registry, said, "The successful launch of OnGood has brought together thousands of nonprofit and NGO leaders around the world, helping to empower their voices and share their stories. The continuous growth of the .org domain, and the early adoption of the .ngo and .ong domains is a clear indication that organizations and individuals around the world understand the need for global collaboration and collective empowerment to

successfully serve the public interest. We look forward to helping NGOs worldwide further achieve their goals as we continue to expand our portfolio of online resources."

The .org Dashboard also contains information about happy30th.org, which launched in celebration of the first .org domain registration on July 10, 1985. The anniversary celebrations will continue throughout the 30th year and organizations using the .org domain are encouraged to share their stories on Facebook, Twitter and Instagram by tagging their photos and videos with #ORGinAction, or to submit their .org websites directly on happy30th.org.

For more information on The Dashboard or to download a copy, visit www.pir.org/dashboard.
What Makes .Desi Desirable? An Inside Look at an Undiscovered TLD That Represents Millions of People Worldwide
As you all know hundreds of new gTLDs have been released over the past year. Most of these new extensions are popular keywords or locations that anyone would recognize - things like .news, .photos, .miami, etc. One of the few that I didn't know the meaning of immediately was .desi, so when I was in India in August for the DomainX conference I was intrigued to see a .desi booth where the TLD's Co-Founder, Sid Ohri, was answering questions about the extension.

I learned that Sid has lived in the United States (Washington D.C. area) for 34 years, having moved here from India with his brother back in 1981. Sid's personal status is a

.Desi Co-Founder Sid Ohri at the
2015 DomainX Conference in Bangalore, India

perfect example of what "desi" is all about. He explained, "Desi is derived from Sanskrit and refers to the culture, people and products originating from the Indian sub-continent (India, Pakistan, Bangladesh, Nepal, and Sri Lanka). The term is used affectionately by the South Asian community to indicate a connection."

Ohri has a specific vision of the role .desi can play on the Internet. ".Desi is a platform for communication – it is a way for people to make their statement, to do and accomplish things that they were not able to do before," Ohri said. "Currently, there is no clear platform to unite the desi community. This is where .desi comes in as a way to involve groups of people

from our extended community that may already have an online presence, but are not connected to each other."

"Through the .desi community, we are hoping to promote real sustained growth for desi-focused businesses and organizations around the world – whether the goal is to find the local desi grocery store; to help desi businesses in the subcontinent get with the e-commerce revolution; or get that desi blogger showcase her brand to desis around the world."

With its broader scope, Ohri thinks .desi offers a versatile alternative to the region's local country codes, like India's well-known .in ccTLD. "Our view is that a .desi domain provides a clear voice for the desi community to showcase what is important to them globally," Ohri said. "Using a ccTLD or other hyper generic TLD is fine for localized messaging but does not necessarily translate outside of a limited area."

"The desi world is large and segmented. Desis come from different national, cultural, economic, educational, and religious backgrounds – and there are many ways to be a desi and express a desi identity," Ohri noted. "With all this diversity, there was no obvious place to go online dedicated to the promotion of desi culture and business, no real place to show desi pride. The new .desi creates one platform, one unified way of being connected to the global desi community while maintaining the diversity of what it means to be a desi."

"For the desi student in Washington, London, Sydney – wherever he or she may be – the .desi online community will make it easier to connect to his or her roots and find desi communities abroad. For the desi shopkeeper or restaurateur in Toronto or Durban, having a .desi domain will make it easier to reach out and be seen by members of those growing community (and anyone else who is a fan of South Asian cuisine). For desi service and community organizations in Nairobi, having a .desi will help them preserve their traditions – both local and international – and pass their

DomainX attendee Pradeep Kumar wearing a
.desi T-shirt at the 2015 show in Banagalore.

culture and languages on to future generations, linking in with a network of similar organizations everywhere," Ohri said.

"Perhaps most importantly, on the individual level, .desi creates a platform to express yourself and your heritage. For individuals across the world and in the sub-continent, your .desi personal domain is a positive, affirmative statement of your desi pride. It is the place to reflect your unique, dynamic desi identity, your social vision, and your hopes for the future."

While Ohri has lived in America for decades his family has maintained their connection to the country of their birth. "In the U.S. there was always some "desi-ness" around us but, in truth, it was very difficult to maintain our roots," Ohri said. "One way we found was to connect through entertainment: Bollywood, festivals, music, etc. But we knew there was more out there – more connections around culture, but also around business, about the issues that members of the global desi community are facing, about our hopes for the world. So, for us the idea of creating .desi came about as a result of our own personal experience, as a way to connect desis around the world to culture, social projects, and most importantly, to each other."

"We recognize that people everywhere are searching for a sense of connection and belonging. At the same time, we know from our own personal experiences that people are not just one thing or bound to one place. A big piece of our motivation for the creation of .desi came from our own life stories of being desis outside of the sub-continent – embracing our homes in the United States but with a strong desire to share and maintain the many positive aspects of our desi culture with our friends and especially with our children. We are excited because we believe that .desi can help members of our extended community to lead a positive life with connections to the past and an eye on the future."

While .desi has a natural constituency, the extension faces the same hurdle all new gTLDs must clear - making the public aware that the extension exists. As of this writing just over 2,000 .desi domains have been registered according to NTLDStats.com. I asked Sid how they were tackling that problem. "Initially, we spent a lot of time early on working on our channels and establishing reseller and registrar relationships," Ohri said. "Traditional outlets like trade shows, promotions and online campaigns were the primary awareness mechanisms used in the last year."

"Now, and going forward we are expanding the messaging and focusing more on grass roots efforts in getting the word about the .desi domain to our end customers. We have engaged a marketing firm to

DNJournal's Ron Jackson (center) visiting Sid and Bhavna
at the .desi booth at DomainX 2015 in Bangalore, India.

develop and execute a global campaign, focused on the major desi communities around the world and in India. We also have partnered with some highly visible desi personalities to promote .desi globally. And finally, and most importantly, we feel our success will be when businesses and people are successful when they use the .desi domain to perpetuate their brands – as such part of our grass roots effort is working with and promoting some of these businesses using the .desi extension."

While the game has barely begun, .desi has been in general availability for a full year now so I asked Sid how things have gone to date. "The first year was really exciting but we have a lot of work left to do. After 12 months we definitely have gained a better understanding or the market and what success will look like." In closing Ohri said, "Certainly, the registrations to date are not where we would like but we know the opportunity is still there and have worked out a plan to generate more awareness. We are looking forward to executing our plan going forward."
DomainingEurope Conference Founder Taking Show on the Road - First Stops Will Be Madrid and Barcelona
DomainingEurope Conference founder Dietmar Stefitz has helped raise the domain industry's profile in Europe with seven well produced annual shows in Valenica, Spain (and an 8th one that is scheduled for April 28-20, 2016). However, Stefitz believes more work remains to be done to help business owners on the Continent see how much the right domain names can help their enterprises grow. Stefitz decided to take the bull by the horns himself by staging a series of one day domain educational events on the road starting with two in his home country - Madrid on October 30, 2015 and Barcelona on November 13, 2015.

Stefitz told me he envisions his effort as an Awareness Road Show tailored for end users, marketing-agencies and investors who are looking for an alternative. He believes new gTLDs would be of particular interest to those group but noted, "At this time, people in general have very little awareness that these options even exist. In Europe it is very difficult to get things going and there has been very little support from the big registries, organizations and associations, but I still believe that the domain Industry here needs a PUSH!"

Fortunately, a handful of forward thinking sponsors see what Stefitz is trying to accomplish and are lending support. Blacknight

Dietmar Stefitz
DomainingEurope Founder

and .CLUB will sponsor the Madrid event and have also agreed to join FundCAT and CDMON in helping back the one in Barcelona. Stefitz said, "If the results are positive, I plan to do it in Paris, London, Berlin, Vienna, Warsaw and Milan next year and I hope to do it with local support from registry operators."

To make the upcoming one day events in Spain as accessible as possible for local business people, Domaining Madrid and Barcelona will feature mostly speakers from that nation and the sessions will be conducted in Spanish (unlike the DomainingEurope conference that is presented in English, with translated audio available). You can see the kind of programming Stefitz will provide by checking out the Madrid agenda here and the Barcelona schedule here.
Four-Letter .Coms - the New Frontier? GGRG.com Broker Publishes Guide to This Suddenly Hot Group
Most of your know how hot short numeric .com domains became this year with Chinese buyers fueling frenzied activity in the domain aftermarket that produced sales like 588.com at $1 million, 899.com at $801,000 and 345.com at $800,000. Last May I told you about a free publication from Giuseppe Graziano at GGRG.com (a domain brokerage and consulting firm based in Lisbon, Portugal) called Numeric Domains 2.0 - The Definitive Guide that provided a lot of useful insight into the numeric market.

Now the former DomainHoldings broker, who was nominated for THE Domain Conference's Blogger of the Year Award last month, has released another excellent free primer on another category that seems to be getting hotter each day - 4-letter .com domains. It's called Investing in LLLL.com – A Starter Guide. Now, make no mistake, 4-letter .coms aren't trading anywhere near the 6-figure nosebleed level we've seen with some 3-number .coms, but many of these LLLL domains that could be hand registered just a few years ago are now routinely changing hands for four figures.

Giuseppe Graziano
GGRG Founder and CEO

Four graphic from Bigstock

I not only see it in the weekly domains sales reported to us, I have sold several that I hand registered myself for four figures this year and have been getting almost daily inquires (mostly from Chinese buyers) about others (especially ones with repeating patterns like RDRD.com, PTTP.com

and TRRT.com. Just this afternoon I closed the sale of PPBP.com. Giuseppe's guide breaks out the most popular patterns and provides many more details on the latest trends in this group.

It almost seems like the Chinese are mining out one category then moving on to the next with strings that are a character longer than the group before. Two and 3 letter .coms have been red hot all year, as have the ultra short numerics. Now we see interest further out with 4-letter .coms and numerics that are getting even longer than that - including many five and even six-digit domains in our latest weekly sales report! Examples include 597888.com at $7,500, 576888.com at $7,300, 877787.com at $2,507 and 222252.com at $2,395.

It has been quite remarkable to watch, kind of like seeing a wildfire jump highways and move from one patch of land to another. When and where it is going to stop no one knows, but as long as it's happening it is very helpful to have researchers like Giuseppe publishing in depth guides to help us make some sense of what is happening now.
Google Expands Its Domain Registration Service With Addition of Nearly 90 New TLDs from Donuts
Ever since tech giant Google opened its domain registration business - Google Domains - to the public last January, industry observers have been looking to see what kind of impact their arrival would have on the industry. In addition to being a registrar, Google is also a registry operator, owning several new TLDs of their own (including .app and .buy). The registrar, Google Domains, offers traditional extensions like .com and .net alongside new gTLD offerings from multiple registry owners.

At this early stage Google Domains hasn't posed a threat to the leading registrars, like 800-pound gorilla Go Daddy, but the new service is expanding its offerings with an eye on the future. On Tuesday Donuts Inc., the largest operator of new gTLD registries, announced that Google Domains has added nearly 90 of the company's new extensions, including .guru, .media and .photography, to name just a few.

Paul Stahura
Donuts Inc. Co-Founder & CEO

Donuts CEO and co-founder Paul Stahura said, "Google's entry into the retail space was a game-changer in the industry. As a fellow registry operator, Google is proving that they're serious about the expansion of the Internet, and they have the worldwide reach and visibility necessary to bring additional customers into the universe of new domains."

The Donuts press release contends, "Google's advocacy of expanded domain options indicates the ongoing need for new and fresh domain name choices. Nearly 8 million names have been registered across new domains since early 2014. These new choices are creating new opportunities for big brands, small businesses and entrepreneurs who want to stand out.

Individuals and businesses alike are opting for the hundreds of new choices available today so that they can better tell the world who they are and what they do. New domain names allow for

web addresses that are highly creative to the left of the dot, and highly specific to the right of the dot."

Google VP and CIO Ben Fried, in a blog post, wrote, "New endings are continuously opening up to the web, like .legal, .accountants and .services, and can help you create a name that matches who you are and what you do." Google cited Google Domains customer names including Smilesnap.social, TheCooler.ninja and MarcBlair.photography as examples of recently adopted online identities.
Maybe We Shouldn't Unfriend Facebook After All - Social Media Users Are Flocking to Domain Names
With changes in the way people use the Internet - gravitating to social media sites, accessing information through apps, etc. - there have been a lot of predictions in recent years that domain names would eventually lose their place as the dominant way people navigate the web. I never bought that and have always felt that people and businesses that rely, for example, on a Facebook page rather than their own domain name for their sole web presence were making a potentially fatal mistake.

While a fair number of businesses

My Name Is... image from Bigstock

still haven't yet figured out that they're "turning over the keys to the store" when they rely solely on Facebook, an incredibly large number of individual users are showing more brand sense than their commercial counterparts. The world's biggest registrar, Go Daddy, released a report today noting that over the past 18 months the number of their customers who are pointing their personal domain names to social media sites has soared 37%. Go Daddy isn't the only company to notice the shift either. Recently VeriSign, the registry for .com domain names, stated they saw an increase of more than 10% for domains pointing to sites like Facebook and LinkedIn in Q2 versus Q1.

GoDaddy attributes these growing registrations to customers wanting to control their online identity. Having you own domain allows you to reinforce your name or brand rather than the brand of an individual site like Facebook, Instagram, Twitter or whatever it might be.

The domain can be a perfect shortcut to your Facebook profile page and if you run into a problem there (they can terminate your account for any reason they wish) you can just point your domain to another social media site or to a website of your own.

Michael McLaughlin
Sr. VP & General Manager
Go Daddy

GoDaddy Senior Vice President and General Manager Mike McLaughlin said, "It became abundantly clear that people want to have more control of their online identity. Their social media presence reflects who they are, but they want an address that represents them as well. Also, customers want the flexibility to move to a different platform or create their own website without giving everyone a new web address."

A good example is Rabbi Dan Medwin, Publishing Technology Manager for the Central Conference of American Rabbis, who points his domain, DanMedwin.com, to his Facebook page. Medwin said, "The Web is now the de facto place where folks go to learn about a person or company. I registered DanMedwin.com so, if someday I wanted a personal website, whether a blog or a resume, I'd have it available. It is essentially my personally curated 'brand' of myself for the world."

Based on their findings, GoDaddy created an easier way for customers to redirect a domain name to their social media profile. Someone registering a new domain name can visit Personal Domains on GoDaddy and select Facebook, LinkedIn, Twitter or Tumblr. The customer gives GoDaddy the social media URL that they would like to point the domain name to during the checkout process and GoDaddy takes care of the rest. For those who already have a domain name, GoDaddy enables customers to quickly connect their domain name to one of 18 popular Web services, including Facebook, Etsy and YouTube.

Since many people are active on multiple social media sites I have no doubt that, given how inexpensive new domain registrations are, some of those people are already registering multiple domain names so they have one to redirect to each of their social media site profiles. With hundreds of new domain extensions now available, one could even match their personal name with an extension that corresponds with the kind of destination the name directs too - for example there is already a .social TLD (operated by Rightside) and a .chat TLD (operated by Donuts). If possible, I would, of course, recommend getting the .com version of your personal name first but if you can't there are still many viable options to secure your own brand on the web. If this trend continues we domain investors won't be the only ones holding a "portfolio" of domains.
Farewell Breakfast Brings Curtain Down on 1st Edition of THE Domain Conference - Debut Event Earns Stellar Reviews from Attendees and Sponsors Alike
The inaugural edition of THE Domain Conference came to a close Wednesday morning (Sept. 30, 2015) with a Farewell Breakfast in the 17th floor revolving meeting room that sits atop the Hyatt Regency Pier 66 Hotel, nestled between the Atlantic Ocean and the Intracoastal Waterway, in scenic Fort Lauderdale, Florida.

The breakfast closed a busy and very successful show week that started back on Saturday (Sept. 26) with Pre-Show Cabana Networking around the Pier 66 pool. Here are links to our daily coverage from THE Domain Conference featuring photos and highlights from each day's activity:

Photos & Highlights from Saturday Pre-Show Cabana Networking at THE Domain Conference in Fort Lauderdale

Photos & Highlights from DOMAINfest at THE Domain Conference & TDC Cabana Networking Sunday

Photos and Highlights from THE Domain Conference's Opening Night Party Sunday Evening

Photos & Highlights From the First Day of Business at THE Domain Conference Monday in Fort Lauderdale

Photos & Highlights From the Final Business Day at THE Domain Conference Tuesday Including the Domain Industry Award Winners

The Farewell Breakfast that was open from 8am-11am Wednesday morning was a great way for guests to fuel up for their journeys home and say a leisurely goodbye to friends, old and new, over a last cup of coffee and bite to eat.

Above: Sedo's Negar Hajikhani (2nd from left) and Negar's sister (far left) join Diana Jackson and Zane Emilija (far right) in checking out some of the breakfast spread.

Below: Braden Pollock (LegalBrandMarketing.com) and Elliot Silver (DomainInvesting.com) admire the spectacular 360-degree view of Fort Lauderdale from the top of the Hyatt Regency Pier 66 Hotel.

Above: A table for ten quickly fills up at Wednesday morning's Farewell Breakfast.

Below: THE Domain Conference Co-Founder Barbara Neu with long time friend Adam Dicker, the DNForum.com owner who came down from Canada to support the Neu family's new show.

Above: DNJournal.com's Ron Jackson and Above.com Executive Vice President Nancy Bianchi check out the view looking out to the Atlantic Ocean.

Below: These ladies would brighten up anybody's morning! Left to right are Diana Jackson, Barbara Sixto, Barbara Neu and Carmella Savanello.

Above (left to right): Broker and Chinese market expert George Hong (Guta.com) with one of the most successful domain broker/investors of all time - Larry Fischer (GetYourDomain.com) and one of the industry's leading attorneys and entrepreneurs, Stevan Lieberman (APLegal.com).

Below: Barbara Dillman Neu makes sure every single attendee feels welcome and right at home as industry newcomer Steven Verdugo (son of veteran domain investor/developer George Verdugo) found out at the Farewell Breakfast Wednesday morning. Barbara made sure Steven went back to Kansas City with a very positive impression of the domain business and the people in it.

Above: Above.com's team at TDC (left to right): Aaron Kvitek, Victor Pitts and Nancy Bianchi, get in a little last minute work over breakfast before heading home.

Above: THE Domain Conference's three Co-Founders - Howard & Barbara Neu and their son Ray Dillman Neu - were delighted with the support and positive feedback they received from guests and sponsors at their first solely owned show. As most of you know, all three were instrumental in staging the pioneering T.R.A.F.F.I.C. Conference for 10 years. When Co-Founder Rick Schwartz decided to retire after last year's 10th Anniversary edition of T.R.A.F.F.I.C. the Neus decided to carry on with a new show of their own - one they have put their personal stamp on with a formula everyone we talked with agreed was a winner.

They have already begun planning for their 2016 show - most likely at the same venue as it was a hit with attendees, offering excellent accommodations, good food and a great location - all at a very affordable price. I was also impressed by the fresh, informative programming and a much larger group of sponsors in the Exhibit Hall than we have seen in recent years. New gTLD registries had an especially high profile with lead sponsor .CLUB, Donuts Inc., Minds+Machines and others turning out in a big way to support the event. The quality of attendees (including veterans and ambitious newcomers alike) did not go unnoticed either. For their first time out with TDC I don't see how things could have gone much better for the Neus, a feeling reflected in their thumbs up as the curtain came down Wednesday.
---
If you've been out of the loop lately, catch up in the Lowdown Archive!
---
We need your help to keep giving domainers The Lowdown, so please email

[email protected]

with any interesting information you might have. If possible, include the source of your information so we can check it out (for example a URL if you read it in a forum or on a site elsewhere).
---
Home Domain Sales YTD Sales Charts Latest News The Lowdown Articles
Legal Matters Dear Domey Letters to Editor Resources Classified Ads Archive About Us