The Lowdown
January 2013 Archive
Subscribe to our RSS Feed

Here's the The Lowdown from DN Journal,
updated daily to fill you in on the latest buzz going around the domain name industry.

The Lowdown is compiled by DN Journal Editor & Publisher Ron Jackson.
Networking at Webfest Global: If You Want to Go Somewhere, Find Someone Who Has Already Been There!
The headline above is a famous quote from RichDad.com's Robert Kiyosaki, who has always emphasized the importance of networking. Kiyosaki also said, "The richest people in the world look for and build networks, everyone else looks for work." Those are wise words to keep in mind if you are going to next week's Webfest Global Conference that runs February 5-7 at the Fairmont Miramar Hotel in Santa Monica, California.
The show will have more things going on (and be just as much fun) as a three-ring circus, but one thing trumps everything else on the agenda - that is the opportunity to network with others in the industry. Sure, you will get some good ideas that can help you improve your business from the business sessions and seminars, but people and the relationships you build will have the greatest impact on getting you where you want to go. That's why you keep seeing

so many of the industry's key figures at major events like this and it is what the vast majority of show goers cite as the #1 reason why they go to a conference.
The organizers of Webfest Global know that too and that's why they have filled the week's schedule with activities designed to help you make new contacts and friends and enjoy more time with the ones you have already made over the years. In fact the very first thing on the agenda is a 9am Speed Networking Session on opening day, Tuesday, February 5. Be sure to bring lots of business cards and a pen with something to write on!
A new networking twist Webfest is introducing is called Break the Ice While Breaking Bread that will be available at every breakfast and lunch. At those meals 20 tables will be set aside for those who want to talk with others who have a common area of interest. For example there will be tables for Domain Parking, others for Alternative Monetization, others for TLDs, etc. - 10 different areas of interest in all. Webfest has even built a new mobile app that allows you to search for people with skills you seek, or who share your interests. You can then use the app to send them an invitation to join you at a specific table.
You never know who you may end up having lunch with at Webfest Global. At last year's show Stefan Schinzinger (left) chats with John Ferber (DomainHoldings.com), who
sold his previous company, Advertising.com, to AOL for
almost $500 million.

Webfest Global is also bringing back a popular networking feature from previous shows - Dine with an Expert. This is a lunch-time event in which a half-dozen well-known experts will each sit at a table of their own, along with eight guests that want to dine with them. To sit with your preferred expert, go to the Dine With an Expert page (linked to above), scroll through the experts, then click on Make Lunch Appointment when you find the one you want to sit with. Better hurry though - it is first come, first served and in the past the tables of many experts have filled up quickly.
In addition to those special networking events, evening social activities and all of the break time in the lobbies also present the kind of networking opportunities that are unique to major industry conferences like this. Be sure to take advantage of them!
In a related note, one of the people you might want to look up at Webfest Global is industry veteran Merlin Kauffman, a personable young man who has been one of the most successful domain investors over the past decade. Merlin will be there to talk about two new websites he is launching. One, live now, is NameBuy.com, a new domain sales platform about which Kauffman said, "selling your domain name has never been so simple. It provides liquidity to all domain investors for single domain sales or entire portfolios. We are now accepting all submissions of .COM domain names which are 5+ years or older."

Merlin's second offering, which is scheduled to go live within the next couple of days is PortfolioMarket.com, a site that Kauffman described as "The first and only marketplace dedicated to buying and selling cashflow domain portfolios." With Merlin behind them, I'm sure that both of these services will be worth taking a close look at.

Merlin Kauffman
One other Webfest week note. Last Friday I told you about the Water Night fundraiser for The Water School that will be held at the Sonoma Wine Garden in Santa Monica Tuesday night (February 5), right after Webfest Global's official opening night dinner that will be held at two restaurants in the same building as the wine garden. The wristbands required for admission are available for a $50 donation in advance of

the event, but - in a bit of new information since my original post - as soon as they hit 200 guests (which they are close to now), that will rise to $100.

If you show up at the door without a wristband Tuesday night, the donation on site will also be $100, so get your wristband now. This event will be a lot of fun, a great networking opportunity and it supports a tremendous cause. I hope to see you there!
(Posted January 31, 2013) To refer others to the post above only you can use this URL:
http://www.dnjournal.com/archive/lowdown/2013/dailyposts/20130131.htm
Free Revenue Producing Domains, One Year of Parking Revenue Paid in Advance - For Real?
Yes, for real. Welcome to the new world of parking company promotion! Despite an overall decline in PPC revenues in recent years, the parking space appears to be more competitive than ever. Players determined to stand out from the crowd are pulling out all the stops in an effort to get domain owners to check out their systems first hand.

In what is probably the most ambitious promotion I've seen to date, Above.com, in association with two new but rapidly rising PPC companies, RookMedia and ParkingCrew, is giving away 4,000 domains divided into 400 revenue producing portfolios of 10 names each in a campaign called Above & Beyond. It will officially launch at next week's Webfest Global conference in Santa Monica, California, going live on the show's opening day, Tuesday, February 5.

Attendees will each get a scratch off coupon card with a code number that will determine
which portfolio is assigned to a new free account they will open at Above.com. As soon as they log in they will see the ten domain names randomly assigned to them. To let me see how it works for myself, Above.com's Director of Domain Services, Victor Pitts, gave me one of the promo

codes in advance. I opened the account and sure enough, there were 10 domains that collectively had earned over $20 over the previous 30 days via RookMedia or ParkingCrew. If that rate holds up for the rest of the year - that would be a $240 gift for simply checking out the service (I agreed to test the system with the stipulation that Above.com will auction off the portfolio I received with all of the proceeds going to Jodi Chamberlain's current campaign to raise $50,000 for The Water School by having her head shaved at the Domaining Spain conference coming up in April 2013).
Here is a screen shot from my test portfolio showing you my domain statistics and the other platform features that are available from the neatly organized control panel.
Pitts said some of the free accounts that will be given away could earn into four figures annually. Exactly what you end up with will depend on luck of the draw, but you certainly have nothing to lose and, judging from the ones I ended up with above, something to gain as all of the domains have traffic and many are producing revenue.
Above.com President David Warmuz said a lot of work went into getting the results they expect new account holders to see. "Testing multiple revenue sources is hard work, time consuming and comes with a lot of risk and most often at a loss of revenues," Warmuz noted. "Because of this, quality parking companies find it hard to get new customers to give them a chance directly. Above.com removes the hard work and risk, and we know that testing with multiple parking companies works to increase revenue. That is why we are giving away these revenue domains along with pre-configured Rook Media and ParkingCrew parking accounts for customers to give us and our promotional partners a try so they can see for themselves how much of a difference we can make to your domain portfolios."

Warmuz added, "Many parking companies claim to be the best, but without closely monitored testing, domains may not be parked at the provider that performs best for that domain.

David Warmuz
Above.com President

Above.com's Domain Parking Manager with its proprietary algorithm automatically identifies the best performing service for each domain, using normalized statistical information. Traffic is then dynamically allocated to maximize the parking revenues earned."
Ash Rahimi
Co-founder & CEO, RookMedia

In addition to participating in the Above & Beyond promotion, RookMedia is running another eye catching offer of their own - a CashAdvance program that allows eligible clients to receive up to 12 months worth of commissions on qualifying domains paid in advance. The program is aimed at providing domain investors with the needed capital to continue growing their portfolios and provides an alternative for those seeking financing through traditional lending institutions.

Ash Rahimi, co-founder and CEO of Rook Media GmbH, said "As most domain investors know, using domains to collateralize a loan is tough to say the least. Most banks simply do not recognize what tremendous assets domains truly are. We understand this because like our clients, we're domainers ourselves." Rahimi said Rook associates will be speaking to interested parties in person at next week's Webfest Global conference, so if you will be in Santa Monica and are interested in more details, you can get them face to face there.

If you won't be at Webfest you can still get more information on the program from RookMedia's Director of Business Developement, Joe Higgins, by phone at 310-569-3603 or email Joe at RookMedia.net.
(Posted January 30, 2013) To refer others to the post above only you can use this URL:
http://www.dnjournal.com/archive/lowdown/2013/dailyposts/20130130.htm
Frank Schilling Invites Domain Brokers to Dinner - DomainNameSales.com Special Event Next Monday Night Precedes the Webfest Global Conference Opening Feb. 5
Call it an offer you can't refuse or at least one you wouldn't want to refuse if you are in the domain brokerage business. Industry giant Frank Schilling and his DomainNameSales.com (DNS) team will be hosting a pre Webfest Global conference dinner for domain brokers only next Monday night (February 4, 2013) in Santa Monica, California. If you are in the brokerage business and will be in town for the show DNS wants you to be their guest at a gathering that will run from 7pm to 10pm at the Misfit Bar, located at 225 Santa Monica Boulevard (just a 7-minute walk from the Fairmont Miramar Hotel where the conference will be staged. Here is a map for your convenience).

To properly plan for the number of guests that will be on hand, DNS needs to know you are coming, so all you need to do is send an email RSVP to Dan Adamson - Dan at DomainNameSales.com - and present your

Frank Schilling
DomainNameSales.com Founder

business card at the door when you arrive Monday night to enjoy "a night of food, drinks and frivolity" with your Frank and your fellow brokers.
As all of our regular readers know, Schilling has made major waves in the domain aftermarket with DomainNameSales.com, a platform that is already being used by many of the industry's top brokers. Schilling told us, "We are in the beginning phases of growing a platform that intends to shape our industry for years to come. We are certain it will change and redefine the sales hierarchy of the domain industry for the benefit of all domain name brokers and sales professionals."
Regarding next week's event for brokers, Jeff Gabriel, who recently joined DNS as Vice President of Sales, said "We felt that having a brokers only gathering – something that has never been organized before, would allow us to collaborate, network and share ideas in a setting that is just as unconventional as our marketplace."

Another leader on the DNS team who helping to co-ordinate the affair, Dan Adamson, added, "We want to form lasting relationships in a non-competitive environment with the individuals who represent our brand, for the benefit of all brokers and our partners."

For anyone in the brokerage business, the DNS event looks like the perfect start for a productive week at Webfest Global. The conference gets underway the following morning, Tuesday, February 5 and runs through Thursday, February 7. We will be there to cover the entire week for you with daily posts here in the Lowdown.

Jeff Gabriel
DNS VP of Sales
(Posted January 28, 2013) To refer others to the post above only you can use this URL:
http://www.dnjournal.com/archive/lowdown/2013/dailyposts/20130128.htm
Water Night! What It Is and Why You Will Want to Be Part of It if You Are Going to Webfest Global

Yesterday I ran through a lot of things that will be going on during the Webfest Global conference coming up February 5-7 at the Fairmont Miramar Hotel in Santa Monica, California. Those were all things that are part of the official agenda. Today I can tell you about another can't miss event that is not part of the show schedule, but is sure to draw just about every major player in the industry who will be in town for the conference.

That is Water Night 2013, a special evening event set up by domain business leaders Richard Lau and Gregg McNair, to benefit one of the industry's favorite charities - the Water School.

Water Night will run from approximately 9:30pm to 1:30am on Tuesday night, February 5 at the rooftop Sonoma Wine Garden located at 395 Santa Monica Place.

There will be an open bar sponsored by NameCheap.com and entertainment guided by DJ Tessa. Wristbands that can be purchased here for a tax deductible $50 per person donation to the Water School will be required for admission and 100% of every dollar donated will go to the charity.

You do not have to be registered for Webfest Global to attend, but if you are attending the conference, you won't even have to leave the building to get to the Water Night event. Webfest's official opening night dinner and networking reception on February 5 will be held at the La Sandia and Zengo restaurants that are located on the same 3rd floor level as the Sonoma Wine Garden at Santa Monica Place. The dinner starts at 7pm and is scheduled to be over by 10, when you can walk just a few steps over to the Water Night festivities at the Wine Garden.

It will be a great opportunity to meet key industry players you may not have had a chance to meet before as well as catch up with old friends in a casual environment. Legendary domain investor Frank Schilling and his DomainNameSales.com team are among those who have already signed up. Of course, my wife Diana and I will be there as well. Since I sacrificed my hair in another Water School fundraiser last spring in Spain I feel like I'll be safe from Mr. McNair, the Mad Barber from Melbourne, Australia, this time around.

While I may be out of harm's way, my good friend Jodi Chamberlain, who produces the Domaining Spain conference, is not. Jodi has courageously volunteered to give up her lovely brunette locks if $50,000 can be raised for the Water School before the next Domaining Spain conference ends April 27, 2013 in Valencia. It is still early, but it is already looking like Jodi had better get used to the bald look because Nico Zeifang, Stefan Wiegard and Mario Witte of ParkingCrew.com threw a $10,000 donation into the pot this week to help make it happen.

You can support Jodi and the donor's generous efforts to help the Water School by going to WaterShave.org to make a donation (every dollar counts!) and you can also track the progress of the campaign there. If it is successful we may have to start a new campaign to buy Jodi a wig!

Jodi Chamberlain

(Posted January 25, 2013) To refer others to the post above only you can use this URL:
http://www.dnjournal.com/archive/lowdown/2013/dailyposts/20130125.htm
Beyond Kim Kardashian Webfest Global Show Agenda is Tabloid Fodder Free
Yesterday's announcement that reality TV star/celebrity entrepreneur Kim Kardashian would be the keynote speaker at the upcoming Webfest Global conference certainly set tongues wagging on social media sites and in the commentary sections of industry blogs. The vast majority of opinions I saw posted were, shall we say, less than enthused with the selection. Most questioned what value Kardashian would bring to the Internet business table.

Having been pleasantly surprised by several past keynote speakers, I will go into Ms. Kardashian's fireside chat with Oversee.net CEO Debra Domeyer February 6th with an open mind (the show itself runs February 5-7 at the oceanfront Fairmont Miramar Hotel in Santa Monica, California). If Kim has as little to offer as so many seem to expect, there will be plenty of time to beat Oversee up over the selection once people have sat through it.

Kim Kardashian
Image from Bigstock
At last year's show I remember thinking it was kind of cool that Twitter Founder Biz Stone would be the keynote speaker, but wondering how interesting could a guy be whose entire business was based on saying nothing longer than 140 characters! As it turned out, Stone's talk was probably the most inspiring and entertaining one I've ever heard. His deadpan sense of humor and the insight he gave into how Twitter was built was priceless.
As a speaker at an internet conference, Kim Kardashian may or may not come remotely close to Stone's performance, but I still expect it to be an entertaining hour with a few surprises thrown into the mix, as has been the case with past keynoters. In any case, as famous and controversial as she may be, Kim isn't the reason people will (or will not) be going to Webfest Global. As surveys have shown over and over, people place networking as the #1 reason they go to conferences, followed by the business sessions with the keynote speaker way down the list.
So, even if the idea of a Kardashian mixed up with domains makes you feel faint at the very thought of it, you will be happy to know that the very first thing on the conference agenda is a speed networking session on Tuesday morning, February 5th. In fact, aside from the Kardashian fireside chat, the rest of the agenda is 100% tabloid fodder free. The second session Tuesday morning will be a panel discussion of 2013's most talked about issue - the impending arrival of new gTLDs.
The space shuttle Endeavour on its final flight over Los Angeles on Sept. 2012. Webfest Global attendees will have dinner under the wing of the shuttle on Wednesday evening, Feb. 6, 2013.

Wednesday will see the live domain auction when we will find out if that long time staple of all conferences that has flagged badly in recent years can be resuscitated. That evening will be the event I am most looking forward to (other than the networking) - dinner and drinks under the wing of the space shuttle Endeavour at the California Science Center.

On the closing day, Thursday (February 7) highlights will include a couple of sessions devoted to adapting to an increasingly mobile Internet,

the annual Pitchfest Contest that introduces some intriguing start up businesses, a special Women in Domaining reception and an evening social event at Hollywood's world renowned Magic Castle.
So, whether or not the Kardashians are your cup of tea, there will be a lot to like in Santa Monica (not the least of which will be the famous pier and fabulous beach that stretches out in front of the hotel). Some say the Kardashians are the epitome of modern day celebrities who are famous for being famous rather than for any particular skill set or talent (even though Kim can point to some real business and social media successes). The controversy alone makes me wonder just what we will see on stage February 6. I'm going in with the hope that it will be another pleasant surprise.
In any case, the choice has already brought Webfest Global a ton of pre-show publicity. You can say "yes, but it has been bad publicity," but you know what P.T. Barnum said about publicity - "I don't care what they say about me, just make sure they spell my name right!" Sounds simple enough, but Kardashian is not that easy to spell! So, we'll all just have to wait a couple of weeks to see how this all plays out.
(Posted January 24, 2013) To refer others to the post above only you can use this URL:
http://www.dnjournal.com/archive/lowdown/2013/dailyposts/20130124.htm
Kim Kardashian Named Keynote Speaker for the Upcoming Webfest Global Conference

Well, I have to admit I didn't see this one coming! Oversee.net has selected celebrity/entrepreneur Kim Kardashian to be the keynote speaker at the Webfest Global Conference coming up February 5-7, 2013 at the Fairmont Miramar Hotel in Santa Monica, California.

I'm sure some of you are saying "what does Kim Kardashian have to do with domains?" but keep in mind that Webfest Global (formerly known as DOMAINfest Global) had expanded its scope this year (hence the name change) to cover a much broader range of online business topics.

As many of you know, in addition to being a reality TV star, Kim is a very successful entrepreneur who has leveraged her brand to build many successful businesses, including ShoeDazzle.com, and to help many charities like the Dream Foundation. She is also known for her phenomenally successful use of social media that includes some 17 million followers on Twitter.

Kim Kardashian
Image from Bigstock

Oversee.net's CEO Debra Domeyer will talk with Kim about what went into building her businesses and brand in an on stage fireside chat scheduled for 11am Wednesday, February 6. It will certainly be a change of pace from some of the conference's previous keynote speakers like Twitter Founder Biz Stone, GoDaddy Founder Bob Parsons and Apple Computer Co-Founder Steve Wozniak, but I have a feeling it is going to be a very interesting and lively conversation.

With Webfest undergoing an image makeover for this 7th conference in the annual series, Kim would seem to fit in with the remodeling theme and she certainly gives the Los Angeles based show some of the kind of Hollywood glamour you might expect for a conference based in the movie and TV capital of the world. I will be in Santa Monica to cover Webfest Global for you with daily posts in this column.

(Posted January 23, 2013) To refer others to the post above only you can use this URL:
http://www.dnjournal.com/archive/lowdown/2013/dailyposts/20130123.htm
Michael Cyger Reaches a Major Milestone as DomainSherpa.com Posts Its 100th Show

When Michael Cyger launched the video interview site DomainSherpa.com a little less than two years ago (on February 9, 2011), it quickly became clear that an important new domain industry resource had arrived. Michael knew the best way to get reliable, useful information was to get it straight from the horse's mouth. So he began lining up one pioneering domain investor, developer or industry leader after another to sit for in-depth video interviews that others could learn from.

Even though we live in a short attention span society, Cyger refused to cut corners. If it took an hour (and often more) to get all of the valuable information he wanted to get on the record, he took the time to do it. I always thought that was the right choice. Even though most people prefer quick soundbites, how serious can you be about succeeding in this business if you can't spend an hour or so listening to what someone who has already been there and successfully done that has to say? Consider his now massive video interview library to be a college course in domaining without the tuition fee!

Michael Cyger

Cyger is an excellent interviewer whose main objective is always to zero in on what his subject can share with viewers that will help them make more money in their own businesses. With the time that Michael (and Wayne Nelson, the producer he brought on board to help last year), put into show prep time as well as the production of each video, I don't think that anyone expected that now - before DomainSherpa has even reached its 2nd birthday, it would have 100 quality interviews available on the site.

DomainSherpa hit the century mark yesterday (Monday, Jan. 21) when Michael posted an interview he did with me just a few days earlier. It was the second time that Cyger turned the tables on me by having me answer questions rather than ask them. He first did it in March 2011, shortly after launching the site and I was honored to be asked back for show #100.

This time around we talked a lot about the current state of the domain aftermarket and the prospects for 2013 - including how the impending arrival of hundreds of new gTLDs may affect things. When we recorded the show I had not yet broken down all of our 2012 domain sales data to see how the year stacked up against the previous one. I did that in the days that followed and the results are detailed in our latest monthly newsletter that went out to opt-in subscribers by email yesterday.

The domain market had its
pluses and its minuses in 2012.
Split decision image from Bigstock

The bottom line was that median domain sales prices rose in 2012 even though the total dollar volume of sales reported to us was down due to fewer blockbuster sales at the ultra high end of the market (only two reached seven figures in 2012). The most encouraging thing we saw in the numbers was a solid surge in sales in the most recent quarter - 4Q-2012. If that trend continues in the New Year, 2013 may be the turnaround year we've all been waiting for since the Great Recession reined in a booming domain market.

While sales trends will continue to fluctuate, based on Michael Cyger's track record to date, I expect

DomainSherpa's video library to do what it has done over the past two years - rapidly expand - and that will pay big dividends to viewers who wants to learn more about the ever changing, but always exciting, domain business.

(Posted January 22, 2013) To refer others to the post above only you can use this URL:
http://www.dnjournal.com/archive/lowdown/2013/dailyposts/20130122.htm
GeoDomain Giant Skip Hoagland Goes on the Warpath - Slaps Chamber of Commerce With Lawsuit

Skip Hoagland

Skip Hoagland (who was profiled in our July 2008 Cover Story) owns one of the world's best geodomain portfolios, including many well developed websites like Atlanta.com, BuenosAires.com, SouthCarolina.com and HiltonHead.com (he also owns may category defining generic sites like Fishing.com and Shooting.com).

Skip is a local media veteran who got started by publishing magazines for visitors to tourist destinations like Hilton Head Island and Myrtle Beach. Local magazines, newspapers, radio, TV and geo oriented websites like Skip's depend, of course, upon advertising dollars to stay in business.

Many of them join their local Chambers of Commerce thinking that their membership in the non-profit organizations would help boost

tourism and thus their own businesses, but for more than a year now, Hoagland has been sounding an alarm that just the opposite was happening! Hoagland showed that local chambers all over the country, many of which are supported with taxpayer money, were competing against their own members by selling ads to publications and websites the Chambers starting putting out on their own. Hoagland decided it was time to go to the mat.

He just filed a lawsuit against the Hilton Head Island-Bluffton Chamber of Commerce that operates in his South Carolina backyard, demanding detailed financial information, including invoices, contracts and checks written by the Chamber. Hoagland claims the Chamber, which receives tax money levied on accommodations by Hilton Head and Beaufort County, unfairly competes with its owns members and wastes taxpayer money by paying some employees exorbitant salaries (including the local CEO's compensation of more than $320,000) and approving lavish expenses.

Hoagland has also filed complaints with the IRS about this kind of situation going on in major cities throughout the country, claiming the are violating their non-profit charters through their current activities.

Hoagland first told me he was taking up this battle in an October 2011 letter in which he wrote, "It is not only an unfair competitive advantage with being a 501-C3 non-profit and using bed-tax monies and members dues that compete with local medias, but simply against the charter of a Chamber, which is to support and help their business

With friends like this who needs enemies?
Image from Bigstock

members prosper within the community. Chambers just seem to not be able to support themselves from member dues and additional tax monies and continue to launch for-profit side ventures to do so."

As the situation has only gotten worse since then, Hoagland has pressed the battle on all fronts (including an assault on the U.S. Chamber of Commerce), alerting media outlets across the country, demanding federal action as an IRS whistle blower and filing lawsuits against individual chambers. This kind of fight takes a lot of time and money but Hoagland insists is in it for as long as it takes and with each passing week he is building support for his efforts from other local media outlets who become aware of a situation that is hazardous to their health. You can read more about Hoagland's crusade at StopChamberAbuse.com.

(Posted January 18, 2013) To refer others to the post above only you can use this URL:
http://www.dnjournal.com/archive/lowdown/2013/dailyposts/20130118.htm
DomainHoldings Co-Founder John Ferber Becomes a Movie Producer - First Film Opens Saturday in Delray Beach, Florida
DomainHoldings.com Co-Founder John Ferber (who was profiled in our March 2011 Cover Story) is a man of many talents. After selling his previous company, Advertising.com, to AOL for close to $500 million, then co-founding Domain Holdings Group, LLC with Chad Folkening, John is best known as an internet entrepreneur, but that may be about to change. How does Movie Producer John Ferber sound?

The title now officially fits because John's first movie, The Search for Linton's Treasure, co-produced with Ferber's lovely fiancée Jenna Wehner and former Delray Beach, Florida Mayor/entrepreneur Jeff Perlman, will be opening Saturday (January 19, 2013) with exclusive showings in Delray Beach where their new production company - the

John Ferber and Jenna Wehner
at home in Delray Beach, Florida

Delray Interactive Movie Company - is headquartered (Saturday also happens to be John's 39th birthday so he has two big occasions to celebrate this weekend).
Of course, being a digital age filmmaker, the new project from John and his partners is not just any old movie - The Search for Linton's Treasure is described as one of the first "interactive movie experiences" - one in which the viewer becomes the star.
Movie poster for The Search for Linton's Treasure

The movie's storyline, written by Stephen Brown with artwork and design by renowned artist Jorge Márquez, blends local historical facts with fictional license to take the viewer/movie star on a race against the clock through the streets of downtown Delray Beach in pursuit of town founder William S. Linton's lost treasure - millions of dollars worth of lost silver that mysteriously vanished more than a century ago.

The producers say the search for the missing fortune produces "an adrenaline pumping, physically and mentally challenging adventure that will leave you guessing every step of the way." You can get a taste of what they are talking about in the official movie trailer here.

The first audience to see exactly how it all works will be

in their seats at 1pm Saturday when the curtain goes up at the company's theater located at 777 East Atlantic Avenue, Suite 301, in Delray Beach. Additional screenings will begin on the hour throughout the day with the last showing at 5pm. The timing will give the movie premiere a central role in the 24th Annual Downtown Delray Beach Festival of the Arts that will also be going on this weekend.
The movie will play throughout Delray Beach's 2013 tourist season, ending June 30, 2013. The $10 tickets for all showings can be purchased here and a portion of the proceeds from every ticket sold will be donated to local charities (the support of such organizations is something John and Jenna are well-known for). To make the interactive aspect of the movie adventure even more exciting the company, at the end of the film's run, will be giving away a seven-night cruise for two to whoever ends up solving the mystery the fastest. To quote from another famous movie, that all adds up to "an offer you can't refuse!"
(Posted January 17, 2013) To refer others to the post above only you can use this URL:
http://www.dnjournal.com/archive/lowdown/2013/dailyposts/20130117.htm
Finding Your Niche: How a Laid Off Local TV Reporter Created a New Career for Himself Online
I have often talked about the boundless world of opportunity offered by the world wide web. It's just a matter of finding your niche. As I detailed in our current Cover Story marking DN Journal's 10th anniversary, the internet killed my previous business - music retailing - but it also opened the door to something that turned out to be even bigger - domain investing and this publication. Ten years ago I found an unfilled niche (the need for a domain industry trade magazine) and built a new career around filling that hole.
The Internet has given a lot of displaced people a new lease on life including a local TV sports reporter named Dan Eassa whose story was told in our local newspaper, the Tampa Bay Times, this morning. Prior to owning brick and mortar record stores I had been a TV sports reporter for nearly 20 years in this market myself, so I could relate to Eassa on that level - but what really resonated with me was how, after losing his job, he created a new future for himself online - one that he has full control over - something that he did not have - and never would have had - working for someone else in his old job at the local ABC-TV affiliate, WFTS Channel 28.

Three years ago Dan Eassa (now 45) was a 42-year-old father of two with 17 years of broadcasting experience when Channel 28 told him his position was being

TV studio image from Bigstock

eliminated. Just a few months earlier his wife had been laid off from her teaching job at a private school. When it rains it pours.
After months of desperately searching for a new TV job and coming up empty, Eassa, a former college football player at Pace University, decided he had to take the bull by the horns and make something happen himself. As a sports reporter and former college player, he knew how important college recruiting had become to coaches, players and parents who wanted their kids to get unbiased advice that would help them make one of the most important decisions of their lives - yet there was very little authoritative information online on the topic.
Football player image from Bigstock

So, with plenty of time on his hands, the unemployed Eassa turned himself into an expert on the subject. He read and memorized every word of every rules manual available at every level of college football. By June 2011 he had created a non-profit organization and website to guide everyone involved in the football recruiting process through a maze that multi-million dollar college programs rely on for talent. He even gained the support of big time NFL players like Derrick Brooks and LaDainian Tomlinson.

The site took off and Eassa found himself being invited to speak about recruiting at schools and prep association meetings all over the U.S. Over the past two years he has spoken in 35 states and been paid as

much as $2,000 per appearance. He also draws a salary from the organization he created. His wife has found a new job too. When one door closes, another one opens.
Dan Eassa is the first mover in a new niche that he created and now he is the go to guy nationwide when people need information on what the recruiting process entails including things like how many of the promises recruiters make are based on fact and how many on fiction? What constitutes a violation of NCAA rules? Is there really any such thing as a free four-year ride (Eassa says there is not - exploding one common myth).
This is just a brief recap of writer Joey Knight's full story about Dan Eassa in the Tampa Bay Times. Read the entire piece for more remarkable details about how Dan went about creating a new future for himself and his family (and while you are at it, check out this 2012 piece from Forbes Magazine called 7 Steps to Find Your Niche - and Dare to Risk). If Dan could do it (and he did), if I could do it (and I did) and thousands of others could do it (and they have) you can do it too!
(Posted January 15, 2013) To refer others to the post above only you can use this URL:
http://www.dnjournal.com/archive/lowdown/2013/dailyposts/20130115.htm
Domain Leasing Continues to Gain Converts - NoktaDomains Latest to Get On Board
While it is true that there is nothing new about domain leasing, in the decade I've spent in this industry I've never seen interest in leasing higher than it is right now. Industry pioneer Rick Schwartz has become a major leasing proponent through his new JointVentures.com platform, Escrow.com now offers a domain holding service tailor made for leasing domains and a lot of domain owners are jumping on the bandwagon.

I started offering a lease to own option on my own domains about a year ago and have been very pleased with the results. With several leases now in effect I have a steady new revenue stream that is helping offset the decline in PPC revenue that has been a sore point among domain owners for several years now.

The latest major operator to make a big move into leasing is NoktaDomains - a well-known company based in Ankara, Turkey that has made frequent appearances on our domain

Globe for lease image from Bigstock

name sales charts over the years. Nokta's Arif Şengören

went so far as to say, " Since PPC revenues are decreasing every day and minisites are useless, domain leasing will be the rescue of monetization of domain names."
"At the end of 2011, we were looking for alternative techniques to increase our PPC revenues," Şengören said. "One day, one of our clients asked to lease one of our Turkish domain names. That offer shed light on the new monetization technique that we were looking

for and we aggressively started our leasing operation in the beginning of 2012. We first started leasing our Turkish names, approximately 5,000 domains, as the leasing offers were coming for those names. After leasing Turkish names for three months, we decided to ask our customers whether they would be interested in leasing English names, as we have 25,000 English names available for lease. The offers were amazing for leasing English names!," Şengören declared.
"After seeing this great demand for leasing, we got one of the best attorneys in the domain industry, Paul Keating, to prepare the optimal leasing agreement for both our customers and our company. With this agreement, our leasing revenues and the number of domains leased increased more than 200%," Şengören said.

Nokta initially handled their lease arrangements through email exchanges but they recently set up the process online so customers can lease domains through the NoktaDomains.com website. "There are more than 60,000 domains that are available to lease now," Şengören told us. "The monthly lease fees start at just $15. The most premium names like CreditScores.com and HandTools.com are also available for leasing. All customers have to do is visit our leasing page to pick domains for their projects. They can download the leasing agreement, and start leasing domains right away."

Attorney Paul Keating crafted
Nokta's domain lease agreement
While a lot of people look at leasing as a replacement for lost PPC revenue, Nokta likes leasing as an alternative to sales that is attractive to everyone involved. "With leasing our customers can minimize their expenditures and their risks when they start their projects. They do not have to

Arif Şengören


NoktaDomains.com

pay a lot of money to to start their projects, or wait until they prepare their budget to buy a domain name. If the projects are successful, our customers can still buy their domain name at a pre-determined price in the leasing agreement. We offer that set price option in our lease so customers do not have to worry that the sale price of the domain name will increase after they launch their projects," Şengören said.

"Our system is well designed to offer customers automatic payments via PayPal. They can also make payments in advance and we offer a 10% discount on a yearly basis for advance payments. We believe that 2013 is a new era for monetization, and this will be accomplished by domain leasing. Leasing offers a win-win situation to both domain companies and our customers so we are already preparing to launch the second version of our leasing platform very soon," Şengören concluded.
(Posted January 14, 2013) To refer others to the post above only you can use this URL:
http://www.dnjournal.com/archive/lowdown/2013/dailyposts/20130114.htm
The Mane in Spain Goes Mainly Down the Drain! Jodi Chamberlain Next to Lose Hair for The Water School?

Over the past 12 months PPX International Chairman Gregg McNair has used his considerable powers of persuasion to convince a series of domain industry figures to let him shave their heads bald in exchange for donations to a very worthy charity - The Water School. Last spring at the 2012 Domaining Spain conference in Valencia, Spain, I was the last in the current line of sheep sheared by the mad barber from Melbourne, Australia.

Now it looks like the conference's co-promoter, Jodi Chamberlain, made a mistake in sitting next to me after the deed was done because Gregg has zeroed in on her as his next victim!

Domaining Spain co-promoter Jodi Chamberlain (right) with Ron and Diana Jackson after Ron had his head shaved by Gregg McNair in Valencia, Spain last spring to raise over $50,000 for The Water School. If donors step up again, Jodi has agreed to have her head shaved at the April 2013 show in Valencia.

Jodi revealed today that she would be willing to sacrifice her lovely brown locks when Domaining Spain returns for an April 25-27, 2013 run at the Sorolla Palace Hotel in Valencia, if donors step up again and generate $50,000 in pledges to The Water School. You can help make it happen by visiting www.watershave.org to pledge your support. Jodi told me she is also planning on going to Africa this summer to see first hand how The Water School is saving so many lives in developing countries with the organization's inexpensive and effective disease-preventing clean water solution.

2013 Moderator Braden Pollock
Founder, Legal Brand Marketing, LLC

Jodi, who works with conference founder Dietmar Stefitz to put on a consistently great show in Valencia, had some additional Domaining Spain news today. She said that lead gen whiz Braden Pollock (who was profiled in our November 2011 Cover Story) has agreed to serve as the conference's 2013 moderator.

Those who know Braden, or saw him speak in Valencia last year (or at any of the other conferences where he has been on stage), know that he will be a superb moderator. He has both the broad industry knowledge and consistently entertaining sense of humor it takes to keep an audience fully engaged.

Braden will guide attendees through a strong wide ranging agenda that has just been posted on the show's website.

In addition to a great opportunity to network with top domain investors from around the world, many leading companies will have representatives on hand at Domaining Spain to personally answer questions about their services. Already signed up to sponsor the event are Escrow.com, UniRegistry, Karen Bernstein, The Dot Green Community, Euro DNS, Law.es, iStaff.ph and Parking Crew.

With a registration fee of €600 and a nightly room rate of just €70 at the superb

Sorolla Palace Hotel in beautiful Valencia, Domaining Spain is one of the best values on the global domain conference circuit.

(Posted January 1 1, 2013) To refer others to the post above only you can use this URL:
http://www.dnjournal.com/archive/lowdown/2013/dailyposts/20130111.htm
DomainInvest Rolls Out New Affiliate Program Aimed at Building Hosting.co.uk Into an Industry Favorite

DomainInvest.lu, a Luxembourg based company co-founded by well-known domain industry veterans Frederick Schiwek, Markus Schnermann (who was the subject of a May 2009 DN Journal Cover Story) and Xavier Buck, is making a big push into the domain hosting business. Schiwek told me it is something they have been planning since 2009 when they acquired the category defining Hosting.co.uk domain name for approximately €37,000.

They've gotten out of the gate with almost 800 websites online, along side some of their own developed sites like OnlineSchool.com, Whiskey.com, de.de. However, Schiwek said the company knows that a successful affiliate program is a must if they want to reach their goal of pushing Hosting.co.uk into the ranks of the top hosting companies.

That critical piece of the puzzle was launched this week when the new Hosting.co.uk affiliate program debuted with commissions as high as £80 (about $125) per referral, depending upon total monthly results.

Frederick Schiwek, DomainInvest.lu
Co-Founder and Managing Director

Schiwek said the program was designed to be as straightforward and transparent as possible, noting "Participants simply install a special link on their blog or website. The referral tracking system is fully automated, so affiliates need not fuss with records, invoices and the like. Payouts are monthly, and there are no minimum withdrawal limits."

Schiwek expects affiliates will do well with basic web hosting packages priced to sell. At around $3 per month, the "Beginner" level provides 10GB of disk space, 2 unique websites, 10 email accounts and a 99.9% uptime guarantee. The high-end, "Ultimate" package offers unlimited websites, emails and storage for about $12 per month. All web hosting packages feature cPanel and the latest versions of PHP, MySQL and Apache.

Image from Bigstock

Schiwek said the company is making service and uptime its top priorities. "Technical support (or lack thereof) is frequently a make-or-break issue with web hosting providers. Downtime at the wrong time will have customers jumping ship in droves. To allay those concerns, Hosting.co.uk offers 24/7/365 support via phone or live chat," Schiwek said. While Hosting.co.uk is based in the United Kingdom, current technology essentially makes geography irrelevant, allowing the company to offer its services to users across the globe.

To maintain its capacity for storage and data transfer, Hosting.co.uk operates a Tier IV data center in the midlands of England. The center features redundant systems designed to make power outages or equipment failures a virtual non-issue. Schiwek added, "A stack of Dell servers provides blazing fast network speeds, as well as plenty of storage on multiple hard drives. The company's significant hardware investment enables them to promise security and reliability that is second to none."

"In today's market, it's tough to sort out the contenders from the pretenders. At Hosting.co.uk, we've committed to putting quality ahead of profit. That's part of the reason we're so excited about the new affiliate program. When people see what our service is all about, they will be happy to recommend us to their friends and colleagues," Schiwek concluded.

(Posted January 9, 2013) To refer others to the post above only you can use this URL:
http://www.dnjournal.com/archive/lowdown/2013/dailyposts/20130109.htm
Another Domain Industry Figure Makes a Big Splash in the Music Business - Peter Maxymych Produced a New Major Label Jazz CD That Was Released Today

From the time I first entered the domain business over a decade ago one thing that immediately struck me about the people in this field was how creative they were. Many of them (and members of their families) exhibited that trait in areas beyond the word-based domain business, especially in the world of music.

I've written about many of them including Rob Grant's daughter, Lana Del Rey, who went on to become an international music superstar (Rob himself had a long creative advertising career with New York agencies) and the Castello Brothers (Michael and David) who were in a string of hot rock bands before entering the domain industry (David recently returned to music to manage rapidly rising Nashville-based rock star BREE and play drums in her trio).

Among the other many skilled musicians in our space is Canada's Peter Maxymych - the

Peter Maxymych

owner of one of the world's best .CA domain portfolios and the producer of a hot new major label jazz CD that was just released today - a disc by the North American Jazz Alliance (NAJA) called The Montreal Sessions that just hit stores and online retailers including Amazon.com and CDUniverse.com today (as of this writing Amazon had already run out of stock but is still taking orders that will be filled as soon as their next shipment of discs arrives).

Peter Maxymych (at about age 30) playing accordion
in his jazz trio that frequently played around Montreal.

Maxymych spent much of his youth playing accordion in jazz bands that appeared throughout the Montreal, Canada area. Though he later moved on to business pursuits, including domain investing and development, he never lost his passion for music. That led to him bringing a group of world class jazz musicians together at Montreal's Studio 270 in July 2011. For Maxymych, it was purely a labor of love but it blossomed into much more than that.

Peter said he had just wanted to "recreate a sound that was heard in clubs and other venues in the 1960s and 70s. The accordion was the lead instrument in those groups and the music was inspired by Art Van Damme, who led a quintet with vibes, guitar, bass and drums."

Maxymych was able to do that by lining up Kenny Kotwitz on accordion, Steve Hobbs on vibraphone (and also handling arrangements), Greg Clayton on guitar, Dave Laing on drums, Alec Walkington on bass and John Labelle on vocals.

NAJA was born and by the time they had laid down 12 tracks even Maxymych was blown away by what he heard. He decided the tapes were worth shopping around and sure enough two major jazz labels fell in love with the sound too.

Maxymych decided to accept an offer to release The Montreal Sessions from well-known jazz label Challenge Records and they went all out with an elegant slip-cased package including a 16-page booklet featuring liner notes from Scott Yanow, the author of 10 popular books about jazz.

Photo of Peter Maxymych that appears
in the booklet for The North American Jazz
Alliance's new CD The Montreal Sessions

Though Peter's first attempt to produce a full-length jazz album turned out better than he could have dreamed, he is not about to abandon his rapidly growing domain business any time soon. His company, Emall.ca, owns over 7,000 .CA domains including such generic gems as Loans.ca, Ticket.ca, Christmas.ca, Dating.ca, eand Recipes.ca, the latter domain having now been developed into a major website in a joint venture with Kenneth Maclean (formerly of Canwest).

Maxymych told me that Emall.ca is getting more focused on the development of sites as the next progression of their business. Their developed sites already include HockeyTickets.ca, CheapTickets.ca and eTickets.ca. As you might expect with the National Hockey League's player strike having just ended and an abbreviated season scheduled to begin a few days from now, HockeyTickets.ca is seeing a particularly large surge in traffic.

eTickets.ca has a broader base, offering tickets for virtually all sports, including the NFL and NBA, as well as entertainment tickets to shows and events on Broadway, in Las Vegas and at other venues. With his new CD out, Maxymych may want to think about gearing up for North American Jazz Alliance concert ticket sales next!

(Posted January 8, 2013) To refer others to the post above only you can use this URL:
http://www.dnjournal.com/archive/lowdown/2013/dailyposts/20130108.htm

Demand Media's Taryn Naidu Comments on Company's Acquisition of Registrar Name.com Today

In the first major acquisition of the new year Demand Media announced today that they have acquired well-known Denver-based domain registrar Name.com - a company founded in 2003 by industry

veteran Bill Mushkin. The acquisition is intended to expand Demand Media's platform as it prepares for the historic release of new Top Level Domains (TLDs) this year. None of the financial terms of the deal were released.

Demand Media's eNom subsidiary is the second largest registrar in the world with over 13.5 million domain names on its platform. Demand Media Chairman and CEO Richard Rosenblatt said, "Name.com will provide a direct channel for us to reach consumers and small businesses as they develop and manage their online identities. This becomes even more valuable as over one thousand new domain extensions are expected to become available for registration in the years ahead." In Name.com Demand gets a well-regard registrar that has registered nearly 1.5 million domains.

The Name.com team headed by Founder Bill Mushkin (front center in the black shirt)
at their home base in Denver, Colorado.

Taryn Naidu
Demand Media, EVP, Registrar Services

Demand Media will retain the current Name.com team and the business will report to Taryn Naidu, Demand's Executive Vice President, Registrar Services. Naidu commented on the acquisition in a post on the company's blog today, saying "we are proud to now add Name.com to the Demand Media family. We greatly admire what the team there has accomplished – building a smart company that is easy, and fun, to do business with.

The domain name industry is entering its greatest period of change and opportunity as it prepares for the launch of more than one thousand new top level domains. With that change, we recognized the opportunity to expand our ability to educate, satisfy and service a greatly expanded and global audience.

The new TLDs present an opportunity to help every prospective consumer and business

understand their options, and then, easily purchase the best new names for their passion projects and businesses. It's also an opportunity to help over a thousand new domain name registries successfully launch their TLDs and reach their target audience.

Together, Name.com and Demand Media possess the most comprehensive domain name services platform in the industry. It includes the now 15 million names under management, the most widely used domain name reseller platform, nearly 9,000 business partners, the leading domain name auction service, an interest in 133 new TLD applications and, now, an award-winning retail registrar."

(Posted January 7, 2013) To refer others to the post above only you can use this URL:
http://www.dnjournal.com/archive/lowdown/2013/dailyposts/20130107.htm
DN Journal's First Decade - 2012: The 10th Year of the Ride of Our Lives
In addition to a new Cover Story marking DN Journal's 10th Anniversary ( celebrated on New Year's Day 2013), I have been featuring some of the key people and events we have covered over the past decade in a series of Lowdown posts the past couple of weeks. I last touched on 2011 Thursday. Today we complete the journey with a glimpse at some of 2012's many highlights.
DN Journal's signature elements appear at different intervals with the daily Lowdown (which you are reading now), the weekly domain sales reports and our monthly Cover Stories and Newsletters.

There is also one annual element - our State of the Industry article that appears each year as our January Cover Story (being published around the middle of that month). In it we have many of the industry's top executives, attorneys, investors and developers comment on what they view as the key trends and events of the year just passed, as well as what they expect to see in the new year ahead.

NameMedia CEO Kelly Conlin and Oversee.net CEO Debra Domeyer were among the industry leaders featured in our 2012 State of The Industry story. You can revisit it now to see how closely the various predictions made at the start of 2012 panned out by year's end.

Two popular CEOs - NameMedia's Kelly Conlin (left) and Oversee.net's Debra Domeyer show they can lead on the dance floor as well as in the corner office at the 2012 T.R.A.F.F.I.C. conference's official party at Fort Lauderdale Beach, Florida. (Photo courtesy of Barbara Neu).
In 2012 we also continued to draw from the industry's remarkably deep well of amazing personal success stories from around the world. Our April 2012 Cover Story - Great Scot! How Tommy Butler Went From Gutting Chickens to Developing Glasgow.com and Dozens of Other Successful Sites was a prime example, detailing how Scotand's Tommy Butler built a geo-based domain empire in his home country.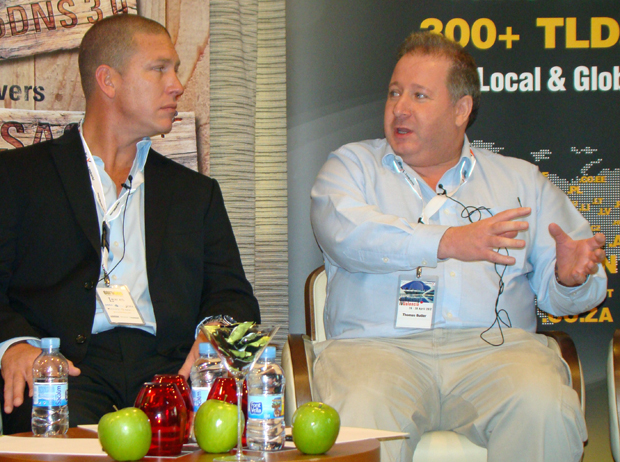 Tommy Butler (right) speaking at the 2012 Domaining Europe conference in Valencia, Spain
with DomainHoldings.com CEO Jason Boshoff listening intently to what he had to say.
One of the most fascinating things about domain investors and developers is that they come from every walk of life. Tommy gutted chickens while others have been everything from lawn mowers to electricians to doctors and lawyers (and everything in between). Even commercial airline pilots - the field where Bob Olea, the subject of our July 2012 Cover Story, first made his mark (and continues to do so as a United Airlines captain).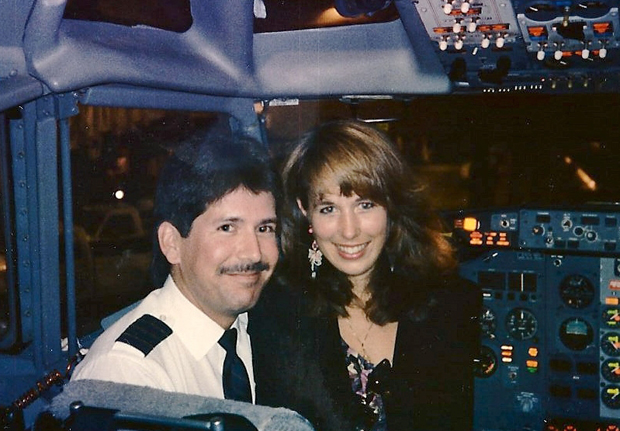 At the start of his career as a commercial airline pilot, Bob Olea
gets an on the job visit from his wife Trudie.
In 2012 we also published our second Cover Story on industry giant Frank Schilling, following our biographical 2007 piece on him with an update covering his new role as one of the industry's leading providers of services to other domain investors via InternetTraffic.com and DomainNameSales.com. In October 2012, Frank picked up a record third T.R.A.F.F.I.C. Domainer of Year Award. He is also in T.R.A.F.F.I.C.'s Domain Hall of Fame and, in the photo below, is shown on stage with eight of his fellow HOF members including 2012 inductees Michael Mann and Chad Folkening. I've written Cover Stories (still available in our Archive) on every one of those on stage with me (with Frank Schilling and Michael Mann each having been featured twice).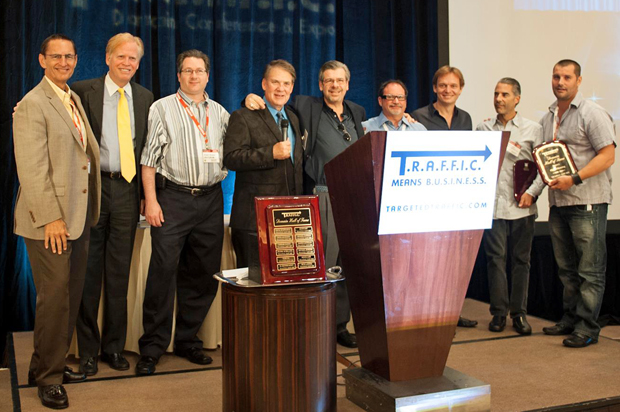 Nine members of T.R.A.F.F.I.C.'s Domain Hall of Fame on stage together at the 2012 T.R.A.F.F.I.C. Awards ceremony at the Ritz Carlton in Fort Lauderdale Beach, Florida. They are (left to right) Ron Jackson, Dr. Chris Hartnett, Adam Dicker, Howard Neu, Rick Schwartz, Michael Berkens and Frank Schilling along with 2012's two new inductees Michael Mann and Chad Folkening. (Photo courtesy of Louis Rafael Rosenthal of RookMedia).
The past 10 years has been a remarkable ride. I want to thank every one of you who has let me accompany you on this amazing adventure as well as every one that has dropped in here to read about it (you and our advertisers are the most important people of all because without you DNJournal.com wouldn't exist). Now let's get that next decade started - I can't wait to see what it has in store for all of us!
(Posted January 5, 2013) To refer others to the post above only you can use this URL:
http://www.dnjournal.com/archive/lowdown/2013/dailyposts/20130105.htm
DN Journal's First Decade - 2011: Predictions We Would Run Out of Things to Write About Prove to Be Unfounded
In addition to a new Cover Story marking DN Journal's 10th Anniversary (a date we celebrated on New Year's Day), I have been featuring some of the key people and events we have covered over the past decade in a series of Lowdown posts over the past two weeks. I touched on 2010 Wednesday. Today it's on to 2011.
When I started DN Journal at the beginning of 2003 a few people told me, "it's really interesting but you are going to run out of things to write about in a few months!" Fortunately, those concerns proved to be unfounded as this industry wound up having far more interesting back stories than anyone (including me) could have ever imagined. In fact as we went through our 9th year in 2011 I was able to turn up some of the best personal stories we've ever published.
Those started with our March 2011 cover piece - The John Ferber Story: How The Secret Millionaire Sold His Company for $495 Million and Why He Loves the Domain Business Now. The personable Co-Founder of DomainHoldings.com (and star of a moving episode of the ABC-TV reality show The Secret Millionaire) brought a welcome jolt of energy and innovation to our industry, with both his sunny personality and the new company he staffed with an all-star roster of domain veterans.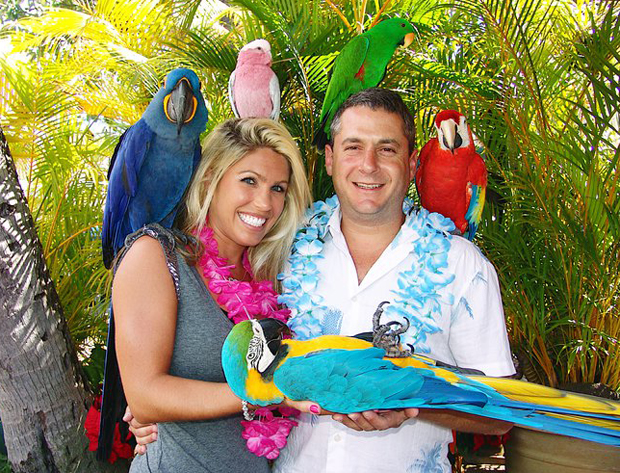 DomainHoldings.com Co-Founder John Ferber with
fiancée Jenna Wehner and some of their feathered friends!
We found another remarkable human interest story in Elephant Orchestra Founder Jan Barta whom we profiled in May 2011. The dynamic young entrepreneur from the Czech Republic is making his mark in multiple industries, not just in his home country, but around the world.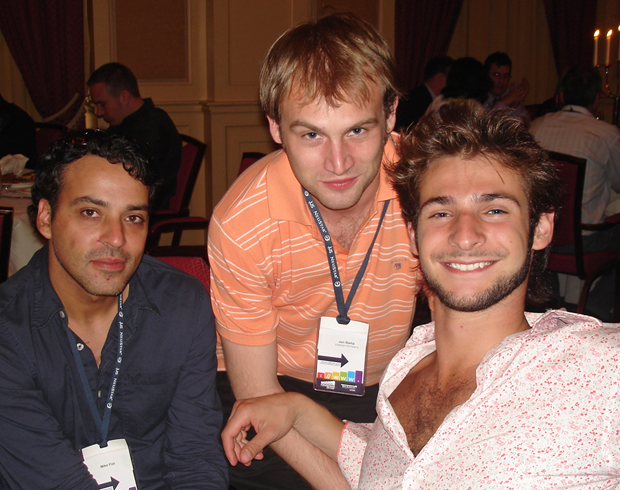 Jan Barta (center) with domain industry veterans Mike Fiol (left) and
Merlin Kauffman (right) at the 2009 T.R.A.F.F.I.C. Amsterdam conference in the Netherlands.
In 2011 we also gave you an up close and personal look at one of the industry's most well-known figures - Marc Ostrofsky - the man behind the famous $7.5 million sale of Business.com and the best selling author of Get Rich Click!, a book that earned him some coveted invitations on the national TV talk show circuit where he spread the good news about domains and making money on the Internet.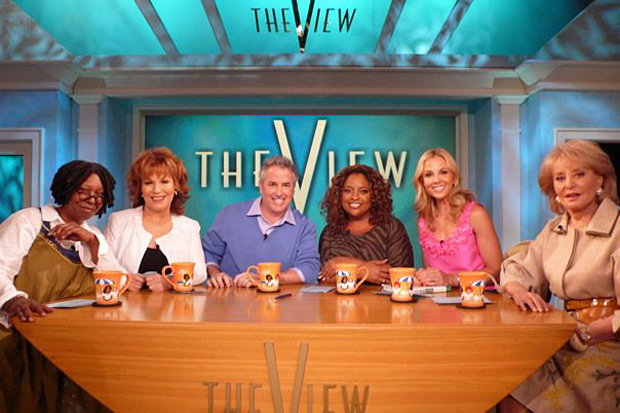 Get Rich Click! Author Marc Ostrofsky on ABC-TV's The View (June 9, 2011)
(L to R in the photo above): Whoopi Goldberg, Joy Behar, Marc Ostrofsky,
Sherri Shepherd, Elisabeth Hasselbeck and Barbara Walters.
Speaking of TV, has there been anyone bigger than Oprah Winfrey on TV over the past decade? Would you believe that the domain industry is home to one of the original producers of Oprah's massively successful TV show (as well as mega hits like Jeopardy! and Wheel of Fortune)? It's true and to top it off David Sams has one of the most interesting personal stories you will ever read - a story we told in a September 2011 piece titled: Blessing in Disguise: David Sams Was a Huge Success in Hollywood But An Unexpected Setback Put Him on an Even More Rewarding Path.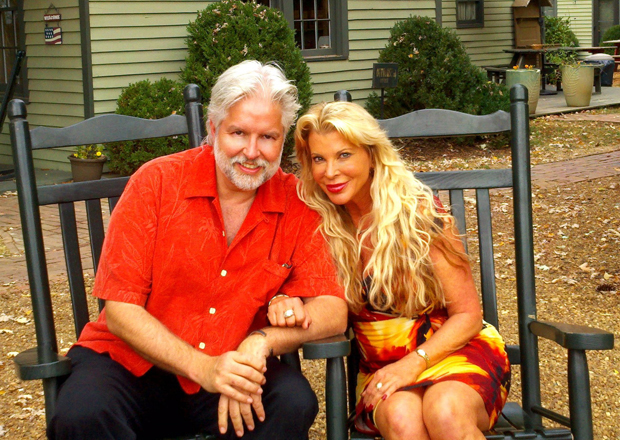 David Sams and Michelle Bekeza at home in Tennessee
2011 was also a year that some viable alternate monetization methods started coming into their own to help offset the ongoing decline in parking revenue. Braden Pollock was the leading proponent of one those - lead generation - and he told us all about it, as well as how own fascinating back story in the year's final Cover Story.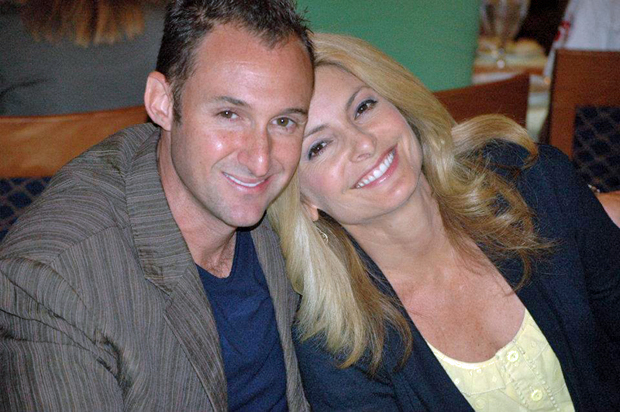 Braden Pollock and his fiancée, best-selling author, attorney and TV personality Lisa Bloom.
Next up - down the stretch in 2012 - the year DN Journal completed its first decade.
(Posted January 3, 2013) To refer others to the post above only you can use this URL:
http://www.dnjournal.com/archive/lowdown/2013/dailyposts/20130103.htm
DN Journal's First Decade - 2010: Conference Wars Continue, Cover Stories Feature Key Players from Multiple Arenas
In addition to a new Cover Story marking DN Journal's 10th Anniversary (an occasion we celebrated on New Year's Day) that revisits the history of the publication itself, I have been featuring some of the key people and events we have covered over the past decade in a series of Lowdown posts over the past two weeks. I touched on 2009 Monday. Today it's on to 2010.
As the domain business grew like wildfire in the middle of the last decade, domain conferences sprouted up like mushrooms after a heavy rainstorm. As many of you know, I love conferences as they have played an indispensable role in providing face to face networking opportunities that have allowed attendees to forge invaluable business relationships. However, like anything else it is possible to have too much of a good thing. Such was the case with conference - not so much for attendees who still gleaned high value from them - but for the promoters who saw the pie sliced so many ways it no longer made economic sense for all of them to continue. That situation led to our February 2010 Cover Story - The Rise (and Fall?) of Domain Conferences - For Years They Have Thrived But Can They Survive Oversaturation?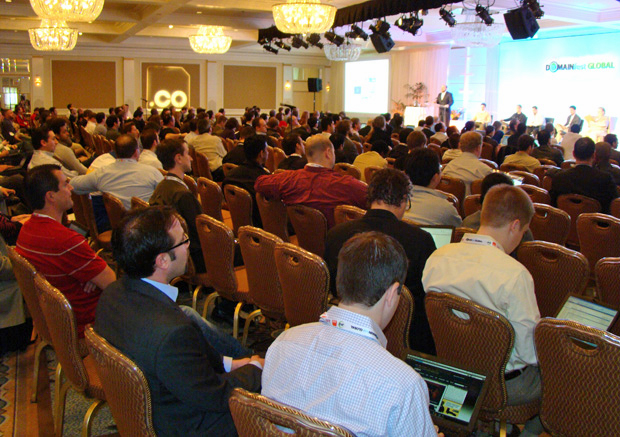 The January 2010 DOMAINfest Global Conference in Santa Monica, California was packed
wall to wall but over the next couple of years many other shows were not as fortunate.
As markets always do, the conference market corrected itself. Over the two years since our Cover Story equilibrium has returned to the space with only a handful of survivors still standing tall, led by the original conference - T.R.A.F.F.I.C. - and DOMAINfest Global (recently renamed Webfest Global), with the latter re-positioning itself as a broader Internet business development and marketing conference.
As the interests of domain investor/developers expanded we decided to touch a lot of different bases with our 2010 person profile Cover Stories. One of the best stories about a successful developer was our March 2010 piece about Hallpass Media's Bill Karamouzis and the online gaming empire that he built and sold for millions.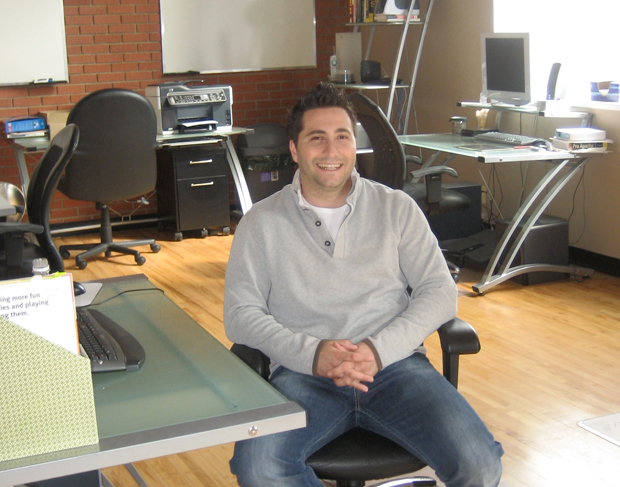 Bill Karamouzis (in his Hallpass Media office) told us the key to development success
is to concentrate on what you are good at and what you enjoy doing.
In Monday's post about 2009 I mentioned the boom in ccTLDs. That theme continued to play out in 2010 prompting us to profile an uber developer of Canadian .CA domains - Rick Silver. Rick's profile was also raised that year when he served as moderator of several of the T.R.A.F.F.I.C. conferences that Rick Latona staged under a license from show founder's Rick Schwartz and Howard Neu.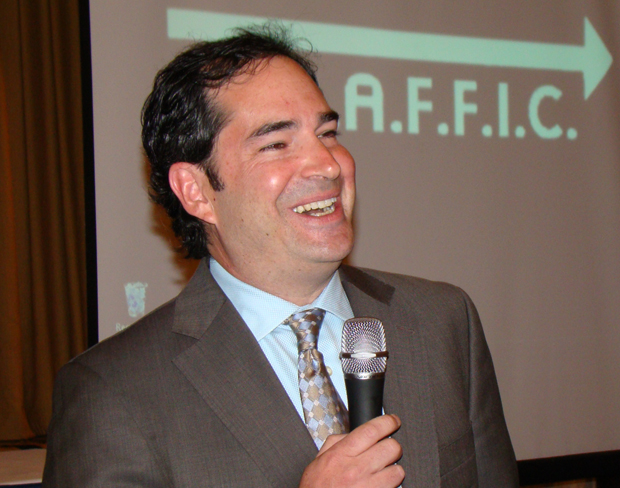 Rick Silver, the owner and developer of one of the world's best .CA portfolios,
moderating the 2010 T.R.A.F.F.I.C. Vancouver conference in Canada.
One of the year's (and decade's) most popular Cover Stories was our October 2010 profile of T.R.A.F.F.I.C. Domain Hall of Fame member Chad Folkening - a piece called Broken Field Run: How Domain Investor/Developer Chad Folkening Went from Mowing Lawns to Buying Mansions. Chad had just taken another giant step forward by co-founding Domain Holdings, LLC with web heayweights John Ferber (the man who built and sold Advertising.com to America Online for $500 million) and Erik Simons.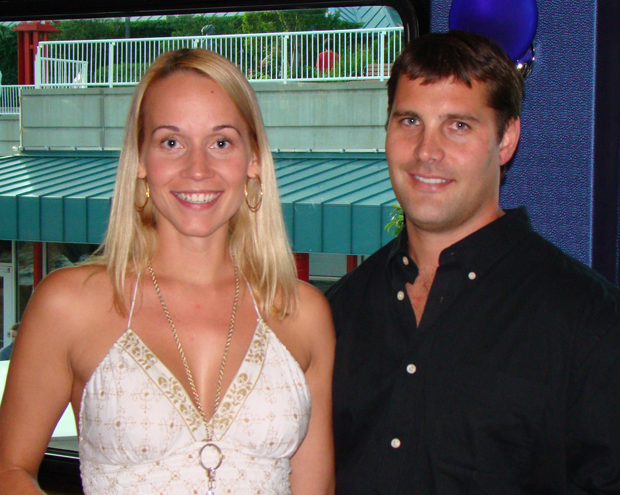 Chad Folkening with the love of his life Bianka Krausch
in a shot from our 2010 Cover Story profile of Chad.
Our last 2010 Cover Story was another fascinating profile, this one telling the life story of .CO Registry CEO Juan Diego Calle who led one of the best marketing efforts the web has ever seen in re-launching his native Colombia's .CO ccTLD as a global domain.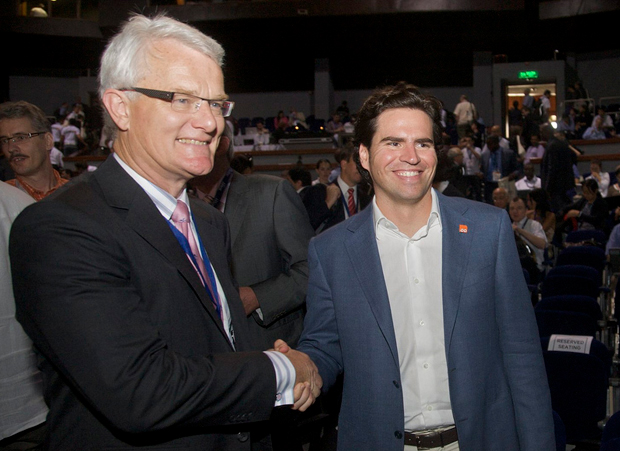 Juan Diego Calle (right) greets then ICANN Chairman Peter Dengate Thrush at the
39th International ICANN Meeting in Cartagena, Colombia in December 2010
Next time - entering the home stretch - a look at some photos and highlights from 2011.
(Posted January 2, 2013) To refer others to the post above only you can use this URL:
http://www.dnjournal.com/archive/lowdown/2013/dailyposts/20130102.htm
A New Year Brings a New Beginning - Looking Forward to Moving Onward and Upward With You in 2013!

Image from Bigstock

Happy New Year! My wish for each of you is that 2013 will be your best year ever. I have a gut feeling that lot of good things will be happening for our industry over the next 12 months. Let's all follow that upward arrow and climb new heights together!

"Another fresh new year is here . . .
Another year to live!
To banish worry, doubt, and fear,
To love and laugh and give!

This bright new year is given me
To live each day with zest . . .
To daily grow and try to be
My highest and my best!

I have the opportunity
Once more to right some wrongs,
To pray for peace, to plant a tree,
And sing more joyful songs!"

- William Arthur Ward

(Posted January 1, 2013) To refer others to the post above only you can use this URL:
http://www.dnjournal.com/archive/lowdown/2013/dailyposts/20130101.htm
---
If you've been out of the loop lately, catch up in the Lowdown Archive!
---
We need your help to keep giving domainers The Lowdown, so please email

[email protected]

with any interesting information you might have. If possible, include the source of your information so we can check it out (for example a URL if you read it in a forum or on a site elsewhere).
---
Home Domain Sales YTD Sales Charts Latest News The Lowdown Articles
Legal Matters Dear Domey Letters to Editor Resources Classified Ads Archive About Us